Disclosure: Affiliate links appear in this post. Any purchases made using these links will earn Taz + Belly a small commission. You can read more about our affiliate relationships here.
---
When I look back at September it was a hard month. We had a lot going on in our family and I just felt out of sorts for most of the month. My mom and I have talked about that a lot in the last few days and while I'm still not feeling back to myself exactly, I'm vowing to get myself together and to enjoy October. The upside to down days in September, is that I got a lot more reading done that I usually do. On top of the seven books I'm sharing today, I ended the month about halfway through both an audio selection and a paperback. I have some great things in my to be read pile and I'm looking forward to many nights around the fire pit with a book and a mug of coffee in hand.

---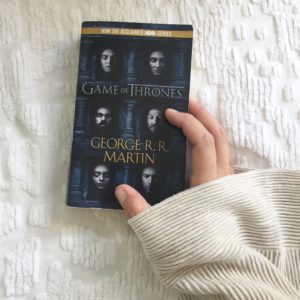 45. A GAME OF THRONES by George R. R. Martin
★★★★★ | Epic Fantasy
Long ago, in a time forgotten, a preternatural event threw the seasons out of balance. In a land where summers can last decades and winters a lifetime, trouble is brewing. The cold is returning, and in the frozen wastes o to the north of Winterfell, sinister forces are massing beyond the kingdom's protective Wall. To the south, the king's powers are failing — his most trusted advisor dead under mysterious circumstances and his enemies emerging from the shadows of the throne. At the center of the conflict lie the Starks of Winterfell, a family as harsh and unyielding as the frozen land they were born to. Now Lord Eddard Stark is reluctantly summoned to serve as the king's new Hand, an appointment that threatens to sunder not only his family, but the kingdom itself.
I know that this one is polarizing, so bear with me. If you had told me, even a year ago (although I was completely up to date on the television show), that I would fall in love with this book, I wouldn't have believed you. There are plenty of unsavory storylines and while I did read every single word, it IS possible to skip out on passages or chapters that make you uncomfortable and still read the bulk of the text. I'm not usually a fan of fantasy, but there is something about this one that is completely enchanting.
I did this thing backwards: watching the show because my husband loved the books and never intending to read them. I only picked them up to revisit characters that I adore (hello, Jon Snow), in between seasons. I kind of love that I have faces for most of the names and there is a ton of nuance that I would have completely ignored or missed the importance of, had I not been familiar with the story arc first.
If you've been avoiding this series because of conflict or content, I completely understand. If you're only avoiding them because you watched the television series first? Don't.
---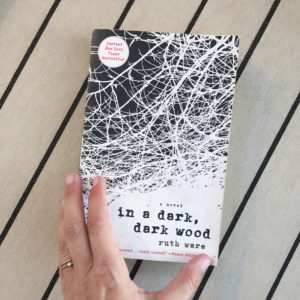 46. IN A DARK, DARK WOOD by Ruth Ware
★★★☆☆ | Psychological Thriller
What should be a cozy and fun-filled weekend deep in the English countryside takes a sinister turn in Ware's suspenseful, compulsive, and darkly twisted psychological thriller. When reclusive writer Leonora is invited for a weekend away, she reluctantly agrees to make the trip. But as the first night falls, revelations unfold among friends, old and new, and unnerving memory shatters Leonora's reserve, and a haunting realization creeps in: the party is not alone in the woods.
I have very mixed feelings about this one. I liked the way the story unfolded. A lot. I really enjoy Ware's writing style and it was perfectly twisty until the last 65 pages. I am notorious for hating the way thrillers end, so it shouldn't come as a surprise that I was completely unsatisfied with this one. The resolution just wasn't very believable and it felt rush after the perfect pacing of the first two thirds. This was probably my least favorite of the three books I've read by this author. Whomp whomp.
---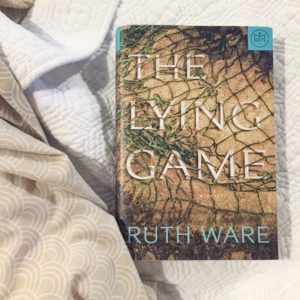 47. THE LYING GAME by Ruth Ware
★★★★☆ | Psychological Thriller
On a cool June morning, a woman is walking her dog in the idyllic coastal village of Salten, along a tidal estuary know as the Reach. Before she can stop him, the dog charges into the water to retrieve what first appears to be a wayward stick, but to her horror, turns out to be something much more sinister. The next morning, three women in and around London – Fatima, Thea, and Isabel – receive the text they had always hoped would NEVER come, from the fourth in their formerly inseparable clique, Kate, that says only, "I need you." The four girls were best friends at Salten, a second rate boarding school set near the cliffs of the English Channel. Each different in their own way, the four became inseparable and were notorious for playing the Lying Game, telling lies at every turn to both fellow boarders and faculty… Their little game had consequences, and the girls were all expelled… under mysterious circumstances surrounding the death of the school's eccentric art teacher, Ambrose (who also happens to be Kate's father).
I was so pleasantly surprised by this one! After a total miss from Ware earlier in the month, I was a little worried that I had wasted my money on this one. It was page turning, but believable, and while I would have told you a few weeks ago that it was my favorite Ware read to date, after going back and reading my review for Woman in Cabin 10, I think this one might be a close second. I think I liked that one so much more than I remembered…
The characters in this one were so much more likeable — I got frustrated with them all a few times, but they weren't nearly as bothersome as the characters in Dark Wood. I could completely relate to Isa's overprotective streak and understood how guarded Fatima was. I wanted to love Luc and Kate so much more than I did. There were moments when I wanted to give them a big hug, but also? I wanted to strangle them both.
This Ware novel isn't as predictable as In a Dark, Dark Wood and was just as satisfying as The Woman in Cabin 10.
---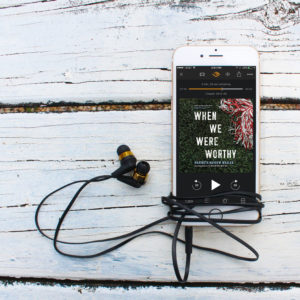 48. WHEN WE WERE WORTHY by Marybeth Mayhew Whaler
★★☆☆☆ | Young Adult Fiction (audiobook)
When the sound of sirens cuts through a cool fall night, the small town of Worthy, Georgia, hurtles from triumph to tragedy. Just hours before, they'd watched the Wildcats score a winning touchdown. Now, they're faced with the deaths of three cheerleaders—their promising lives cut short in a fatal crash. And the boy in the other car—the only one to survive—is believed to be at fault. As rumors begin to fly and accusations spin, allegiances form and long-kept secrets emerge. At the center of the whirlwind are four women, each grappling with loss, regret, shame, and lies: Marglyn, a grieving mother; Darcy, whose son had been behind the wheel; Ava, a substitute teacher with a scandalous secret; and Leah, a cheerleader who should have been in the car with her friends, but wasn't. If the truth comes out, will it bring redemption—or will it be their downfall?
I grabbed this one after seeing it on Modern Mrs. Darcy a few weeks ago. This might be the very first time I don't gush about something she recommended. I typically love YA (even more so if its an adorably predictable romance or something super quirky), but this one wasn't my favorite. While the narrator did a great job transitioning between the four main characters, I hated her forced southern accent. I'm sure some of us actually sound like that, but I thought it was too much and it distracted from the story. I wouldn't call this a mystery, but there was definitely something to figure out and I didn't piece it together until the very end. There were a few characters that I loved (Darcy, Leah, and Talmadge), but the vast majority of them were either not relatable or down right despicable. The book was fine, but not one I would recommend.
---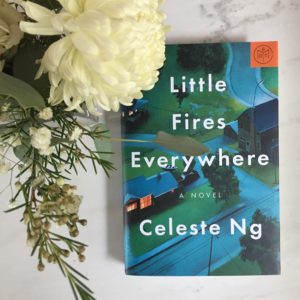 49. LITTLE FIRES EVERYWHERE by Celeste Ng
★★★★☆ | Contemporary Fiction
In Shaker Heights, a placid, progressive suburb of Cleveland, everything is planned – from the layout of the winding roads, to the colors of the houses, to the successful lives its residents will go on to lead. And no one embodies this spirit more than Elena Richardson, whose guiding principle is playing by the rules. Enter Mia Warren – an enigmatic artist and single mother – who arrives in this idyllic bubble with her teenaged daughter Pearl, and rents a house from the Richardsons. Soon Mia and Pearl become more than tenants: all four Richardson children are drawn to the mother-daughter pair. But Mia carries with her a mysterious past and a disregard for the status quo that threatens to upend this carefully ordered community. When old family friends of the Richardsons attempt to adopt a Chinese-American baby, a custody battle erupts that dramatically divides the town–and puts Mia and Elena on opposing sides.  Suspicious of Mia and her motives, Elena is determined to uncover the secrets in Mia's past. But her obsession will come at unexpected and devastating costs.
Ng's newest novel is a must read. She gives you just enough information about each character to make you obsessively curious and completely invested in their lives. Since the story flashes between different characters' points of view, you are left on the edge of your seat as you wait to come back to their story. It is the perfect balance of not to much information and just enough suspense to propel you forward. Little Fires Everywhere was this month's Collaboreads selection, so check out my full review here!
---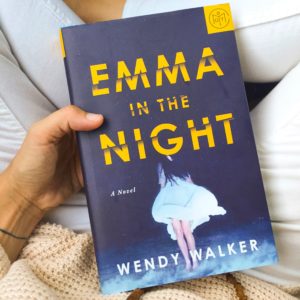 50. EMMA IN THE NIGHT by Wendy Walker
★★★★☆ | Psychological Thriller
One night three years ago, the Tanner sisters disappeared: fifteen-year-old Cass and seventeen-year-old Emma. Three years later, Cass returns, without her sister Emma. Her story is one of kidnapping and betrayal, of a mysterious island where the two were held. But to forensic psychiatrist Dr. Abby Winter, something doesn't add up. Looking deep within this dysfunctional family Dr. Winter uncovers a life where boundaries were violated and a narcissistic parent held sway. And where one sister's return might just be the beginning of the crime.
This book surprised me a little! I'm always wary of psychological thrillers (even though that is my favorite genre), because I'm never fully satisfied with their endings. This one, however, was perfect. It was dark and twisty, character driven, and unpredictable. The entire time I was reading, I kept thinking, "That can't happen!" or "Surely she didn't just say / think / do that?!" Remember that Julia Roberts movie Sleeping with the Enemy? How everything in that movie was completely possible, but you suspect (read: hope) that there aren't people that psychotic that exist in the real world? That's exactly how I felt about Cass' family and the other characters she was surrounded by.
I was so conflicted about how reliable Cass was as the narrator — either she was telling the truth, she was telling a version of the truth for a very specific reason, or she was a liar and couldn't be trusted. I loved that Walker kept me guessing about that until the very end. This one reminds me so much of Amy Gentry's Good as Gone. If you loved that one, I would highly recommend picking this one up!
---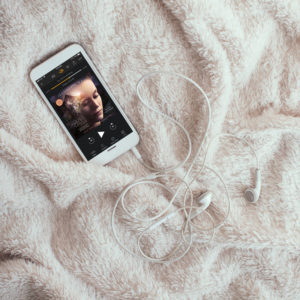 51. THE GLASS CASTLE by Jeannette Walls
☆☆☆☆☆ | Memoir (abandoned)
The Glass Castle is a remarkable memoir of resilience and redemption, and a revelatory look into a family at once deeply dysfunctional and uniquely vibrant. When sober, Jeannette's brilliant and charismatic father captured his children's imagination, teaching them physics, geology, and how to embrace life fearlessly. But when he drank, he was dishonest and destructive. Her mother was a free spirit who abhorred the idea of domesticity and didn't want the responsibility of raising a family. The Walls children learned to take care of themselves. They fed, clothed, and protected one another, and eventually found their way to New York. Their parents followed them, choosing to be homeless even as their children prospered.
If you've been following my reading adventures for any amount of time, you'll know two things. First, I rarely abandon books. Even in the worst of circumstances, I usually power through and force myself to finish what I started. There have been many times when I struggled for more than half the book, only to discover that I loved the way it ended. Second, I almost always award more stars that necessary. I find it difficult to hate a book, because I genuinely love stories.
I've been listening to The Glass Castle since mid August and I'm still not finished. I did really love it in the beginning — I loved seeing how charismatic the father was and how he came up with fun and inventive ways to teach his children a myriad of subjects. I loved how hard they worked to convince their children that they weren't poor, just on a wild and unexpected adventure. The longer I listened, the more frustrated I got. I hated how debilitating the father's alcoholism was for his family, I hated the mother's apathy and the way she enabled her dead-beat husband, I hated the grandmother for even more vile reasons, despite the fact that she only appears in a few chapters. And even though cursing doesn't usually bother me in literature, the father's language is pointedly directed at his children and I found those scenes particularly heartbreaking. I finally decided I couldn't finish. I know from the jacket copy that the children prosper in adulthood, but even with the prospect of a happy ending, I just couldn't power through. I don't know if I'm just in a season of life where I want to insulate myself from such atrocities or if I see things in this family that are too close to home in the socio-economic region that I live in or if the narrator's grating voice ruined this for me, but I decided to lay it down.
I took to Instagram Stories last week to ask for permission to walk away and the responses were a great mix of I HATE THIS BOOK and BEST BOOK EVER. If you loved it, can you help me understand why? Was there a redemptive story that I needed to stick around to hear? Is there a moral to this depressing story? Is the printed copy wildly better than the audio version? Or should I just watch the movie and be done with it?
---
How are you liking the format of my book reviews this year? Too long, too much info, just right? I am loving having a place to come back to when I'm recommending something to a friend. I only wish I had a running list of every book I've ever read!
Total number of books in September: seven
Number of fiction books in September: six
Number of nonfiction books in September: one
Number of Audible books in September: two
Total number of books this year: fifty one
Best book of the year: This Is How It Always Is
Currently reading: A Clash of Kings
Currently listening to: The Dry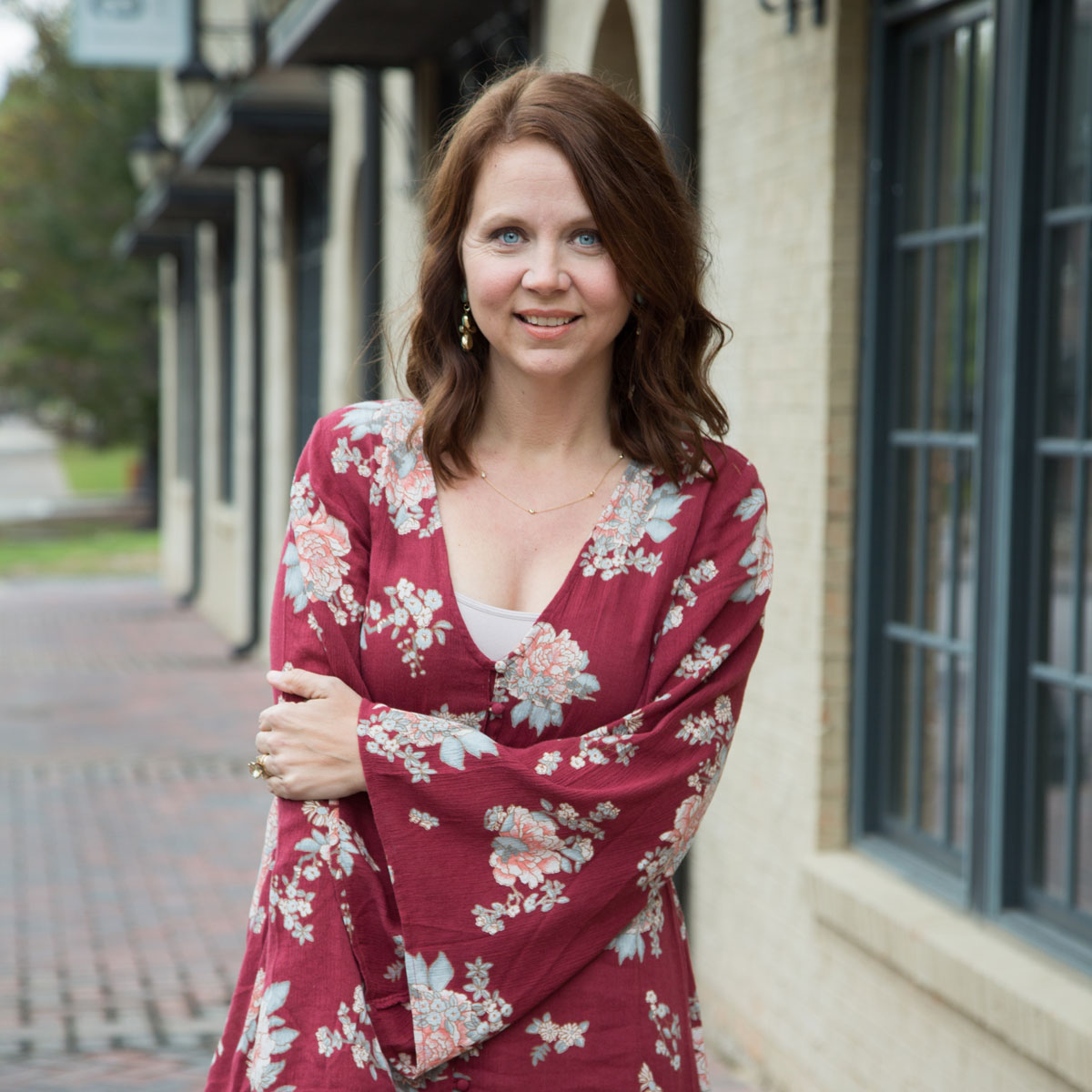 Kristin is married to her high-school sweetheart and the mother to two daughters. Professional by day and creative by night, she is a family lifestyle blogger who writes about faith, family, and fitting it all into a busy schedule. At Taz + Belly, you'll find healthy recipes, children's party ideas, tutorials, DIY projects, and more.
Click Here to Read More About Kristin