Disclosure: Affiliate links appear in this post. Any purchases made using these links will earn Taz + Belly a small commission. You can read more about our affiliate relationships here.
---
It's that time again — the day where we recap all the books I've read in a single month. This is one of those times where it feels like I read all the pages, but since one book topped out over one thousand pages, the number of books I read was smaller than it felt. I finally finished up my most recent epic novel (only to dive into another one and at the same time be anxiously awaiting a new release later this month) and it feels good. It's been so fun to expand on the genres I'm reading this year and I hope to continue that theme moving forward. Let's get to it, shall we?

---
40. THE COUPLE NEXT DOOR by Shari Lapena
★★☆☆☆ | Mystery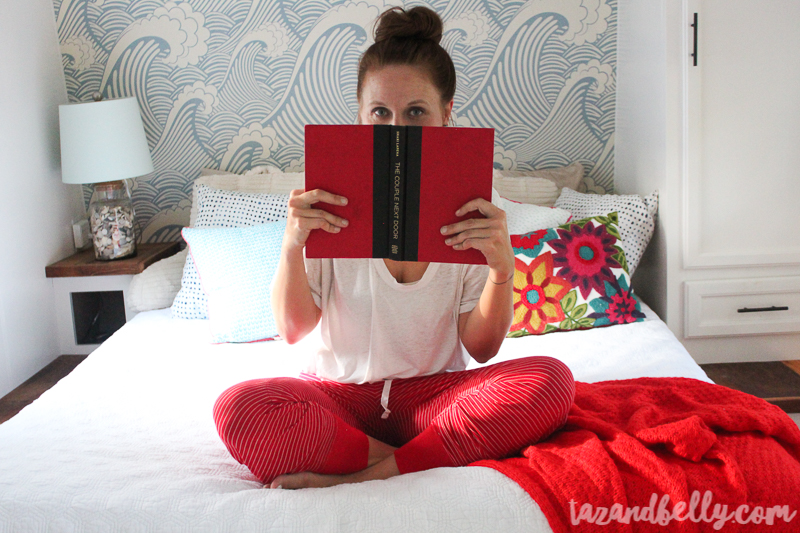 From Amazon: Anne and Marco Conti seem to have it all—a loving relationship, a wonderful home, and their beautiful baby, Cora. But one night, when they are at a dinner party next door, a terrible crime is committed. Suspicion immediately lands on the parents. But the truth is a much more complicated story. Inside the curtained house, an unsettling account of what actually happened unfolds. Detective Rasbach knows that the panicked couple is hiding something. Both Anne and Marco soon discover that the other is keeping secrets, secrets they've kept for years. What follows is the nerve-racking unraveling of a family—a chilling tale of deception, duplicity, and unfaithfulness that will keep you breathless until the final shocking twist.
What I Loved: Is it bad to say that the best part of this book was waiting to read it? I ordered this one months ago, when it was a BOTM selection, but it inadvertently got packed and I was resigned to read it never next year. Jennifer ended up loaning me her copy for our Colorado trip and I was so excited to dig in! I did really like the set up of the novel, but I thought it was too predictable and I had the "bad guy" nailed down pretty early on. I think the story had so much potential, but it just fell kind of flat to me. Maybe what I love most is that I finally read a book that I didn't like? I'm so quick to award four and five star reviews around here…
What I Didn't: I didn't like any of the characters, with the exception of the baby (who basically only exists in conversation for the entire book) and the main character's mother. Everyone had a secret or an attitude or a completely unredeemable quality. I just couldn't find anyone to root for in this one.
I would recommend this book to anyone: I probably wouldn't, unless you are looking for a book where the last chapter comes completely out of left field and you're not sure if you love it or you hate it.
---
41. ALL THE MISSING GIRLS by Megan Miranda
★★★☆☆ | Mystery (audiobook)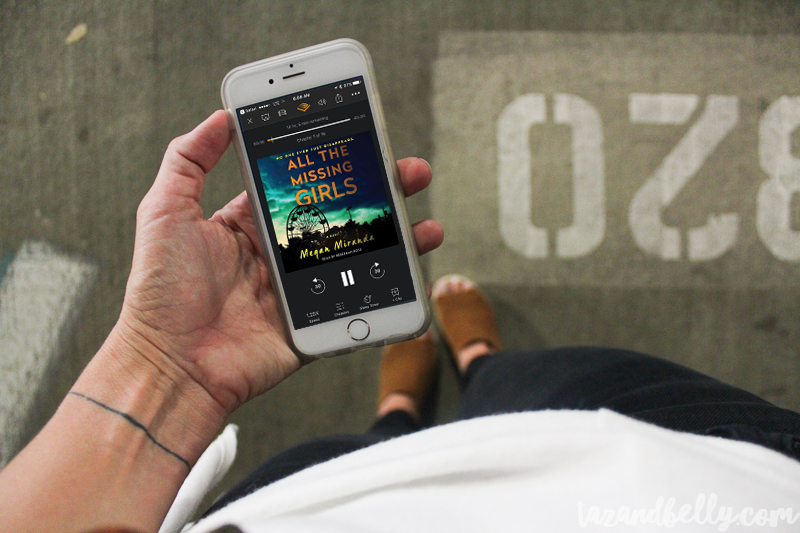 From Amazon: It's been ten years since Nicolette Farrell left her rural hometown after her best friend, Corinne, disappeared from Cooley Ridge without a trace. Back again to tie up loose ends and care for her ailing father, Nic is soon plunged into a shocking drama that reawakens Corinne's case and breaks open old wounds long since stitched.
The decade-old investigation focused on Nic, her brother Daniel, boyfriend Tyler, and Corinne's boyfriend Jackson. Since then, only Nic has left Cooley Ridge. Daniel and his wife, Laura, are expecting a baby; Jackson works at the town bar; and Tyler is dating Annaleise Carter, Nic's younger neighbor and the group's alibi the night Corinne disappeared. Then, within days of Nic's return, Annaleise goes missing.
Told backwards—Day 15 to Day 1—from the time Annaleise goes missing, Nic works to unravel the truth about her younger neighbor's disappearance, revealing shocking truths about her friends, her family, and what really happened to Corinne that night ten years ago.
What I Loved: The best part of this book is how it's told: in reverse! Starting at Day 15 of the investigation, Miranda works back in time to unravel the story of "who done it." It was so weird to try and piece together what happened in the past and what was happening in the present, in this format. There were times when I completely forgot we were moving in reverse and had to back up a bit to make sure I was following along. It did make listening to this one a bit tricky, since you couldn't easily flip to the beginning of the chapter, but it was the most satisfying part of the story. I also loved the narrator and swear that I've heard her read something before, even though I can't find a single thing in her catalog that I've purchased?!
What I Didn't: There wasn't anything to dislike, necessarily. The ending would have been predictable, had I not been listening in reverse, but that story telling device saved the day. I also didn't love the romantic aspect of this one. I definitely preferred Tyler to Everett, but not every book needs a love triangle, right?
I would recommend this book to anyone: looking for a strong mystery (not sure I would label this one a thriller), with an interesting plot device, that can be finished in a single day.
---
42. WHAT TO SAY NEXT by Julie Buxbaum
★★★★☆ | YA Fiction (audiobook)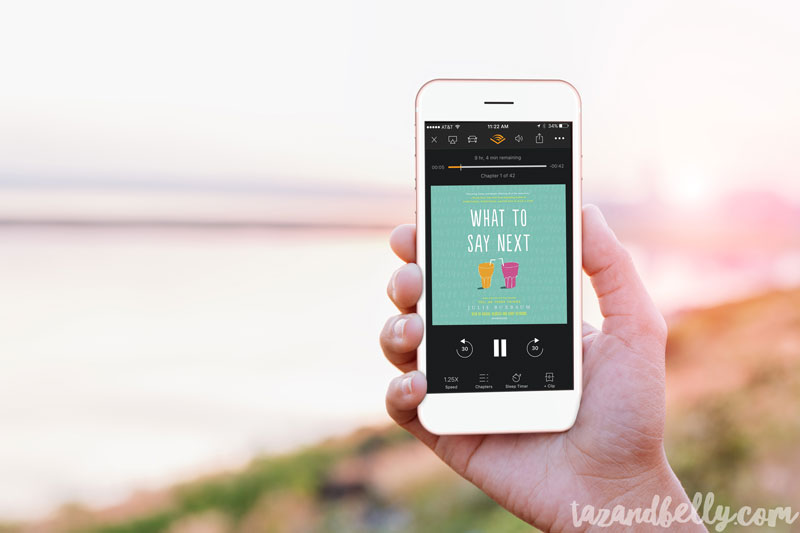 From Amazon: When an unlikely friendship is sparked between relatively popular Kit Lowell and socially isolated David Drucker, everyone is surprised, most of all Kit and David. Kit appreciates David's blunt honesty—in fact, she finds it bizarrely refreshing. David welcomes Kit's attention and her inquisitive nature. When she asks for his help figuring out the how and why of her dad's tragic car accident, David is all in. But neither of them can predict what they'll find. Can their friendship survive the truth?
What I Loved: I'm on record for loving young adult fiction, when it's done well, and this is one of my favorite recent reads in that category! Both characters are beautiful and I can't possible convey to you how much I loved David — quirks and all. I'll admit that I don't have much experience with autism or Asperger's outside of books and television, but I love how the author took great care to make this book about more than David's diagnosis. I also loved seeing Kat come to terms with her loss over the course of the novel and how David played a huge role in that evolution.
What I Didn't: Not a single thing.
I would recommend this book to anyone: who loves YA and is looking for a light-hearted read that will make you smile. I seriously had a perma-grin the entire time I listened to this one. I would also highly recommend Buxbaum's previous novel, Tell Me Three Things (even if your 37 going on 17).
---
43. WORLD WITHOUT END by Ken Follett
★★★★☆ | Epic Historical Fiction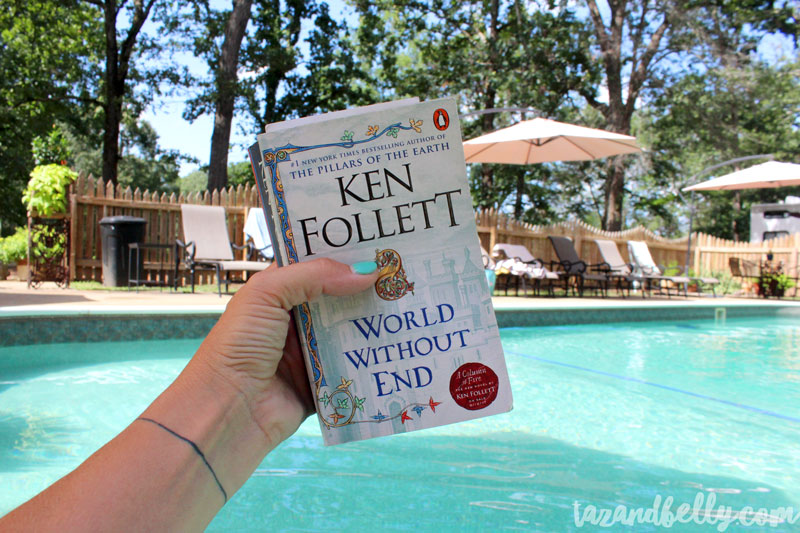 From Amazon: World Without End takes place in the same town of Kingsbridge, two centuries after the townspeople finished building the exquisite Gothic cathedral that was at the heart of The Pillars of the Earth. The cathedral and the priory are again at the center of a web of love and hate, greed and pride, ambition and revenge, but this sequel stands on its own. This time the men and women of an extraordinary cast of characters find themselves at a crossroad of new ideas— about medicine, commerce, architecture, and justice. In a world where proponents of the old ways fiercely battle those with progressive minds, the intrigue and tension quickly reach a boiling point against the devastating backdrop of the greatest natural disaster ever to strike the human race—the Black Death.
What I Loved: I talked a little bit about this in my Collaboreads post this month, but part of what makes Follett's books so beautiful are the worlds he creates with such attention to detail. I often find it hard to follow stories that have so many characters and span so many years, but Follett weaves this story in such a way, that you never forget a single detail. It has taken me nearly eight weeks to finish (keeping in mind that I've read and listened to many other books during those weeks) and the things I read on those first few pages are still as vivid in my mind as those in the last chapter.
Although I loved the development of each of the four main characters, Caris' story was my favorite. From heartbreaking loss and a long awaited love story, to her struggle to find a place in her community, I adored her from the moment she entered the story as a child.
Follett doesn't leave you hanging at the end of his books, either — every storyline is perfectly resolved before the last page is turned. I love how you aren't left guessing, but nothing feels too forced or over executed.
What I Didn't: The only thing not to love about the two books in this series, so far, are the villains. He has a way of creating nasty characters without a single redeeming quality. I regularly compared them to characters I hate in other book and television series and I hated that my husband already knew how each of those story arcs would end.
I would recommend this book to anyone: who loves beautiful stories, carefully crafted worlds, historical fiction, and has a lot of time on their hands.
---
44. FIERCE KINGDOM by Gin Phillips
★★★★☆ | Thriller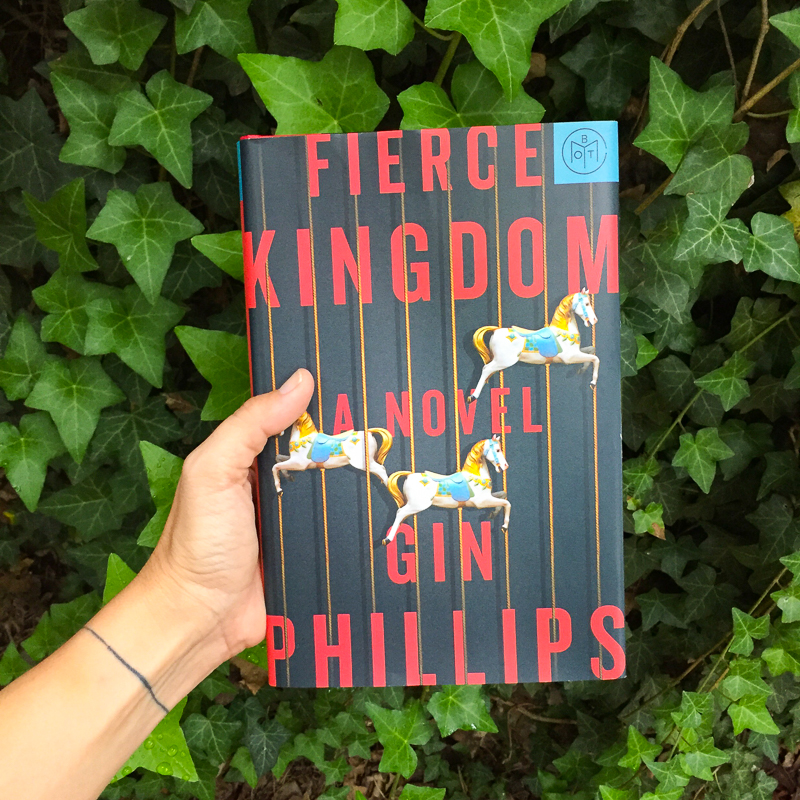 From Amazon: The zoo is nearly empty as Joan and her four-year-old son soak up the last few moments of playtime. They are happy, and the day has been close to perfect. But what Joan sees as she hustles her son toward the exit gate minutes before closing time sends her sprinting back into the zoo, her child in her arms. And for the next three hours—the entire scope of the novel—she keeps on running. Joan's intimate knowledge of her son and of the zoo itself—the hidden pathways and under-renovation exhibits, the best spots on the carousel and overstocked snack machines—is all that keeps them a step ahead of danger. A masterful thrill ride and an exploration of motherhood itself—from its tender moments of grace to its savage power—Fierce Kingdom asks where the boundary is between our animal instinct to survive and our human duty to protect one another. For whom should a mother risk her life?
What I Loved: I didn't realize this author was from Birmingham until several chapters in, but I picked up on it – subconsciously — right away. As the main character described her surroundings in the zoo, I could immediately picture exactly where she was. Every detail was familiar and I could have found my way around this book with my eyes closed. Whether or not she intentionally set the novel in our hometown zoo or not, it was eerily familiar. I also loved how visceral everything was — this is a book that will make you feel something. My heart was in my throat the entire time and I didn't put it down until I reached the last page.
What I Didn't: I've had a few people say they wanted more or that the book wasn't deep enough. I get it. There was very little time spent on the motivation behind the crime depicted in this book and even less time spent on the ending and aftermath. While I could see this being a problem if the story wasn't a page turner, I kind of loved that this was all about the action and felt very "in the moment" without offering an opinion piece on mass murder or mental health.
I would recommend this book to anyone: who loves a book that you can't put down and one that will punch you in the gut, especially if you're a mama.
---
How are you liking the format of my book reviews this year? Too long, too much info, just right? I am loving having a place to come back to when I'm recommending something to a friend. I only wish I had a running list of every book I've ever read!
Total number of books in August: five
Number of fiction books in August: five
Number of nonfiction books in August: zero*
Number of Audible books in August: two
Total number of books this year: forty four
Best book of the year: This Is How It Always Is
Currently reading: Game of Thrones
Currently listening to: The Glass Castle

* I started a nonfiction book to fulfill my "one nonfiction selection each month," but I didn't quite finish it before the post was up. We'll consider that bonus material for September, okay?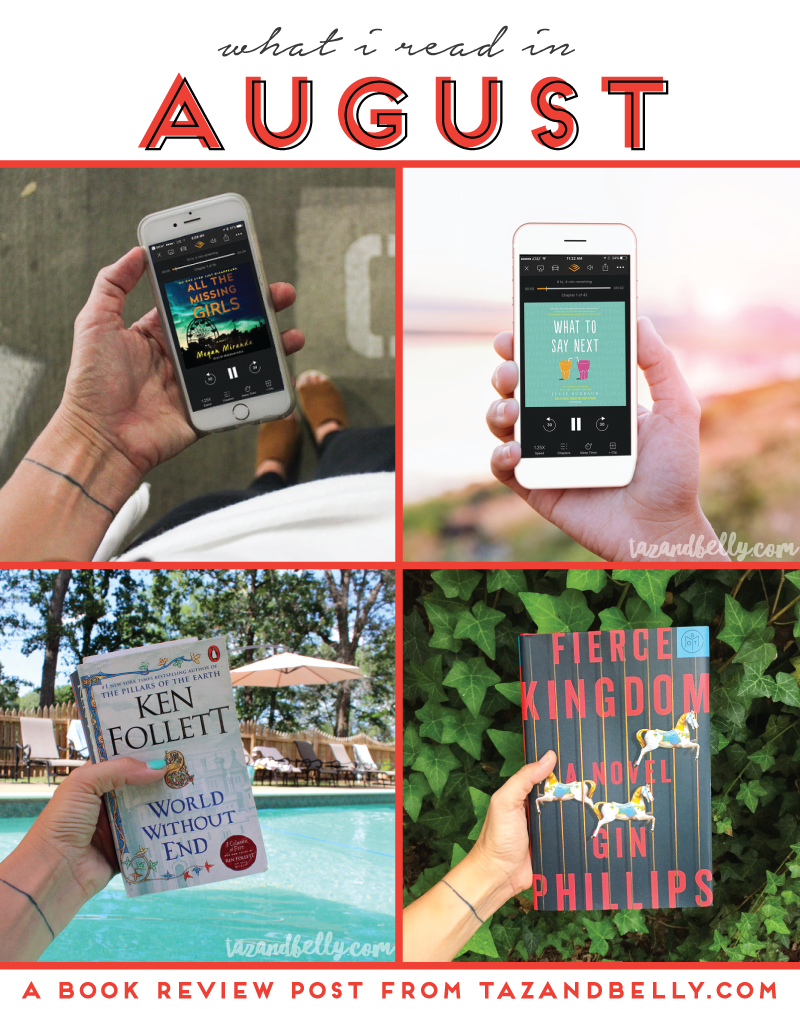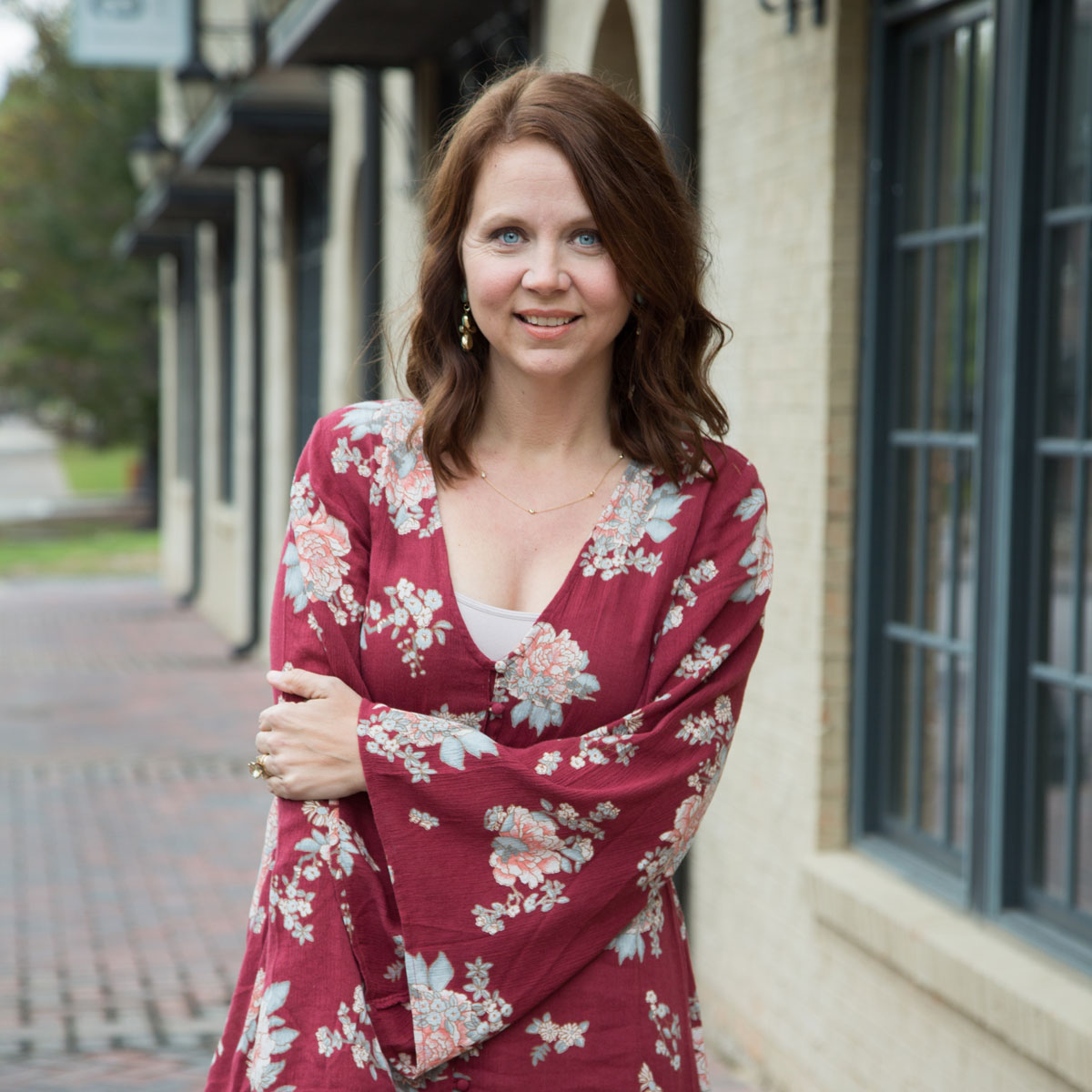 Kristin is married to her high-school sweetheart and the mother to two daughters. Professional by day and creative by night, she is a family lifestyle blogger who writes about faith, family, and fitting it all into a busy schedule. At Taz + Belly, you'll find healthy recipes, children's party ideas, tutorials, DIY projects, and more.
Click Here to Read More About Kristin