Disclosure: Affiliate links appear in this post. Any purchases made using these links will earn Taz + Belly a small commission. You can read more about our affiliate relationships here.
---
June is always a stellar reading month for me and this one was no exception. A few day at home alone followed by a ten day vacation means I can usually get to double-digits! I didn't read as many books this month as in June's past, but considering that my first read of the month topped 900 pages and I usually stay well under 400, I feel like I accomplished a ton. This appears to be the month of four star reads — I didn't meet a book I didn't fall in love with. I saved all of my creepy thrillers for the beach and they made for perfect one day reads. Josh finished the sequel to Pillars of the Earth last week and swears it's better than the first one. It looks like I'll be starting July with another epic novel.

---
28. PILLARS OF THE EARTH BY KEN FOLLETT
★★★★☆ | Epic Historical Fiction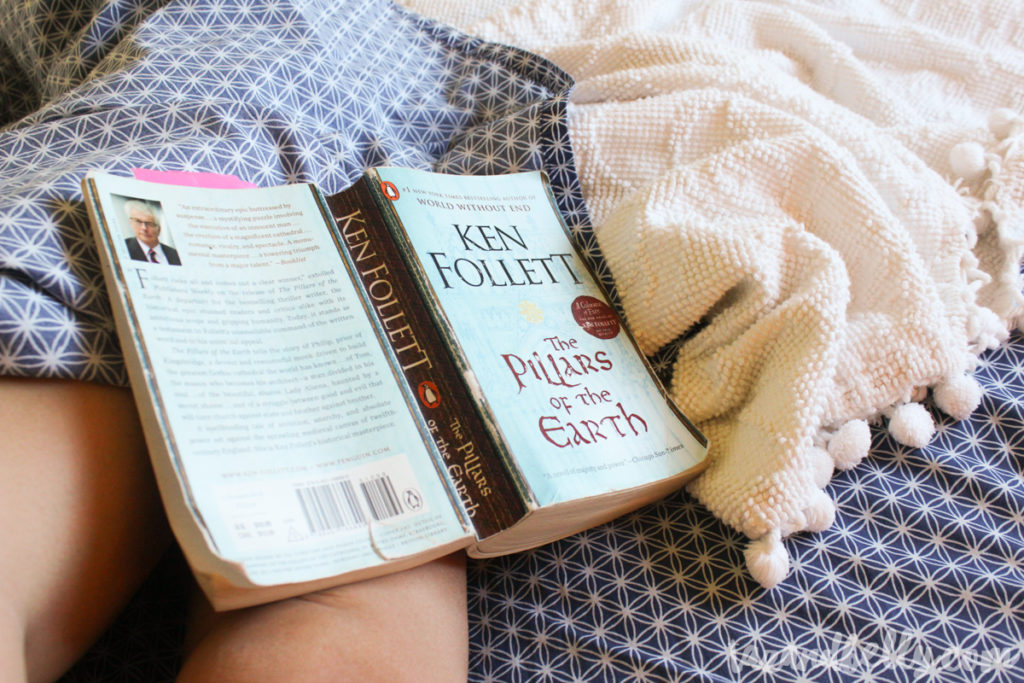 From Amazon: The Pillars of the Earth tells the story of Philip, prior of Kingsbridge, a devout and resourceful monk driven to build the greatest Gothic cathedral the world has known. of Tom, the mason who becomes his architect- a man divided in his soul. of the beautiful, elusive Lady Aliena, haunted by a secret shame. and of a struggle between good and evil that will turn church against state and brother against brother.
What I Loved: I'm not even sure where to start. This book is so different from anything I've read before and especially different from what I've been reading lately. I picked it up after Josh read it and couldn't stop talking about it. Honestly, I loved that it was so different than my normal genre. I loved that it followed the same group of characters over a longer period of time. I loved how so many stories were going on at the same time and so intertwined with one another. There was tension between church and state, political aspirations, family stories, death and destruction, and a beautiful, sweeping love story. I am so surprised by how much I loved it!
What I Didn't: There were a few characters that I hated. Like, my hatred for them rivaled my hatred for Ramsay Bolton and Joffrey Lannister. They were brutal and evil and the entire time I was reading I wanted them to fall on a sharp sword. I hated that they wouldn't just go away. Otherwise, my only complaint was the sheer amount of time it took me to read this book. At almost one thousand pages, I worked on this one for an entire month. I read a few chapters (almost a hundred pages each) and then stopped to read or listen to something else. When I got to the beach, I made myself read it, uninterrupted, until it was finished. The book was beautiful, but I'm probably only cut out for a book of this length, once a year (obviously I wrote that sentence right after I finished the book and before Josh pressed the sequel into my hands).
I would recommend this book to anyone: who likes historical fiction, sweeping novels, and books about all the things. This doesn't fall into a single genre, it is a crossover novel if I've ever read one.
---
29. ALL THE BRIGHT PLACES BY JENNIFER NIVEN
★★★★☆ | Young Adult Fiction (Audiobook)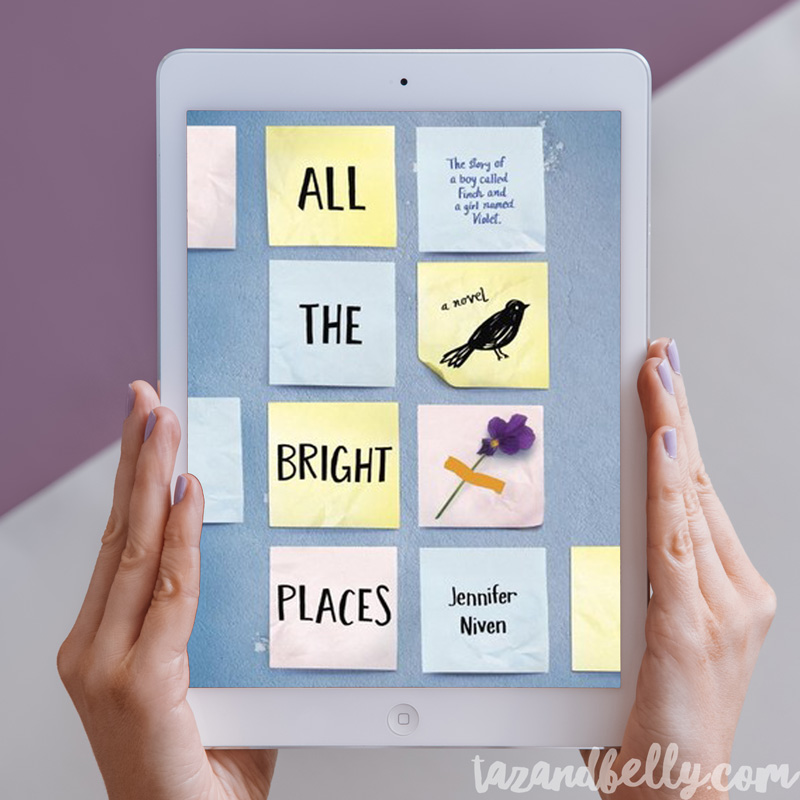 From Amazon: Theodore Finch is fascinated by death. Every day he thinks of ways he might kill himself, but every day he also searches for—and manages to find—something to keep him here, and alive, and awake. Violet Markey lives for the future, counting the days until graduation, when she can escape her small Indiana town and her aching grief in the wake of her sister's recent death. When Finch and Violet meet on the ledge of the bell tower at school—six stories above the ground— it's unclear who saves whom. Soon it's only with Violet that Finch can be himself. And it's only with Finch that Violet can forget to count away the days and start living them. But as Violet's world grows, Finch's begins to shrink.
What I Loved: I feel like the thing I love about every YA fiction book that I love is the same. I loved how well such a delicate subject matter was handled, I loved the alternating perspectives, and I loved how well developed the two main characters were.
What I Didn't: This was a hard read. I laughed and smiled a lot, but I cried even more. It's heart wrenching to read as a parent and it was really hard to reconcile.
I would recommend this book to anyone: Who didn't love Thirteen Reasons Why, who didn't want to read Thirteen Reasons Why, or was afraid Thirteen Reasons Why didn't properly handle the subjects of teenage mental illness and suicide. This book made me second guess everything I said about the former and even consider adjusting my rating. This is the book you should read on the matter.
---
30. BORN A CRIME BY TREVOR NOAH
★★★★☆ | Memoir (Audiobook)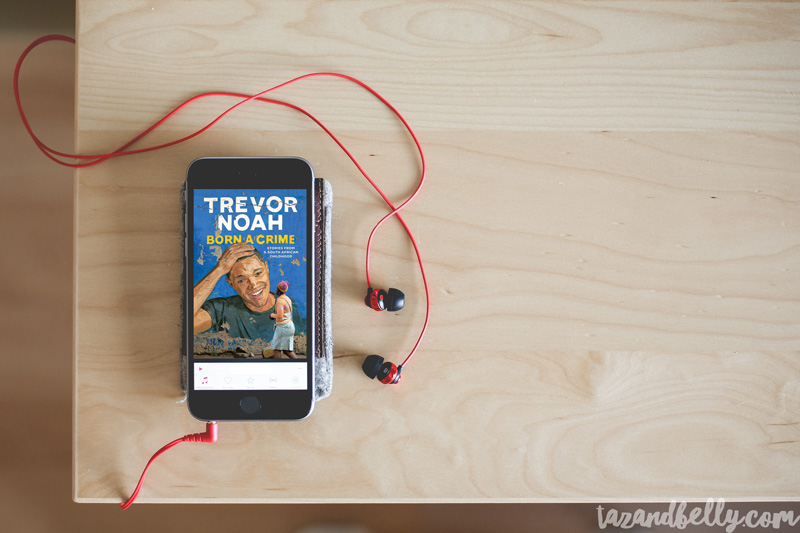 From Amazon: Trevor Noah's unlikely path from apartheid South Africa to the desk of The Daily Show began with a criminal act: his birth. Trevor was born to a white Swiss father and a black Xhosa mother at a time when such a union was punishable by five years in prison. Living proof of his parents' indiscretion, Trevor was kept mostly indoors for the earliest years of his life, bound by the extreme and often absurd measures his mother took to hide him from a government that could, at any moment, steal him away. Finally liberated by the end of South Africa's tyrannical white rule, Trevor and his mother set forth on a grand adventure, living openly and freely and embracing the opportunities won by a centuries-long struggle. Born a Crime is the story of a mischievous young boy who grows into a restless young man as he struggles to find himself in a world where he was never supposed to exist. It is also the story of that young man's relationship with his fearless, rebellious, and fervently religious mother—his teammate, a woman determined to save her son from the cycle of poverty, violence, and abuse that would ultimately threaten her own life.
What I Loved: This is memoir read by the author, so it gets major props from me right out of the gate. Noah's delivery is perfect and I loved hearing how he recalls his childhood and the culture in his home. I'll admit to not knowing much about South Africa aside from the definition of apartheid and this book opened my eyes to so many things I didn't understand.
What I Didn't: The only thing there is to dislike about this one is the ignorance of people in this world. We had a conversation with the girls about the Civil Rights Movement recently, prompted by some things they studied in school. It was a super casual conversation (as casual as something so serious can be) and I was so pleasantly surprised to hear how they responded. They were so genuinely confused by segregation and racism and couldn't understand how people could justify their actions and beliefs. I know that's getting a bit off topic here, but this book points out just how preposterous the notion of discrimination really is.
I would recommend this book to anyone: who wants to read more about race and identity in other countries and to those looking to add more diverse authors to their to read list.
---
31. THE WOMAN IN CABIN 10 BY RUTH WARE
★★★★☆ | Thriller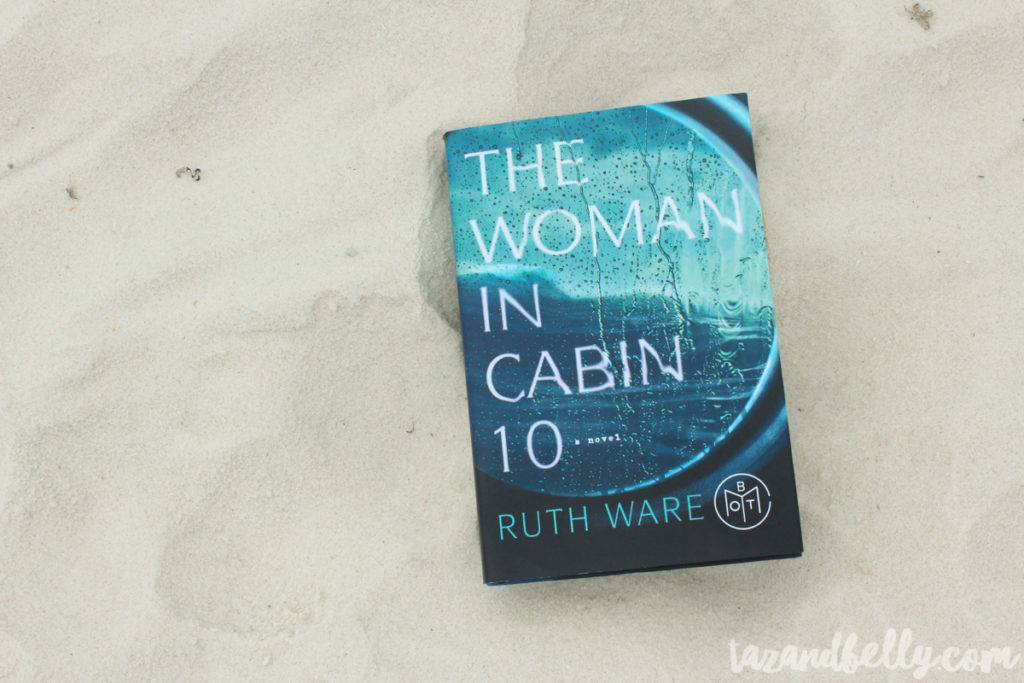 From Amazon: In this tightly wound, enthralling story reminiscent of Agatha Christie's works, Lo Blacklock, a journalist who writes for a travel magazine, has just been given the assignment of a lifetime: a week on a luxury cruise with only a handful of cabins. The sky is clear, the waters calm, and the veneered, select guests jovial as the exclusive cruise ship, the Aurora, begins her voyage in the picturesque North Sea. At first, Lo's stay is nothing but pleasant: the cabins are plush, the dinner parties are sparkling, and the guests are elegant. But as the week wears on, frigid winds whip the deck, gray skies fall, and Lo witnesses what she can only describe as a dark and terrifying nightmare: a woman being thrown overboard. The problem? All passengers remain accounted for—and so, the ship sails on as if nothing has happened, despite Lo's desperate attempts to convey that something (or someone) has gone terribly, terribly wrong…
What I Loved: This book is unputdownable. Is that even a word?! It was such a page turner and I read it in a single day. The tropical storm moved in during our vacation and we were trapped in the camper for a few days. This was the perfect distraction from the raging wind and rain. I loved how fast paced it was, how it kept me guessing, and how every single character was a potential villain.
What I Didn't: I did love how this book ended. It will keep you thinking about it for days. So many people recommended this one and commented on my Instagram Stories last week, so I was expecting some major plot twist at the end. There is a plot twist for sure, but the numerous comments and direct messages made me build up something huge in my head. It isn't at all predictable, but I had convinced myself it would end a certain way, so I was super confused when it didn't!
I would recommend this book to anyone: who loves twisty, turny thrillers, and books where you struggle to figure out whodunit. This one will definitely keep you guessing!
---
32. BEHIND HER EYES BY SARAH PINBOROUGH
★★★★☆ | Thriller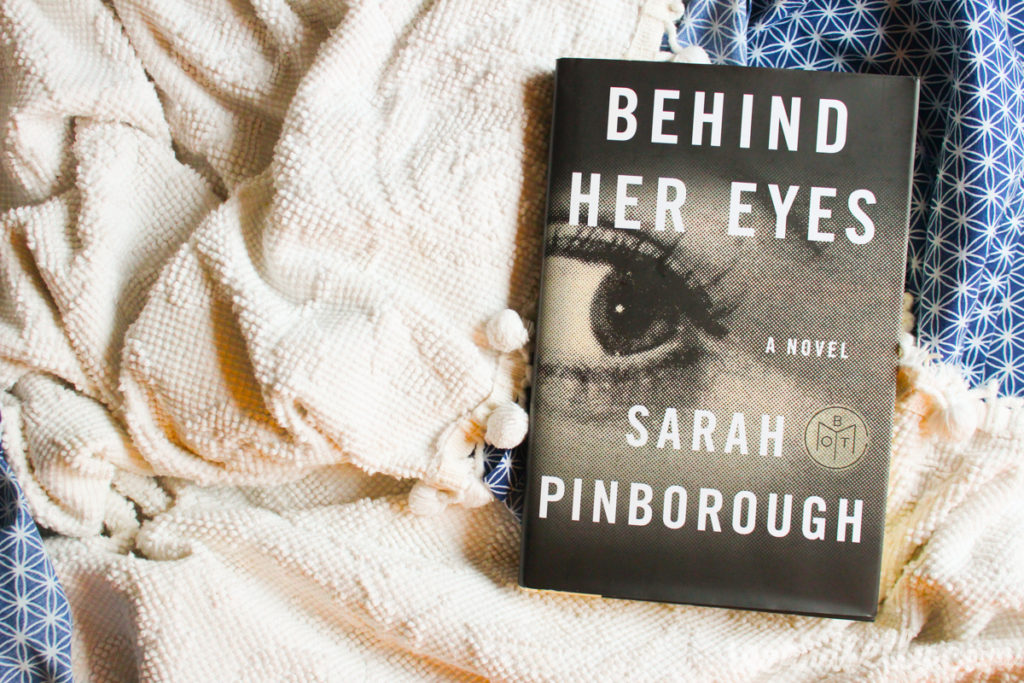 From Amazon: Don't Trust This Book. Don't Trust These People. Don't Trust Yourself. And whatever you do, DON'T give away that ending. Louise: Since her husband walked out, Louise has made her son her world, supporting them both with her part-time job. But all that changes when she meets… David: Young, successful and charming – Louise cannot believe a man like him would look at her twice let alone be attracted to her. But that all comes to a grinding halt when she meets his wife… Adele: Beautiful, elegant and sweet – Louise's new friend seems perfect in every way. As she becomes obsessed by this flawless couple, entangled in the intricate web of their marriage, they each, in turn, reach out to her. But only when she gets to know them both does she begin to see the cracks. Is David really is the man she thought she knew and is Adele as vulnerable as she appears? Just what terrible secrets are they both hiding and how far will they go to keep them?
This was my selection for Collaboreads last month and you can find my full review here. If you aren't already signed up to receive updates on the Collaboreads linkup straight to your inbox, you can do that at the bottom of the post!
---
33. INTO THE WATER BY PAULA HAWKINS
★★★★☆ | Thriller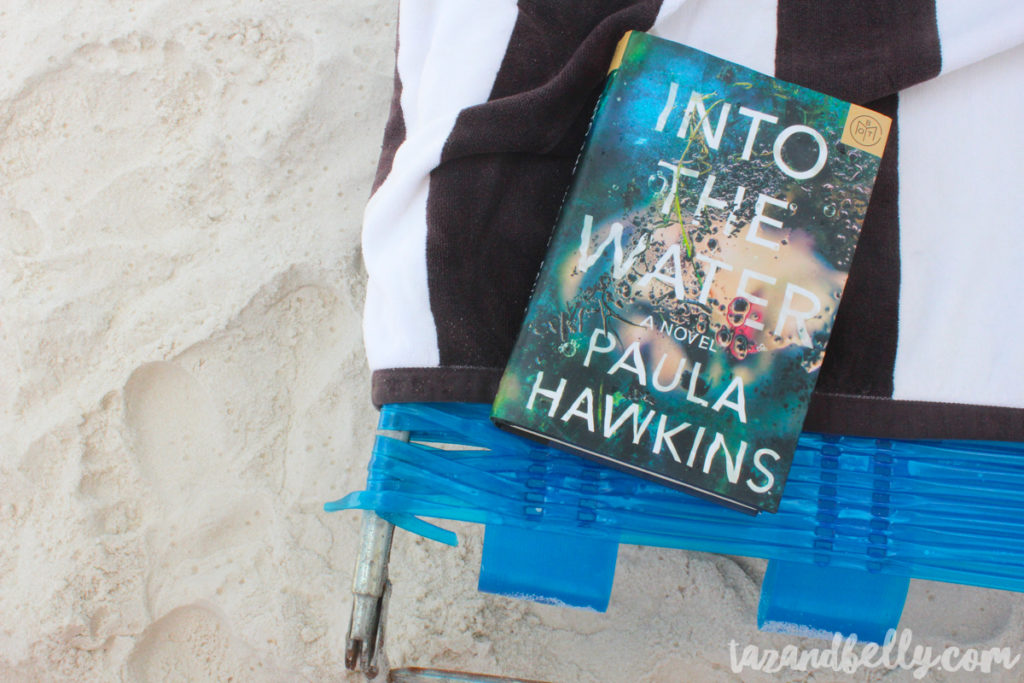 From Amazon: A single mother turns up dead at the bottom of the river that runs through town. Earlier in the summer, a vulnerable teenage girl met the same fate. They are not the first women lost to these dark waters, but their deaths disturb the river and its history, dredging up secrets long submerged. Left behind is a lonely fifteen-year-old girl. Parentless and friendless, she now finds herself in the care of her mother's sister, a fearful stranger who has been dragged back to the place she deliberately ran from—a place to which she vowed she'd never return. With the same propulsive writing and acute understanding of human instincts that captivated millions of readers around the world in her explosive debut thriller, The Girl on the Train, Paula Hawkins delivers an urgent, twisting, deeply satisfying read that hinges on the deceptiveness of emotion and memory, as well as the devastating ways that the past can reach a long arm into the present. Beware a calm surface—you never know what lies beneath.
What I Loved: Everything about this book was better than Girl on a Train — it was more believable, the ending made sense, and it was a page turner. While there were flashbacks to other times in history, the bulk of this novel took place in the present and, for a change, I loved that. I had someone tell me on Instagram that they wished for more details on what happened in the past, but I thought the glimpses we got were just enough. I loved that I suspected every single character and still got the ending wrong. I loved that there was both a sense of ambiguity and resolution all at the same time.
What I Didn't: I won't say I didn't like it, but there were a lot of characters in this book. I might have thought about making a character flow chart several times and it probably would have made it quicker to read. I had to flip back and forth many times because the chapter headings dropped the characters' last names after the first few chapters and I couldn't remember who belonged together!
I would recommend this book to anyone: who thought the first two thirds of Girl on a Train were perfect, but were left clutching their pearls at the end. This is such a redemption for Paula Hawkins, in my eyes.
---
I read six books this month and they were all four star reads. I would have loved to squeeze in a few more titles, but considering the number of pages I navigated, I'm going to call it a big win. We're only a few days into July and I'm already tackling book number two! I finished up The Puppy Primer in a matter of hours (because we desperately needed a refresher course of life with a new puppy) and I've already started the follow up to Pillars of the Earth. I'm going to give myself a little grace this month because 1000 pages + new puppy in our house, but I've got so many great things on tap.
Keep scrolling for a preview of this month's Book of the Month selections — there are so many great options for July!
Total number of books in June: six
Number of fiction books in June: five
Number of nonfiction books in June: one
Number of Audible books in June: two
Total number of books this year: thirty three
Best book of the year: This Is How It Always Is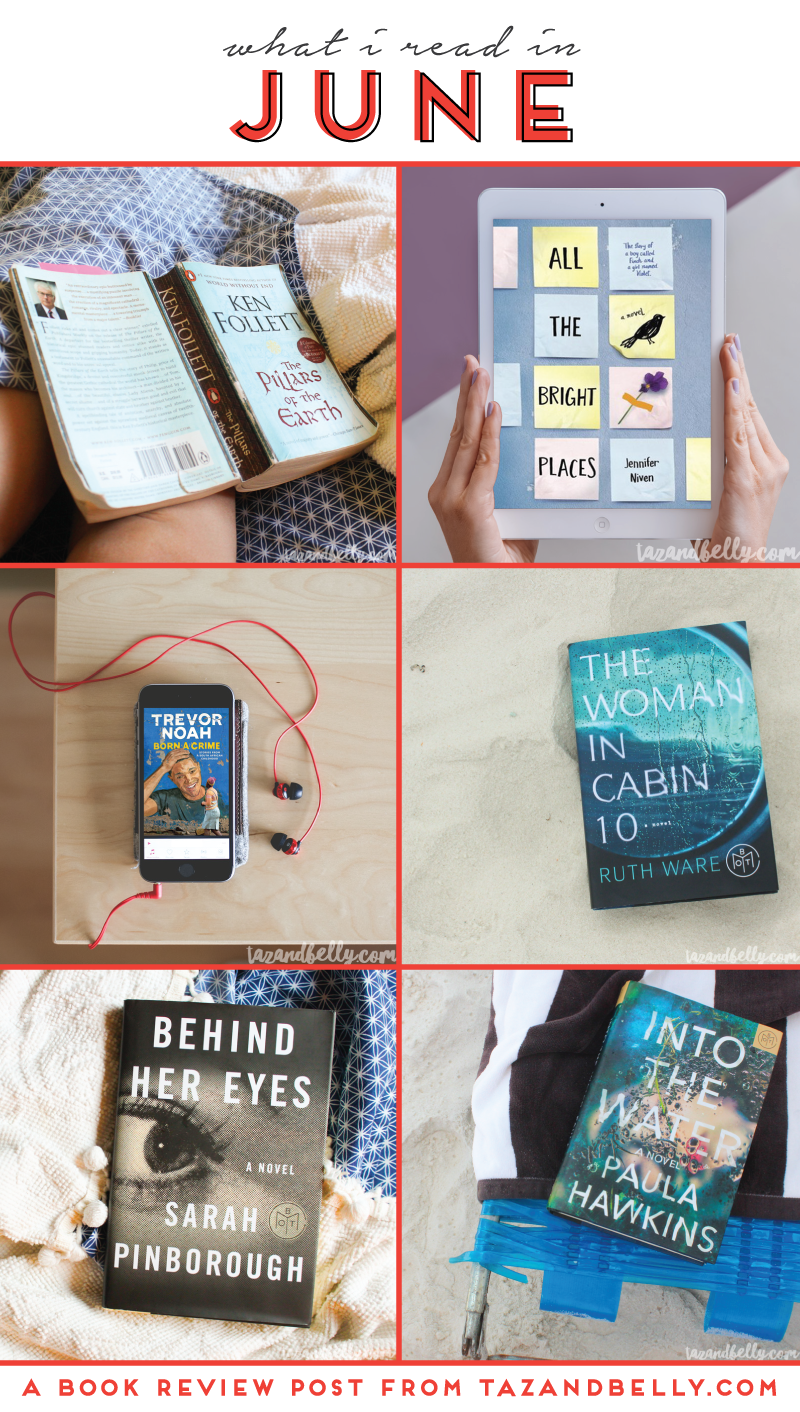 Have you signed up for Book of the Month Club?! There are five fantastic selections this month, not to mention a few great options for an add-on book — I'm having the hardest time choosing! Even better than a box of books delivered to your doorstep this month, they are offering a fun tote bag for new members this month! Sign up and use the code TOTALLY to add a free Book of the Month tote to your box.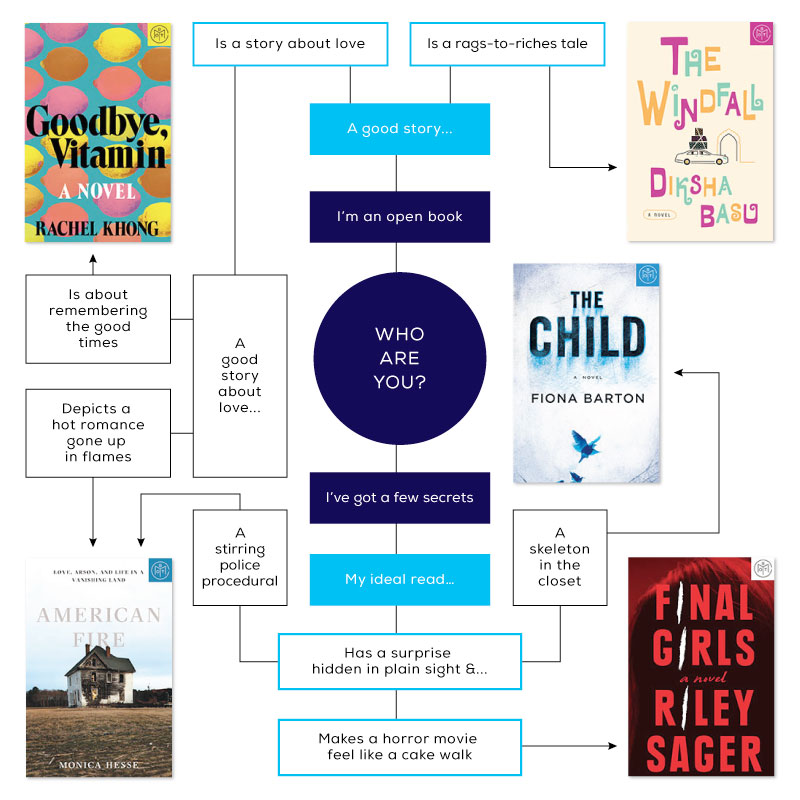 Available this month: Final Girls by Riley Sager | Goodbye, Vitamin by Rachel Khong | American Fire by Monica Hesse | The Windfall by Diksha Basu | The Child by Fiona Barton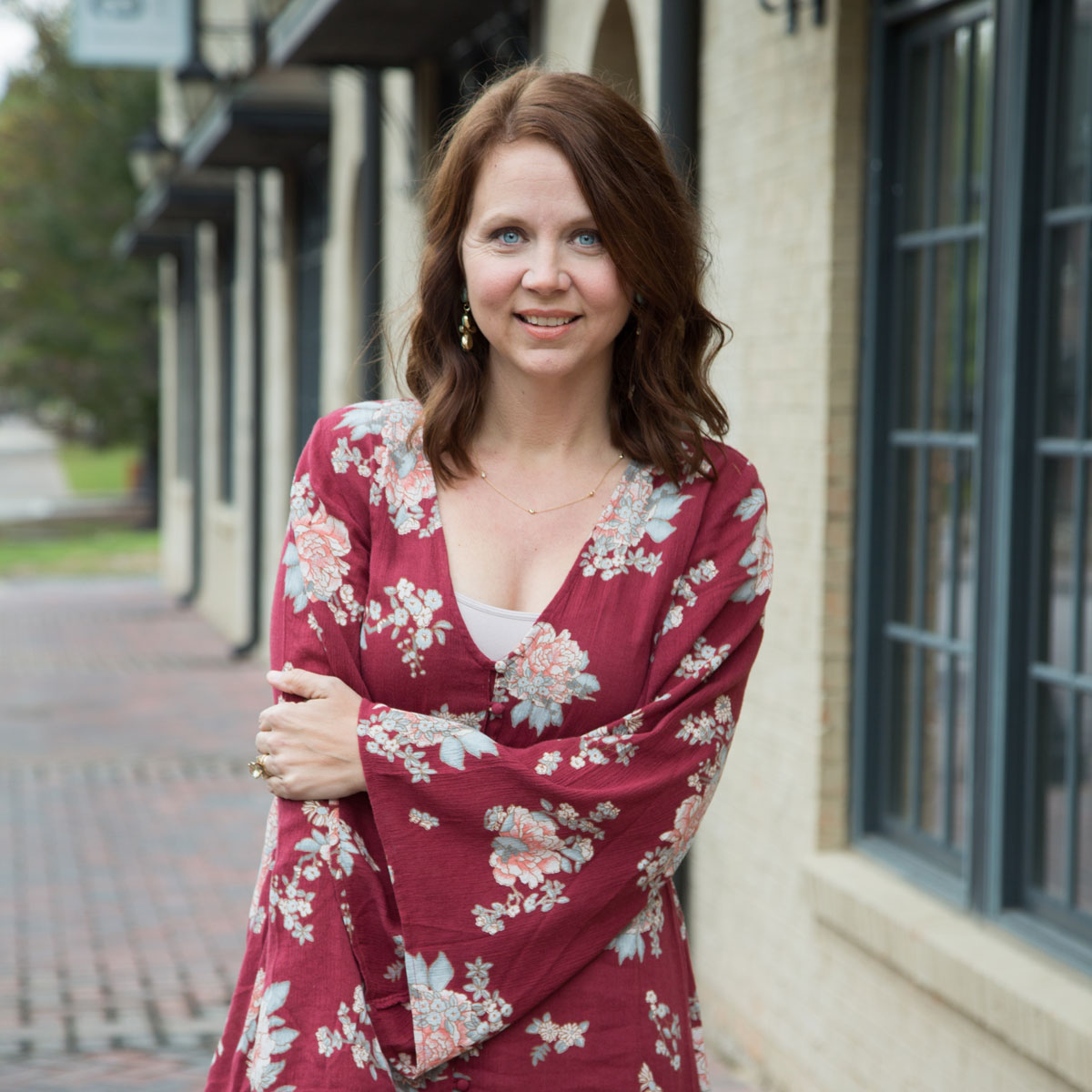 Kristin is married to her high-school sweetheart and the mother to two daughters. Professional by day and creative by night, she is a family lifestyle blogger who writes about faith, family, and fitting it all into a busy schedule. At Taz + Belly, you'll find healthy recipes, children's party ideas, tutorials, DIY projects, and more.
Click Here to Read More About Kristin