Anne, at In Residence, hosts a linkup on the first Wednesday of every month and invites readers to share a few things they're up to currently. Be sure to hop over to her blog and see what everyone else is up to this month. The Monthly Report is the longest post that appears on Taz + Belly each month, so hang in there!
Remember that time I decided introductory paragraphs were unnecessary and that the time I stressed over what to say was better spent doing something else? Well, I'm still firmly in that camp. Welcome to The Monthly Report — two days late, but totally necessary since I've been avoiding the internet like the plague. Shall we?

styling | I'm styling tons of cute fall outfits, but only in my head. While it feels nice and crisp when we first wake up every morning, by mid-afternoon we're simmering at 85* again. It looks like fall outside, but unless you're heading out after dark, shorts and tanks are still completely appropriate. I've been saying for weeks that I was going to share a fall wish list on the blog, but it's seriously hard to shop for cozy sweaters and jackets when it's still so humid in Alabama. We've got family photos on the calendar for this month, so I'm hoping the weather will cooperate before then. Somehow I don't think bikinis will go over so well on our Christmas cards.
saving | We've made some progress on the home front and I've been saving all sorts of inspiration to my Pinterest Board in recent days. My parents' barn is almost completed and they decided to go ahead and make the move, while finishing up the final details. Today marks seven days we've lived in our "new" house alone and it feels completely different. We moved in this time last year, but co-living (with all of our possessions in storage) is not quite the same as taking ownership of the house. We have loved having my parents under our roof and I already hate that I'm missing coffee with my mom every morning, but we are so excited about getting this home renovation going. I'm working on a major to-do list to share on the blog next week and I hope to be blogging regularly (finally) about the process, starting this month! In case you're new and need to catch up, you can find the original post about buying my childhood home here and a hilarious home video of the original build here.
searching | Am I the only one already searching for Christmas gifts? In a former life, I was completely done shopping before the Thanksgiving holidays and I would really like to return to that mentality. I've only bought a single gift so far (a darling lamp for my unicorn loving girl's new room), but I'm already making my list and hope to be checking it off really soon. I here that Santa is shooting for bedroom themed gifts this year, so send me all of your great ideas!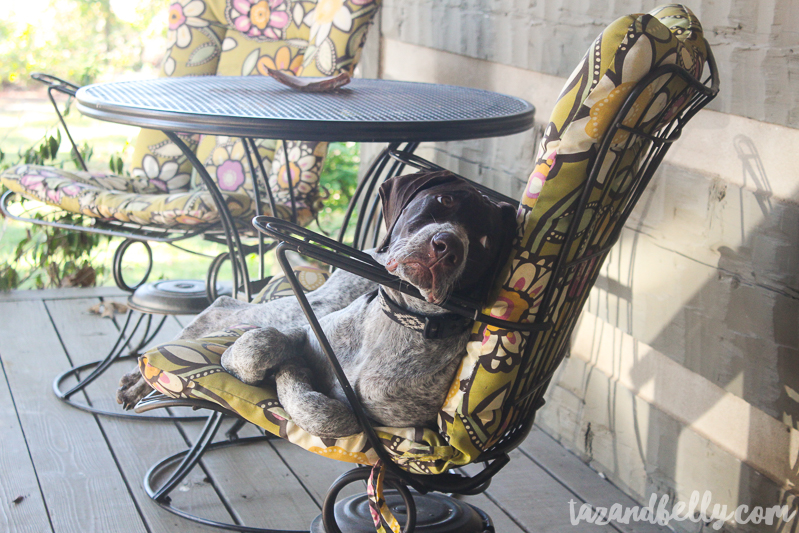 picking | The only thing I'm picking at the moment, is my battles. We are only a few weeks away from sending Scoop to doggie boot camp and I can't wait. She's such a good dog and is great with the kids, but we always knew we would do some intense obedience training when she was old enough. Our chief complaints are that we need to keep her close to home (we have 9 acres and back up to a 20+ acre cotton field, so she thinks she can go wherever she pleases and refuses to come when called), we need her to leave my parents' cat alone (she chases him, trees him, and barks at him on an hourly basis), and we need to curb her instinct to retaliate (she pees in our bedroom when she's mad at us and it's very obviously deliberate).
making | I've said this so many times already, but the last month has been really hard on me. I honestly don't even have an explanation, but something about the changes going on in my life and in the weather and in the news have kept me in a deep down funk for weeks. I know I'm starting to get on my family's nerves and I know I need to get myself together. I've already done so many things in the last few weeks to help with this and I'm hoping when my hormones are under control next week, that I'll be in a better frame of mind. So back to making, I'm making changes — changes in my habits and routines and thought processes. I had been neglecting the gym after a shoulder injury and I'm getting back to 4-5 days a week this month. I started a new small group on Monday evenings and after only two weeks (with girls that I don't know), I'm loving the fellowship and camaraderie. I've never been a great housekeeper, so I've started doing a few daily things to help me keep things caught up. I'm thinking about sharing a blog posts with specific later in the month, so I won't go into much detail, but I've decided that's it's totally okay to reinvent yourself — even at 37.
---
Rather than call this a list of goals, I thought we'd do a little "to do list" each month instead. The word goal makes it sound so lofty and important, and I'm talking more about things I want to accomplish than achieve.
Let's take a quick look at September's list before moving on to October, shall we?
Complete Fall Round of Whole30. Well, this was a completely and total failure. Did I cook all sorts of delicious Paleo/Whole30 meals in September? Yes, I did. Did I manage to stay on the wagon for a solid thirty days? Nope. We had a death in our family early in the month and nobody in my house felt like doing anything productive. We had a huge pan of pasta leftover from Ella's birthday, so we ate it and ice cream cake for a solid five days. Our month was filled with comfort foods and plenty of rest and I have zero regrets. I always do a round in September and January, so I'll plan to be a better eater after the first of the year. I'm back to eating 75% paleo and already feel more like myself again.
Post daily in our new Facebook Group. I didn't post everyday — again, September wasn't a fun month — but I did launch the group and began sharing there more frequently. My goal is to have more of a conversation there and less of me posting links that nobody ever comments or engages with. I'd love to have you there if you're up for a random dose of daily conversation!
Organize school paperwork. While this one wasn't technically on my list for October, it was on almost every prior list for the last six months. I only took it off because I was embarrassed at how many times I ignored it! I finally bought bins for the girls and had them help me sort school and art work into grades, throwing away anything that wasn't worth keeping and weeding out blank worksheets and field trip permission slips. I still need to photograph the oversized art work before we get rid of anything else, but I'm happy to report the bulk of this project is done!

Empty our storage pod. We've had all of our life possessions in a storage pod since last October and I miss my things. We've decided not to split the girls up just yet and to use Ella's room as a storage spot until we are ready to tackle the upstairs (hopefully very early next year). I got started on this project last weekend, but still need help moving heavy boxes and furniture. I'm hoping that October is the last month I have to pay for the big white box in my back yard!
Organize our home. Is it cheating to put this on the list if I've already started the project? My parents moved out last Saturday and I skipped church on Sunday in favor of cleaning all the things. Keep in mind that our house is devoid of furniture, at the moment, but I cleaned out every cabinet and closet that I could find. I emptied the refrigerator, freezer, pantry, and every cabinet in our kitchen and laundry room. When we first moved in, we just put like things together — meaning our silverware, plastic storage bags, and bananas were all in the places my parents had been putting them for thirty years. We still get confused, but Josh and I tried to rearrange a bit and put things where we will use them most. I still need to clean our master bathroom vanity and switch my clothes out for fall, but I'm hoping to tackle those things next week.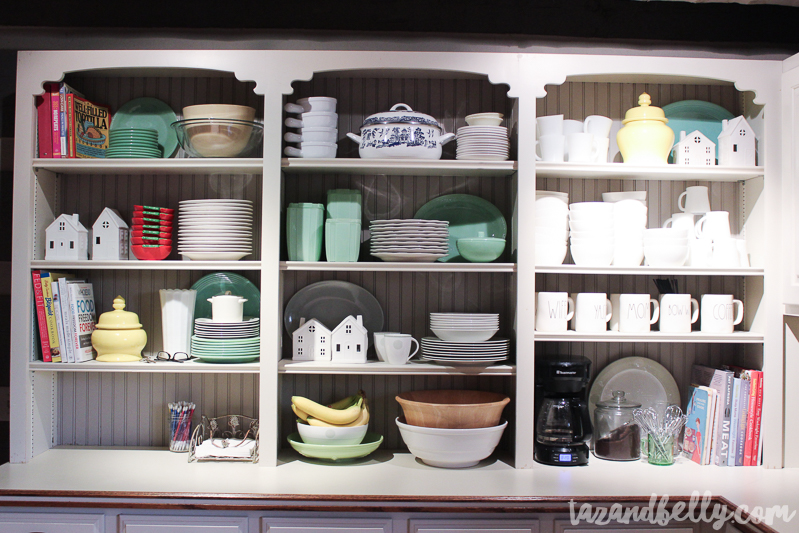 Create master list of home projects. Josh and I are already trying to decide on the order of things for our home renovation, but we haven't reached a decision. Since it will be weeks before the purchase process is underway (we're still waiting on a surveyor to help us divide the property), we likely won't be tackling any major projects (or pricey ones) until after the holidays. We do want to enjoy our home in the meantime, though, so we're prioritizing our list to determine what we can do before our Christmas tree goes up that can be budgeting and paid for in cash.
Maintain my new daily routine. Like I mentioned above, I'm trying to get in a better habit of doing daily chores to keep our home clean and me from feeling so overwhelmed. Every day this week I've washed / folded / put away a load of laundry, emptied and reloaded the dishwasher, and done a quick pick up of the downstairs. I know these seem like simple things I should have been doing already, but we have twice as much house as we've ever had before and that can feel a little unwieldy.
Get back to blogging on a regular basis. I had no intentions of taking any time away from the blog last month, but I'm not sorry that it happened. I rested a ton, read twice as much as usual, and enjoyed being at home without the pressure to create content. I did miss it, though, and I'm ready to get back to a weekly posting schedule. I'm thinking of returning to my M/W/F schedule through the end of the year, but that all depends on how quickly we start working on the renovation process.
---
Now let's get to it — everyone's favorite monthly recap. Here's a look at our September recap, by the numbers.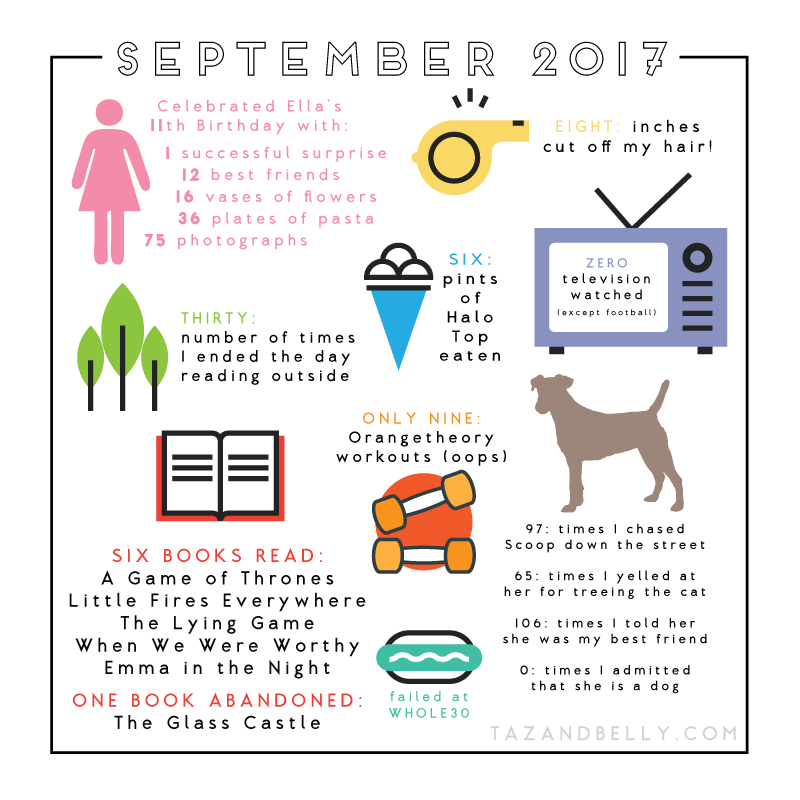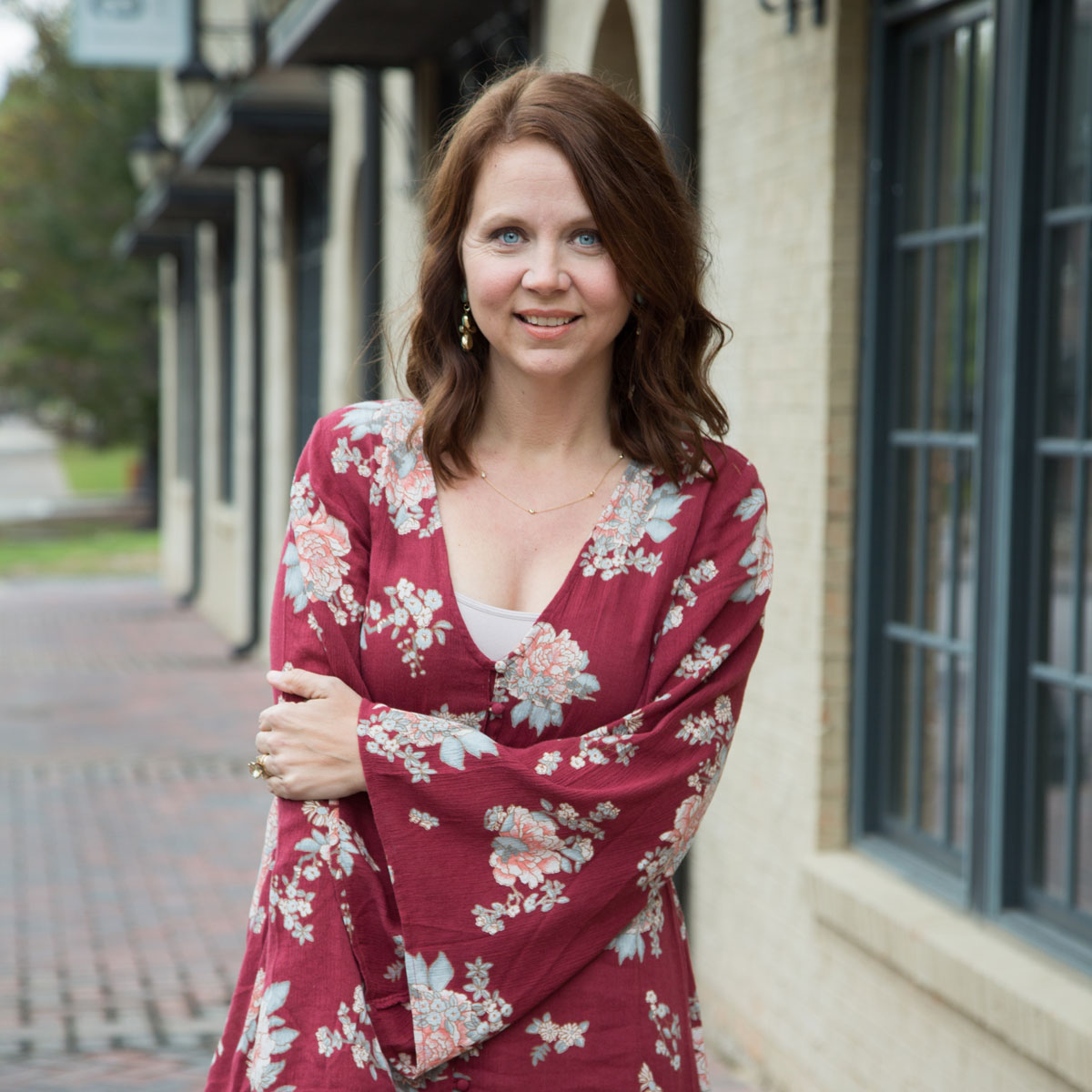 Kristin is married to her high-school sweetheart and the mother to two daughters. Professional by day and creative by night, she is a family lifestyle blogger who writes about faith, family, and fitting it all into a busy schedule. At Taz + Belly, you'll find healthy recipes, children's party ideas, tutorials, DIY projects, and more.
Click Here to Read More About Kristin