Anne, at In Residence, hosts a linkup on the first Wednesday of every month and invites readers to share a few things they're up to currently. Be sure to hop over to her blog and see what everyone else is up to this month. The Monthly Report is the longest post that appears on Taz + Belly each month, so hang in there! 
Yes, I'm a week late on this post. Yes, I'm writing this at 8:30 in the evening. Yes, I have a second post that's going live approximately 18 minutes after this one. I got behind over the weekend and if I'm going to get the camper reveal on the blog for you this week, I've got to get back on schedule. Consider today a two-for-one special!
---

planning | The only thing getting planned around here is our beach trip. Although maybe I should call it planned since the rest of my family is already there. I've enjoyed a few days at home to myself and I can't wait to spend eleven uninterrupted days with my people in our favorite place. In the spirit of planning, I did make my reservation for next summer earlier today. It gets harder and harder to book a site on our favorite street and the earliest you can call is one year in advance. My mom and I spent the morning on the phone and beach trip 2018 is officially in the books.
wishing | I'm wishing it was Wednesday, because: beach. And as much as I do not want to wish the next two weeks of my life away, I'm also wishing the newest canine member of our family was already home. I'm hoarding photographic evidence because I want you to see her in our arms, but SHE IS CUTE.
learning | This week, I'm learning all about Beautycounter. I know I've talked at length about safer, more natural products, so you should know by now that this isn't just about sales for me. I've seen such a huge difference in my skin and other environmental symptoms since making an effort to better research my personal care products this year and BC is just another step in the right direction. I've got some new products arriving tomorrow that I can't wait to try and share with you soon. If you're interested in learning more I would love to chat and if you're local and want to try some of my products, shoot me an email and let me know! I'll have baskets of several different products to share in the coming weeks.
browsing | I've bought so much less this year when it comes to clothes and it's kind of been a relief. I've done some internet browsing, but very little purchasing this year (unless you count the camper renovation). I did need a few things for our trip, so I did some in person browsing on Sunday afternoon. I hit up Nordstrom Rack and Athleta and got some super cute pieces. I'm planning on doing a vacation style recap after our trip, so I'll be sure to share all of the details then!
going | I'm going to sleep pretty soon, going to the pet store tomorrow to track down some natural dog food and a few new treats for our girl, then going to the beach on Wednesday. All three of those sound amazing.
---
Rather than call this a list of goals, I thought we'd do a little "to do list" each month instead. The word goal makes it sound so lofty and important, and I'm talking more about things I want to accomplish than achieve.
Let's take a quick look at May's list before moving on to June, shall we?
Finish the camper renovation. I could not be more happy to say this is 100% done. It has been such a labor of love over the last few months and I'm kind of sad that my project is over, but so very proud of it.
Schedule blog posts for June. I'm literally working on that as we speak. My calendar is open, all photos have been edited, and I'm chugging coffee while drafting alltheposts.
Continue with my clothes spending freeze. I did this pretty well in May! I did order two pairs of shorts and two tanks during J.Crew's Memorial Day sale, but I they were super cheap and I don't feel guilty at all.
Purchase a new bathing suit. Done. Instead of buying a full suit, I bought two different colors of this top from Athleta and between the two, they match every bathing suit bottom in my drawer. Score!
Drink only water and coffee. Nope. I came pretty close to this one, but I did have a few of those tiny cans of soda. Whomp whomp.
Continue journaling through the Psalms. I didn't get to do this every day, but I have spent significantly more time in my Bible the past few months. Ella's dance recital week kind of threw me for a loop and our vacation will likely derail any serious creative time for the next few weeks, but I'll be excited to pick back up where I left off after our trip.

Rest. This is literally the only thing on my list of things to accomplish in June. I'm going to spend the next two weeks enjoying time with Josh and the girls, recharging my batteries, and reading all the books on my nightstand. It will be nice to take a break from real life, from my real job, and from the blog for a few weeks. Planning my blog posts ahead of time will give me an even bigger break than I'm used to and I'm really looking forward to that. I'm betting I'll be able to mark this one of the list next month pretty easily!
---
Now let's get to it — everyone's favorite monthly recap. Here's a look at our May recap, by the numbers.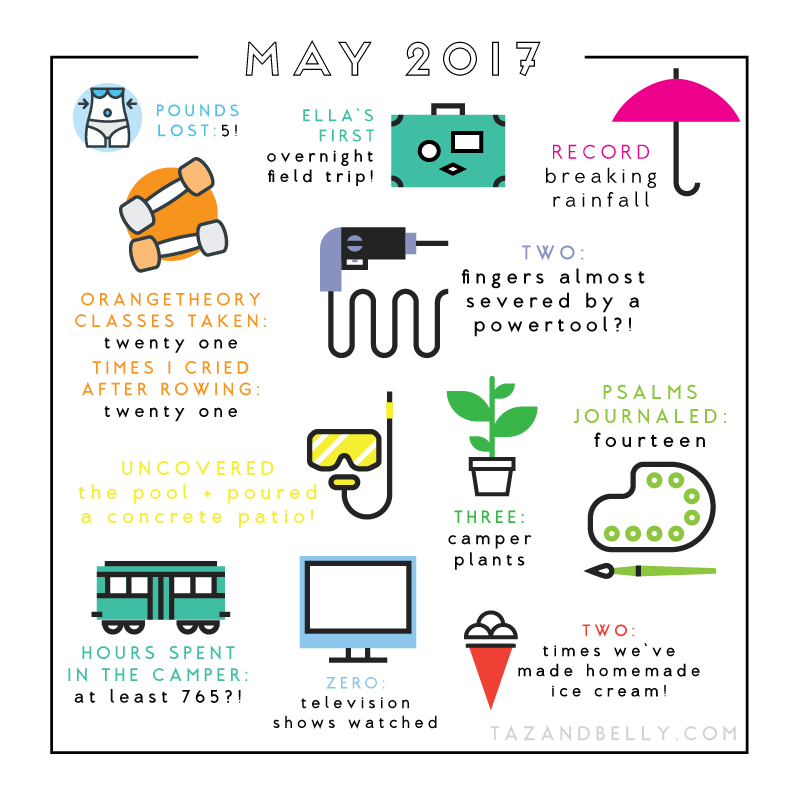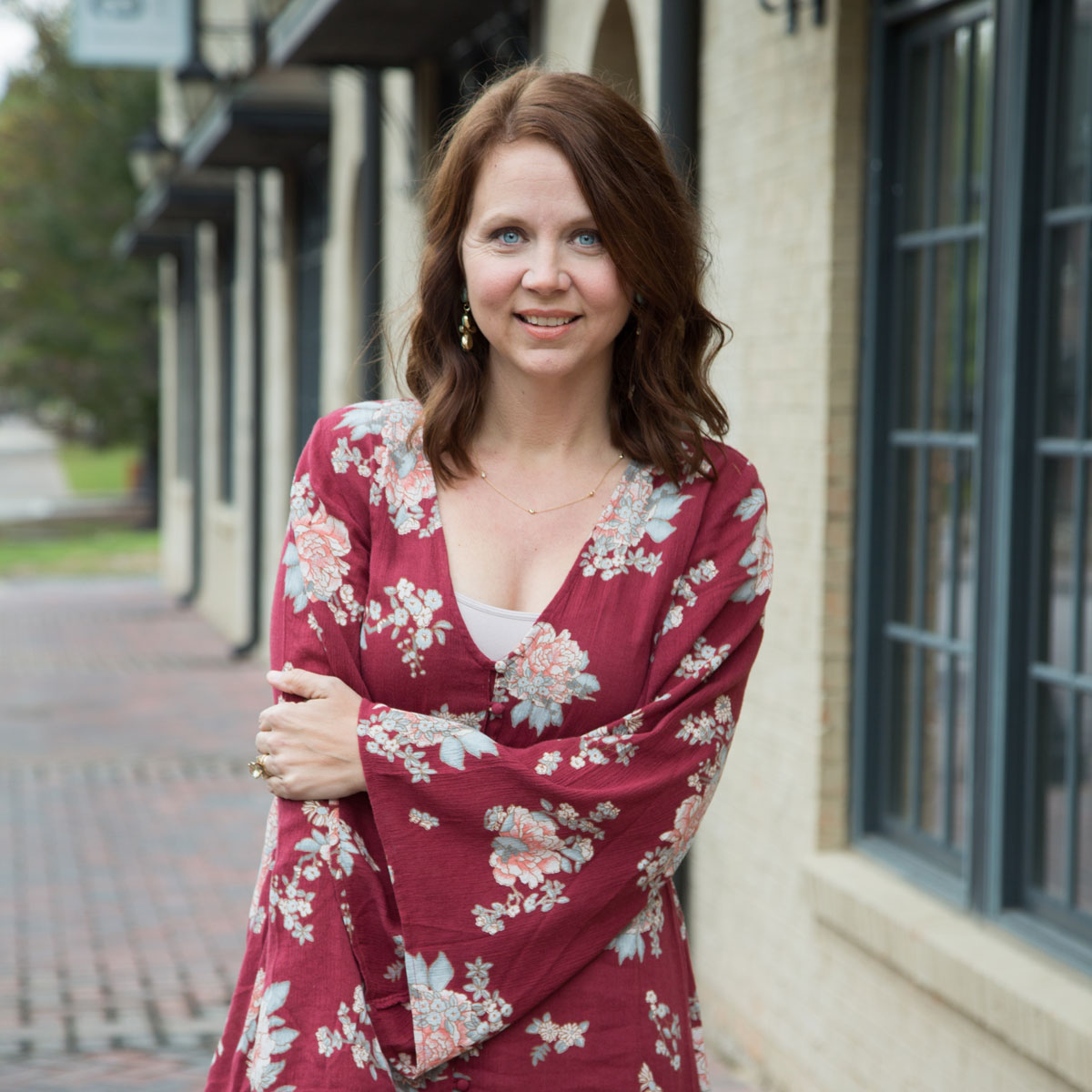 Kristin is married to her high-school sweetheart and the mother to two daughters. Professional by day and creative by night, she is a family lifestyle blogger who writes about faith, family, and fitting it all into a busy schedule. At Taz + Belly, you'll find healthy recipes, children's party ideas, tutorials, DIY projects, and more.
Click Here to Read More About Kristin