Anne, at In Residence, hosts a linkup on the first Wednesday of every month and invites readers to share a few things they're up to currently. Be sure to hop over to her blog and see what everyone else is up to this month. The Monthly Report is the longest post that appears on Taz + Belly each month, so hang in there! 
So… I drafted a Monthly Report post for July, but I wasn't quite finished with June's infographic and before I knew it, I had completely missed the boat. I debated sharing it later in the month, but half of the things I mentioned had either already happened or were no longer relevant and it just seemed weird. Instead, I skipped out on my monthly reported and added the infographic to another post altogether. Why am I even telling you this? I have no idea, except to announce that I don't have it all together — not even a little bit. Let's get to it, shall we?
---

snacking (on) | Barkthins are my new favorite snack and we can be found in bed with dueling flavors on any given night. Josh prefers almonds and sea salt, but I love the pretzel version the very best! I'm also eating this chicken salad any chance I get — on carrot sticks, pretzel thins, or gluten free pita chips.
anticipating | I'm anticipating our Colorado trip so very much. We are currently en route to Atlanta and should be on the ground in Denver by mid-morning. We're headed to Red Rocks for The Head and the Heart Concert tonight (woohoo!) and have a super fun, adventure filled week ahead. Time away with your spouse is so important and we try our hardest to plan a long weekend trip every year. We'll be celebrating our FIFTEENTH wedding anniversary next week, so this seemed like as good a time as any.
borrowing | Is it a total copout to say I'm borrowing time? The kids start school on Tuesday and I am not ready. It's not that I'm not ready for second and fifth grade — I love seeing my girls grow up and experience things and I think every year is cooler than the one before — I'm just not quite ready for real life to return. Sure, I've been working all summer, but coming home to a pool full of kids and a wet puppy makes it easy to shirk real life in lieu of a bathing suit. Am I wrong?
admiring | All of the organized people in my life. I used to be a super organized individual, but then I had kids. It wasn't so bad after Ella was born, but having two kids completely changed my personality and I just didn't care as much about things like that in the aftermath of her birth. She's seven now, so I've decided it's probably time that I get it together. I've been successfully managing paperwork since the spring, I just revamped my DIY planner, and I'm working on a few home projects to keep me sane (more on that below).
purchasing | Maybe we'll finally purchase our home this month? Or at least in the very near future. We've actually been living in it since October — we're buying my childhood home — but have been sharing the cost of living with my parents, who haven't yet moved out. They are almost finished making the party barn livable and we're in the process of getting the logistics worked out. I would really like to get started on our home renovations before the end of the year, so it's time to get the ball rolling.
---
Rather than call this a list of goals, I thought we'd do a little "to do list" each month instead. The word goal makes it sound so lofty and important, and I'm talking more about things I want to accomplish than achieve.
Let's take a quick look at July's list before moving on to August, shall we?
Organize School & Art Work: At the moment I scheduled this post to publish, this task had not yet been completed. July was filled to the brim and every single extra minute was spent wrangling the puppy, finding missing socks (that she had hidden), and cleaning up puddles of puppy messes. My goal was to have this done before the new school year started, but it looks like it's getting migrated to August.
Work on a business plan. This happened. I've been working through the box of goodies that Beautycounter delivered to my house and systematically trying them and reporting back to YOU. I implemented a new Saturday Skincare series, here on the blog, and I've been working to authentically share products on Instagram Stories. How am I doing?!
Get blog posts scheduled. This one makes me really happy. I had fallen behind on scheduling blog posts in advance (hello, summer vacation) and I really needed to get back on track. Because of our trip, I wanted to be a minimum of one week ahead, and I finally made that happen. Now let's work on keeping up the momentum!
Book plane tickets for Colorado. Obviously, considering we're boarding our plan in a matter of minutes!

Organize School & Art Work. I mentioned this above, but it really is the biggest thing on my to-do list this month. I meant to do it over the winter and just never got around to it. I know that if I don't get it started now, it will just be compounded by more and more paperwork to organize throughout the school year.
Finish house-training Scoop. I realize that only she can determine if this one will happen in August, but we are working hard. We thought we were working hard in July and that having the girls home for summer would provide Josh with some extra help. Honestly? I think it hurt us more than helped. I'm hoping that now that she's home with Josh every day, that the regularity of a schedule and the lack of lazy pool days will make things a little easier. She is doing great, but we're ready for her potty breaks to be a bit more reliable.
Purchase baby gifts. My sister-in-law is having a baby boy in a matter of days (please wait until after our return, Memphis!) and my sister's baby, Vera Claire, will be here in November. I know what I'm planning to buy them both, but I need to get them ordered and wrapped ASAP.
Make a fall wish list. I'm hoping to continue my less is more approach to my closet this fall, but there are a few things I'm missing. I'm hoping to do a closet evaluation before it starts cooling down (if you live in Alabama, you'll know this is wishful thinking on my part) and make a thoughtful list of the items I'd like to add to my closet.
Attempt Intermittent Fasting. My fitness goals have been going so well since I joined Orangetheory in the spring and I really want to keep that going into the fall and winter months (because, football season + holidays). A friend was talking to me about fasting a few weeks ago and Josh and I decided it might be worth trying for 4-6 weeks for some additional fat loss. I'll be doing a more in depth post over the next several weeks, but I'm hoping to spend next week making a month long meal and fasting plan to get us off on the right foot. Have you ever tried fasting as a weight loss tool?
---
Now let's get to it — everyone's favorite monthly recap. Here's a look at our July recap, by the numbers.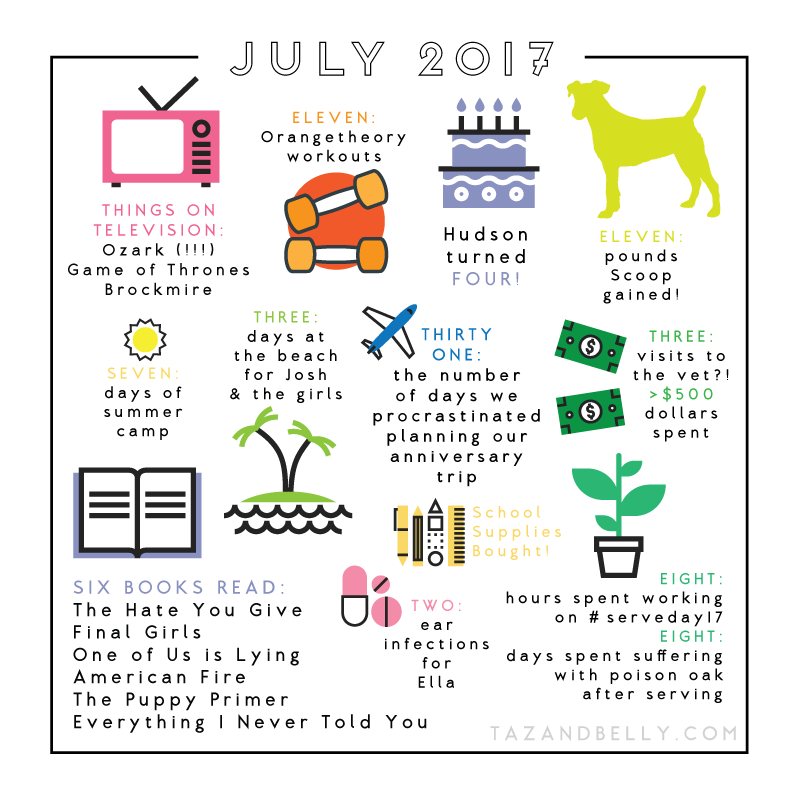 As always, thanks for reading and commenting!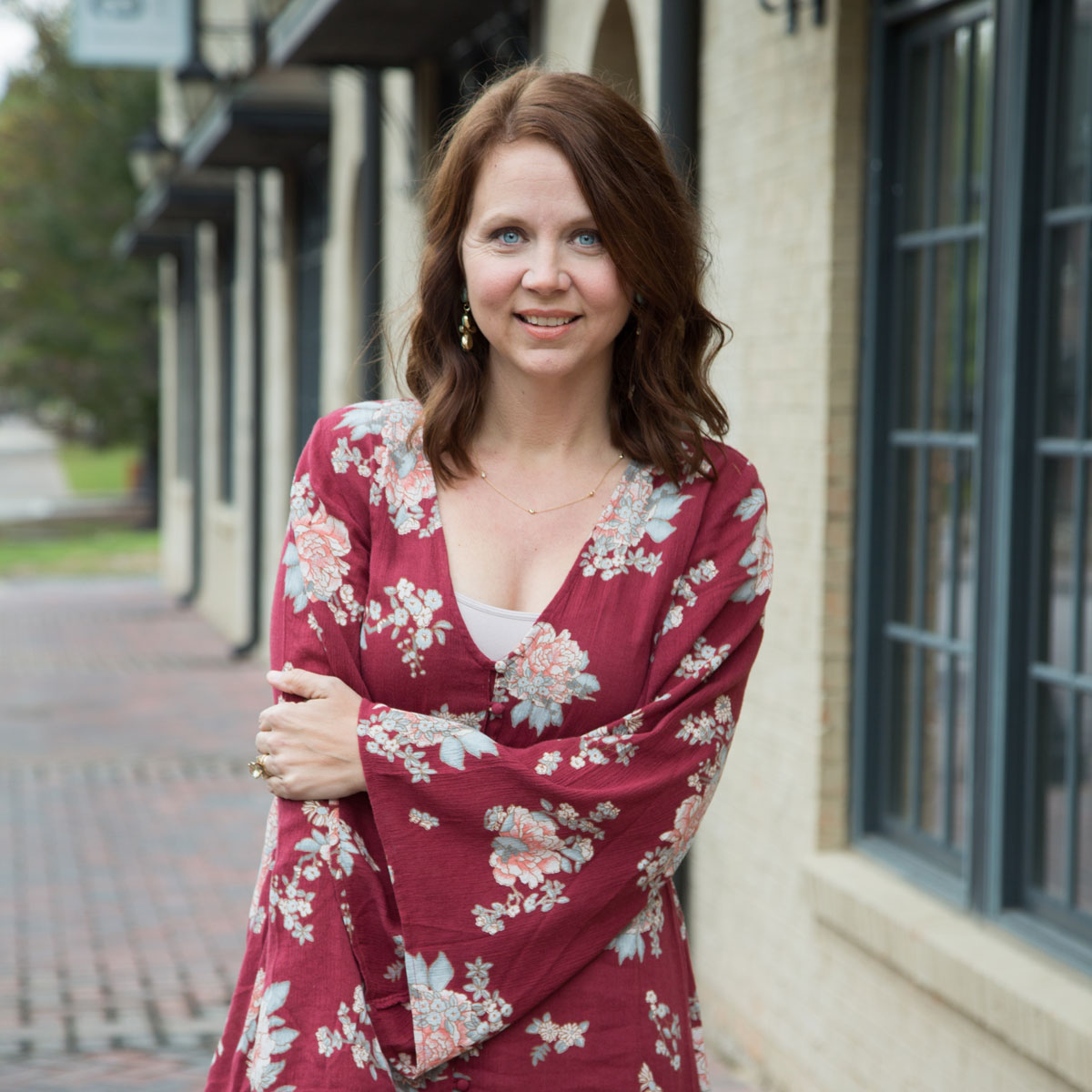 Kristin is married to her high-school sweetheart and the mother to two daughters. Professional by day and creative by night, she is a family lifestyle blogger who writes about faith, family, and fitting it all into a busy schedule. At Taz + Belly, you'll find healthy recipes, children's party ideas, tutorials, DIY projects, and more.
Click Here to Read More About Kristin