Anne, at In Residence, hosts a linkup on the first Wednesday of every month and invites readers to share a few things they're up to currently. Be sure to hop over to her blog today and see what everyone else is up to this month. The Monthly Report is the longest post that appears on Taz + Belly each month, so hang in there! 
---

baking | I really love to cook, but I'm not much of a baker. If you need some tried and true paleo recipes, though, we love this banana bread and these chocolate chip cookies are always a hit!
listening | I'm always listening to something good, so this is my favorite kind of prompt. After Anne mentioned it in a post last week, I revisited the most recent Head in the Heart album. It provided a perfect soundtrack for solitary painting in the camper this past weekend. Josh bought us tickets to see them at Red Rocks for our anniversary this summer, so I needed to brush up on the lyrics anyway. I also binged the Up & Vanished Podcast after a friend recommended it a few weeks ago. While not as good as season one of Serial, it was very interesting and seems to have found some resolution. Ella and I are headed to Chattanooga for the weekend (last dance competition of the season!) and have already been talking about what to listen to. We'll need to catch Sunday's sermon on our way back (Ella is attending "big church" with us now and I'm making a point of discussing the message with her each week), but we're also planning to start the Anne of Green Gables audiobook, narrated by Rachel McAdams. We're planning to watch the new Netflix series starting later this month, so we need to read listen soon!
loving | I can't believe how much I'm loving our camper renovation. I know it's such a tease to say that without sharing photos, but I'm planning more than a week of posts to share all the gritty details, early next month. It seems only fitting that we would unveil our new beach house just in time for our summer vacation, right?!
planting | Does it count if Gran is the one doing the planting? We're hoping to uncover the pool soon, so she and Poppy have been working super hard to get the landscaping freshened up a bit and we're looking forward to a new, deep porch on the pool house. I am definitely looking forward to living at home this summer — no more driving over to swim every afternoon!
remembering | Josh and I spent a significant amount of time, the week before Sophie's birthday, looking at baby pictures and funny videos from when the girls were younger. I hate that I don't do that more often, because it is always such a good time. We laughed so hard at funny sing alongs, first words, and wobbly steps. Such good stuff.
---
Rather than call this a list of goals, I thought we'd do a little "to do list" each month instead. The word goal makes it sound so lofty and important, and I'm talking more about things I want to accomplish than achieve.
Let's take a quick look at April's list before moving on to May, shall we?
Get organized. It took me long enough, but I finally put a dent in the towering stack of paper on my desk at work. Now to keep it that way!
Get the camper cabinets painted and put the finishing touches on the living space. I got everything painted and finishing touches are in progress this week.
Celebrate Sophie's Birthday. I'll link to that post below!
Take down the girls' Christmas Tree. Bless my mom, she helped the girls take it down and pack up the ornaments on a weather day last month.
Begin planning our anniversary trip. Does writing on my calendar count?
Complete my second Whole30 of 2017 and continue OTF classes 4-5 days a week. I'm going to call this a win all the way around. I discovered this month that doing Whole30 while attending Orangetheory five days a week, just wasn't in the cards for me.

Finish the camper renovation. Since our family vacation is next month, I am literally running out of time. Fortunately, I have a plan mapped out for the rest of the month and everything is right on schedule.
Schedule blog posts for June. We'll be traveling for most of the month, so I'm trying to pre-schedule as much content as I can. If there is something you're dying to see, please let me know!
Continue with my clothes spending freeze. I bought a few items in April, but I'm not regretting a single one. I'm learning how to remix my current wardrobe in new ways and the addition of my summer clothes from storage just doubled my options.
Purchase a new bathing suit. I'm kind of dreading this one. That's not true, I'm actually terrified. I'm hoping to be a little happier with my physique in another six weeks, but I'll need to grab a new suit before we head out of town. All prayers and good vibes are welcome, ha!
Drink only water and coffee. One of the things that derails my diet the quickest is the addition of drink options. I do much better when I stick with water after my morning cup of coffee. I'm committing to zero soft drinks this month (and maybe even next month until our trip), but I'm trying to fight the urge to order a half sweet / half unsweet tea, too. Maybe if I tell YOU that I'm going to do it, I'll be more likely to follow through.
Continue journaling through the Psalms. It had been such a long time since I shared any pages from my Bible on Instagram, but recently I've felt a tug to begin sharing again. Instead of working through a devotional or a daily reading plan, I decided to journal each chapter in the book of Psalms. If I miss a day (I already have), I just pick up the next day, and if I've already journaled a chapter, then I'll just share that page again. You can find me on Instagram or check out this hashtag to follow along!
---
Now let's get to it — everyone's favorite monthly recap. Here's a look at our April recap, by the numbers.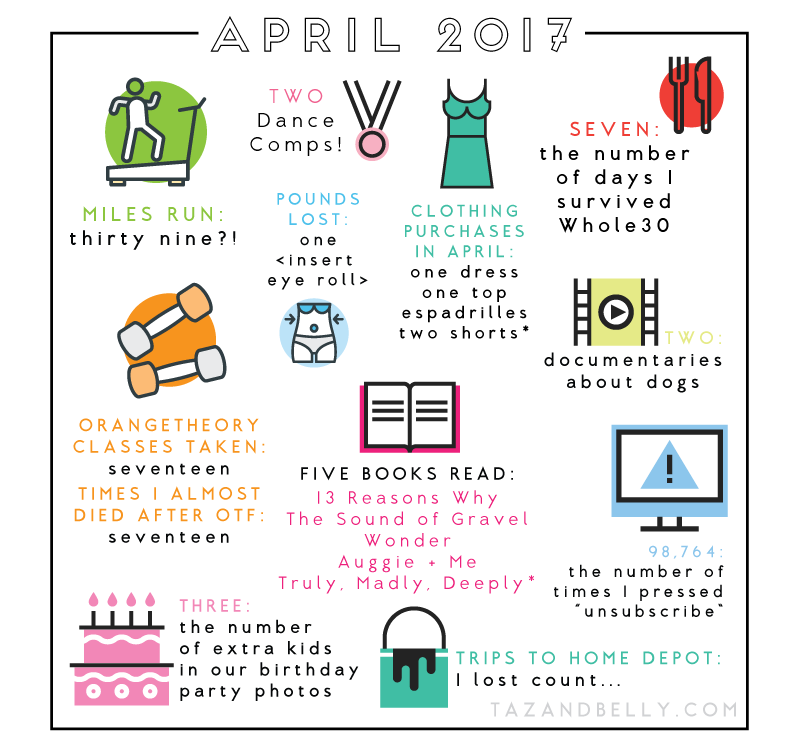 I can't believe how faithful I was to Orangetheory this month. It was marathon month, so I signed up to run 26.2 miles and blew it out of the water. I talked all things Orangetheory and why I bailed on Whole30 April, here.
Ella had two dance competitions this month — on back to back weekends — so she's been exhausted for much of the month. Also, we're headed to Chattanooga this weekend for one final round, so there's that.
In case you missed Sophie's birthday party recap, you can read all about the extra kids who appeared in her birthday photos!
I recapped all of this month's reads on Monday, there are several great recommendations if you're looking for a new book. *I abandoned this one, so read at your own peril.
I broke my spending fast in April. You can see a few of the pieces I bought in this post (I really need to share the second week of that style challenge). I've also ordered two pairs of shorts from J.Crew, but I'm only planning to keep one of them. I pressed purchase before I realized they came in solids, so I'll return one* after trying them on with a few items in my closet. I'm back to no more clothing purchases until I'm ready to buy a swimsuit for our vacation.
We're trying not to get into any new series at the moment, so we've been catching up on our DVR and watching some documentaries in between. Josh & I watched two different documentaries about dogs this week and they were both so good! This one is more about dog behavior in general, but this one is about prison inmates who foster rescue dogs and it is a must watch!
I'm finally wrapping up the camper renovation this month, so April brought a ton of trips to the hardware store. I'm pretty sure I've made the last purchase and I can't wait to share the finished project with you next month. Eeek!
Am I the only one overwhelmed by the sheer number of emails that come in each day? I decided to dedicate myself to unsubscribing to as many things as possible this spring. I wish I had kept up an actual count, because I'm pretty sure it's in the triple digits at this point. If my boss looks at my internet history, she's going to thing I never work, because I'm making myself unsubscribe as soon as they come into my inbox. I know if I don't, I'll forget to do it later. Unfortunately, I can't use one of those nifty websites because I host my own email — bummer.
Happy May, friends!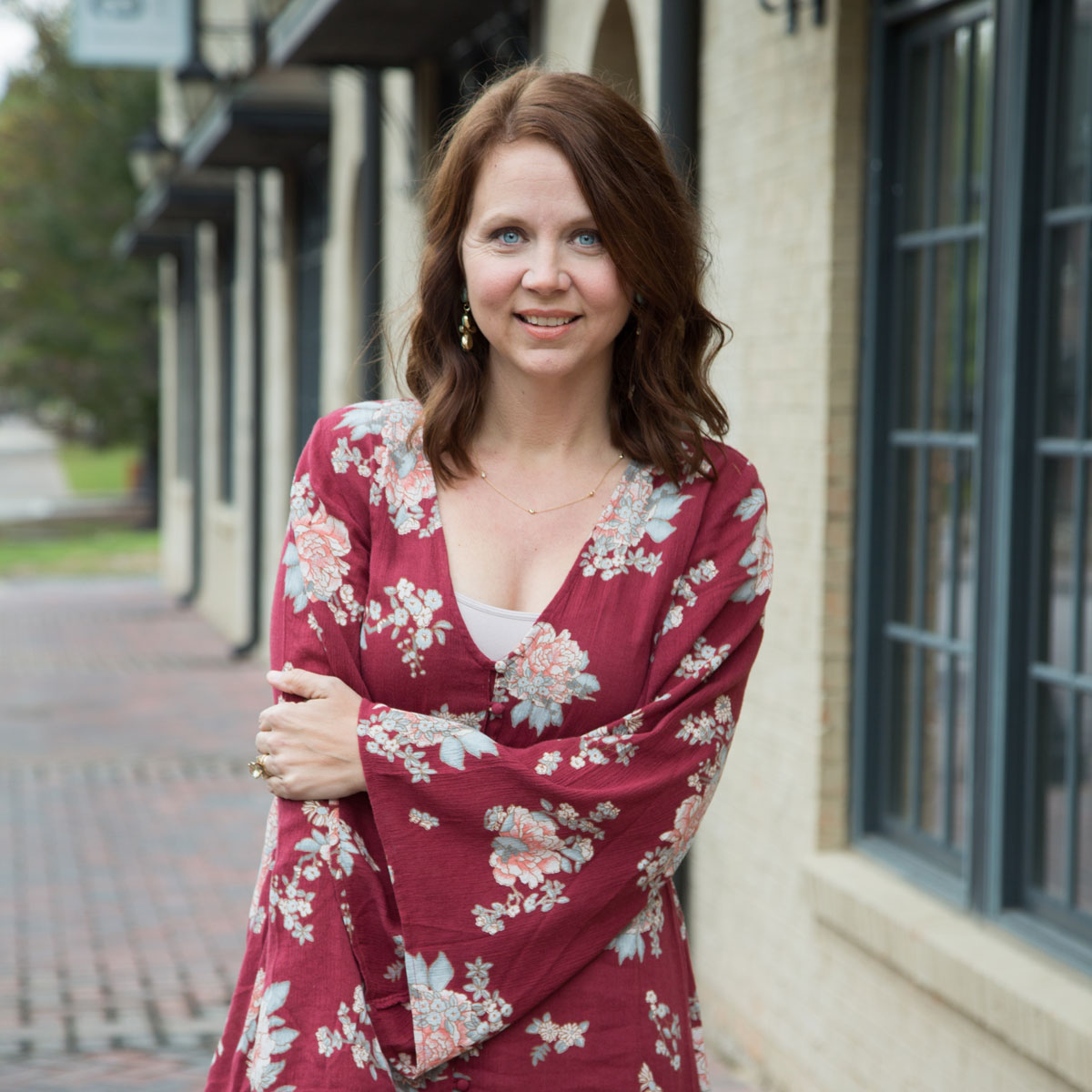 Kristin is married to her high-school sweetheart and the mother to two daughters. Professional by day and creative by night, she is a family lifestyle blogger who writes about faith, family, and fitting it all into a busy schedule. At Taz + Belly, you'll find healthy recipes, children's party ideas, tutorials, DIY projects, and more.
Click Here to Read More About Kristin