Anne, at In Residence, hosts a linkup on the first Wednesday of every month and invites readers to share a few things they're up to currently. Be sure to hop over to her blog and see what everyone else is up to this month. The Monthly Report is the longest post that appears on Taz + Belly each month, so hang in there!
You know what I've decided? Not every post needs an introductory paragraph. For at least five posts a month, I sit here and stare at a flashing cursor, while trying to figure out how in the world to tell you we're about to talk about books or our day in the life or a list of letters. Maybe that's not necessary at all?!

celebrating | Ella's birthday is Monday and I'm in crunch mode. Last September, she mentioned having a surprise party. Yes, it's weird to request a surprise party, but mostly she just wanted me to plan something without her knowledge. We're within a week of her birthday and it's nuts. She asks me 47 times a day what I'm planning and since she only asked for one gift, she now asks me when it will arrive / when she can open it / did I actually purchase it, every single day. I'm going to be super vague about all things birthday related (because she occasionally reads the blog), but I'm glad we're within a few days of being about to talk about it. Come back next week for details!
watching | Controversial or not, we finished up Season 7 of Game of Thrones on Sunday. Guys, it was gooooood. I'm currently reading the books and finding that I love them even more than the show (how is that possible?), but I'm actually glad I did this whole thing in reverse order. I'll talk more about that on Instagram Stories this week, but I highly recommend going against the grain on this one. We're also watching all the college football and anxiously awaiting the return of fall television.
welcoming | We are definitely welcoming cooler temperatures. We've had some downright brisk temperatures for Alabama mornings and I am down with it. Not only does it feel great outside today, but it's raining. If only I could curl up with a blanket and a pot of coffee.
preparing | Maybe this is the prompt where I should have talked about Ella's birthday, because YES.
photographing | I'm still trying to tackle the mounds of school work from last year and photographing all of the girls' artwork is one of the ways I'm keeping things organized this year. I'm going to let them keep a few things from each year and I'm going to have a few of my favorites framed for the house, but everything else is getting photographed on a white background and made into a year book!
---
Rather than call this a list of goals, I thought we'd do a little "to do list" each month instead. The word goal makes it sound so lofty and important, and I'm talking more about things I want to accomplish than achieve.
Let's take a quick look at August's list before moving on to September, shall we?
Organize School & Art Work. I'm just going to take this one off the list for now. It's been hanging around all summer long and I just haven't found the time to take care of it. I have implemented a new system for this school year, so maybe that's the best I can do right now. I'm saving this one for cooler temperatures, because right now we just want to soak up all of the summer we have left.
Finish house-training Scoop. I'm calling this one done. We joked a few weeks ago that she was fully house trained and then she peed in our bedroom floor. It was technically my fault, but it was a reminder that you're never really done parenting — with kids or with dogs! She hasn't had an accident since, but I'm not saying that out loud…
Purchase baby gifts. We got to meet baby Memphis last month and I got him a few of my favorite baby things. I still haven't ordered Vera's gift, but I've been making an online wishlist, so that's basically the same thing.
Make a fall wish list. I haven't put this one on paper yet (or in a blog post), but I've been mentally making a list for a month. There are only a few additions I plan to make to my closet, so I tried to approach this thoughtfully. I'll share a blog post later this month!
Attempt Intermittent Fasting. I've done pretty well with fasting this month, even though I haven't done as good with logging my meals. We started our fall round of Whole30 yesterday, so it will be interesting to see if I can maintain them both at the same time.

Complete Fall Round of Whole30. I usually do two rounds a year — one in September and one in January. We love using the fall round as a quick reset after summer and before the holiday season and the one in January helps to set the tone for the new year. I went ahead and made a meal plan for the entire month, so that should help me to stay on track.
Post daily in our new Facebook Group. I have a love/hate relationship with Facebook. I love the idea of promoting posts there and having real conversations with you guys, but the algorithm killed any momentum I had. I thought it would be fun to try using a group instead, since they have a better track record when it comes to engagement. It's open for discussion today and I would love for you to join me there!
I'm taking it easy in September, so my list of "goals" is short and easily attainable. I'm not sure if that makes me unambitious or smart.
---
Now let's get to it — everyone's favorite monthly recap. Here's a look at our August recap, by the numbers.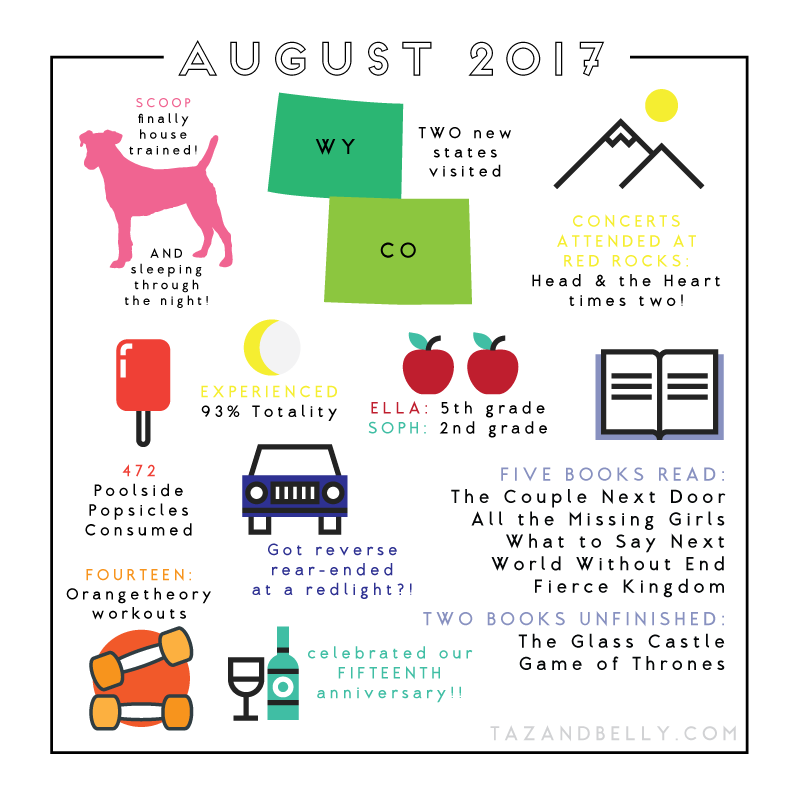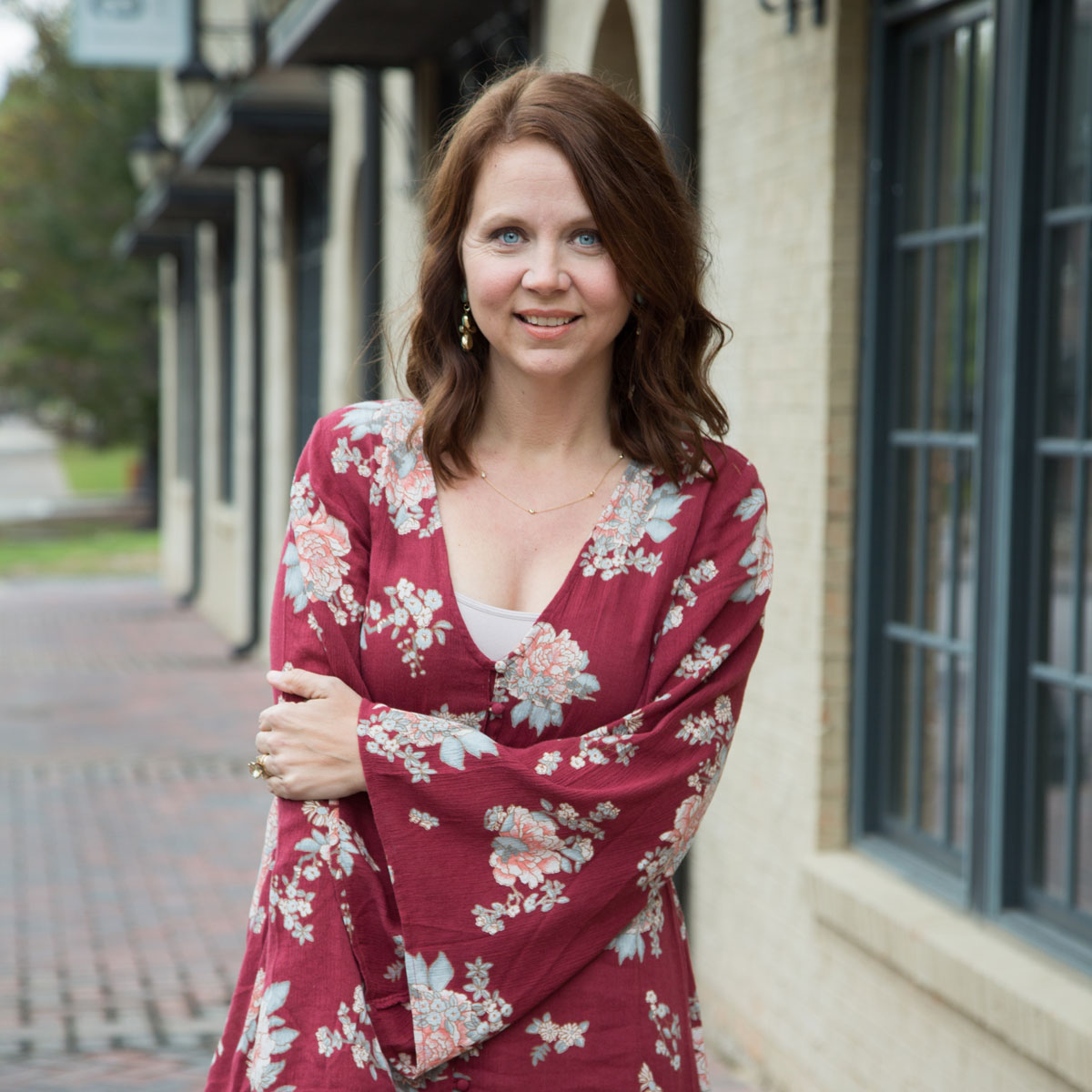 Kristin is married to her high-school sweetheart and the mother to two daughters. Professional by day and creative by night, she is a family lifestyle blogger who writes about faith, family, and fitting it all into a busy schedule. At Taz + Belly, you'll find healthy recipes, children's party ideas, tutorials, DIY projects, and more.
Click Here to Read More About Kristin