This post includes affiliate links. Any purchases made using these links will earn Taz + Belly a small commission. You can read more about our affiliate relationships here.
---
It's time for the Little Letters Link Up and, this week, I thought I'd share something different. I'm not sure that these pregnancy updates will completely replace my usual letters, but since our life is currently filled with all things baby, I thought it was definitely appropriate for this month.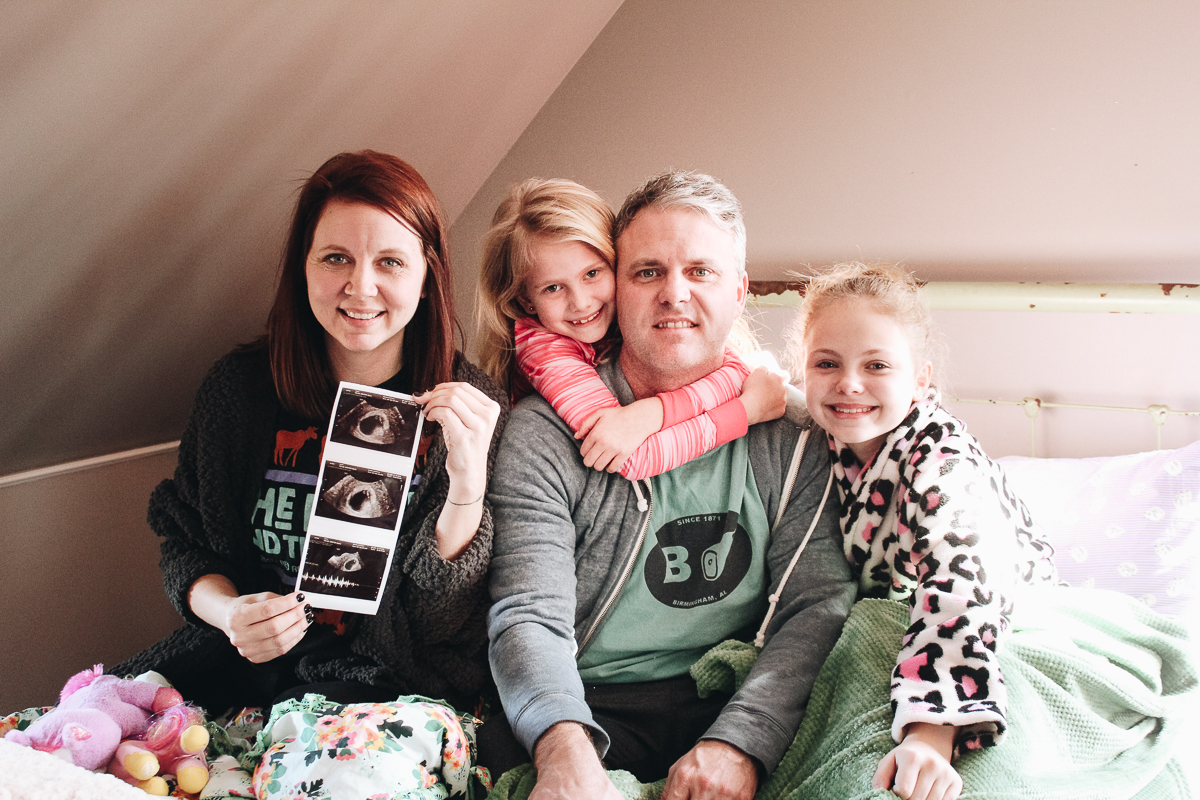 January 20, 2018: the day we told the girls about baby
Dear Baby, You pretty much rocked our world. You were the very last thing we expected, but we are so very excited to welcome you to our family this fall. Here are a few letters I've been writing to you this month:
6 Weeks 2 Days | January 17, 2018
It's been a little over a week since we realized you were in there and we're not quite over the shock of things. We've spent the last five years vehemently denying our desire for more children, so this past week has felt like one big reality check. That doesn't mean you aren't completely desired and loved, just that you surprised the heck out of us! The first day was a whirlwind of emotions. I cried a lot and panicked about all of the things that were overwhelming (my car is too small, I'm almost 40, the girls are going to continue sharing a room, we can't afford college x3), but between your daddy, aunt Kamin & Jen, I was kind of together by the end of the day. I'm losing weight instead of gaining it, but that's mostly because I can't eat anything. You keep me nauseated for 18 out of every 24 hours and very few foods sound appealing. All drinks are terrible — especially water — and I only want to eat warm, bland foods like potato soup and chicken & dumplings. Gran is a saint and one of the only reasons our home is still functioning — it's really hard to avoid all chores and sleep around the clock when we haven't told your sisters about you yet. Gran and your daddy have kept up with laundry, cooked all the meals, and helped me take down all of our Christmas decorations this week. The worst part, so far, is the anxiety. We had medical intervention with both of your sisters and our two spontaneous pregnancies ended in miscarriage. I'm trying not to panic and I'm taking these horrible pregnancy symptoms as good news. We had a lab appointment on Tuesday and will have another one tomorrow, which will hopefully bring us even better news. Dr. Gregory didn't want us to wait until our 8 week appointment to come in, so she's testing my hormone levels 48 hours apart, to see if you are growing adequately. After that, we'll begin a two week waiting game until our first official appointment. We are shocked, but excited, and trying hard to avoid the fact that we'll be 57 when you graduate from high school?!
6 Weeks 3 Days | January 18, 2018
I wasn't planning to journal more than once a week, but today has been interesting, to say the least. I went to my first workout since feeling sick — rowing made me super nauseated, but I survived otherwise. At 9:15 this morning, the nurse called to ask if I could come in today. She said my pregnancy tests were definitely positive, but that my hormone levels were on the high side and they wanted to do an ultrasound. I called your daddy (after I fell apart) and headed straight to the hospital. I wasn't expecting much more than a phone call and instead got photographic evidence of you, little one, and I got to hear your heartbeat! All appears well, for now, but the doctor is having me take a daily aspirin and reducing my workouts for the next few weeks. We talked a little bit about how my "advanced maternal age" will affect this pregnancy and I got the great news that you're going to cost me $2200, paid up front! Honestly? That's probably the least of my monetary worries, related to you.
7 weeks | January 24, 2018
We told your sisters this week and it was both comical and surprising. We kind of ambushed them (an explanation for Ella's robe and how disheveled we all look in the photo above!), but that always makes for the best reactions, right? Your daddy told them we had some exciting news, to which Ella replied: "We're getting a new puppy!" We laughed out loud and then he told her we were getting a new baby. Sophie was predictably giddy — she is so much like your daddy and was very chill about the whole announcement. She's been coming up with ridiculous names ever since and has been very maternal towards me. Likewise, Ella acted exactly as I should have expected, even though it surprised me at the time. She is exactly like me and feels everything x1000. She screamed: "NO YOU'RE NOT!" when your daddy said I was pregnant and immediately burst into tears. It took her a little while to decide if they were happy or sad tears, but she is since very excited. She wants to be touching me at all times and is adapting to the news of a shared bedroom as well as can be expected. I'm still miserably sick, but your daddy is taking the very best care of me (even though it's bound to get old in the very near future), and I'm still on the search for foods that won't make me gag.
8 Weeks | January 31, 2018
Today is your daddy's birthday. It was also the day of our eight week appointment — the first of our OB appointments and the day we would find out if things were going well. Our ultrasound was first thing in the morning and we immediately saw (and heard!) your heartbeat, which was so comforting. You are measuring at exactly eight weeks and the technician said that everything looked perfect! I had an unusually long OB visit — we had to do bloodwork, discussed going ahead with getting my tubes tied, and had to go over all of the recommended genetic testing (because: advanced maternal age). We know there is still a chance of miscarriage because of my history, but everything looked great and we're choosing to be hopeful instead of anxious. We're planning to announce your arrival later this week, because the girls are too excited to keep a secret. We decided to celebrate every single day with you, however many there are.
Dear Morning Sickness, I'm done with you already. It's been a solid month of barely eating, constant nausea, and a very strong aversion to my toothbrush. I can already tell you are abating, but I wish you'd hurry up and go.
Dear Red Gatorade, Unsweet Tea, and Jolly Ranchers, thank you for every moment of relief you've offered this week.
Dear Insurance Company, thanks for the hefty deductible and your refusal to cover prenatal vitamins. That makes perfect sense.
Dear OTC Prenatal Vitamins, thank you for not making me sick, but you are a little larger and weirder tasting than I would prefer.
Dear Baby Book, yes I ordered you very early in the process, but I figured if I had any chance of actually filling you out, it was better to get started soon.
Dear Shiny Gold Birkenstocks, you were more of a celebration gift than a consolation prize and you are making me very happy. I figured if my feet had to be fat all summer long, at least they could be encased in amazing rose gold sandals.
Dear Running Tights, whhhyyyyy are you already so tight on my belly? I can't wait to rip you off immediately after working out.
Dear Josh, thank you for being a saint of a man. Thank you for endless back rubs, taking over middle-of-the-night dog duty, early bedtimes, and too many bowls of cereal for dinner. Thank you for telling me every day that I'm beautiful and that you aren't completely grossed out by my retching. You are the best ever.
---
Dear Virtual Friends, I'm so excited that you're back here again this month. I hope that we can grow this little linkup together and learn all sorts of fun things about each other as we go.
Dear New Visitors, This is our favorite new linkup. The second Friday of every month, we'll be sharing Little Letters together on our blogs. Write a series of letters to anyone or anything you'd like and come back here to link up. Don't forget to share with your friends. This is one of those times where "the more, the merrier" definitely applies!
To link up, share the banner below, link back to this post, and invite your friends to play along. Don't have a blog? Leave your letter in the comments of this post, or on my Instagram or Facebook posts for today instead. We'll share again on Friday, March 9th. See you then!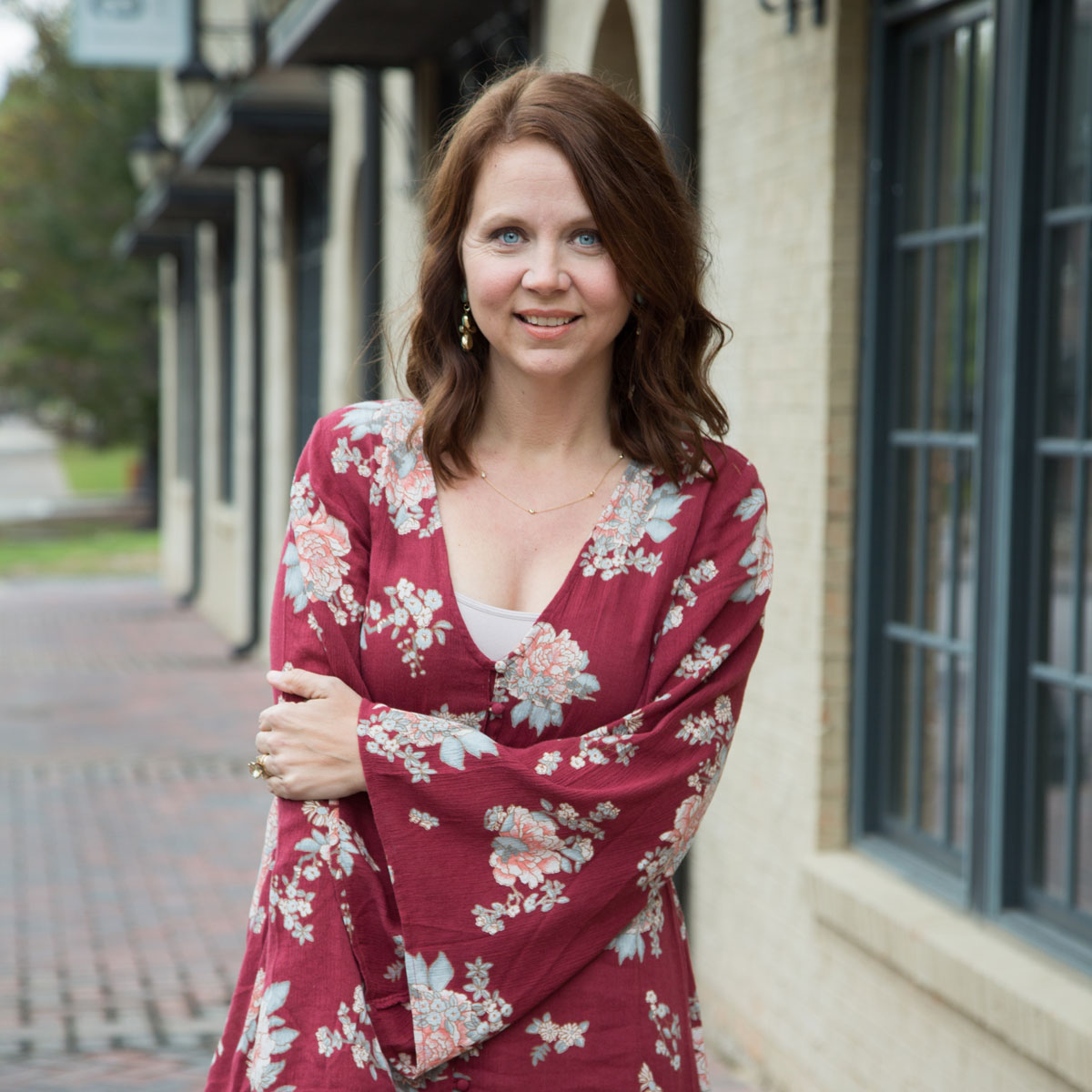 Kristin is married to her high-school sweetheart and the mother to two daughters. Professional by day and creative by night, she is a family lifestyle blogger who writes about faith, family, and fitting it all into a busy schedule. At Taz + Belly, you'll find healthy recipes, children's party ideas, tutorials, DIY projects, and more.
Click Here to Read More About Kristin