Affiliate links appear in this post. Any purchases made using these links will earn Taz + Belly a small commission. You can read more about our affiliate relationships here.

Today's post is a little sad, because it's our last month of the Collaboreads Link Up (maybe ever sadder because I didn't even add a linky widget to the post?). Rachel and I have loved hosting and sharing our books with you this year, but we're ready to try something new for 2018 and to invite you to come alongside of us!
Just in case this is your first month to find Collaboreads, here's how it worked! We picked a general theme for each month — this month it was to read a book you could find for free, then you pick a book that fits the theme (we all read different books, which means you weren't roped into reading something you knew you wouldn't love) and then we all linked up to share our thoughts (with a really fun R.E.A.D.S. acronym that was all Rachel's idea!). Basically, we were virtual best friends and linked up together each month!
---
Here's how I arrived at my selection for this month — I've had several readers ask for us to review more children's titles on the blog and almost everything on my 'to read list' this month was new. I remembered buying a book for the girls last Christmas that we never read and it's certainly free to read something you already own, right?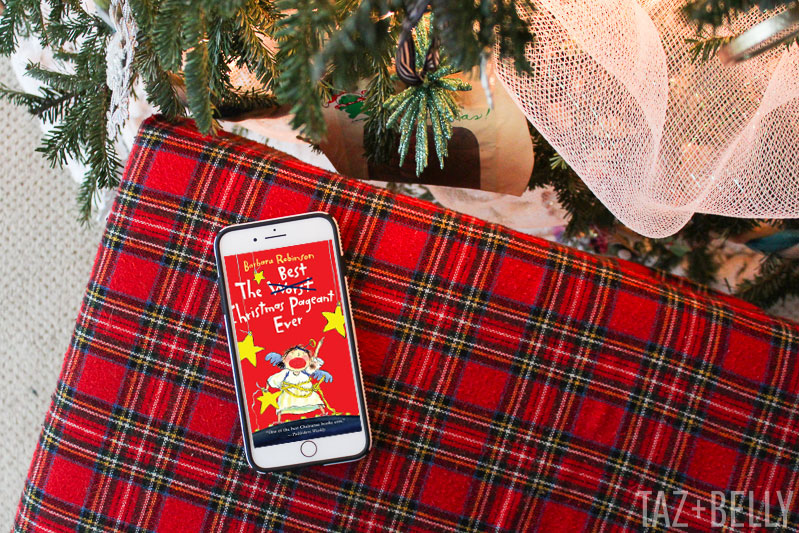 The Best Christmas Pageant Ever by Barbara Robinson
Ralph, Imogene, Leroy, Claude, Ollie, and Gladys Herdman are an awful bunch. They set fire to Fred Shoemaker's toolshed, blackmailed Wanda Pierce to get her charm bracelet, and smacked Alice Wendelken across the head. And that's just the start! When the Herdmans show up at church for the free snacks and suddenly take over the Christmas pageant, the other kids are shocked. It's obvious that they're up to no good. But Christmas magic is all around and the Herdmans, who have never heard the Christmas story before, start to reimagine it in their own way. This year's pageant is definitely like no other, but maybe that's exactly what makes it so special.
Book Description via Amazon | Buy Here
---
RIVETING.
What part of this series could you NOT get enough of? I remember reading this book in elementary school and thinking it was hilarious! Sophie, especially, loves silly and ridiculous things, so I knew she would love the Herdmans and their antics. The writing style is darling (even if we did have to navigate swearing and kids smoking cigars!) and we all agreed that the narrator makes this one a super fun read.
ELEMENTS.
How did you relate to/care for the characters? What's your thought on the plot line and twists and turns? You can't not love the characters in this one. The Herdmans have a bad reputation — and rightfully so — but Robinson does such a great job making them all so endearing and the more you read, the more you'll love them.
ASSOCIATE.
What other books are like these? If none, did they remind you of a particular TV or movie with it's themes and characters? Does the series serendipitous-ly line-up with things going on in your life or the news right now? I'm not sure I can compare this one to anything else we're reading right now, but we are watching Anne of Green Gables. I know, I know — the plots and subject lines are nothing alike, but it's just further proof that my girls love stories where children get themselves into trouble. I'm currently on the hunt for a way to stream the movie while we're out on Christmas break!
DESIGN.
You know you judged these books by their covers. What did you think of them? How did they relate to the contents of the novels? And the font and layout of the pages? This was a digital copy, so I don't have much to say about it, design wise. I do prefer the original novel's cover, to this illustrated one, though.
STARS.
How many out of five do you give this book? Would you recommend this book to a friend? Sophie gave this one four and half bright stars — she loved it a lot, but it wasn't her favorite book ever (her words, not mine!). I would definitely recommend reading this one with your family this Christmas season, but it's definitely geared towards the younger elementary school set. Ella abandoned us after the first few chapters.
---
You know what makes a book club even more fun? When you get to share it with all of your (virtual) friends! Collaboreads might not have generated very much buzz, but we're hoping that a new book linkup — with fewer restrictions and more opportunities to add posts — will be just the thing you're looking for in the new year. Starting the first Tuesday in January, we'll be hosting Book by Book: A Monthly Linkup ALL About Books!

Rachel and I will share our monthly reading recaps (see a few examples here) on the first Tuesday of every month and the in-post linky widget will be open for the entire month. You can add any post about books and reading that you publish that month (book reviews, reading round ups, gift guides for readers, etc.) and if you publish more than one, you can come back and add them all!
When I polled my Instagram audience about starting a new link up, I got so much great feedback. Several of you even mentioned that you loved our monthly reading prompts for expanding your library, even if you didn't blog or link up. In the spirit of inspiration, we've put together a year's worth of bonus reading prompts. Use these as a starting point for a monthly book review or simply add a book that meets this criteria to your monthly 'to read' list.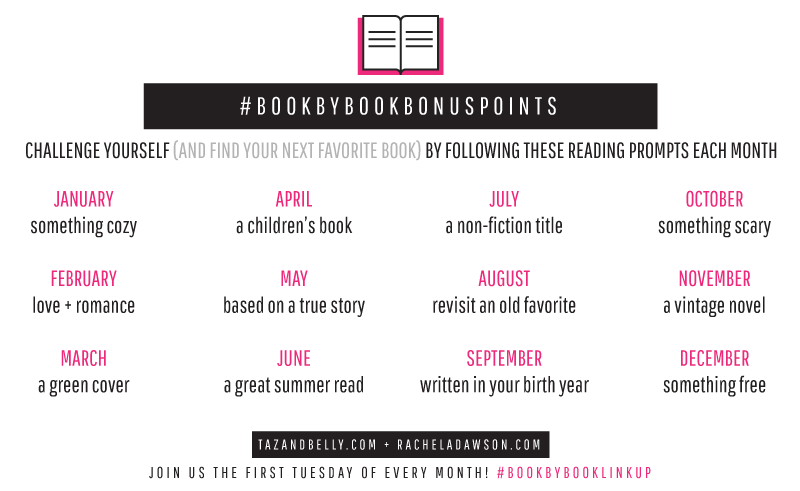 Almost every time I share a link party on social media, I get comments from readers who forgot or didn't finish their book in time. I thought it might be great to offer reminder emails for those of you who want to participate, so feel free to use the subscription form below to get those monthly reminders. You aren't signing up for a weekly newsletter and we won't be sending you any spam. You'll get two, book-related emails each month — one two weeks before our link party to remind you of the bonus topic and a second email closer to our posting date, so you don't accidentally run out of time. Enter your email address below and we'll take care of the rest! If you've already signed up for our Collaboreads Mailing List, then you'll automatically get a reminder for our new bookish linkup, too.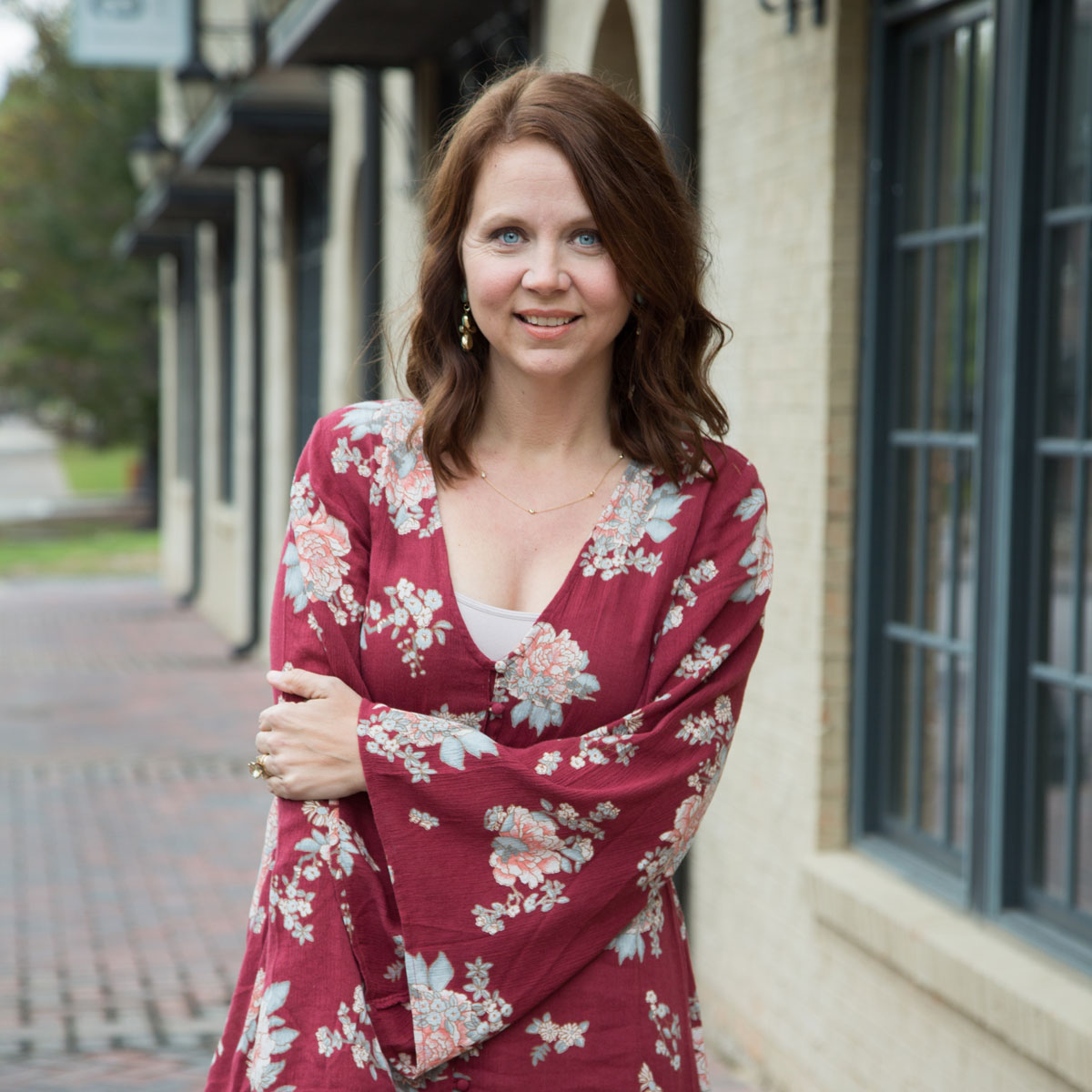 Kristin is married to her high-school sweetheart and the mother to two daughters. Professional by day and creative by night, she is a family lifestyle blogger who writes about faith, family, and fitting it all into a busy schedule. At Taz + Belly, you'll find healthy recipes, children's party ideas, tutorials, DIY projects, and more.
Click Here to Read More About Kristin