This post is in collaboration with Grove Collaborative and Mrs. Meyer's Clean Day.
I know what you're thinking — she said she wasn't sharing her camper reveal until June, what gives? You guys have been so excited about our camper facelift, that I couldn't bring myself to make you wait any longer. I'll be saving the full before and after posts for early next month, but since the camper kitchen was looking so bright and shiny this morning, I had to share a few pretty pictures of what we've accomplished so far.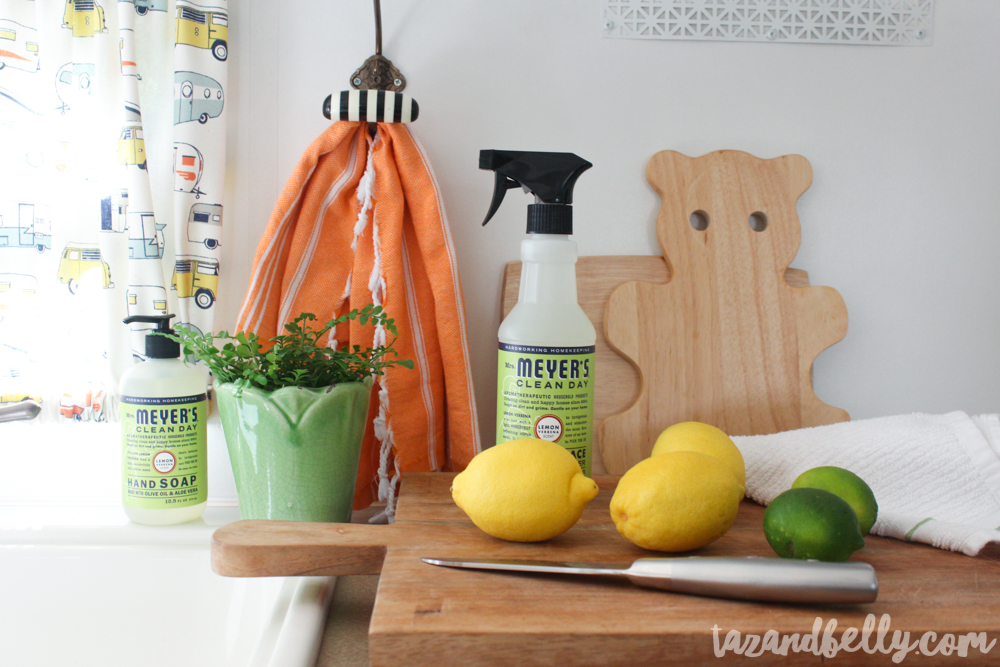 When we started the camper renovation, I was flying by the seat of my pants. I knew I wanted to give her a little refresh, but I wasn't sure what exactly that would entail. I had no real plans for any construction projects (hello, gutted camper bathroom) and I hadn't yet decided to paint anything other than the cabinets. I thought I could swap out the linens, refresh all of the woodwork and be in and out in a couple of weeks. This is definitely one of those "one thing leads to another" kind of projects. I've still kept this entire overhaul on a major budget (details and sources to come next month!) and done almost all of the work by myself. And even though the vibe is completely different than the one I set out to create, I couldn't be any happier.
Meet Opal's cute little kitchen.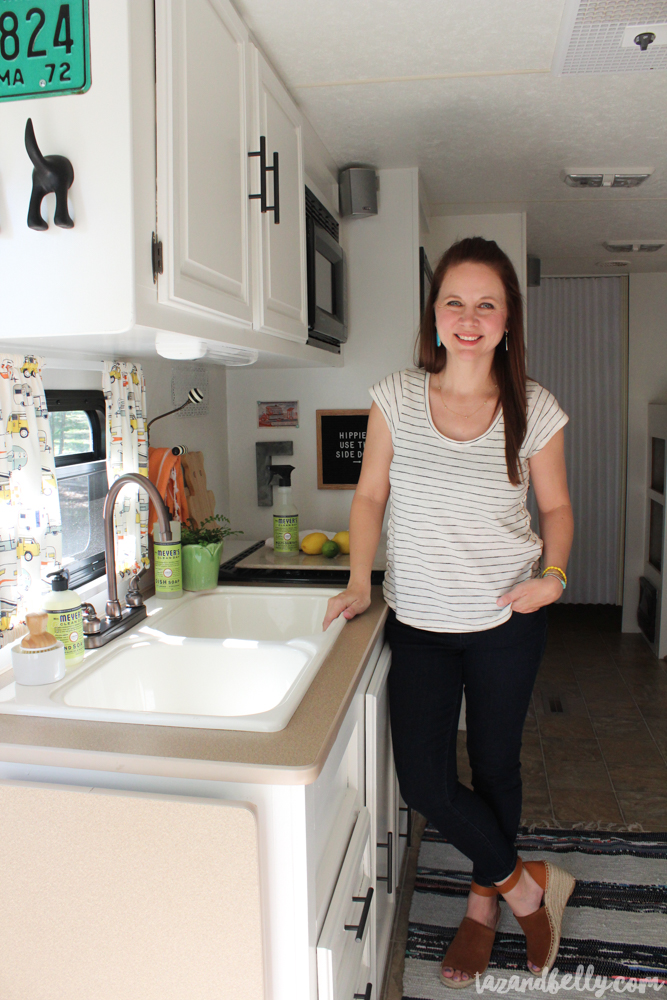 Once I started painting cabinets, I quickly decided that the entire thing should be white. I think Josh was a little overwhelmed with how bright it was in the beginning, but once we started adding linens and other decorative items, the overall vibe was a little less stark. In a perfect world we would demo the floors and countertops, but after pulling everything together with a cohesive color scheme, I think the neutral tones in both work so much better than I expected.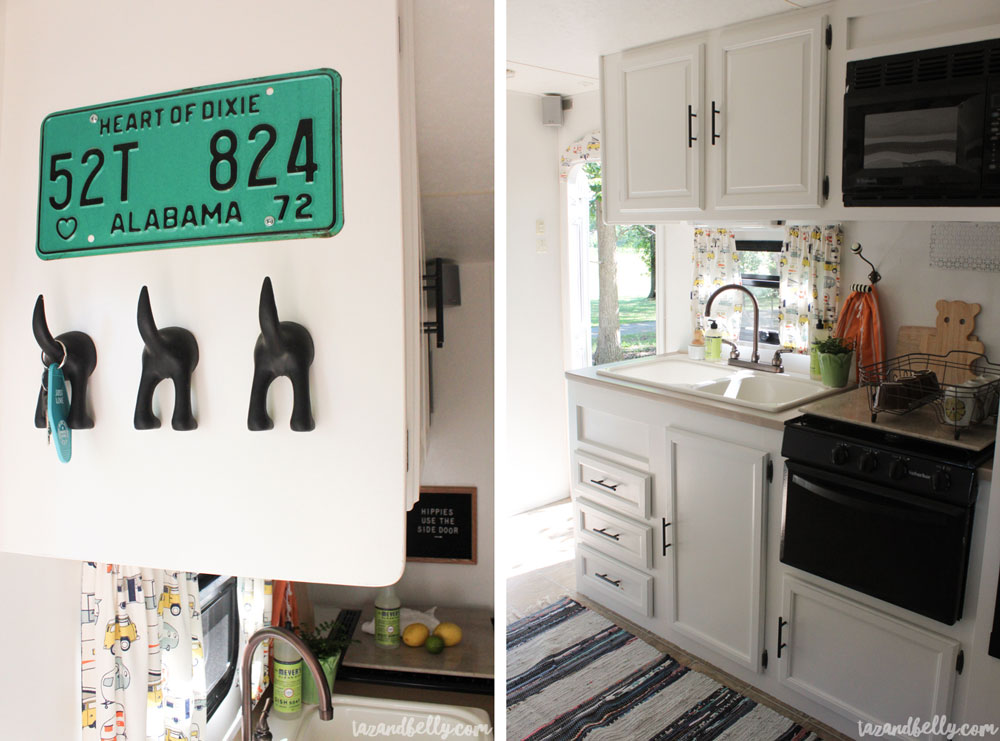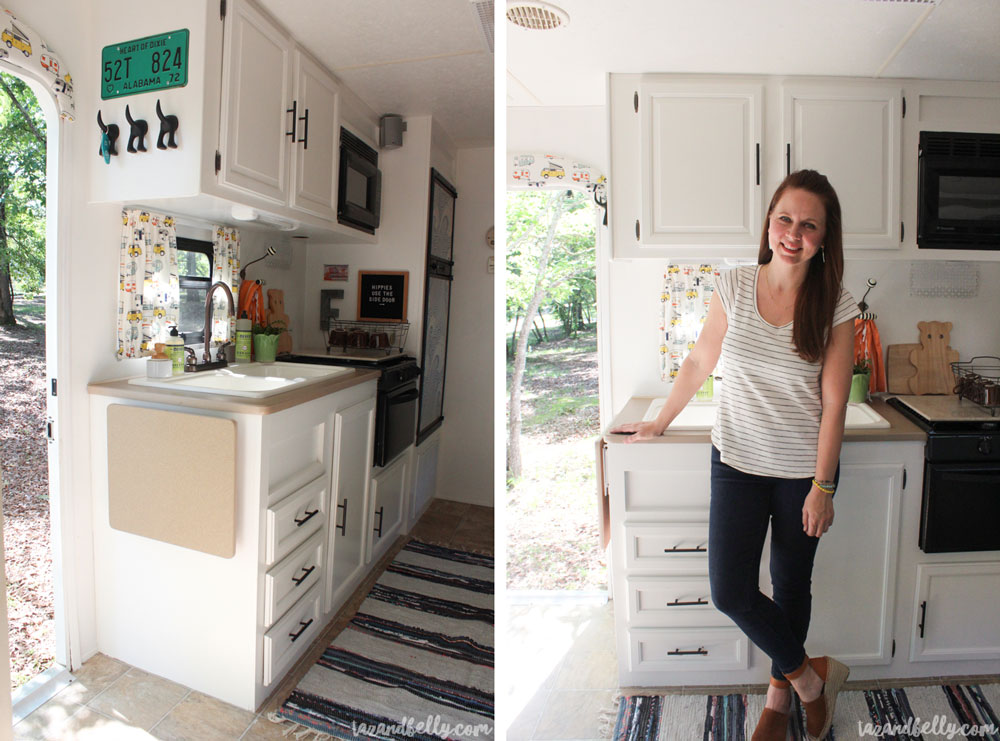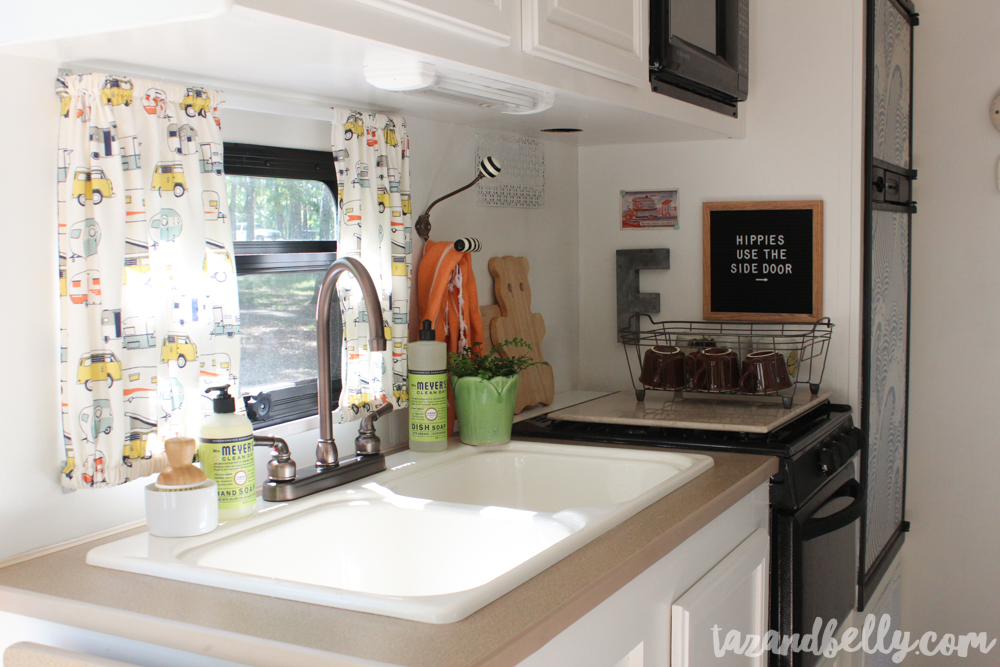 I had a few questions about what I did inside the cabinets, so I thought I'd share a peek on the blog today. You can see exactly what the wall panels looked like before I painted them. The neutral color wasn't terrible and while it works fine in the backs of the cabinets, it wasn't what I wanted to see on every flat surface. To keep the interior of the cabinets light and bright, we painted the insides of the doors as well as the edges of the divider pieces and then left the back wall and end panels as is. I added baskets and buckets to help corral like items and the cabinets have latches to keep them securely closed while we travel.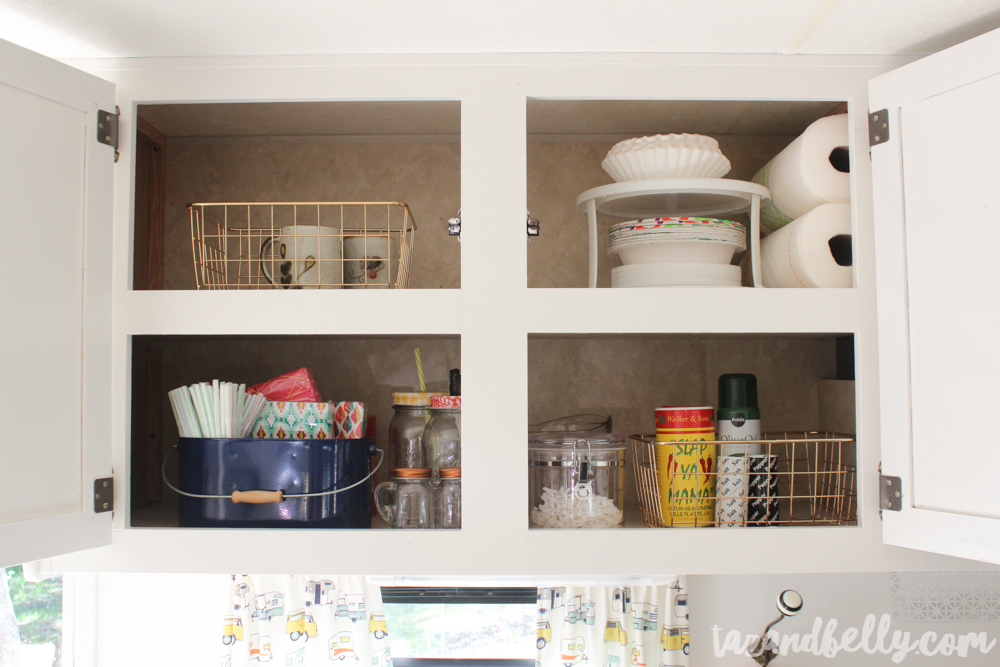 In addition to updating all of the decorative items in the camper and how well it functions for us as a family, we've also been updating all of the products we use inside. I've shared several times over the last several months about our quest to find more natural products and things that have less of an impact on the environment. Since we'll only be staying in the camper for weeks at a time, I don't have nearly as many products to exchange — cleaning supplies, dish soap, and laundry detergent are the things I like to keep stocked onboard at all times.
One of my favorite websites to shop for home, health, and beauty products is Grove Collaborative. Grove is a subscription based service that delivers natural cleaning, home, beauty, and baby products right to your doorstep. Did I mention they even keep up with your delivery schedule? It's almost like having a personal assistant, dedicated to keeping your pantry stocked (with good, natural products!), while you enjoy your next camping adventure!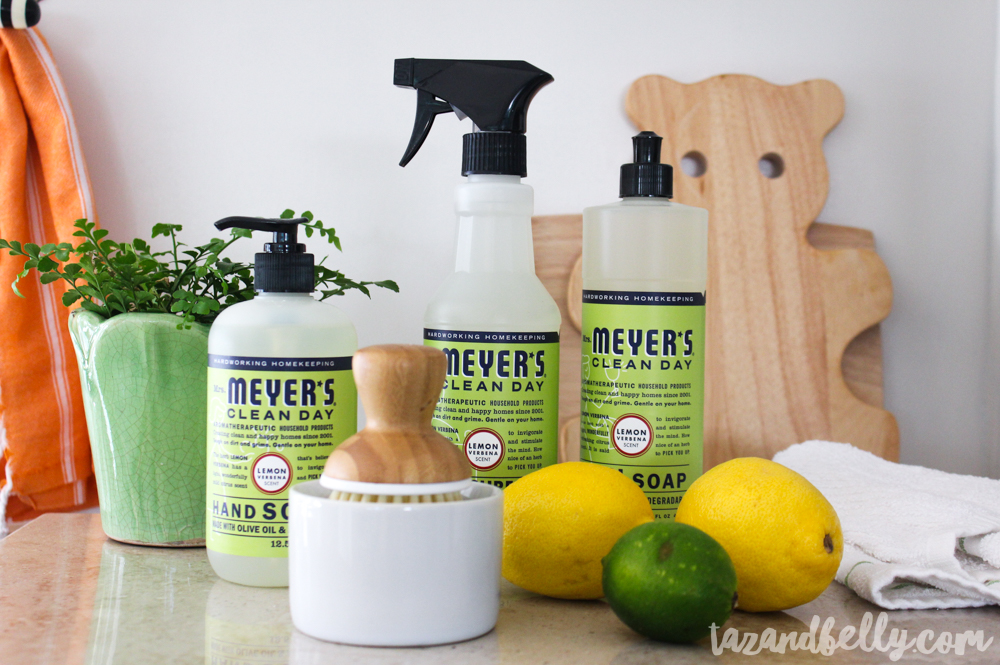 When you sign up with Grove Collaborative right now, you'll get their Summer Chef's set FREE with any $20 purchase. Included in your set are a Mrs. Meyer's Hand Soap, Mrs. Meyer's Dish Soap, Mrs. Meyer's Multi-Surface Spray (my favorite), Grove Collaborative Bubble Up Brush Set, Free Shipping and a 60 Day VIP Trial of their subscription service — that means free shipping, free gifts, price matching, and personal service. This fun set is everything you need to make your next camping adventure relaxing, and your camper easy to clean. You're able to choose any of the available Mrs. Meyer's scents to create a matching set or mix and match a few of your favorite scents. This was my first time trying the Lemon Verbena and it makes everything smell so fresh and clean! I should also mention how much I love Grove's Bubble Up for cleaning up camping messes. It's a spring-loaded soap dish with a scrub brush that fits right inside. Add a few drops of dish soap and a little water, to make tackling kitchen messes more convenient than ever. It can't hurt that it looks adorable sitting on my counter, right?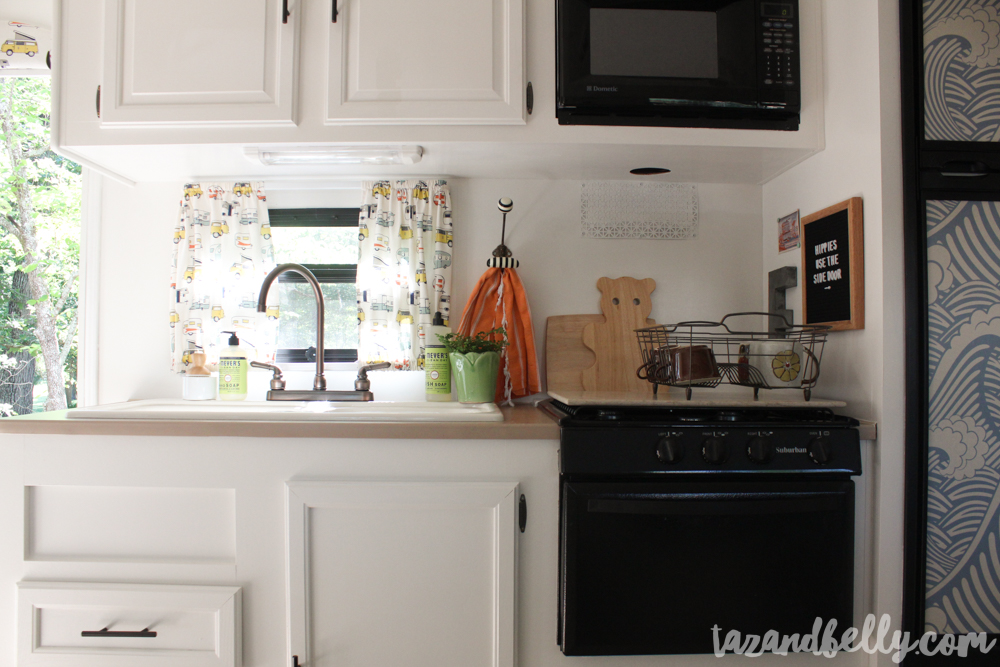 Here's how it works: 
Sign up for Grove Collaborative here and receive the Summer Chef's Set for free!
To receive this offer, your first order needs to be a minimum of $20. Choose a combination of products and scents you love, then receive your first box within a few days.
Already a Grove Collaborative subscriber? Use this link instead and receive a free set of Grove Walnut Scrubber Sponges in your next order.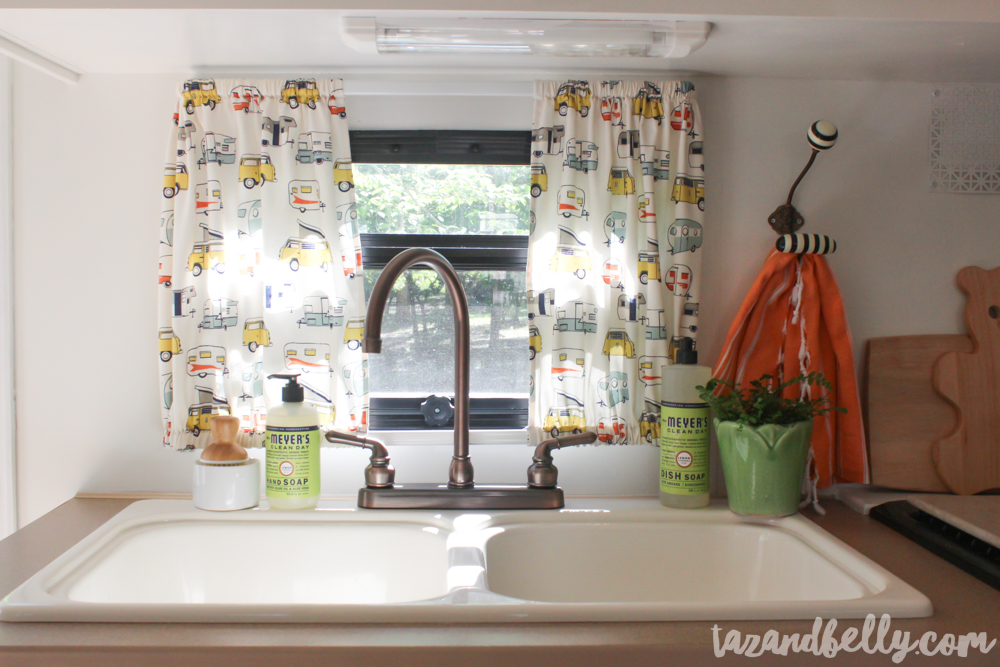 Grove Collaborative makes it easy to create a healthy, beautiful home, while keeping it affordable for the average family. I've been using Grove for almost a year and I still look forward to my monthly delivery. Treat yourself to this FREE Summer Chef's set and give Grove a try — If you love natural products as much as I do, I bet you'll never go back!.
Pssssst. Don't forget to come back early next month and see our entire camper renovation. It's a transformation you won't want to miss!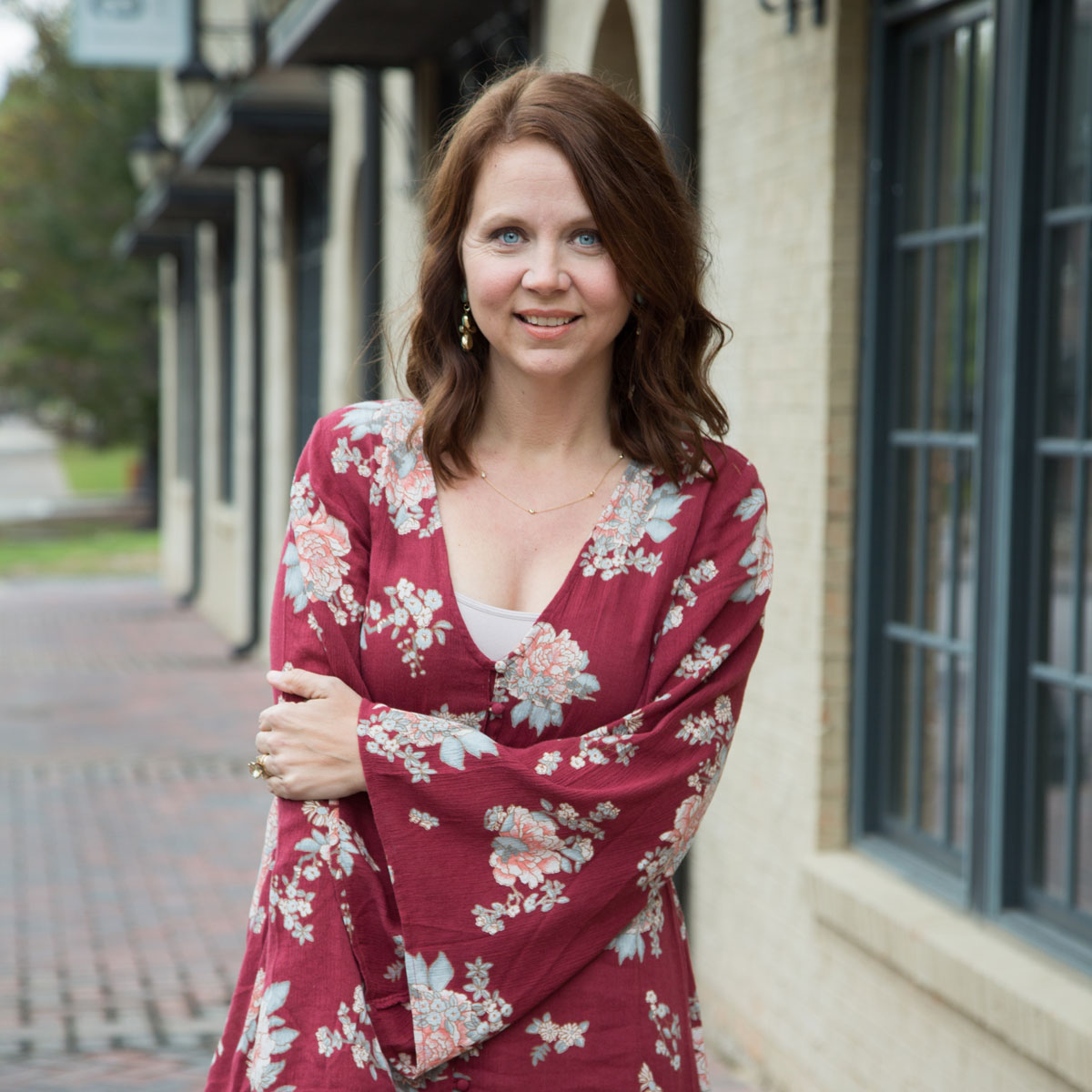 Kristin is married to her high-school sweetheart and the mother to two daughters. Professional by day and creative by night, she is a family lifestyle blogger who writes about faith, family, and fitting it all into a busy schedule. At Taz + Belly, you'll find healthy recipes, children's party ideas, tutorials, DIY projects, and more.
Click Here to Read More About Kristin