Disclosure: Affiliate links appear in this post. Any purchases made using these links will earn Taz + Belly a small commission. You can read more about our affiliate relationships here.
---
It's been almost a month since I shared the first post about the natural products we are using at home. We're still working to transition so many things, but I'm thrilled with the products we've tried so far and wanted to share them with you!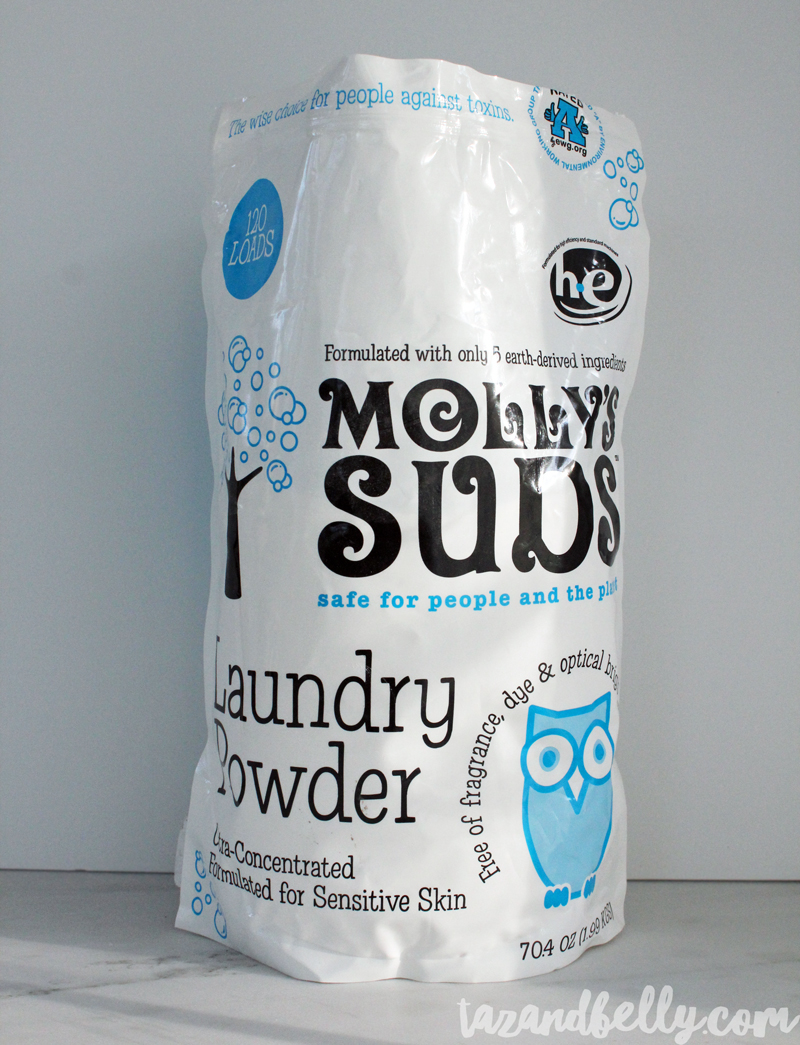 1. Molly's Sud's Laundry Powder | The biggest difference for me is switching from a liquid to a powder, but it isn't that big of a deal. Molly's only has five earth-derived ingredients and it smells SO GOOD. It's minty and seems a big overwhelming straight out of the bag, but it is so subtle once the clothes have been dried and folded. I'm pretty sure Josh thought I was insane when he took a whiff from the bag, but we've been using it for a few weeks and no one has complained. I ordered using Amazon Pantry, so we'll be getting a new bag every other month. I might adjust my delivery schedule a bit, once I see how long the first batch lasts, but so far I'm super happy with this one.
Molly's Suds Laundry Powder | EWG Database Rating: not found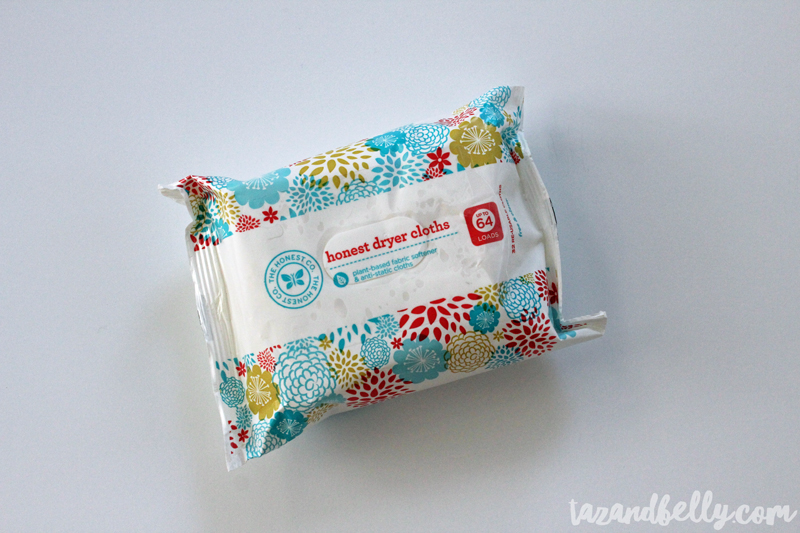 2. Honest Dryer Cloths | Dryer cloths is a huge bone of contention at our house. Josh refuses to go without and anytime I buy a more natural product, he complains about the scent or the feel of his clothes. I bought these reusable cloths at Sprouts the same day our new detergent was delivered and I can't tell a difference. I'll admit to not reusing them, but the packaging says each one can be used twice. I also really want to try these dryer balls from Molly's Suds, so they might be next on my list!
The Honest Company Dryer Cloths | EWG Database Rating: 1 (This formula doesn't seem to be listed in the EWG database, but a previous formula was. Based on scores of their other products, I feel pretty good about adding this one to our arsenal.)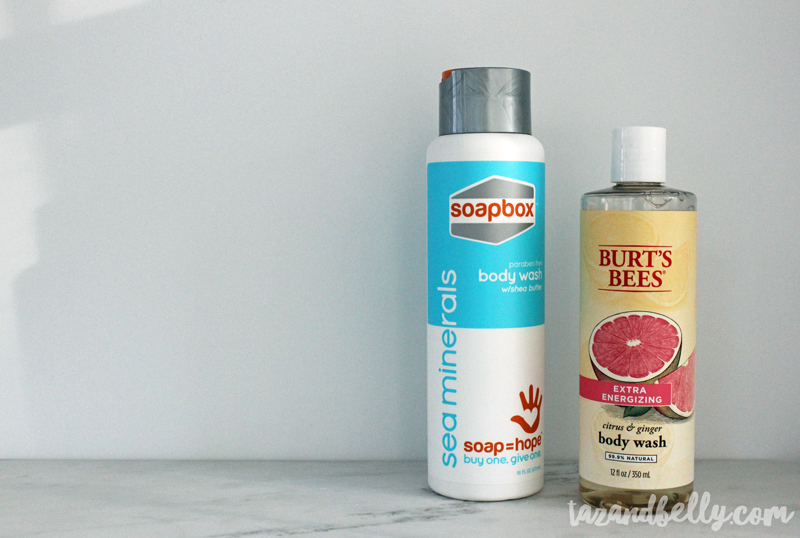 3. Burt's Bees Body Wash | I'm not sold on bodywash yet, but I'm trying. The girls got these Burt's Bees washes in their Easter Baskets and they love the scent. I wish they lathered up a bit more, but I think that's just a holdover from chemical based products. I'm still looking for a safer option that doesn't cost one billion dollars, so I'll keep you post. I've also purchased this Soapbox version, but admit that I don't know much about it except that it was in the natural products section at my grocery store and is phthalate and paraben free.
Burt's Bees Body Wash | EWG Database Rating: 4
Soapbox Body Wash | EWG Database Rating: not found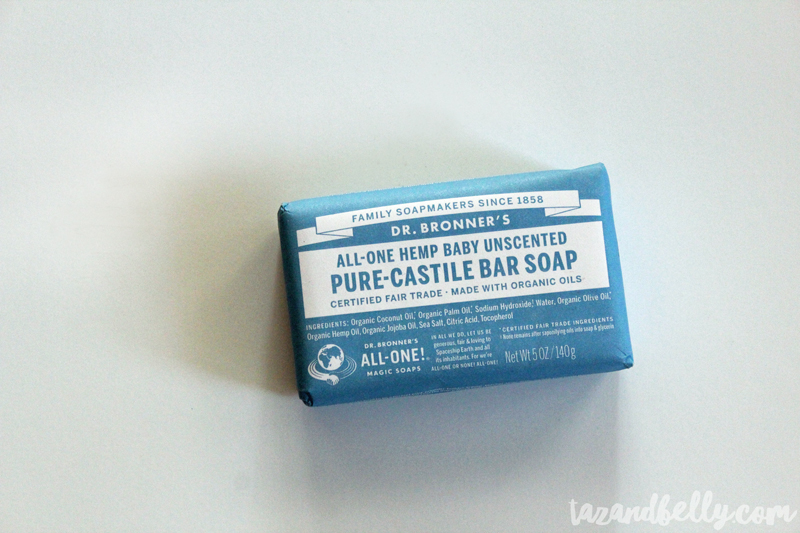 4. Dr. Bronner's Bar Soap | It dawned on me while shaving my legs a few weeks ago that I needed to source a bar soap. I'm sure there are all sorts of fancy shaving products that people recommend, but I've always been a fan of Ivory Soap. I have super sensitive skin — especially on my legs — and try to avoid anything scented or harsh for shaving. I found this bar at Publix a few weeks ago and it's my new favorite. There are scented versions, too, but I like this one the best!
Dr. Bronner's Bar Soap | EWG Database Rating: 1 (I'm thinking about picking up Dr. Bronner's liquid castille soap to use as a body wash, since all of their products rate so well!)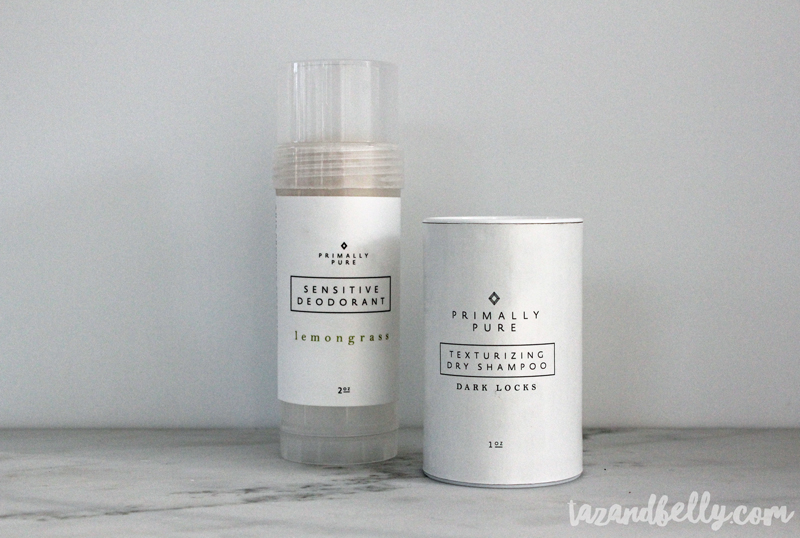 5. Primally Pure Texturizing Dry Shampoo | This product is so intriguing to me, but it definitely has a learning curve. I bought the one ounce package, knowing I needed to try it for a bit before committing (even though I know it's far better for me). For awhile, I alternated between this and my trusty spray bottle, but I'm finally out of Batiste and have made the switch completely. It comes in a powder canister, so you have to either shake it into your hand and apply, shake it directly onto your hair (a little awkward), or apply using a shallow bowl with a makeup brush. I'm getting the hang of it and I actually really like how it looks in my hair. Did I mention it smells like peppermint oil?! I'll report back, but I think I'm going to love this.
6. Primally Pure Sensitive Deodorant | The deodorant took some getting used to. I used it for almost a month before reviewing it on the blog, but I still had a mild reaction for a few more weeks. I actually skipped out on deodorant altogether for a few weeks to let my skin heal and I've been using the sensitive version ever since. I will note that it can build up on your skin and in your pores if you don't intentionally remove it and that caused some breakouts for me. Once I was aware that I needed to be sure I got it all off in the shower, I haven't noticed any adverse reactions. Sure, it's a little more complicated that Secret Roll On, but I'm embracing the differences because I know it's better for me.
Primally Pure Products | EWG Database Rating: not found (These products are not listed in the EWG Database, but you can read all about their ingredients on the Primally Pure website. I have been very impressed with their transparency and willingness to answer any questions I might have via email!)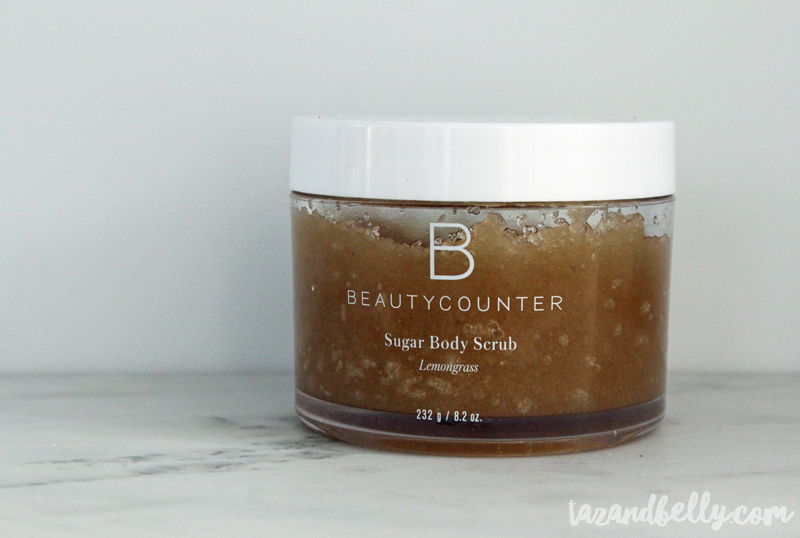 7. Beauty Counter Sugar Body Scrub | I actually won this product in an online Beauty Counter party and it was my first BC product to try. I started out using it on my feet and legs in the shower after I shaved, but I've been using it on my underarms for the last few weeks, too. Since I know that the Primally Pure deodorant can cause my skin to react negatively if I don't pay close attention, I've been using a little of this to exfoliate that skin. I notice a much better result when pairing these products. Also? This sugar scrub smells like heaven!
Beauty Counter Sugar Body Scrub | EWG Database Rating: 1 (Almost all of the Beauty Counter products have a 1 rating and many of them are EWG verified!)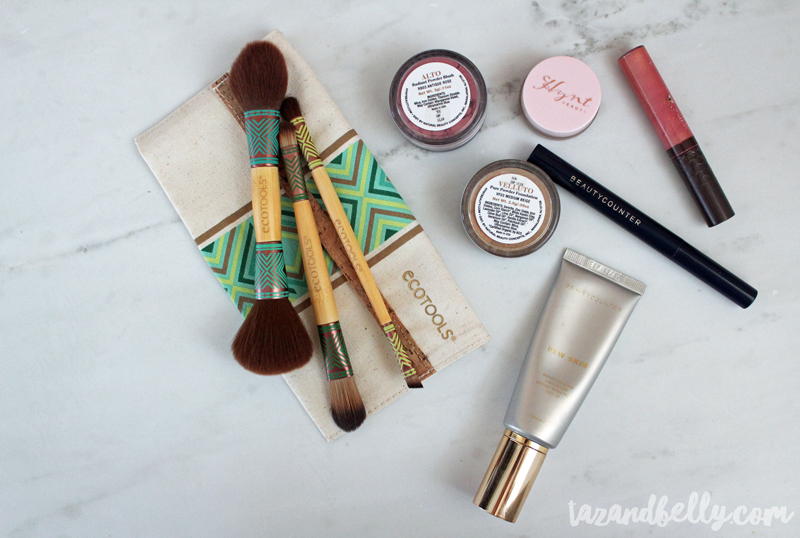 8. EcoTools Boho Luxe Duo Brush Set | I was in desperate need of some makeup brushes and I found this set at TJMaxx for less than $10. After doing a little research, I love everything I've read about their mission. P.S. The brushes get the job done, too!
9. Beauty Counter Dew Skin | This is pricier than my normal makeup purchases, but that's the price you pay when sourcing safer products. I love that this is light, offers SPF protection and isn't a heavy, matte finish.
Beauty Counter Dew Skin | EWG Database Rating: 1 (Almost all of the Beauty Counter products have a 1 rating and many of them are EWG verified!)
10. Hynt Beauty Velluto Pure Powder Foundation and Radiant Powder Blush | I bought a starter set that came with several face products and this powder has great coverage. I'm easy to please in this area, but I loved that I got two different shades (winter and summer) and can mix them together, as necessary. This is the first time I've used a loose blush, but I love the application. I ordered the Antique Rose color and I love the color! These products are a little less than Beauty Counter, so pairing the two companies makes it a little easier on my checkbook.
Hynt Beauty Velluto Pure Powder Foundation & Radiant Powder Blush | EWG Database Rating: not found (You can read all about Hynt's ingredients here.)
11. Hynt Beauty Duet Perfecting Concealer | I love love love this concealer! I apply it over my Dew Skin foundation, mainly beneath my eyes, and the two together offer perfect coverage. It also doubles as an eyeshadow primer, so if you need a little help there, this works wonders. All of my Hynt products are sample sizes, but they should last me a really long time!
Hynt Beauty Duet Perfecting Concealer | EWG Database Rating: 2
12. Beauty Counter Lengthening Mascara | I'm of the less is more camp when it comes to mascara, so this one is perfect for me. I don't want heavy eyelashes, but if you're into the spidery look, this layers beautifully!
Beauty Counter Lengthening Mascara | EWG Database Rating: 2 (Almost all of the Beauty Counter products have a 1 rating and many of them are EWG verified!)
13. Burt's Bees Lip Gloss | I also really love this lip crayon from Burt's Bees, if you prefer something with a matte finish.
Burt's Bees Lip Gloss | EWG Database Rating: 4 (This is the lowest score I like to see in products, so I'm currently looking at a few other options!)
---
What are your favorite natural products? I would love to add even more things to my arsenal. I'll be sharing a few home products next month and I've already been researching sunblock and bug spray for summer. If you have any recommendations, I'd love them hear them!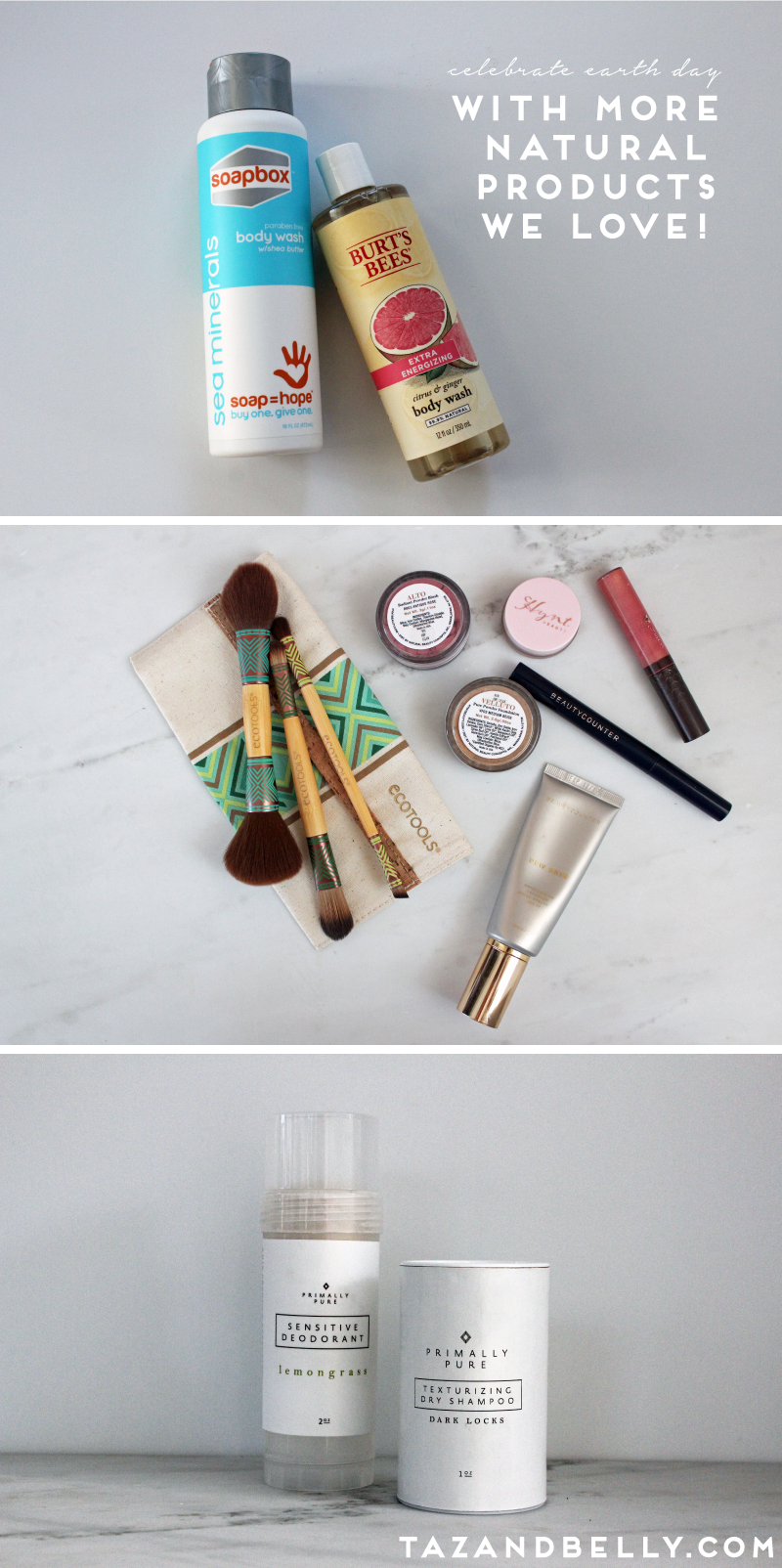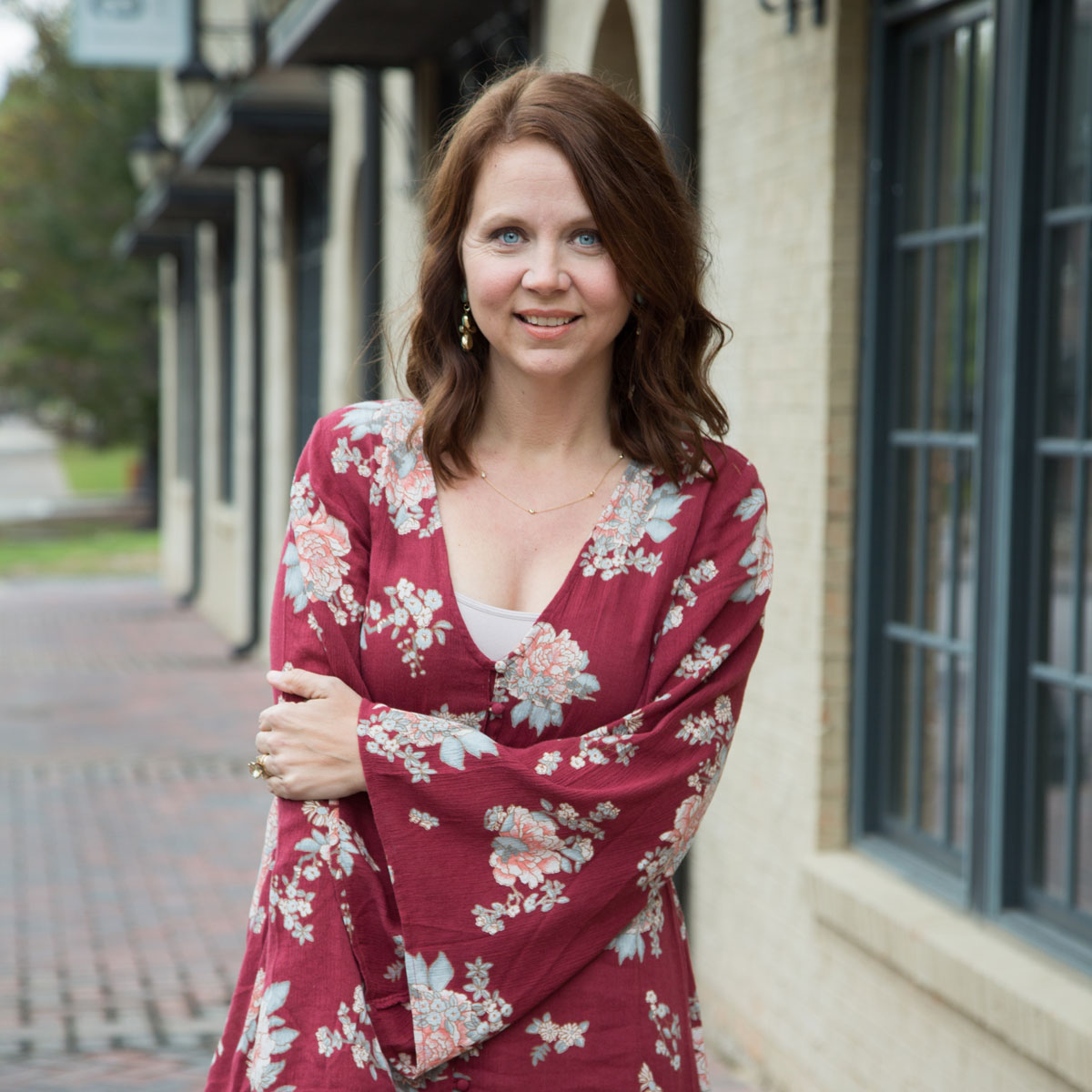 Kristin is married to her high-school sweetheart and the mother to two daughters. Professional by day and creative by night, she is a family lifestyle blogger who writes about faith, family, and fitting it all into a busy schedule. At Taz + Belly, you'll find healthy recipes, children's party ideas, tutorials, DIY projects, and more.
Click Here to Read More About Kristin