Today is our fifteenth wedding anniversary, so it seems fitting that I dive right into the mini-vacay we took last week to celebrate! There are way too many photos to share, so I'm planning to break our adventure into several posts.
---
Have you ever had a song that you loved, that once played on a trip or at a defining moment, became your unofficial anthem? Josh and I joked that although we've listened to the three albums by The Head and the Heart for years and years, those songs will forever remind us of this trip. We were so excited to get to the show on Wednesday, that we listened to them in the car that entire day. Then after the show, we were so giddy that we continued playing them on repeat all week. On Monday afternoon, when I got home from work, Josh had that same Spotify playlist blaring. We almost can't listen and look at each other without grinning.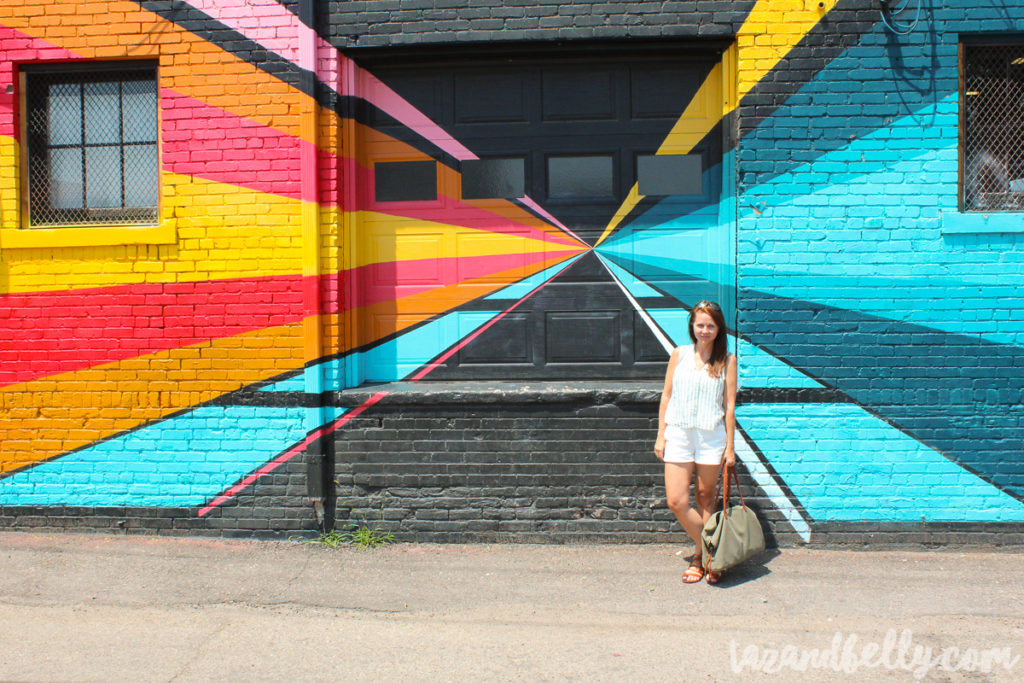 Right after Ella's fifth birthday, Josh and I were able to take a very last minute trip to New York City for the weekend. He had been working about an hour outside the city and we decided to capitalize on his free accommodations and have me meet him there for the weekend. Aside from our honeymoon in 2002, we hadn't done much solo traveling and it was such a wonderful experience to figure out a new city — just the two of us — and recharge our batteries. While we haven't been on many extravagant trips in the last seven years, we have made it a priority to get a few days away each year. Since then, we've visited Dallas, New York City (again), San Francisco, Atlanta (a quick overnight that year), Nashville + Memphis, and then Colorado this year. I hope that as the girls get older, we'll get to plan bigger trips to more exciting destinations, but there isn't a thing I would trade about any of our adventures together.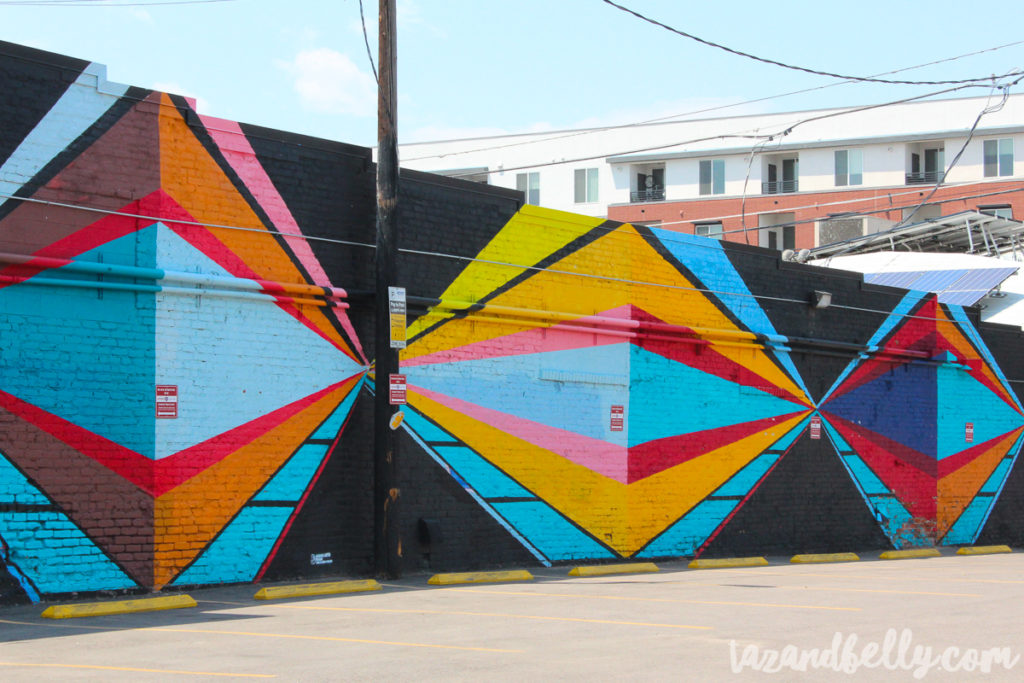 We flew out of Atlanta last Wednesday morning. It was significantly cheaper to fly out of Hartselle-Jackson that it was to leave from Birmingham, so we got up bright and early (2:30 a.m.) to make the two hour drive before our flight. Even with gas and parking fees, our ATL flight was less than half of what we found out of BHM?! The flight was relatively uneventful and we were in Denver by 9:30, local time. Our first stop after snagging a rental car, was the River North Art District (RiNo), which a friend had recommended for exploring and delicious eats.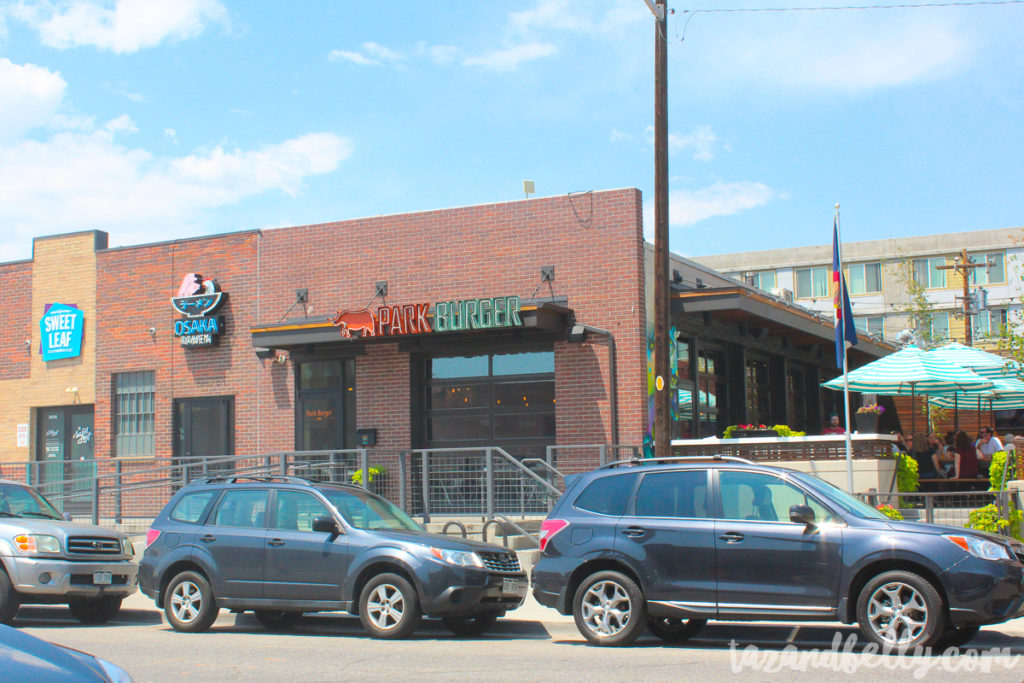 If you've been reading here for any amount of time, you'll know that cheeseburgers are my number one, favorite food of all time. While Josh was navigating the city streets, I set out to find the best burger in the neighborhood and we found ourselves at Park Burger. Not only is it adorable and in the perfect location, but the food was FANTASTIC. I had the Classic Double Cheeseburger with bacon and haystack fried onions and a huge portion of their Truffle Parm Fries. Care to discuss?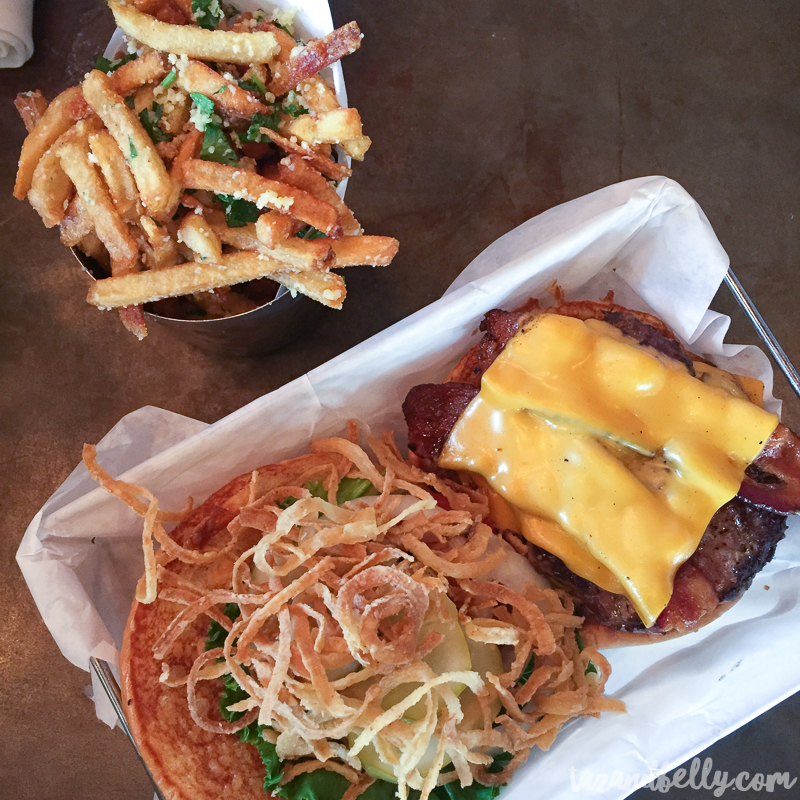 Believe it or not, blogging friends, my husband also has internet friends, and we met up with two of them over the course of our trip. Don't you worry, I gave him sufficient grief and this explains why he never cares when I force him into awkward blogger situations. Once of his friends met us after lunch and Josh + I shared a huge chocolate shake while he ate his burger. No one was kidnapped or murdered over lunch and he was a perfect gentleman! Afterwards, we spent some time wandering around the neighborhood looking at murals and old signs, before we were ready for a nap (an absolute staple on kid-free vacations).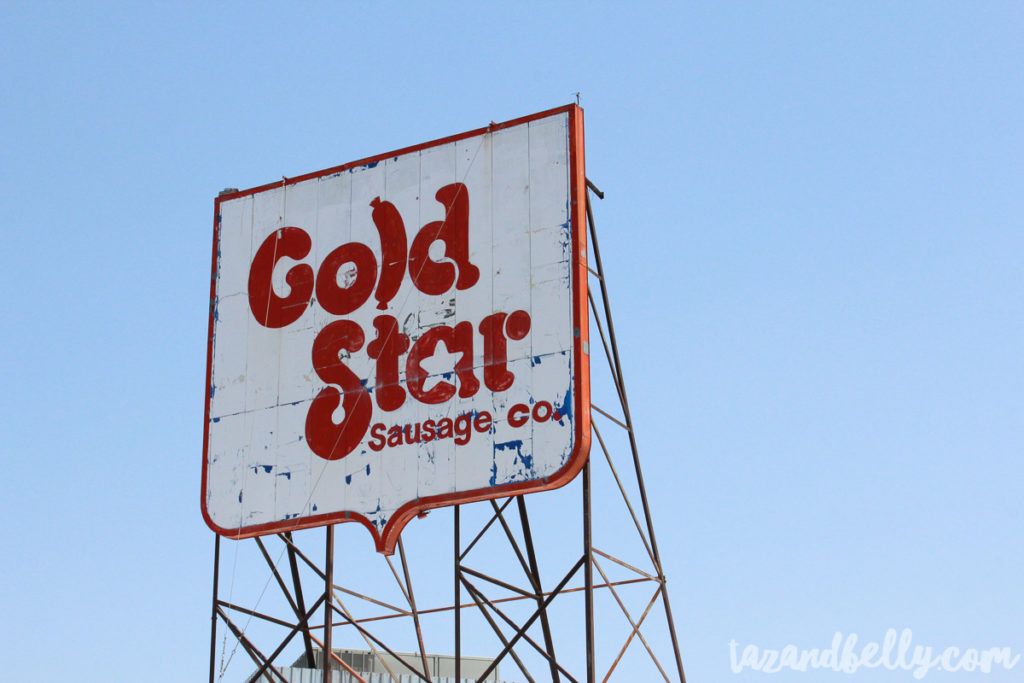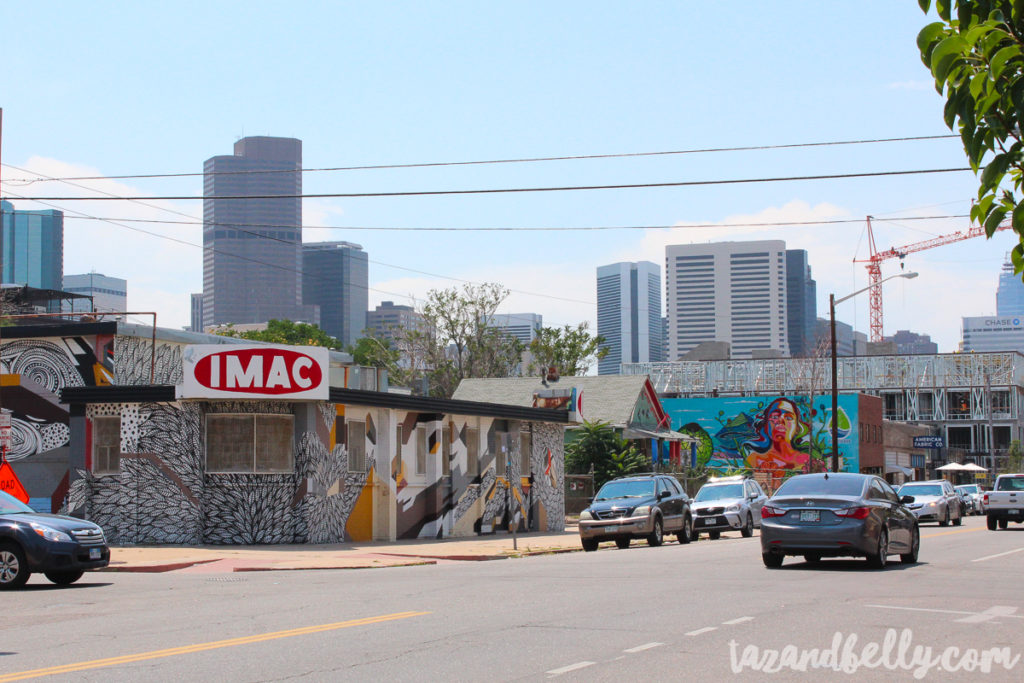 We are such procrastinators and didn't end up making a hotel reservation until the afternoon before we left. We had been scoping out a few apartments on AirBnB that looked promising, but wanted to see if we could get any last minute deals. Spoiler alert: we couldn't. We ended up reserving an inexpensive hotel room close to Red Rocks for our first night and moved into an adorable duplex for the remainder of our trip. After napping in our not so glamorous hotel room for hours, we got ready for the show and headed to Morrison.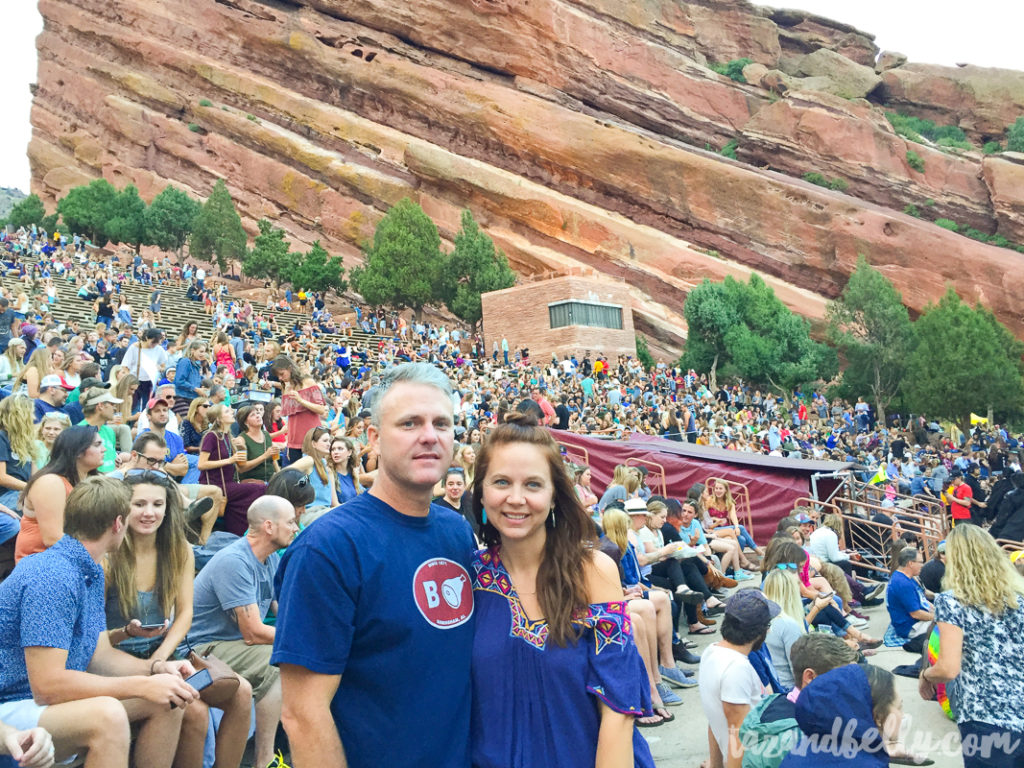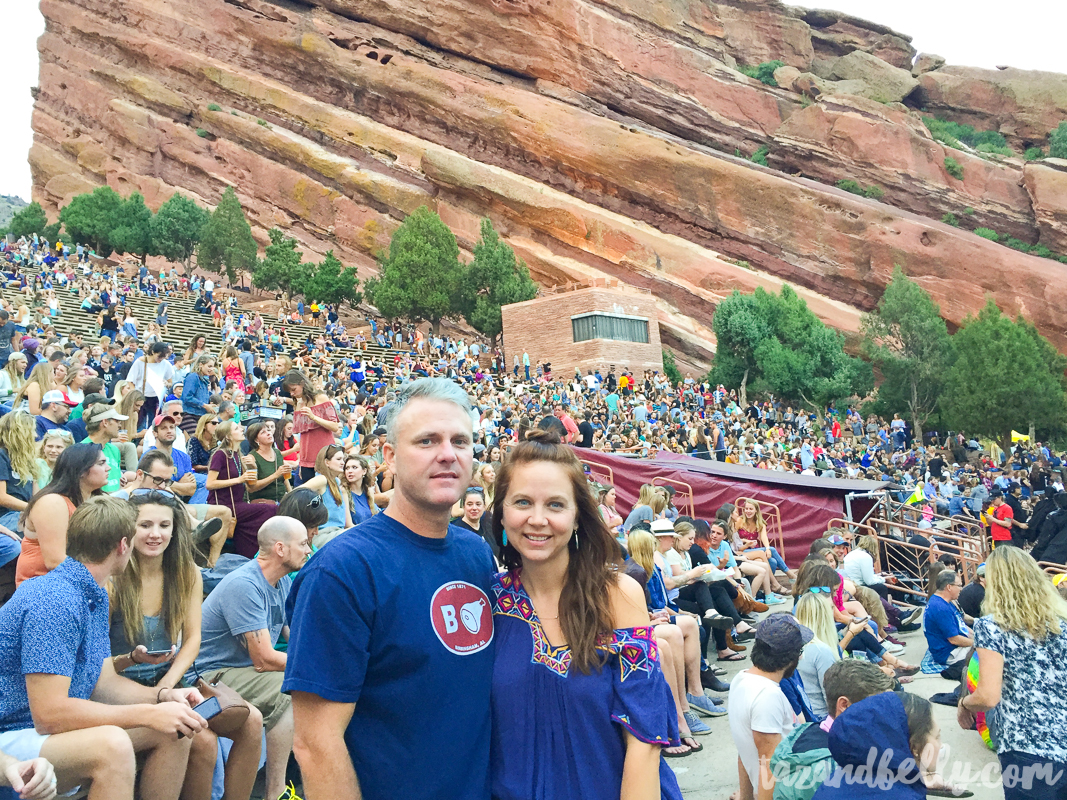 Red Rocks has always been a bucket list item for me, but Josh wasn't a huge fan of concerts until well into our marriage. We've talked for several years about wanting to visit, but I wasn't sure if we would actually take a trip to Colorado just to see a concert. It turns out, we totally would. Josh had been watching their schedule for months to see what bands were playing that we loved. When he realized that one of my favorites would be playing the week before our 15th anniversary, he scooped up tickets and surprised me on Christmas morning. We weren't allowed to take our camera inside during the show, so these two iPhone photos are the extent of my photographic evidence, but let me tell you: this was the single most amazing concert experience of my life and I have seen some good ones. I don't know if it was the venue, the band, the energy, or the fact that we were on an adventure, but we seriously had the time of our lives. Here is the only video of our favorite song that I could find on YouTube (because I promised to keep my phone in my purse) and it doesn't begin to do it justice. The sound bouncing off the rocks was beautiful and one of the lead vocalists — who has been battling addiction and sidelined during the entire tour — showed up for the encore, making it an absolute tear jerker.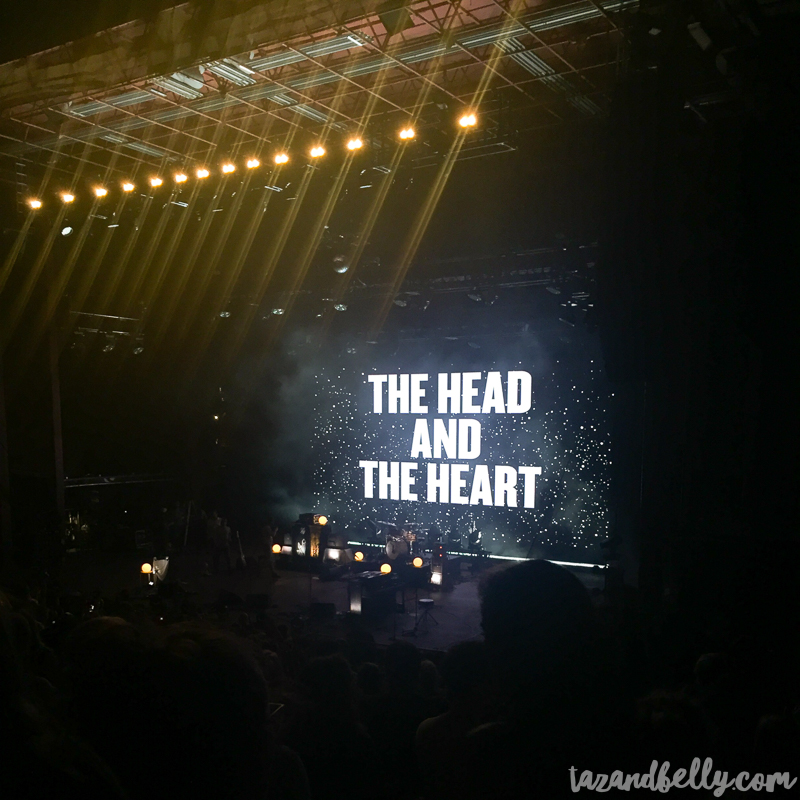 Our plan had been to sleep until the latest possible moment on Thursday morning, before checking out of our hotel and heading back to Denver for a baseball game. As it turns out, old people can't sleep late and we were both awake by 8:30. We decided to head back to Morrison to visit Red Rocks during the day (because: pictures), pick up some t-shirts for the girls, and grab brunch.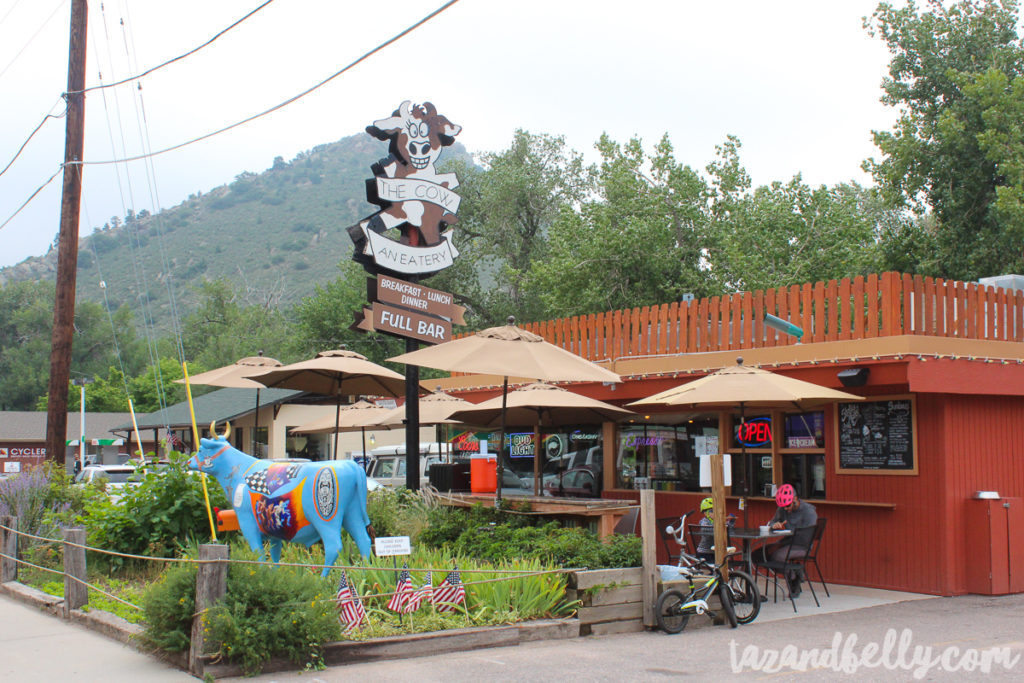 Morrison, Colorado is adorable. It is a tiny little town with one street of shops and restaurants, an elementary school, and Red Rocks. We read great reviews for The Cow An Eatery, so we headed over to indulge in as much breakfast food as possible. I had the Parisian French Toast, which was huge, and Josh had waffles and bacon. While we were drinking copious amounts of coffee, Josh casually mentioned that we should just grab concert tickets for that night, too, since we didn't have any other plans. He's since admitted that he shouldn't have mentioned it so early in the day — I literally would not leave him alone about it for the next twelve hours!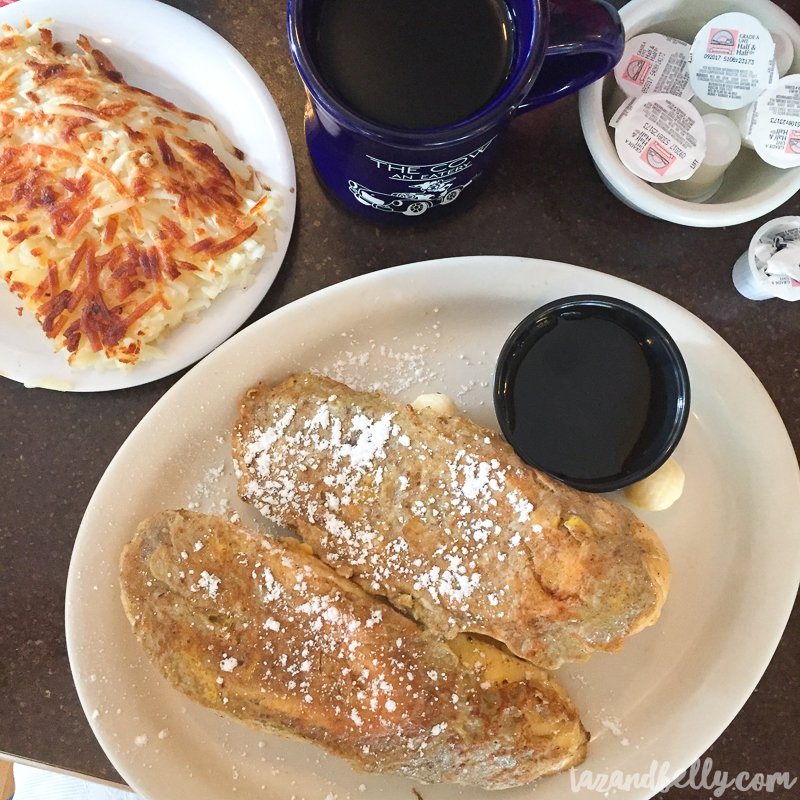 We had plenty of time before our afternoon baseball game, so we parked our car at one end of the tiny town and walked up and down both sides of the street. There were so many cute shops and I was determined to find a quirky souvenir to take home for myself.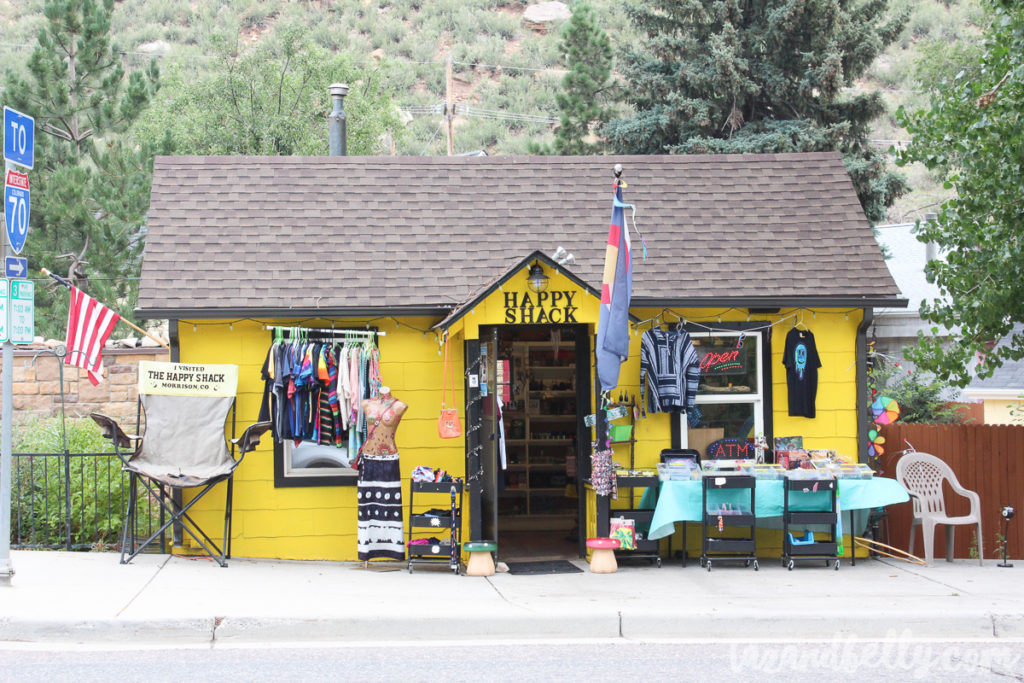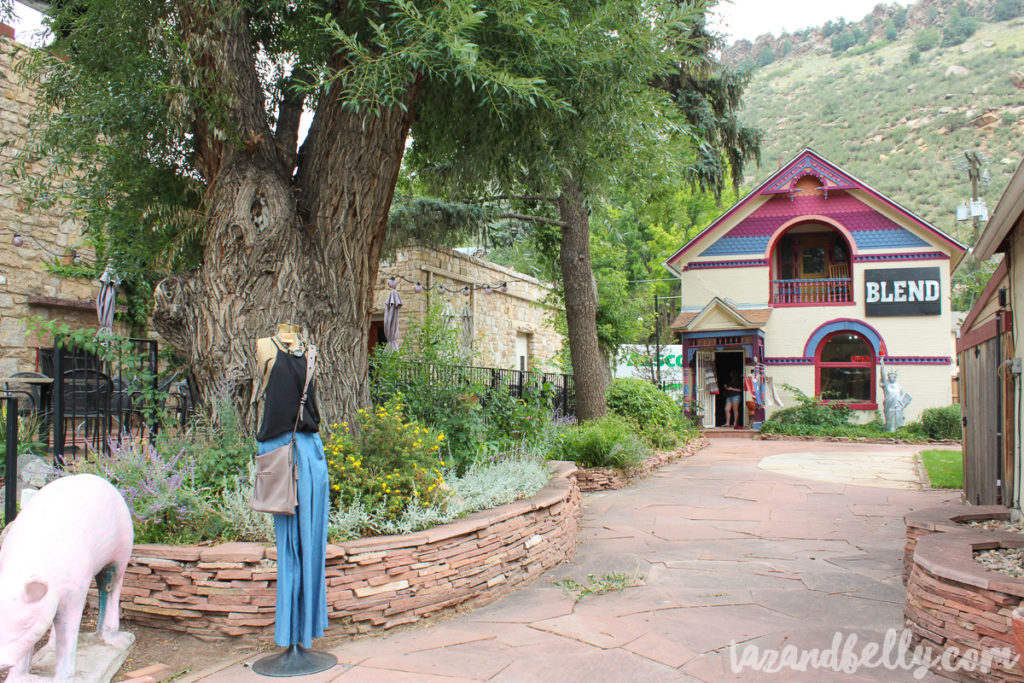 This little shop was my favorite place we visited and I found a beautiful maxi dress that ended up being way too big. I was super disappointed, but very glad that I tried it on. I tried to convince Josh to buy me some patchouli oil, but he gave me a very firm no. When we first started dating, I pretty much looked exactly like this store and I wore patchouli in lieu of perfume. He jokes that I smelled like dirt, but that scent will forever remind me of high school.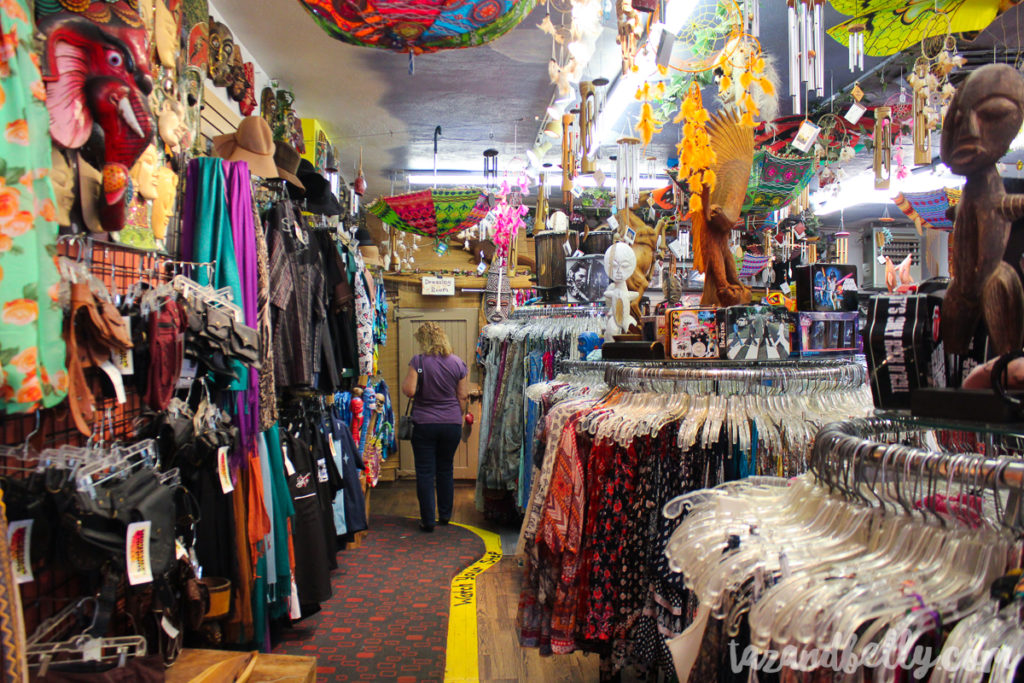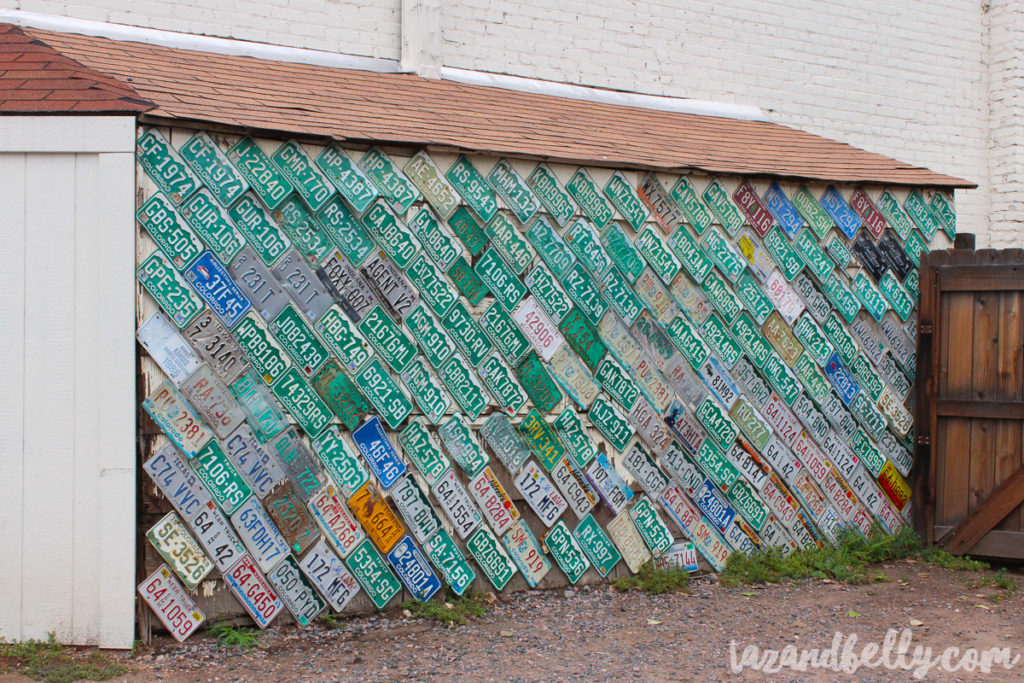 What a good Instagram husband!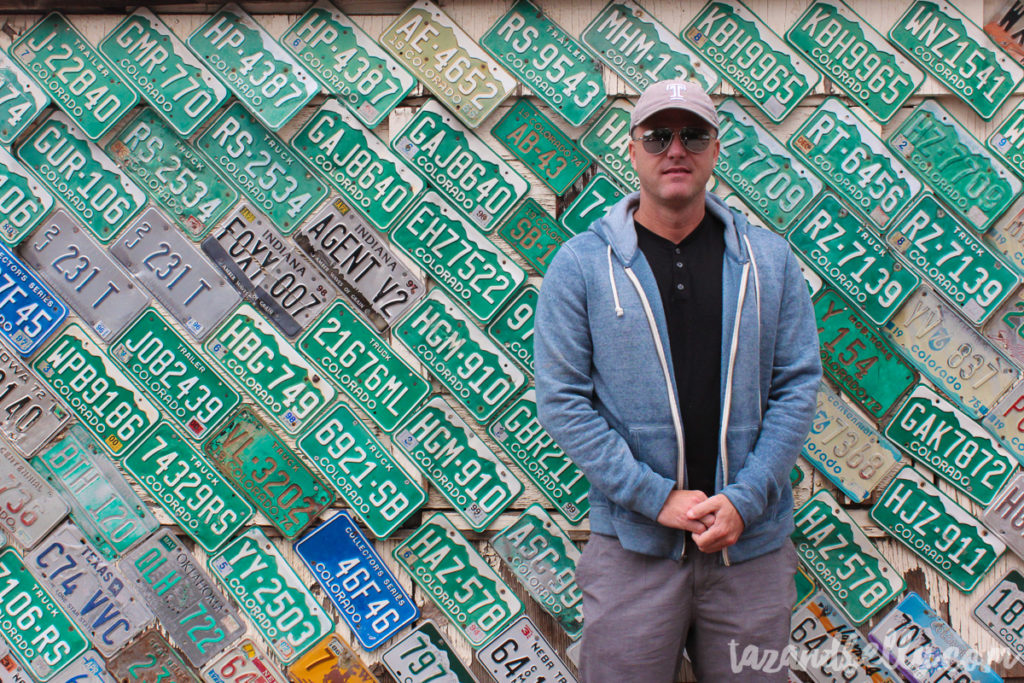 We headed back up the mountain towards Red Rocks after walking around a bit and I was thrilled to get a completely different perspective. We came into the park on the opposite side from the previous night and were able to see both of the rock formations at the same time. I hate that it was so overcast and hazy, because it is so overwhelming in person and these photos don't capture just how beautiful it really is.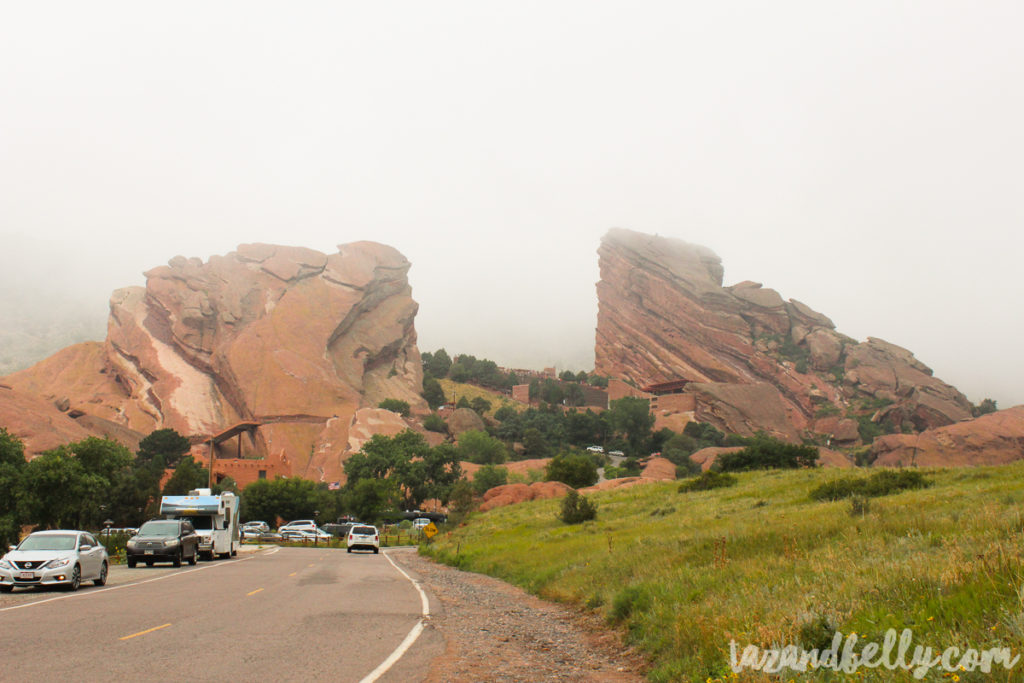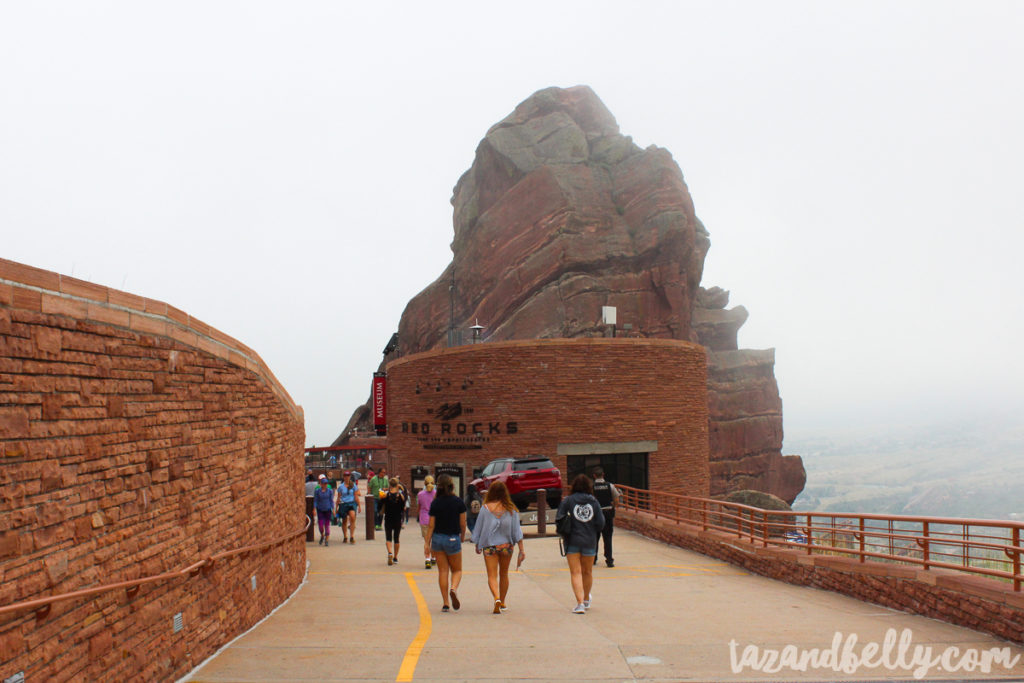 This is looking down into the amphitheater from the upper entrance. We were on the eleventh row for Wednesday's show, so this is a very difference perspective that what we had already seen.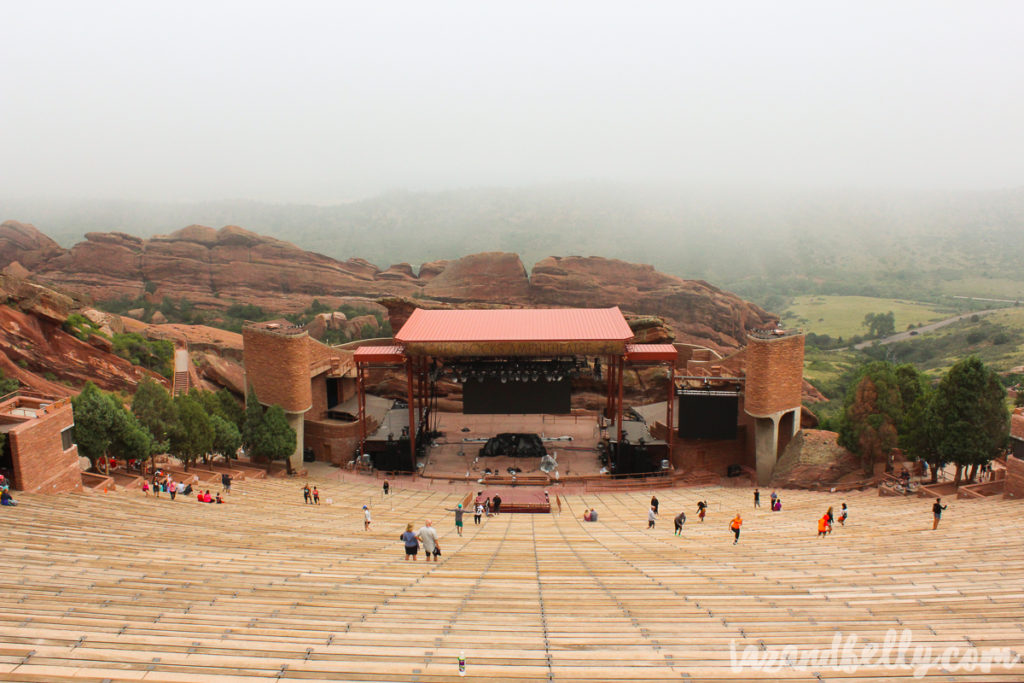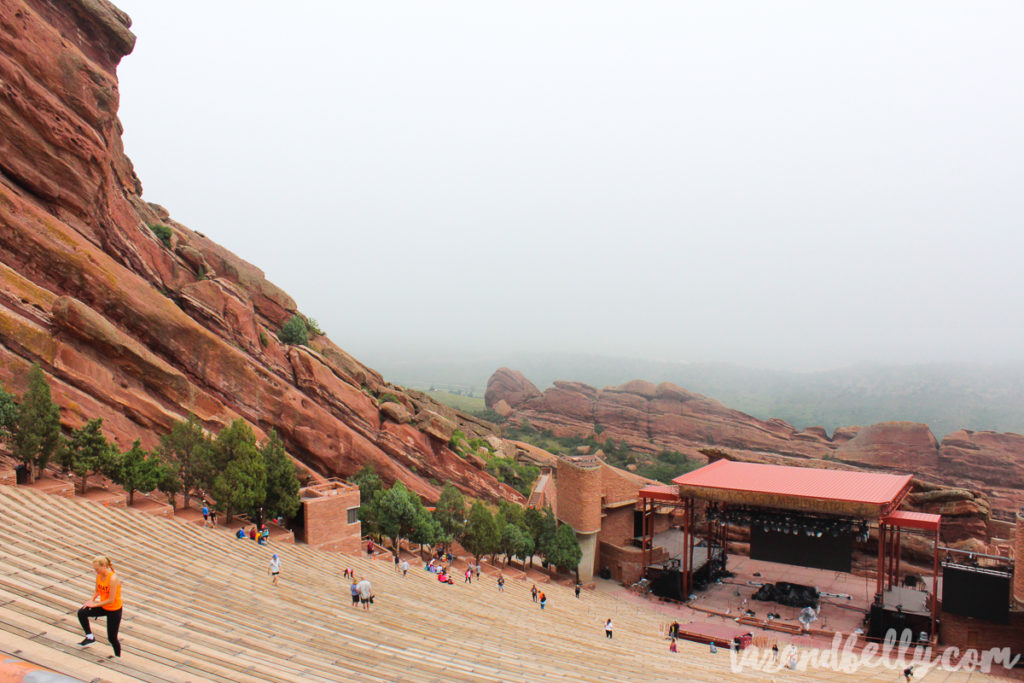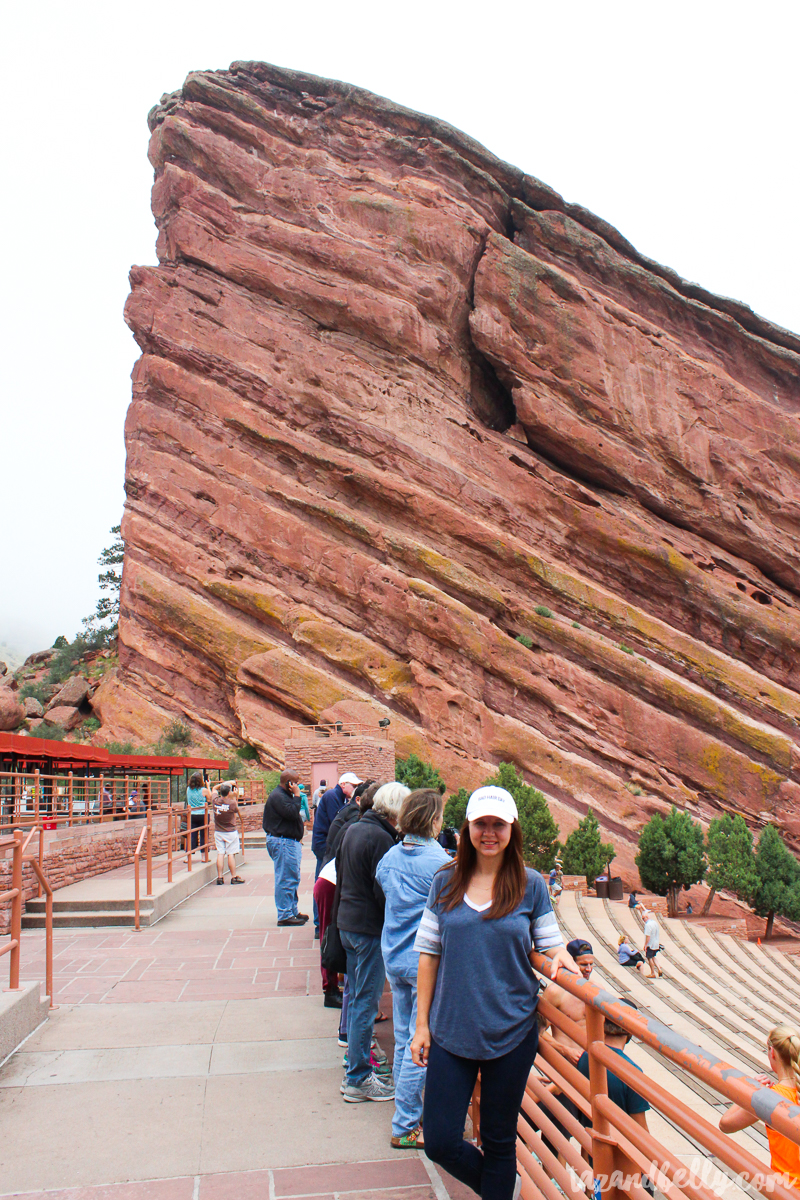 We walked around for thirty minutes or so, Facetimed the girls so that they could see how beautiful it was, and snagged us all a t-shirt in the gift shop. The box office didn't open until four o'clock, so at this point we had no idea if we would manage to snag reasonably priced tickets for the second night. The first night had been sold out for months and we weren't optimistic that we could find tickets for the second show.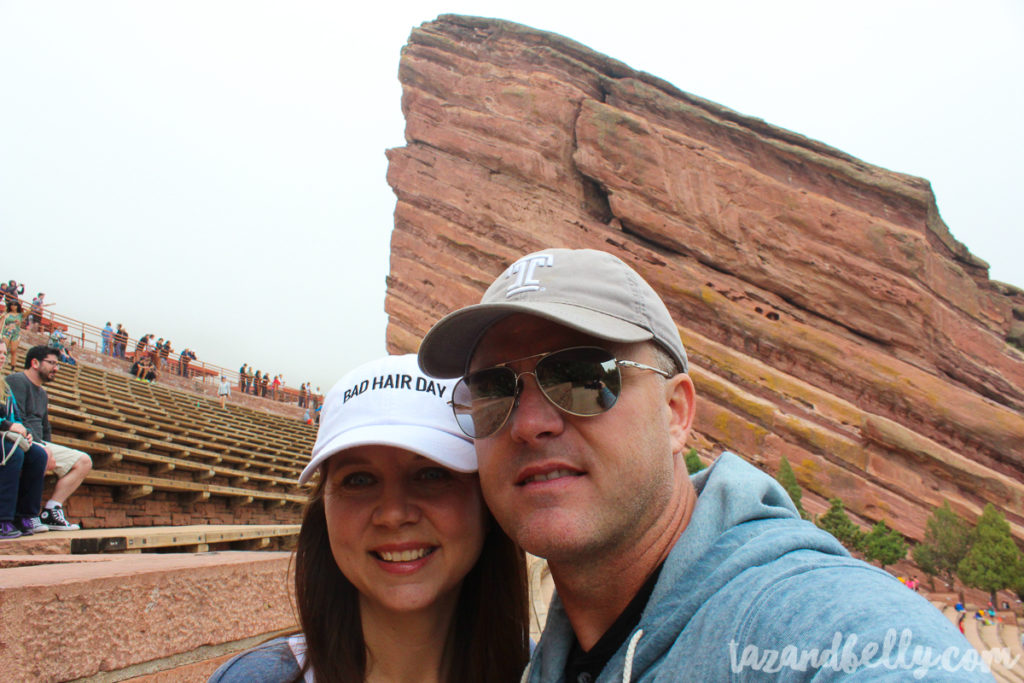 We headed back into Denver for an afternoon Colorado Rockies game and met up with another friend of Josh's who was there.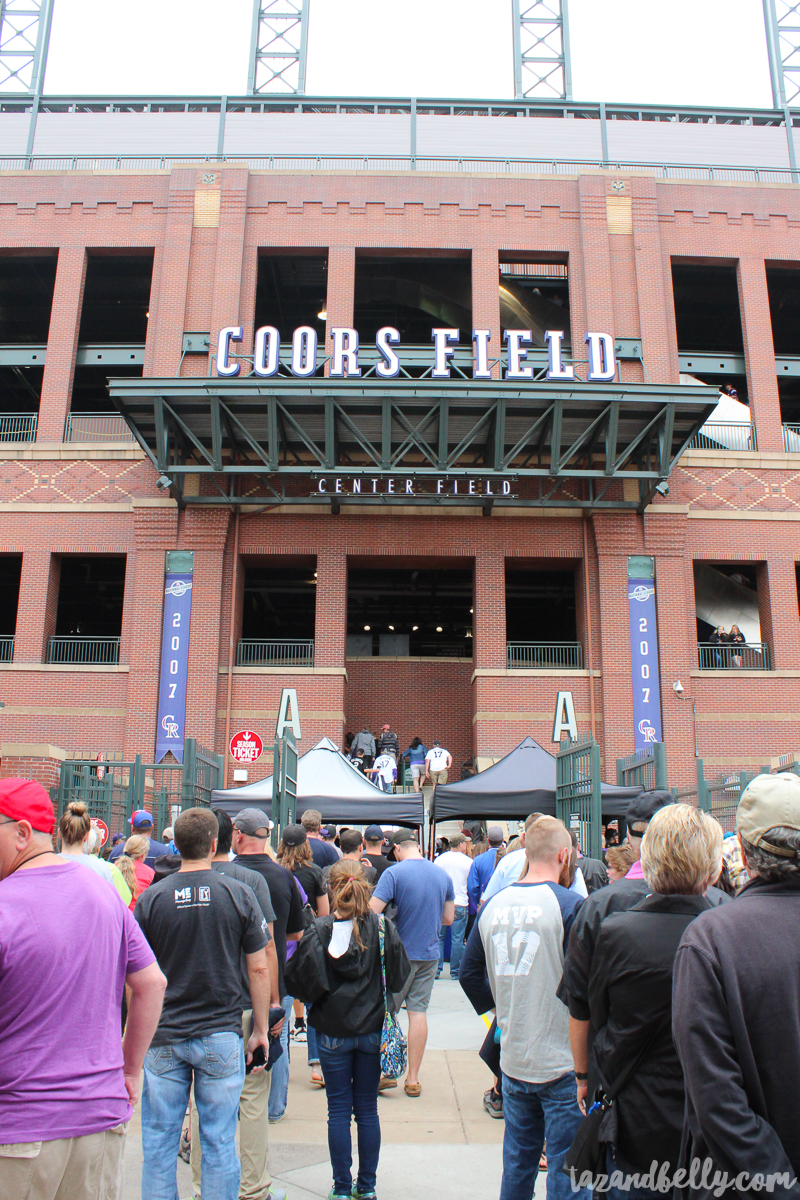 Our seats were on the third base line, so we had a great vantage point of both the field on our right and the city to our left. I ate a huge sausage dog and fries for lunch and we made it through the seventh inning before the rain started to fall. We were lucky enough to get into our AirBnb an hour early, because neither of us was the least bit interested in watching a game in the rain!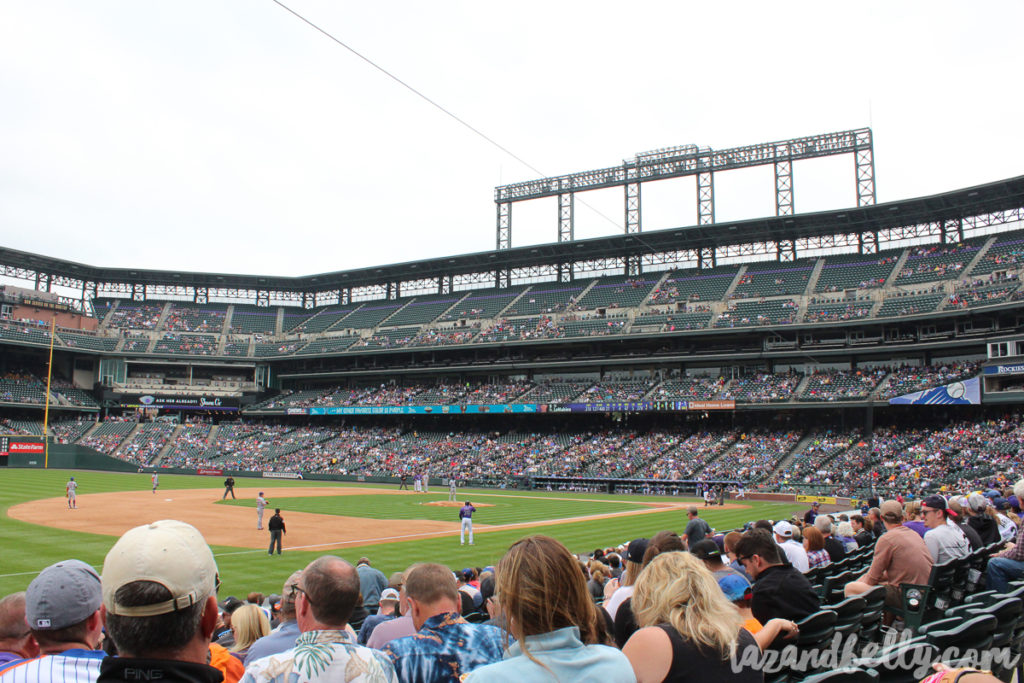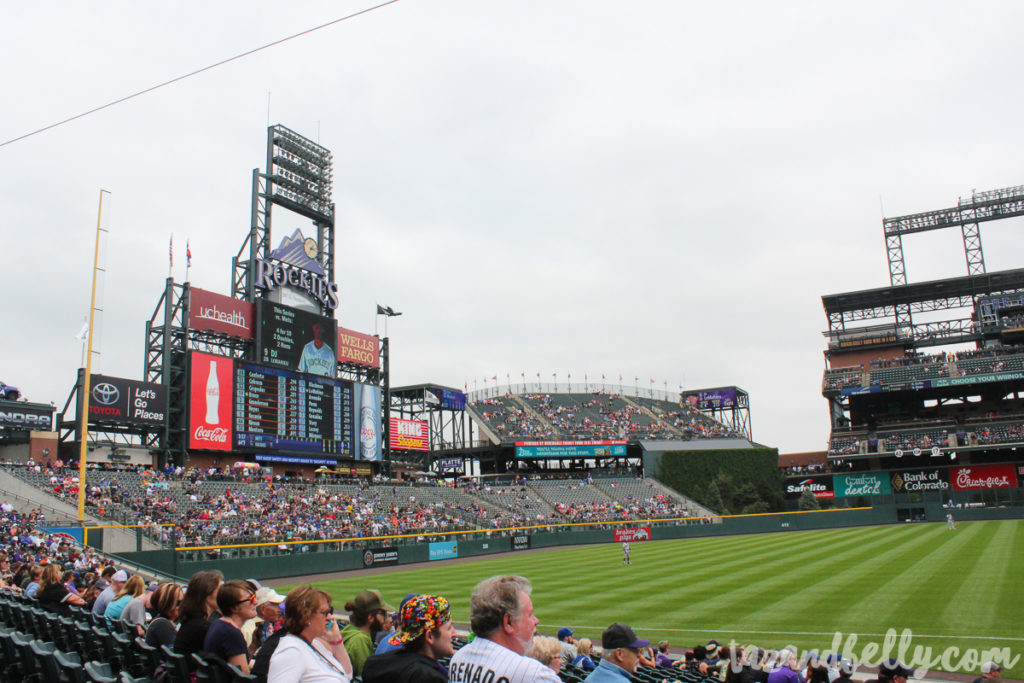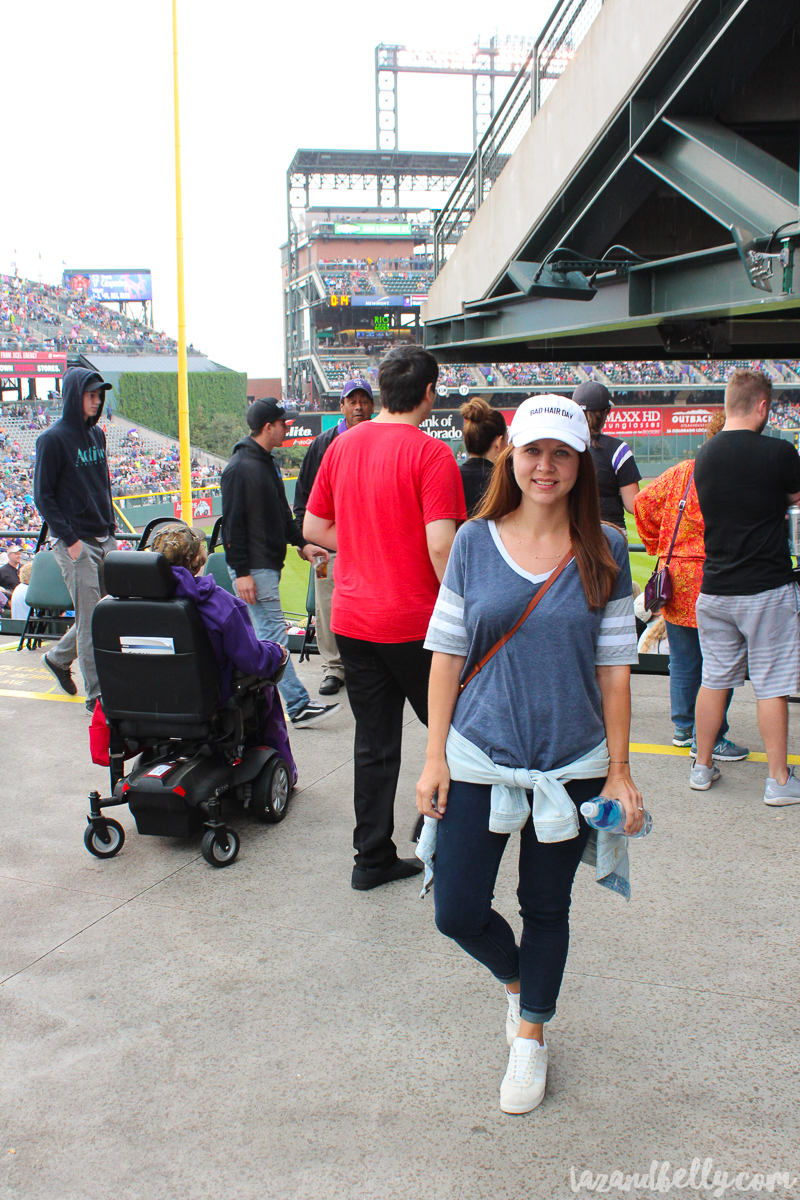 Every single time we got in the car to go somewhere, we stumbled onto another beautiful mural. I loved seeing art on the walls every time we turned around, but Josh got tired of me asking him to pull over!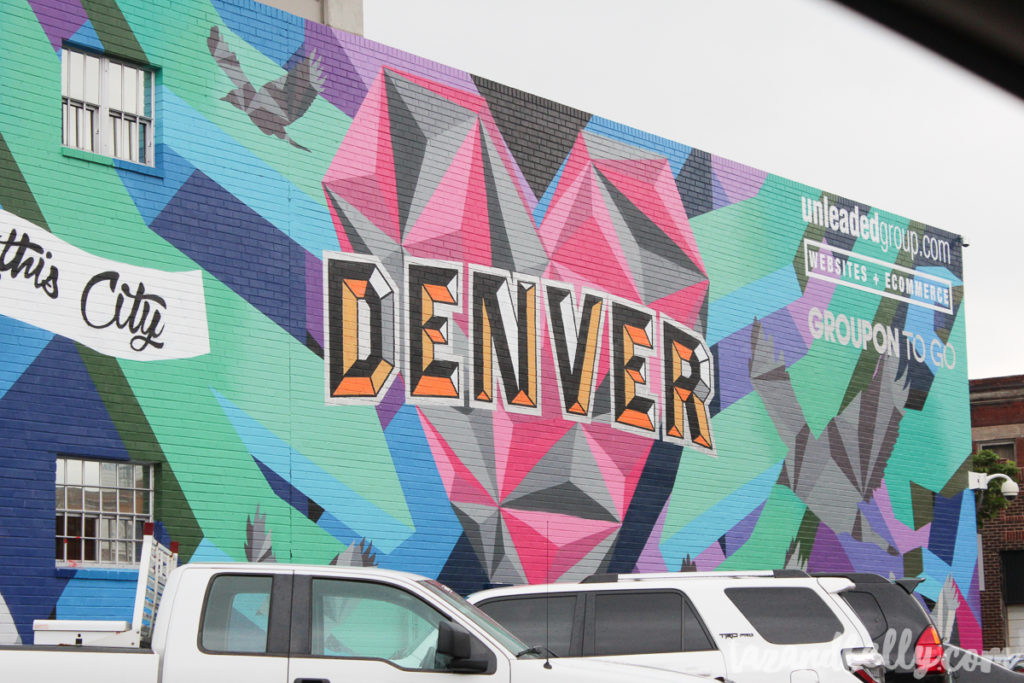 How cute is our half of this duplex? The owner was so kind to get us in last minute and took great care of us during our stay. We were in a quiet neighborhood and there was no television, so we got plenty of rest!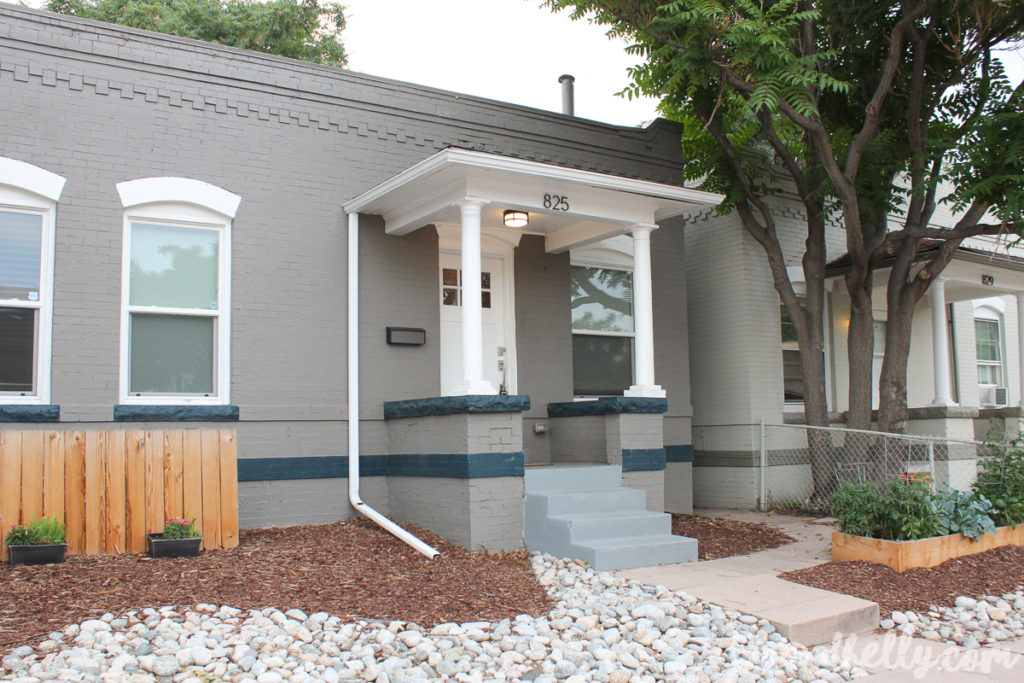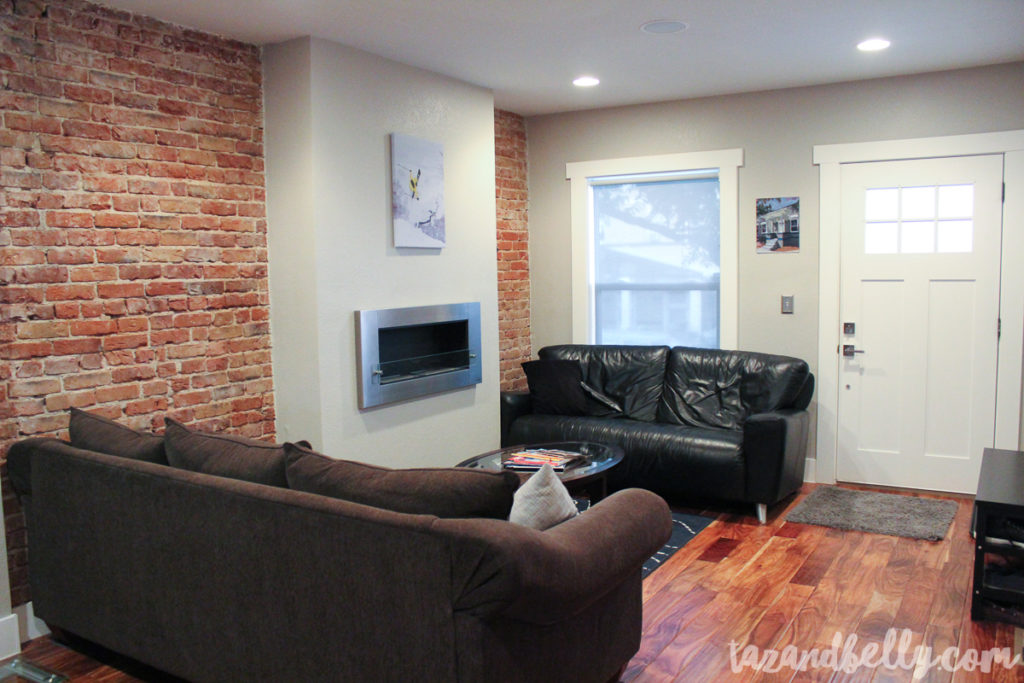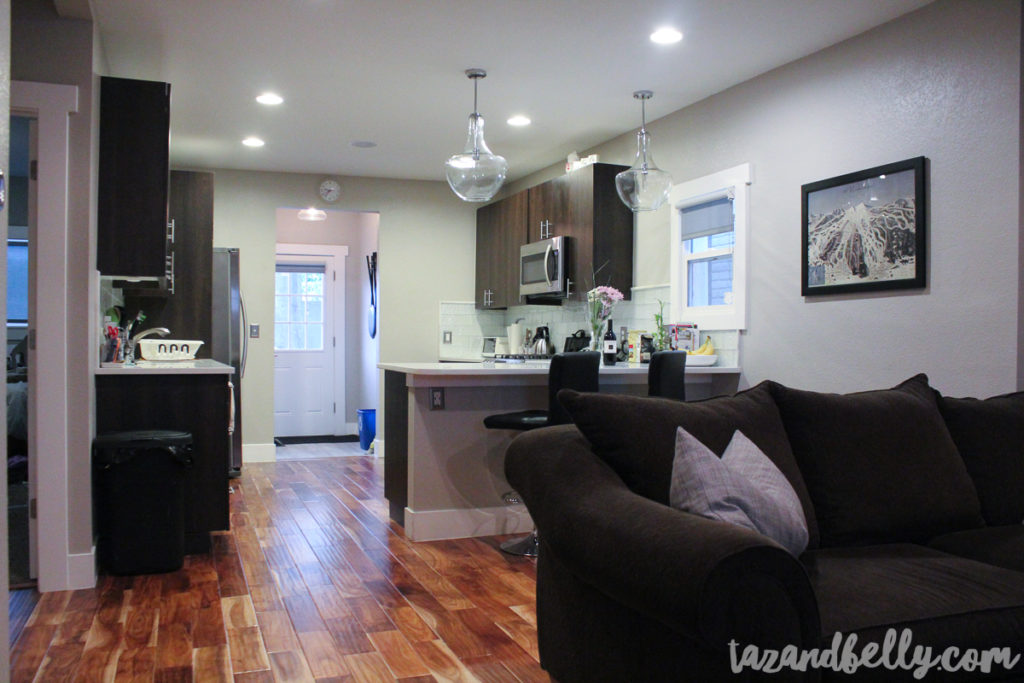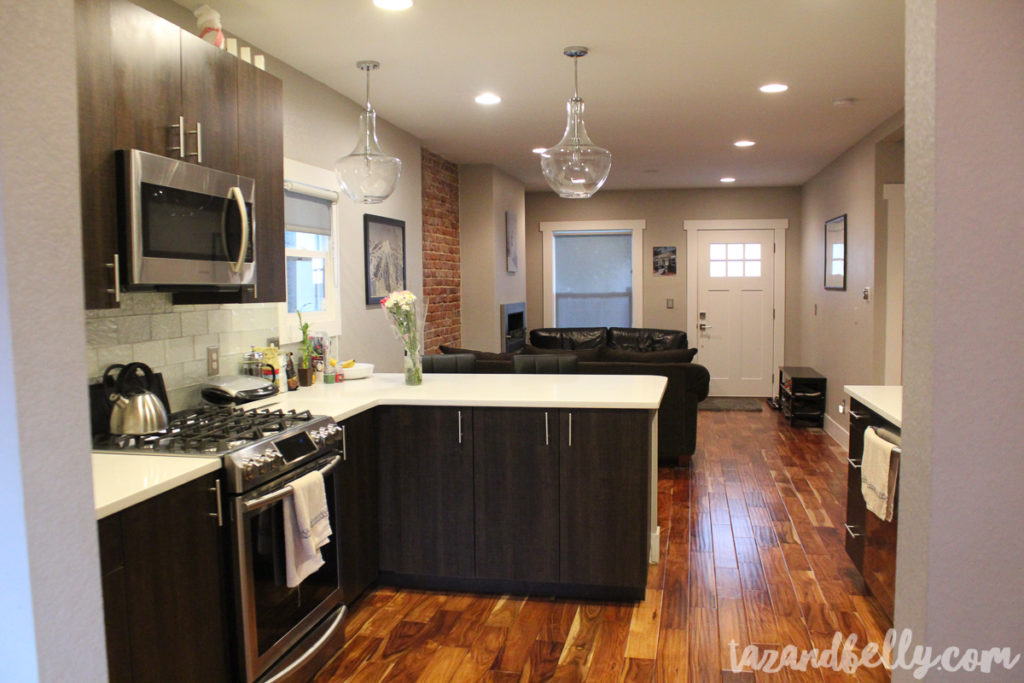 After another nap (travel exhaustion is real, y'all), we woke up and decided we had to make a plan for the evening. Everything was sold out on the Red Rocks website, so we took to StubHub and found a pair of tickets for a decent price about twenty rows behind where we sat the first night. Because we sat in the general admission section the night before, we had to arrive hours before the doors open to get a good seat. Since we were repeating the experience, we decided to grab seats in the upper section and arrive right before The Head and the Heart took the stage. It paid off in so many ways: we were able to rest for several hours before heading back to Morrison, we were in the center of the amphitheater and had a great vantage point of the crowd this time, people were sitting in our seats when we arrived and only hours later did we realize they left two concert tees under the bench — needless to say, our girls were super excited to get yet another tee out of the deal. The first show was my favorite because of our location and the level of excitement we had about being at the venue for the first time, but the second show was probably the better of the two. I'm sure it's weird to see the same band in the same venue two nights in a row, but the setlist was completely different and it felt like another adventure altogether. I am so thrilled we decided to go back and even though the tickets were more expensive than our first go round, we would have spent that money on dinner otherwise and have had a much less exciting experience to remember.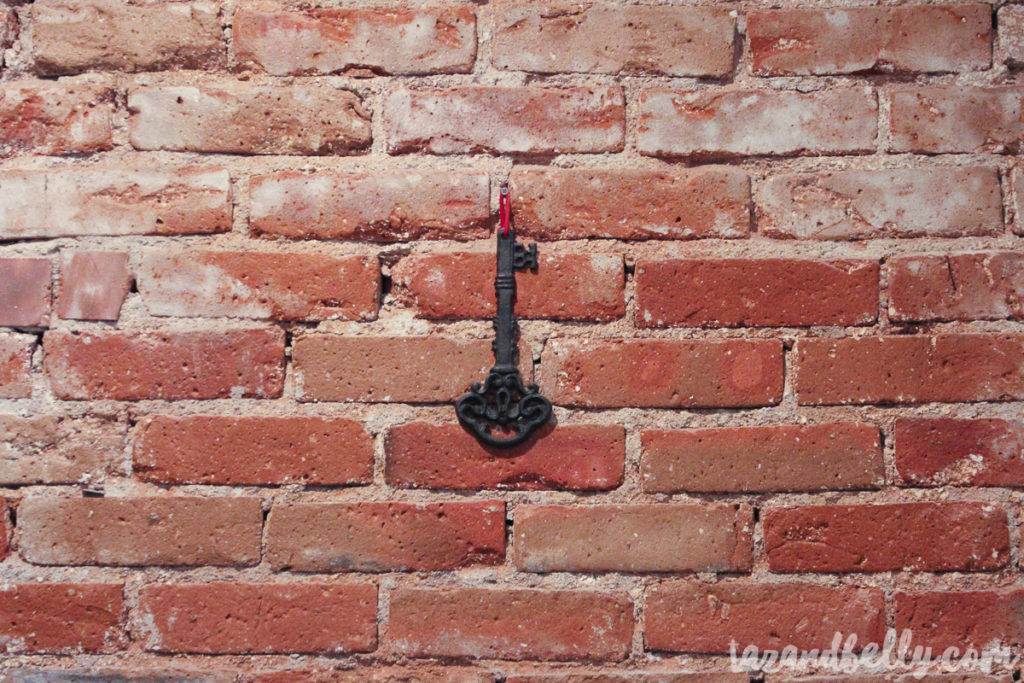 We never expected to love Denver as much as we did and although it might seem like a non-traditional location for a big anniversary, it's one of the best trips we've ever been on. I've got (at least) two more posts worth of photos and stories to share, so I'll be back next week with another installment (or two!).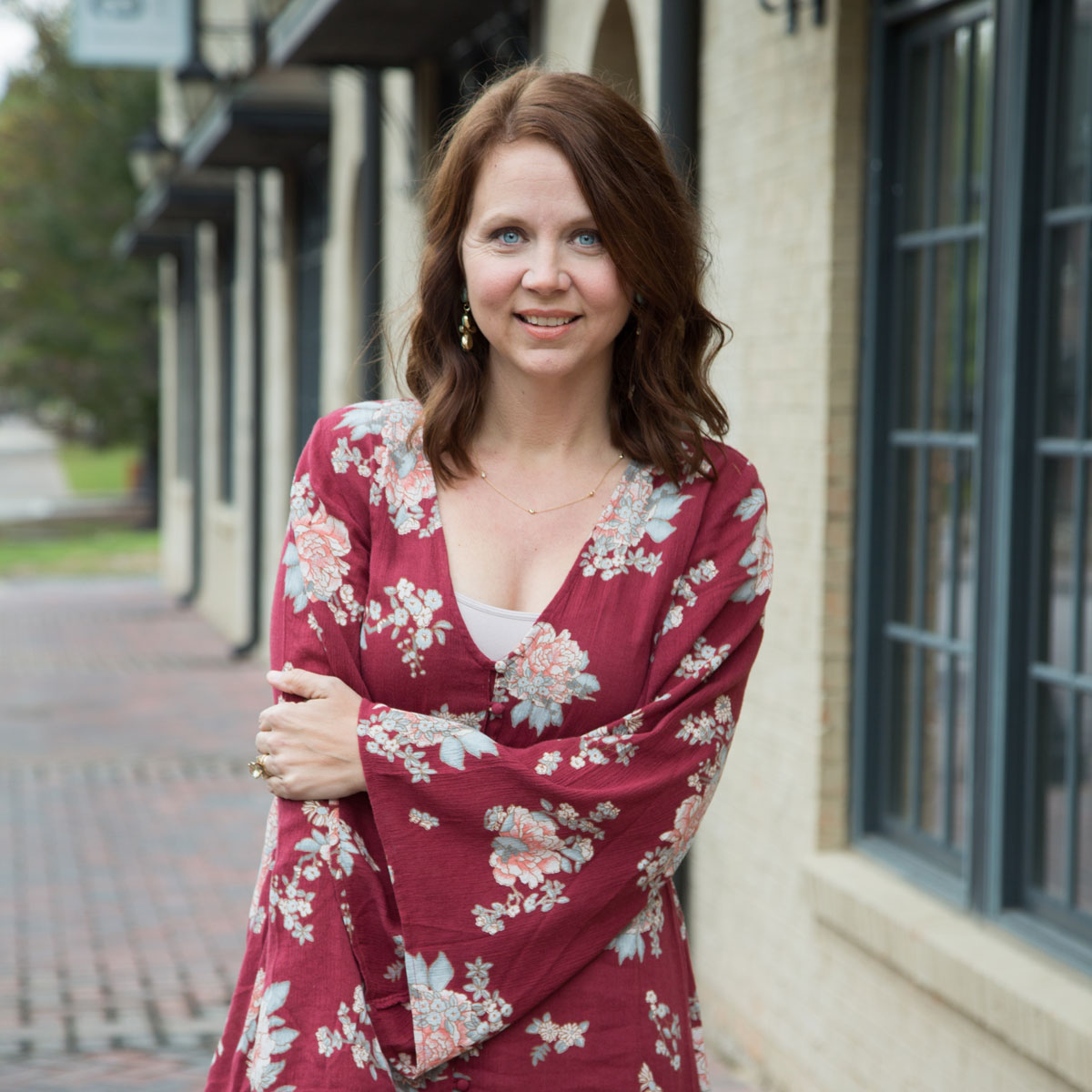 Kristin is married to her high-school sweetheart and the mother to two daughters. Professional by day and creative by night, she is a family lifestyle blogger who writes about faith, family, and fitting it all into a busy schedule. At Taz + Belly, you'll find healthy recipes, children's party ideas, tutorials, DIY projects, and more.
Click Here to Read More About Kristin