You can catch up with our California trip here: Carlsbad | San Diego Zoo | USS Midway Museum, but keep reading for details on our first day in Los Angeles and how we conquered the less than sunny city!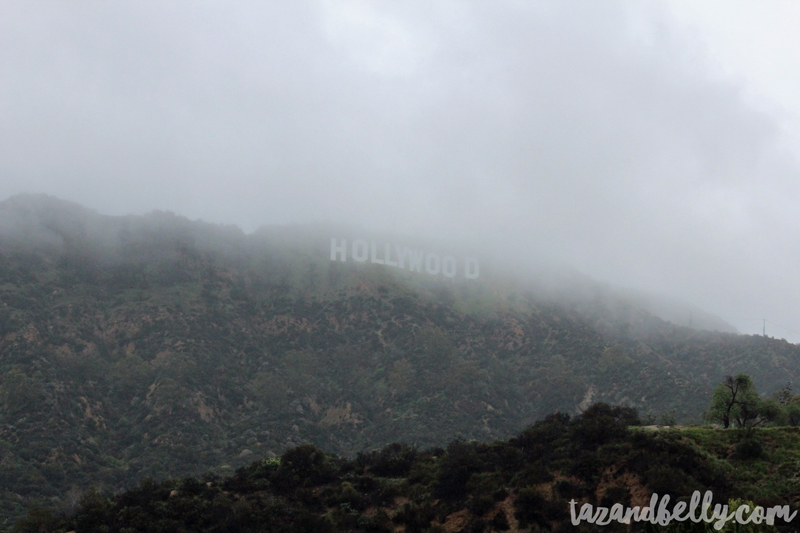 When you think of sunny California, you think of sunny California, right? We had been stalking our weather app for weeks and all signs pointed towards blue skies and high temperatures. I'm sure native Californians were surprised at all of the rain they got in February, but we were not going to let it ruin our week. When we woke up in LA to grey skies and scattered showers, we started looking for indoor options and decided to make the most of it.
We stayed in an AirBnB, right off of Hollywood Boulevard. When I say right off of Hollywood Boulevard, I mean we were a block from the Dolby Theatre and had to take a detour the night of the Big Little Lies premiere. We were literally a stone's throw from all of the action. When we arrived on Sunday evening, we walked down to grab a bite to eat because the kids were starving. It was almost ten o'clock and, somehow, we let Ella convince us to grab a burger at McDonald's. This was a mistake for many reasons, not the least of which are: terrible food, big city, late night. Let's just say we ended up getting it to go because the kids couldn't keep their eyes on their sandwiches.
On Monday morning, we decided to grab Chick-fil-A for breakfast (sweet tea + drive-thru) and do a little driving while the rain was falling. It was pretty foggy, but the kids were desperate for a peek at the Hollywood sign, so we started up the canyon with our breakfast in hand. They squealed and pointed every time the sign came into view and we found a few great places to pull over and snap pictures. Honestly, my favorite part of this entire adventure was hearing them laugh and picking out our favorite houses.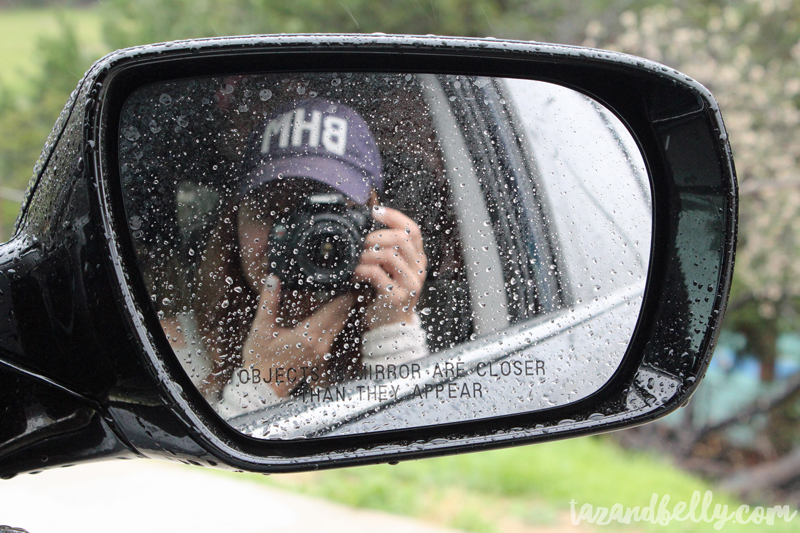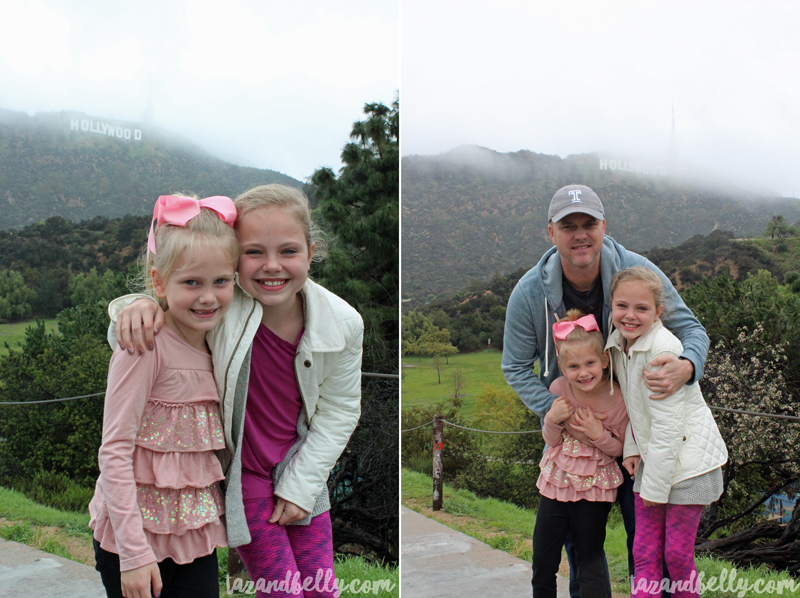 I mentioned this in a previous post, but one of the things we excelled at on this trip, was letting the girls have some ownership over our agenda (hence, McDonald's). We both had things we wanted to see and eat, but we knew that for their first grown up adventure, we needed to let them have a choice to ensure they were always happy. This first day in Los Angeles proved we were right. We let them navigate almost the entire day and they were all smiles, all the time!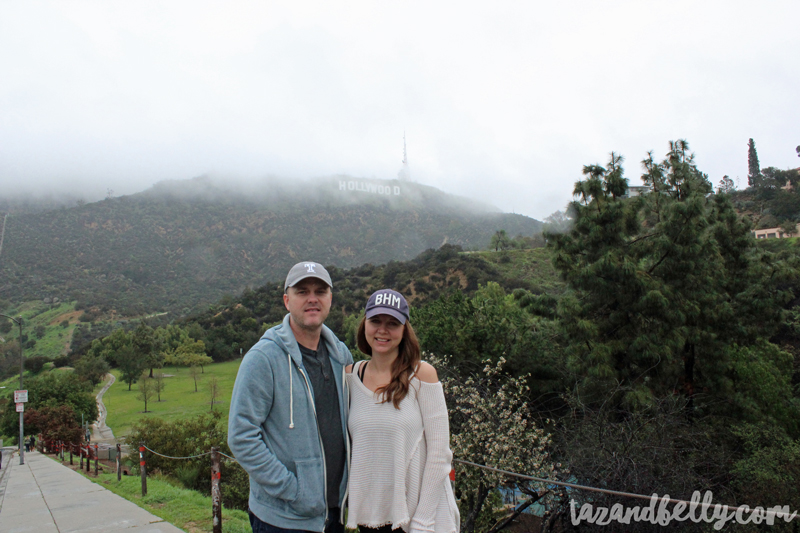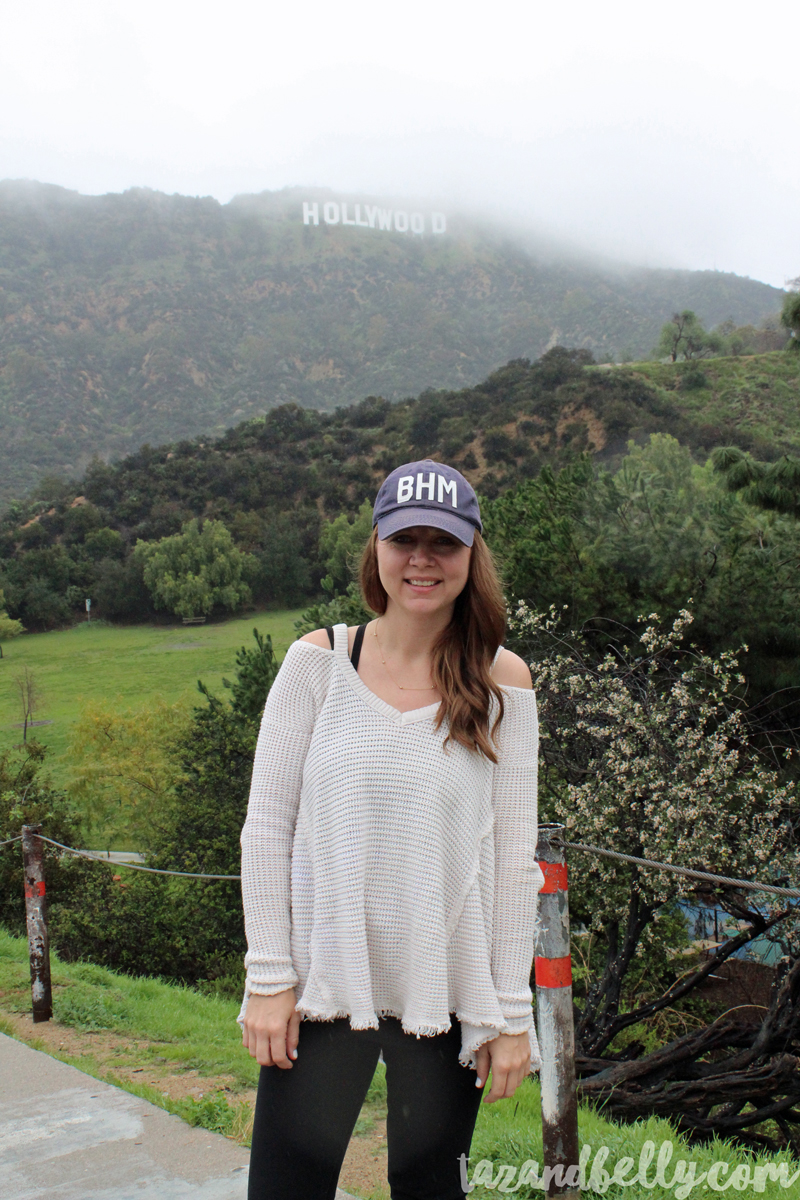 By the time we came down the mountain, the clouds were constant, but the rain had stopped and we decided to forgo bowling and wax museums in favor of more driving. We rolled on through Beverly Hills, saw Bellair and a few other landmarks, on our way towards Santa Monica. At this point, the girls were happily chatting in the back seat, so we took the long route.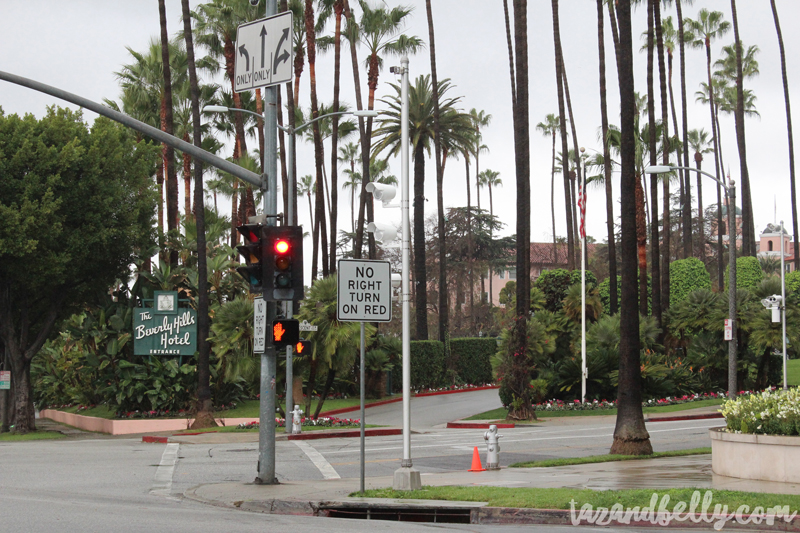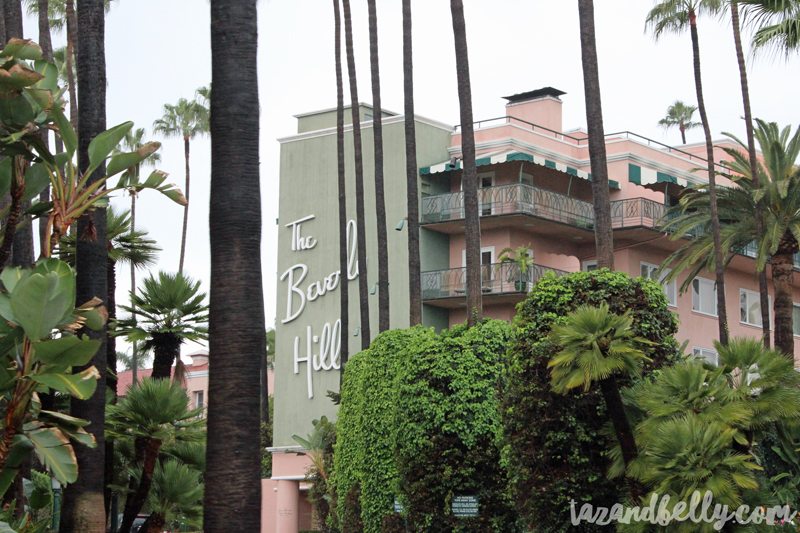 The downside to our spontaneous Santa Monica visit, was that the rides on the pier weren't open because of the rain. We knew we couldn't squeeze a second visit into our trip, so we decided to make the most of it. It was freezing outside, but I don't remember hearing a single complaint!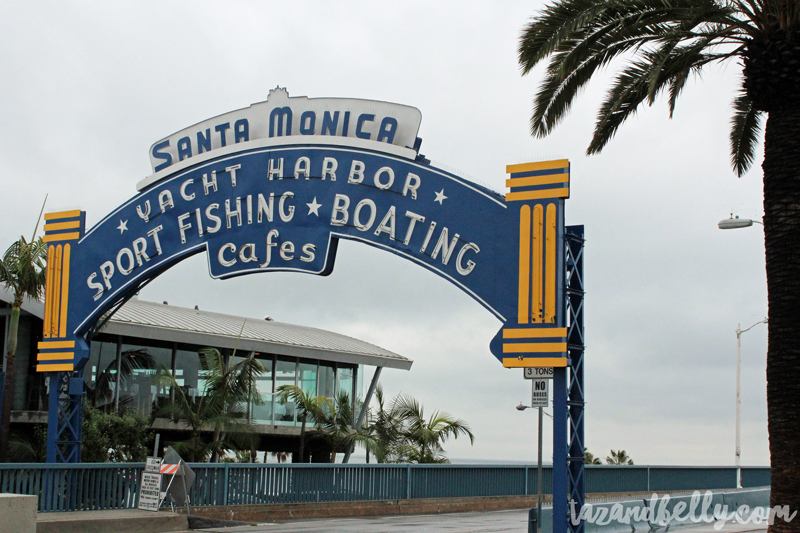 See how excited they were?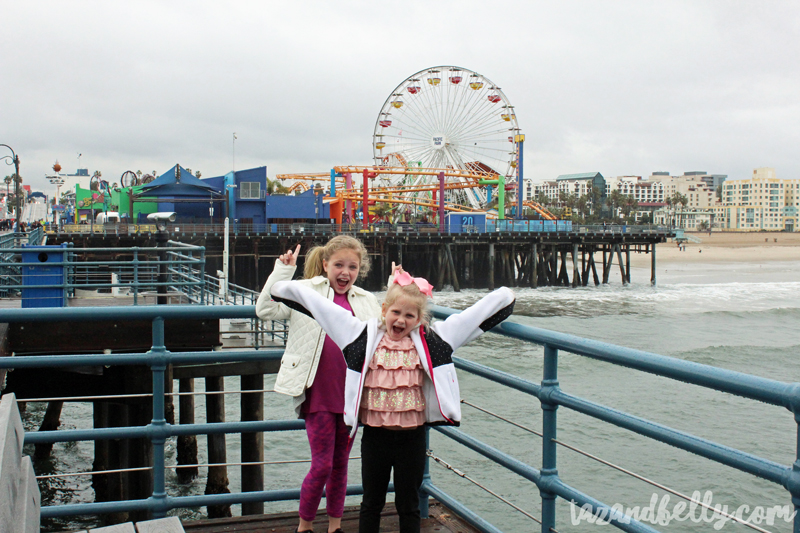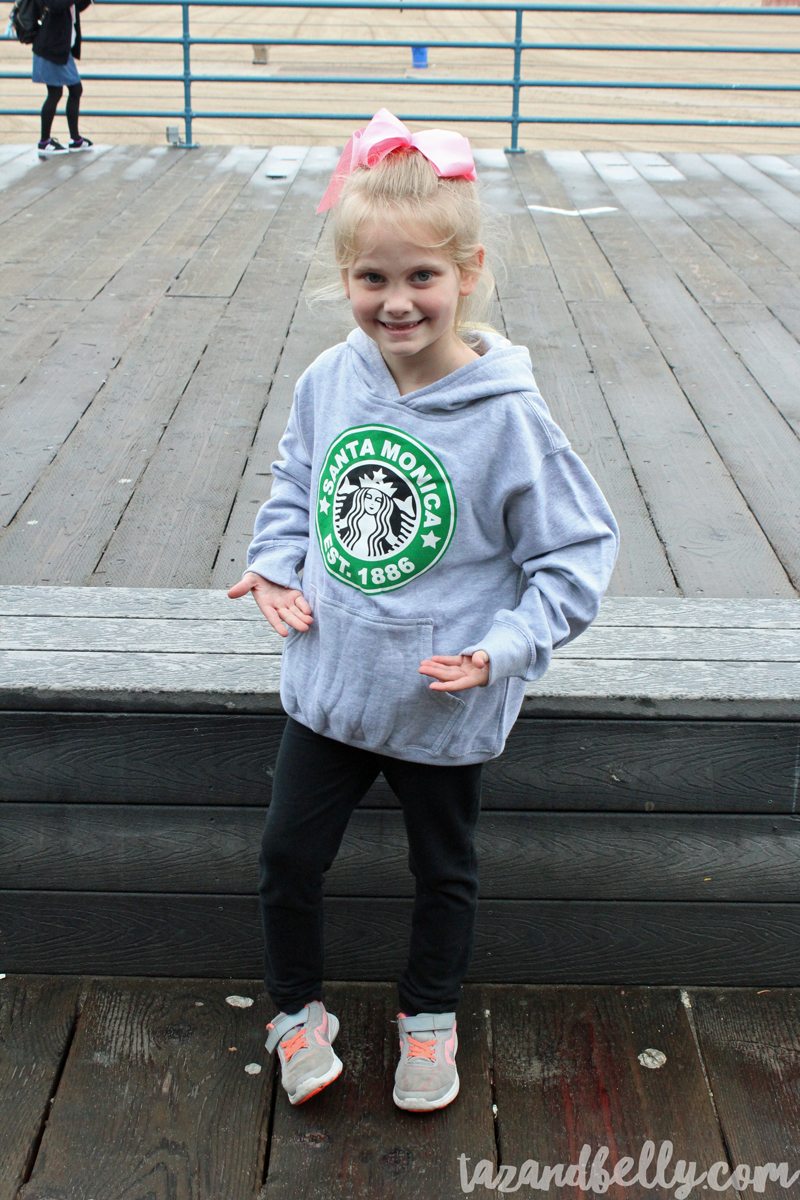 At some point, Sophie fell on the pier, but I was snapping photos of something else and missed it. Josh didn't point it out until a little later in the morning when we realized her WHITE Northface jacket was covered in slimy fish guts. Y'all, it was disgusting and I have never been so happy for laundry facilities in our room! We grabbed a $30 sweatshirt on the pier and made a quick change of clothes. I think she was secretly thrilled.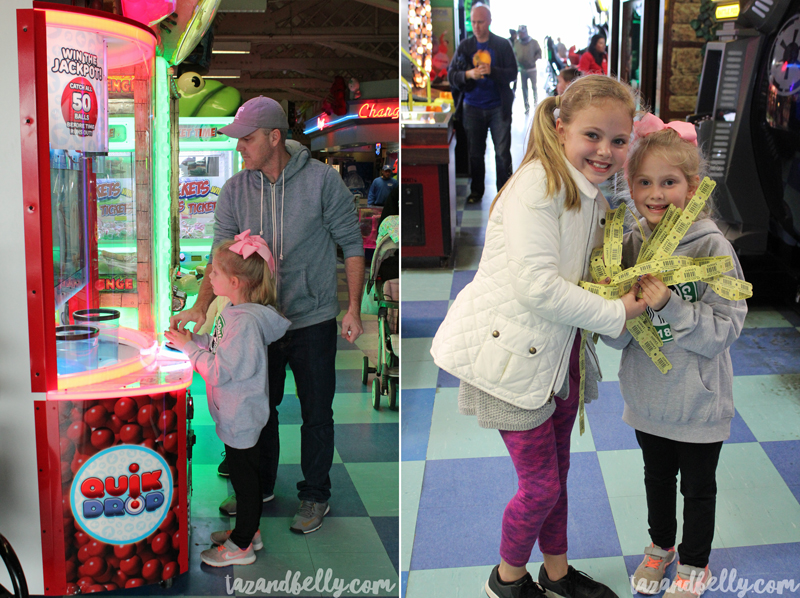 Since the rides weren't open and we needed something to do for a bit, the girls decided to pop inside an arcade. We spent way too much money on coins and only won enough tickets for plastic vampire teeth, but this was a highlight of their trip. We played air hockey and all sorts of arcade games and I'm not sure they've ever been happier. This was a huge reminder that every day doesn't have to be filled with something expensive and amazing.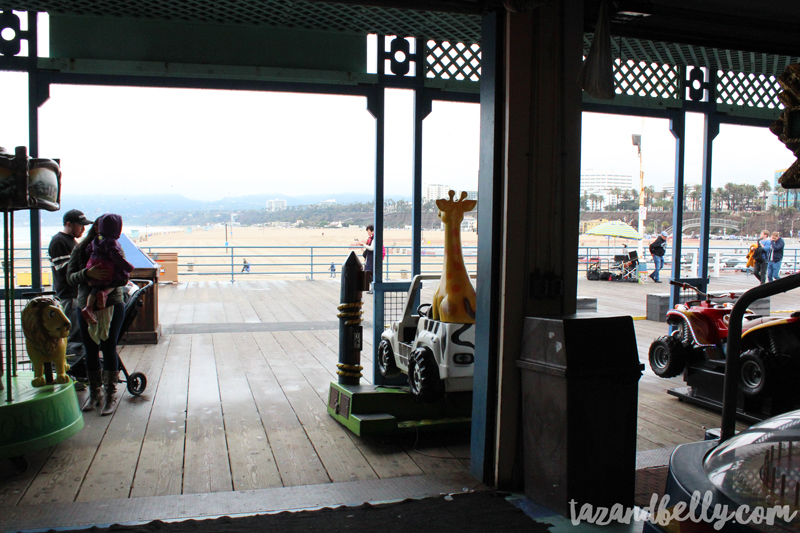 At this point, we were starving, so we walked over the bridge to see what we could find in Santa Monica. We walked past The Ivy and another nicer restaurant, but we both knew our kids would never survive. Josh spotted a neon Tacos sign a few blocks away and we knew that was much more our speed. Blue Plate Taco was the best meal we had all week and the staff was amazing with our girls.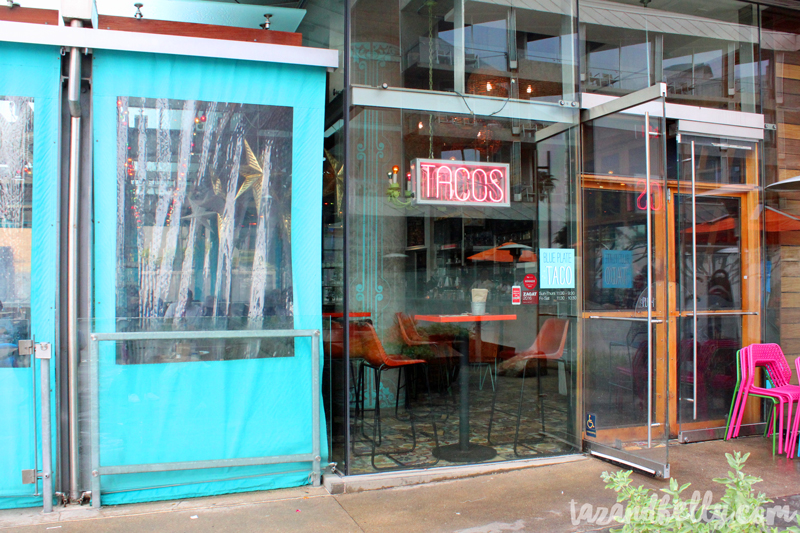 We ate out on the porch, where they handed us Mexican blankets to keep warm. Both girls tried something new and were pleasantly surprised. There is nothing better than when wait staff treat your kids like actual people instead of little kids and this was our best experience all week. They loved all of the attention and we enjoyed a warm break from the rain. That corn? It was sprinkled with taco seasoning, mexican cheese, green onions and slaw. I wish you could take a bite right now, because holy delicious. Also, that margarita was the best one I've ever had.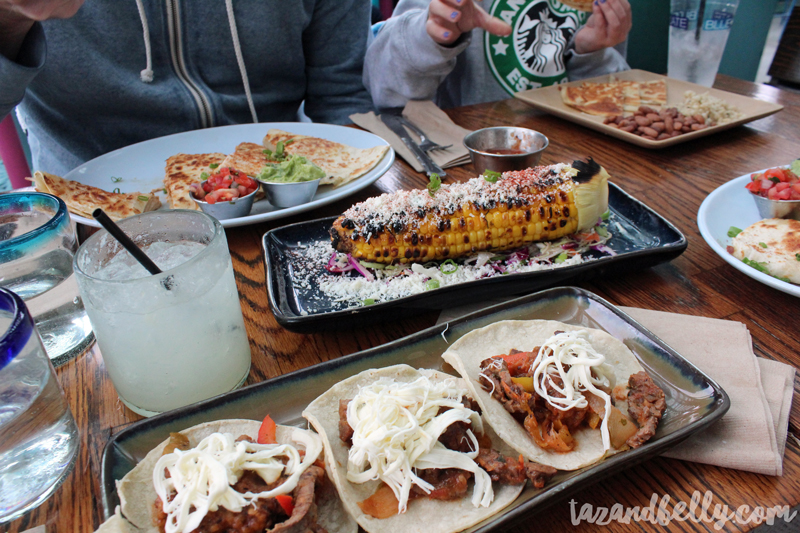 The kids decided to head back over to the pier for a bit and it was fun to see it all from a different perspective than before.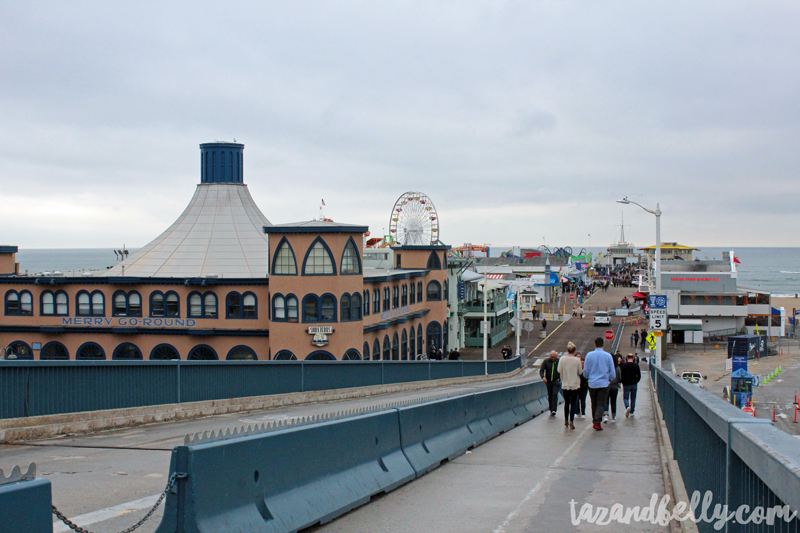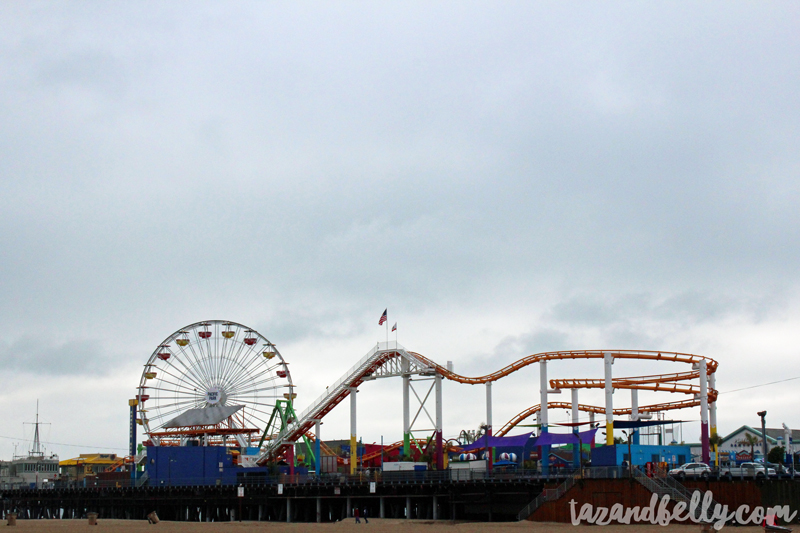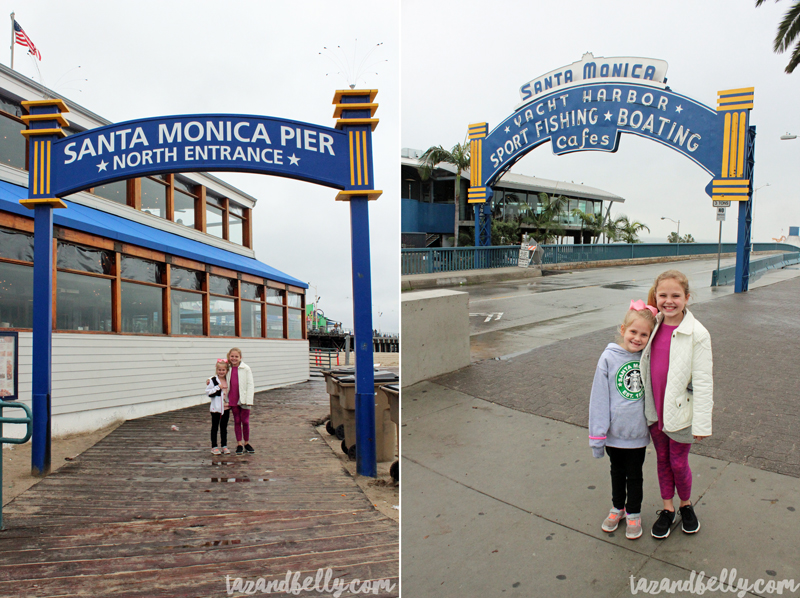 They wanted to walk down to Muscle Beach, where they played on the swings and rings for a bit. I'm sure this area is crazy busy when the weather is nice, but we pretty much had the place to ourselves. We walked up and down the boardwalk for a while, before the girls were ready for a rest.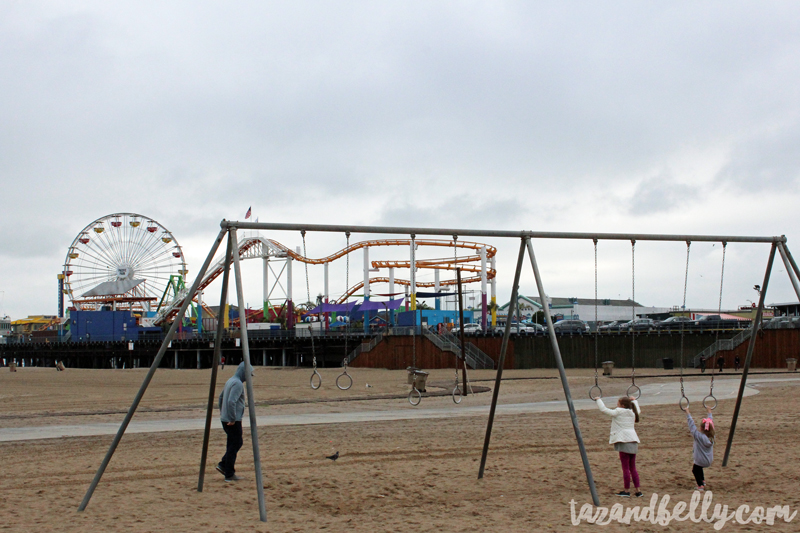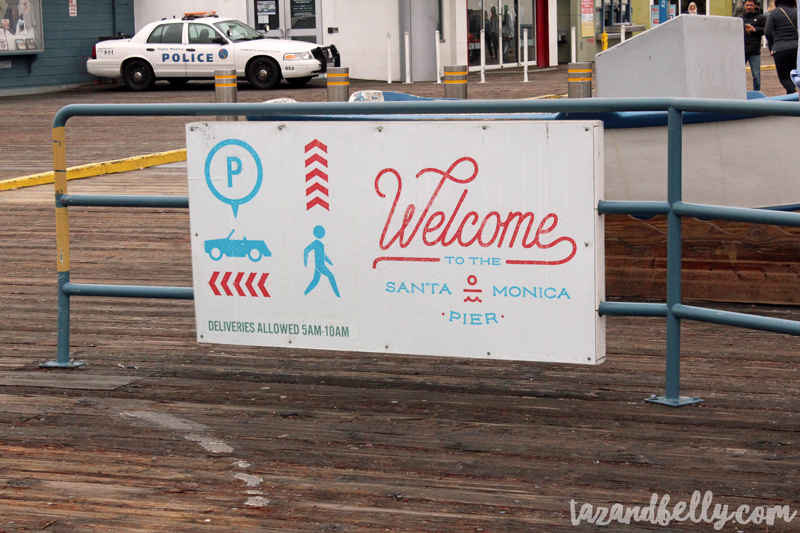 After a long nap back in our apartment, we went to Hard Rock Cafe for appetizers and the Disney Store for their adorable ice cream bar. This was not the last time we popped in for ice cream here — the service was amazing and we could watch all of Hollywood walk by!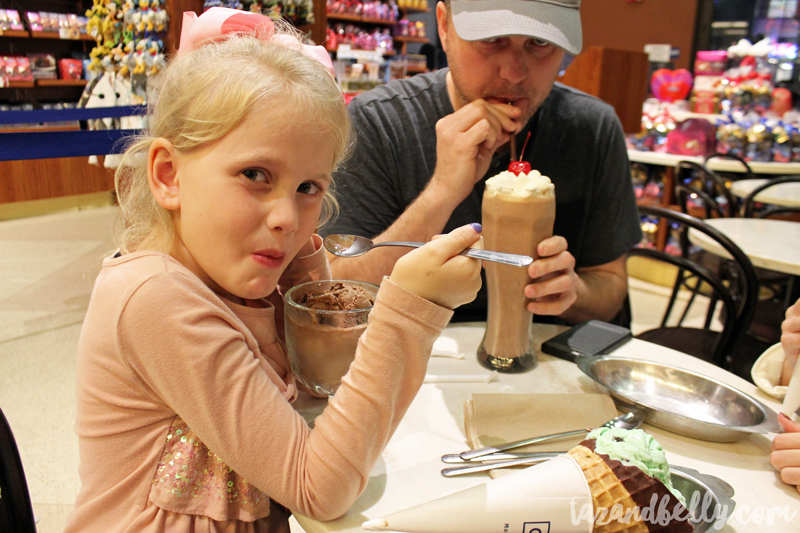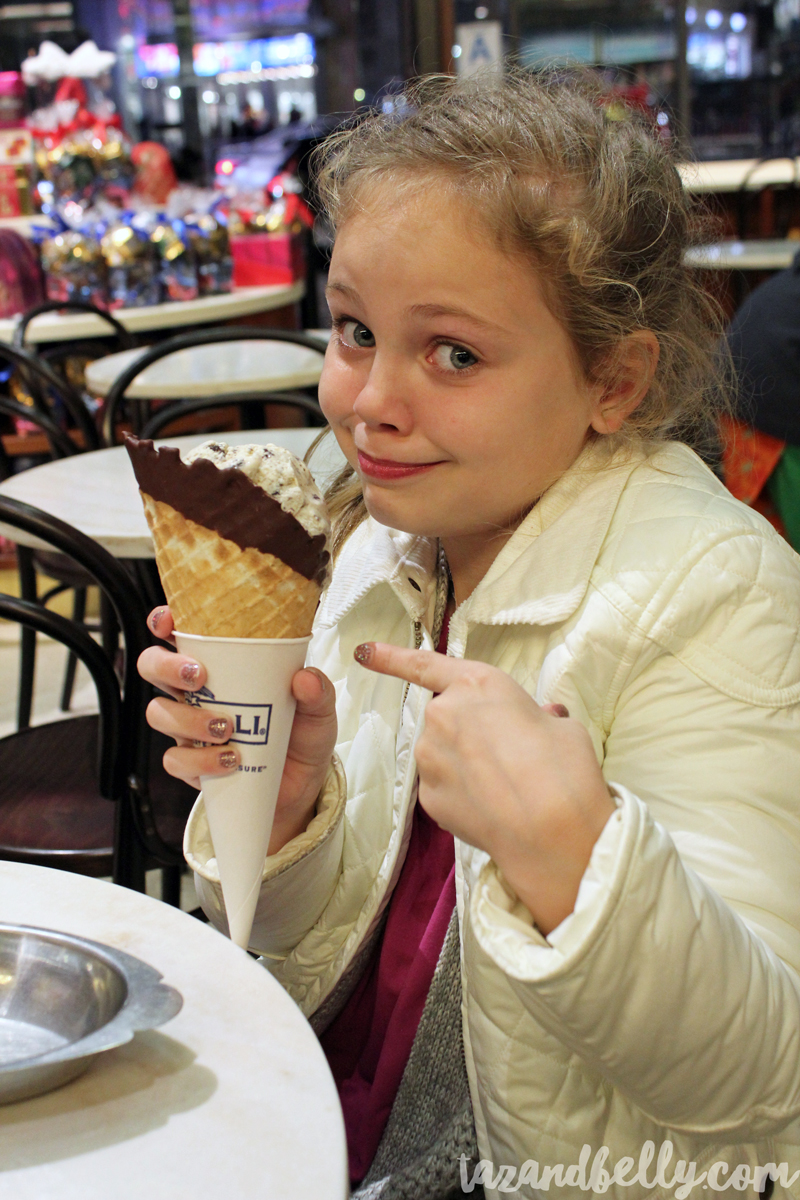 Things to Eat:
Blue Plate Taco – This was our favorite meal of the week and we definitely recommend it. It's right on the beachfront, with a great view, and fantastic service! I'd go with the steak taco trio, corn on the cob, and a house margarita. You won't be disappointed. Check out the other restaurants in this group if seafood is more your style!
Disney Studio Store – Sure, it's a tourist trap, but the soda fountain is delicious and the guys at the counter took great care of us. They made the biggest milkshakes and the ice cream cones were so large, that they served it in a dish.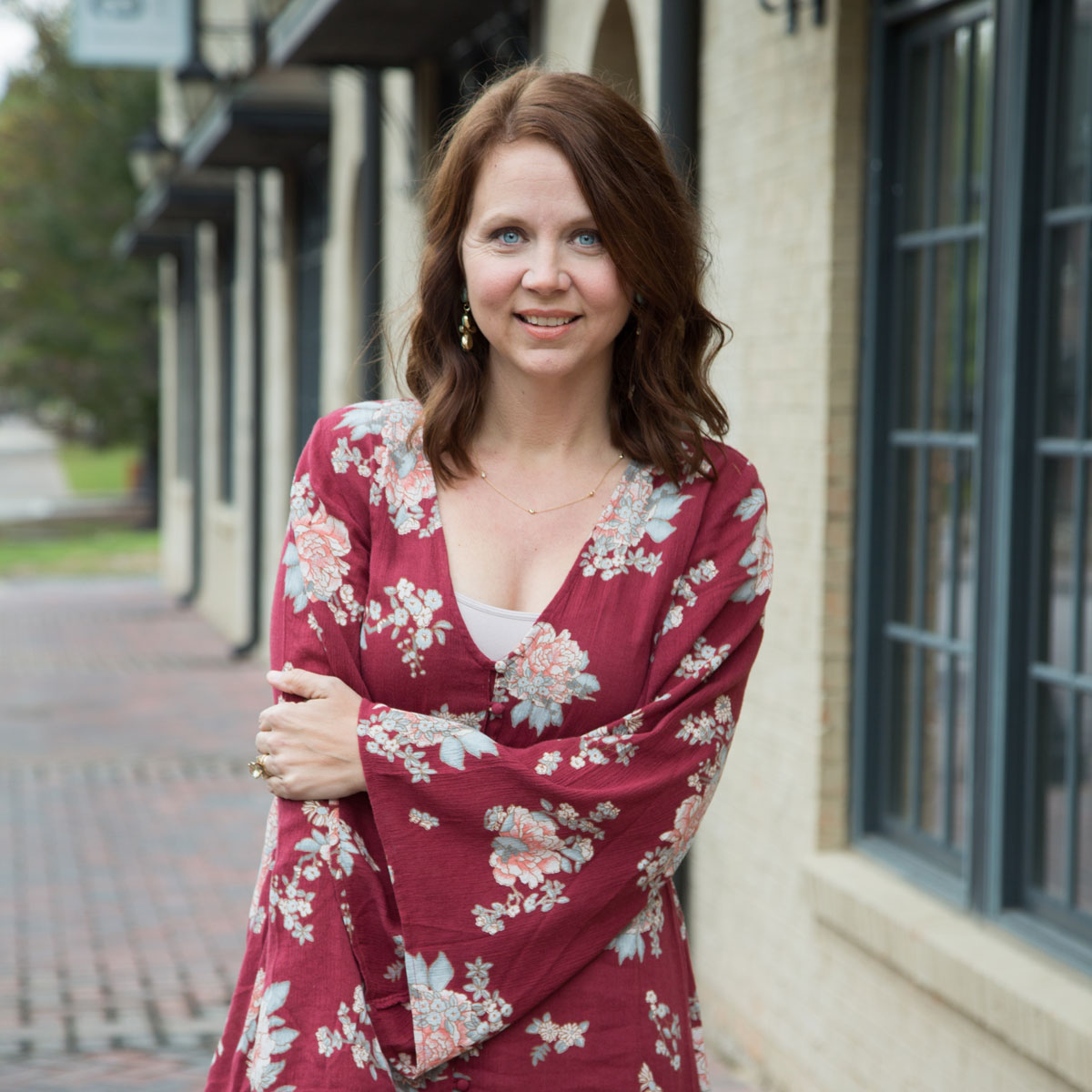 Kristin is married to her high-school sweetheart and the mother to two daughters. Professional by day and creative by night, she is a family lifestyle blogger who writes about faith, family, and fitting it all into a busy schedule. At Taz + Belly, you'll find healthy recipes, children's party ideas, tutorials, DIY projects, and more.
Click Here to Read More About Kristin