This post is sponsored by Brand Cycle and Fabletics. All opinions are my own. A Fitness Update with Fabletics includes affiliate links. Any purchases made using these links will earn Taz + Belly a small commission. You can read more about our affiliate relationships here.
---
It's hard to believe I'm nearing the one year mark of working out. While I've certainly had times in my life where I was in better shape than others, this is the most consistent I've ever been and it shows. For the last ten months, I've been consistently attending classes three to five days a week. I've figured out what works best for my body and best for my busy-working-mom schedule and I thought I'd share an update (and a few new favorite products!) with you today.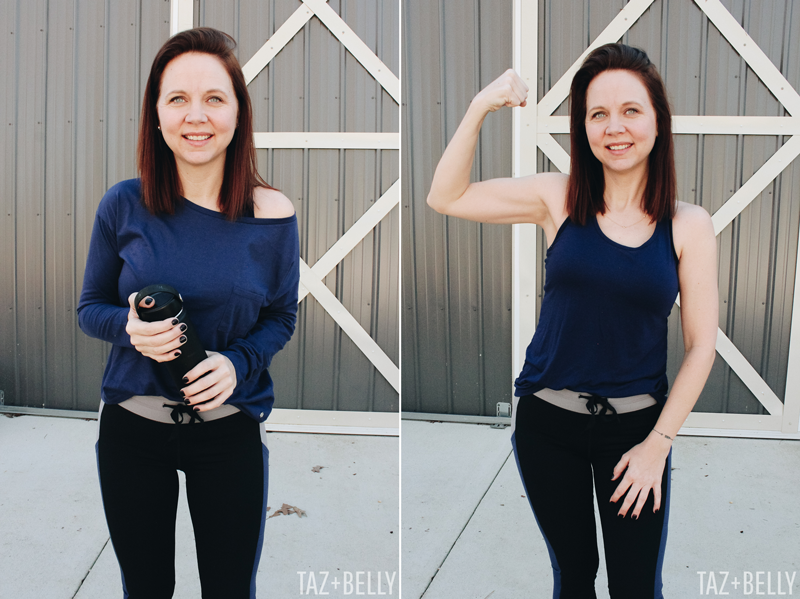 After I signed up for the gym last March, I regularly worked out four or five days a week. I think that was especially good for me in the beginning because I saw results early on and it motivated me to keep it up. During the summer months, when the kids were out of school and our schedule was a little more lax, I could go as often as I wanted. Once the new school year began, however, I realized that three days a week was the best I could hope for. I'm currently going to an early morning class on Mondays and Fridays and I go during Ella's dance class on Wednesday night. This schedule offers me plenty of recovery time and is just strenuous enough to continue seeing results. In a perfect world, I'd pick up a Saturday morning class to round out the week, but I know I can't reasonably fit that into my schedule right now.
I've also learned that I don't have to be so hard on myself. There are days when I can really push myself and leave the gym knowing I worked as hard as humanly possible and I love that feeling. There are other days when I struggle to power walk and 15 pound dumbbells feel like they rival the weight of the world. Not every day can be my best day and I have to remind myself that I'm making huge progress, just by getting up and getting going.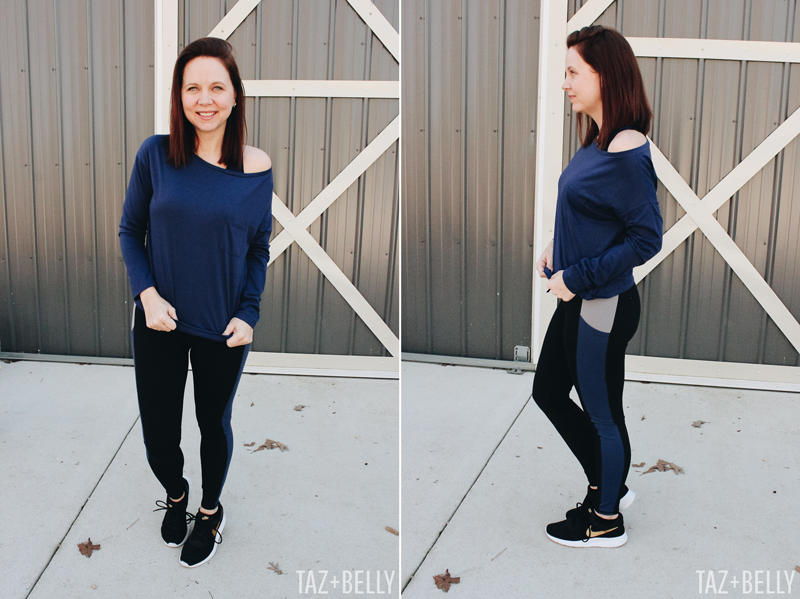 Another thing that took a while to figure out, is which gear works best for me in the gym. I'm on my third pair of sneakers in ten months and I've tried so many pairs of leggings, that I'm embarrassed to tell you about them! Here are my must have items for every workout:
01 | A Water Bottle with a straw: While the real necessity is having water on hand during my workout, I figured out in the last several weeks, that using a bottle with a straw has its benefits. I'm less likely to spill it during my workout and it is much easier to drink from while running or walking at a brisk pace. No more stopping or "jumping the rails" just to get a drink!
02 | Hair ties and a headband: I've tried braids, pig tails, and Minnie Mouse buns, but the only way to keep my hair out of my face during a workout, is a high ponytail paired with a no slip headband.
03 | No-show socks that won't fall down: The only thing worse that having hair in your face, is having to constantly dig your socks out of your shoes! Rowing seems to be the biggest culprit — my feet rocking back and forth on the footplates always makes my socks slide down. These socks have a slightly higher heel to keep that from happening.
04 | Hand towel: I learned the hard way that a towel at the gym is a must have. Especially if you plan to go for a run. I've had to buy towels at the gym on many occasions, so don't forget to take yours along!
05 | Good running tights that stay where you put them: I remember wearing shorts a few times right after I joined the gym, but it didn't take me long to realize the error of my ways. First up, there are plenty of floor exercises where your feet are in the air and you don't want all the people to see up your shorts! Second, the rower always gave me blisters when I was wearing any extra fabric — snug fitting tights solved that problem, too.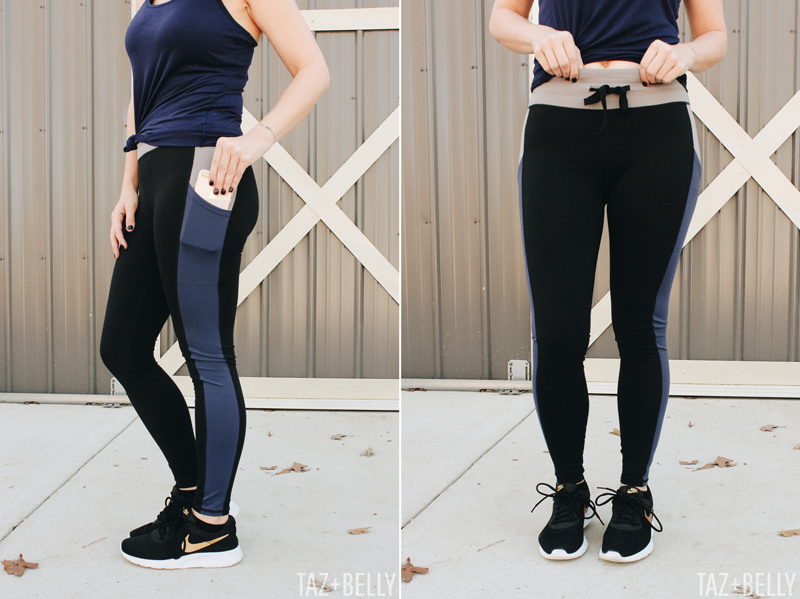 I've been known to grab workout clothes anywhere and everywhere, but my new favorite place for quality leggings is Fabletics. Their selection includes a wide variety of tops (tanks, tees, sports bras, hoodies + jackets!), leggings, pants, shorts and accessories. The Salar Powerhold Leggings are my new favorites — the fabric is super thick and stretchy, they have an incredible drawstring waistband, and the side pocket is plenty big enough for an iPhone Plus! I love the black, grey, and navy color-block design, because it means they go with everything — including this Sydney L/S Tee. It's perfect for throwing over a workout top and I sized up to make it perfectly slouchy. I've already worn this combo to the gym twice and the box only arrived last week.
Become a VIP Member today and get your first two pairs of leggings for $24!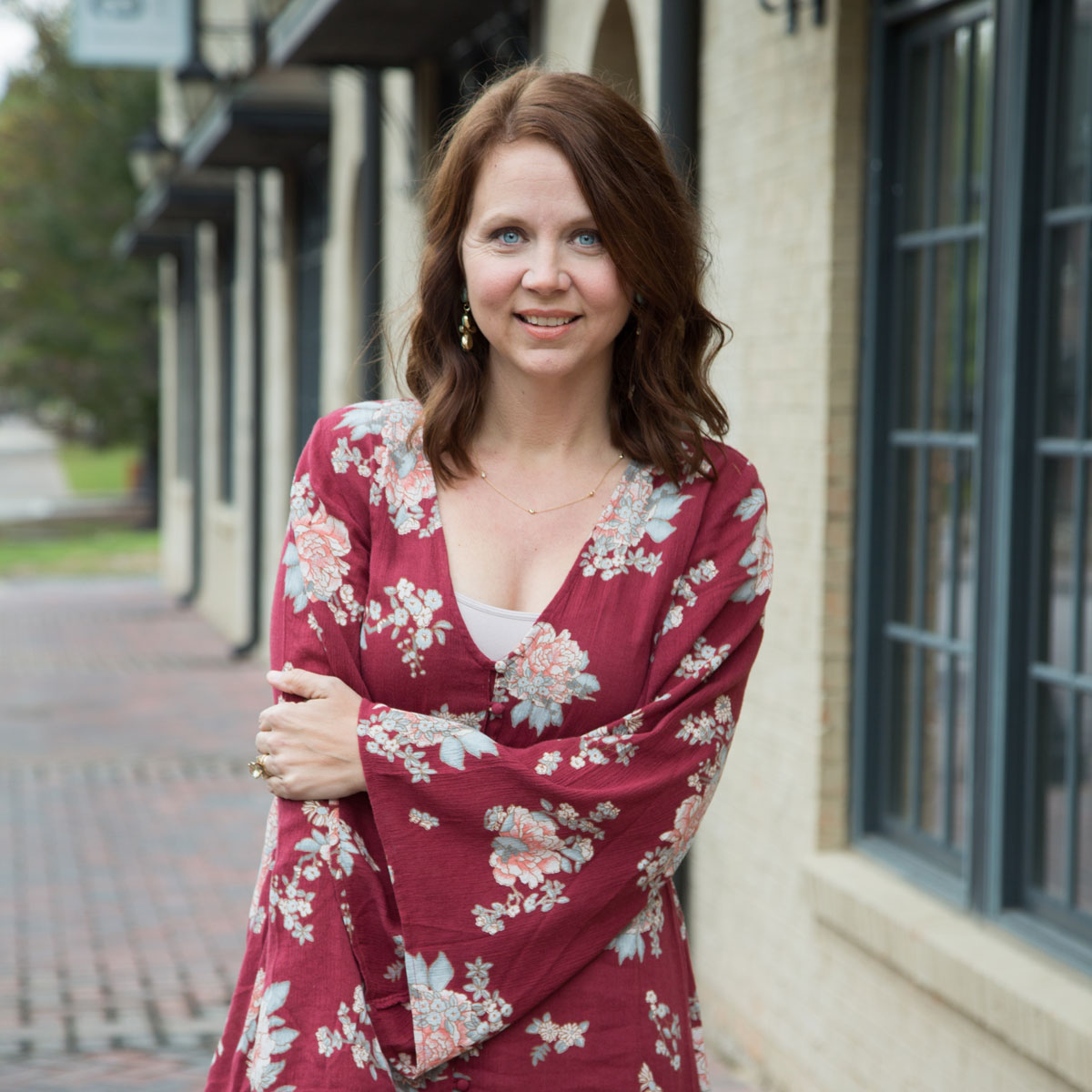 Kristin is married to her high-school sweetheart and the mother to two daughters. Professional by day and creative by night, she is a family lifestyle blogger who writes about faith, family, and fitting it all into a busy schedule. At Taz + Belly, you'll find healthy recipes, children's party ideas, tutorials, DIY projects, and more.
Click Here to Read More About Kristin