Affiliate links appear in this post. Any purchases made using these links will earn Taz + Belly a small commission. You can read more about our affiliate relationships here.
---
I'm not sure what prompted me to give myself a little style challenge last month. Maybe it was that I haven't bought many clothing items this year and I was looking for a few new ways to pair the items already in my closet. Maybe I just missed sharing style posts, in general, and this was a good excuse to take photos of my daily outfits. Either way, it was a lot of fun to document along the way, and I'm excited to share everything I wore during the month of November.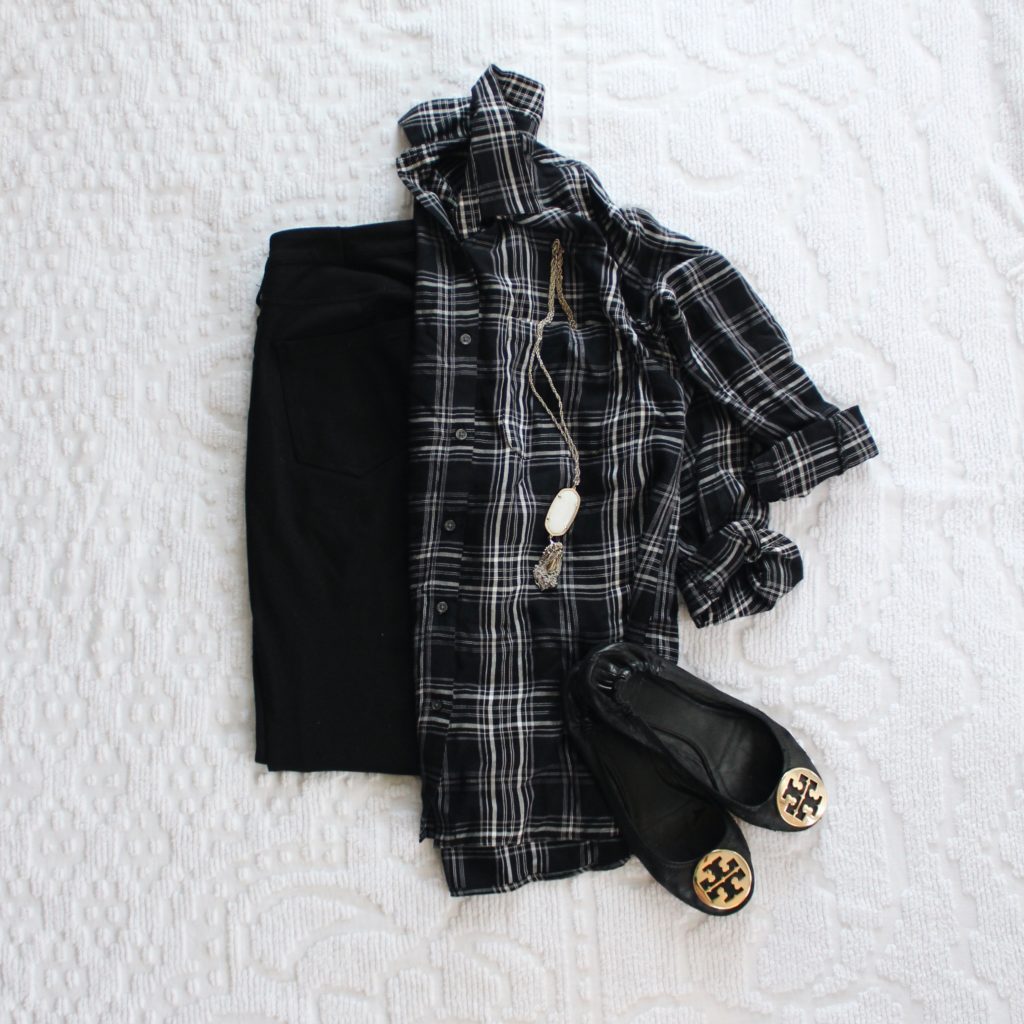 For those of you who didn't follow along on Instagram or for any new readers joining us today, here is the general run down. I didn't limit myself to any number of pieces, the only requirement was that I not repeat an outfit. I'm pretty bad about finding a few ways to wear certain pieces and then falling back on those tried and true outfit recipes. For this month, I wanted to challenge myself to wear pieces in new ways and see how many different combinations I could come up with. I also didn't eliminate the possibility of adding new items to my closet. After a clothes purchasing hiatus, I bought several pieces this month that would be versatile for my lifestyle and I wanted to see how I could incorporate them into my existing closet. Once upon a time, I snapped daily photos of my outfits, but I secretly loathed posting so many photos of myself on the internet. This might be my blog, but I don't want to see my face plastered all over it. Instead, I've been snapping flat lay photos throughout the month. Also? This is not a shopping blog and while I do share affiliate links from time to time, most of these items are old and I never want to come off as a blogger begging for purchases. Instead, I'm linking a few new notables and old favorites. If you have any additional questions, I'll be glad to update the post or dish in the comments!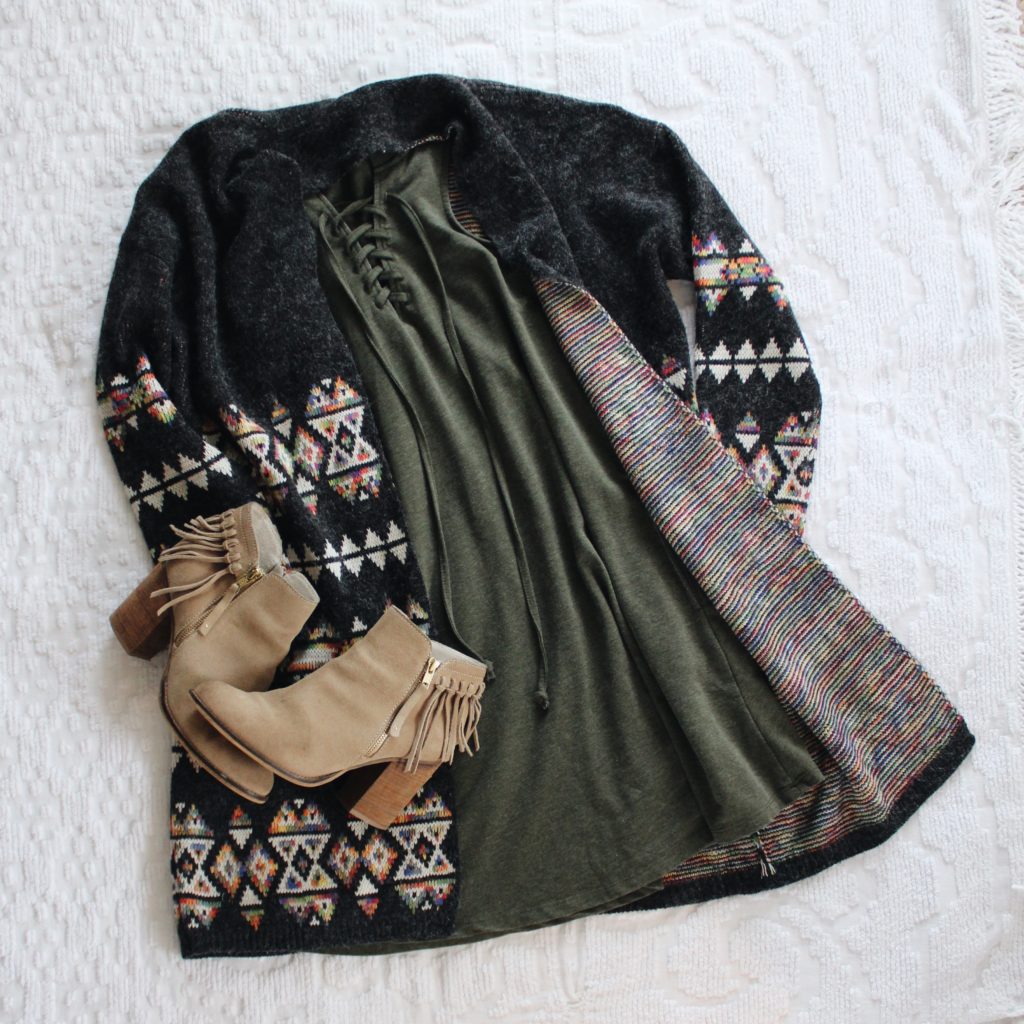 That green lace-up dress is by ZSupply and I bought it on a whim to wear to a UAB football game earlier in the season. It's sleeveless and the perfect weight of knit. Also? It works perfect under a sweater and over tights for winter.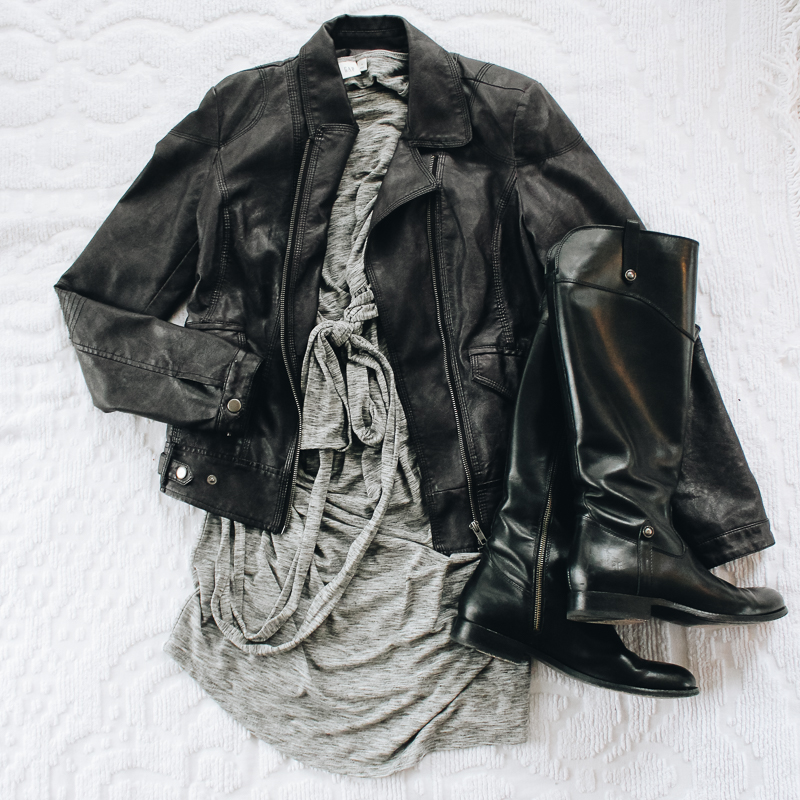 My favorite midi dress layered with this faux leather jacket was fun. I liked the concept of wearing it with my black Frye boots, but the height of the boots plus the length of the dress was a lot going on around my knees. This would have been better with booties.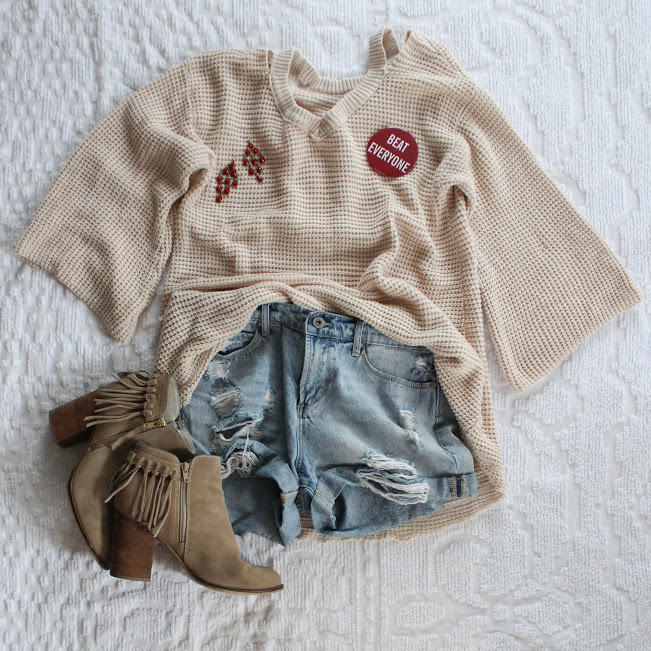 I'm sure I'm too old for sweaters and denim shorts, but when there are football games in November and it is nearing 85* at kickoff, you do what you have to do. In reality, I loved the way this looked on and I'll probably do it again. The sweater was a much more budget-friendly version of my favorite Free People sweater. I grabbed this one from Jennifer's new boutique and it is gold. If you aren't already a member of her Facebook Group, you need to get on that. You'll see many more items from Trilogy in today's post!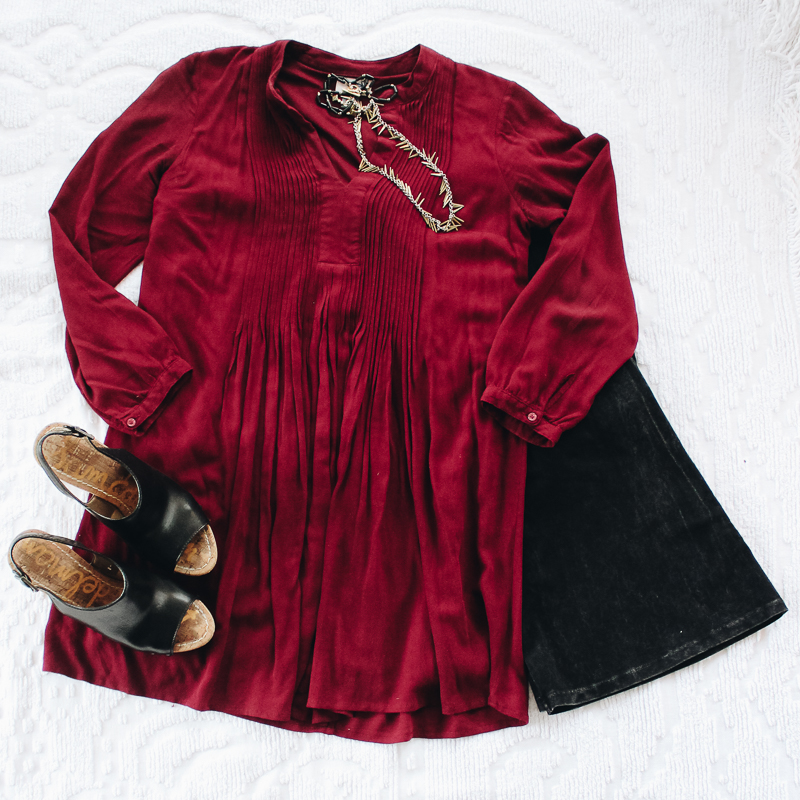 These mineral wash bell bottoms are also from Trilogy and although they are super comfy and ADORABLE, I literally have no idea what to wear them with. I wore them twice this month, but I still need help with the styling.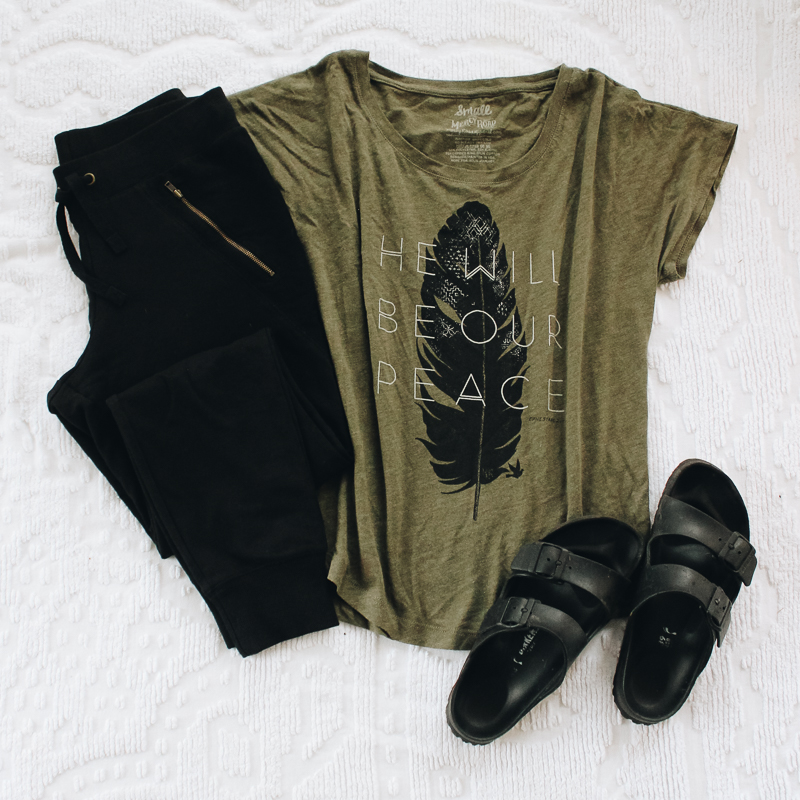 There were a few days where I didn't make it out of my pajamas and I did not document them. I did, however, snap a few casual outfits from the weekends and my work-from-home days. This tee from Mercy Road Apparel is one of my recent favorites and these joggers are worth every single cent. I had a little sticker shock over the $80 price tag, but I have more than gotten my money's worth out of them this month. They are a heavy, French Terry, and are incredibly comfortable.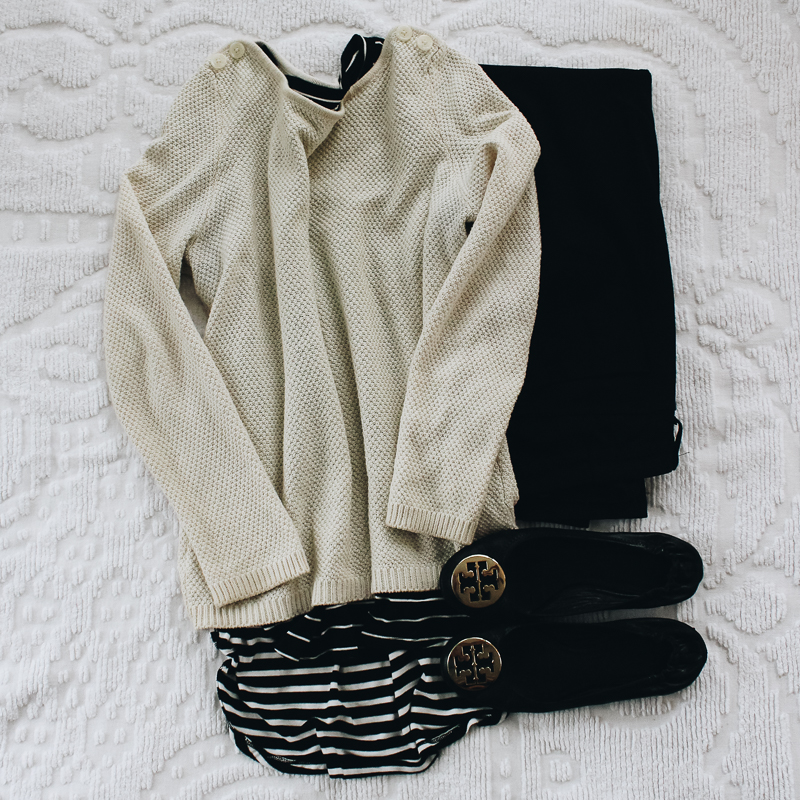 Super basic, but I love layering cropped sweaters over long tees and blouses. This is a super easy office recipe for me — add pencil pants and flats and it looks good every single time.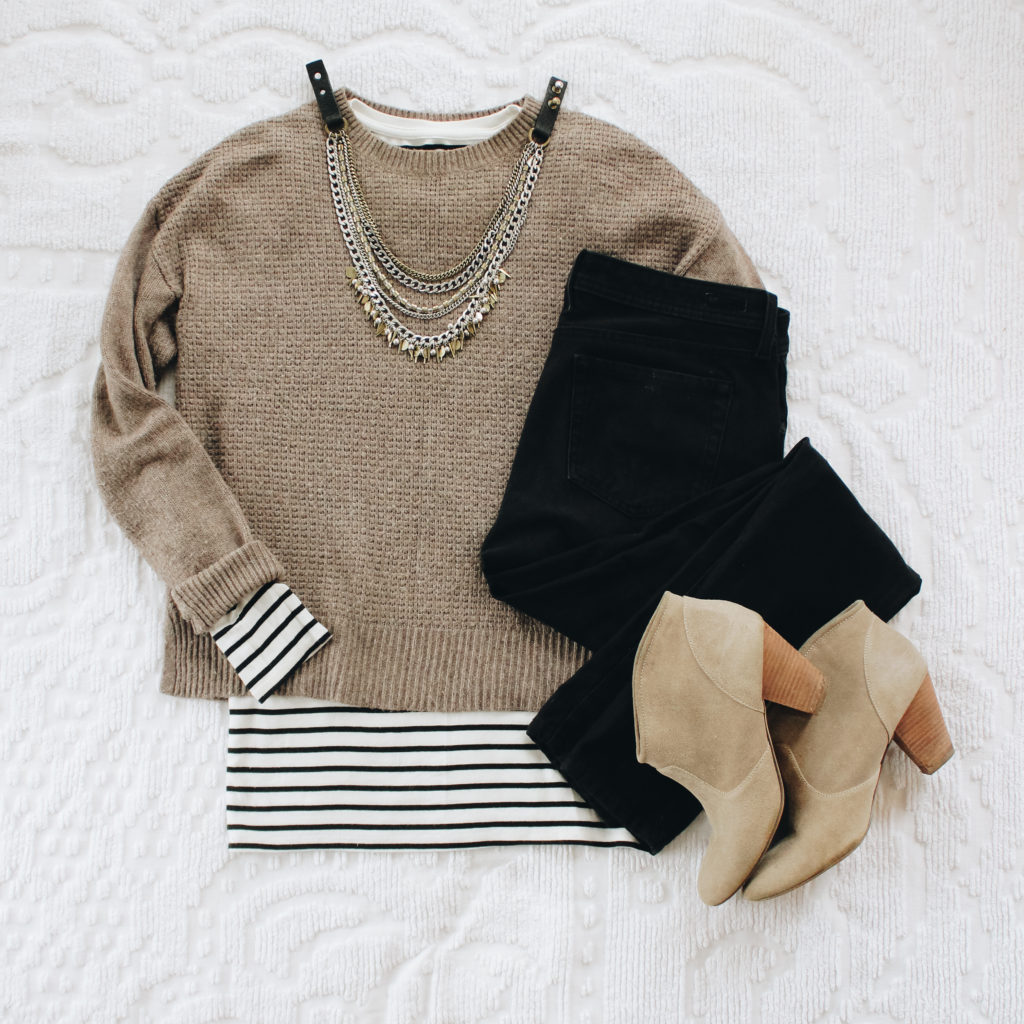 This is easily one of my favorites of the month and it's another long tee, short sweater, pencil pants combo. This time I added booties and a fun necklace, but otherwise it's exactly the same. That necklace is definitely an investment piece, but another one that I have paid for ten fold with the number of times it's been worn.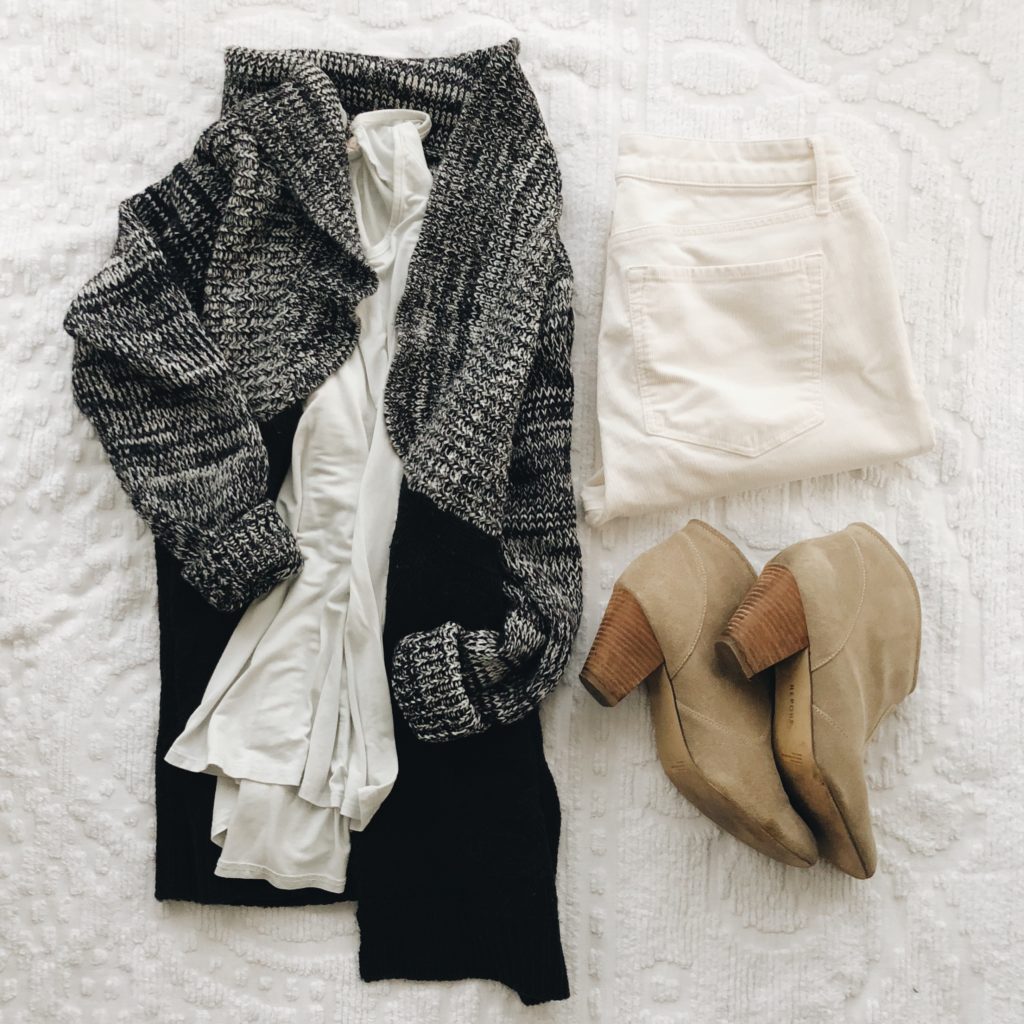 This definitely wins the award for my least favorite outfit. Those corduroys fit me for the first fifteen minutes, but they get longer and wider the longer I wear them. I do love the silver tee and chunky sweater, but I would have been happier in my white jeans.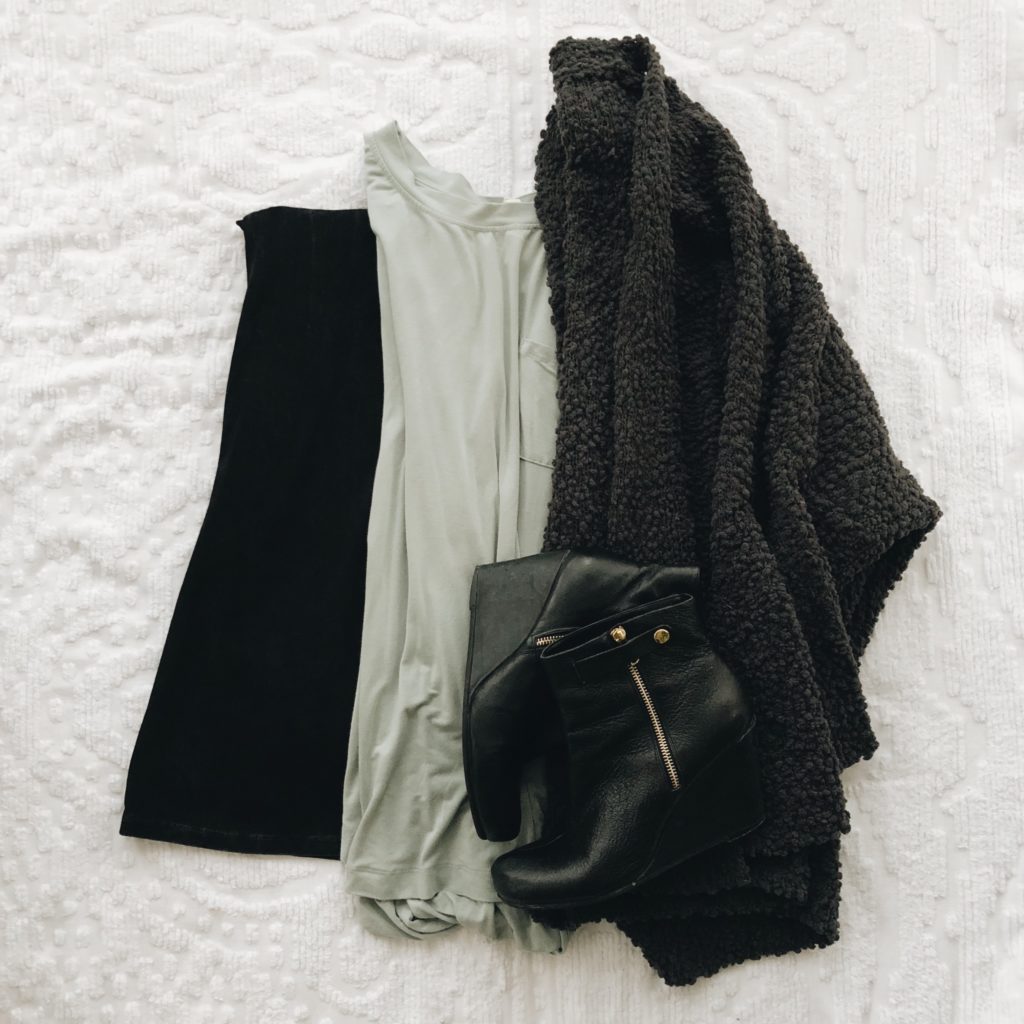 Here's another go at the mineral wash bell bottoms. They worked better with this tee + cardigan combo, but I still have no clue what shoes work best. Somebody help me!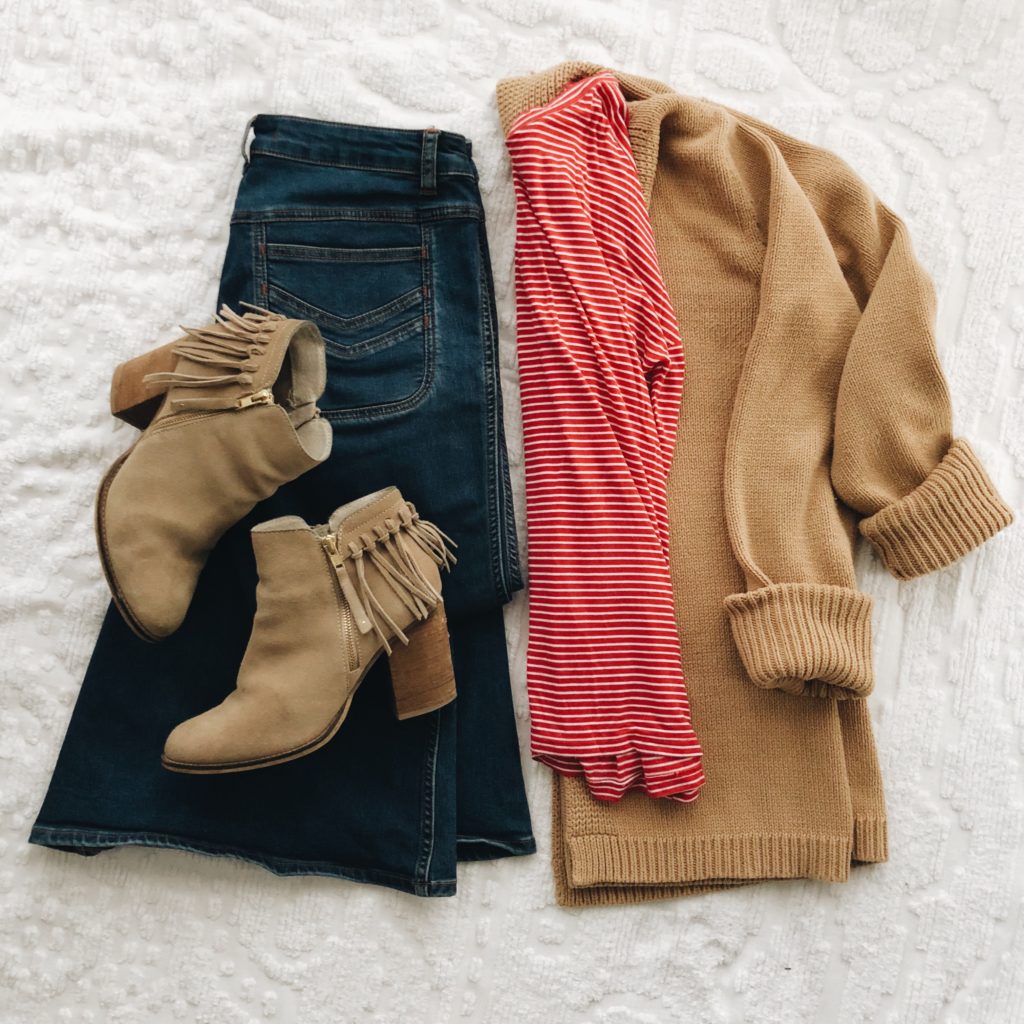 These Free People bell bottoms are my favorite jeans on the planet (similar). I got them on clearance at Nordstrom Rack last year and I'm still in love. They have adorable U-shaped pockets on the front and back and look great with all of my booties. This was a comfy casual option for church a few weeks ago.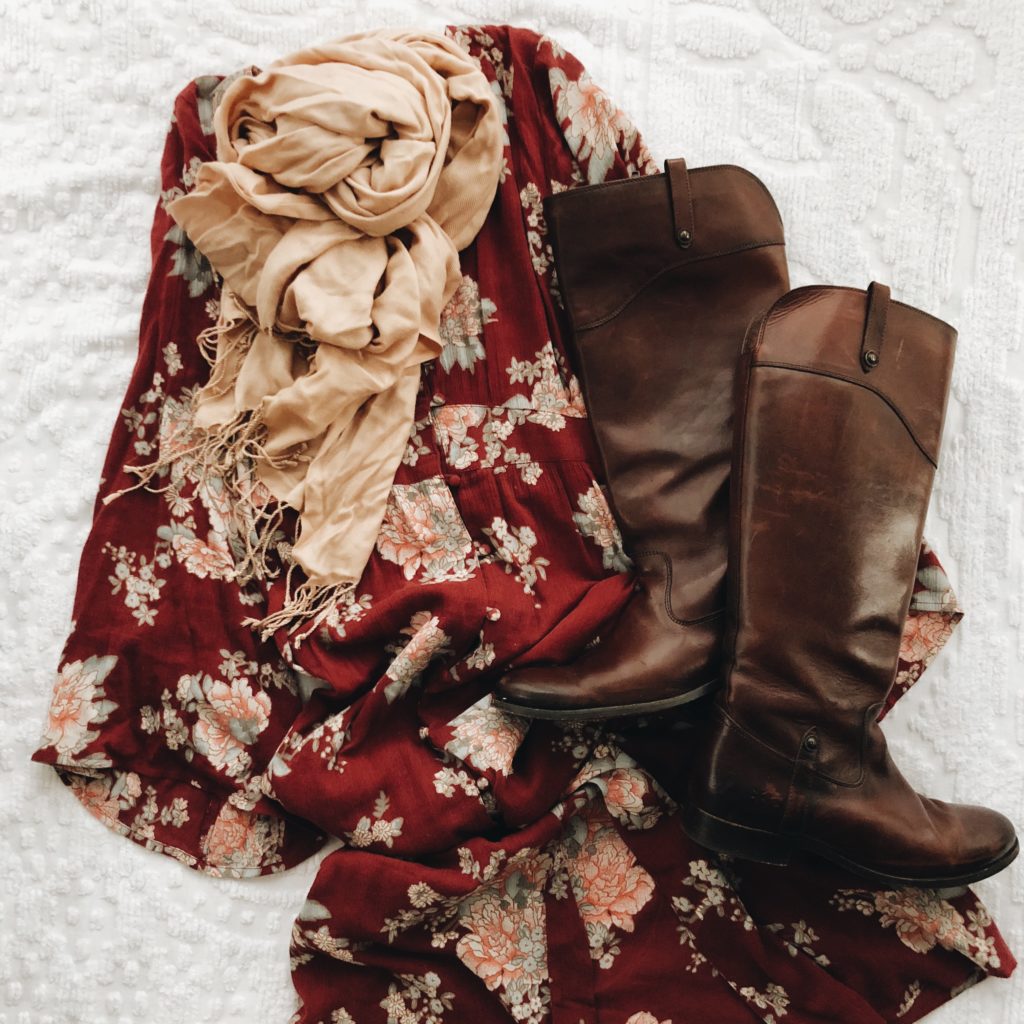 I bought this dress on clearance for our family photo shoot and wore it again for our office Thanksgiving celebration. It looks fantastic with that blush scarf, but I liked it better with booties than with these riding boots. Maybe it's less of a hemline issue and more that I prefer booties this season?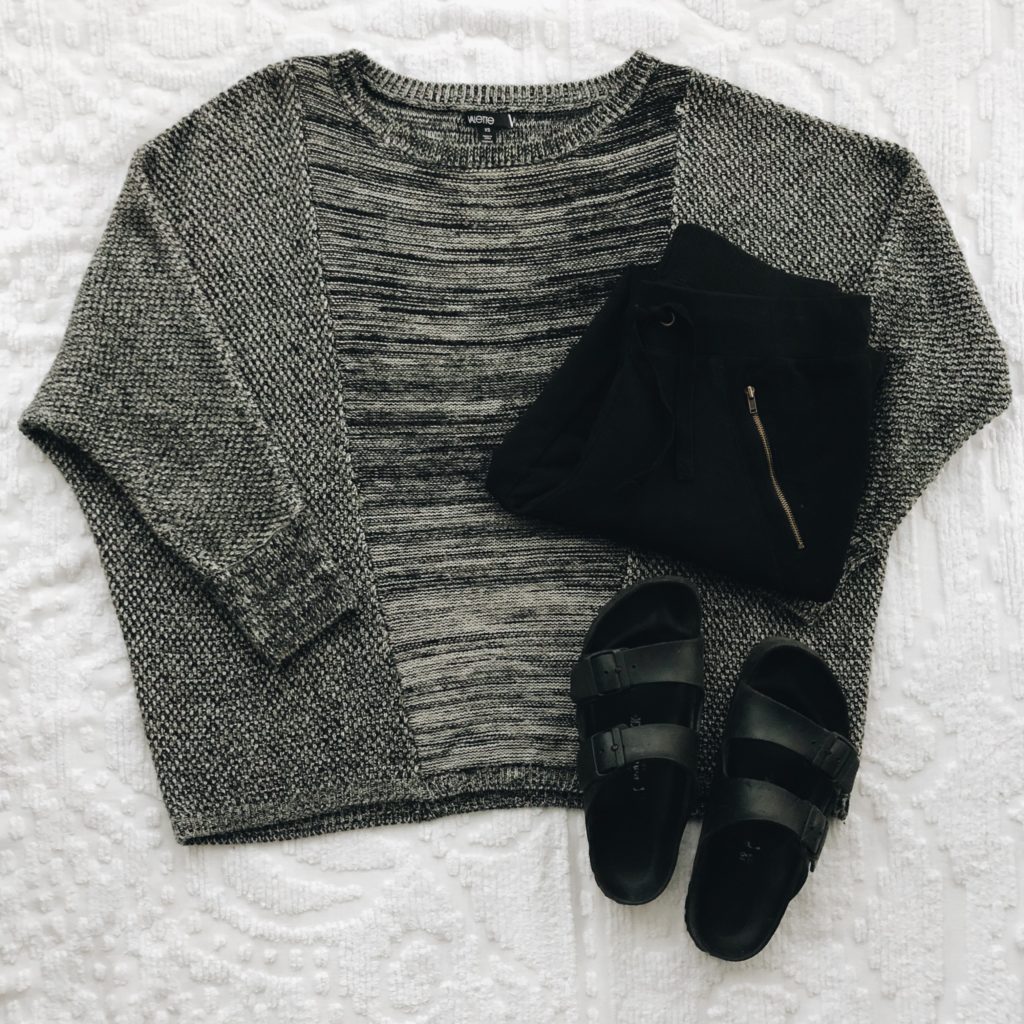 This is a super casual, work from home outfit – joggers + oversized sweater + comfy slide sandals.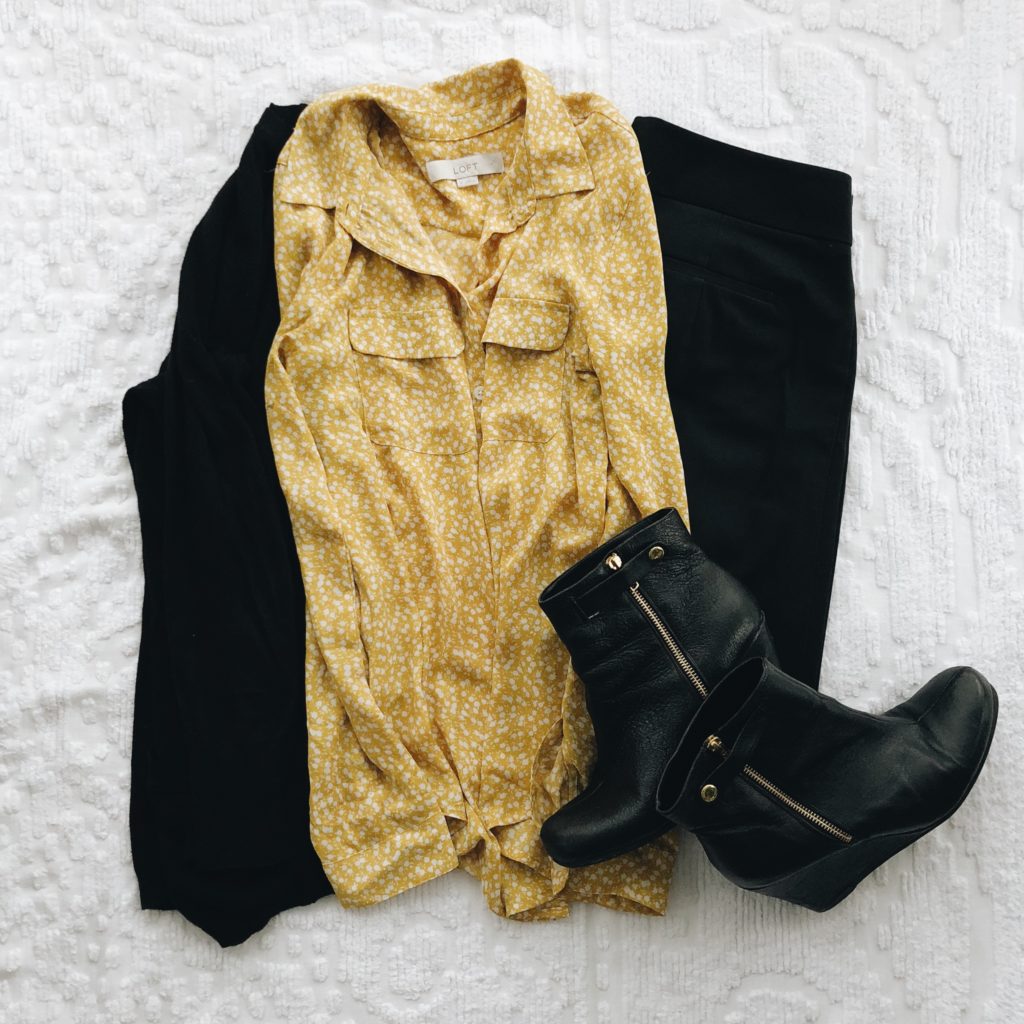 This blouse was thrifted, but originally from Loft. I really wanted to layer it under a mustard colored cashmere sweater, but the pocket flaps looked ridiculous showing through. I've since been advised to wear a tank top over the shirt and under the sweater, so I'll try that next time. I am super excited to wear this color, though. It was off the table completely when I was blonde!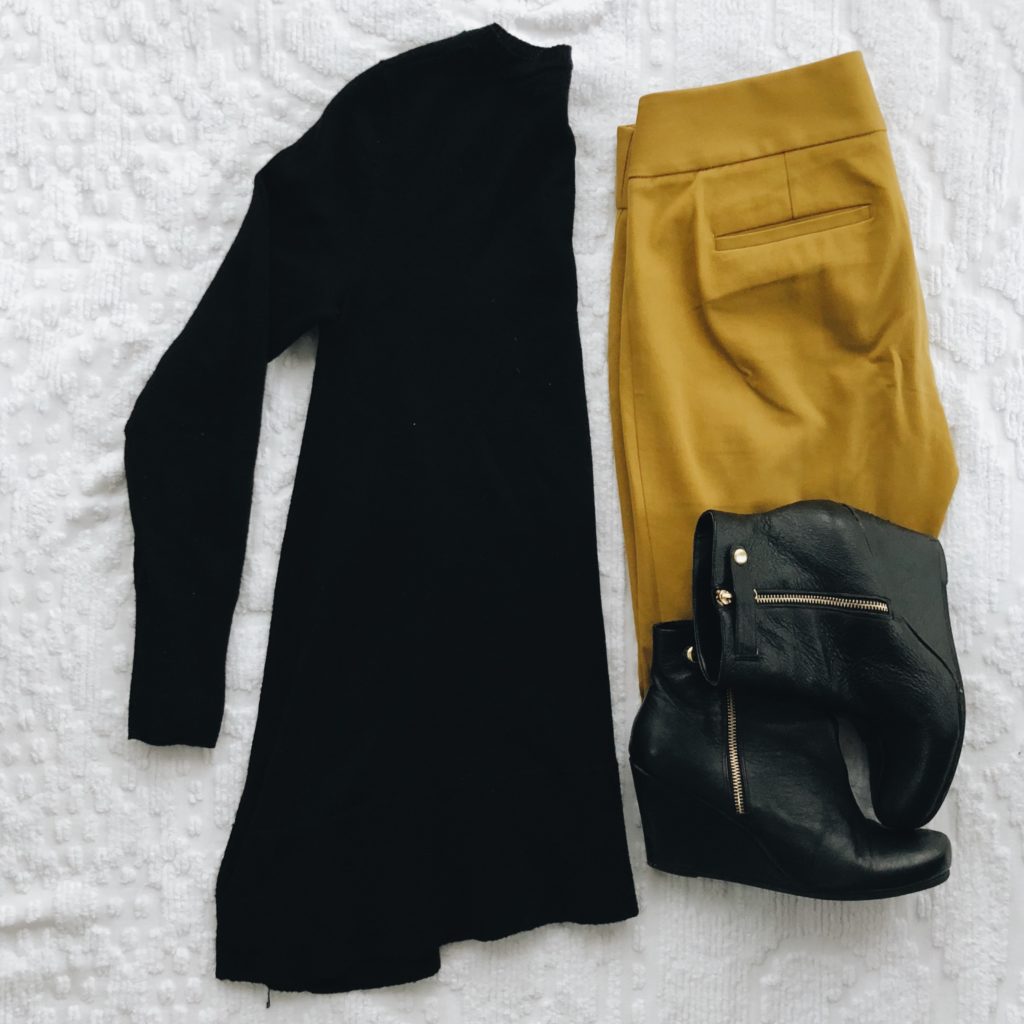 Obviously I was feeling the mustard this week! This black sweater is cut more like a piko top and super flattering.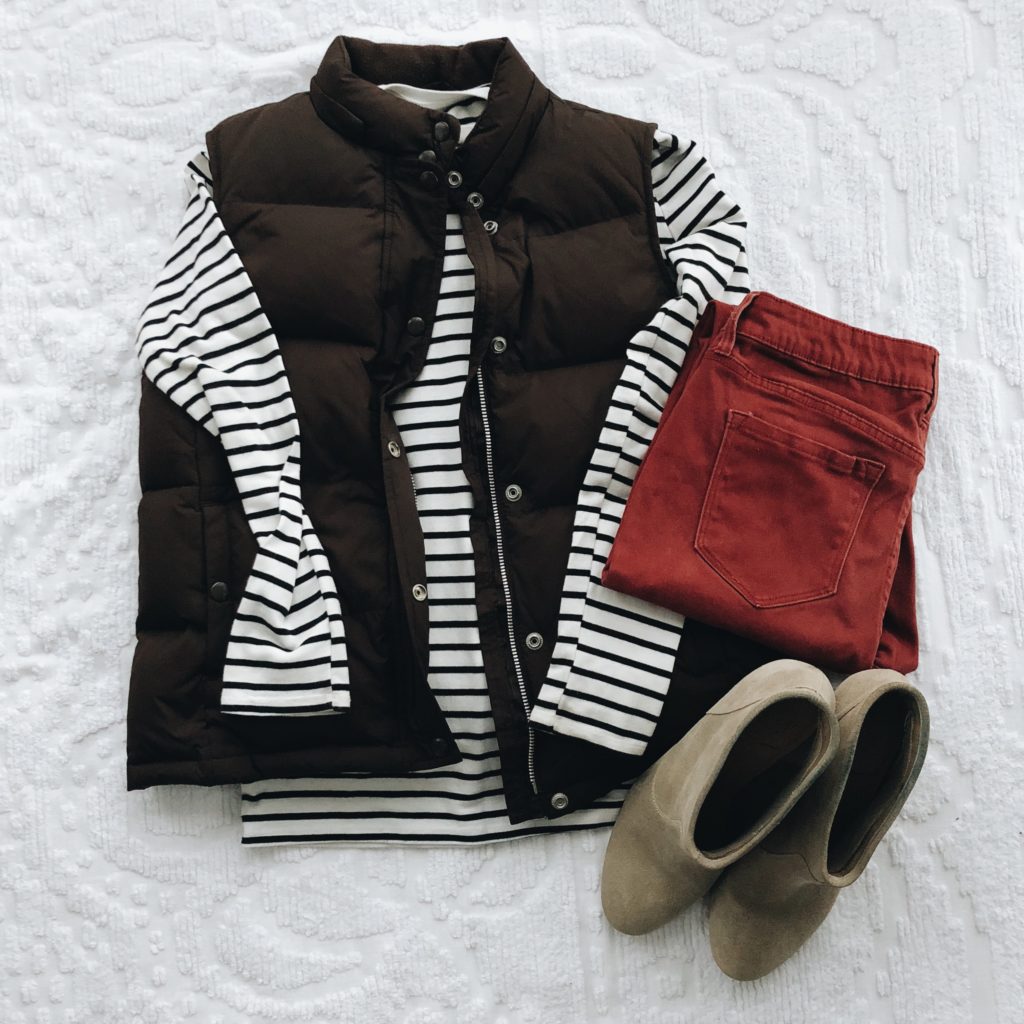 This puffer vest is old and maybe too puffy according to modern standards, but I love it. I'm also loving black and brown, so I paired with a black and white striped tee, red denim, and booties. Hello, casual(ish) Friday!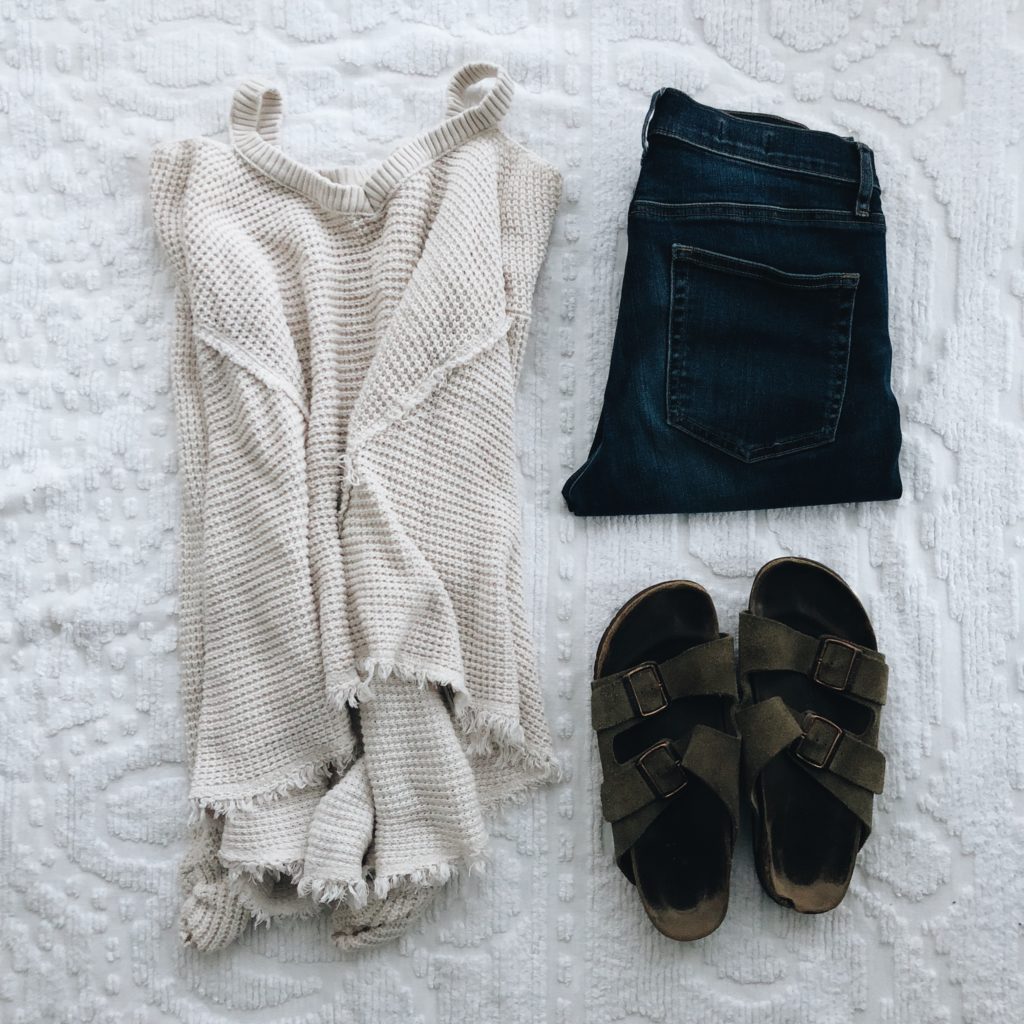 I have no idea where I was headed on this Saturday, but these Free People waffle sweaters are heavy in rotation. Those Birkenstock sandals are vintage (from high school or college, I can't remember which) and they still look great on my feet despite how saggy they are here.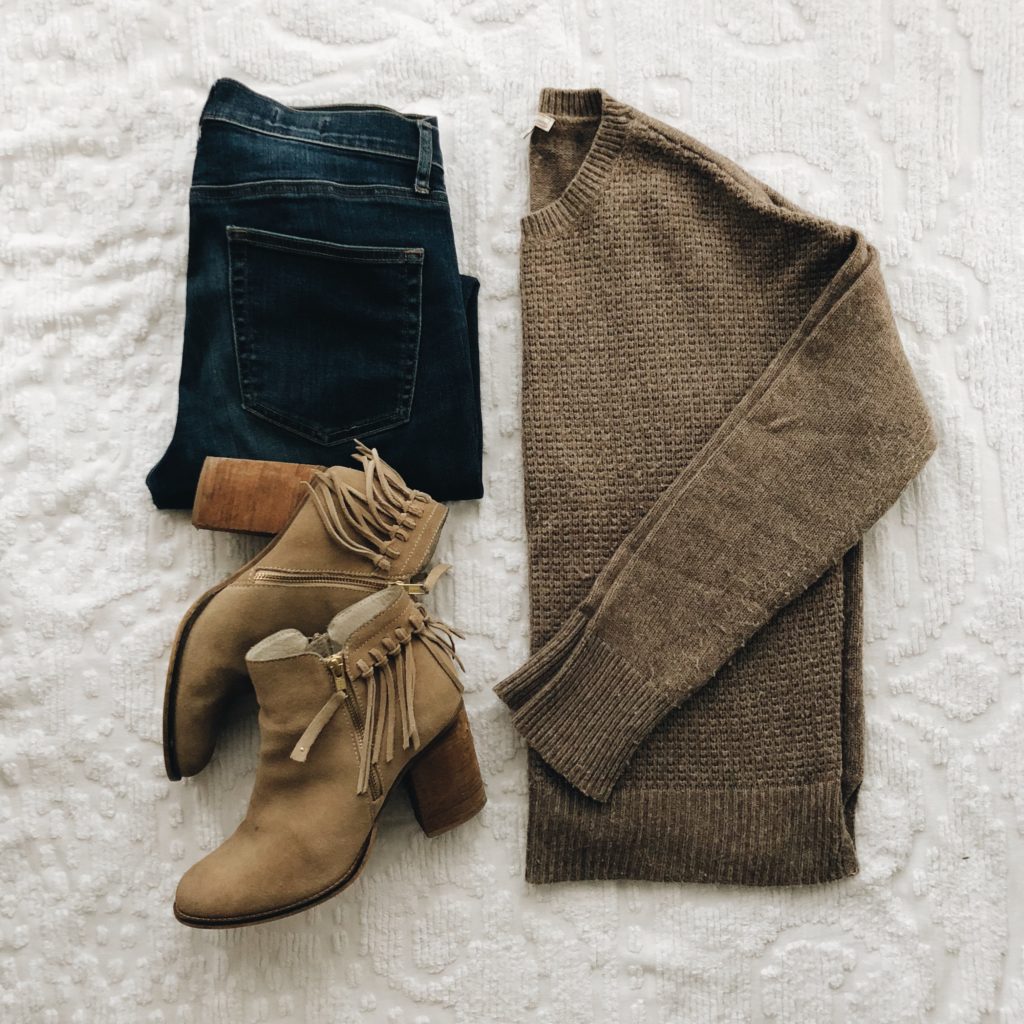 Here is another easy peasy church outfit. I rarely wear a dress to church, now that we belong to a more casual fellowship. Ella loves that it means she can wear jeans, too, and I love not having to overthink our wardrobes on Sunday morning.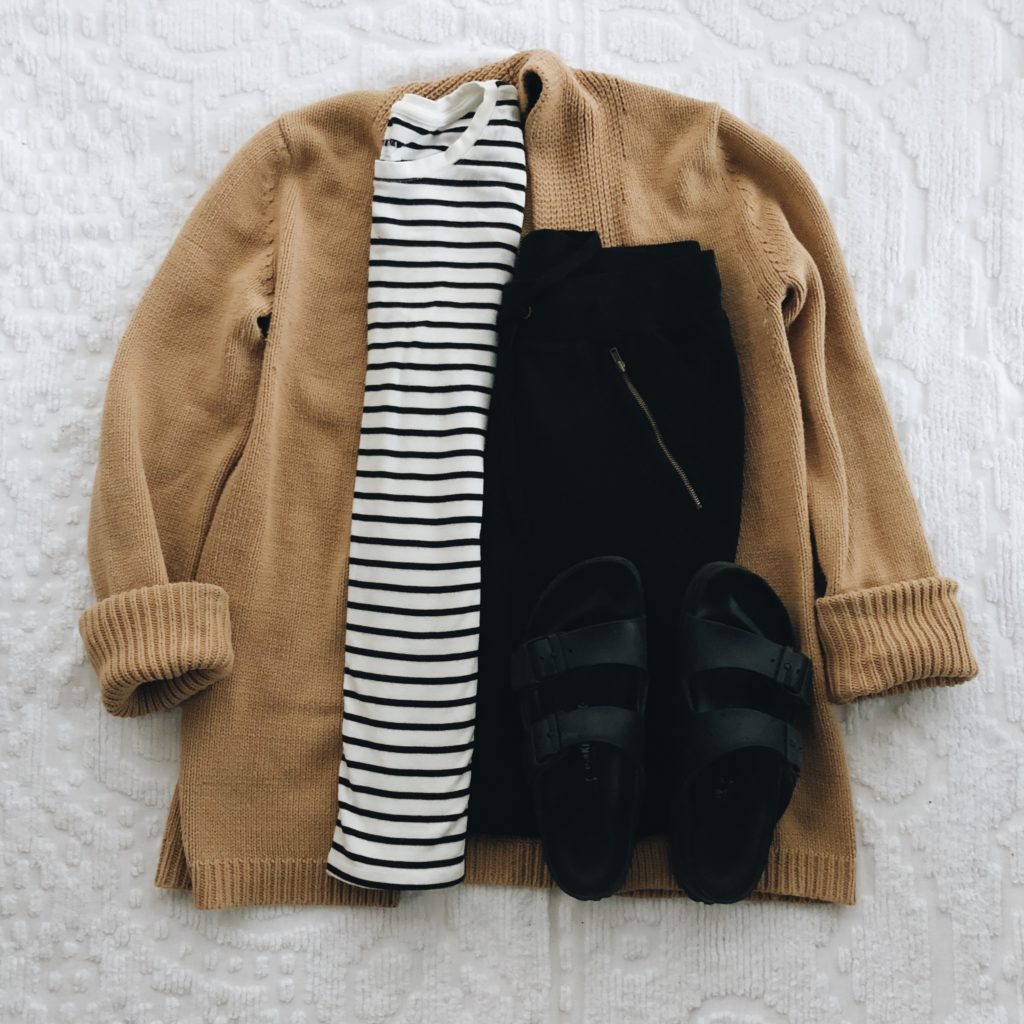 I wore this outfit on my birthday, since I spent the day at the hospital waiting to hold Vera. It was super comfy, but I didn't feel like a slob! I'm telling you, these joggers are life.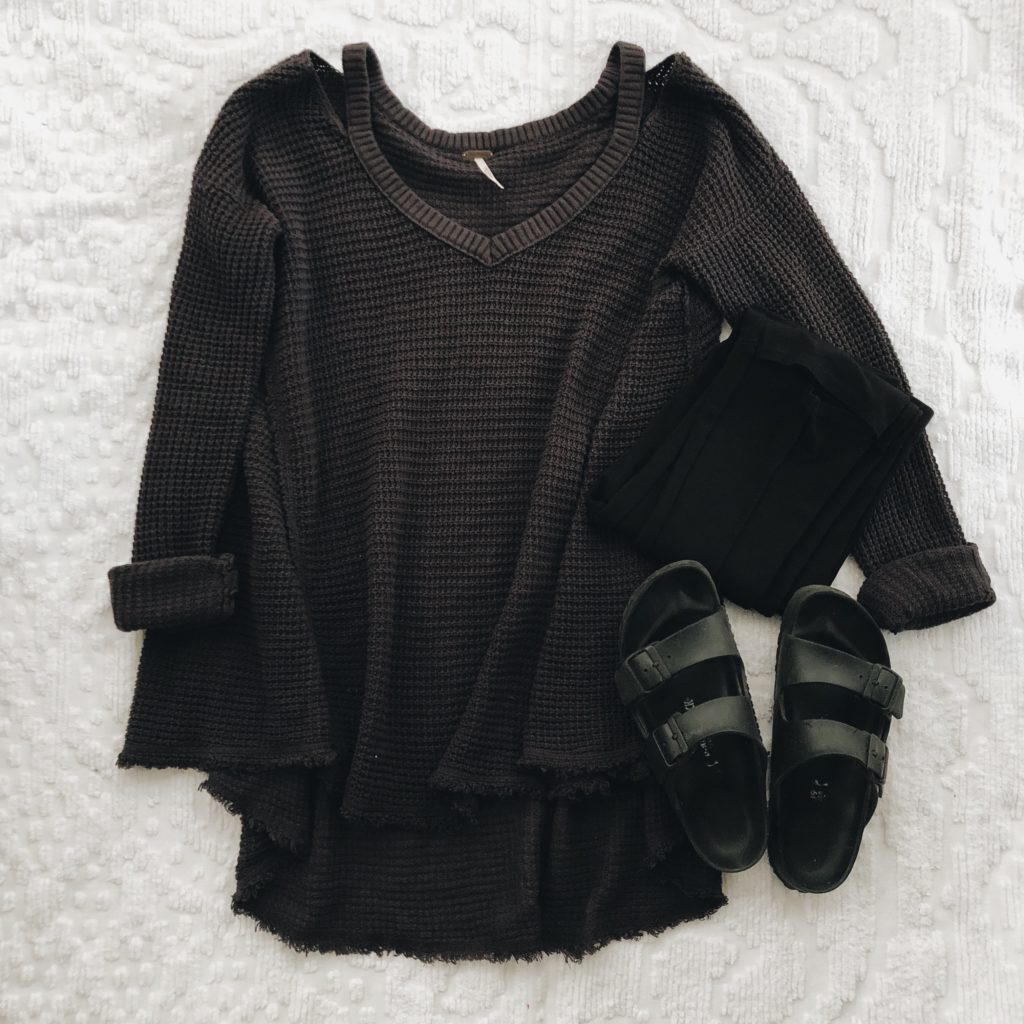 I had all three kids at home on Tuesday since they were out of school for the holiday and Hudson was staying with us. My charcoal FP sweater, leggings, and slides was great for keeping up with them and sneaking off for baby snuggles.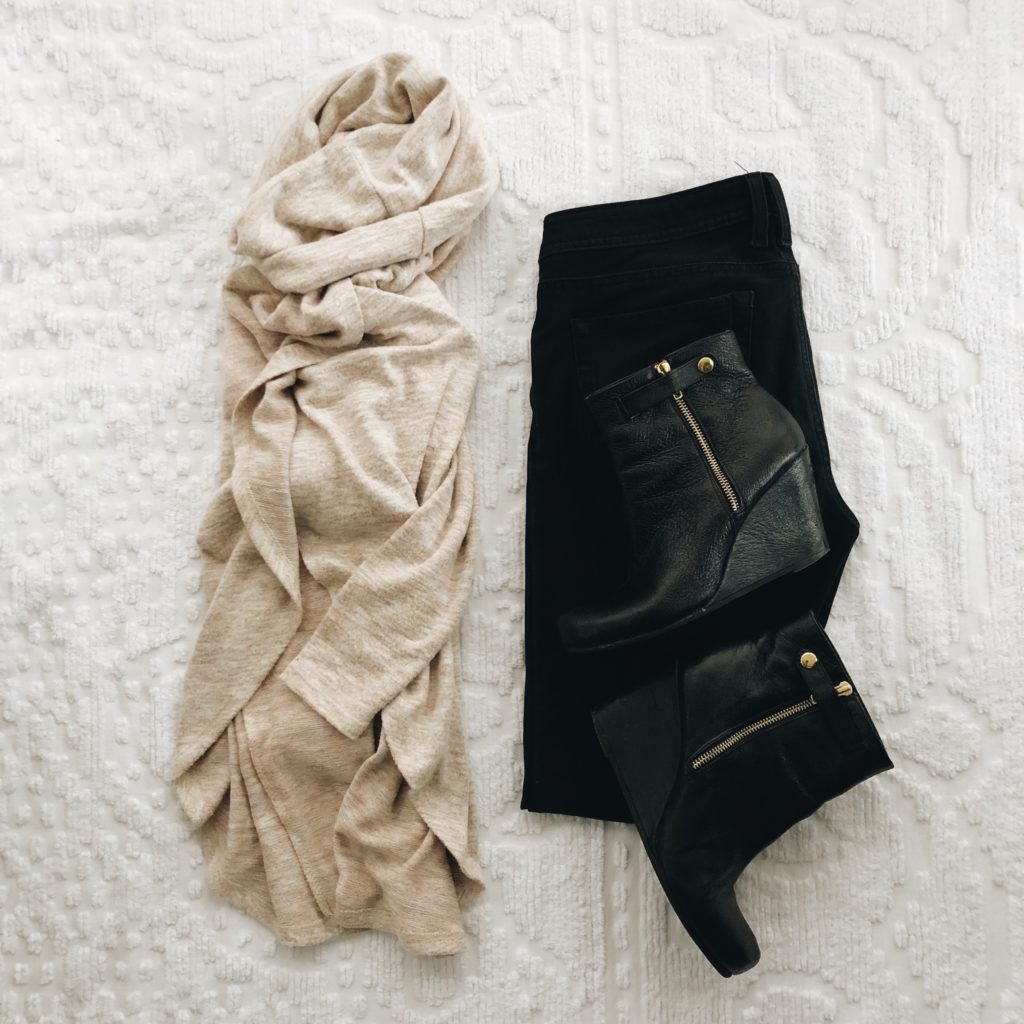 I'm sorry you can see the detail on the sweater here, but I shared a better picture from later in the month. This was another win from Trilogy and it looks great with everything. I wish I had ordered it in multiple colors!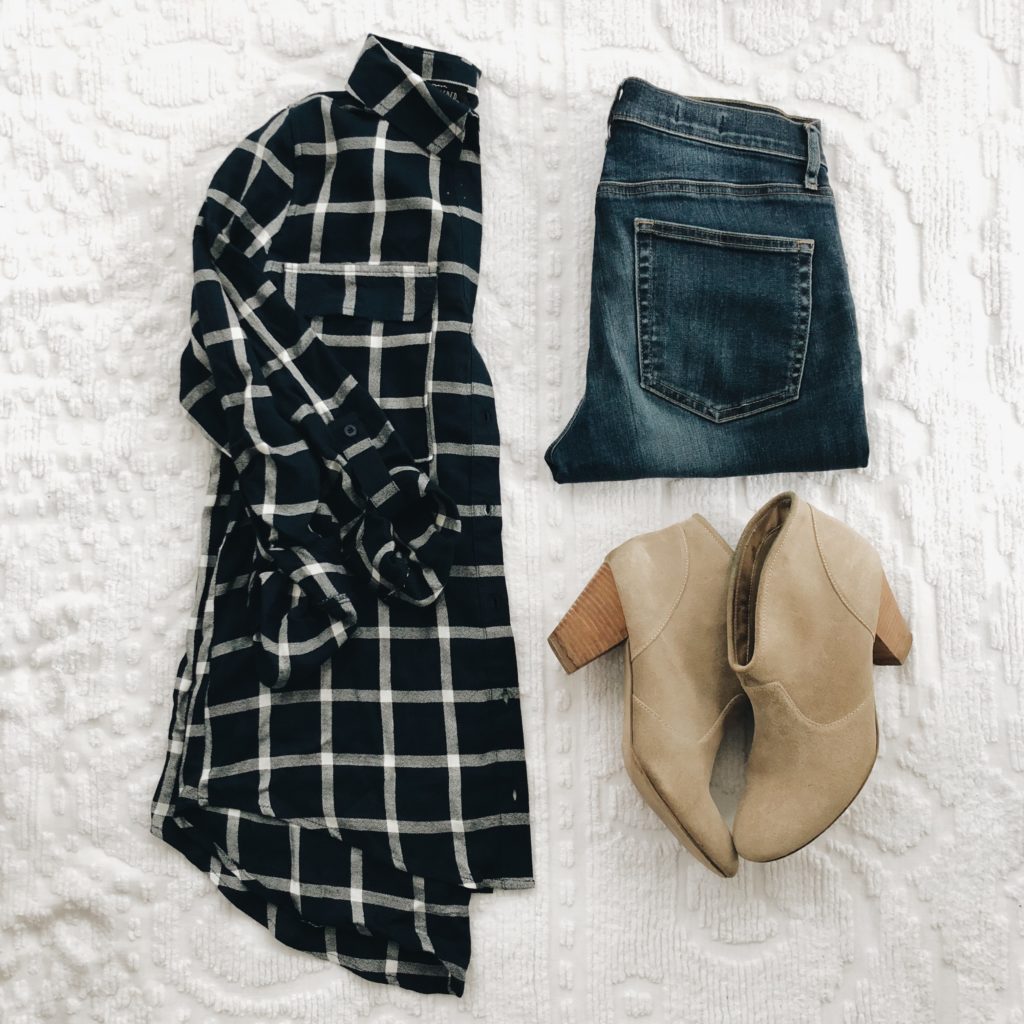 This was my Thanksgiving outfit and even though I wore those booties for the thirteen minutes it took to snap a few family photos, I spent most of the day in my slippers. I'm not usually a fan of plaid, but the navy and white window pane feels less lumber jack holiday to me. This is another Trilogy find — see what I mean?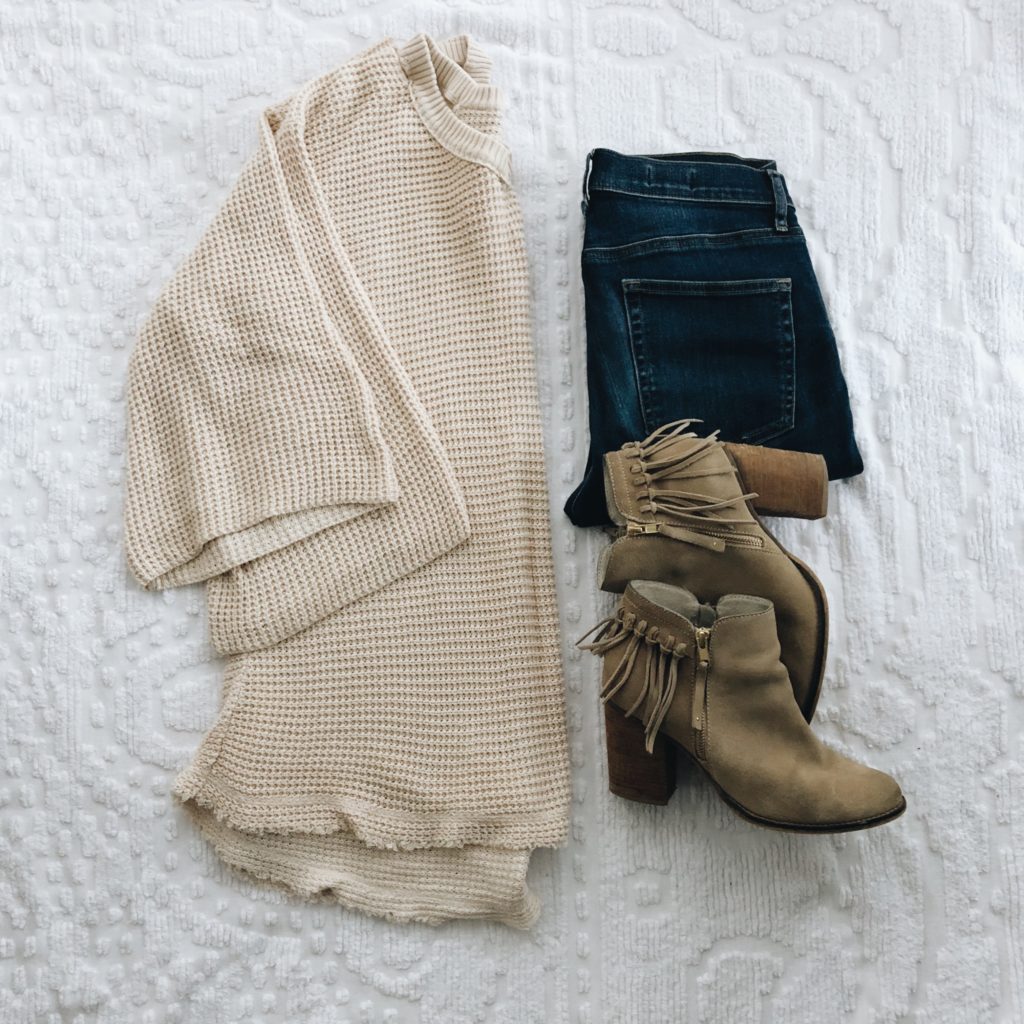 Maybe I should stop explaining every sweater + denim + booties outfit. What do you think?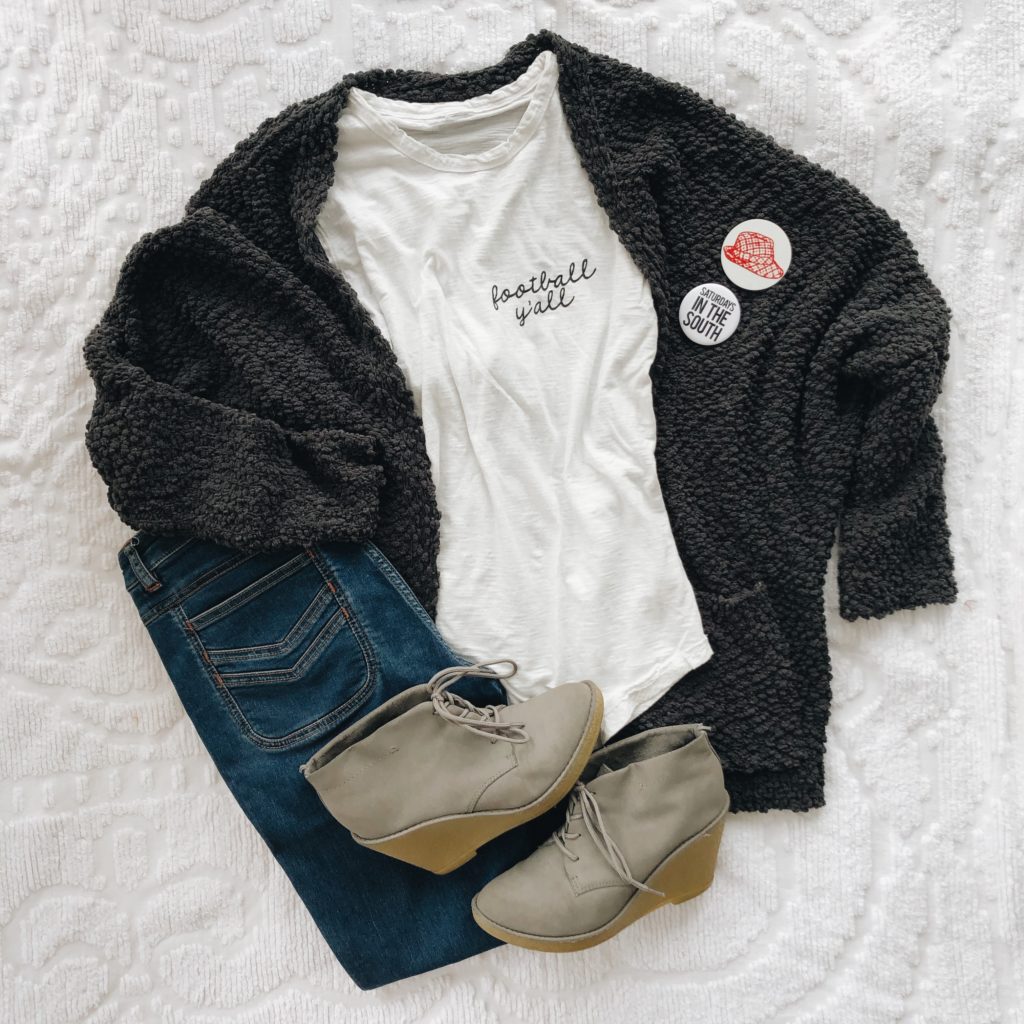 This gameday outfit was another favorite from November. That tank is from Milk and Honey Tees and the quality is superb. I wore it with bell bottoms and a cozy cardigan via Trilogy Threads. Again. I think I have a problem.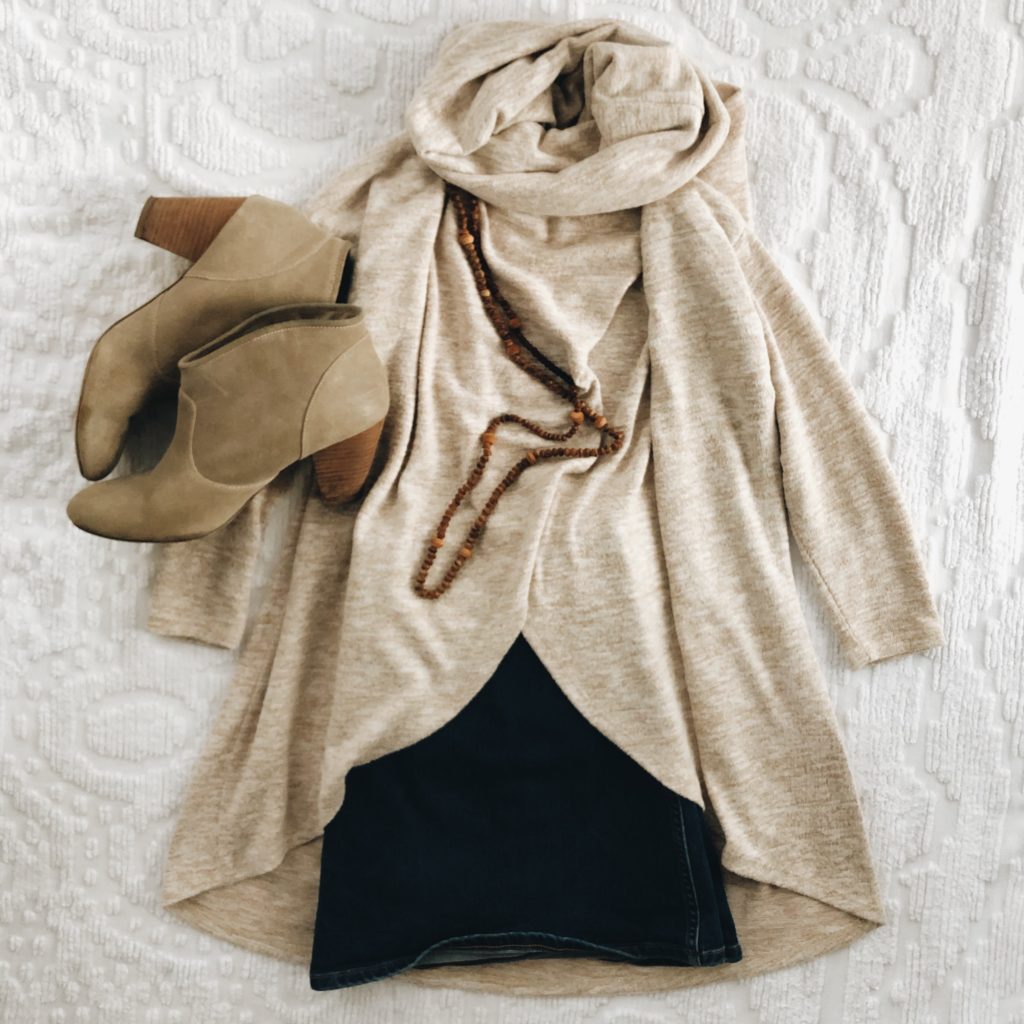 Here is a better look at that crossover sweater from earlier. I'm not sure why it isn't pictured here, but I have an oatmeal colored peplum tee that looked so perfect underneath!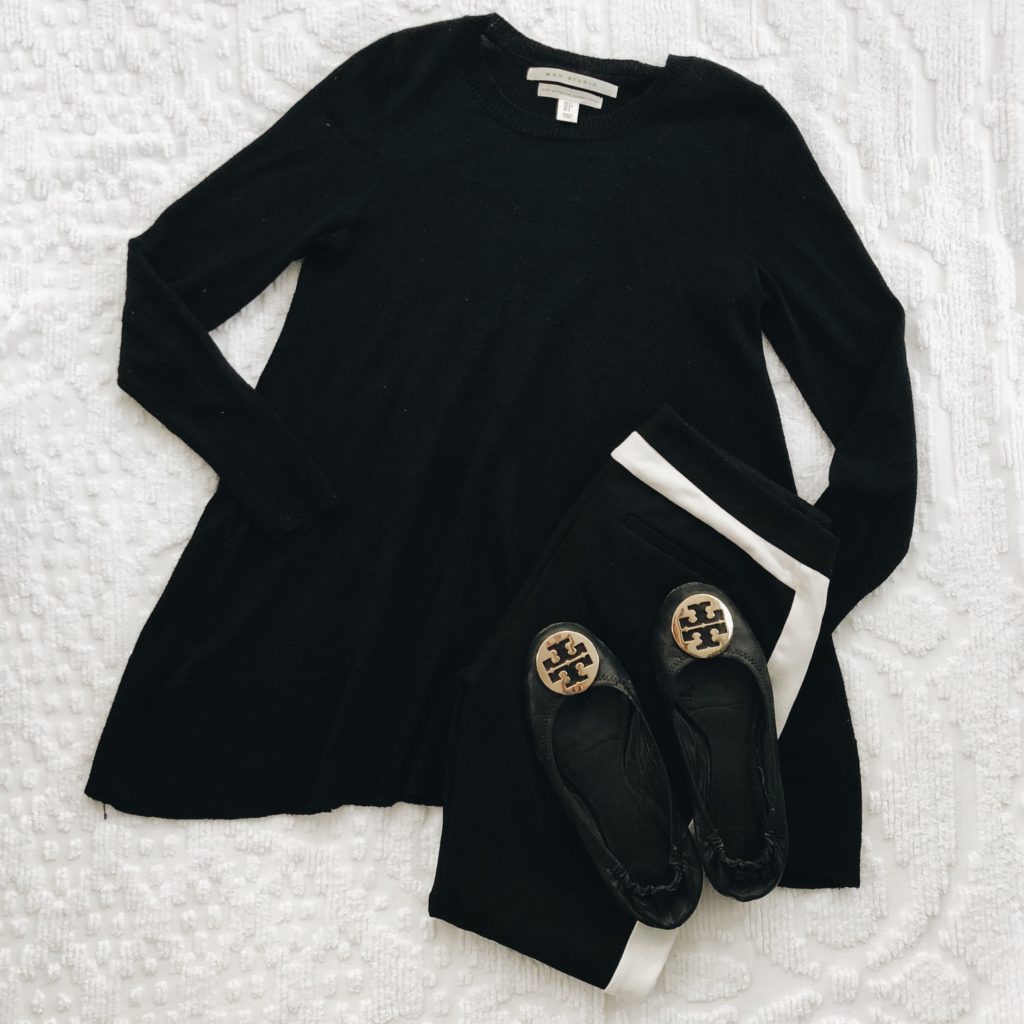 I was hoping this would translate to Simple Holiday Outfit for my small group end of the year party, but I actually didn't love the way it looked together. Whomp whomp.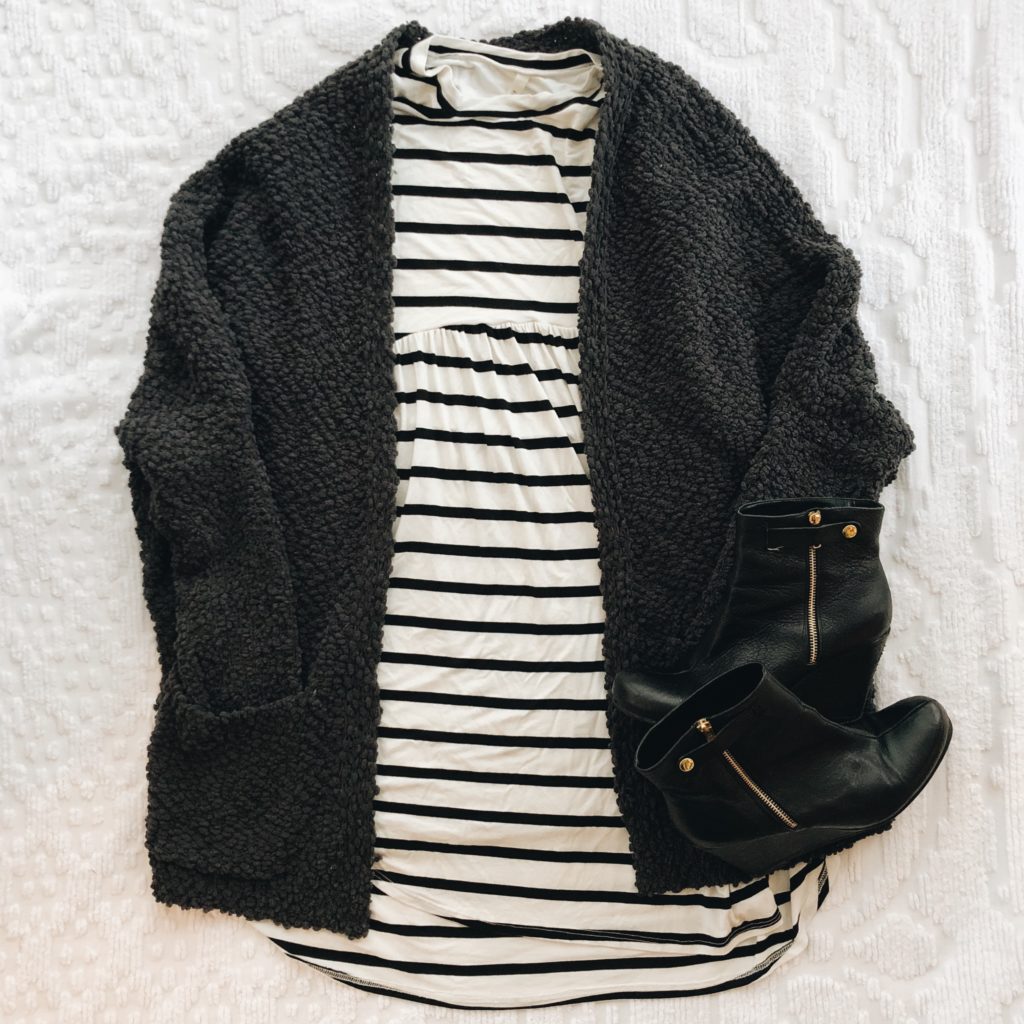 I got a ton of compliments on this combo! This easy t-shirt dress was a summer purchase from another Facebook group. I have worn it several different ways, but I loved how cozy it looked underneath this cardigan.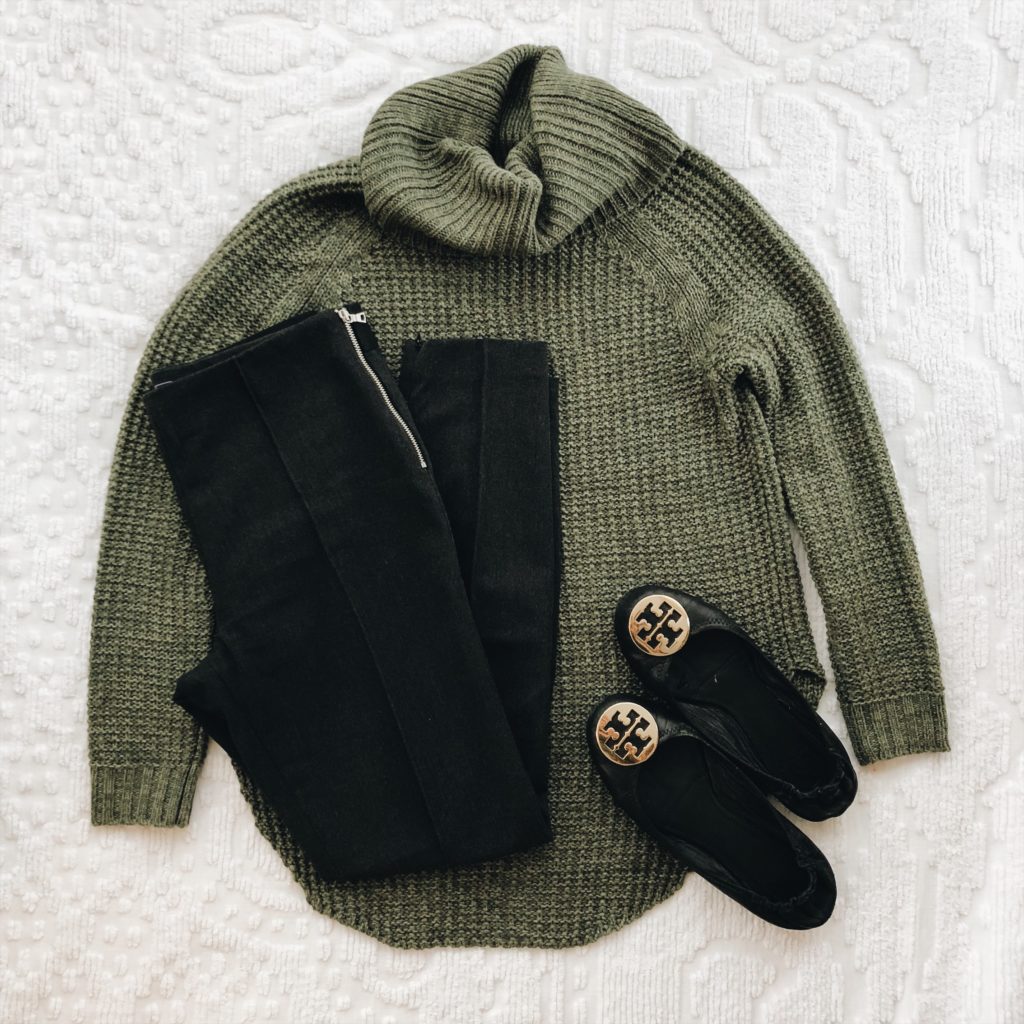 Favorite sweater alert! This oversized turtleneck from Target is so perfect for the holiday season. I bought it hoping that UAB would play in bowl game we could attend, but we will not be going to the Bahamas three days before Christmas. Bummer. Instead, I'm probably going to wear it with skinny jeans for Christmas Day (with these crazy good perforated mules), unless it's another 90* holiday!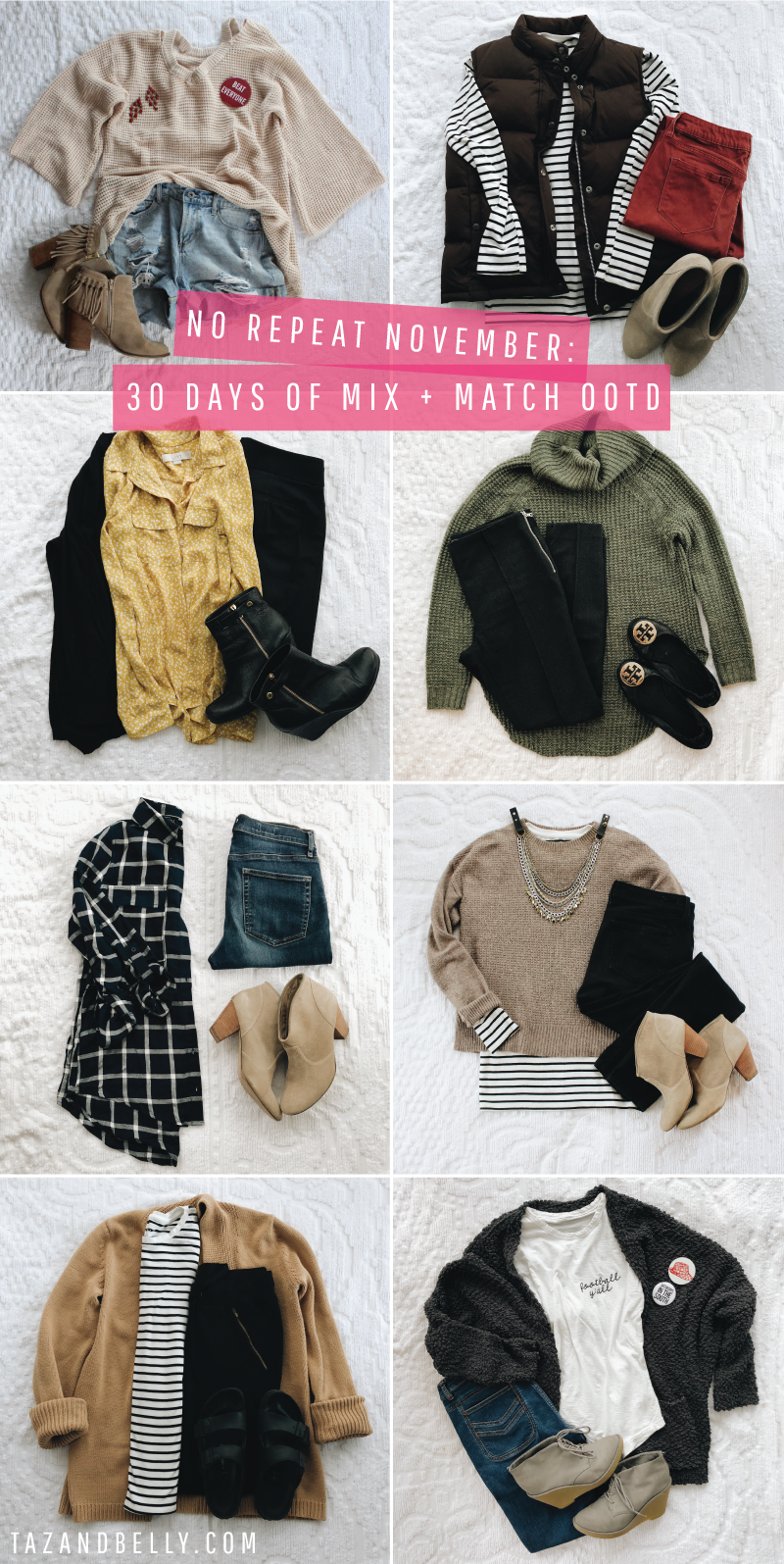 Well, what did you think? Any favorite outfits or items on repeat? Would you be interested in doing this with me again in a few months? It might be fun to do once a season and come up with a fun hashtag to follow along!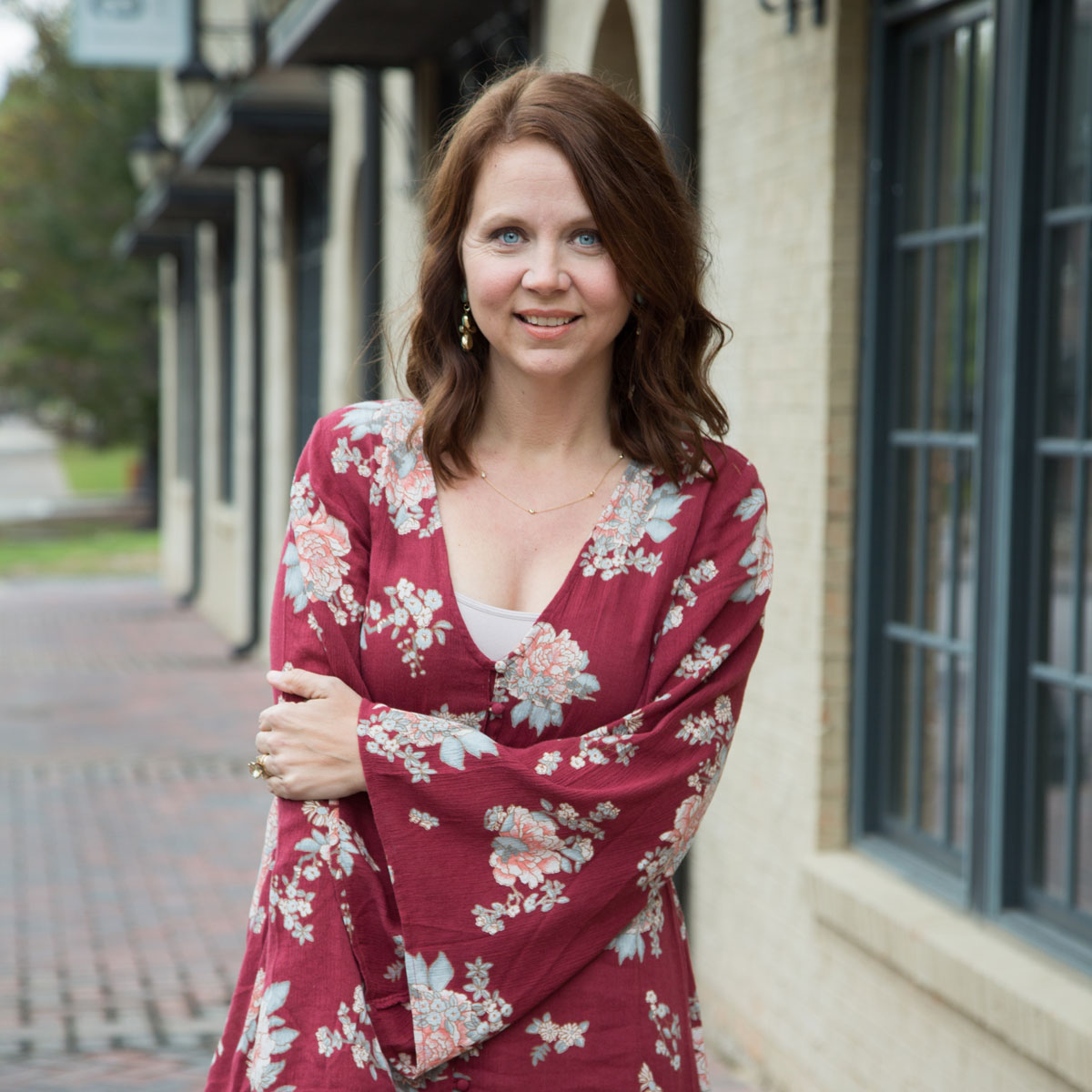 Kristin is married to her high-school sweetheart and the mother to two daughters. Professional by day and creative by night, she is a family lifestyle blogger who writes about faith, family, and fitting it all into a busy schedule. At Taz + Belly, you'll find healthy recipes, children's party ideas, tutorials, DIY projects, and more.
Click Here to Read More About Kristin