Anne, at In Residence, hosts a linkup on the first Wednesday of every month and invites readers to share a few things they're up to currently. Be sure to hop over to her blog and see what everyone else is up to this month. The Monthly Report is the longest post that appears on Taz + Belly each month, so hang in there!

lighting | Christmas lights is the obvious answer, right? I think we strung more lights this year than ever before. We have so many more surfaces to decorate in this house, the girls requested extra lights in their room, and we added lights to our front porch for the first time ever. I briefly considered getting complicated with the outdoor lights, but a simple swag ended up being my favorite. We're also lighting plenty of cinnamon scented candles this month. One, because it smells like Christmas and, two, because our puppy found a source for rotten potatoes and we can't seem to keep her from eating them.
spending | I'm actually hoping to be spending less this month. We've already bought our tree and any extra decorations that we'll be adding this year and I'm so close to being finished with our Christmas shopping. I'll admit to being really tempted to buy a handmade pair of booties for myself, but I gave myself a grown up pep talk and walked away. For now.
choosing | I'm choosing to settle into our home this month, even though we're still in transition. I'm planning to write a full post about living in the in between, but the short version is I'm tired of waiting to enjoy the space we live in. I'm embracing everything I love, ignoring everything I want to update, and making so many wonderful memories with my family.
sending | I hope to be sending Christmas Cards very soon. I always like designing my own and that takes me so much longer than I'd like to admit. We have a fun themed card this year and I can't wait to share it on the blog next week!
singing | Who isn't singing Christmas carols from dawn til dusk? My girls switched the channel as early in November as they could and we've been belting out with Paul McCartney and The Carpenters ever since. We're going to milk every ounce of holiday cheer we can over the next four weeks!
---
Rather than call this a list of goals, I thought we'd do a little "to do list" each month instead. The word goal makes it sound so lofty and important, and I'm talking more about things I want to accomplish than achieve.
Actually empty our storage pod: Nope – she's still taking up space in our backyard. January it is.
Decorate for the holidays. Yeeeeesssss. I can't wait to share a holiday home tour with you next Tuesday!
Welcome Vera Claire! This was the best birthday celebration I've had in thirty-eight years. I might never get a real birthday ever again, but I'm going to love sharing my special day with my niece.
No Repeat November. With the exception of a few sick / pajama days, I managed to document everything I wore in November and I didn't repeat a single outfit. I'll be sharing all of the details on the blog tomorrow, so stay tuned.

I'm not sure I can put empty our storage pod on this list with a straight face, but I'm going to try.
Really enjoy the holiday season. I have a tendency to overschedule myself and not spend enough time resting during the ten days I'm at home between Christmas and New Years, but I'm making a valiant effort to slow down this month.
Read ten books. I know this is a bit of a lofty goal, considering I only tackled two last month, but I need a bit of a comeback. There should be plenty of time to rest and relax during the month of December and I hope to read far more than I binge watch. Any worthy recommendations?
---
Now let's get to it — everyone's favorite monthly recap. Here's a look at our November recap, by the numbers.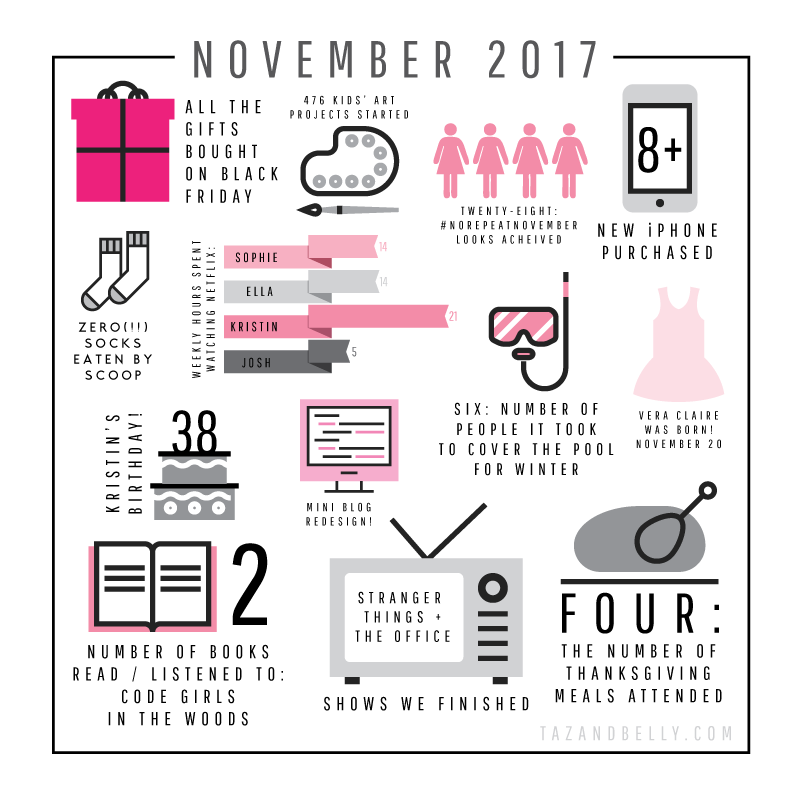 I honestly had zero intention of shopping on Black Friday and when I originally drafted this post, the infographic said ZERO. As it turns out, I woke up at 1:57 a.m. and couldn't go back to sleep, so I did a ton of shopping from my phone in the middle of the night. The mail guy at my office must think I'm crazy, because he delivers an armload of packages to my office every day. Oops.
I've been Netflixing like a mad woman. I just realized that this says we finished The Office, but we're actually still a few episodes away. College Football got us a little off track this past week and we're way behind on our regular weeknight shows (Survivor, Walking Dead & This is Us). We might have also started Mindhunter on Friday night and it's so intriguing! Any other fans? I always need at least one show that he isn't watching, so I started Call the Midwife over the weekend and I'm literally obsessed. Let's not discuss the number of times I cried during that first episode.
My web developer, Stephanie, has been helping me with a mini blog facelift over the past several weeks and we're so close to being finished. Did you notice?! Mostly, we're streamlining how things function, fixing a few bugs that have been popping up over the last month, and moving the header image to the top of my sidebar. That is such a little change, but I love that it moves my content higher up on the page when you first visit. What do YOU think?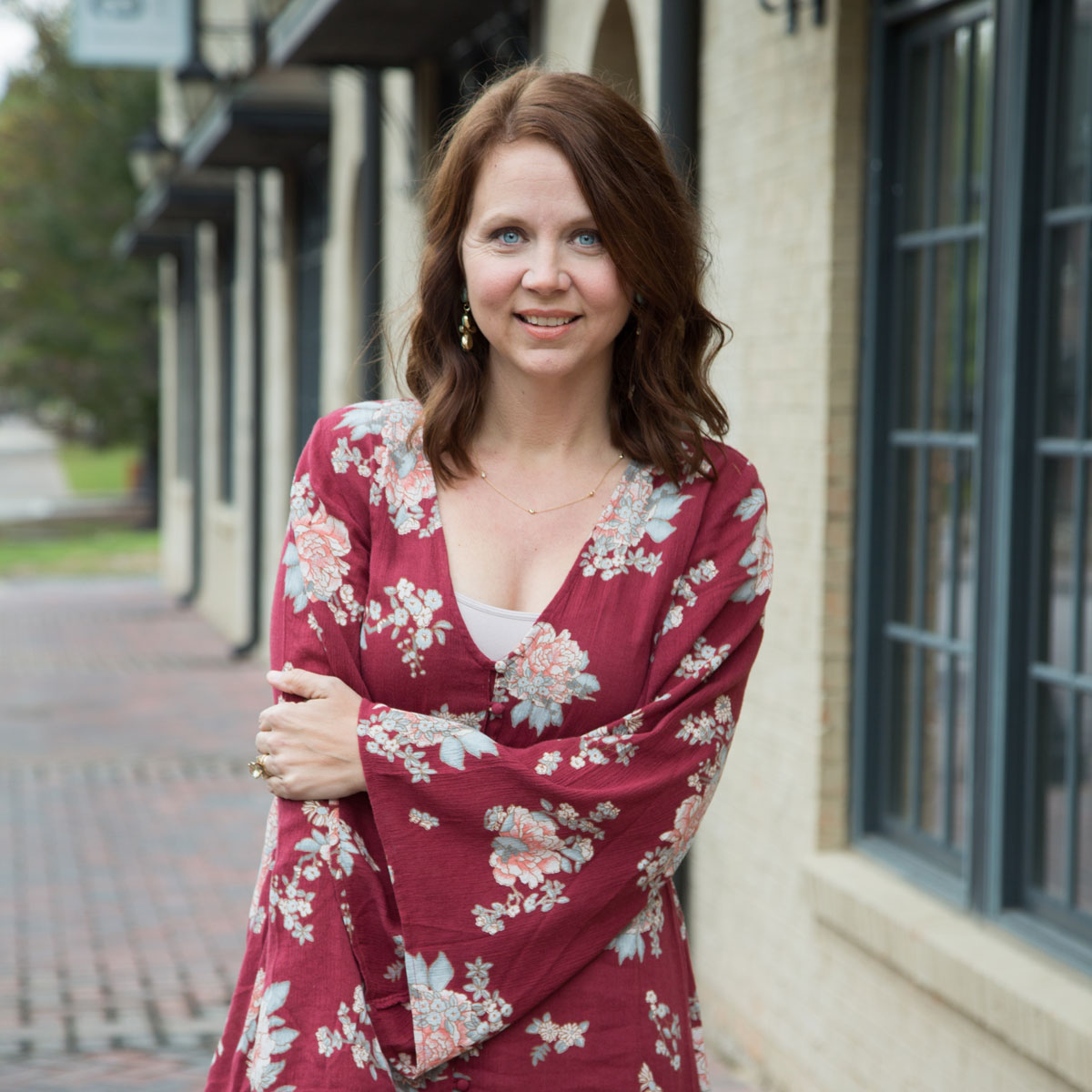 Kristin is married to her high-school sweetheart and the mother to two daughters. Professional by day and creative by night, she is a family lifestyle blogger who writes about faith, family, and fitting it all into a busy schedule. At Taz + Belly, you'll find healthy recipes, children's party ideas, tutorials, DIY projects, and more.
Click Here to Read More About Kristin