When I started this month of easy meals post a few weeks ago, my intention was to share a week (or two) of easy weeknight meals in the context of Whole30. There was a part of me that felt ridiculous compiling a list of such simple meals, as if they could begin to qualify as recipes. But the reality is, sometimes the hardest part of meal planning is deciding what we're going to cook. After decision making, the second biggest complaint I hear about meal planning and grocery shopping, is that everything on the internet seems so complicated and time consuming. If you've taken any time to scroll through Pinterest or food hashtags on Instagram, you've seen tons of beautiful meals, but many of them won't work for busy moms or professionals. I don't know about you, but the time I have to prepare and cook dinner every night, is minimal. Between piano lessons, dance class, workouts, and a gnarly commute — I need dinner to come together in under an hour, but thirty minutes is even better!

Josh has been encouraging me for months to come up with a long list of our favorite go-to meals, so that instead of brainstorming every week about what to eat, we can just cycle through our list — leaving a few empty spaces for new recipes or dinners out. Not all of these are squeaky clean, but they are well-balanced, and I've made a note when they can be modified to meet Paleo or Whole30 standards. In the list below, you'll find details on twenty-one of our favorite dinners, recipe and ingredient links where available, and photographs for many of them.
---
Slow Cooker Mexican Chicken | I laugh every time someone asks me for this "recipe," because it is literally the easiest thing we ever cook. It's our standard Tuesday night fare (because Taco Tuesday) and always yields tons of leftovers. I place three boneless, skinless chicken breasts in the slow cooker and top it with a container of our favorite salsa (or diced tomatoes) and two tablespoons of homemade taco seasoning. Once the chicken is completely cooked, I use a hand mixer to shred the chicken right in the pot. Word to the wise: don't use a hand mixer if you use slow cooker liners — I've done this before and the result is not pretty. We usually make quesadillas for the girls on gluten free tortillas, but Josh and I love to use this recipe as the protein for a salad. Add lettuce and all of your favorite taco toppings or serve over paleo-friendly tortilla chips if you're not on Whole30. We use the leftover chicken to make enchiladas for the girls, dips for tailgating, or we freeze it for taco soup the following week.
Make your own taco seasoning or try this Mexican Spice Blend to keep it Whole30 compliant.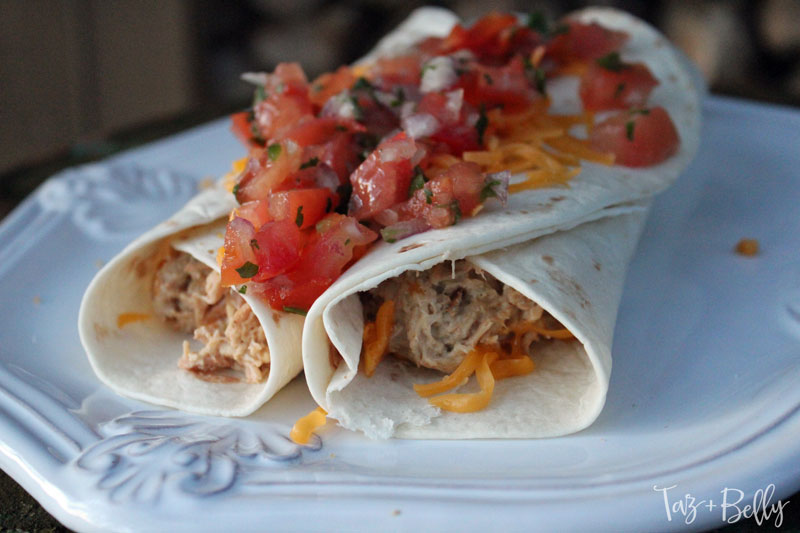 Chicken Enchiladas | Try this enchilada recipe, but use the leftover chicken from our slow cooker chicken recipe. This is equally delicious as a dip with tortilla chips — hello, gameday.
Sorry, there isn't a healthier version of this one, but it's one of our favorite splurges!
Breakfast for Dinner | This is one of the easiest options on our meal plan and we make it almost every Sunday night. Everyone's tastes differ, so we're often cooking three kinds of meat, two potato dishes, and pancakes or waffles to order.
Can be Paleo and/or Whole30 compliant, depending on your ingredients.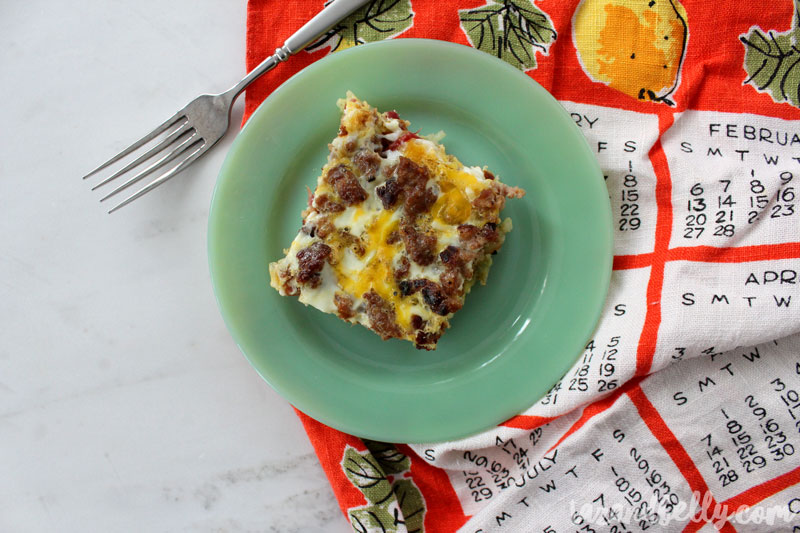 Breakfast Casserole | When I want our "breakfast for dinner" to feel a little more special, I throw all of the ingredients into a single dish and serve it as a casserole. Try using potatoes — cubed, hashed, or mashed — as your crust and pile on whatever meat and veggies you have on hand. You can completely change the flavor of this meal depending on the combination of ingredients. Try chorizo for some Latin flare or add fresh veggies and herbs for a French frittata. Not ready to come up with your own combination? Try this simple, children-approved, version.
Paleo and Whole30 compliant, depending on the ingredients in your breakfast meat and/or frozen potatoes for your crust.
Oven Steak + Parsnip/Carrot Fries | This meal originated as a Hello Fresh! delivery that we have replicated so many times. Josh uses this method to cook our steaks in a cast iron skillet, but we almost always sliced the meat before cooking it. Parsnips look like white carrots, but they taste so much better! We slice both parsnips and carrots into fries, season with coarse salt and rosemary, then roast them in the oven.
Paleo and Whole30 compliant, depending on your oils and seasoning.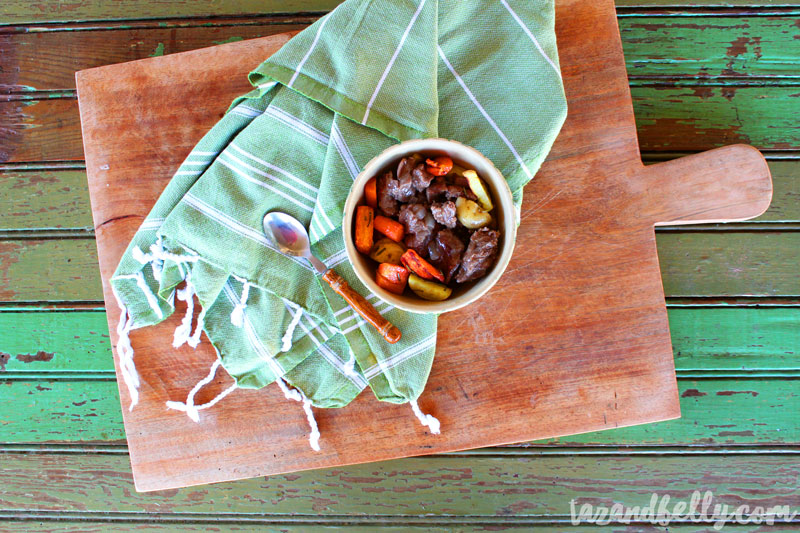 Slow Cooker Roast + Veggies | Here's another meal where no recipe exists. Throwing a roast in the crockpot is so easy and everyone in my house is happy, come dinner time. I'm not picky about what kind of roast I purchase — I usually go for the one on sale. I add potatoes, onions, carrots, beef broth, coarse salt & pepper, a bay leaf, and whatever other fresh herbs I have on hand. Boiled vegetables are my favorite (I have texture issues), so I usually reserve a serving of the veggies and roast them in the oven for myself. Either way, this dinner is delicious.
Paleo and Whole30 compliant, depending on your broth and seasoning.
Chicken + Broccoli Sheet Pan Meal | I cut this recipe out of a magazine years ago and we still eat it regularly. We've tried it with both chicken and beef tips (the chicken is better!) and it's delicious either way. You can serve this over rice if you want something more filling or just serve up a double-portion to keep it light.
Paleo and Whole30 approved!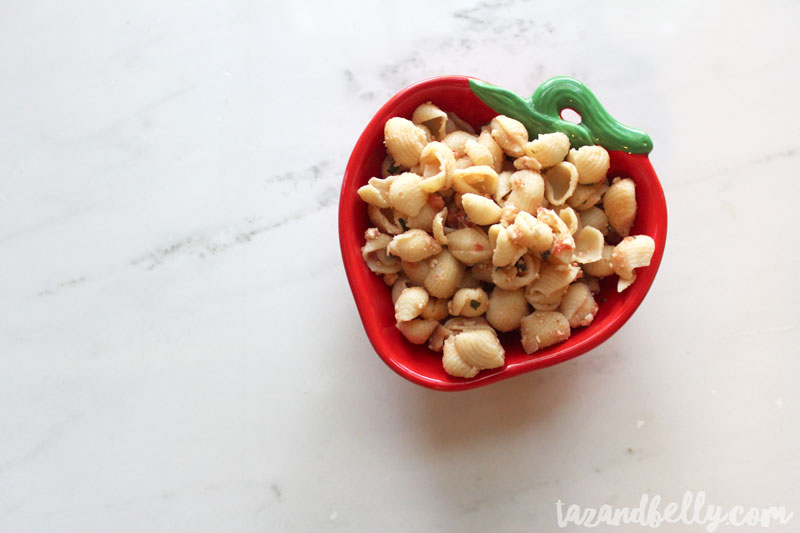 Grilled Chicken + Greek Pasta Salad | Ella is obsessed with this pasta salad recipe, so this meal is almost always served at her request. If you've ever visited Zoe's Kitchen and ordered their pasta salad, then your mouth should already be watering. I found this copycat recipe on Pinterest and it is spot on. We serve it with grilled chicken, seasoned with this amazing spice blend, and either steamed broccoli or roasted potatoes.
We use lentil noodles to keep this dish Gluten Free. Remember, beans and lentils are a no-no on Paleo and Whole30 protocols, but this is definitely healthier than the alternative.
Simple Stir Fry | I'm not sure why we forget about this one, because almost every time we eat it, we all agree that it's one of our favorites. This is exactly why Josh wanted the list in the first place! A stir fry is easily customizable and you can add any number of seasonings to give it a very different flair. Our favorite combination is boneless, skinless chicken breasts with Slap Ya Mama seasoning (yes, that is an actual spice blend), served with broccoli, bell peppers, and onions. We pan fry the chicken in a little avocado oil and then add the cut veggies once it's completely cooked. The kids eat this as a part of a variety plate and we use the gluten free version of these rice cups to round out the meal.
Choose your seasonings wisely and sub riced cauliflower for wild rice, to keep this Whole30 compliant.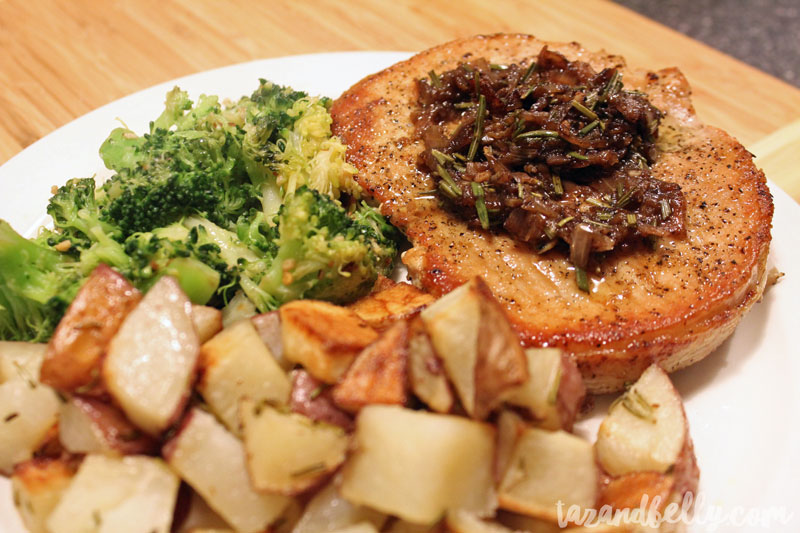 Balsamic Pork Chops | This was another Hello Fresh! recipe, that has since become a regularly featured meal in our household. Josh isn't the biggest fan of pork, so I try to only cook it once or twice a month. The balsamic rosemary glaze is the very best part and you can serve this dish with whatever sides you like best.
Paleo and Whole30 approved!
Sausage + Potato Scramble | This sugar-free kielbasa is a game changer and we frequently serve it for breakfast and dinner. Often times, when I don't feel like cooking, I'll make a simple scramble in the cast iron skillet. It's so filling and takes no time at all to prepare. I like combining kielbasa, red potatoes, tricolor bell peppers, red onion and adobo seasoning. You could always top with a fried egg or serve alongside a salad or green veggie, if you need more on your plate!
Paleo and Whole30 compliant, depending on the ingredients in your kielbasa.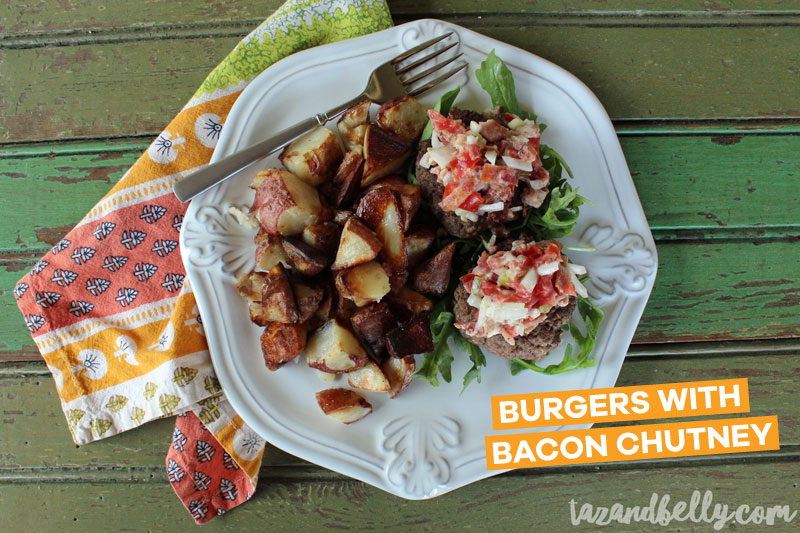 Burgers + Oven Fries | It can be hard to find grass fed beef at a reasonable price, but we bought a cow this summer and it has been the best quality meat for our money spent. We keep it in a deep freezer, so I pull a few tubes out the night before and Josh is in charge of making the patties. Ella doesn't love her burgers on the grill, so Josh usually fries them up in our electric skillet (you need one of these in your life). Get creative with your garnishes or set up a toppings "bar" with lots of options to get your kids involved. We love serving burgers with fresh pico de gallo, guacamole, or bacon chutney. Since our kids insist they hate sweet potatoes, I fool them into eating white sweet potatoes, by cutting them into fries and baking them in the oven. Try mixing up this seasoning for your potatoes — you will not be disappointed.
Can be made Whole30 or Paleo by skipping the bun and being careful with your condiments.
Spaghetti with Lentil Noodles | Spaghetti is one of the easiest weeknight meals to make, but since one of our kiddos is gluten free, it eluded us for a long time. Let's face it, if you don't have to eat rice noodles, you should definitely steer clear. I recently found these lentil noodles and they quickly became our go-to. I honestly don't remember the last time I bought regular pasta noodles, unless you count Ella's birthday party. None of us seem to have any problems digesting beans (I should note, pasta is the only time we eat them), so the red lentil noodles are a perfect alternative and naturally gluten free. We add ground beef and sugar free spaghetti sauce to round out the meal.
Beans and lentils are a no-no on Paleo and Whole30 protocols, but you can use spaghetti squash to keep it compliant.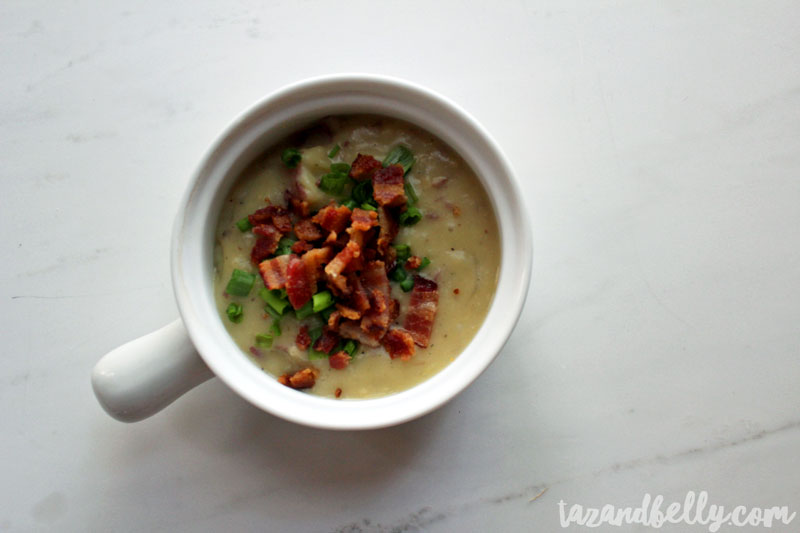 Loaded Potato Soup | This is one of my most popular recipes and a crowd favorite at home. If you aren't worried about compliance or eating whole foods, try thickening your soup with potato flakes. You're welcome.
Paleo and Whole30 approved!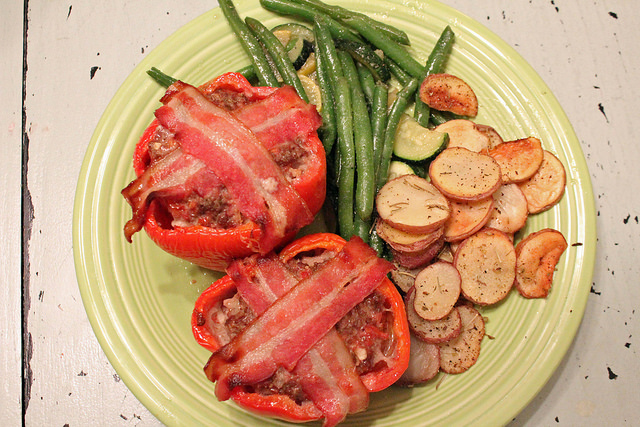 Stuffed Peppers | This one is a little bit of a cheat, but if you've ever cooked my mini meatloaf muffins, you are ahead of the game! That recipe originated as these stuffed peppers, but we love them both, so we often alternate between the two. For stuffed peppers, chop off the tops and remove all seeds and membranes — you can omit the bell peppers from the meatloaf recipe, since you'll have a double portion already. Fill the peppers with meatloaf mixture and top with a slice of bacon, cut in half. Bake in a roasting pan on 375* for 45 minutes or until completely cooked.
Paleo and Whole30 approved!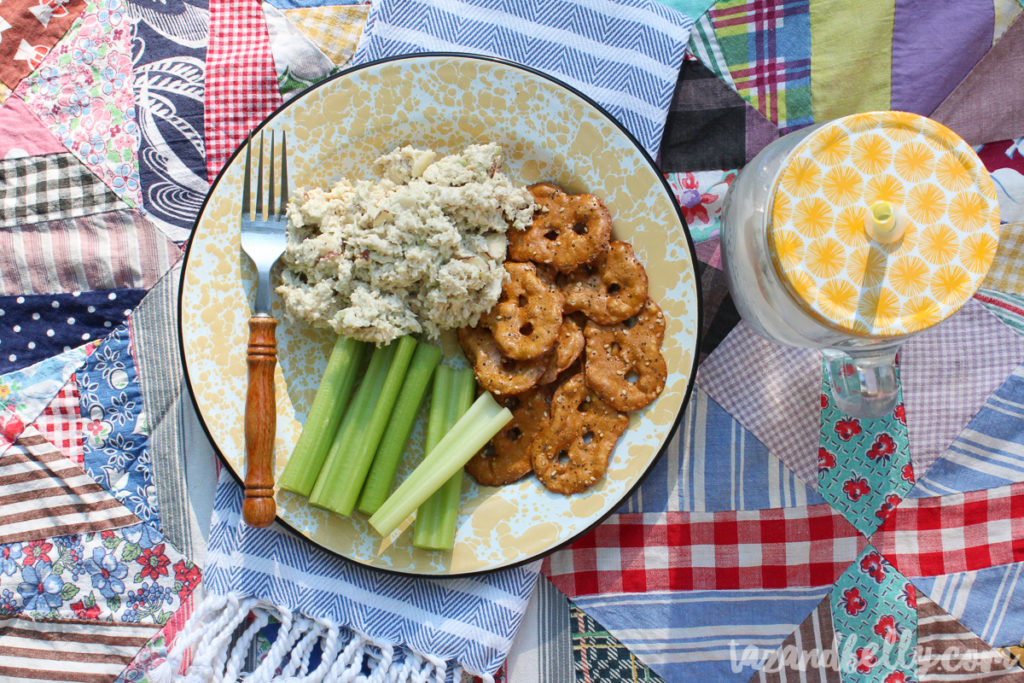 Variety Plate | I've championed the virtues of the variety plate time and time again, but it bears repeating. We use divided melamine plates (or muffin tins for little fingers) to create a dinner plate with a wide variety of ingredients. They don't all have to "go together" and none of them even need to be cooked — just pull together 4-6 different options for an easy meal on the go. We often serve chicken salad, approved deli meat, chicken apple sausage, no sugar kielbasa, or meat left over from previous meals as the main dish. To that we add fruit, chopped veggies, a salad, or other side items. For the girls, we require a protein, two items from the fridge (fruit, veggies, cheese, yogurt, etc.), and allow one pantry item (gluten free pretzels or crackers, tortilla chips, etc.).
Can be Paleo and/or Whole30 compliant, depending on your ingredients.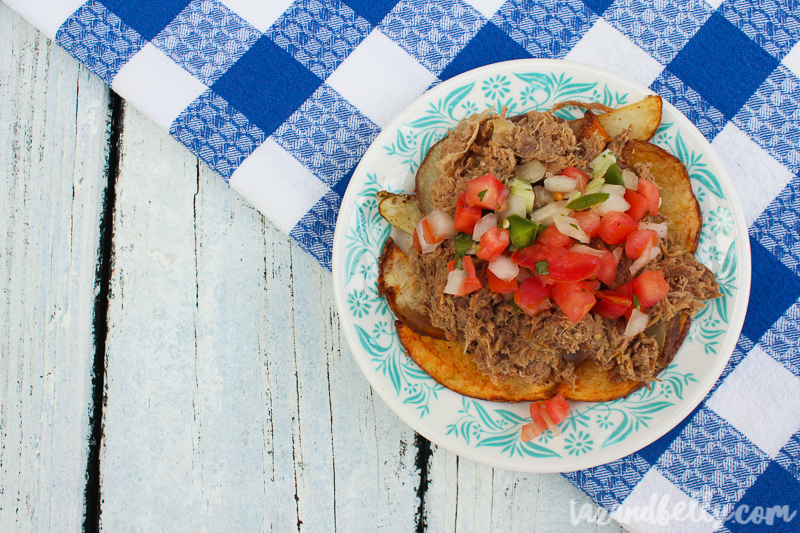 Slow Cooker Beef Carnitas | This is the beef equivalent to our slow cooker chicken recipe. Everyone else in my family is fine with chicken every week, but I need some variety in my life! Add a rump roast to your slow cooker, along with sliced onions & peppers, canned green chiles, juice from two limes, and taco seasoning. Cook for 6-8 hours on high and shred the beef using your hand mixer. We serve this in taco shells, over paleo tortilla chips, or as a topping on loaded fries.
Make your own taco seasoning or try this Mexican Spice Blend to keep it Whole30 compliant.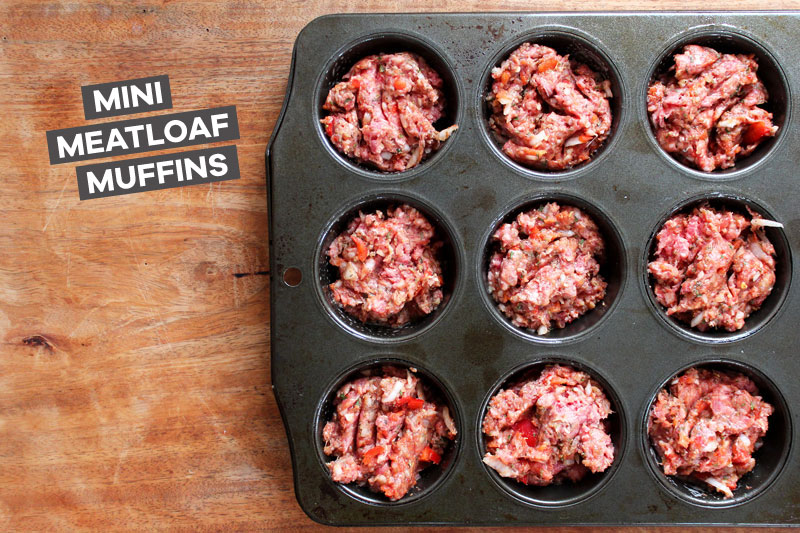 Mini Meatloaf Muffins | Here are those meatloaf muffins I was talking about — this is not your granmama's meatloaf, so don't go running. We skip the ketchup + brown sugar topping and I promise, you won't even miss it. If you insist, try this Sir Kensington's ketchup instead — it has 50% less sugar than traditional ketchups and it tastes just as delicious.
Paleo and Whole30 approved!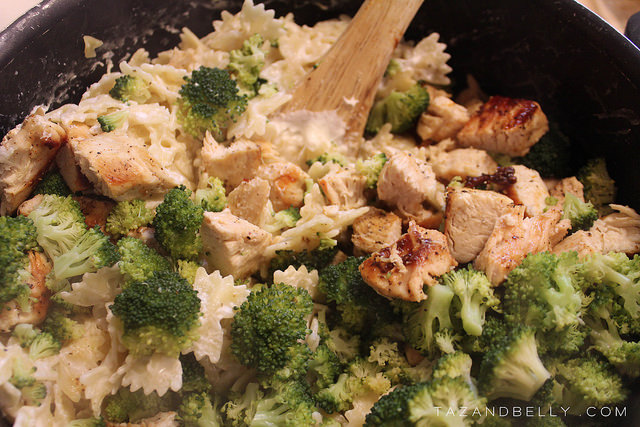 Chicken + Goat Cheese Pasta | We don't eat a lot of pasta these days, but the three pasta recipes I've shared today are family favorites. I used to make this goat cheese pasta recipe with bowtie noodles, but as I've already told you, we're using lentil noodles almost exclusively these days. I feel ridiculous even calling this a recipe — there are five ingredients and it will be on your table in under thirty minutes.
Cheese, beans, and lentils are a no-no on Paleo and Whole30 protocols, but this is definitely healthier than the alternative.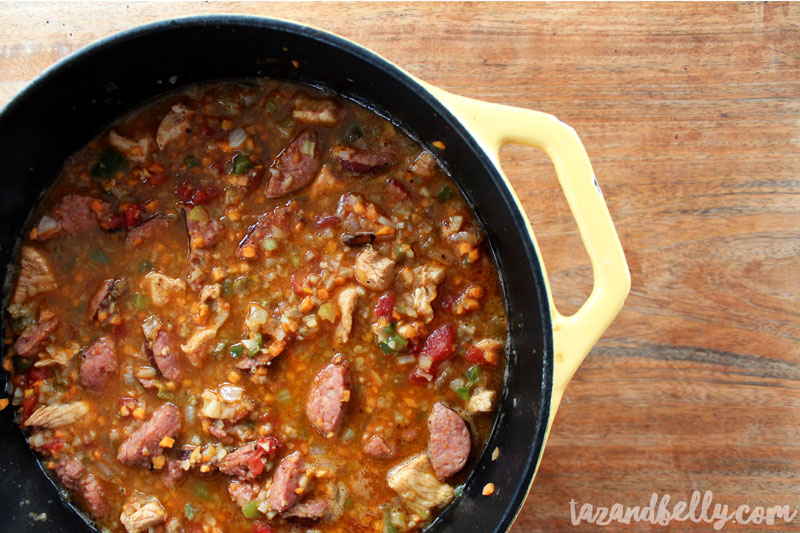 Creole Jambalaya | This is probably my favorite Whole30 meal to date and I can't think of a single time when I considered making the original version. Josh's best friend, Chris, makes the best jambalaya I've ever eaten. I tried a few other paleo versions before I finally asked him to text me the ingredients. I kid you not, there were probably thirty items on his list and it took forever to figure out compliant replacements for a few of them. The boys in my house think this is a little spicy, but I love it just the way it is. I use riced cauliflower and sweet potatoes instead of rice, but you could do half and half if you wanted something a little heavier.
Paleo and Whole30 approved!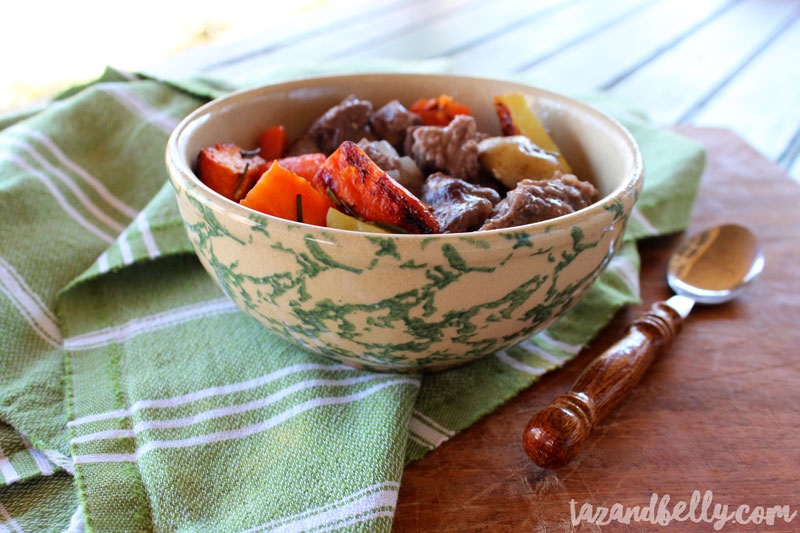 Slow Cooker Beef Stew over Roasted Veggies | Two winters ago, I was craving beef stew and couldn't find anything on Pinterest that was exactly what I wanted. It turns out, I wasn't alone — this is my most frequently pinned recipe on the site. It's a little non-traditional, you cook the beef and sauce in the slow cooker (or a stock pot) and roast the veggies until crispy. Combine them in one bowl and you have the best beef stew ever.
Paleo and Whole30 approved!
---
Now, don't you want to know the best part of this entire post?! Not only do you have twenty-one recipes at your fingertips, but I'm sharing the list in a printable form (you can edit and add your own meals, too!) and a blank monthly calendar for you to plug them into, in whatever order works best for you! Twenty-one meals is the perfect number, leaving you anywhere from seven to ten empty dates to eat dinner out, polish off your leftovers, or plug in a few new meals from your Pinterest recipe board. I'm also sharing a sample meal plan for the month of October, since we've already planned our meals for next month. You can see how we work around leftovers, family functions, holidays and date nights.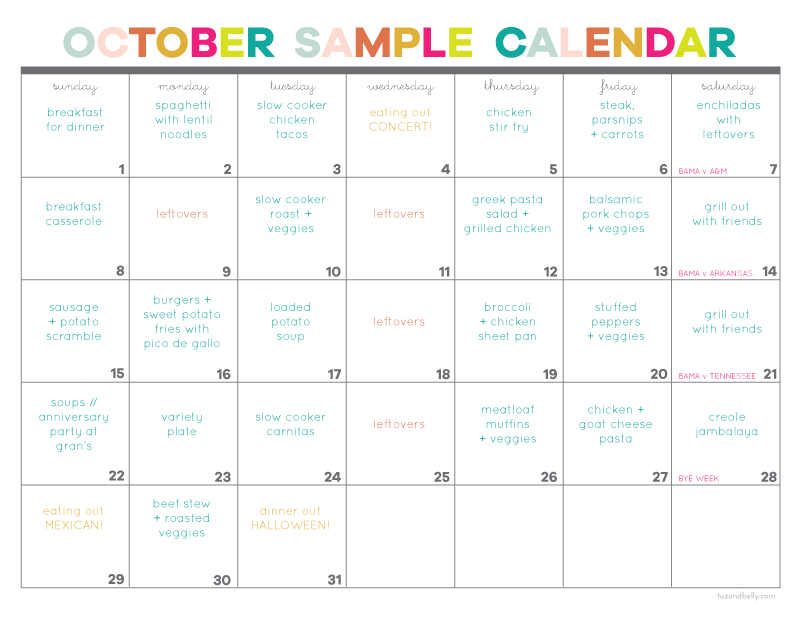 This was so much fun to put together, that I think I'll start working on a second version as we add some new recipes to our rotation. In addition to another round of family friendly meals, I'd love to put together some tips and resources to help you with meal planning. I would love to know what problems you run into or if there is anything, in particular, you would like for me to address. Head to the comments section below and give me all your best ideas!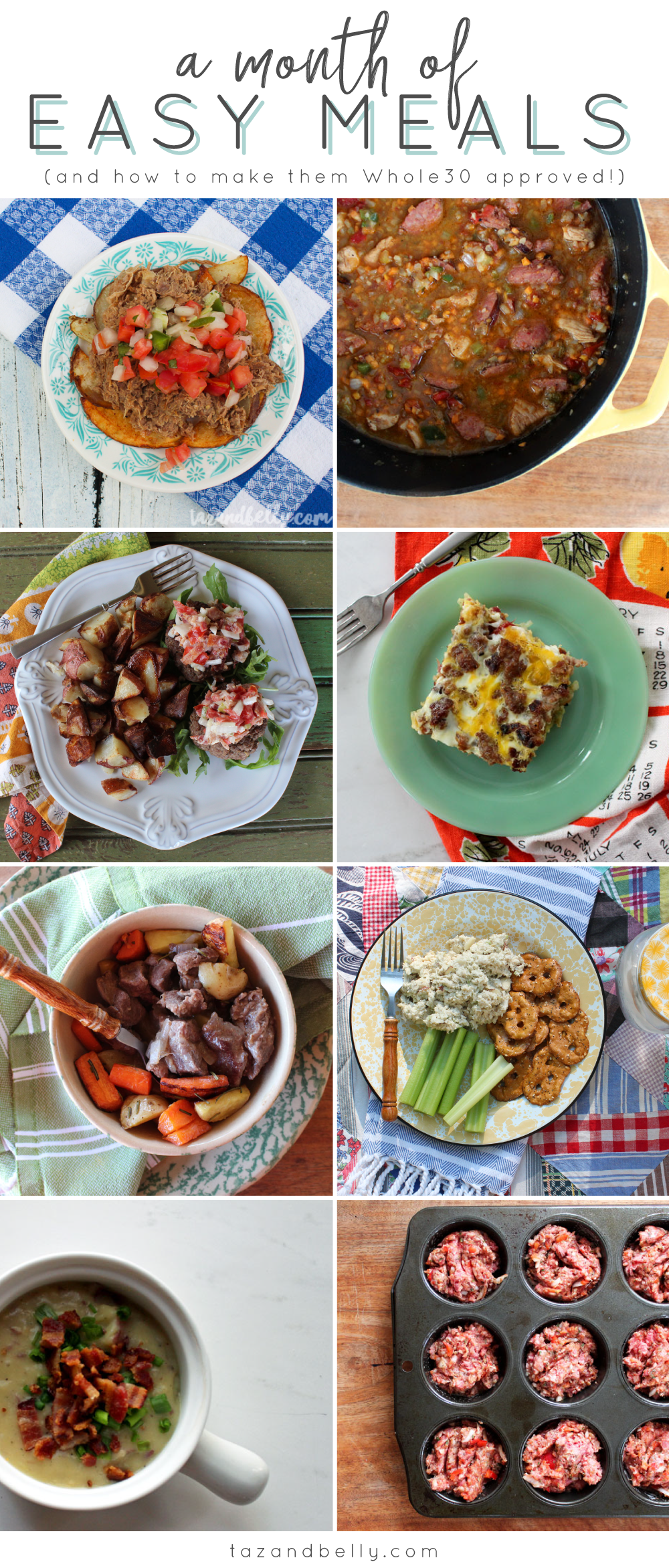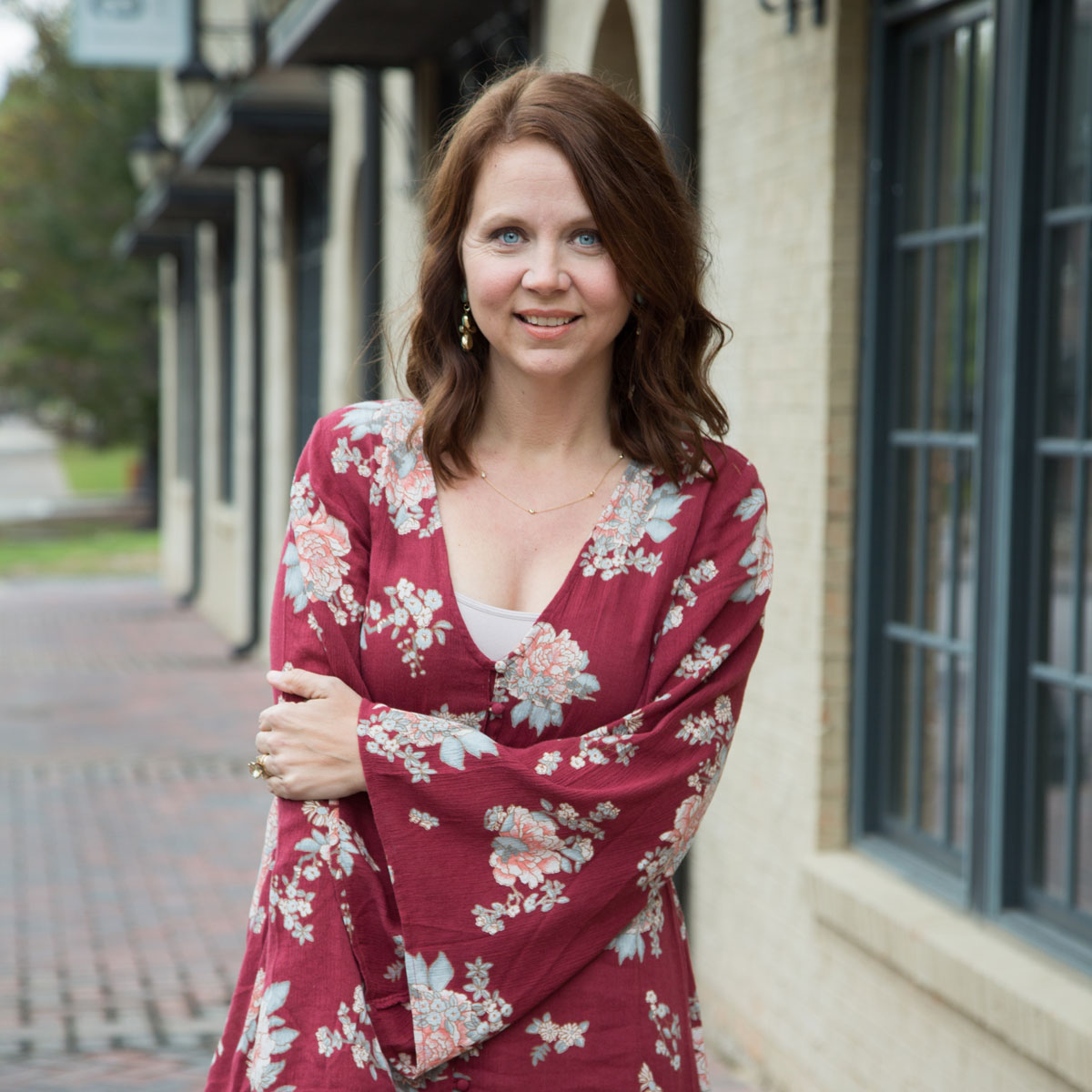 Kristin is married to her high-school sweetheart and the mother to two daughters. Professional by day and creative by night, she is a family lifestyle blogger who writes about faith, family, and fitting it all into a busy schedule. At Taz + Belly, you'll find healthy recipes, children's party ideas, tutorials, DIY projects, and more.
Click Here to Read More About Kristin