I am so excited to share this month's day in the life post because it is finally a link party! We've worked hard to get everything organized over the last few months and are bringing you the fourth edition of The Daily Dime Link Up today. Participation is easy — take ten photographs over the course of a day, blog all about what you were up to, grab a button from this post, link back to one of the hosts, and join us to link up. The link party will be open for two weeks and by sharing your link with us, you are subscribing to an email reminder for the following month's post date.
---

The title of today's post, should really be How to Throw a Golden Birthday Party in Ten Hours! Since Ella's party was a surprise, I couldn't do very much of the work ahead of time. Aside from ordering the cake (and a few paper products), picking up groceries earlier in the week, and stopping by a wholesale florist the night before — almost all of the work had to take place while Ella was at school on Friday. I decided to take the day off of work, because there was no way I could pull everything together in the hour I had after school. My sister photographed the birthday party (because she's amazing) and I shared a few of her shots in my birthday letter on Monday, but I knew I would want to share behind the scenes of how everything came together. Since it was just in time for this month's Daily Dime post, I carried my camera around for most of the day and took pictures as I accomplished most of the big tasks. And since it was her 11th birthday, I'm sharing eleven photos instead of our usual ten. Because: rule breaker.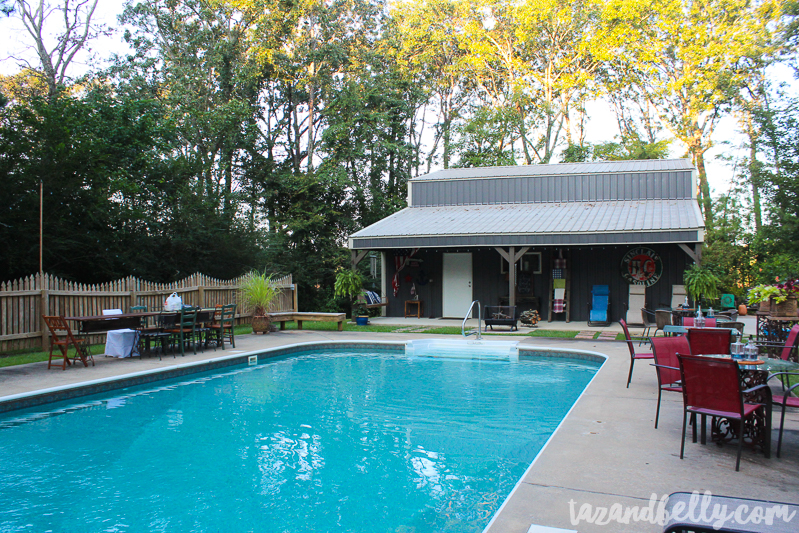 When Ella left for school at 6:50, I walked out to the pool armed with a ton of party supplies, my trusty sidekick, and a very tall cup of coffee. My parents had helped me clean up around the pool the night before, but I had a very long list of things to accomplish before she got home at 3:15.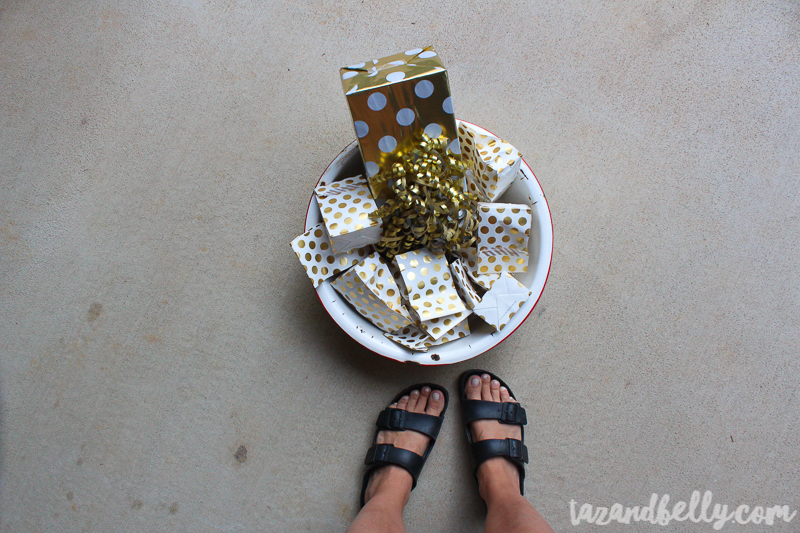 First up was party favors! My sister does some product photography for a wholesale jewelry and accessories company, so she picked up some adorable necklaces for the girls the week before. They are dainty, sideways crosses (similar to these), and I wrapped them in gold tissue and put them in these cute dotted bags. The only thing Ella requested for her birthday was a pair of brown, leather Birkenstock sandals, so I wrapped those while I had all of my gold party supplies strewn about.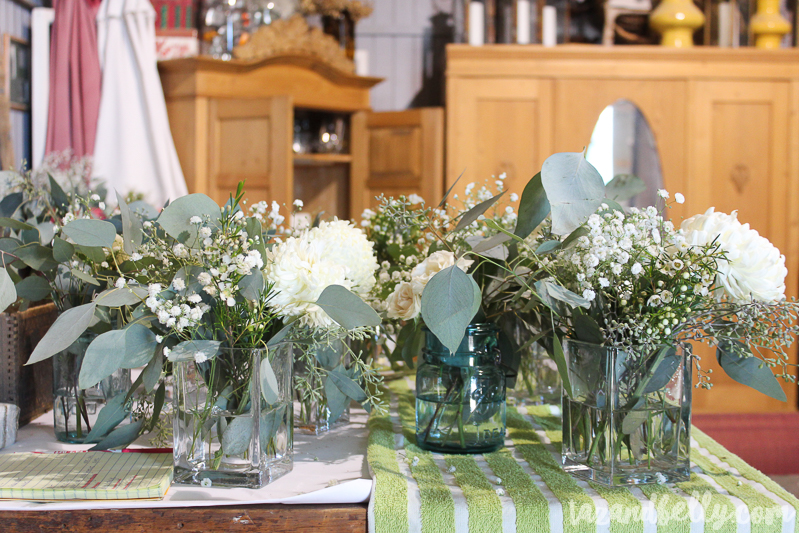 My sister met me at a wholesale florist the night before to pick up flowers. I knew I wanted lots of eucalyptus and white flowers, but beyond that I didn't have much of a plan. Aside from food, this was the only thing I had to purchase, so I spent the bulk of my party budget there. In addition to seeded and silver dollar eucalyptus, I grabbed wax flower, babies breath, spider mums, and miniature roses. I used a variety of small vases and vessels and made sixteen small arrangements. I had a ton of the eucalyptus and babies breath left over, so I made two huge arrangements with them for the drink station. I was super happy with how these turned out and they still smell delicious. In fact, I was surrounded by them on my dining room table while I wrote this post.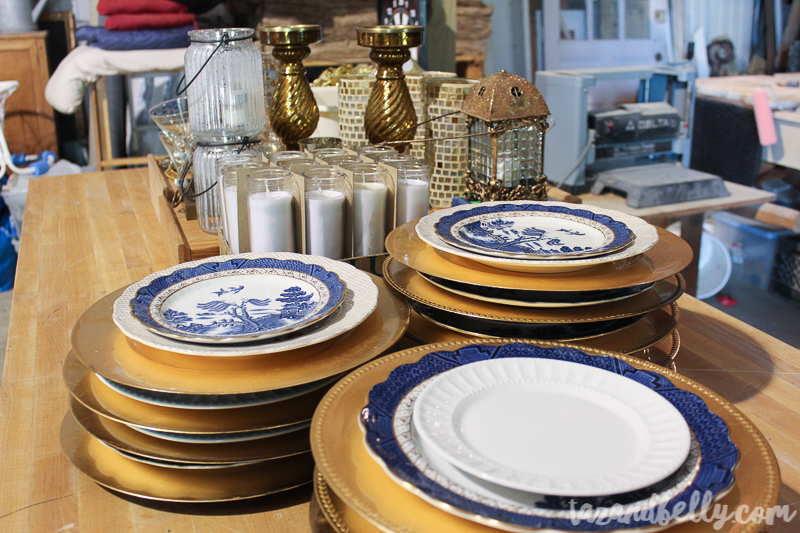 My mom and I had been stashing all of our gold party ware on the barn tables for several days, so I spent some time pulling together place settings and choosing my favorite pieces for the table. I wanted the place settings to be similar in color and style, but I didn't want them all to look the same. I can't wait for you to see them in the photographs my sister took, because the collected look was BEAUTIFUL. Since I couldn't set the table until after Ella came home from school and then left for her eleven year old portraits (our plan to get her out of the house), I went ahead and put them together and stacked them for easy assembly after she was gone!
I had planned to use white tablecloths and chair covers, but they didn't fit a few of my chairs and I actually loved how fun the mix and match look looked. I just used sheer, gold tablecloths and white napkins instead, and it turned out much better than I could have planned.
I didn't take a ton of pictures during the afternoon, because it was madness around here. I ran errands while the dog was asleep — I picked up the birthday cake from Dairy Queen (yes, I did), European dessert trays from Publix, and had our giant birthday number balloons aired up. After I got home, I cooked homemade alfredo for thirty guests (this is my favorite recipe), and got Ella ready for her photo shoot. I swear, one minute it was ten o'clock in the morning, and the next time I checked the clock, party guests were walking down our drive!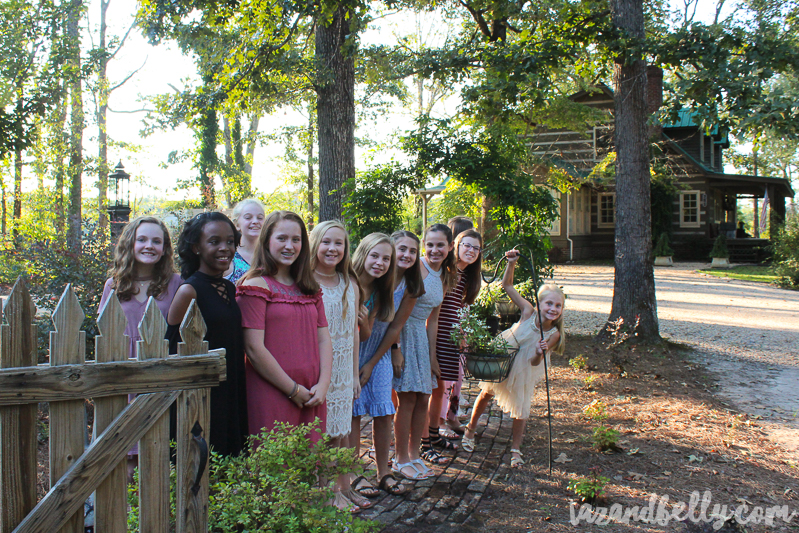 The girls from Ella's dance team arrived about fifteen minutes before she did and we had them lined up on the walkway by the pool. I was a nervous wreck that she wouldn't be surprised or that we would have some last minute tragedy to ruin everything. As luck would have it, the UPS delivery man pulled in immediately before my sister and we all got a great laugh. I hate that his big brown truck is right in the middle of our video, but he did manage to block her view for most of the drive, making the reveal even better. She was so surprised and was sobbing when she got out of the car. The girls all gave her big hugs and told her how pretty she looked and we all laughed at her bare feet! Apparently, photoshoots are exhausting and blister-inducing and she was done with shoes by that point.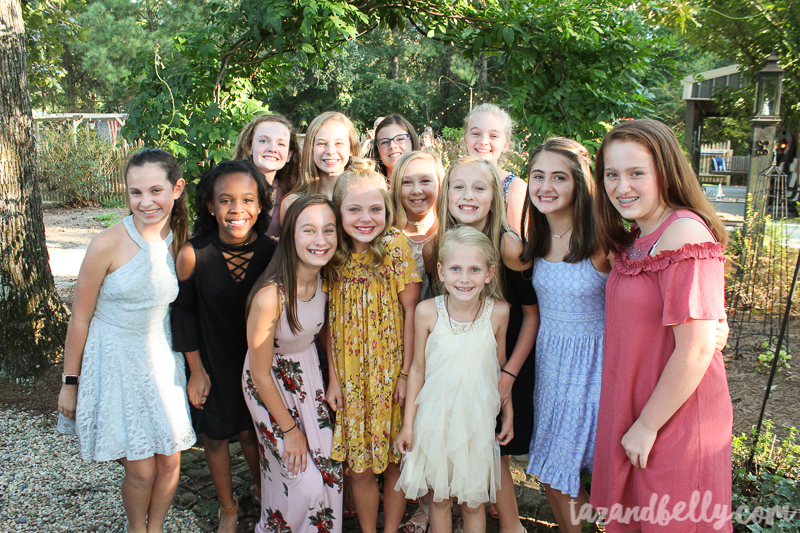 I didn't get many pictures during dinner, because we were plating salads and pasta and refilling drinks. The girls were darling and had the cutest conversations while they ate. Having a sit down dinner affair turned out perfectly and I'm so glad this is what we decided for her celebration.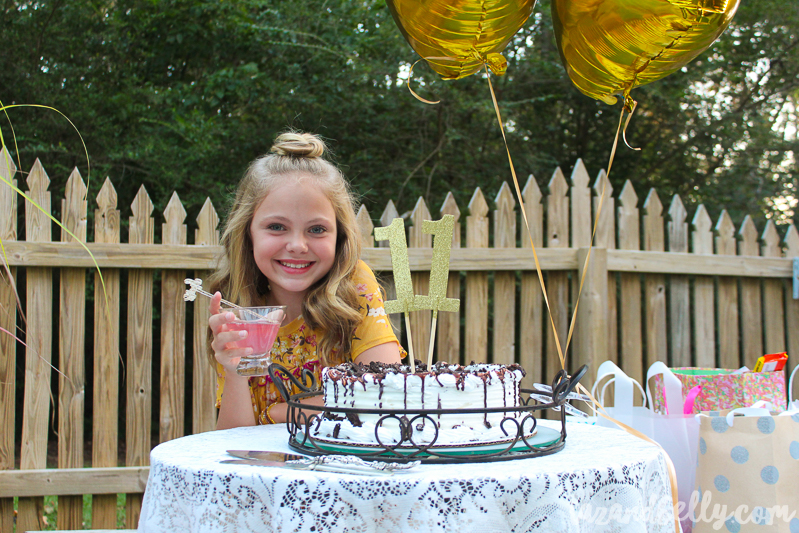 Opening gifts is always a highlight, so the girls took a break from eating to dig through the gift bags. She was super excited about her Birks and since she was barefoot, she wore those for the rest of the night. This blondie hat was one of her favorites, so she had to try it on for the camera.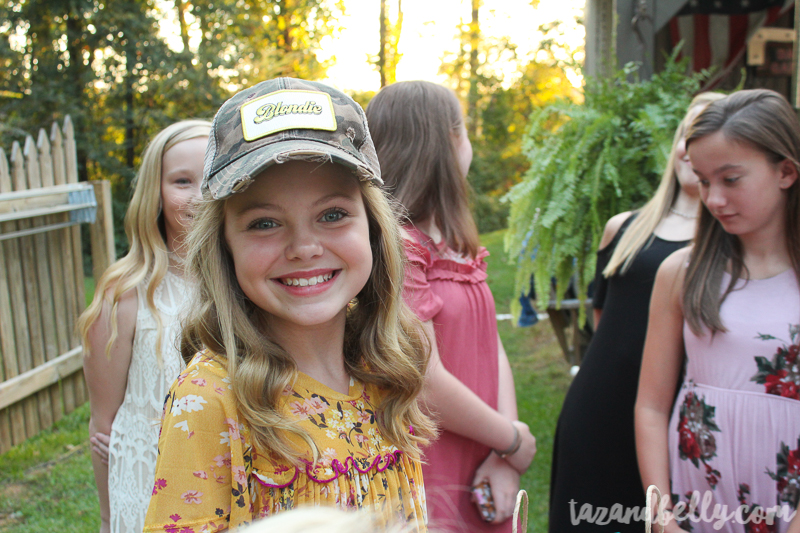 We served a fun mocktail with our birthday cake (strawberry lemonade + sparkling white grape juice) and the girls thought they were so cute making toasts and clinking glasses. They sat here and enjoyed dessert until the sun sank behind the barn.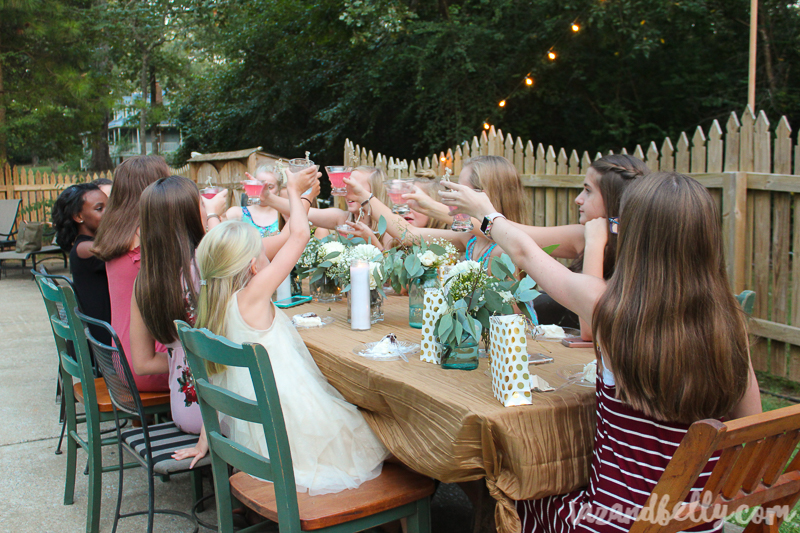 While the girls changed clothes and played flashlight tag and hide-and-go-seek (because it ended up being way too cold to swim), the mamas enjoyed their dessert around the fire pit and enjoyed plenty of adult conversation. I love my fellow dance mamas so much and I was thrilled that so many of them stayed to celebrate with us. This age of drop off parties is super weird to me, so I was glad for some company!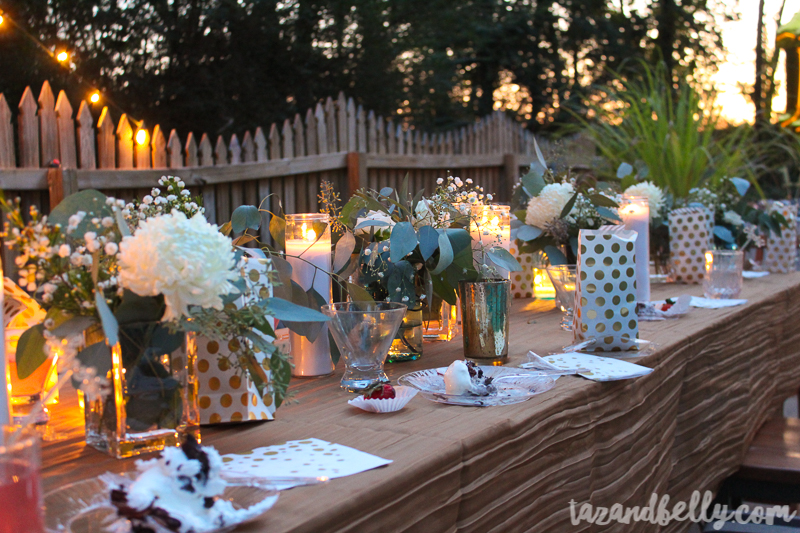 I'm not the greatest low-light photographer, but I had to try and capture a few photos of our pretty table after dark. I'm so glad I ditched the linens last minute, because I couldn't love this more.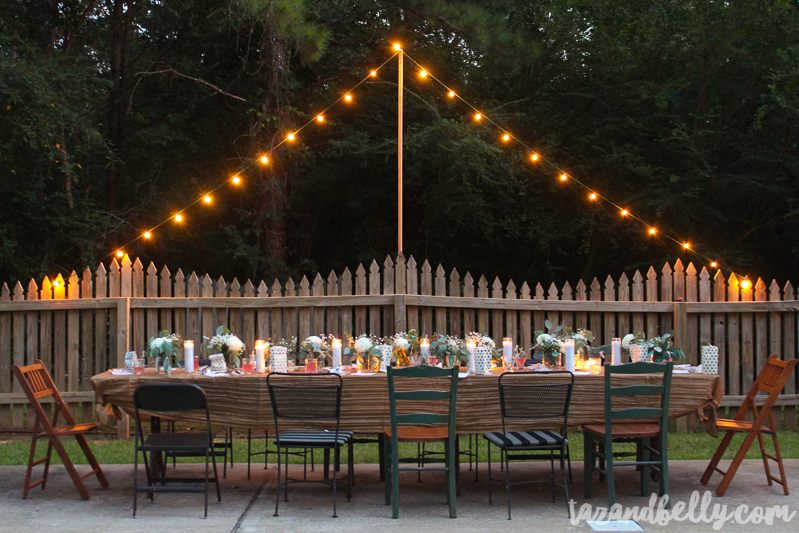 It was such a perfect day and even though I was exhausted, I managed to sit by the fire drinking coffee with Josh and my parents for hours after the girls went to bed. I always love talking about party details and going over my favorite moments of the day and this one might reign supreme for quite some time. Surprising your best girls is pretty much the best thing ever.
---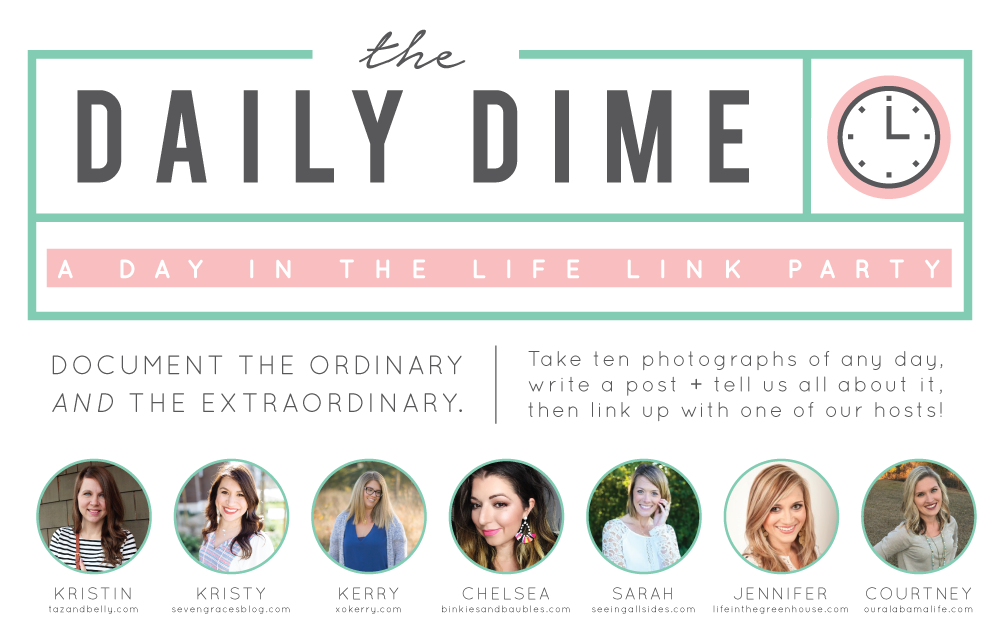 Now it's time to party — add your link to the widget below and link back to one of our hosts. Next month, we'll be linking up on Wednesday, October 18th. If you aren't able to link up with us this month, sign up here to get a reminder for next month's post. If you share on social media today, use the hashtag #thedailydimelinkup so we can stop by and say hello.
This month's guest host is Jacqui, from Drink the Day. Be sure to visit and give her lots of love today!

Don't forget to visit our monthly hosts and check out all the links in the widget below. Do you want to guest host for October?! Let me know in the comments today and I'll be in touch.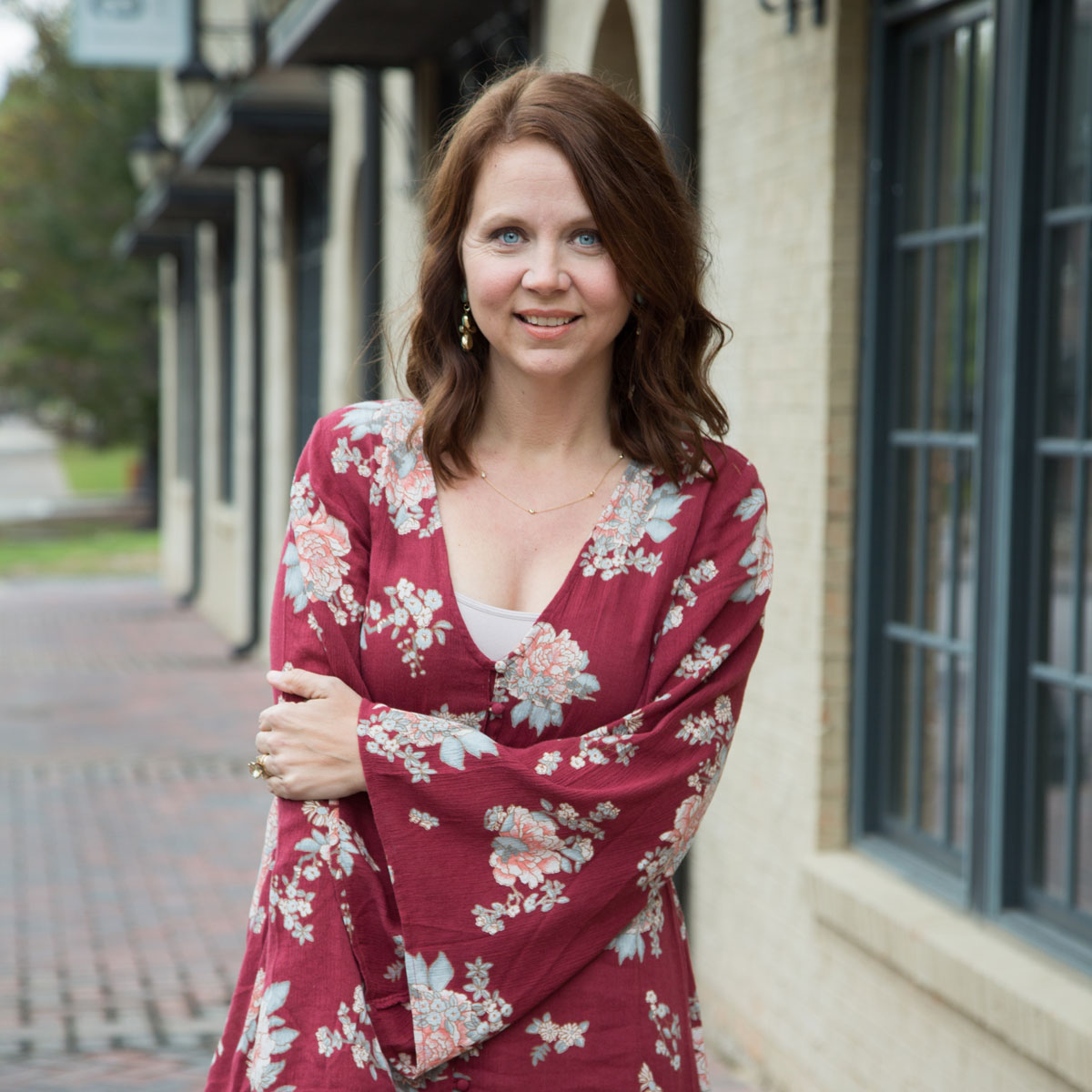 Kristin is married to her high-school sweetheart and the mother to two daughters. Professional by day and creative by night, she is a family lifestyle blogger who writes about faith, family, and fitting it all into a busy schedule. At Taz + Belly, you'll find healthy recipes, children's party ideas, tutorials, DIY projects, and more.
Click Here to Read More About Kristin