Disclosure: Affiliate links appear in this post. Any purchases made using these links will earn Taz + Belly a small commission. You can read more about our affiliate relationships here.
---

Because if you can't have a Skincare Saturday post, why not a Skincare Monday?!
I'm two months into this Beautycounter journey and, so far, it's been a fun one. My first full month was fantastic — at least by my own standards — but I've been a little overwhelmed during August and haven't gotten to devote as much time to the business side of things. For that reason, the two paychecks barely resembled one another. I'm still trying to figure out the delicate balance of sharing product with you, without turning this into a marketing pitch, so I'd love for you to check in occasionally and let me know how I'm doing. The thing I hate about ignoring BC for much of this month, is that we had some amazing product launches and incentives that I haven't had a chance to share with you. I'm getting ready to order this makeup regimen for myself, so I thought I share it with you as I made my color selections.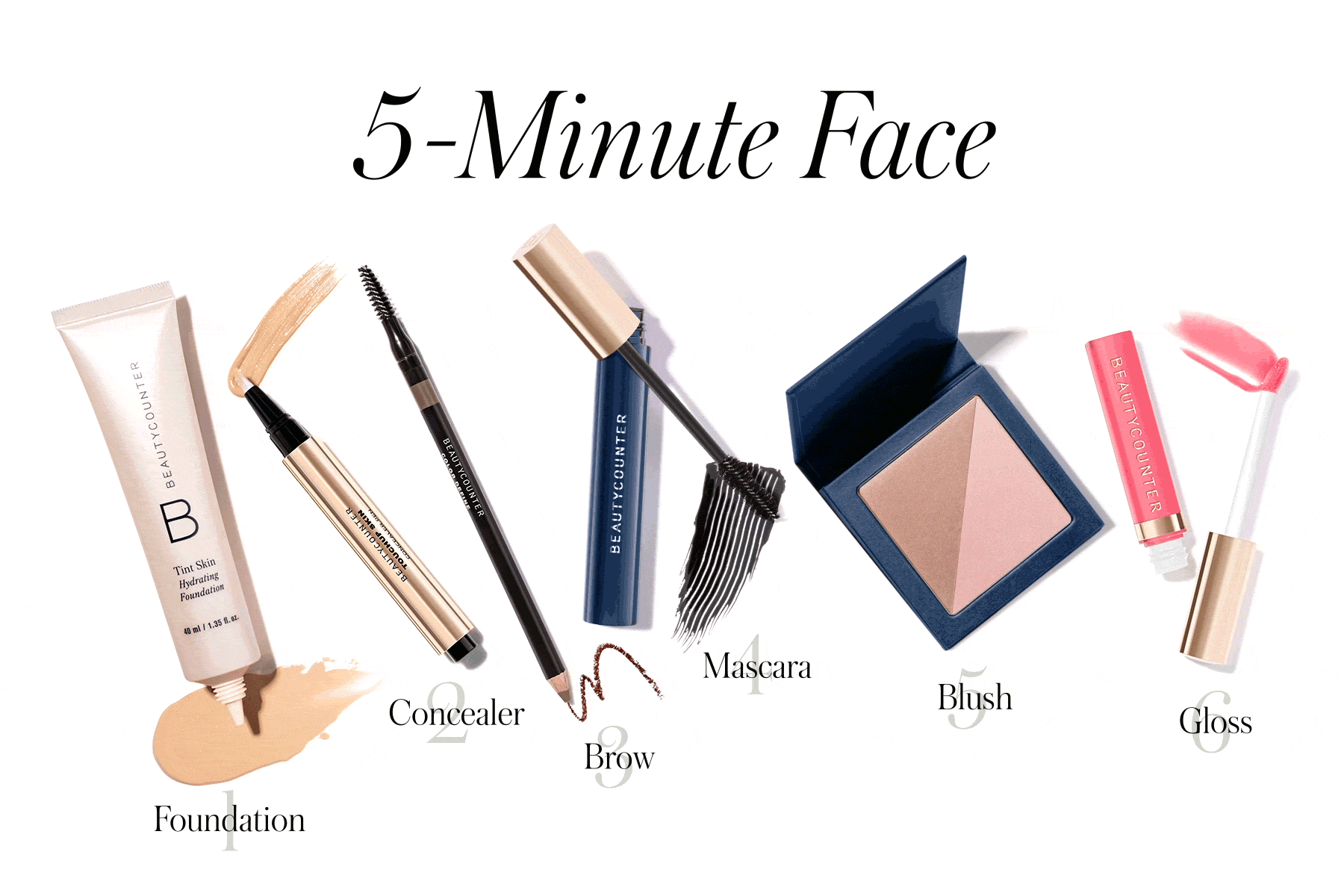 Beautycounter's new Five Minute Face includes six safer, high-performing products: Tint Skin Hydrating Foundation, Touchup Skin Concealer Pen, Color Define Brow Pencil, Lengthening or Volumizing Mascara, Powder Blush Duo, and Lip Gloss — a $194 value, for only $148.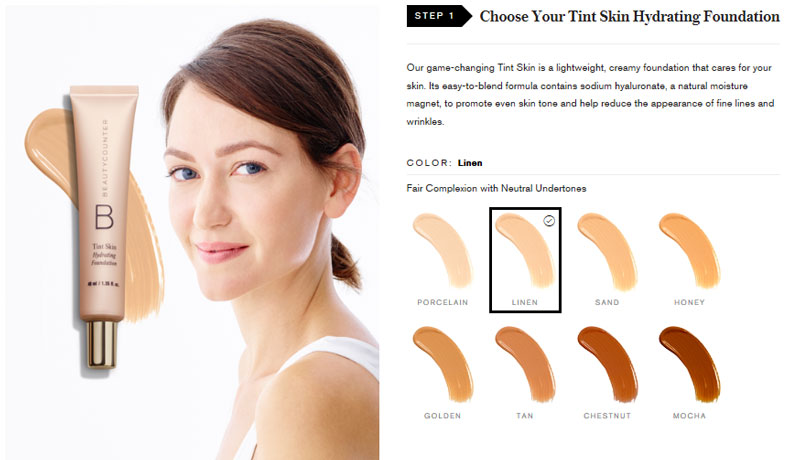 First up, select the tint skin foundation color that most closely resembles your complexion. The linen shade is for fair skin with neutral undertones — the other fair skin products are for rosy or yellow complexions and I have neither of those! This product is highly blendable and can be applied with a round foundation brush for light coverage or a flat brush to build medium to heavy coverage.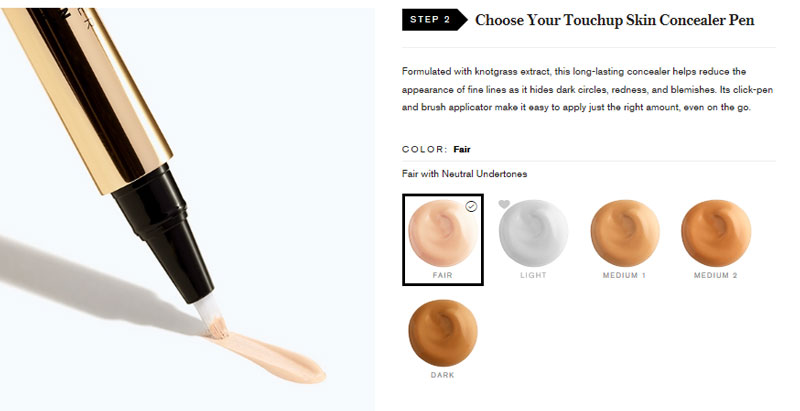 I've been using a pot of concealer for months, that I apply with my fingertip, but I've heard such great things about this pen can't wait to give it a try. Formulated to hide dark circles, redness, and other imperfections, the click-pen and brush applicator make it easy to apply the perfect amount — even on the go.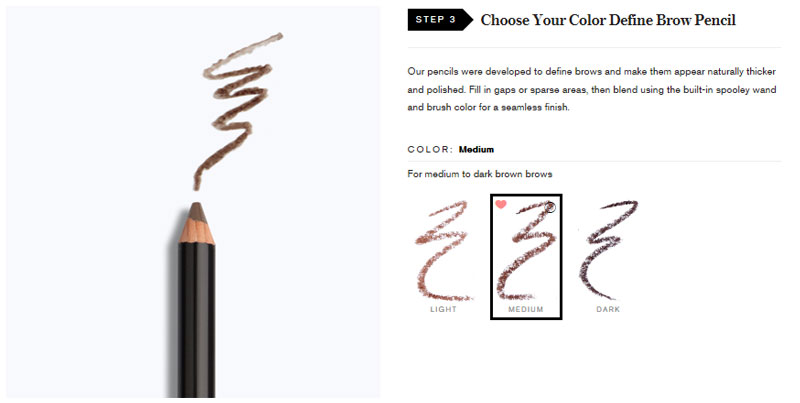 I've only recently started using a brow pencil, but it is a game changer! I have super light eyebrows, so now that I'm sporting darker hair, it looks more natural for me to fill them in a bit. This pencil goes on so smooth and blends in easily with the built-in wand brush.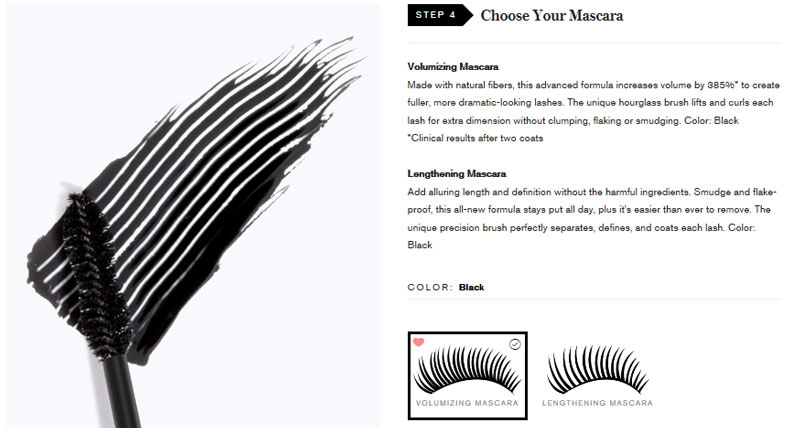 I've told you before that I'm a huge fan of Beautycounter mascara, but the formula has recently changed and it's now better than ever. A new version of the lengthening mascara is still available, but I can't wait to try the new volumizing formula. Made with natural fibers, it increases volume by up to 385% to create fuller, more dramatic looking lashes.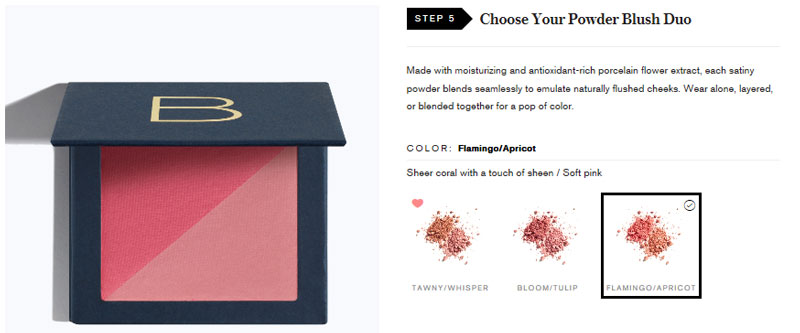 Before the 5 Minute Face, I have only used the cream blusher, but I love the idea of having two different shades to use or even mixing the two for a third shade. The tawny/whisper color was recommended for my skin tone, but I couldn't resist the flamingo/apricot duo — how pretty is this pink?!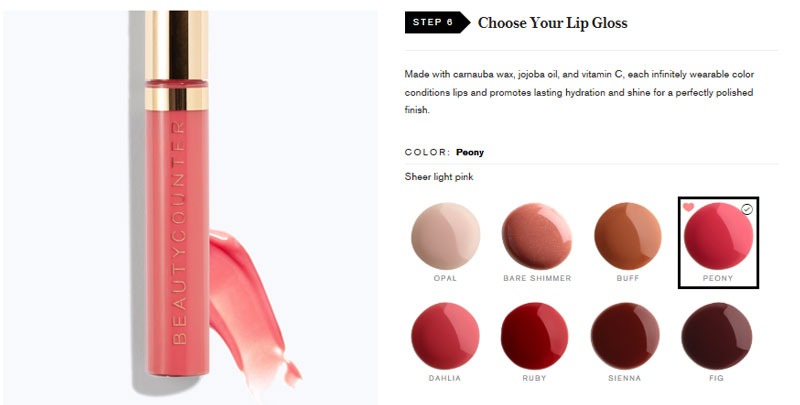 The last product in this six pack of products is the Beautycounter Lip Gloss. With eight colors to choose from, this gloss goes on smooth and leaves no sticky residue. I can see myself in so many of these colors (hello, Ruby, for football season), but the peony pink was a fast favorite.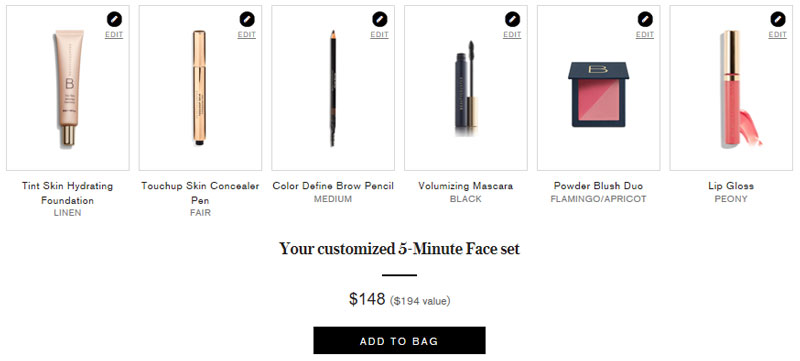 Once you've selected your shades for each product, you'll see a preview of your customized 5 Minute Face, which you can change or confirm before adding it to your bag. Easy peasy!
One of my favorite things about Beautycounter is that there is always a fantastic incentive to purchase product. Right now, you can get the Matte Bronzer No. 1 and an Angled Blush Brush FOR FREE, with any $150 purchase. So, grab the 5 Minute Face and my favorite Peppermint Lip Conditioner and get these pretty goodies for zero dollars!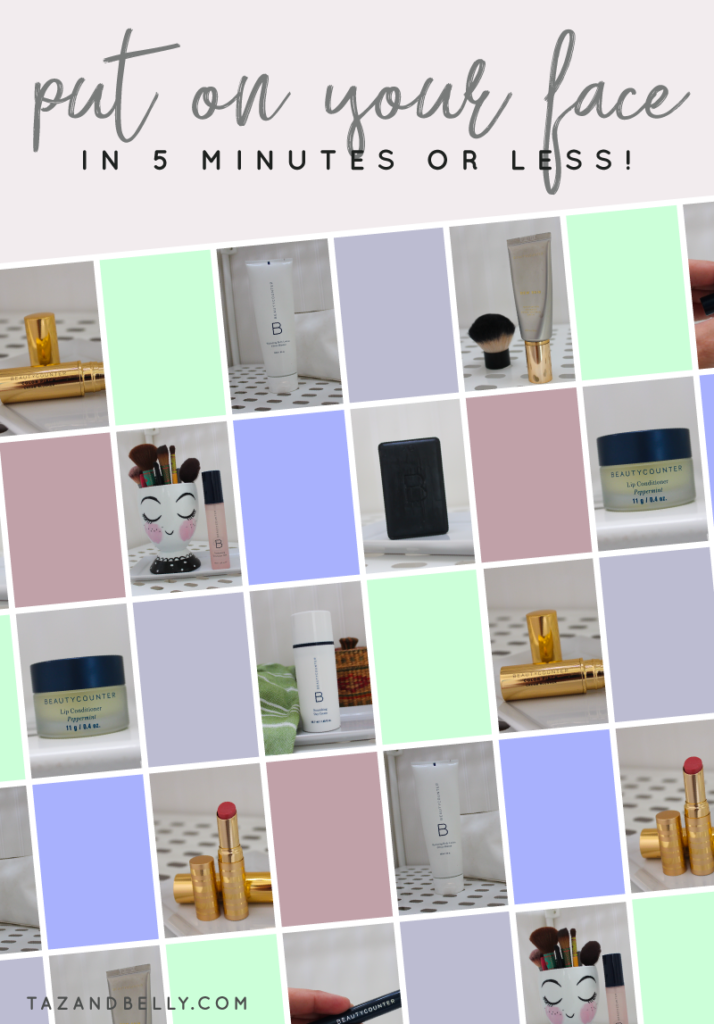 ---
Don't forget to join my Daily Facebook Group, where I'll be sharing weekly blog posts, fun finds, and all the beauty deals I can find, starting September 1st!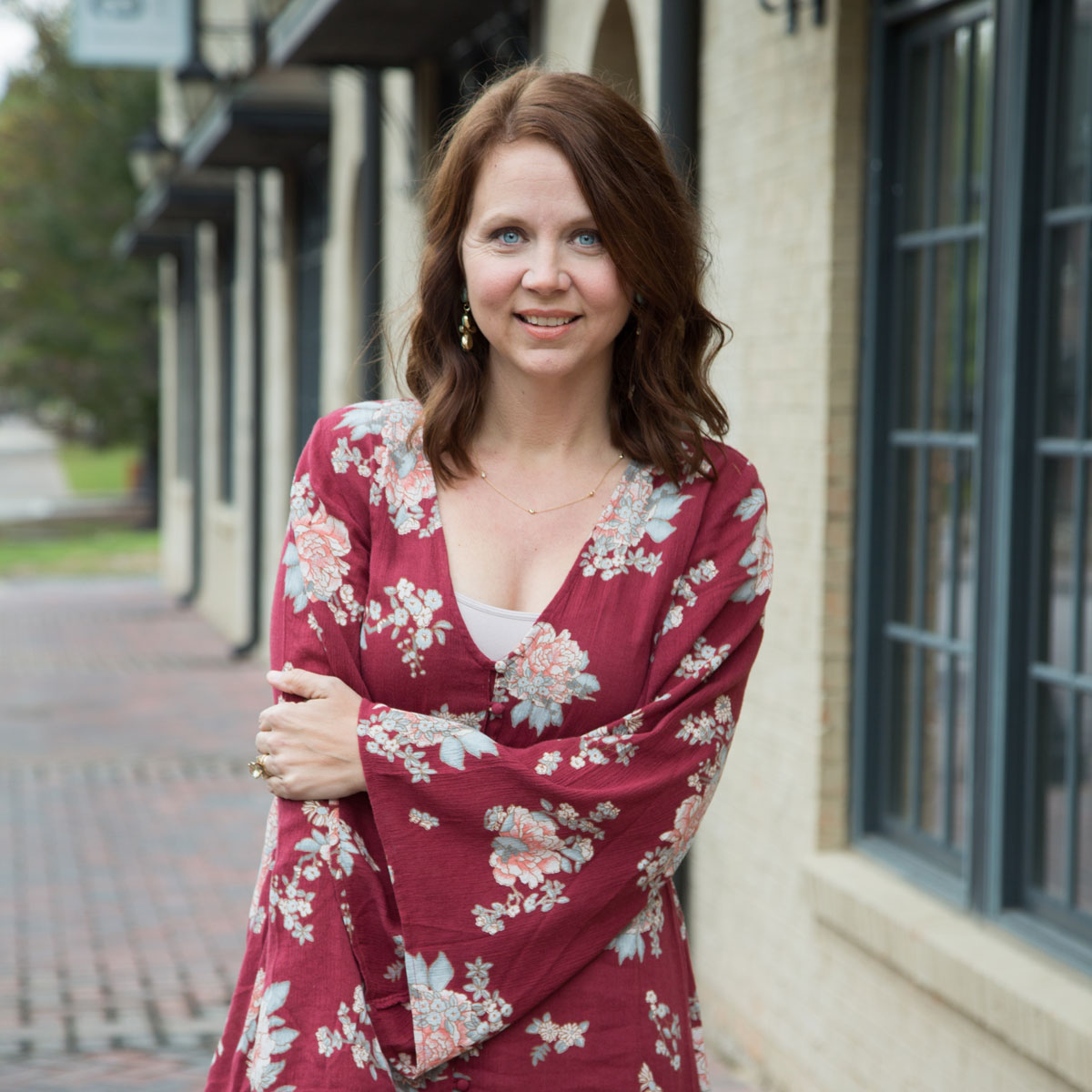 Kristin is married to her high-school sweetheart and the mother to two daughters. Professional by day and creative by night, she is a family lifestyle blogger who writes about faith, family, and fitting it all into a busy schedule. At Taz + Belly, you'll find healthy recipes, children's party ideas, tutorials, DIY projects, and more.
Click Here to Read More About Kristin