Disclosure: Affiliate links appear in this post. Any purchases made using these links will earn Taz + Belly a small commission. You can read more about our affiliate relationships here.
---
After talking to so many of you via text message, email, and in the comments section, I'm excited to introduce a new weekend series here on the blog. Let's reflect on the number of weekend series I've attempted to stick with for just a moment… wait, let's not do that after all. It might give you the impression that this doesn't have staying power!
One of the things I want to be the most conscious about when sharing natural beauty finds, is not to replace my regular content. Instead, I'll be sharing some of my favorite personal care products, a few Saturdays each month. If natural and non-toxic products are your jam — then head over to chat while you drink your Saturday morning coffee. Not a fan of better beauty? Just skip right over and join us for a weekend recap on Monday morning instead. No biggie.

One of the biggest questions I get regarding natural and non-toxic skincare is in regards to deodorant. I think I scared a few of you away when I mentioned the need to detox from traditional deodorants, but don't let that scare you. After a few weeks of paying my pits a ridiculous amount of attention, I'm a total convert when it comes to deodorant and SO ARE MY CHILDREN. Keep reading for all the dirty details!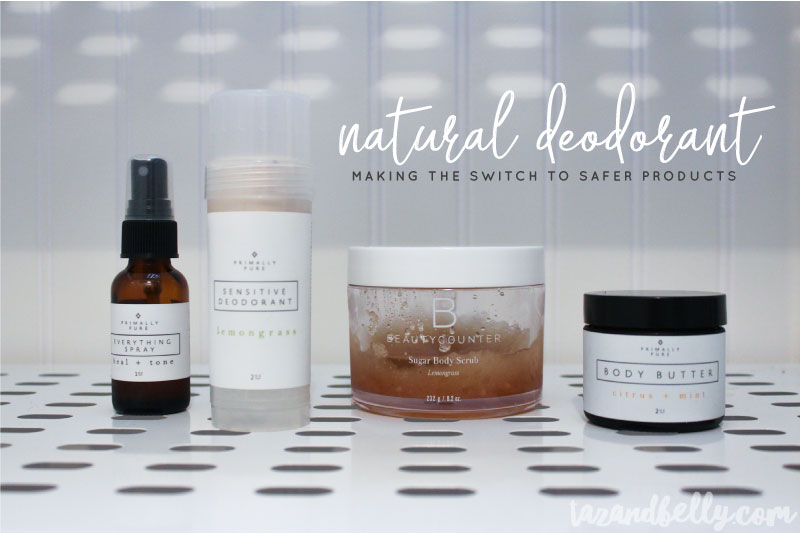 I've tried several different products in my search for the perfect paste and they all failed me for one reason or another. Tom's was a decent option, but not as clean as I would prefer. I picked up an unscented version of Schmidt's and realized that scent is where it's at. Guys, if you don't apply a smell you will create your own and it's not good. Pinky promise. I've tried this scented version of Schmidt's, too, and while it isn't my favorite, I can pick it up locally when we run out of the good stuff. It's a decent substitute in a pinch and I can keep it under my counter as a back up version. Because, I will inevitably forget to order replacement sticks before we're scraping the bottom of the barrel.
Primally Pure was one of the very first natural deodorants I became aware of and it turns out it would be my absolute favorite. Yes, they sent us a box of goodies to try out a few months ago, but they aren't sponsoring this post and don't even offer affiliate links. I am giving free and important information that will change your life!
I started with this version in the Tea Tree scent and immediately noticed some problems under my arms. I read their post on using natural deodorant and realized that I was either having a major reaction to the baking soda content or my body was freaking out over the removal of all the junk in drugstore brand deodorants. Either way, I needed major help and I found it in a few other products.
1 | Primally Pure Sensitive Deodorant Formula: This deodorant is the sensitive counterpart to the first version I tried. I ordered this one in Lemongrass and it is our favorite scent in all the land. The girls think it smells like Fruit Loops and after stealing my deodorant for weeks and constantly requesting to "use your good deodorant," I ordered them both a stick of their very own. Yes, it's pricey to order three $12 deodorants at once, but we all think it's worth every penny. Made with a smaller amount of baking soda (some people can be especially sensitive, particularly when making the initial switch), the sensitive version contains kaolin clay (detoxifies) and non-nano zinc oxide (helps to prevent odor — yassssss), and doesn't contain any of those toxic chemicals found in conventional deodorants. Beware, this deodorant is not an antiperspirant, so you'll need to get used to a little bit of sweat. Spoiler alert: sweat is actually super good for you — it's your body's natural and necessary detoxification process! The deodorant itself is a bit pastier than what you might be used to and you don't need nearly as much (try one to two quick swipes). I find that it lasts all day, even after my Orangetheory workout.
2 | Beautycounter Sugar Body Scrub: Guess what? This body scrub is also in the Lemongrass scent! Are you sensing a theme? I won this full sized body scrub back in March when I attended my first Beautycounter social. I initially balked at the $40 price tag, but since I've been using it for almost five months and still have almost half a tub, I'm going to call it a win. BC recommends using it in the shower, as an exfoliator, to polish away rough skin. I do love using it on my legs after I shave and it's great for dry and cracked feet, BUT I love using it under my arms, too. Is that weird? One of the problems I noticed when using the original deodorant formula was that my pores seemed clogged, which led to breakouts. I'm not sure if it was the baking soda or a detox process, but either way, I felt like the sugar scrub helped. I used about half a tablespoon under each arm and rubbed it thoroughly before rinsing. I no longer have to use it daily, but I do use it once or twice a week and I'm convinced it makes a huge difference in how my body reacts to the ingredients in natural deodorants.
3 | Primally Pure Body Butter: This body butter is so light and fluffy and moisturizing — you need it in your life. I use this for several different things, but it was so soothing as I adjusted to my new deodorant. I applied it immediately after my shower in the evenings and then waited to apply deodorant the following morning. It helped my skin heal from the initial reaction and kept my underarms from being too dry.
4 | Primally Pure Everything Spray: I'll admit to being skeptical of this product and not knowing how in the world I would use it (it came free in a bundle that I received from PP), so I let it sit on my counter for weeks. When I started having a reaction after switching deodorants, I remember reading that it was good for razor burn and wondered if it would help with the underarm irritation, too. After applying the body butter in the evenings, I sprayed my underarms with this spray. It's cool and refreshing and helped with any burning or irritation I experienced after shaving my already sensitive armpits. When I first ditched conventional deodorants, I would even use this every other day instead of deodorant, just to give my skin a break. It has a light, fruity scent and was just enough to keep me smelling fresh. I'm not sure I would recommend it for the gym or a day at the beach, but for a day with an average level of activity, it worked great! Bonus points for being perfect for bikini line razor burn.
Maybe that seems like a lot of steps for deodorant, but I've found that once I got through that initial transition period, my body is completely cool with the sensitive formula and I rarely have to use the other products. For 2-3 weeks, I used each of them daily (unless I was skipping deo for the day) and now I'm using the three accompanying products 1-2x weekly. I've been using natural deodorant for almost six months and I can honestly say, I'll never go back. I haven't had any problems with sweat or deodorant stains on my clothes, the scents are all light and fresh, and I'm protecting myself from all sorts of nasty chemicals present in conventional deodorants.
For those curious about whether or not the girls experienced any adverse reactions to the sensitive deodorant, the answer is no! I think part of it was that they haven't been exposed to other, more harmful, products for nearly as long as I had and that we started them both on the sensitive formula first. I love that they are getting used to natural and non-toxic products from an early age, because they won't have to go through torture — and expense — of sourcing better brands.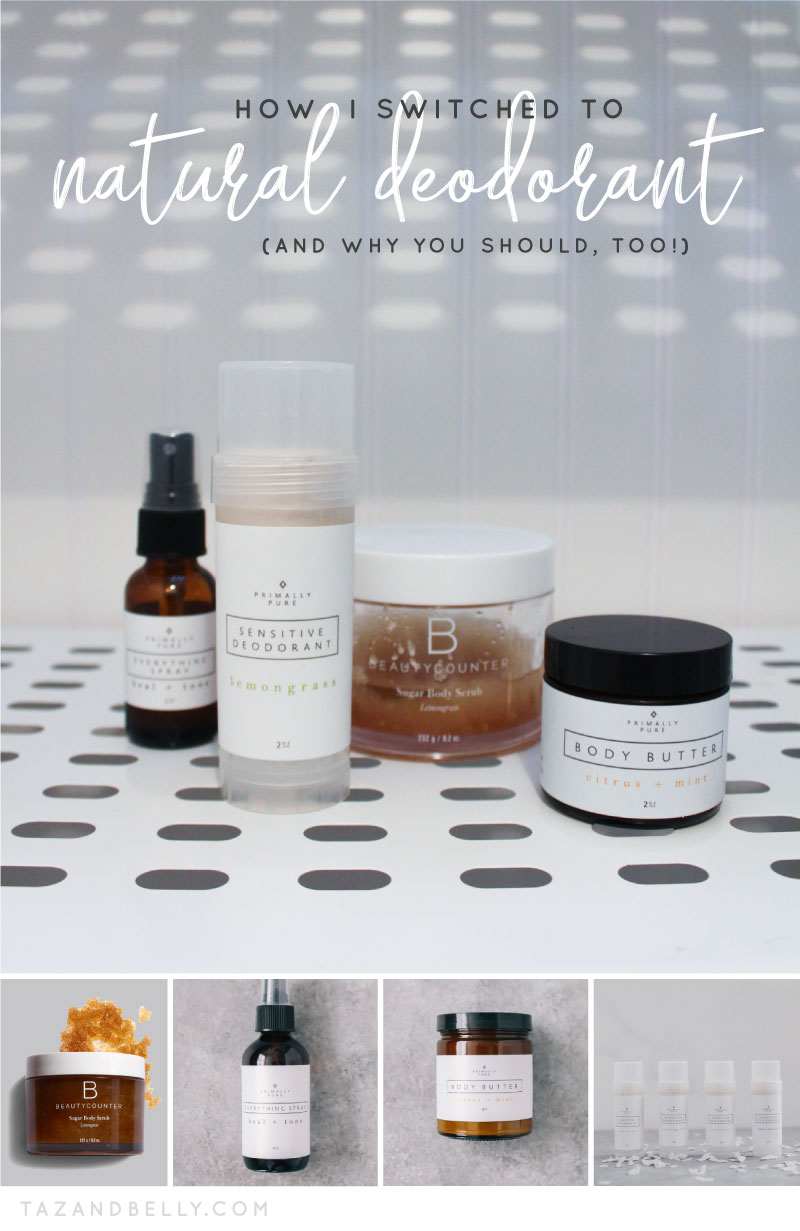 I'm not sure I'll share personal care products here every week, but be on the lookout for more of my favorites later in the month. Happy Skincare Saturday!

---
I've had a Facebook page for the blog for quite some time, but I am horrible about remembering to update it and the characteristics of a page versus a group make interacting so much more difficult. I've been toying around with the idea of creating a group instead and I think it would be a great place to share daily information about products I'm loving, what we're up to, and more behind the scenes action. In an effort to keep allthemakeup off of my main social media feeds and limit it here on the blog, I thought the Facebook group would also be a great place to keep you posted on Beautycounter specials, deals, and giveaways. I would love, love, love for you to join and I'll start sharing more info there soon! Click the banner below to join.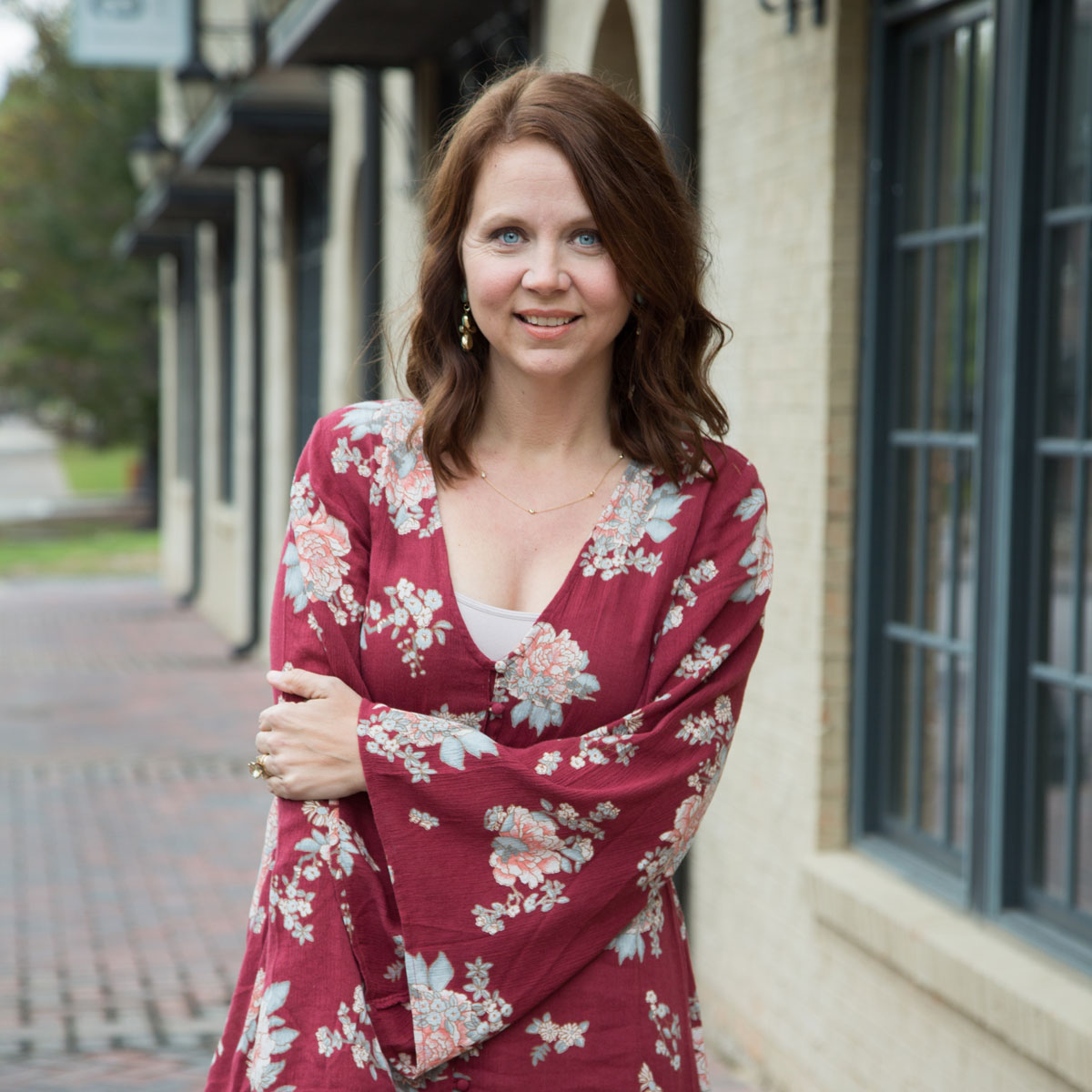 Kristin is married to her high-school sweetheart and the mother to two daughters. Professional by day and creative by night, she is a family lifestyle blogger who writes about faith, family, and fitting it all into a busy schedule. At Taz + Belly, you'll find healthy recipes, children's party ideas, tutorials, DIY projects, and more.
Click Here to Read More About Kristin