I am so excited to share this month's day in the life post because it is finally a link party! We've worked hard to get everything organized over the last few months and are bringing you the second edition of The Daily Dime Link Up today. Participation is easy — take ten photographs over the course of a day, blog all about your day, grab a button from this post, link back to one of the hosts, and join us to link up. The link party will be open for two weeks and by sharing your link with us, you are subscribing to an email reminder for the following month's post date.
---

Remember last month when I told you that I was sharing an atypical day? It was atypical, because my kids are rarely ever out of town without me and I can't remember the last time I had a day completely to myself. Well, it happened again. Josh's parents decided to head to the beach for a week and we hadn't made any plans to join them. I'm trying to save my remaining vacation days for our anniversary trip and the Christmas holidays, so I didn't want to take off from work and since the puppy isn't fully vaccinated, we can't board her or leave her with another pet owner just yet. Ultimately, I decided to take one for the team and stay behind to care for her. Josh and the girls were only gone for a few days, but it was super relaxing and I didn't do anything even remotely productive. Wanna see?
This month's Daily Dime post is brought to you by my trusty iPhone and Instagram Stories. Because, July got away from me and I didn't feel like carting my big girl camera to Orangetheory and the pet store!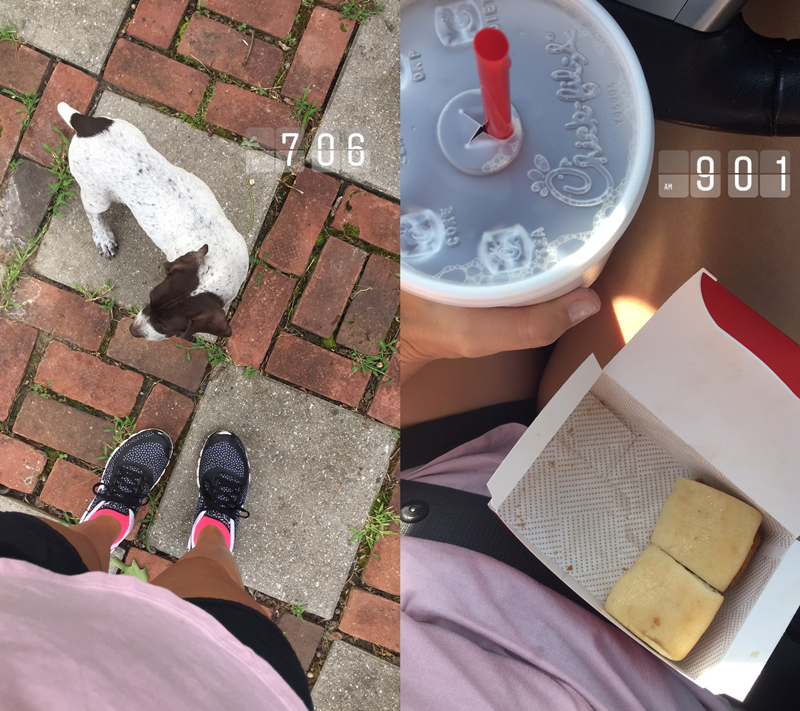 Saturday morning workouts are one of my favorite things. It's hard to motivate yourself to get up early and get out of the door, but I always feel so accomplished after it's over. The earliest class my studio offers is at 7:45, so I usually get to sleep a little late and still make it home by 9:30 if I don't have any other errands to run. I got the dog up pretty early to play outside for a few hours, so I decided to make the most of my time while she was crated. My workout was great and I followed it up with a little trip to Chick-fil-A (I know, I know) and then headed to the pet store and TJMaxx. We decided to add a second crate upstairs so that Josh can crate Scoop during the day some without her being in his office and I needed to pick up a few extra toys for outside. The TJMaxx trip was completely frivolous, but I needed a few new workout tanks and I wanted to see if I could find any cute tops for our Denver trip next month.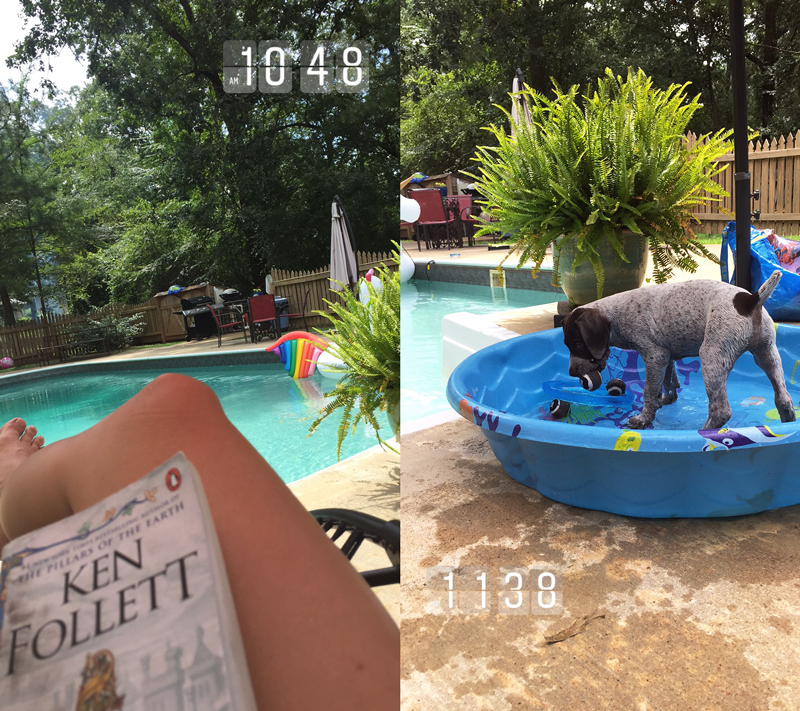 The puppy was ready to be outside by the time I got home, so we pretty much did this all day long. I read a huge chunk of my (thousand page) book and let her run around outside. I picked up a kiddie pool a few weekends ago and it's been a HUGE hit. It keeps her out of the big pool and out of trouble, but gives her a spot to cool down and a place to corral all of her toys. Pet owner win, right there!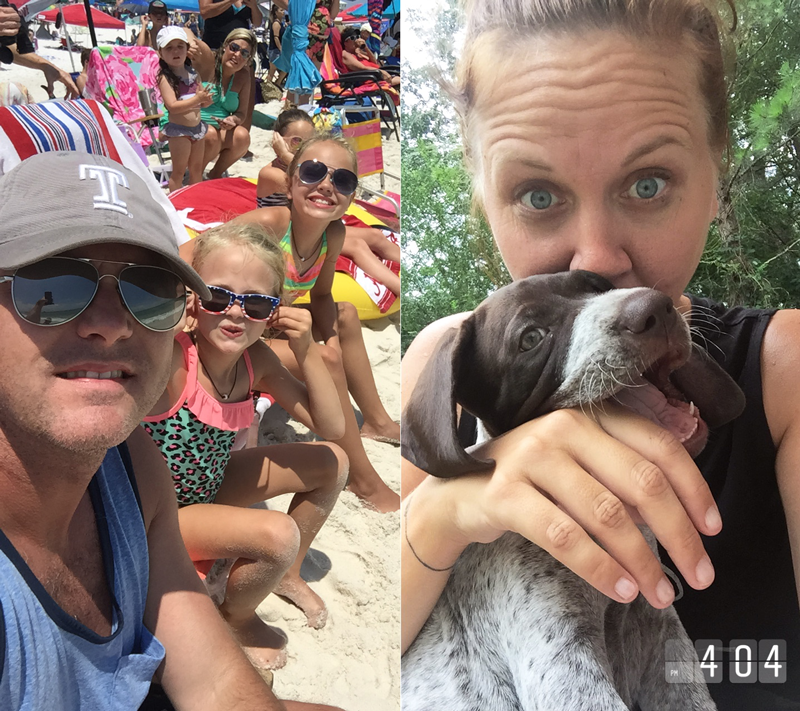 I told Josh before he left that my plan was to brainwash her into loving me the most while he and the girls were gone. I think I did a sufficient job, but now she thinks she is a lap dog! He and the girls were on the beach for most of the day for the Blue Angels airshow, so he tried to send me periodic updates about what they were doing and seeing. This was, by far, the best photo I got of them that day — despite the hilarious look on Sophie's face.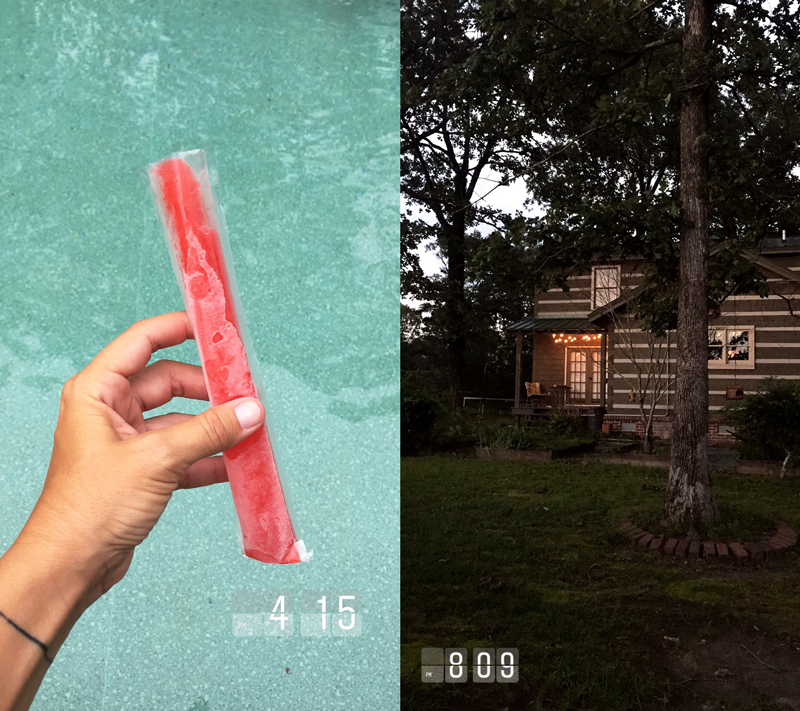 We keep a good stash of snacks and drinks in the pool fridge and the endless supply of Otter Pops are my favorite. I really wanted a piece of lemon icebox pie, but I know that dairy isn't my friend. I opted for a delicious cherry ice pop instead and it was delicious. Scoop and I stayed out at the pool until 4:30, when I took her in for a nap. I planned to read for a bit and then help my mom with dinner. I woke up several hours later (oops) and my parents had already cooked, cleaned and headed up to bed. I ate a quick bite and enjoyed some time in the backyard before it got too dark and the mosquitos carried me away. Are you guys having a problem with mosquitos this year, because they are terrible in Alabama!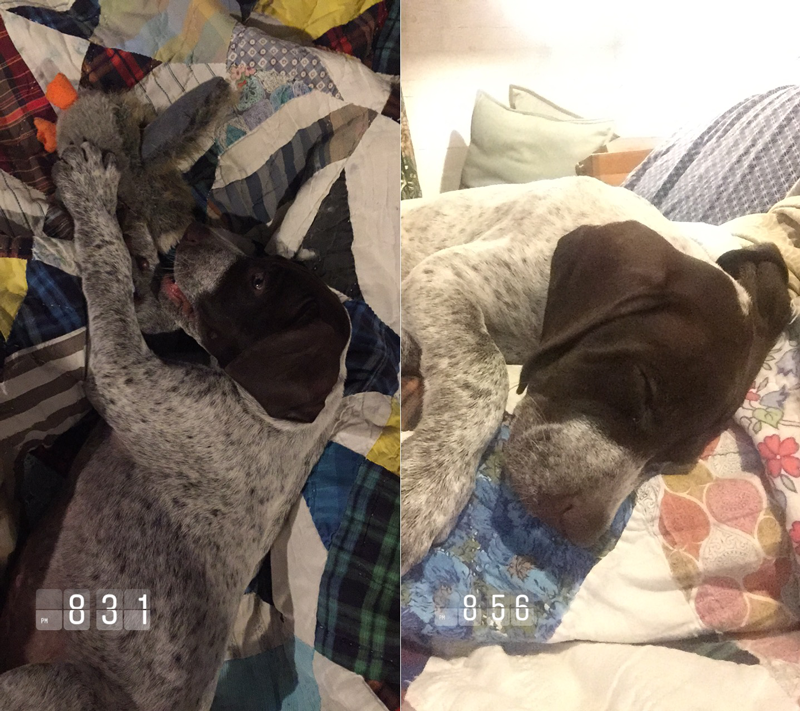 We spent the rest of the night snuggling in bed and binging the last season of Game of Thrones. If you aren't a regular viewer, then you won't get the hype, but I really needed a refresher before the new season starts on Sunday and I had been missing a few of my favorite characters. I might have driven Josh a little crazy, by sending him text updates on where I was in the season. Ha!
Not the most glamorous of Saturdays, but certainly the most restful day ever. I was super glad for my people to be back in town on Sunday and we've already had a busy week. I'm headed out of town today and tomorrow for work and then the weekend starts all over again! I'm vowing to capture a more interesting day next month — with my big girl camera — and share something other than a lazy day at home. Maybe something with the girls or even a day of our Denver trip. Anything special you'd like to see?
---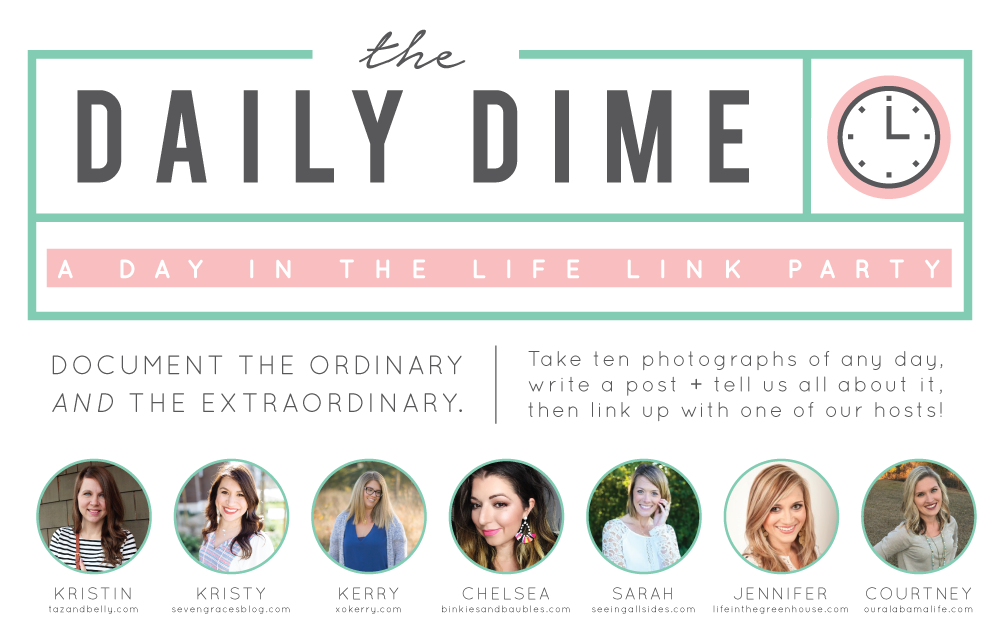 Now it's time to party — add your link to the widget below and link back to one of our hosts. Next month, we'll be linking up on Wednesday, August 16th. If you aren't able to link up with us this month, sign up here to get a reminder for next month's post. If you share on social media today, use the hashtag #thedailydimelinkup so we can stop by and say hello!
Don't forget to visit our monthly hosts and check out all the links in the widget below. Do you want to guest host for a future month? Let me know in the comments today and I'll be in touch!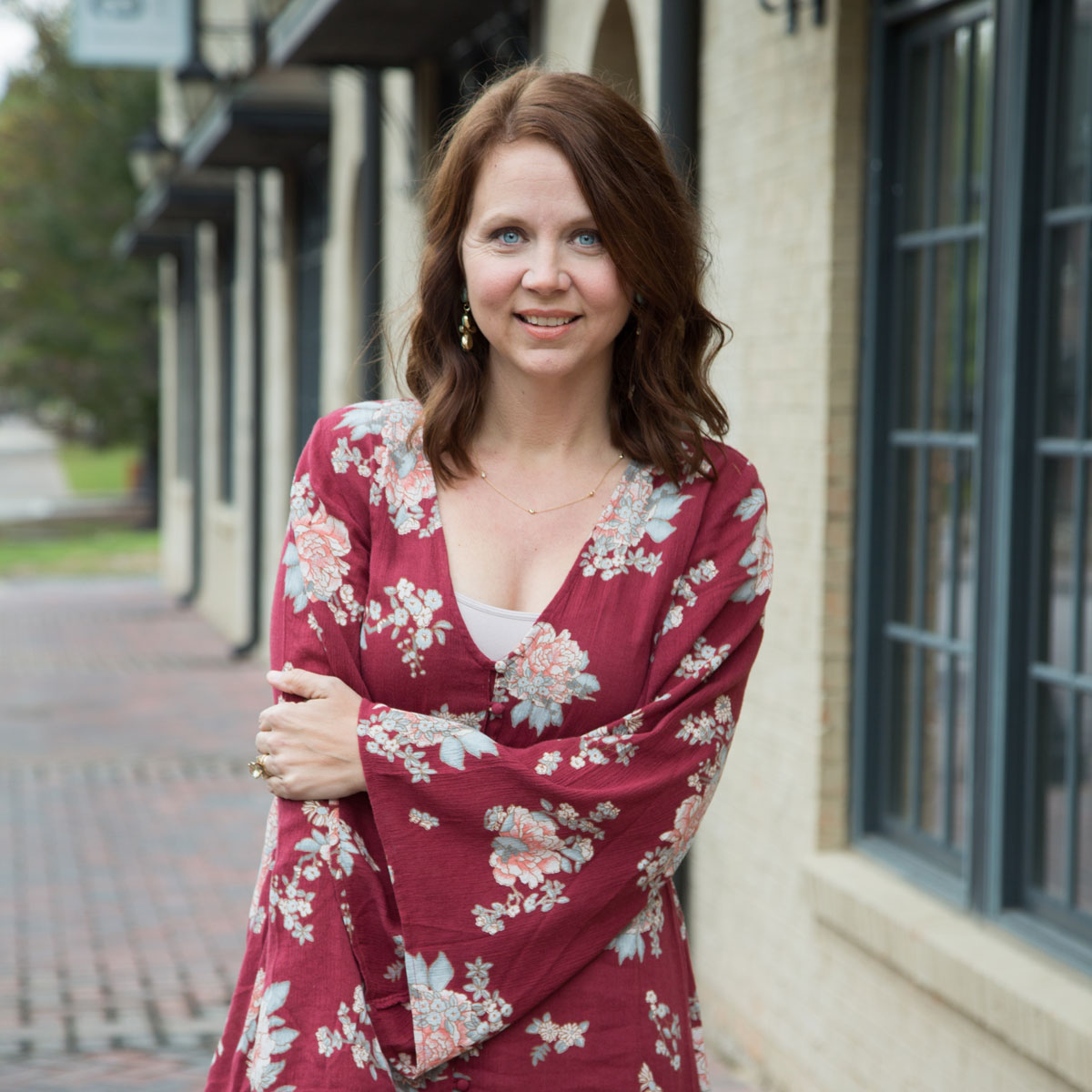 Kristin is married to her high-school sweetheart and the mother to two daughters. Professional by day and creative by night, she is a family lifestyle blogger who writes about faith, family, and fitting it all into a busy schedule. At Taz + Belly, you'll find healthy recipes, children's party ideas, tutorials, DIY projects, and more.
Click Here to Read More About Kristin