It's hard to believe that our camper is actually finished and that we're actually camping in it right now. For those who might be new to the blog, we take a two week summer vacation every summer to our favorite beach and this little big metal box is where we stay. Let's get a few things out on the table right away. Yes, she's a fairly new camper (2007) and the facelift wasn't exactly necessary. No, she's not vintage, but that doesn't make her any less adorable. Yes, we pay for a camper the entire year just for a two week vacation in the summer. Yes, the payment and insurance for the full year is far less than you pay for your seven day condo visit. Pinky promise!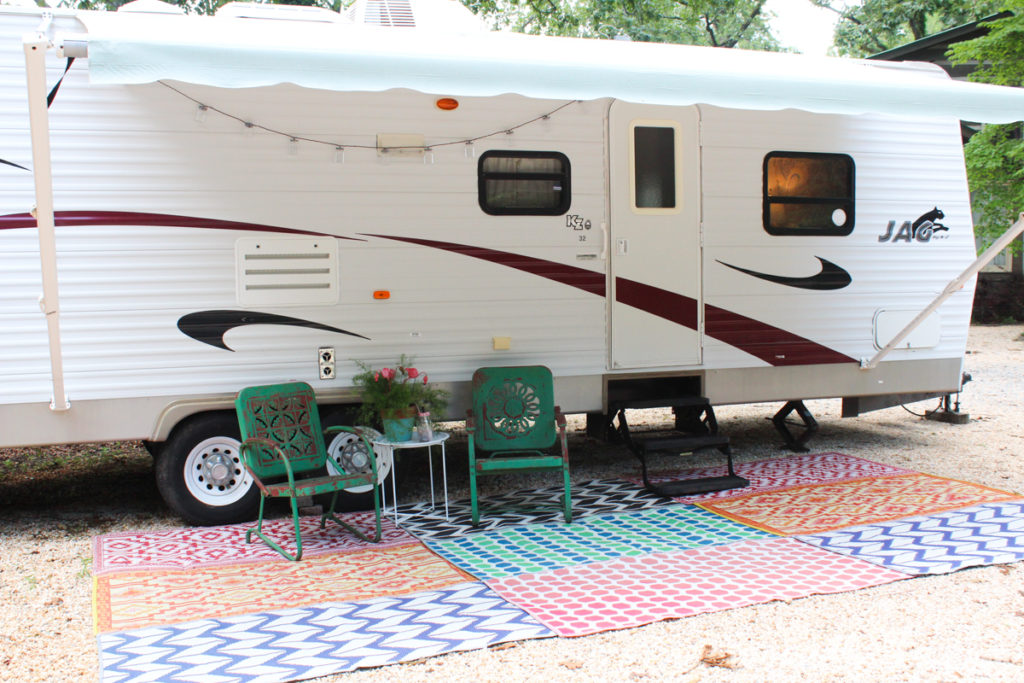 I grew up camping in a tent, but Josh and I bought our first travel trailer several years after we married. It was tiny and brand new and exactly what we needed at that stage of our life. Once we had two girls and a giant dog, we sold it and rented for a few summers before buying Opal in 2013. She is now ten years old, but was very well maintained in her previous life and with a little elbow grease and a lot of paint, she's a bombshell just in time for summer. Wanna see?
Today, I'm going to walk you through the camper — front to back — and give you a quick glimpse of all the work we've accomplished over the last few months. I say we because even though I've done the vast majority of the work myself, my parents and Josh have been invaluable. They offered great advice, grunt work, and sewing & woodwork expertise when I needed it. You can click the image titles below to see posts devoted to each individual room. There, I cover materials, sources, suggestions, and more. Come on in!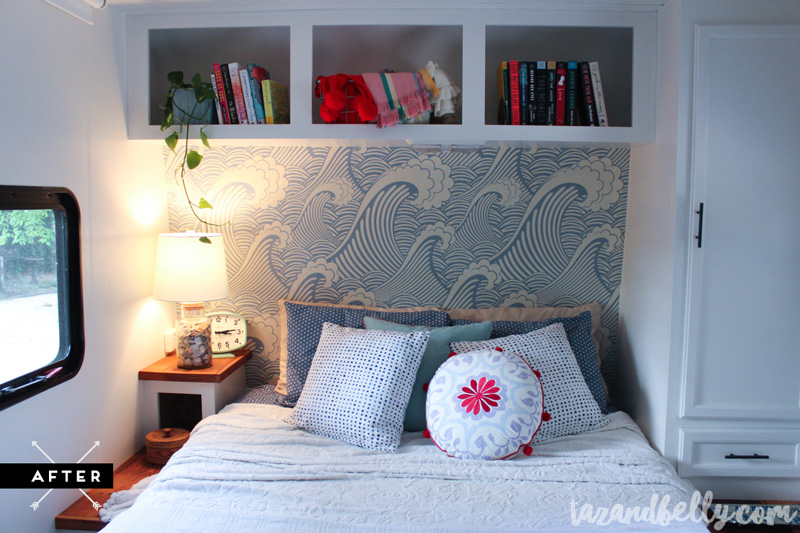 The master bedroom was the first room I finished. It was a good place to start painting since it was completely self-contained and I knew I could stop at the doorway if I hated it or the process didn't work out too well. I was pleasantly surprised with how beautifully the paint worked on the paneled walls and the rest, as they say, is history.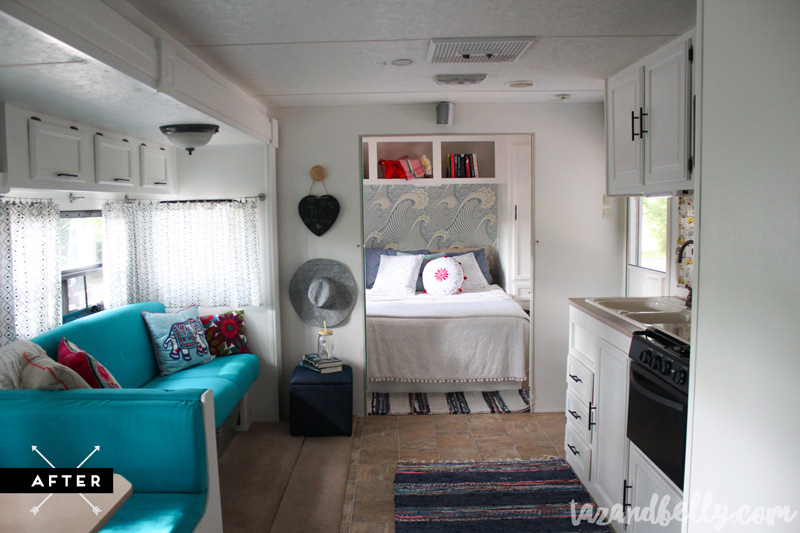 The only things we didn't replace or repair were the floors (both the vinyl tile and carpet) and the countertops. Almost every other surface was painted, updated, or replaced. I decided to paint the walls only after the project was well underway, but I could not be happier with how light and bright everything is. I remember Josh telling me in the beginning that nothing I could do to the camper would make him enjoy it or our vacation any more than he already did. We've since established that he was wrong.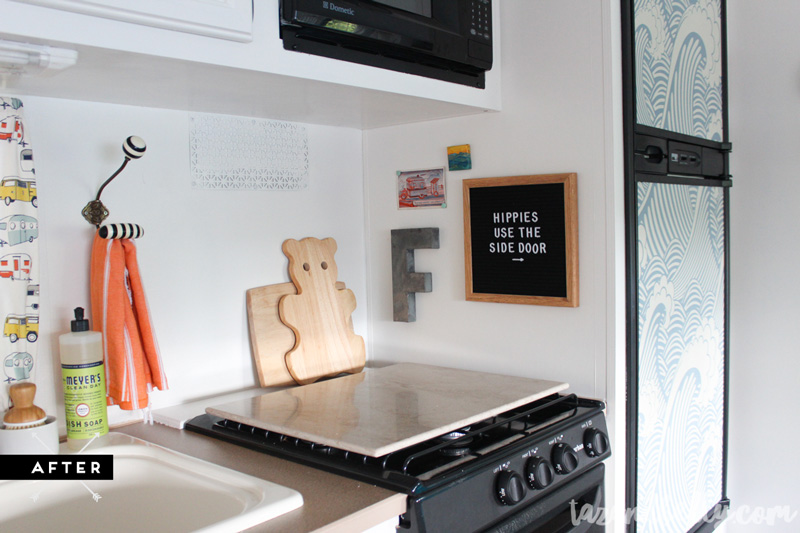 The little kitchenette is one of my favorite spots. We made several changes that helped to open it up, but I almost can't believe it's the same space!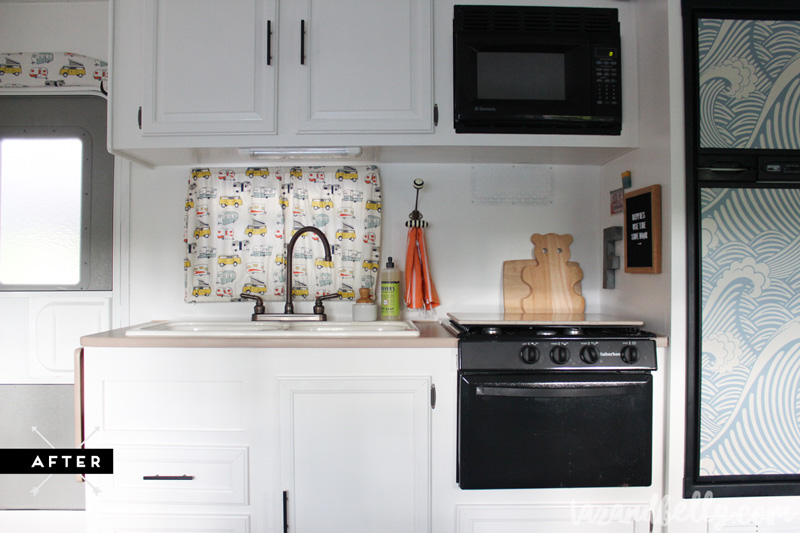 I had concerns that I would regret not replacing the floors and countertops — and I might still replace them one day — but I am pleasantly surprised with how the warm neutral helps to ground everything. Sure, something that looks more like hardwood floors would be beautiful, but I was trying to keep this renovation both cost effective and on schedule.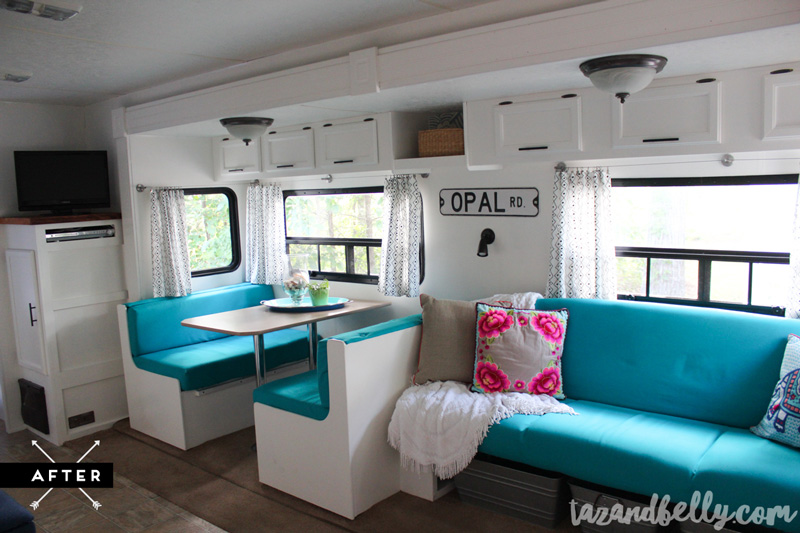 Our camper is pretty large at 32 feet and the slide out on the right side, makes it seem even larger. All of our friends and family who have stopped by to see the finished project remark on how big she looks now that every surface is white. The light just bounces around from wall to wall and having the windows largely uncovered, makes a huge impact.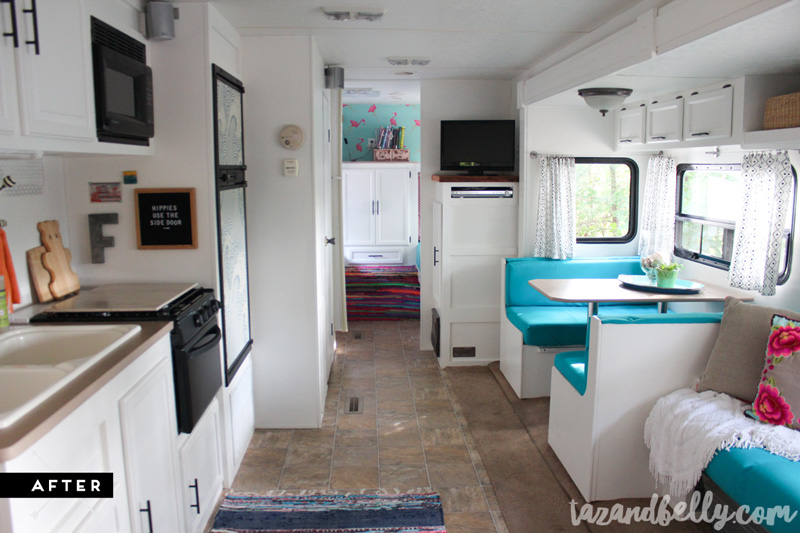 My original plan was to paint the cabinets and cover the couch and dinette fabric. Only. Once I started pulling things out, I couldn't stop! The vast majority of our accessories and décor came from our moving boxes and the few things I did purchase were very economical.
I can't tell you how many mornings I've come outside just to drink my coffee and listen to the birds. It is so peaceful and I can almost convince myself I'm already on vacation!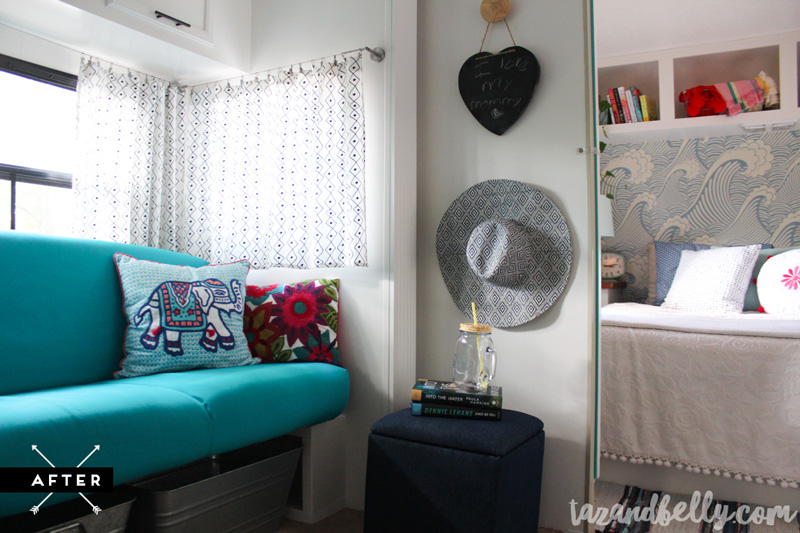 The biggest project we tackled was the bathroom. Even funnier is that this wasn't even on my radar at all! When I first decided to give Opal a facelift, Josh thought I was crazy. After a few days, he came around to some minor updates, but it wasn't until he saw how pretty it really could be, that he agreed to help with a few bigger projects and then suggested gutting the bathroom. I'll go into greater detail in next week's bathroom post, but the short version is, we eliminated the tub/shower combo in favor of more storage and we couldn't be happier.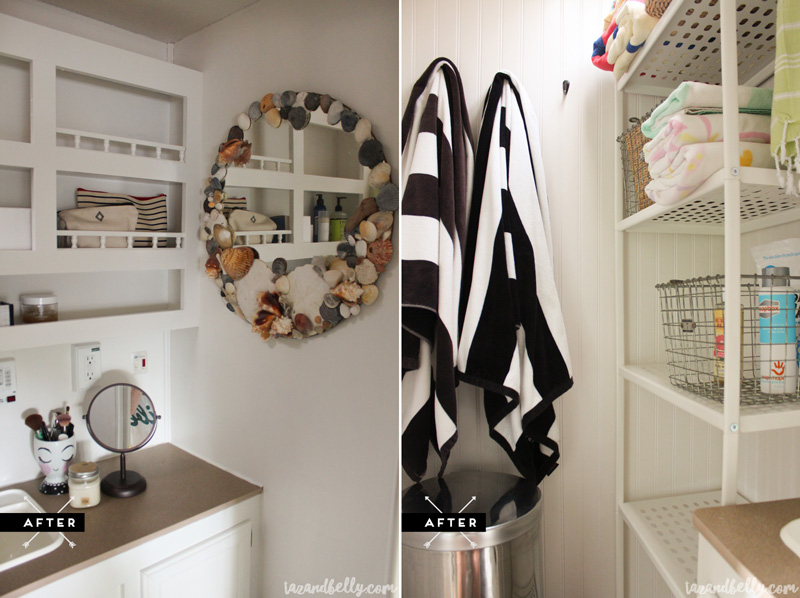 The bunkroom was another huge transformation and girls have loved hanging out in their colorful space. We tried to give each space some personality, while making it all work well together, and this fun wallpaper was perfect for their room.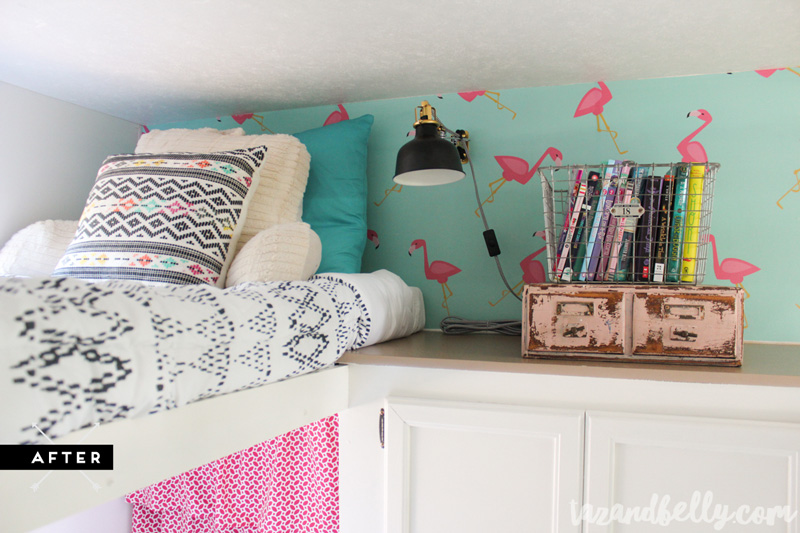 There are some things I might would do differently in here the second time around and we certainly reconfigured things a time or two, but I'm so happy with how cheerful their space is and they have really been enjoying it at the beach this week!
Thanks so much for stopping by today and for cheering me on over the last several months. I know I have overgrammed and talked way too much about the progress on Instagram Stories, but the feedback has been too amazing to ignore. This has been the biggest labor of love and we couldn't be more excited to head out on our adventure!

---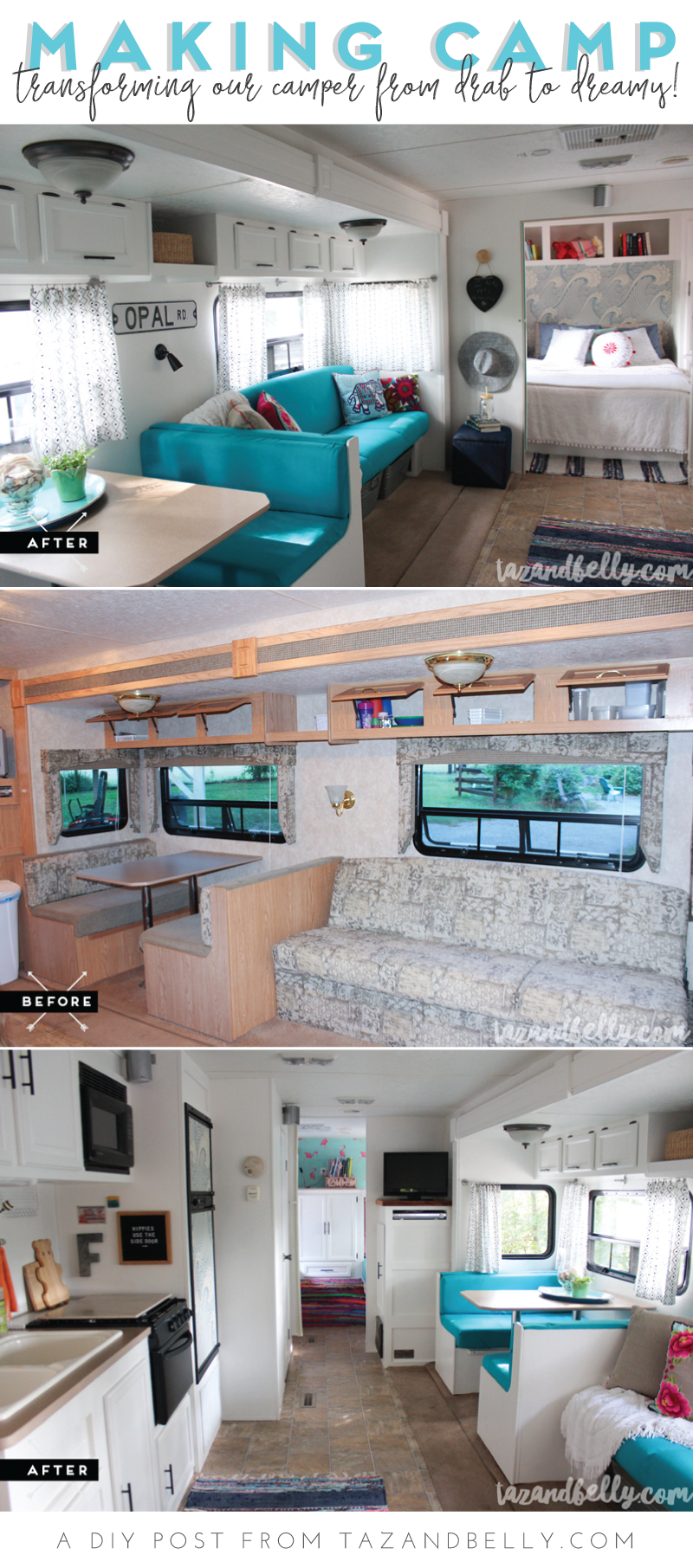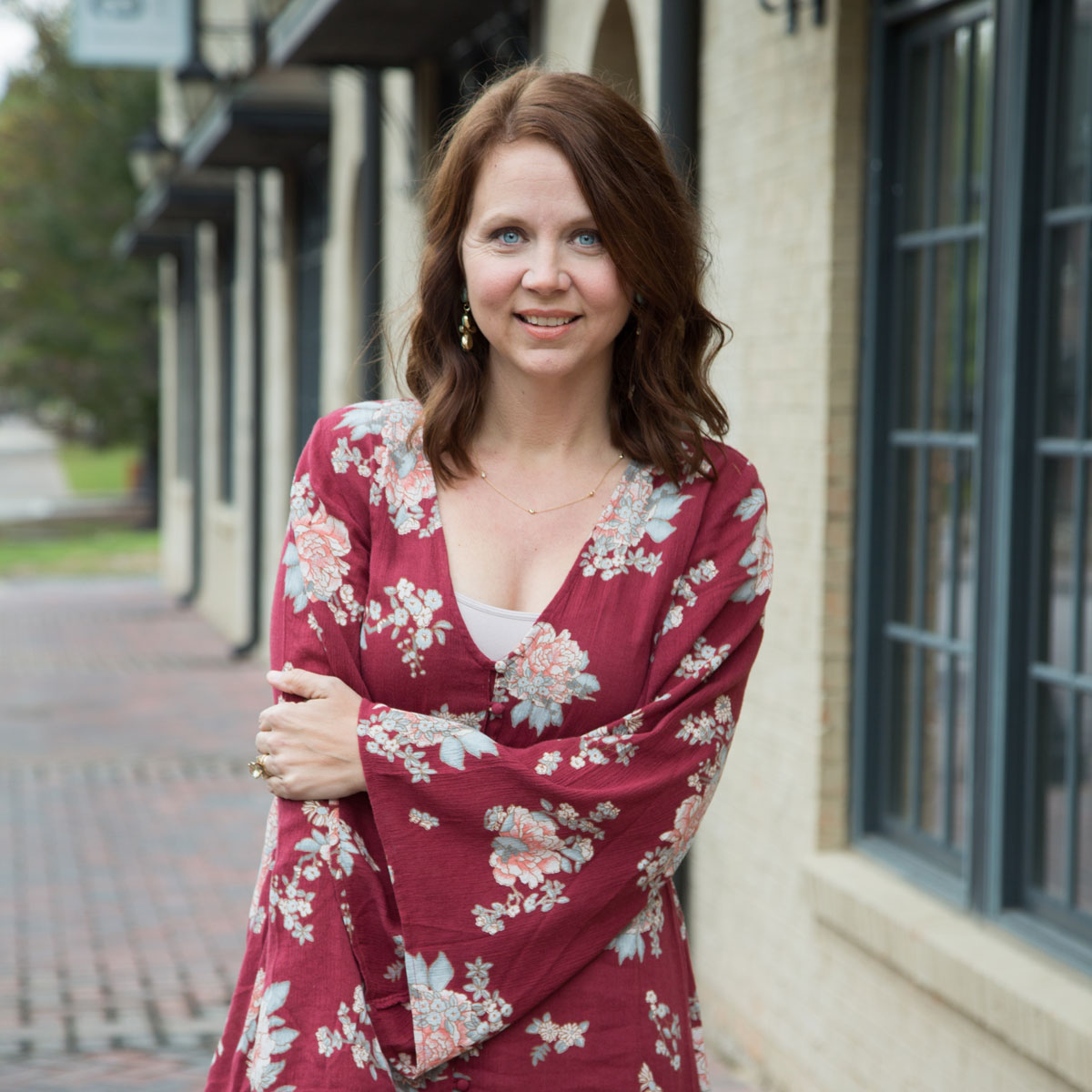 Kristin is married to her high-school sweetheart and the mother to two daughters. Professional by day and creative by night, she is a family lifestyle blogger who writes about faith, family, and fitting it all into a busy schedule. At Taz + Belly, you'll find healthy recipes, children's party ideas, tutorials, DIY projects, and more.
Click Here to Read More About Kristin