Disclosure: Affiliate links appear in this post. Any purchases made using these links will earn Taz + Belly a small commission. You can read more about our affiliate relationships here.
I am so excited to team up with a great group of ladies to bring you the ultimate Mother's Day giveaway. You know my love for Stitch Fix, so I am super pumped to offer you a chance to win $150 gift card this week. Whether you hoard it for yourself or pass it along to your favorite mother, it's the perfect way to add some new pieces for spring and summer to your (or her!) closet.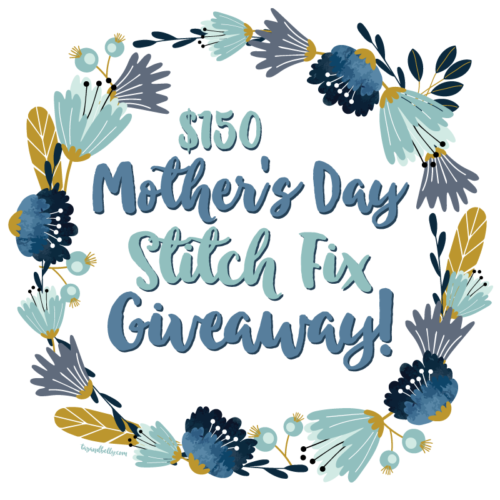 I hadn't planned on getting another fix until our anniversary trip at the end of the summer, but I couldn't resist having one delivered just in time for today's post. In true mom fashion, I completely forgot to submit my style notes in time, so I had exactly zero input into this box. I had planned to request no shoes or accessories and instead ask to see some flowy bohemian tops or dresses and a pair of deconstructed denim shorts. As luck would have it, my box this month was full on work style (which I don't really need) and, at first glance, seemed pretty far from my laid back summer wardrobe. I decided to share an unboxing video for today's post (because, why not?), so you can see each of the five pieces and how I felt about them. My goal was to shoot this in a single take and for it not to be 47 minutes long, so let's see how I did!
A few things to note: I have no idea why the audio and video get off track in the last few seconds. I wish that I could tell you all the reasons I almost didn't get this filmed! Let's just say, my camera battery died, my camera card was wholly uncooperative, and I eventually gave up and filmed this on my phone. It was one of those times when I was down to the wire, time wise, and just had to go with it. For that same reason, after exporting this video numerous times with no idea why the audio starts to trail, I decided to publish it anyway. Also, I refer to every fabric on this video as knit <insert eye roll here>, but clearly there are some differences — the navy top and skirt are both a light weight jersey and the tunic is more of a woven knit. Clearly I don't do well without a script!
If you aren't using the Stitch Fix app to preview your fixes, then you are missing out. Download the app on your phone and log in to your account before scheduling your next fix. Once your fix ships, you can open the app and tell it that you are ready to check out (even though you haven't actually received your box yet!). You'll get a preview of the items, as shown below. Swipe left to view all five, just don't complete the checkout process until you've actually gotten your hands on them!

Now, because I always love the style cards that you receive in each box, but none of the other items are ever sourced — I thought I would put together a style card of my own for each look. It's often difficult (read: impossible) to find these items for purchase anywhere outside of Stitch Fix's services, so I'm linking to similar items that would work in the same way as each of these pieces. Cool? Cool.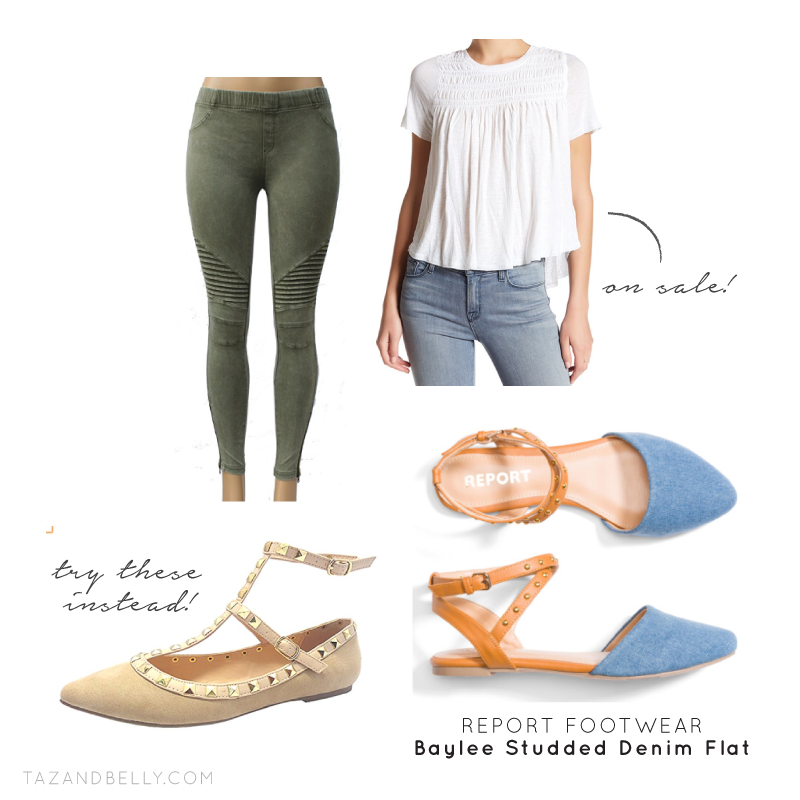 Item 1 | Report Footwear, Baylee Studded Denim Flat | $45
I love the idea of a studded flat, but these weren't the one for me. I didn't love the color of the denim, but the shape was perfect and they were super comfy. Instead, try this patent leather version with skinny pants and a fun, flowy top.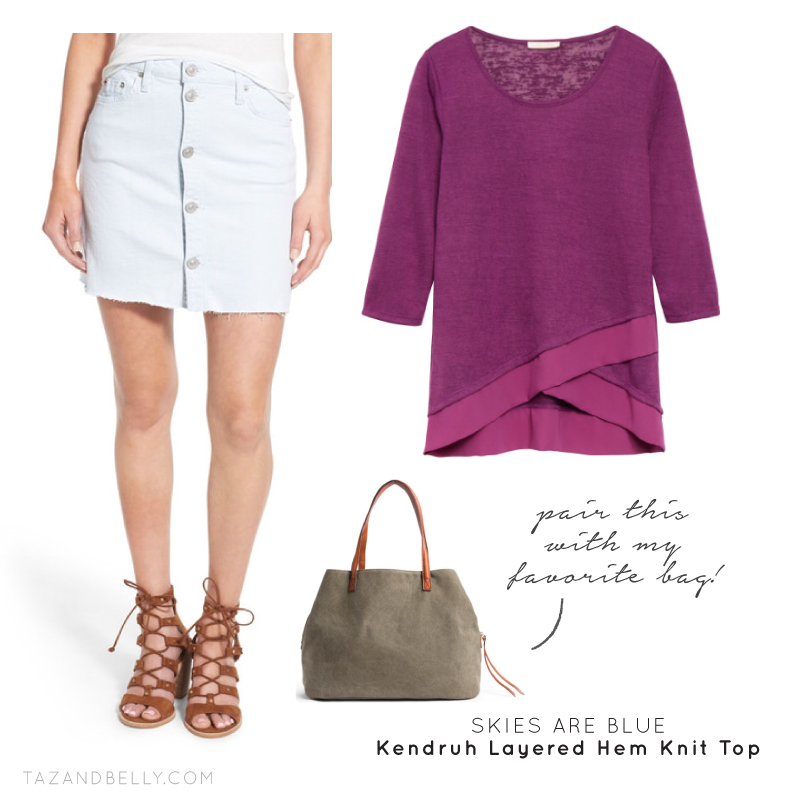 Item 2 | Skies Are Blue, Kendruh Layered Hem Knit Top | $48
While this tunic isn't my favorite, I do love the idea of pairing a longer top with this fun button front denim skirt. Try this tunic, with cage heels, and my favorite tote bag EVER.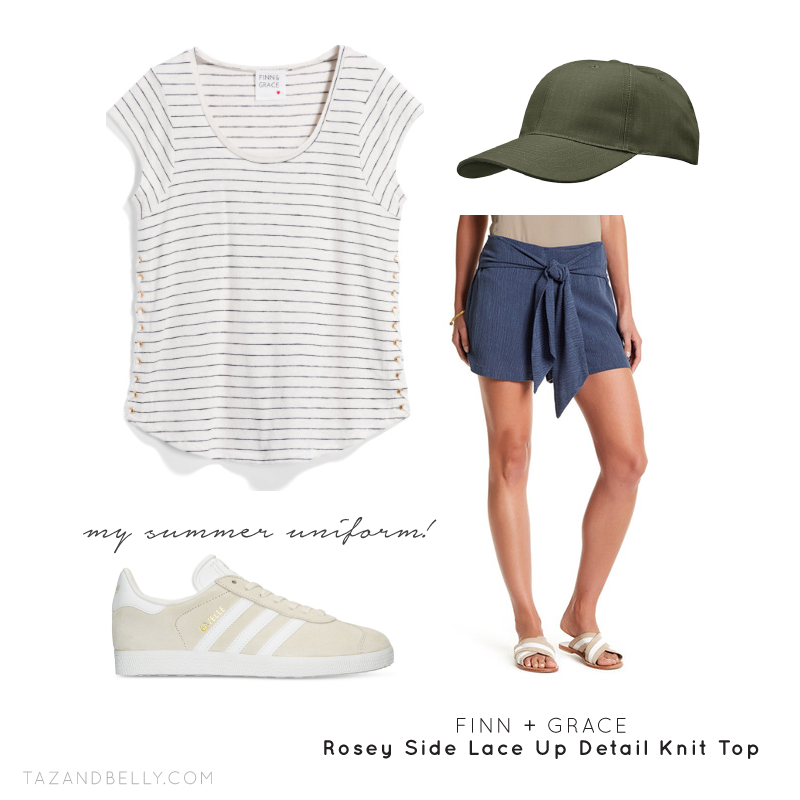 Item 3 | Finn & Grace, Rosey Side Lace Up Detail Knit Top | $34
I love everything about this top and how Jenn styled it. The tie front shorts are adorable and y'all know I love my Adidas sneakers. I think this would be darling with a baseball cap and I'm pretty sure I'll live in this look all summer long!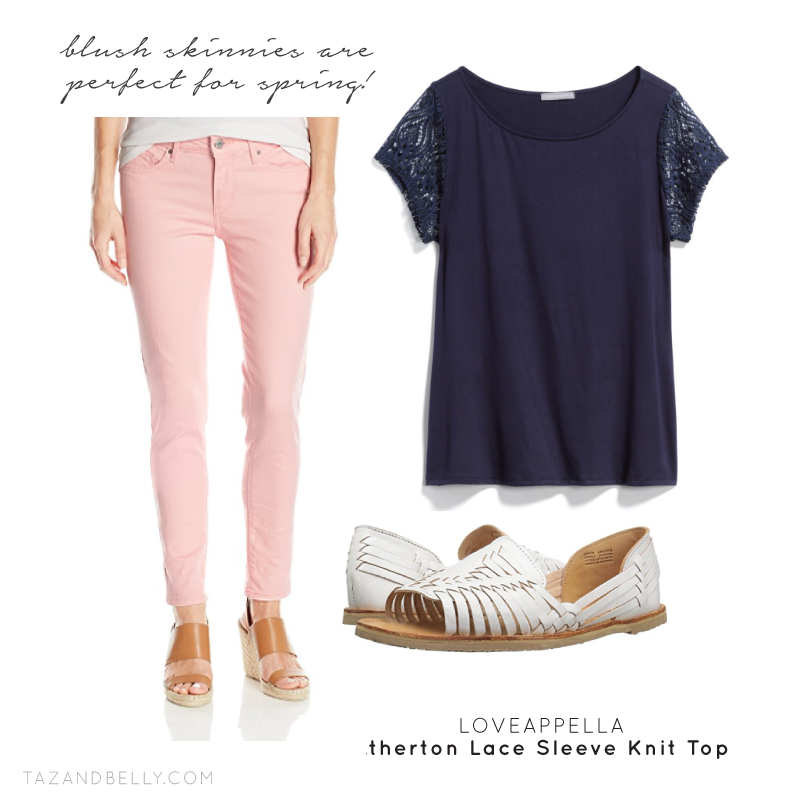 Item 4 | Loveappella, Atherton Lace Sleeve Knit Top | $48
I did like the idea of this top, but since I have a similar version in my closet, I decided not to keep it. I do love how Jenn paired it with blush skinnies and a fun pair of flats for spring!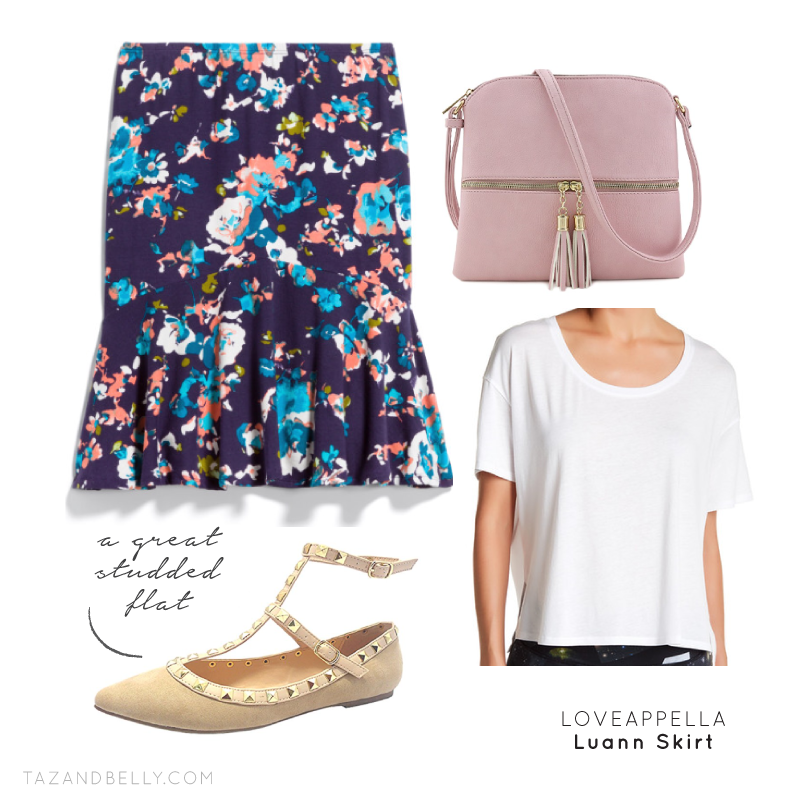 Item 5 | Loveappella, Luann Skirt | $44
Even though I decided to send back everything but the striped tee, I really did love this skirt (similar). The fabric was perfect and light, the fit was great, and I loved the colors. Jenn offered too different ways to wear it, but my favorite was with the flat studded sandals, a cute crossbody bag, and a relaxed white tee!
As promised, here are links to two previous posts that I think you'll find helpful! | My First Fix (Stitch Fix for Newbies) and How to Get the Most Out of Your Next Fix!
---
Be sure to visit all of the other bloggers bringing you this fabulous prize and see how their May Fix turned out! Ready to try Stitch Fix for yourself? Click here to sign up!
Ashley | Nursing for All
Courtney | A+ Life
Desiree | Macke Monologues
Emily | Emily Enchanted
Jessi | Jessi Living Lovely
Jessica | Being Mrs. Beer
Kerry | XO Kerry
Kristin | Taz + Belly
Lacey | Perks of Being a JAP
Liz | Chasin' Mason
Sarah | Seeing All Sides
Whitney | Work It Mommy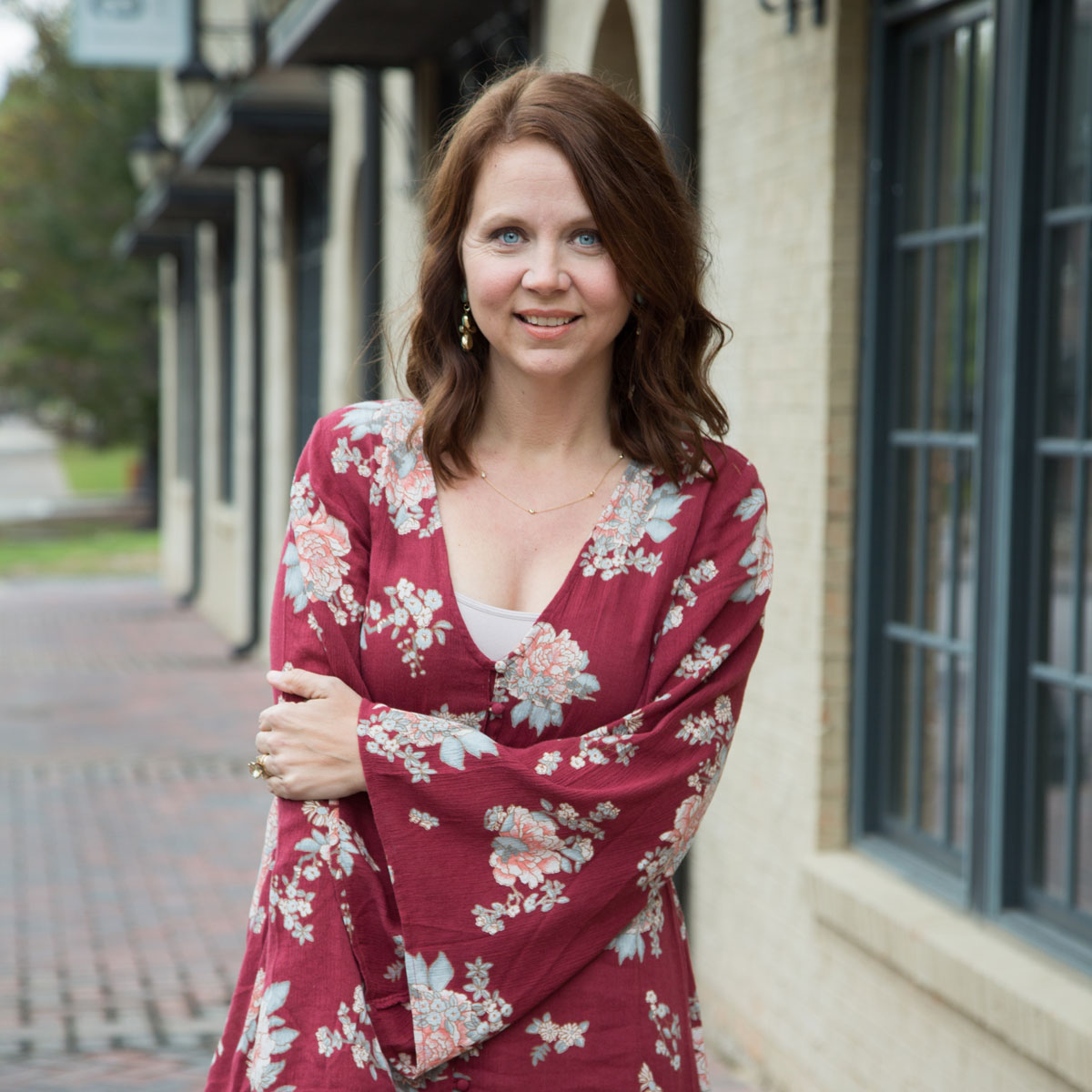 Kristin is married to her high-school sweetheart and the mother to two daughters. Professional by day and creative by night, she is a family lifestyle blogger who writes about faith, family, and fitting it all into a busy schedule. At Taz + Belly, you'll find healthy recipes, children's party ideas, tutorials, DIY projects, and more.
Click Here to Read More About Kristin