It's been a looooong time since I shared a round up post on a Friday and I miss it big time. I doubt I'll do one every week, but maybe a monthly check in for all the things that don't make their own blog post.

1. Camper Progress | Things are going so well in the camper remodel. For several weeks I felt like things were slowing down big time and I couldn't get anything done. Josh likes to remind me of exactly how many days there are between us and the beach, so I was starting to have heart palpitations about getting things done. Within a single weekend, I made so much progress and since he and Ella will be traveling for an entire week later this month, I'm planning to finish her up while they're gone. I mentioned on Instagram that I would be sharing all the reveal posts in early June and got plenty of dissent! I wish I could share them earlier, but since I need to plan content for the weeks we'll be traveling, it just makes sense to do it then. Plus, we'll be living in the camper during that period, so there will be so many real time photos to share, too.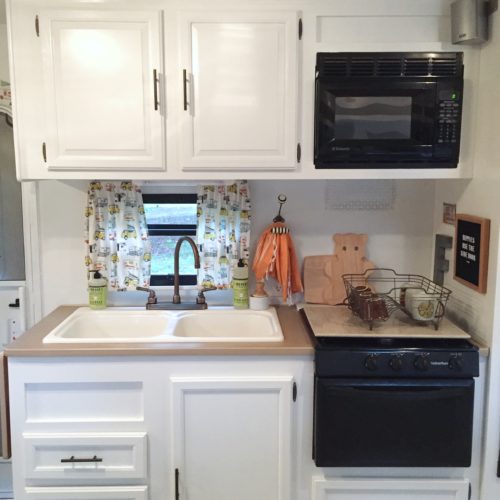 Another question I've gotten often is how frequently we use the camper and why we're updating it. We don't camp as much as we should (usually 3-4 weeks a year), but that doesn't take away from how much we love it. Those few weeks at the beach each summer are literal lifeblood that get us through the rest of the year. For new readers, I'll be sharing much more about our annual trip in the coming weeks, so stay tuned. The why is simple — I wanted her to be pretty. The camper is so perfect for us, but it lacked personality, big time. I've updated it with very little help, on a very small budget, and I know we'll enjoy it so much more than ever before. Since we'll be storing it at our house now that we've moved, I'm planning to use it as a home office and place to shoot photos and videos for the blog when we're not camping in it. That probably sounds so weird, but it's there, it's pretty and we might as well use it, right? For those of you who are curious, our annual payment for the camper and insurance is significantly less than a few weeks in a condo at the beach. We more than get our money's worth.
2. Orangetheory | Are you sick of talking about this yet? I'm not planning to share much about fitness between now and the next monthly check-in, but I did want to report that I can already tell a huge difference since that first post. I think this is going to be so good for my running (speed and endurance) and it is already so good for my overall wellbeing and self-esteem. It is expensive and Josh doesn't love that, but I'm already working on how to make it more affordable. I'm considering keeping my unlimited membership only through the summer and then drastically reducing my classes during the fall and winter months. I figure I won't be able to go as often while I'm training for Mercedes, but if I go twice a week in addition to a 3-4 day running schedule, I should be able to maintain the same level of fitness. I'm going to discuss it with a coach after another month (or two), when I have a better idea of how things will go long term.
Jennifer sent me this Buzzfeed List about OTF last week and I couldn't stop laughing. Josh had already dubbed it a cult, so inside jokes like this just seal the deal. He's super supportive, so don't get your panties in a twist, but he loves to rib me about any and all things.
3. Cinco de Mayo | Do you have huge, fun plans for this Friday night? We ended up with tacos on the menu tonight, but it was a total accident. That was supposed to be dinner last night, but I failed to thaw out the chicken. The girls will thinks it's cute that we're having them tonight, so I'll call it an accidental mom win, for sure. I did pick up some of these delicious tortilla chips this morning, so I'm looking forward to a massive pile of paleo nachos!
4. J.Crew Shorts | Did you see these adorable shorts I shared on Instastories last week? I saw them on Emily Henderson and immediately fell in love. Almost as soon as I pressed the submit order button, I realized they came in solid colors and had major regrets. I went ahead and ordered the blush colored ones, too, and picked them up at my J.Crew store earlier this week.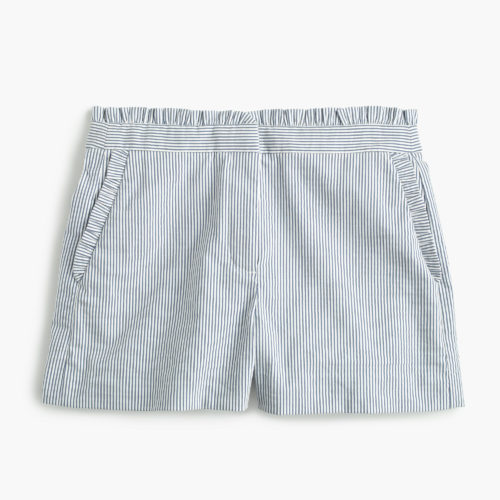 Why do I have such issues with shorts? It doesn't matter what size I am, how tan I am, or how great the shorts are — I just don't love them. Give me running shorts or skirts any day, otherwise I'll pass. Do you have some miracle shorts that I don't know about?! I'm returning both pairs of these today, so I need recommendations stat. I do plan to order these — Josh swears by their bamboo shorts, so I've decided to give them a try.
5. Road Trip | I get to road trip with my biggest girl this weekend and I can't wait! She has one last dance competition in Chattanooga this weekend and we're going it alone. She's had a rough couple of weekends, when it comes to dance — the last two competitions we attended weren't our favorite and we weren't impressed with our scores. Ella is easily discouraged and I hate that she's struggled this season. The girls are so good and their dances are beautiful this year, but you can't win everything, you know? They had such great results their first show this season, that it's been a letdown every week since. I'm hoping a new audiobook, lots of yummy food, and a weekend with her girls is just what she needs!
We love Chattanooga and dance there every season, but I'm always looking for new recommendations. Tell me, what are your favorite things to see and do, but more importantly — WHERE SHOULD WE EAT?!
Enjoy your weekend, friends!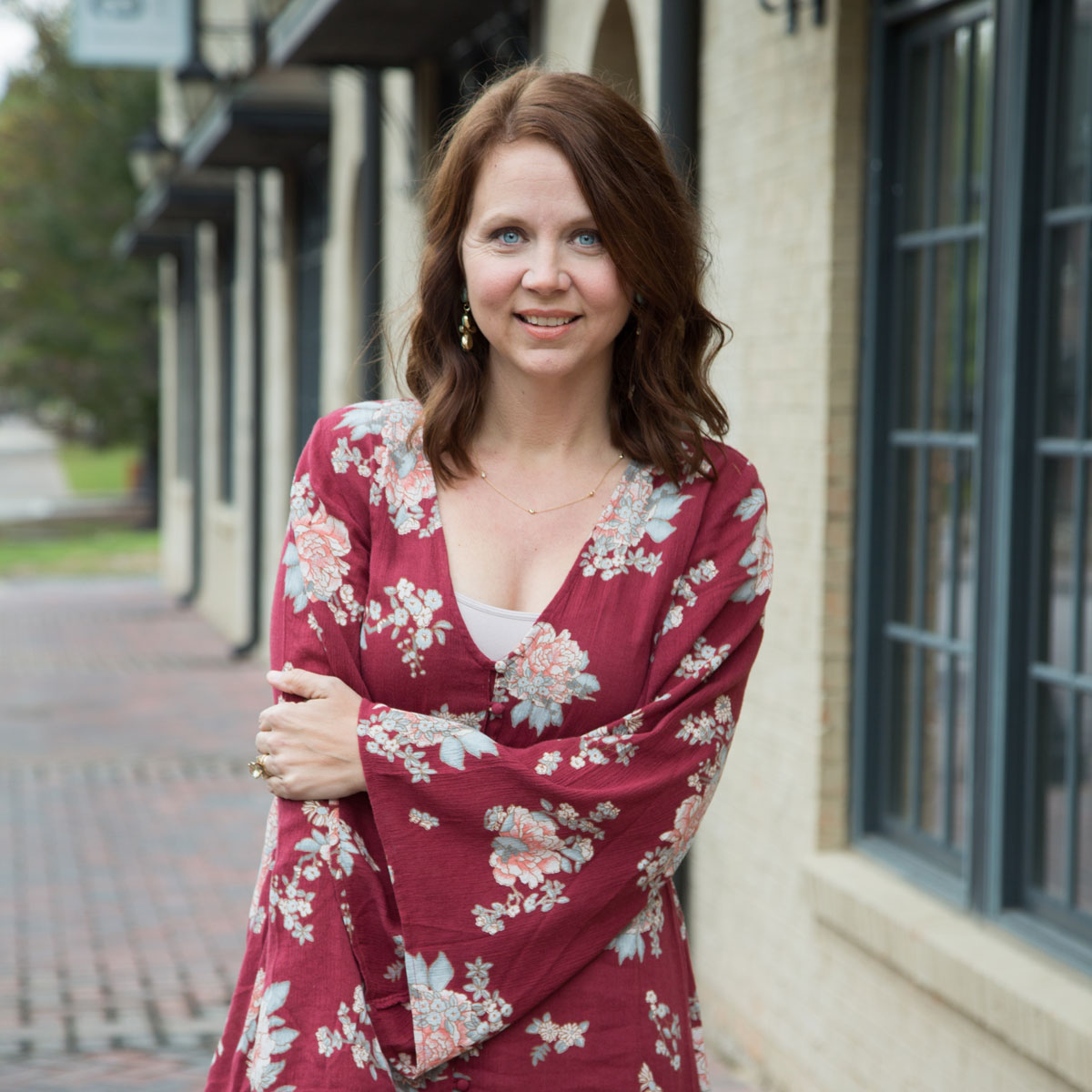 Kristin is married to her high-school sweetheart and the mother to two daughters. Professional by day and creative by night, she is a family lifestyle blogger who writes about faith, family, and fitting it all into a busy schedule. At Taz + Belly, you'll find healthy recipes, children's party ideas, tutorials, DIY projects, and more.
Click Here to Read More About Kristin