One of the things I love sharing the most around here, is a regular day in the life post. I used to think it was weird to assume that anybody cared about a boring and mundane day in our life. BUT I love reading those kinds of posts from other bloggers, and I especially love looking back on what we were doing a month ago, a year ago, and more! Since so many of you responded in the reader survey that you loved posts about our every day life, I've worked hard to incorporate them regularly.

I've had a few of you ask why this isn't a link party and I started to wonder that myself. I looked around on the web and couldn't find any current day in the life link ups that shared with any regularity and since it's the kind of post that everyone likes — to read and to write — I decided we would just have them here. I've reached out to a few of my favorite blogging friends and we're pulling together a great team of ladies to host each month. We'll host the first link up on (or around) June 12th and will update you on the posting schedule as we go. Snap ten photos of a day in your life and share them with us as a part of The Daily Dime. Doesn't that sound like fun?!
Now lets talk about Saturday.
---
I don't sleep late. Ever. I used to sleep much later than I do, but when we moved back in November, I completely changed my morning routine. I love getting up early with my mom for coffee and figured I should take advantage of that time together for as long as we live together. She jokes that she hasn't had quiet time (I'm the family talker) in six months, but I think she secretly loves it. Most weekdays I get up around 5 o'clock and we drink coffee in the sunroom until time for the girls to wake up. Two mornings a week, I meet Jennifer for an early class at the gym, so on those days I'm actually up at 4 o'clock. It's kind of ridiculous. Josh joked on Friday night that he hoped I would sleep late on Saturday, since it was our first dance-free weekend and I'm always the first one up. I guess he snuck out of our room pretty early, because when I got up AT EIGHT O'CLOCK IN THE MORNING, they were all up watching cartoons and drinking coffee. It was glorious and I felt so rested after such a long sleep! I made some gluten free cheese toast, downed a cup of coffee, and read from Psalms while they all visited around me. Talk about a perfect Saturday morning.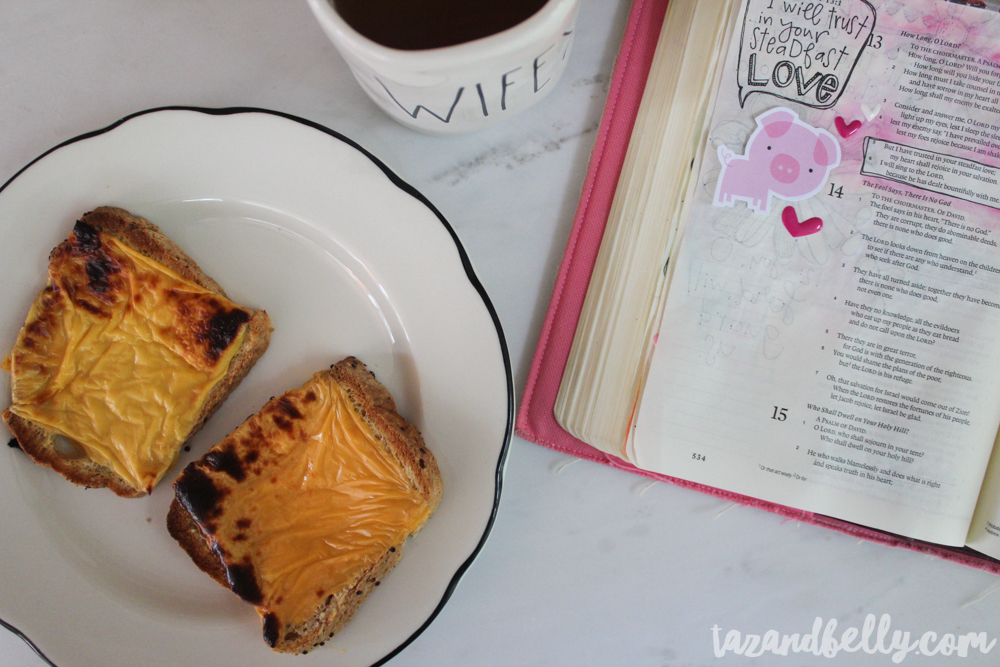 My plan for the day was to work in the camper. Josh puttered around the house, Ella enjoyed her first free Saturday in weeks, and Sophie bounced back and forth between the camper, the barn, and the house for much of the day. Our "bedroom" in the camper is kind of a hot mess at the moment. I moved everything out of the bunkhouse into this space while I work on the back few rooms. I hate seeing it so messy after having it all finished, but we're in the home stretch now!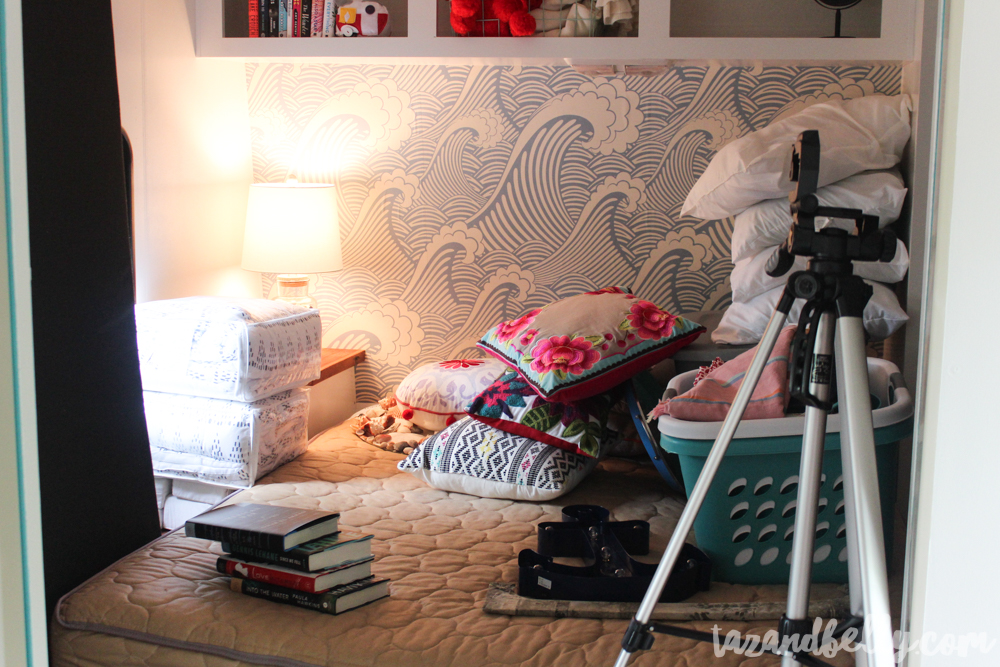 Since Sophie was in and out for much of the morning, I couldn't listen to podcasts or concentrate enough to finish my current audiobook. Instead, we listened to The Lumineers and The Head & the Heart for most of the day. She sang as she came in and out, which makes me grin from ear to ear. I adore that my girls listen to great music and very rarely request anything that Josh and I don't love.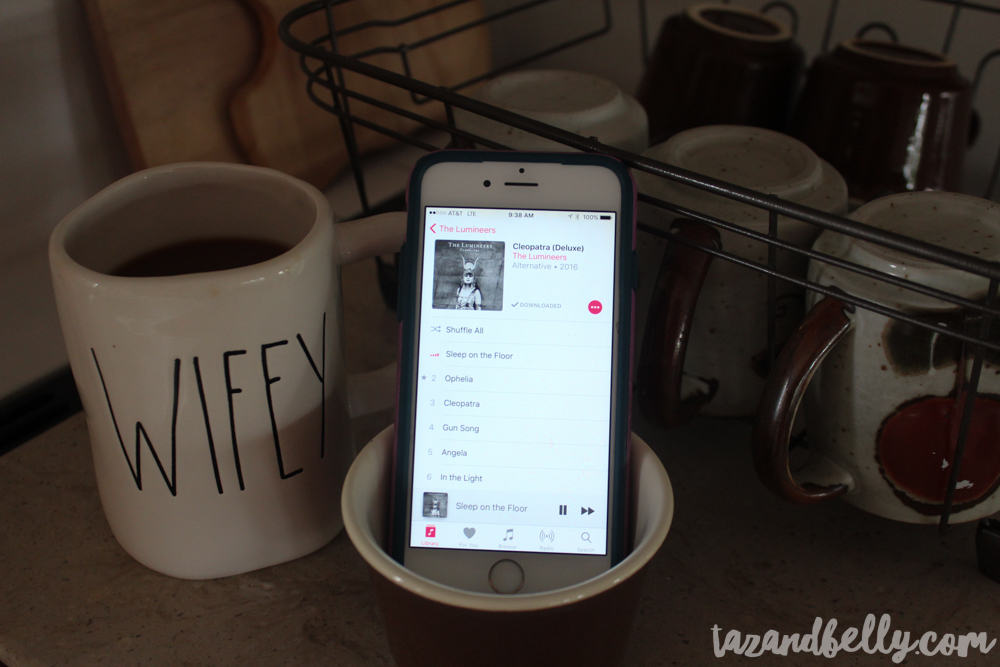 She found a book in the cabinet of the bunkroom and read the entire thing while I worked on cleaning up and upholstering a few pieces of trim work. Then she requested a project, so I gave her buckets of hardware and a pack of plastic bags and she organized everything for me. I've just been tossing it all in a bin and then cursing myself every time I needed a specific size screw. It took her just under an hour and has been an absolute lifesaver ever since.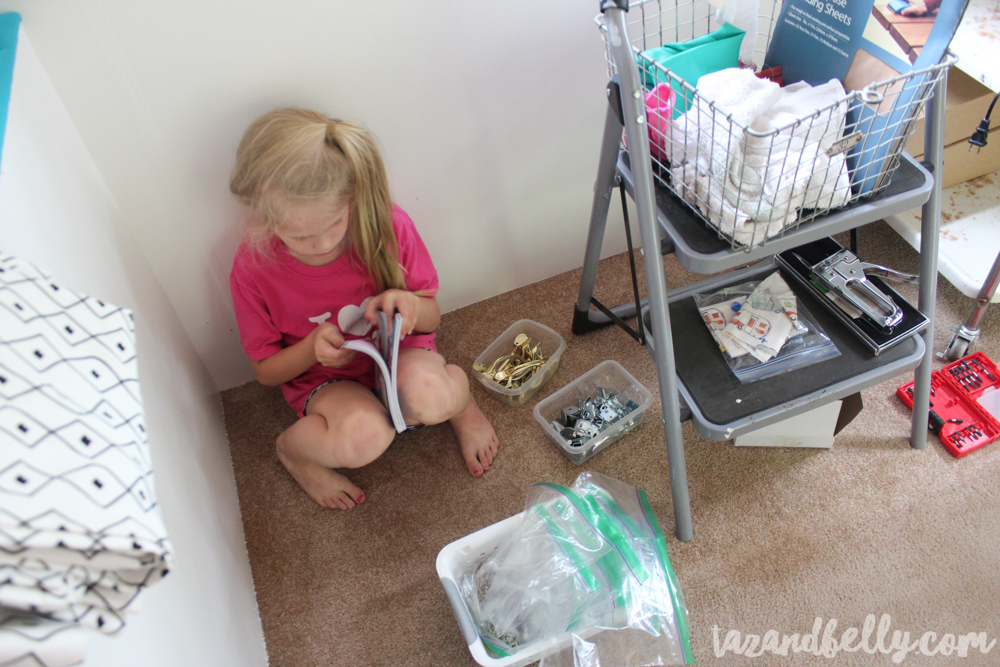 If you caught my rant on Instagram Stories last week, you'll know that I ordered cabinet hardware and hinges to keep me from spray painting all of the existing pieces. Unfortunately, despite double-checking the measurements before ordering, there was a slight variance with the hinges and they would work without re-drilling all of the holes. No, thank you. I resorted to spray paint and even though it was an absolute pain, the finished product turned out great!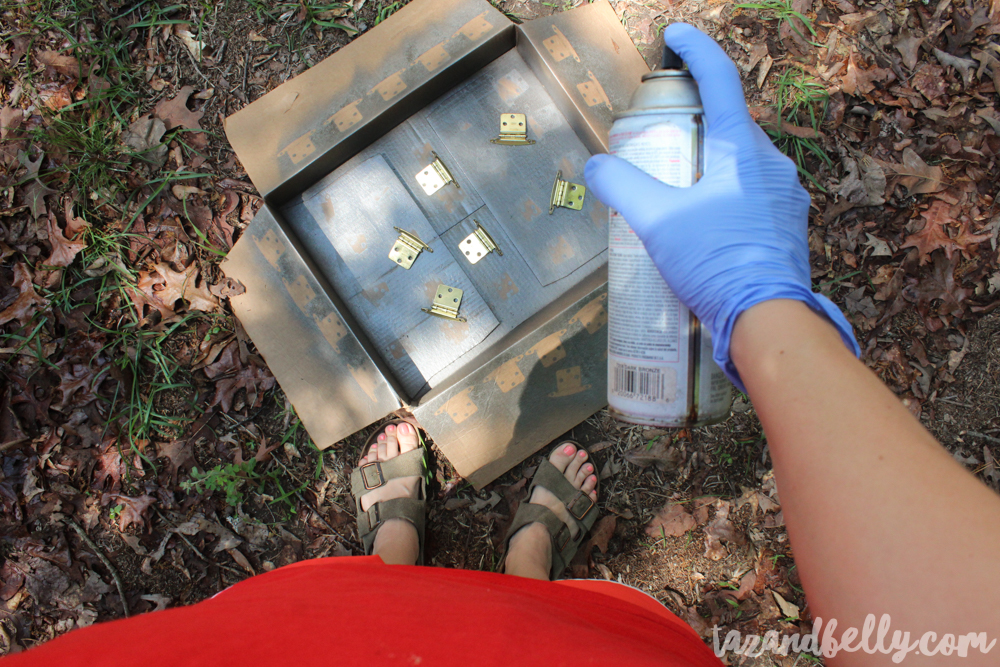 While Ella and I were in Chattanooga last weekend, my parents pulled the cover off of the pool. We have to do a daily water check — because we're all dying to get in — so, I walked out to take a peek in between coats of spray paint. For what it's worth, my camper is directly behind me (that's my parents' trailer there in the photo) and I get to see it from the windows while I'm working. My parents built that barn a few summers ago and will be living in it part time until they build their permanent, tiny, home next year. I cannot accurately convey the joy at having all of this in my back (well, side) yard again.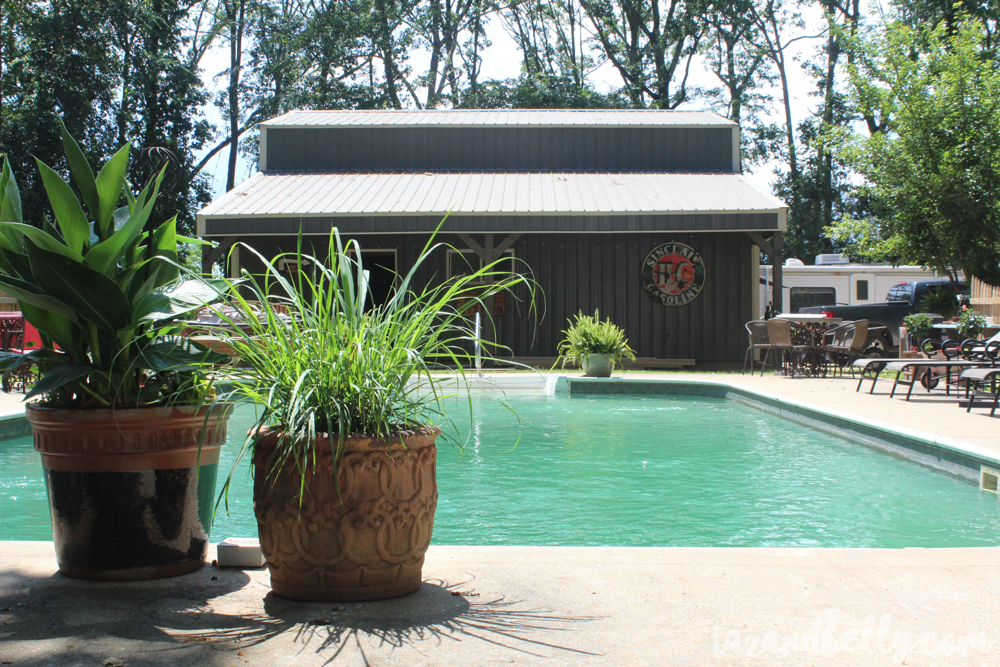 Since Josh, Ella and my mom are traveling this week, my dad offered to help me with a few projects in the camper at night after work. We got a jump start on Saturday while they were both off running errands and the first thing we conquered were these IKEA curtain wires. The curtains are actually made from an IKEA tablecloth and I've been dying to get them on the windows for weeks. I've got a tiny place to patch and paint where we miscalculated, but I'm otherwise thrilled with how these turned out! They are so easy to open and close and are a huge upgrade from where we started.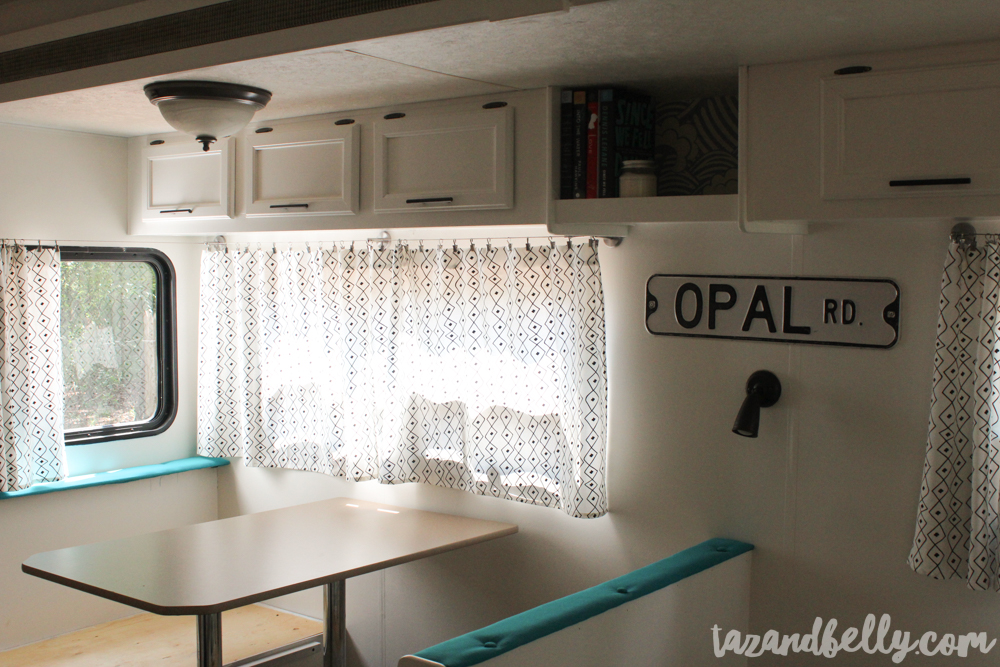 Several months ago, I pulled a muscle in my shoulder and it still flares up occasionally. I think sleeping so long on Friday night didn't help and I woke up pretty sore. I completely forgot that I took a muscle relaxer when I stopped for lunch, so when I couldn't hold my eyes open at 2 o'clock, I had no idea why. The breeze was blowing and the birds were chirping and nobody was bothering me, so I laid one of the bunk mattresses in the floor and took a nap. I meant to sleep for fifteen minutes, so imagine my surprise when I woke up two hours later. That was when I remembered taking the medicine, which completely explains my exhaustion. Oops!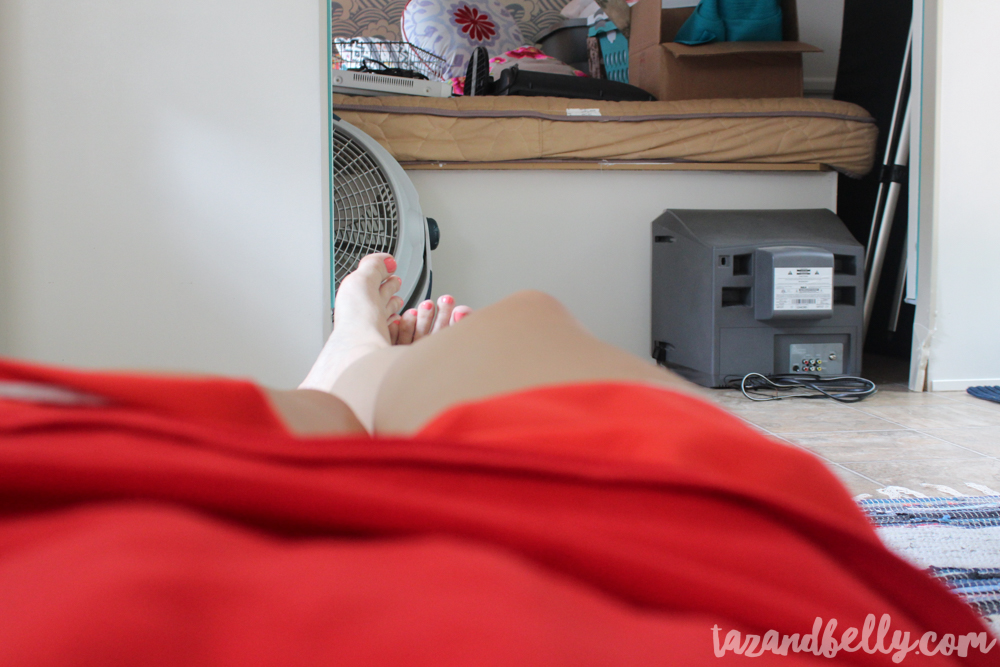 My mom took Sophie to a birthday party on Saturday evening and Josh was still out running errands, so I thought I'd try my hand at running for the first time since February. I've been working hard to increase my leg strength and work on speed during our treadmill workouts, hoping that I can drastically improve my running in anticipation of next year's half marathon. I used my heartrate monitor for an out of studio workout (it still syncs up with the OTF app) and ran four miles. Did you catch that? I ran four miles, without stopping, without dying, without even feeling like I might die. It wasn't super fast, but my endurance and recovery was phenomenal and I'm pretty sure Orangetheory is going to be the best thing to get me back outside and using my legs again.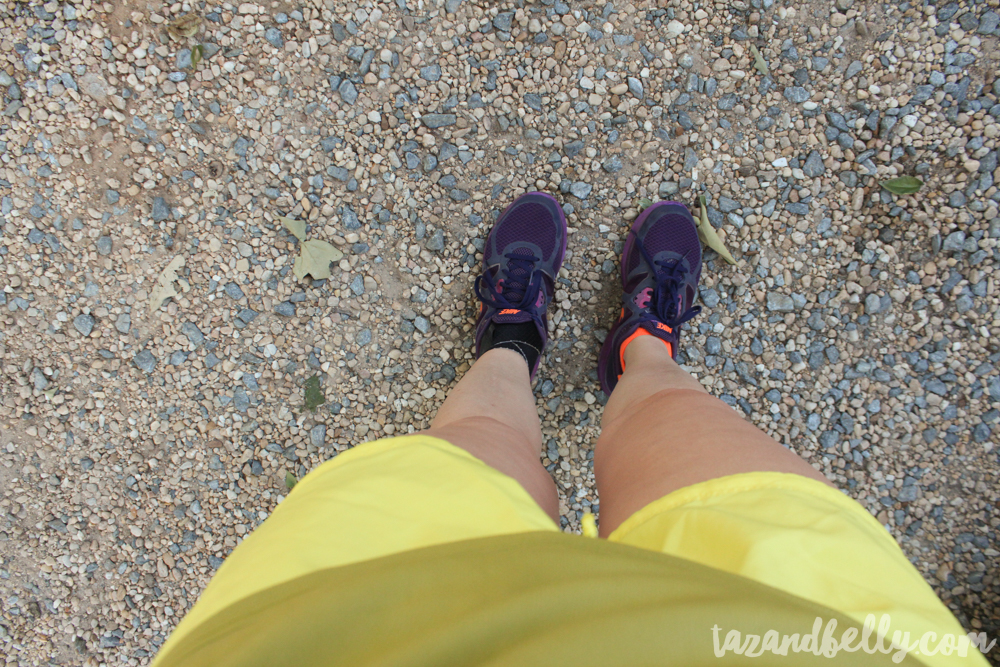 After everyone was home and tucked into their beds, Josh and I decided on a reading marathon. He's working through a 1000 page book at the moment, so we've been avoiding Netflix in favor of reading together. It is honestly one of my favorite things about marriage. I love that he is a reader and I don't have to fight him for quiet time. I finished up a birth announcement for one of my favorite clients, caught up on social media, and fell into bed. Early church means an early bedtime on Saturday nights!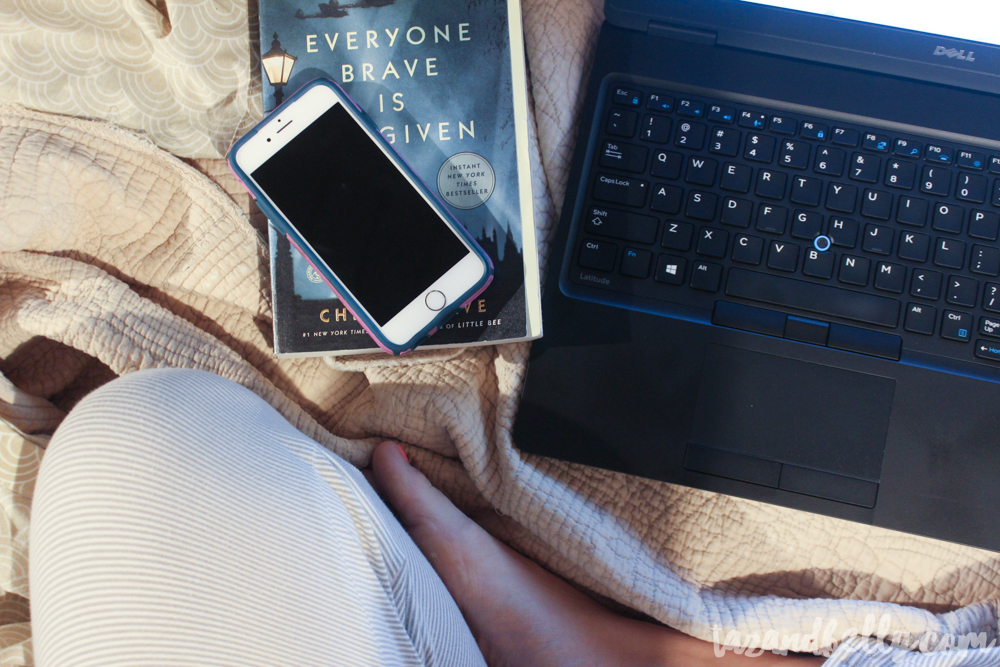 It was such a great day — I was so rested, got in a great workout, spent much of the day with my favorite people, and accomplished so much in the camper. It might not have been Mother's Day yet, but we were off to a pretty good start!
Keep an eye out for another announcement with details for next month's link party! Pick a day and take plenty of pictures, then come back here and link up. I can't wait to share another link party with YOU.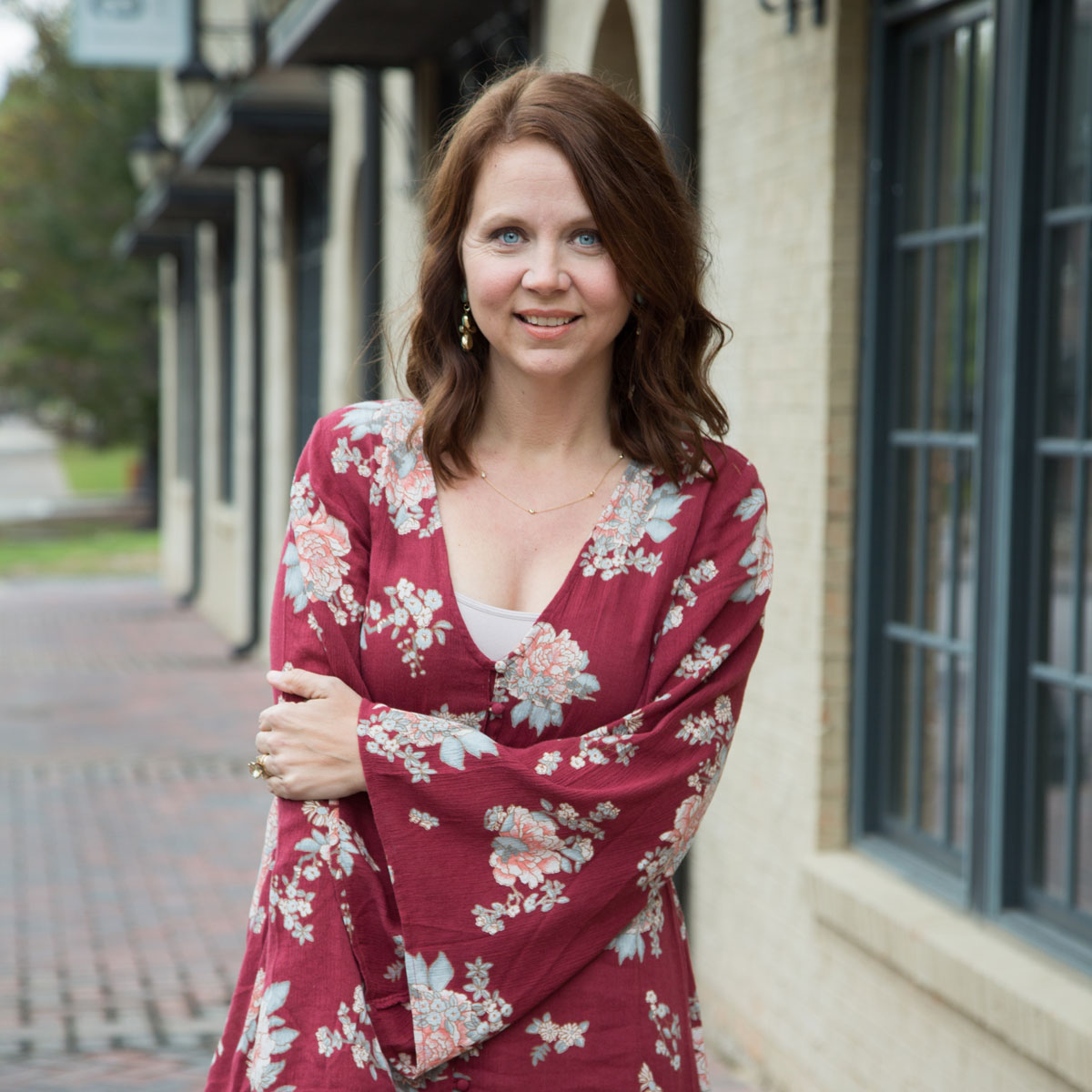 Kristin is married to her high-school sweetheart and the mother to two daughters. Professional by day and creative by night, she is a family lifestyle blogger who writes about faith, family, and fitting it all into a busy schedule. At Taz + Belly, you'll find healthy recipes, children's party ideas, tutorials, DIY projects, and more.
Click Here to Read More About Kristin