Disclosure: Affiliate links appear in this post. Any purchases made using the links in Spring Style Challenge Intro will earn Taz + Belly a small commission. You can read more about our affiliate relationships here.
---
If you'll remember, I shared a post last week about the Spring 10×10 Style Challenge. I've done mix and match challenges like this in the past, but never for this short of a period and never with this few items. While the items I chose were pretty basic and I might do something altogether different if I had to do it over again, I'm pretty happy with the pieces I chose and I've learned a few things about my closet in the process. It hasn't been perfect, or without its challenges, but I'm thrilled that I gave it a spin and I would gladly do it again next season.
Since I'm not a fashion blogger and couldn't commit to sharing a daily post during the process, I thought it might be fun to do weekly recaps instead. I'll digest everything I wore during week one here, and share a follow up post sometime next week with the final five outfits. Let's dive right in!
---
W1D1: Jersey Knit Tie Waist Dress | Layered Necklace | Ballet Flats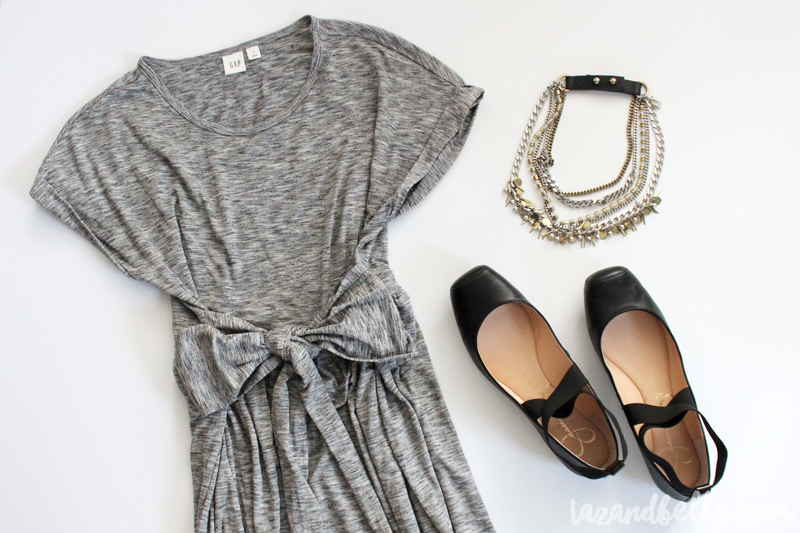 Thoughts: This dress is the most comfortable thing I own — it feels like wearing pajamas to work! I don't actually love it with a jacket (similar), but it was chilly that morning and I needed something to wear over it to work. I thought the leather jacket would pair great with the ballet flats and I'm happy with the way it looks, but I think this is better suited to warmer weather, when I don't need a jacket or sweater.
What I loved: I love the tie waist. It hits at the best possible part of my body and is easy to tie in different ways. I also think the half rolled sleeves are super cute and the simple neckline called for a fun necklace.
What I didn't: I borrowed these flats from my mom (bonus points for house sharing!!), because I loved the concept and was contemplating a pair of my own. I actually do love the way they look, but they were horrible uncomfortable on my foot. I also prefer the length of this dress with a heel.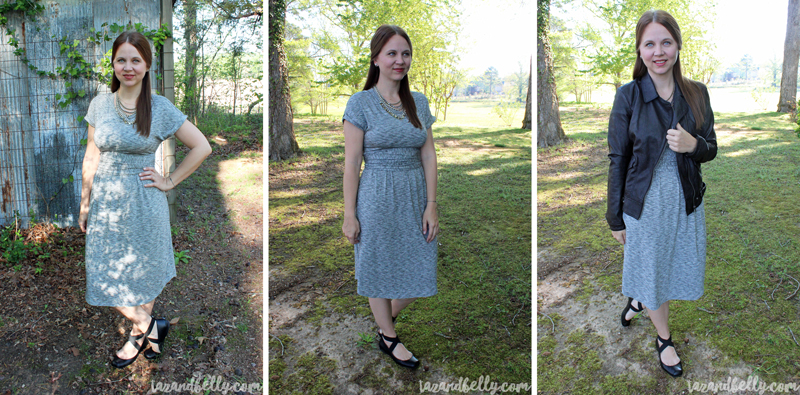 ---
W1D2: Printed Jumpsuit (similar) | Cargo Jacket (similar) | Espadrilles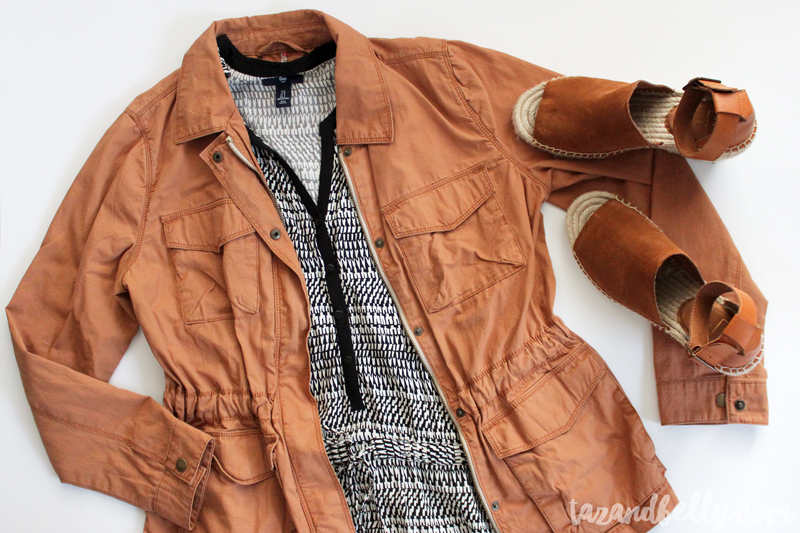 Thoughts: I never thought I could pull off a jumpsuit, so I'm really glad I gave it a shot! It was dressy enough for work, but super comfortable, and would be easy to style in other ways.
What I loved: I loved the ease of the jumpsuit and the tribal pattern was a fun way to add interest without too much color. I really loved pairing the black and white outfit with warmer accessories, especially with this hair color!
What I didn't: I took the flat lay photos earlier in the week, not considering that I might change my mind. While I loved the cargo jacket in theory, I didn't love how bulky it looked over the jumpsuit. The color was great, but the silhouette was all wrong. Instead, I added this cardigan in a longer length. I really needed something over this — my office is very cold and sleeves look a bit more professional for midweek.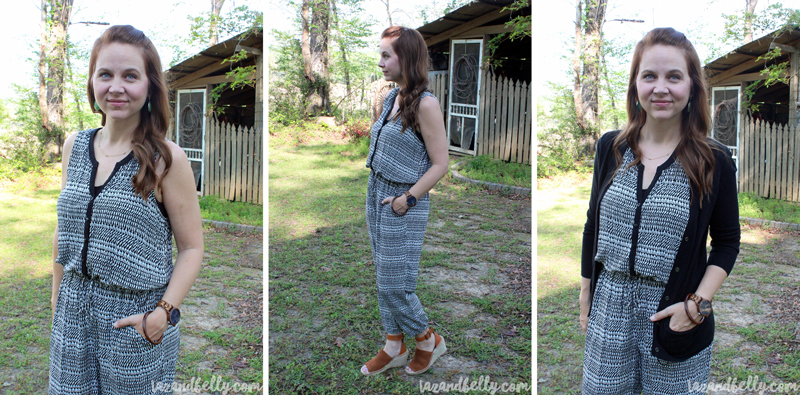 ---
W1D3: Dandelion Print Roll Button Blouse (similar) | Black Skinny Jeans | Collar Necklace (similar) | Espadrilles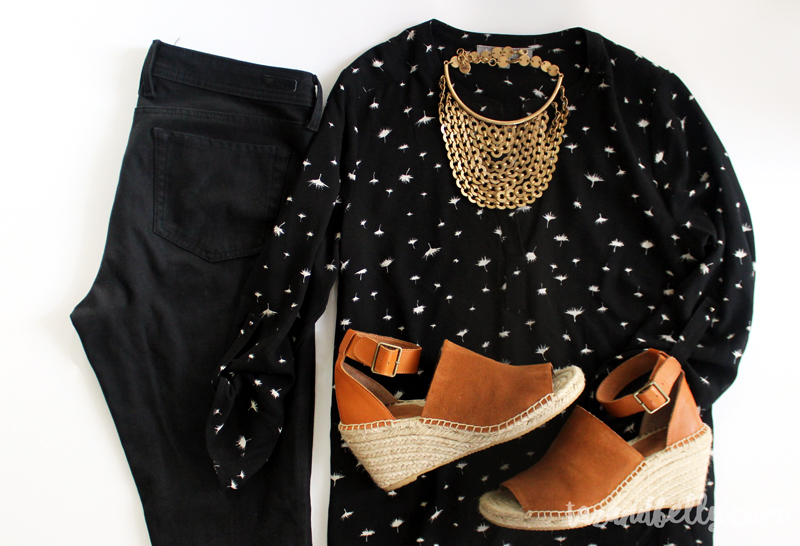 Thoughts: This might seem like a boring choice, but it is very much my style. I love simple bottoms with a patterned top, especially for work. Several of these pairings reminded me that I know what outfit formulas work for me and which ones I love most.
What I Loved: I loved adding the collar necklace to this split neck top. It actually changed the neckline altogether and offered a simple way to change it up. Again, the pairing of black and brown was something I enjoyed exploring and I realized (over and over again) that I love the contrast between the two.
What I Didn't: There isn't much to report here! I did notice that these jeans are getting a little loose in the waist (thank you, Orangetheory), so I might need to replace them soon. They are my favorite jeans ever, so I'm hoping to replace them with the exact same style.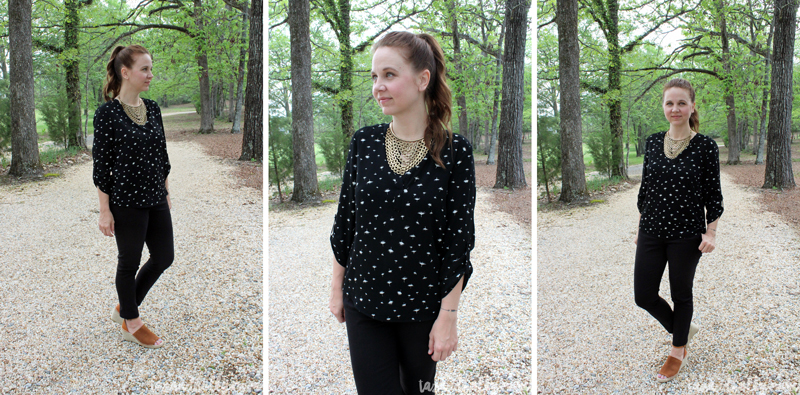 ---
W1D4: Skinny Ankle Pants | Striped Tank (similar) | Red Silk Cocoon Wrap (similar) | Flat Sandals (similar)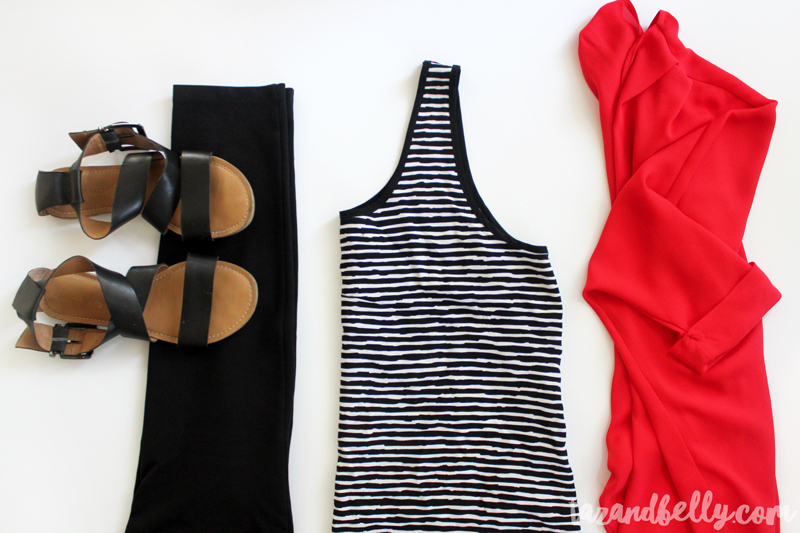 Thoughts: Here is where I admit to making a substitution. I had planned to pair the cocoon wrap with the abstract leopard print from this post. While I do love the way they looked together, last Thursday was HOT. I really needed a sleeveless top underneath the wrap, so I substituted another patterned blouse in the same color scheme. I actually had a sleeveless leopard print top that would have been a closer substitution, but it had a ruffled front that didn't work well enough with the wrap.
What I Loved: I loved finding a way to wear this red wrap as an every day item! It worked great with the slim silhouette and was a fun pop of color for work.
What I Didn't: My only complaint here is the shoes. Again, it was a warm day, so I was making choices based on the temperature. I think I heel or wedge sandal would have worked better, but I haven't bought any spring or summer shoes yet!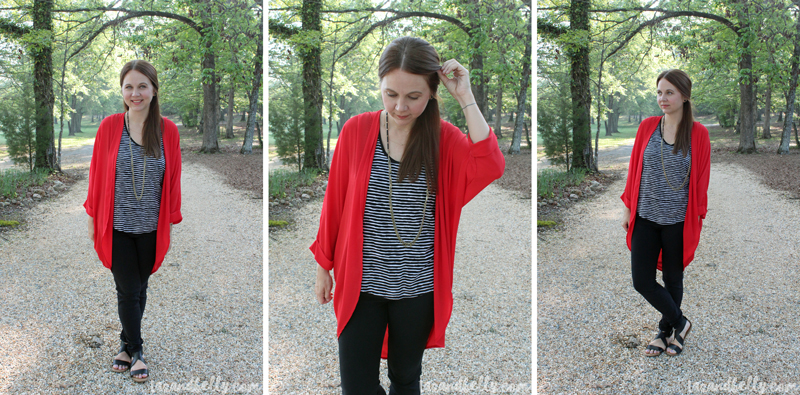 ---
W1D5: Black Skinny Jeans | Side Tie Sleeveless Top | Long Studded Necklace | Espadrilles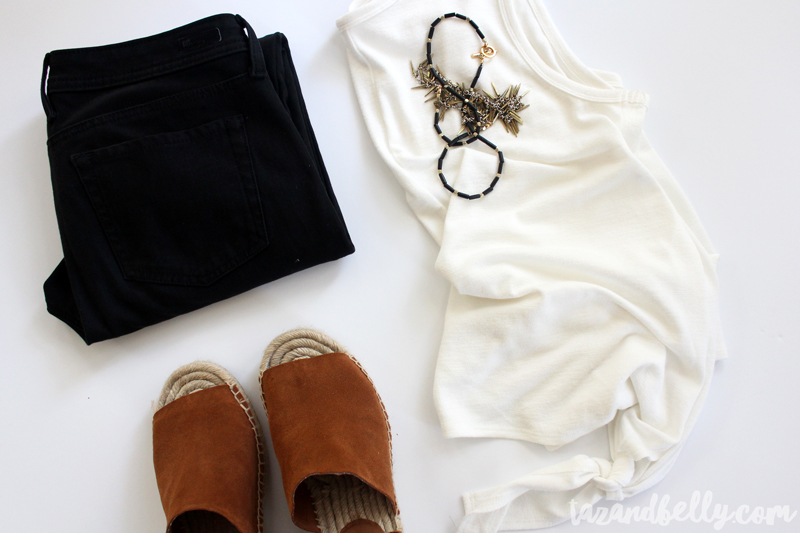 Thoughts: I was off work on Friday for Sophie's birthday, so I needed something more casual for her class party and after school birthday bash. I had planned to substitute black cut off shorts for these jeans and realized too late that I must have gotten rid of them at the end of the season last year. Whomp whomp.
What I Loved: I love the simplicity of this outfit and, again, the black + brown combo. I also really love the shape of this top and plan to keep it in heavy rotation throughout the spring and summer.
What I Didn't: I didn't realize until after I edited these photos that the arm holes are a little big for me. I wore a nude tee shirt bra (similar to this one), that I don't mind showing, but I would probably add a camisole to be safe next time around.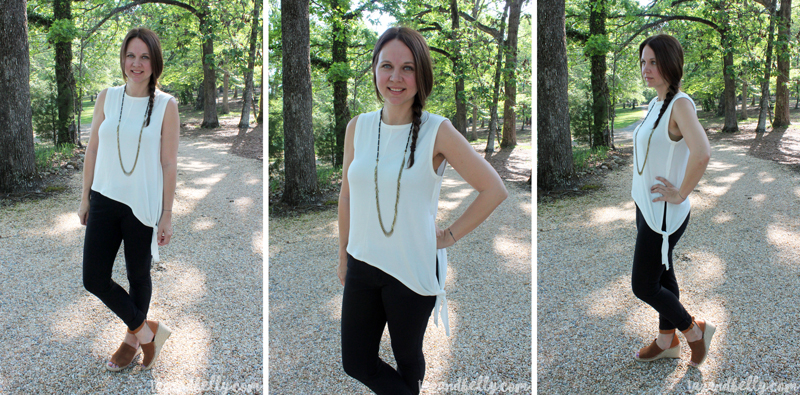 ---
All in all, I'm super happy with week one of the style challenge and can't wait to share more next week! It has been a great exercise in mixing and matching my favorite pieces and has helped to identify a few trends in my closet that I love (black + brown | printed blouse + solid pant). Be sure to visit Lee and Caroline for tons of inspiration and search the #10x10stylechallenge hashtag on Instagram to see who else in joining in!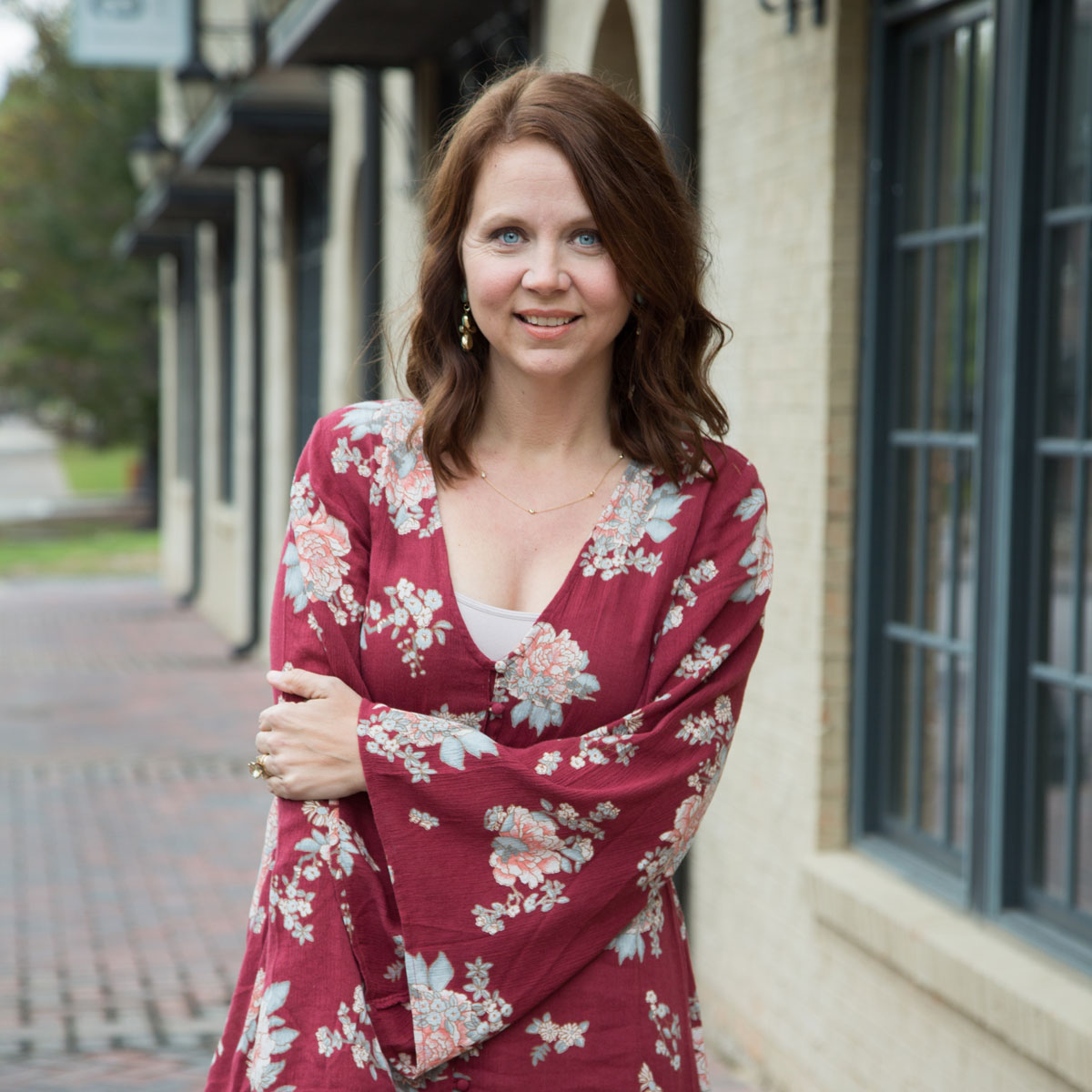 Kristin is married to her high-school sweetheart and the mother to two daughters. Professional by day and creative by night, she is a family lifestyle blogger who writes about faith, family, and fitting it all into a busy schedule. At Taz + Belly, you'll find healthy recipes, children's party ideas, tutorials, DIY projects, and more.
Click Here to Read More About Kristin