Disclosure: Affiliate links appear in this post. Any purchases made using the links in Spring Style Challenge Intro will earn Taz + Belly a small commission. You can read more about our affiliate relationships here.
---
It stands to reason that since I completely abandoned sharing a March recap of what I wore, that I would sneak in some other style related post. Right? As much as I don't like taking awkward photos of myself, I do love challenging myself to create new combinations from the work horses in my closet and I think this fits right in with curating a smaller, but more worthy, set of pieces.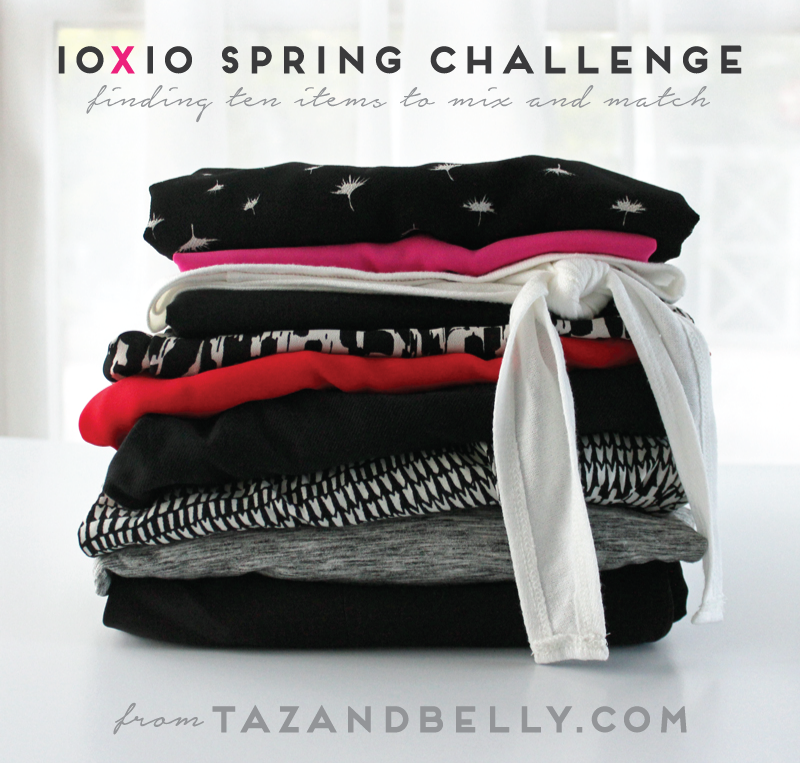 I mentioned on Monday that I finally broke my shopping fast over the weekend. I bought two pieces from the Gap on Saturday and I ran back by Monday afternoon and grabbed the shoes I couldn't stop thinking about. I know that Gap isn't the most responsible place to shop, but we're taking baby steps, remember? Paring down the items I already have and adding far fewer items to my closet are both well within the parameters I've set for myself for this year.
I loved following along with the 10×10 Winter Style Challenge, with Lee from Style Bee and Caroline from Unfancy, last season and was so inspired to be more thoughtful about how I was wearing my clothes. They are both favorites in the style blogger category and although my personal style is very different from either of them, I have learned so much from how they mix and match a very lean wardrobe. I've been looking forward to their spring challenge and decided at the very last minute, to jump in. Like, I was pulling things left and right from my closet on Monday morning before getting dressed and, of course, my camera battery died before I could snap photos for this post. Here we are, three days into ten, and I'm only just sharing the pieces I've selected and why.
But first up, a little overview. Lee established the 10×10 Challenge back in 2015, to help her get more creative with her own closet during a 30 day shopping fast (hello!). Her vision was to use a micro capsule to try a few new looks and style items in ways she might not otherwise. The basic guidelines were as follows:
1 | Pick any 10 items from your current closet
2 | Style those items into 10 different looks
3 | Use 10 days to do it
4 | Have fun and don't take it too seriously!
I love that she refers to these as guidelines rather than rules, because the point here is to have fun in your own closet! She encourages you to stretch and bend these guidelines a bit, to make the style challenge more doable for your own lifestyle. Since I work in an office with a business professional dress code, my daily work wear probably looks much different from yours. I don't typically wear suits (unless I'm in court) and my style is probably a bit younger than most of my coworkers, but I need to look polished and professional at all times. We do have Casual Fridays, but we still can't wear blue denim or anything that wouldn't work for an impromptu meeting. For this reason, I elected to choose ten items of clothing and have outerwear and shoes be a bit more flexible. I can always throw on a blazer and some pumps if I have to be more professional, but sleeveless tops and sandals might otherwise work.

First up are tops — I chose four options in different colors, patterns and silhouettes. Two with sleeves, two without. Two solids, two patterns. Not only did these choices reinforce what I already know about my closet (lots of black + white, small patterns, pops of color), but they each have a special detail that I love.
1 | Scalloped Trim Pink Blouse via Stitch Fix: I love this color, even though it isn't something I wear often. The neckline is very flattering and I love the scalloped sleeves. I typically wear this on the outside of skinny ankle pants, so I'm most looking forward to tucking it into a high-waisted skirt to change the silhouette.
2 | Dandelion Print, Roll Button Blouse via Stitch Fix: This split neck blouse is another favorite that hasn't gotten nearly enough wear. The pattern is tiny, but so interesting and I love the high-low hem.
3 | Abstract Leopard Print Blouse via Stitch Fix: Again with the black and white patterned top, but I love the abstract nature of this one. It is very tailored and the high neck and keyhole back are perfect with a statement necklace.
4 | Side Tie Sleeveless Top via Gap: This is a new addition to my closet and I'm looking forward to finding a few fun ways to wear it. I didn't buy it for this challenge, but I'm not going to lament a happy accident. It's a thin, knit fabric with a fun seam down the front and ties on the side. I think the tie can be worn a few different ways and I might take the tag out of the neck, so I can wear it backwards, too (that seam would look just as fun on the back!). I'm also interested to see how this would layer over another blouse or romper. Stay tuned.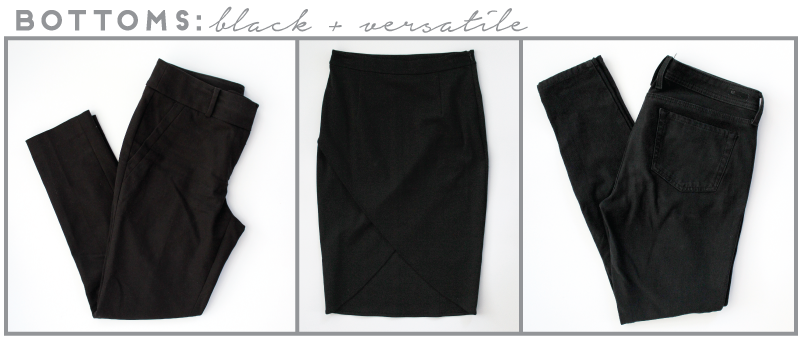 The bottoms I chose were pretty boring, but I have to dress appropriately for the office and black always works.
5 | Marissa Skinny Ankle Pants via LOFT: These are my favorite pants ever and after almost a month at Orangetheory, they fit much better. I love the length and they look good with every pair of shoes I own.
6 | High Waisted Tulip Skirt via Banana Republic: This is an older item that I sometimes forget about, so I'm hoping to fall in love with it all over again. The crossover in the front, hits just above the knee, so the hem in the back is a little longer. I've only worn it a handful of times, so I'm excited about coming up with a few new combinations.
7 | Black Skinny Jeans via Kut from the Kloth: These are legitimately my favorite pair of jeans, ever. They fit perfectly and are the richest, darkest black, making them perfect for weekend wear and Casual Friday. I rarely tuck shirts into my pants, so I'm on the hunt for a fun belt or printed scarf to make that happen this month.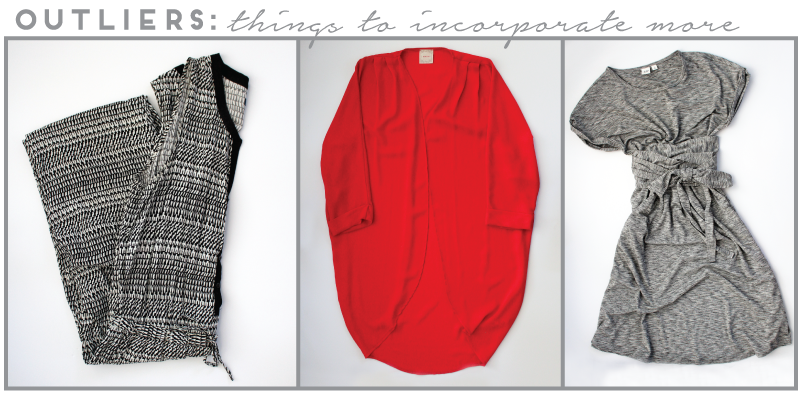 Now for the outliers. I'm a huge fan of dresses for work, so I'm trying to play more with separates during this challenge. I did want to include a few one piece items in an effort to wear them in a completely different way, though, and I added a wild card item that I never know how to wear.
8 | Printed Jumpsuit via Gap: This is a hand-me-down from my sister, via my mom's closet. How is that for a backstory? It's probably a size larger than what I would normally wear, but I really want to make it happen in my closet. I've tried it on multiple times in an effort to get outside my comfort zone, but it hasn't ever left the house. I wore it to work on Tuesday (insert praise hands!), so we're already making progress. I'm working a few variations for this one and I'm kind of excited.
9 | Red Silk Cocoon Wrap: This has been in my closet for so long, that I'm not even sure where I bought it. I do know that I can count on one hand how many times I've actually worn it. The color is beautiful and I love the way it drapes, but I can't ever figure out what to pair it with. That is exactly why I chose it for this challenge.
10 | Jersey Knit Tie Waist Dress via Gap: This is the second of my weekend purchases and I'm in full on infatuation with this one. The fabric is so dreamy, it's the perfect midi length (I don't own anything else that hits that part of my leg), and the tie waist does wonders for your figure. I have no idea if there is a combination other than dress + shoes + necklace, but I'm going to give it a try.
So there you have it, ten items + ten looks + ten days. My plan is to share two weekly recap posts with details on what I wore, what worked, and what I would do differently. I know the items here are pretty basic and relatively easy to mix and match, but I figured I would ease myself into this micro challenge, as I continue to learn more about my personal style and the state of my closet evolves.
Be sure to visit Lee and Caroline for tons of inspiration and search the #10x10stylechallenge hashtag on Instagram to see who else in joining in!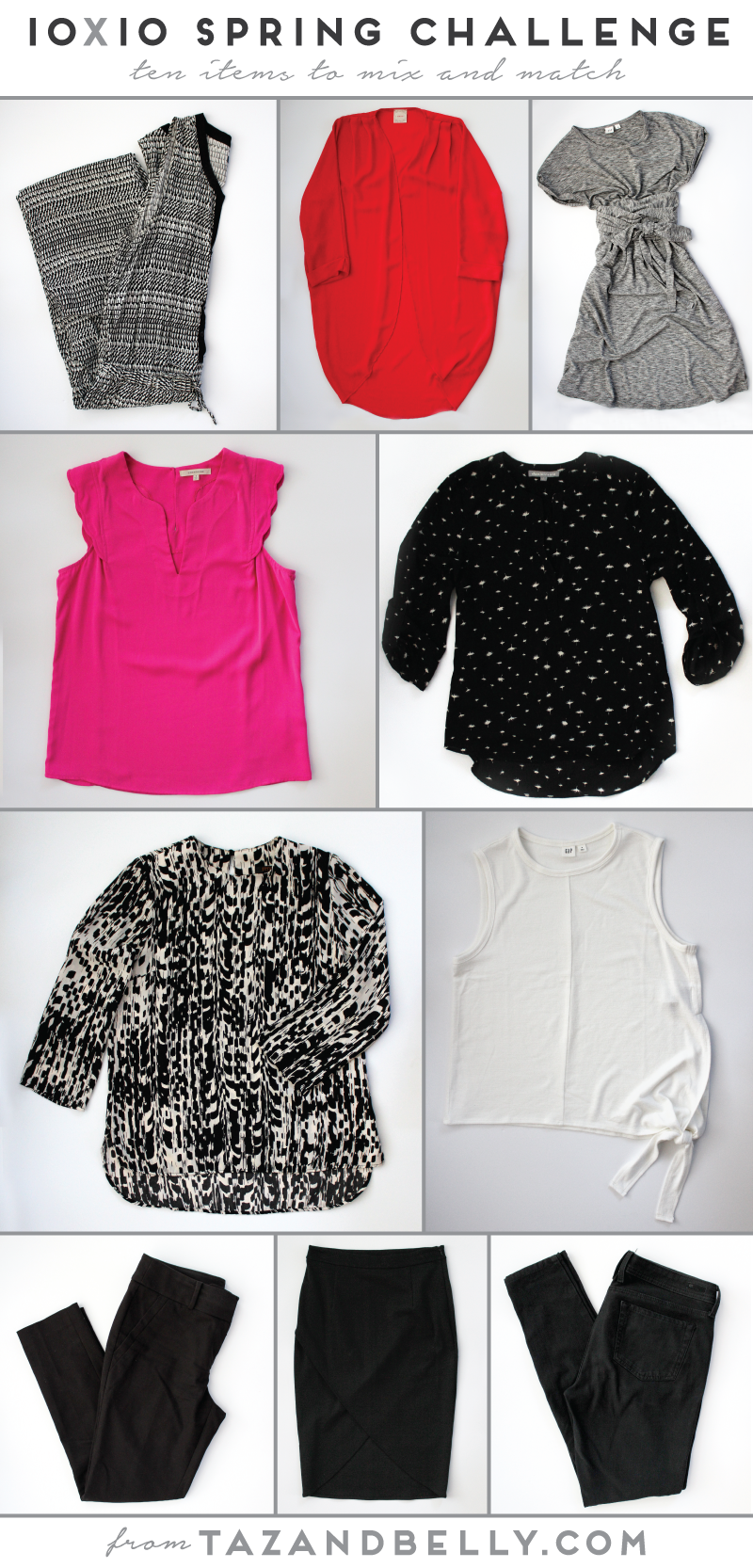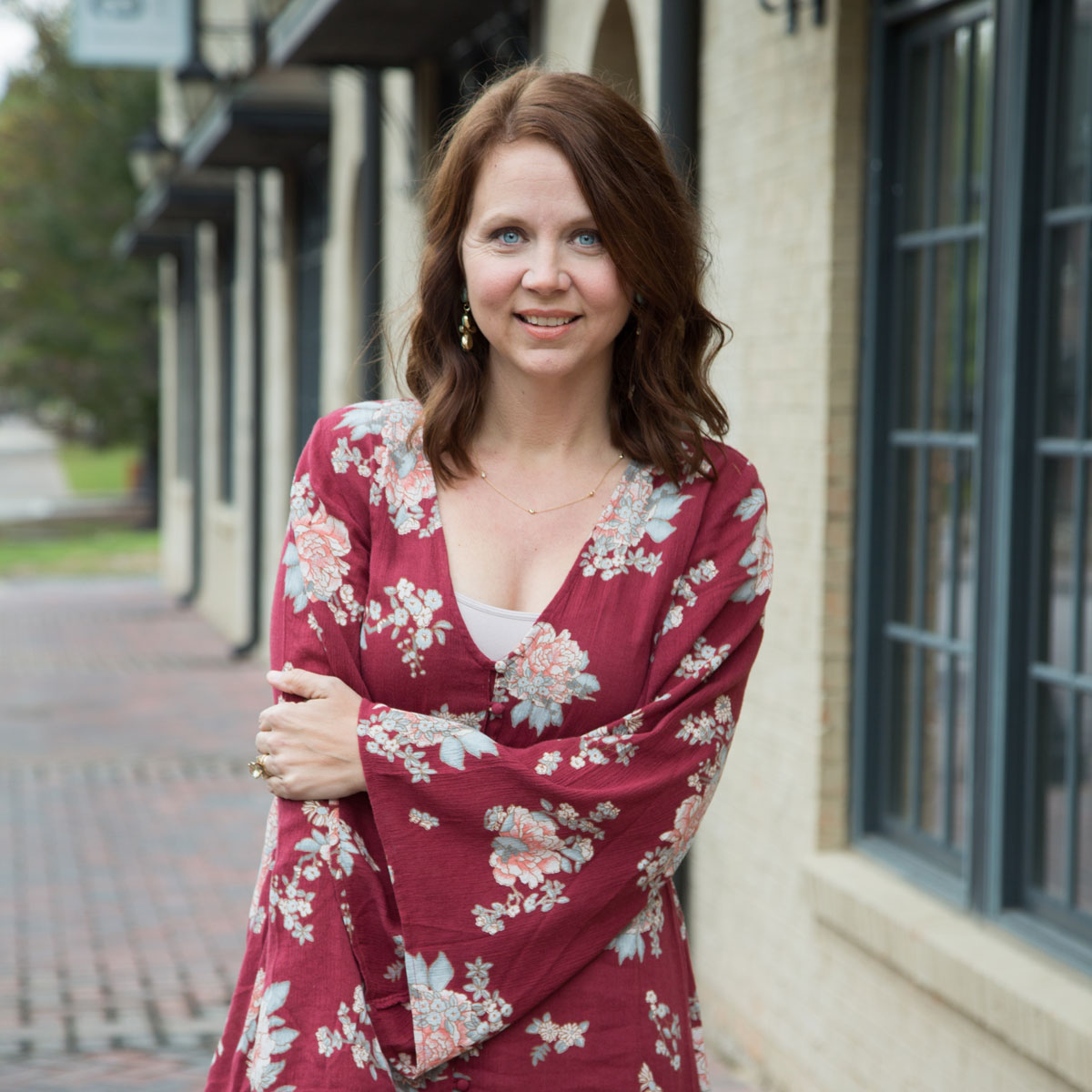 Kristin is married to her high-school sweetheart and the mother to two daughters. Professional by day and creative by night, she is a family lifestyle blogger who writes about faith, family, and fitting it all into a busy schedule. At Taz + Belly, you'll find healthy recipes, children's party ideas, tutorials, DIY projects, and more.
Click Here to Read More About Kristin