Disclosure: Affiliate links appear in this post. Any purchases made using these links will earn Taz + Belly a small commission. You can read more about our affiliate relationships here.
---
Even though I'm not currently shopping right now (almost two whole months with zero clothing purchases!), that doesn't mean I don't sometimes scroll through pretty things or think about how I might put things together. And while I'm not planning to buy a new dress for Easter (I have plenty of options to choose from in my own closet), I have been looking at spring dresses to see what's out there. You may or may not be surprised that almost everything I loved was in a similar color palette. I'm telling you, this closet capsule thing is starting to affect all areas of my life!
These twelve dresses from Nordstrom most represent my current style when it comes to dresses. I am hoping to add a few dresses to my wardrobe closer to summer, and these are the styles I'm the most drawn to this season!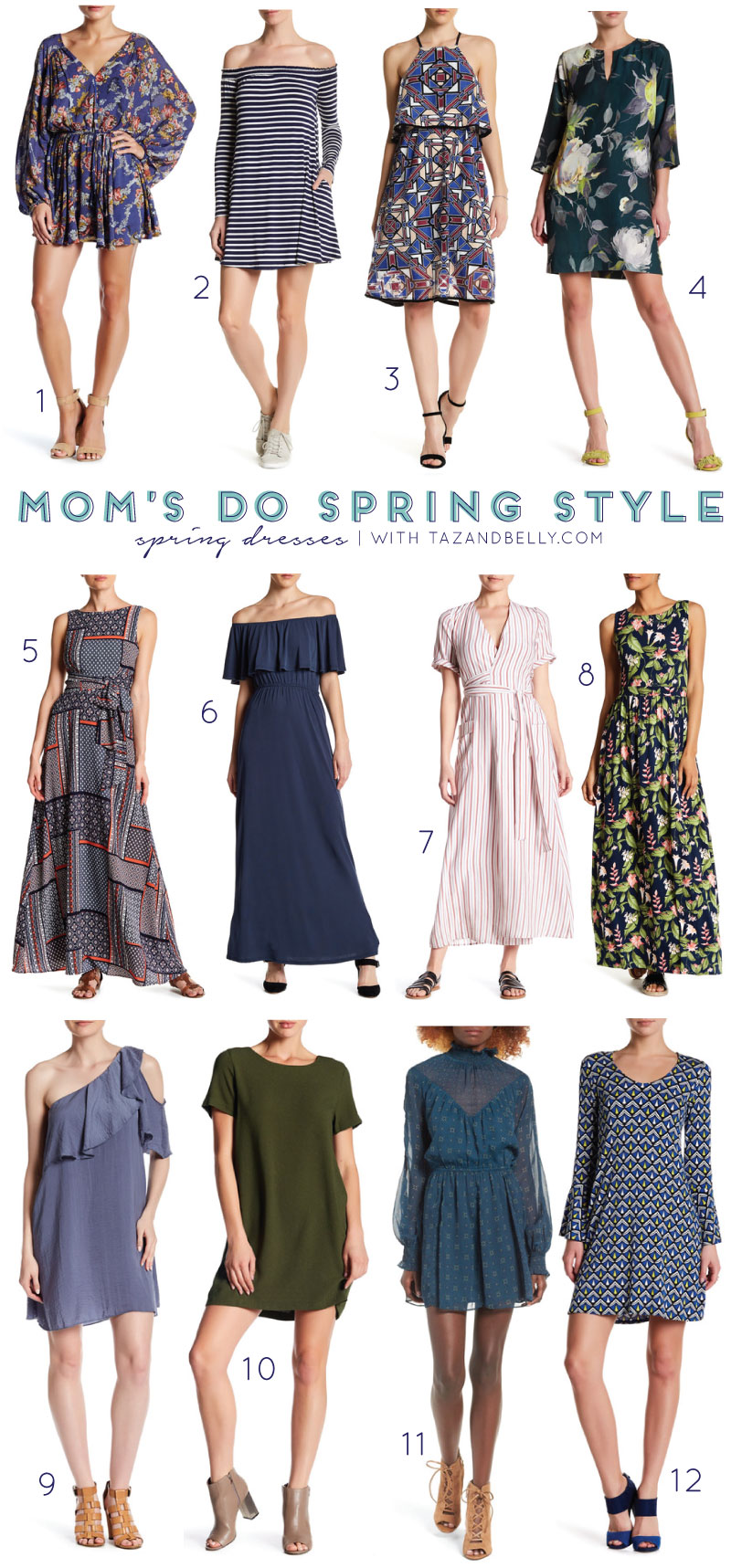 1. Boho Mini Dress | 2. Striped OTS Dress | 3. Geometric Midi Dress | 4. Split Neck Floral Shift
5. Printed Maxi Dress | 6. OTS Ruffle Maxi Dress | 7. Striped Wrap Tie Dress | 8. Floral Maxi Dress
9. Chambray One Shoulder Dress | 10. Crepe Shift Dress | 11. High Neck Fit & Flare Dress | 12. Angel Sleeve Dress
But since I'm not actually shopping and can't really put together a fun outfit at Nordstrom this month, what better way to play dress up than to virtually style a few of my favorites?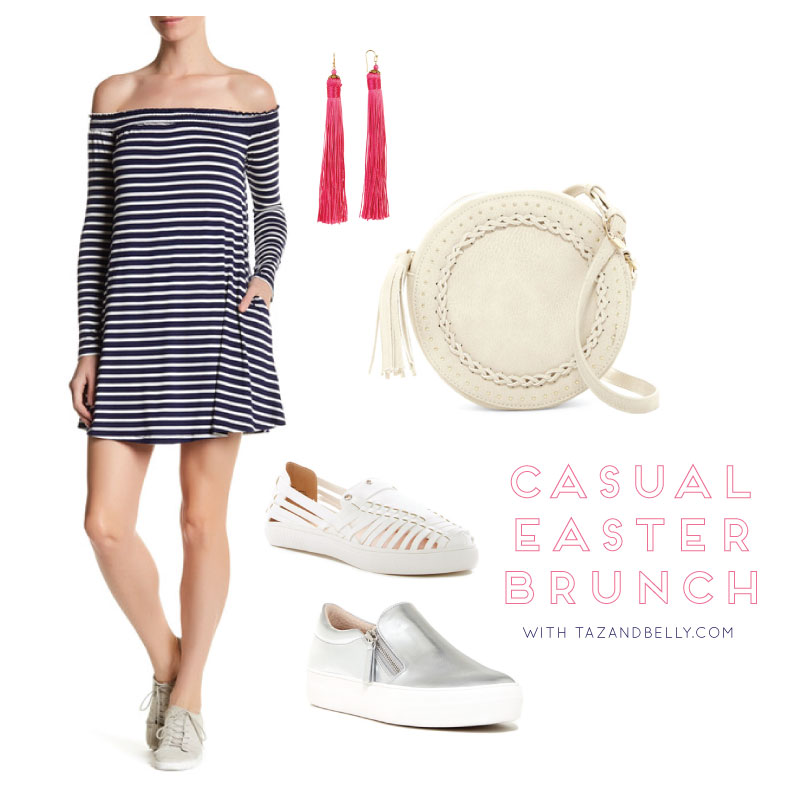 OTS dress | tassel earrings | crossbody bag | huarache sneakers | side zip sneakers
Even though I know that I can't wear off-the-shoulder tops and dresses (stupid narrow shoulders), I do love the look of this striped dress. It looks ridiculously comfortable, but still chic! I did love how the model paired hers with a more casual sneaker, but the lace ups aren't my favorite with this look. Instead, I'd choose a glossy white leather version or these silver platforms for a little shine. I love the white crossbody bag and since the color palette is minimal, a fun tassel earring would up the fun factor.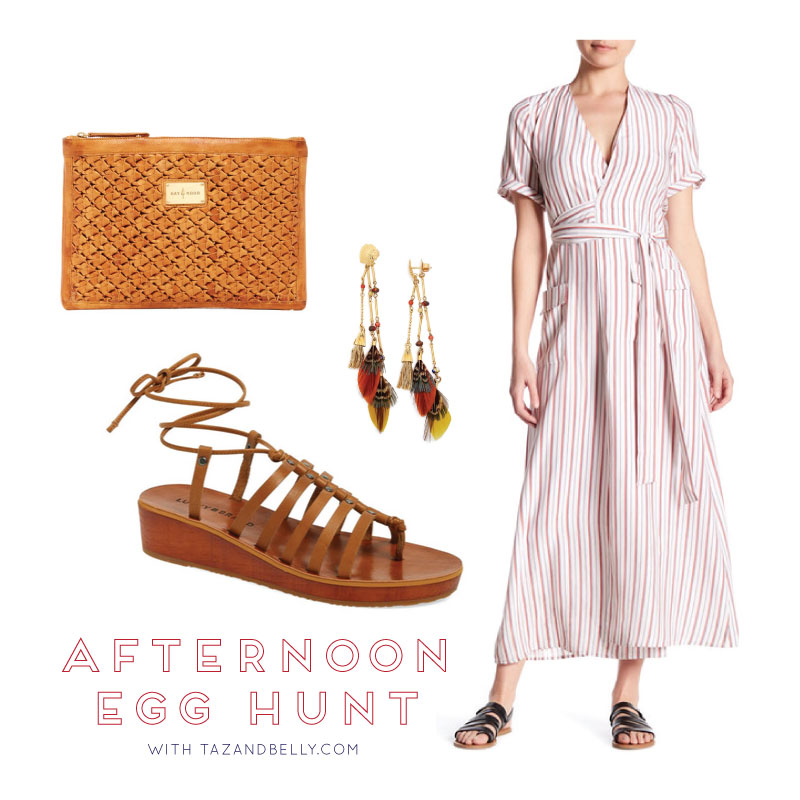 braided clutch | feather earrings | lace up gladiators | striped wrap dress
You. Guys. This striped dress is the stuff dreams are made of! It's silk, so keeping it clean would be a nightmare, but I love the pretty stripes and the wrap silhouette looks great on everybody. I love the length and I think this is one of those dresses you could easily dress up or down. Paired with fun wedges and a glossy bag, this would be great for a date night, but I thought adding some simple boho accessories would take it in a completely different direction. I'm obsessed with these lace up sandals and those feather earrings are so fun!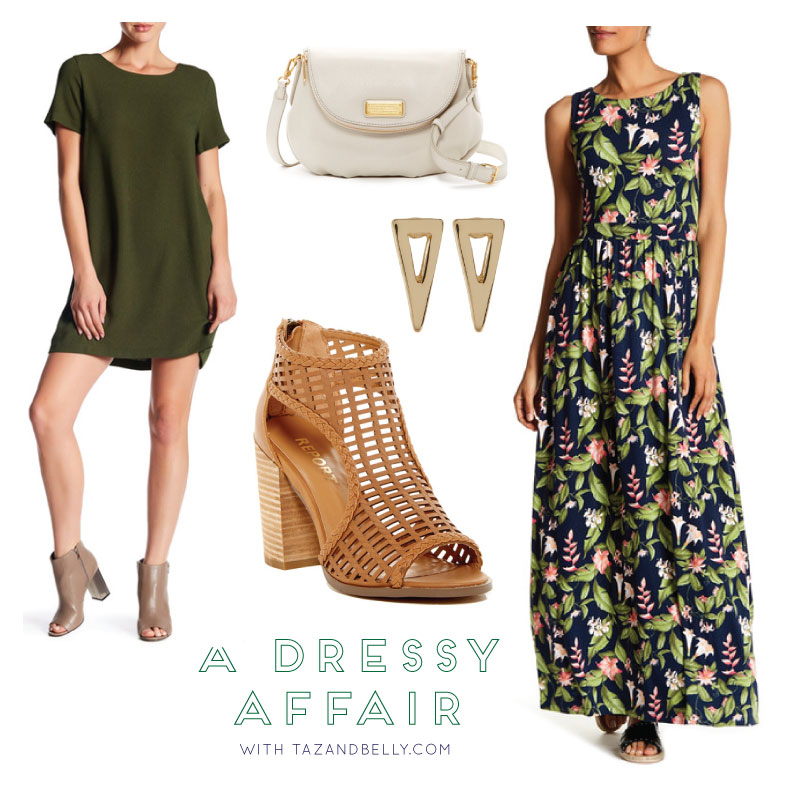 green shift dress | triangle earrings | crossbody bag | cage platform sandals | floral maxi dress
I know many of you are looking for something to wear to church or Sunday lunch, so I put together another fun look that is slightly more dressy. Our church is pretty casual, and since we often go to the Easter service on Friday or Saturday night, I don't feel as weird about wearing a short dress. If you prefer something long or with more coverage, these accessories work just as well with this pretty floral maxi dress. I've been on the hunt for some pretty cage heels and that Marc Jacobs crossbody bag has been on my wishlist for a very long time. The simple triangle studs are all you need with the other details in this look!
---
I'm so excited to team up with the girls of Take Time for Style for this post during their Moms Do Spring Style event. Be sure to visit their blog for more on spring style and to enter a giveaway for a $150 Nordstrom gift card to help you transition your closet from Winter to Spring. Did I mention that all of the pieces in today's post can be found at Nordstrom Rack? I've already done half of the work for you!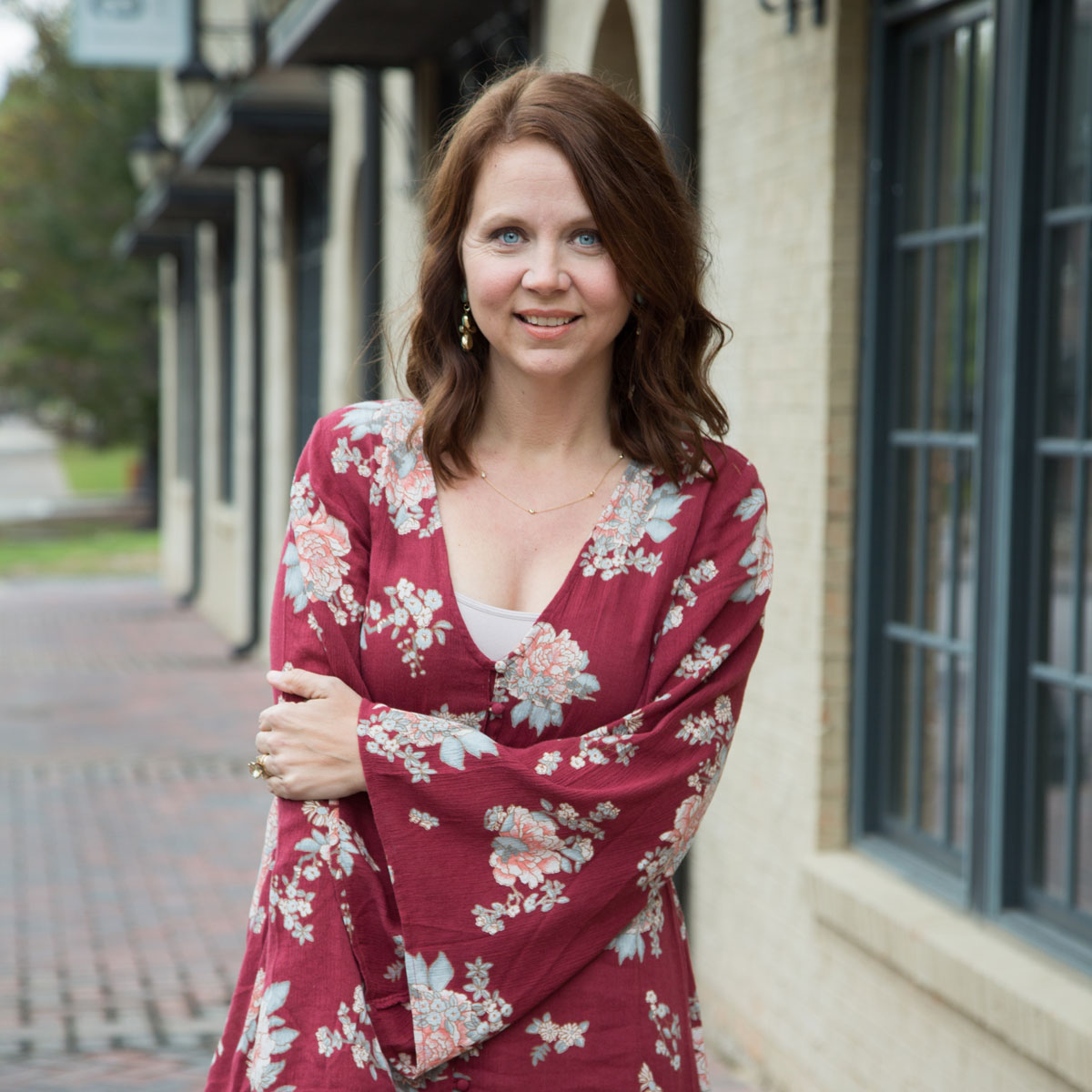 Kristin is married to her high-school sweetheart and the mother to two daughters. Professional by day and creative by night, she is a family lifestyle blogger who writes about faith, family, and fitting it all into a busy schedule. At Taz + Belly, you'll find healthy recipes, children's party ideas, tutorials, DIY projects, and more.
Click Here to Read More About Kristin