Disclosure: Affiliate links appear in this post. Any purchases made using these links will earn Taz + Belly a small commission. You can read more about our affiliate relationships here.
---

After living with my pared down closet for several weeks, I'm finding that I'm not missing much of what I removed. Occasionally I'll think about a piece and how it might work with something I still have, but it's been in a plastic bin for almost six weeks and I think it's safe to say I'll be moving on. I've put off selling it all before now, but I think I'm ready.
Part of this whole minimalist-ish approach is to have fewer items to choose from, but the other side of the coin is where are these items coming from and how were they made? I'll admit to being completely overwhelmed when it comes to more responsible fashion (both in volume and in price), so I'm going to establish a few rules for myself moving forward and take baby steps.
I'm thinking about responsible fashion for fall. I'm establishing a better budget, doing some research, and vowing to make more responsible choices in a few more seasons. I'm not at a place where I have excess in my budget and I want to read more before I start making purchases. That doesn't mean I can't make some positive changes now, though.
I'm going to be happy with what I have. Sure, many of the things in my closet are inexpensive imports, but the damage is already done. Instead of tossing them and spending even more money, I'm going to love what I have and be strategic about how to make better purchases moving forward.
I'm going to buy less. While all of my purchases for spring and summer might not be as responsibly made as I'd like, buying fewer items still has a positive impact.
I'm going to buy second hand. I have always loved thrift shopping, but sometimes steer clear for vain and stupid reasons. I'm going to get back in a regular habit of scoping out local shops and online retailers like ThredUp for like new items.
I want to make sure I'm committed before making serious changes. This might sound backwards, but I want to approach this thoughtfully and avoid feeling overwhelmed. I think taking baby steps over the next six months will really help identify past mistakes and highlight areas of my closet I'd like to focus on.
Stick with a wish list. I talked a bit about this in my last closet confessions post, but I think having a better idea of what I'm looking for each season will keep me from feeling overwhelmed at the store and will ultimately help curb impulse purchases. I've been thinking a lot about what I want to see in my closet for spring and early summer and put together a quick visual wishlist so you can see what I'm thinking. I'm not attached to these brands or these particular versions, but these are the kinds of items I'm keeping my eyes peeled for!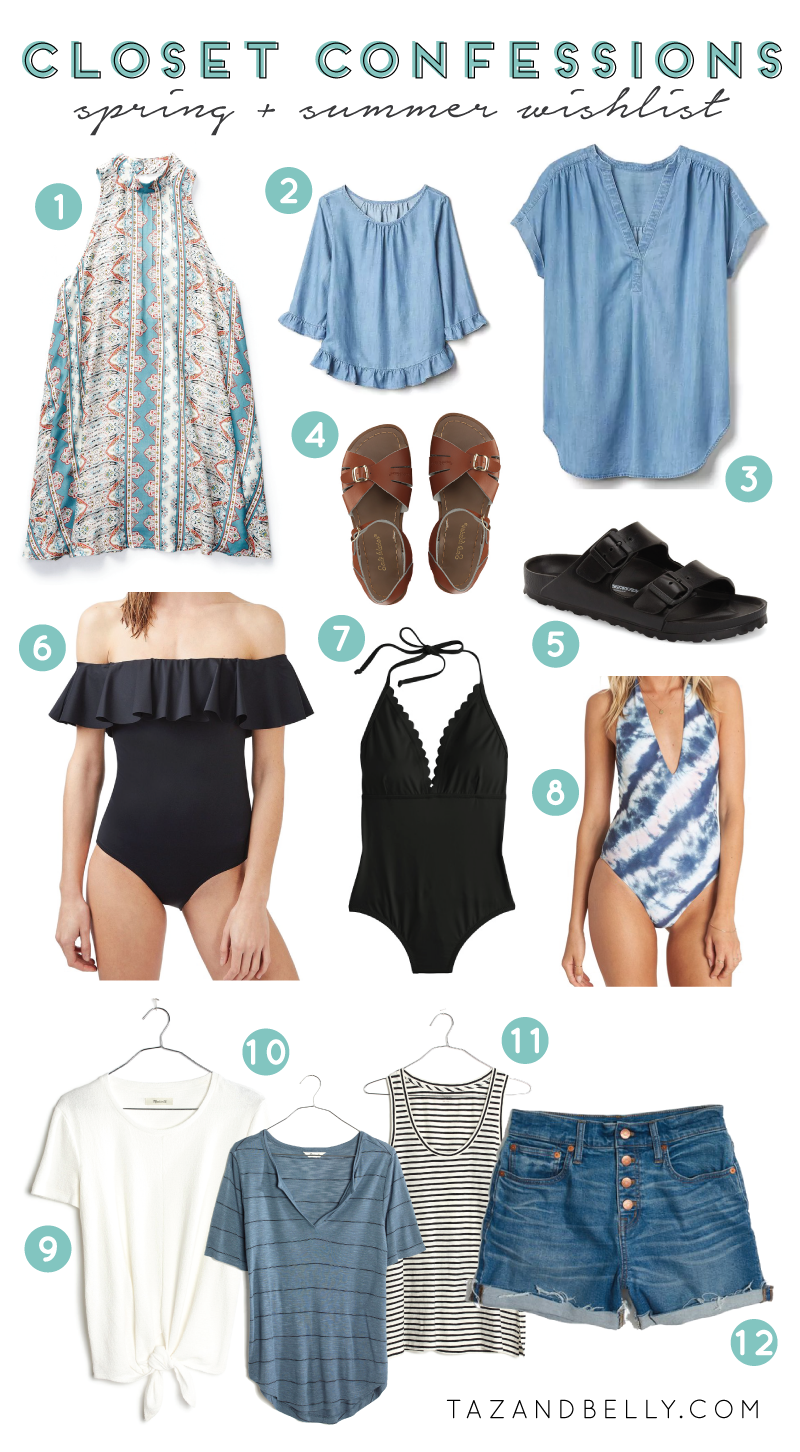 1 | Beaux Slip Dress | via Free People $88 | I tried this dress on last fall in a different color and loved the way it fit. It was mostly browns and dreary looking, but I did love the open back. This lighter, brighter version is calling my name and could be easily dressed up or down.
2 | Ruffle Hem Top | via Gap $48 | One of my biggest wishes right now is to find a chambray shirt that I love. My long sleeved one hasn't gotten much wear this fall, but I do have a sleeveless version that I love. I'm looking for something with unusual detailing or an unexpected shape. This one might be too pretty for my current style, but it's moving in the right direction.
3 | Indigo Popover Top | via Gap $36 | I like this version even more. I think it would look beautiful with trousers and a statement necklace for work, but could look just as great with shorts and flat sandals for summer.
4 | Salt Water Sandals | via Zappos $42 | I have these exact sandals in gold and I love them. Sure, they can lean a little toddler if you aren't careful, but I've never owned anything more comfortable and they wear really well. I think these in cognac would make them a perfect transitional pair.
5 | Arizona Slide Sandal | via Nordstrom $35 | I also have my eyes on these inexpensive Birkenstocks. They're made of plastic and would be great for camping, pool and beachside fun. I was already thinking about buying black Birks for summer, but knowing these would stand up to all of our fun, makes them a more practical option.
6 | TopShop Ruffle OTS Swimsuit | via Nordstrom $58 | I'm over trying to be happy with two piece bathing suits. I am thirty-seven years old and no matter how young I feel, I'm never going to have abs. Like, ever. Instead, I'm looking for a very flattering black one piece. I don't want anything matronly, but I don't want anything hanging out! I'm not sure how practical the off-the-shoulder swimwear option is, but since it doesn't require a bra I might give it a try (I haven't found an OTS top all year that I love because I repel strapless bras).
7 | Scalloped V-Neck Halter Swimsuit | via Nordstrom $118 | This scalloped J. Crew version is also really pretty. It isn't the $350 version that I wish I could afford and I worry that the tie-neck would get uncomfortable after a longday. I'm not sold on this one, but black + scallops are definitely on my radar.
8 | Tidalwave Swimsuit | via Nordstrom $85 | Not black, but definitely my style and it has a great back.
9 | Modern Tie Front Top | via Madewell $40 | I've never bought anything from Madewell, but I always hear such great things. After surfing their shop this morning, I found several breezy summer tops that I love. I need a perfect white tee, but want something with a little detail. Maybe this tie front or an open shoulder or even cross front detailing — I just know I want something different.
10 | Anthem Split Neck | via Madewell $30 | I need a new striped tee (or two) and I love the neckline on this one. Be sure you visit the site and see it on the model — this flat version doesn't do the shape any justice.
11 | Whisper Cotton Scoop Tank | via Madewell $19 | I also need a striped tank (I've never had one that I can remember) and I like this shape a lot. Ideally, I'd like a black and white version and maybe something colored. What is your go-to resource for relaxed tanks?
12 | High Rise Denim Shorts | via Nordstrom $75 | These shorts are kind of the holy grail. I bought a pair of high-rise button front shorts last summer, but they never fit quite well. I think going up one size and making them slightly more relaxed would have helped, but you know what they say about hindsight. Basically, I have a brand new pair of Free People shorts in a size four that need a new home.
I tried giving a detailed name for each item, along with its source and price. If you're adverse to affiliate links, you should be able to track them down via Google, using this information. Otherwise, click the links above to support Taz + Belly. | All additional links added by viglinks.
What is on your wishlist this spring? Any items you can't live without or things I haven't thought of? Do tell.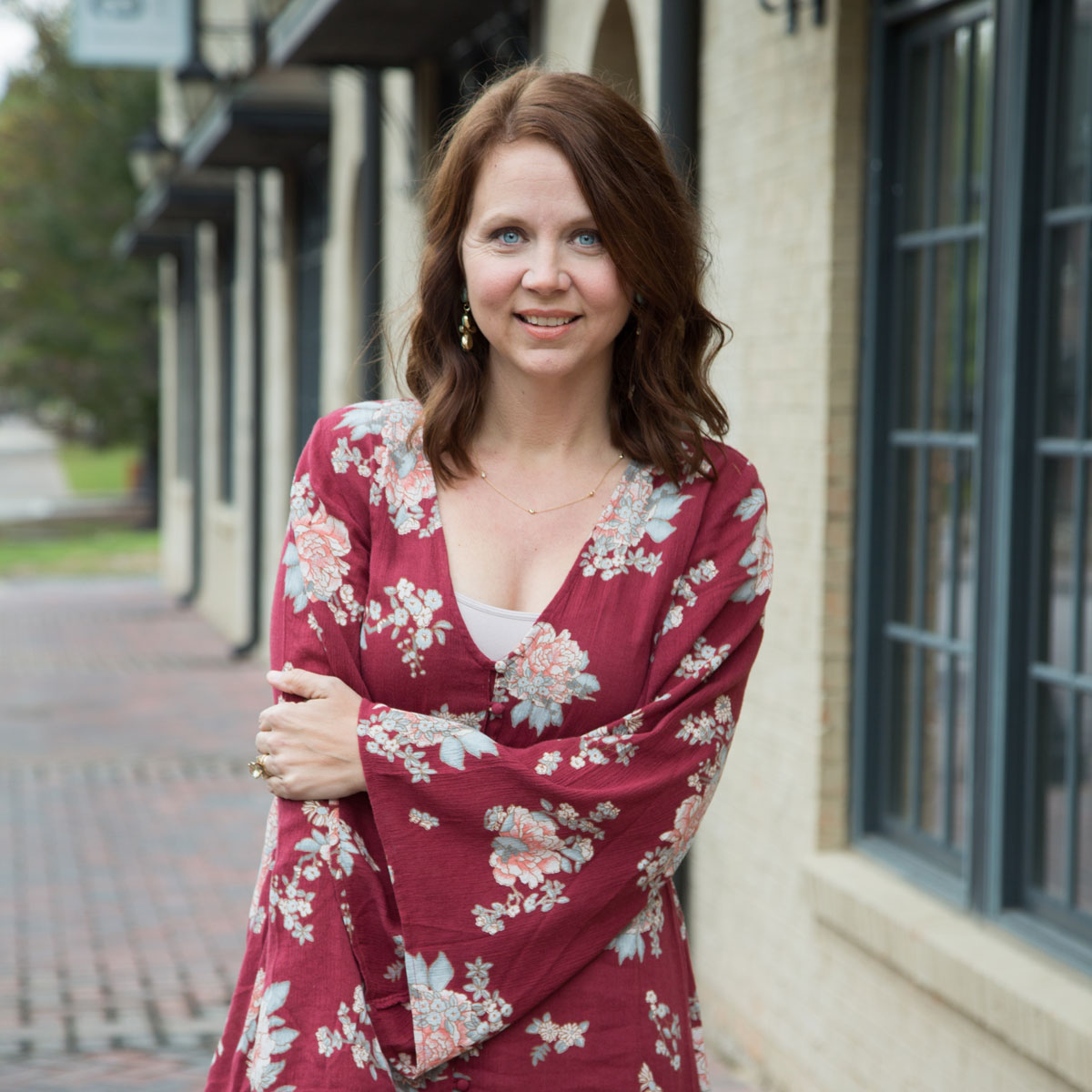 Kristin is married to her high-school sweetheart and the mother to two daughters. Professional by day and creative by night, she is a family lifestyle blogger who writes about faith, family, and fitting it all into a busy schedule. At Taz + Belly, you'll find healthy recipes, children's party ideas, tutorials, DIY projects, and more.
Click Here to Read More About Kristin