I love the idea of documenting a random day of the month to show you what life looks like on a more regular basis, but perhaps I should have set a reminder on my phone, or considered that the day I planned to document, was the day after we returned from San Diego and jet lag would completely erase all coherent thoughts from my head. It might not be the day I had planned, but I did at least choose a day when nothing special was going on — I'm vowing to bring you a random snapshot of our lives each month, not a scripted, activity-filled adventure. Meet February 13th.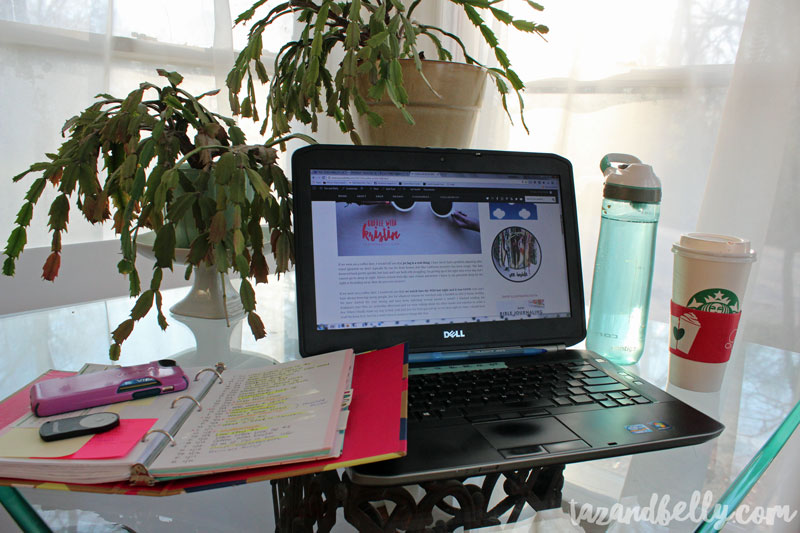 Even though I've been utterly exhausted, I'm making myself get up early in an attempt to reclaim my regular schedule. I drank too much coffee in the sunroom (the light and view are beautiful in the morning!), while working on posts for this week.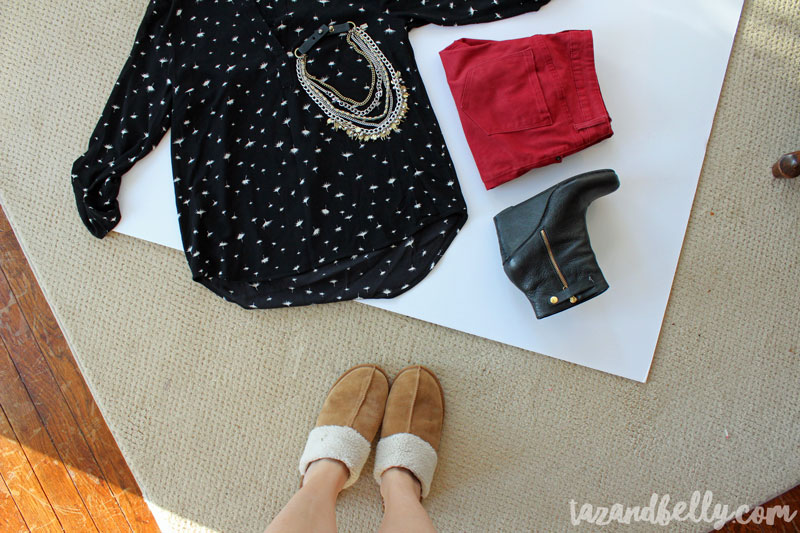 I'm trying something a little different for this month's outfit post (I can't wait to share the finished product!), so I snapped a quick flatlay photograph of what I wore to work. Pro tip: I'm using a large sheet of foam board as my backdrop and trying to take all of my photographs around the same time every day, for similar lighting. I had to take a week's worth of shots on Sunday afternoon to capture everything I wore on my trip, but I'm hoping for a more cohesive look moving forward. It's gonna be a good one!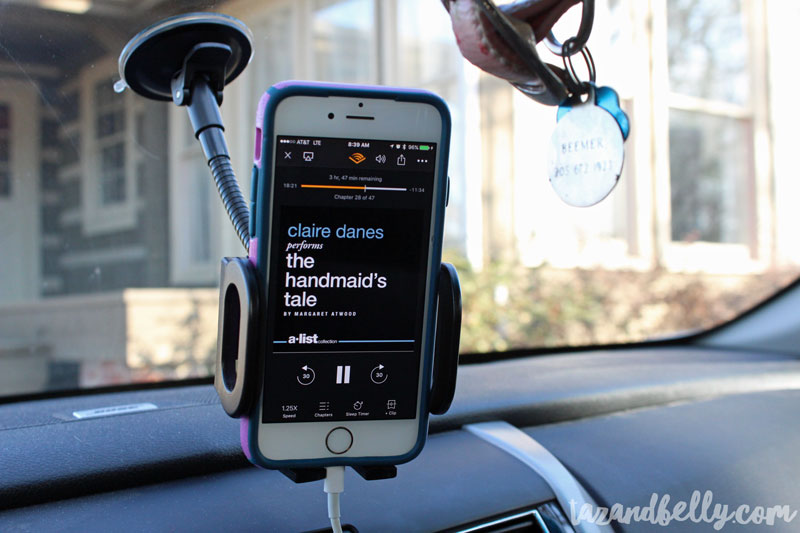 I mentioned this book in Monday's post, but it bears repeating. Claire Danes is AMAZING and I listened to this as much as I could on Monday. See that doggie collar hanging from my mirror? It's B's and it's been hanging there since we drove her to the vet, over a year ago. It occasionally jingles during my drive and I love being reminded of her on a daily basis. We're still missing our girl.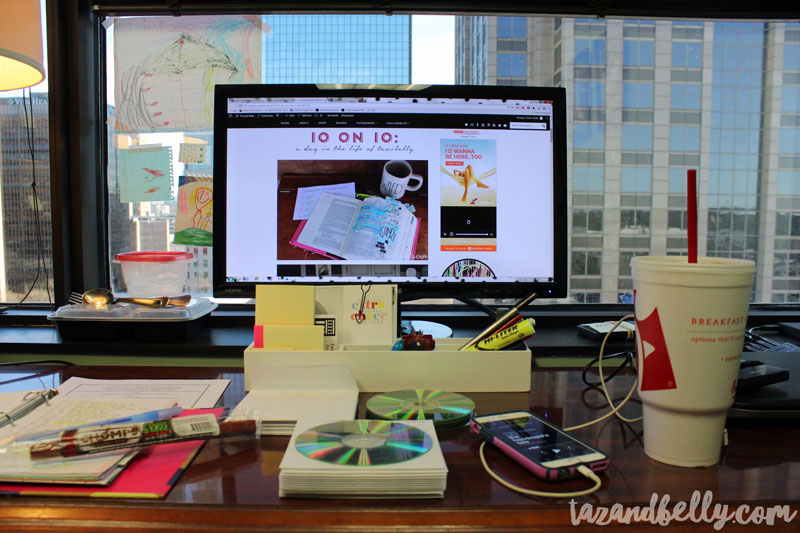 Work has been crazy busy since I was out for more than a week. I took a quick midday break to check out the formatting of last month's post, eat a chomp stick and finish off a Dr. Pepper from earlier in the day. I know what you're thinking, but I'm getting back on the paleo bandwagon this weekend. Pinky promise.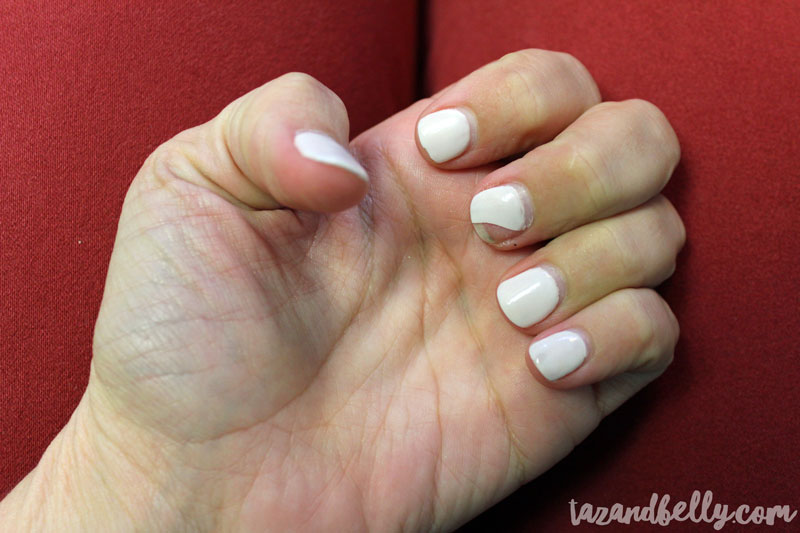 Since summer, I've been getting a powder dipped manicure (sometimes called SNS) and I love them! I can almost always go four full weeks between visits, but our vacation ruined this month's manicure. I think this is a little over two weeks and I couldn't wait any longer. I had three broken nails on my right hand, plus this beauty on my left. I snuck out a minute early and had them replaced while Sophie was at piano lessons. I got glossy black this time and they are so pretty!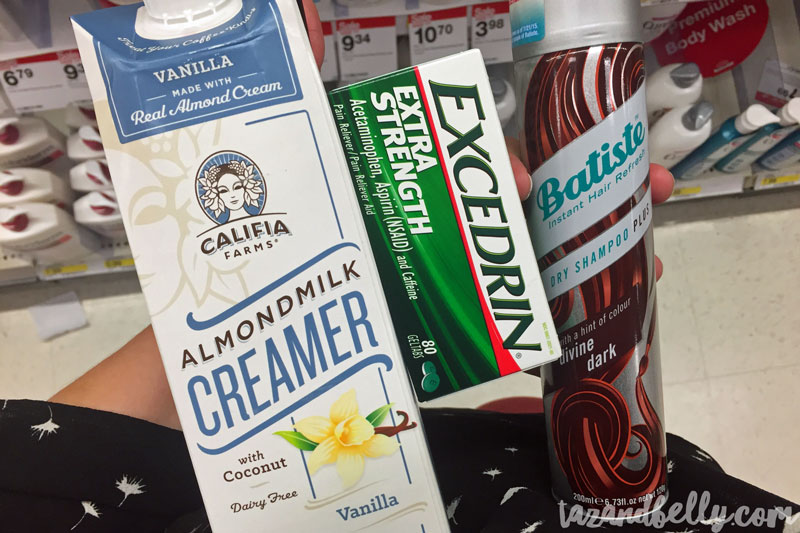 Another quick stop on my way home: Target. These are three things we get desperate for around here and, of course, I forgot them when I made a grocery run on Saturday. I was almost out of creamer and dry shampoo and that's just asking for trouble. I usually buy an unsweetened, unflavored coconut creamer at Sprouts, but this will work until I get over there. The flavor is very mild and it only has 2g of sugar per serving.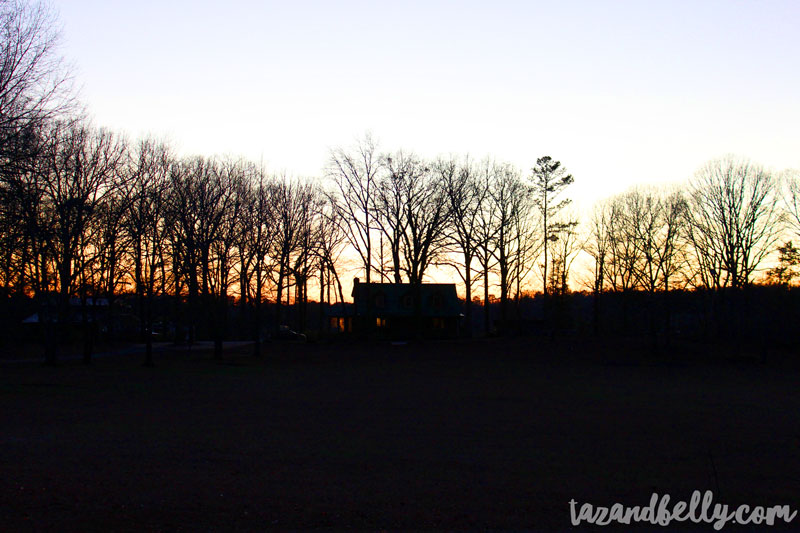 I pulled in the driveway just as the sun was setting, so I grabbed a quick snapshot. Monday's sunset pales in comparison to most days — we have an open cotton field behind us and the view is always amazing. I'll work on grabbing a hot pink one for you soon. Since Sophie's blanket is named Pink, my mom always points out when God puts pink in the sky for her. Watching for pink skies is one of our favorite things to do!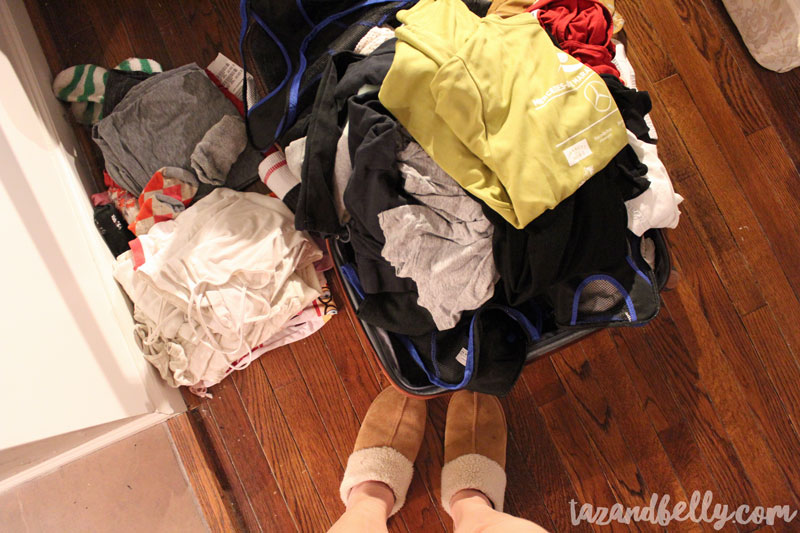 You know what's not cool? Being greeted by still unpacked suitcases. We did all of the laundry at our AirBnB before we traveled home, so nothing is dirty, but I hate putting laundry away. It's even more terrible because I made the girls unpack and clean their room on Sunday, but our bedroom still looks like this. Oops.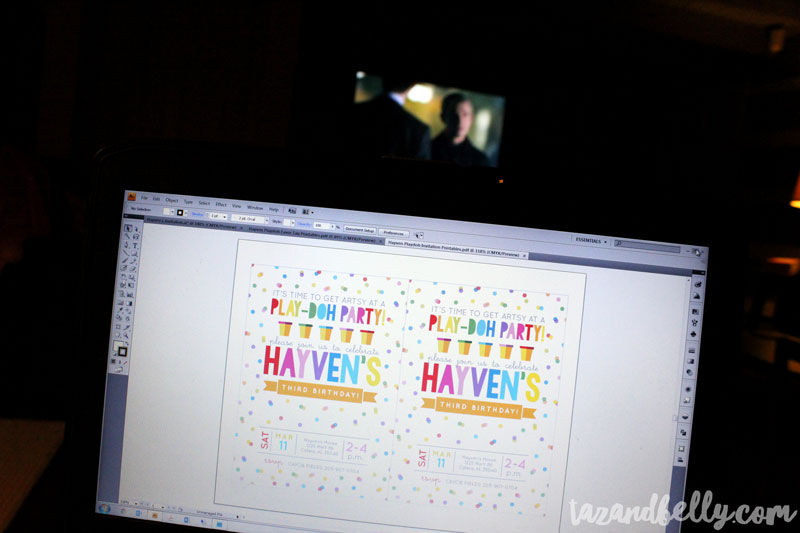 Josh had to work late and the girls were tucked into bed with new books, so I introduced my dad to Sherlock on Netflix, while I worked on a few design orders. This play doh themed party for my niece is a recent favorite.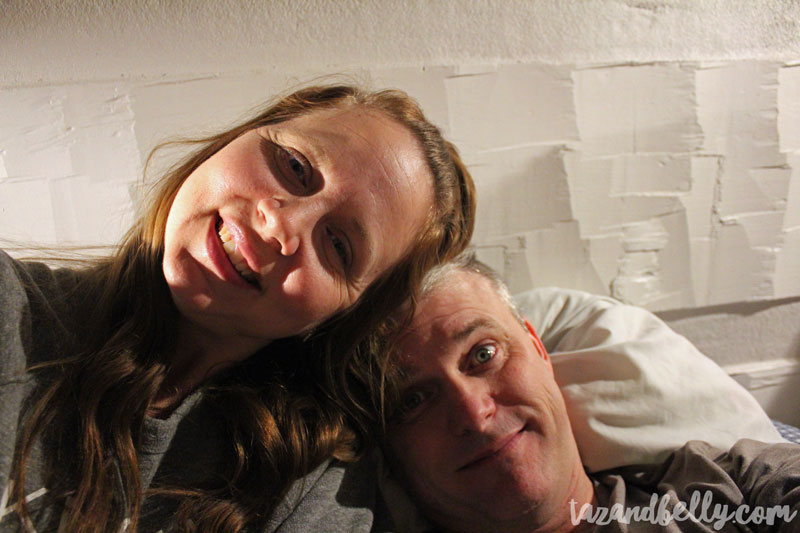 Josh finally finished what he was working on, so I joined him in bed. He made fun of my selfie request and made weird faces in almost every one. That's what I get for copious photo requests, I guess. We finished watching Into the Wild (AMAZING MOVIE!) before falling asleep early.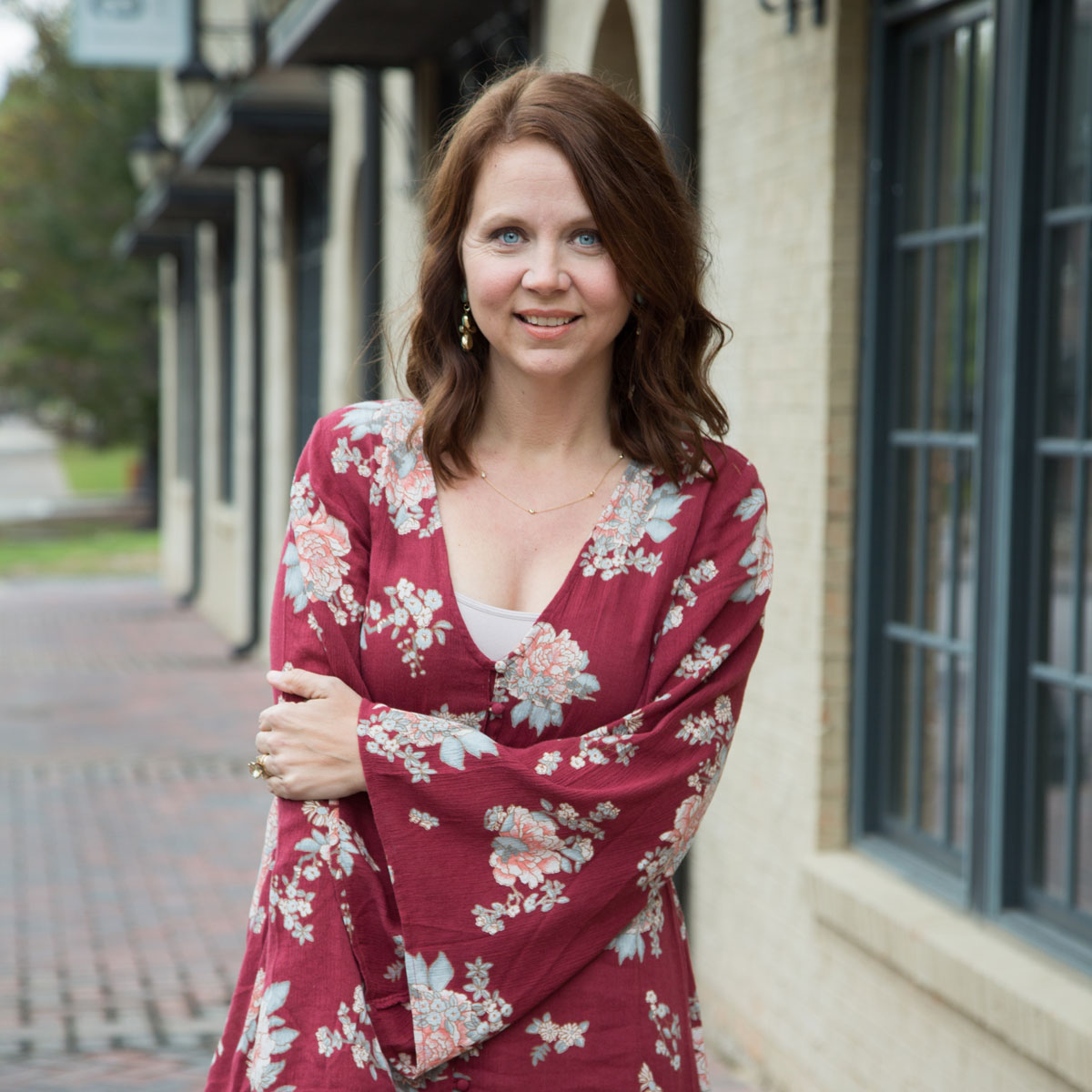 Kristin is married to her high-school sweetheart and the mother to two daughters. Professional by day and creative by night, she is a family lifestyle blogger who writes about faith, family, and fitting it all into a busy schedule. At Taz + Belly, you'll find healthy recipes, children's party ideas, tutorials, DIY projects, and more.
Click Here to Read More About Kristin