Disclosure: Affiliate links appear in this post. Any purchases made using these links will earn Taz + Belly a small commission. You can read more about our affiliate relationships here.
---

I keep feeling like I'm going to wake up and find myself feeling like it's 2017, but that hasn't quite happened yet. I'm making this blog a huge priority this year and that means bringing you fun content each and every week! I'll still be sharing our regular monthly recaps and life at home with little girls, but I'd love to add some new content as well. Is there anything you are missing or wish we would share more about? I would love to hear about it! For today, we're jumping back into our monthly link-up with both feet. I wasn't as regular taking daily photos last month, but for the last two weeks I've alternated my favorite pajamas and sweats. I'm looking forward to getting in the routine of dressing myself every day and having more photos to share with you each month. Ready?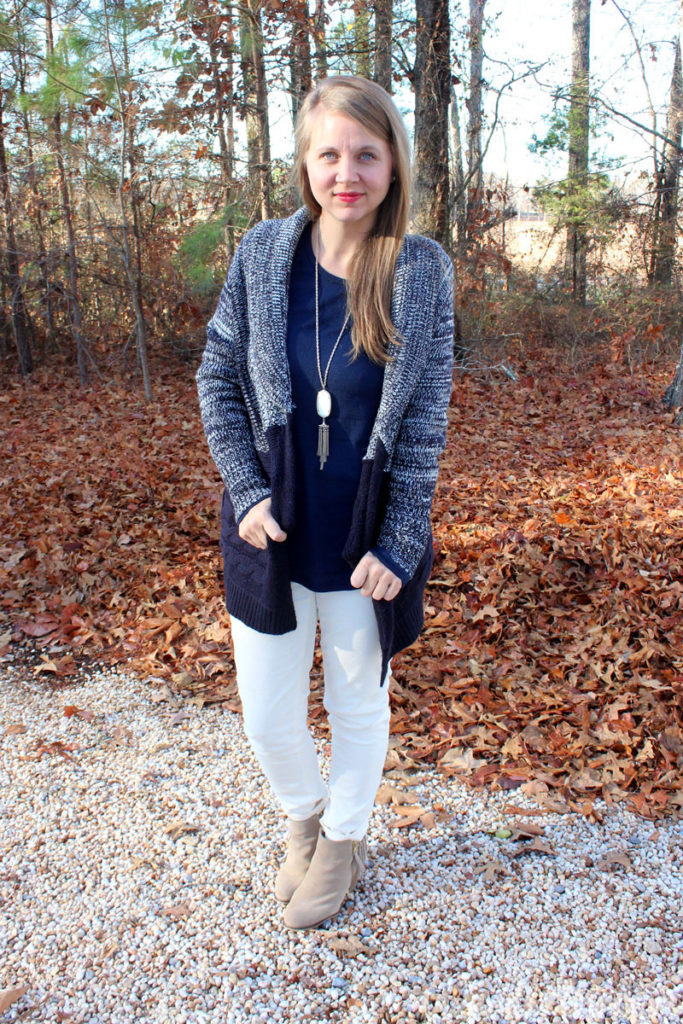 I'll admit to making a few misses this month and these cream colored cords are one of them. I really, really wanted a pair of winter white pants that weren't jeans and these from LOFT seemed perfect. The only problem is, I was between sizes. I ordered up because I wanted to wear them right away, but after a few hours they aren't as snug as I prefer. I'm not ditching them just yet, but I wished I had waited until post-Whole30 to pick up a new pair. That navy sweater is a Stitch Fix favorite from last year and I still adore it just as much as I did then.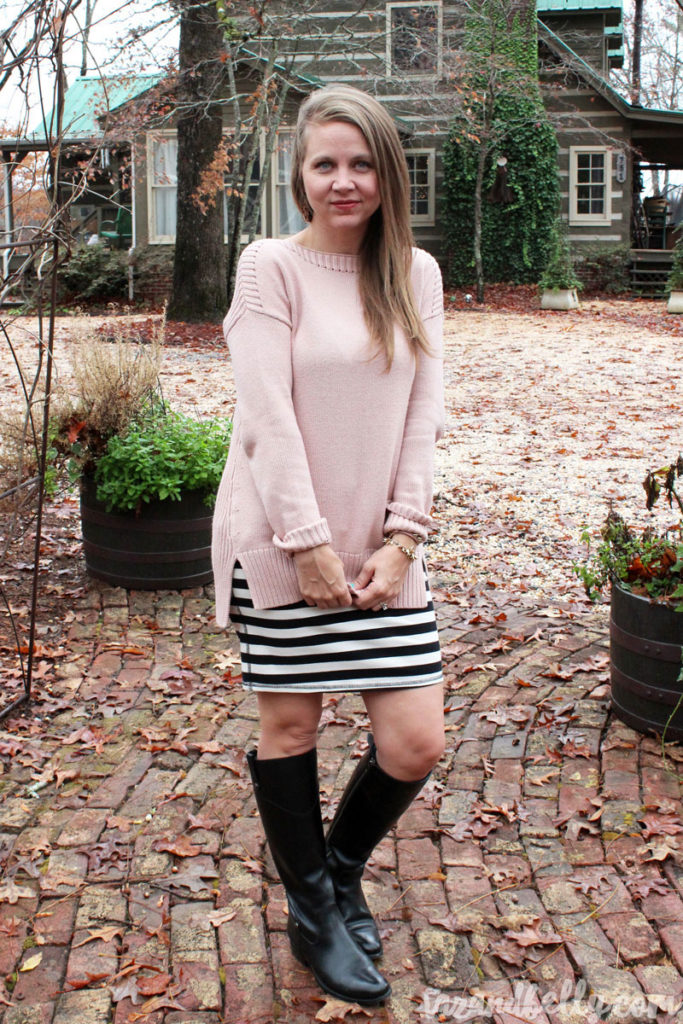 I'm still loving this rosy colored sweater that I bought the same day I grabbed those cords. This was an impulse buy (on deep clearance for less than $25) and one that proved to work out better than what I went for. The skirt is a stretchy knit one from Old Navy a few years ago and it's still in heavy rotation. I can creep a little short for work, but with a longer sweater and my Frye boots, I think it works. Comfy, cozy AND cute.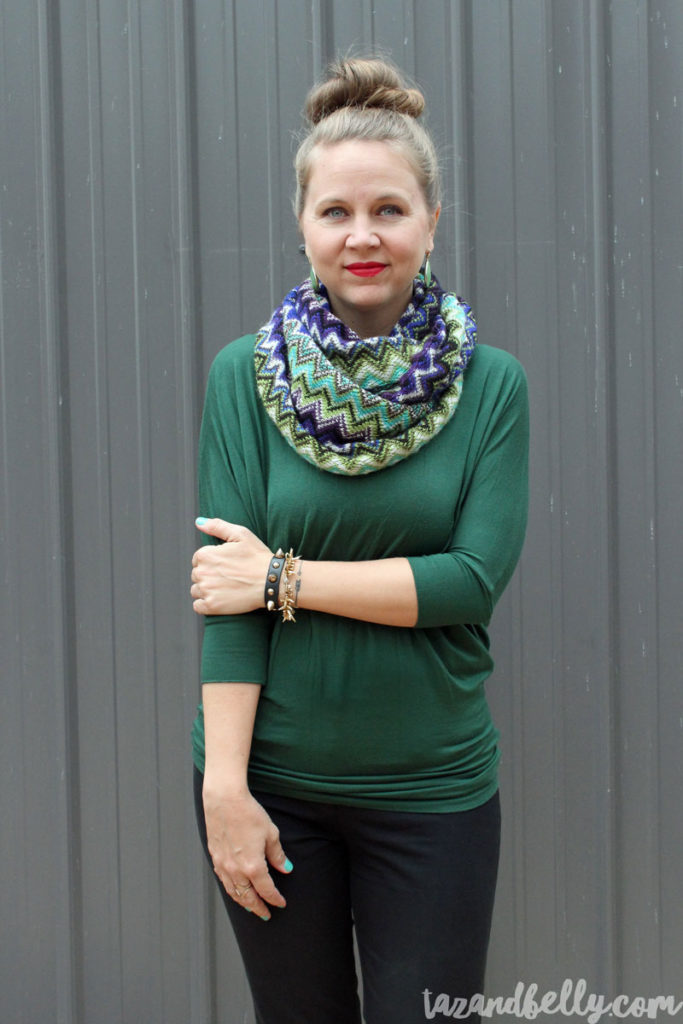 That bun right there means I hadn't washed my hair. Forgive me? Black cropped pants from, you guessed it — LOFT, and a dolman sleeved top from Stitch Fix several years ago. I love this color green and it works great with several different scarfs I own and my favorite green earrings. My only complaint is that the neckline is a little wide for a regular bra, so I almost always pair it with a scarf or cardigan.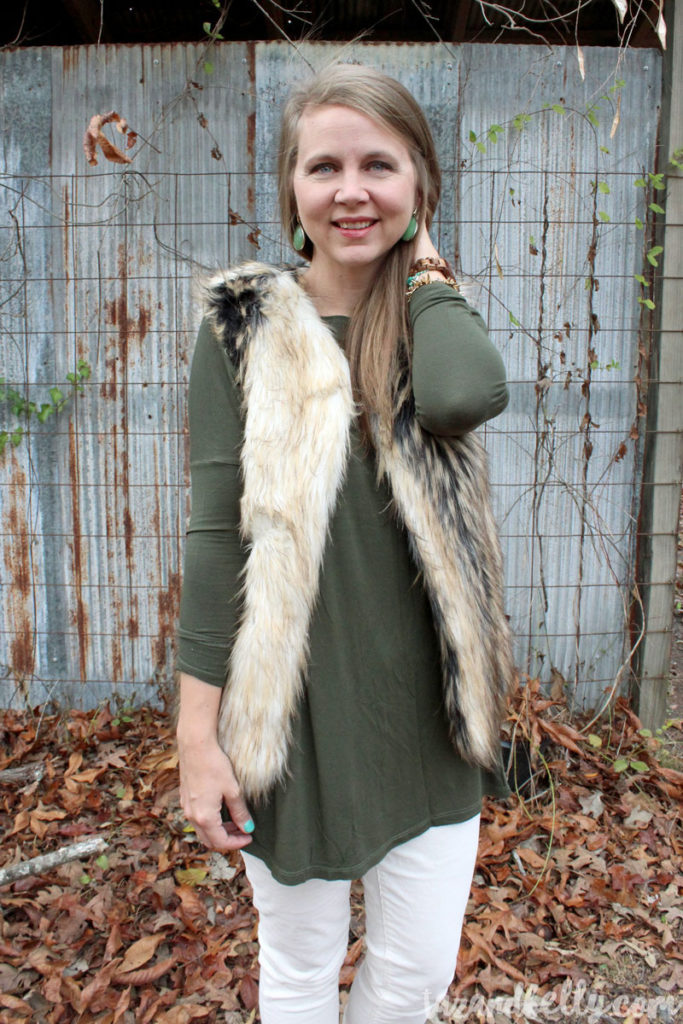 Another green top and those cords again. See? I'm really trying to love them. I love this collarless fur vest from Forever21 (similar), but it's SO HOT that I don't wear it very often. I tried adding it to my holiday rotation since it is super festive, but it's usually reserved for the coldest of days.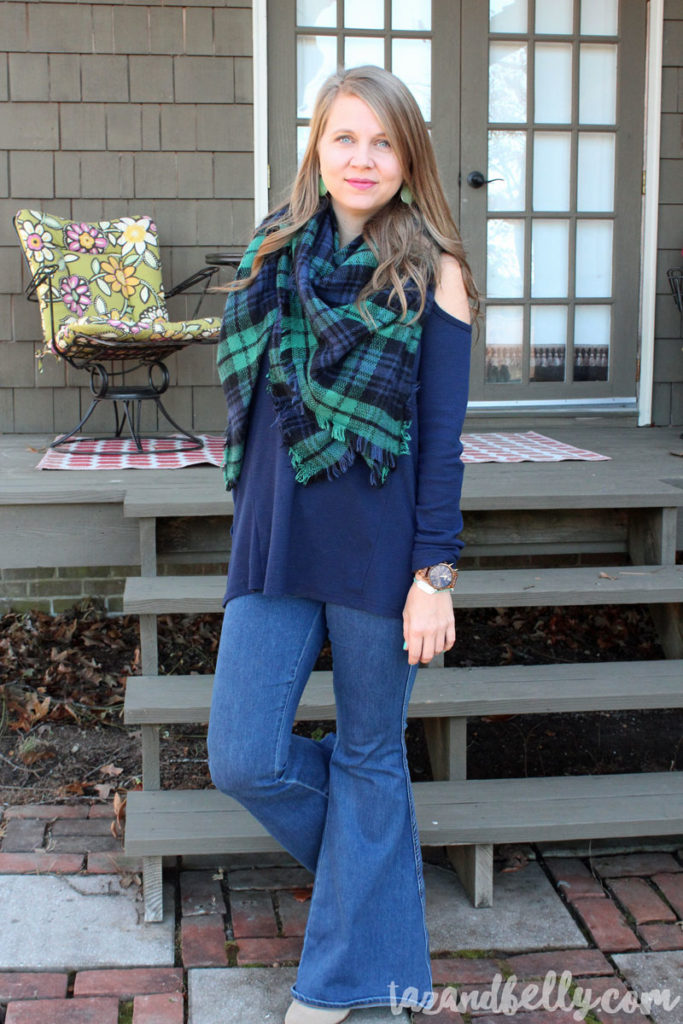 This is one of my favorites from December. I usually tend to dress pretty casually for church and this Sunday was no exception. These flared Free People jeans (SOLD OUT?!) are still my favorite pair of denim and I love this cold shoulder thermal. The flannel scarf was a birthday happy from my mom and even though I feel like I'm going to suffocate when I wear it, I love the way it looks!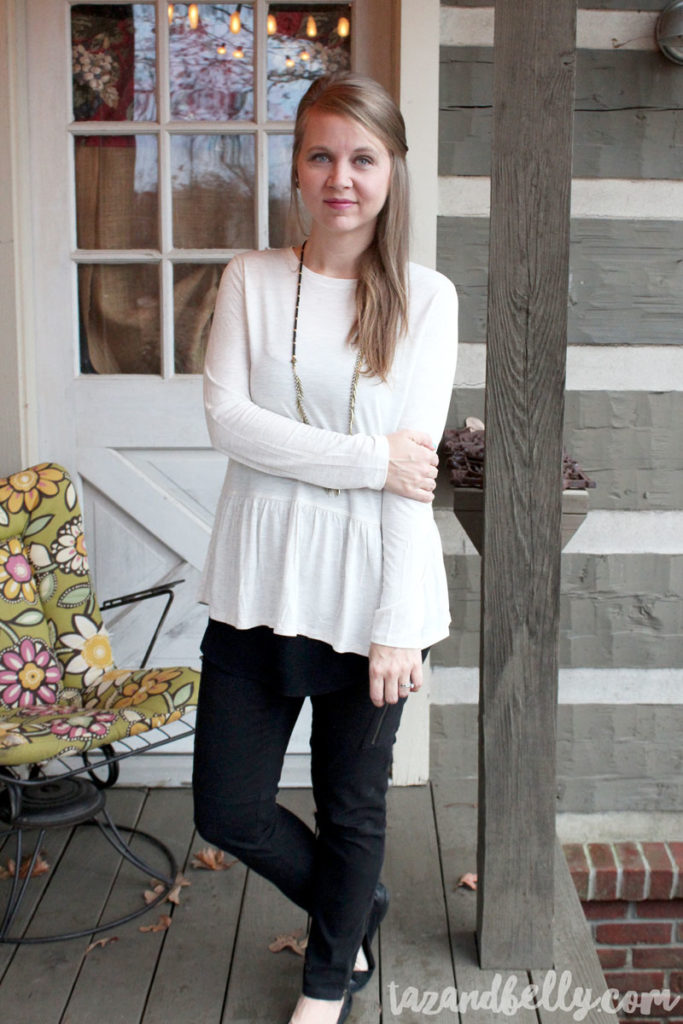 I grabbed two of these relaxed fit peplum tops from Old Navy when I was Christmas shopping several weeks ago. Yes, I know I shouldn't buy myself something when I'm shopping for gifts, but they were $12 each and the fit is perfect! I got this oatmeal color and a black version, too.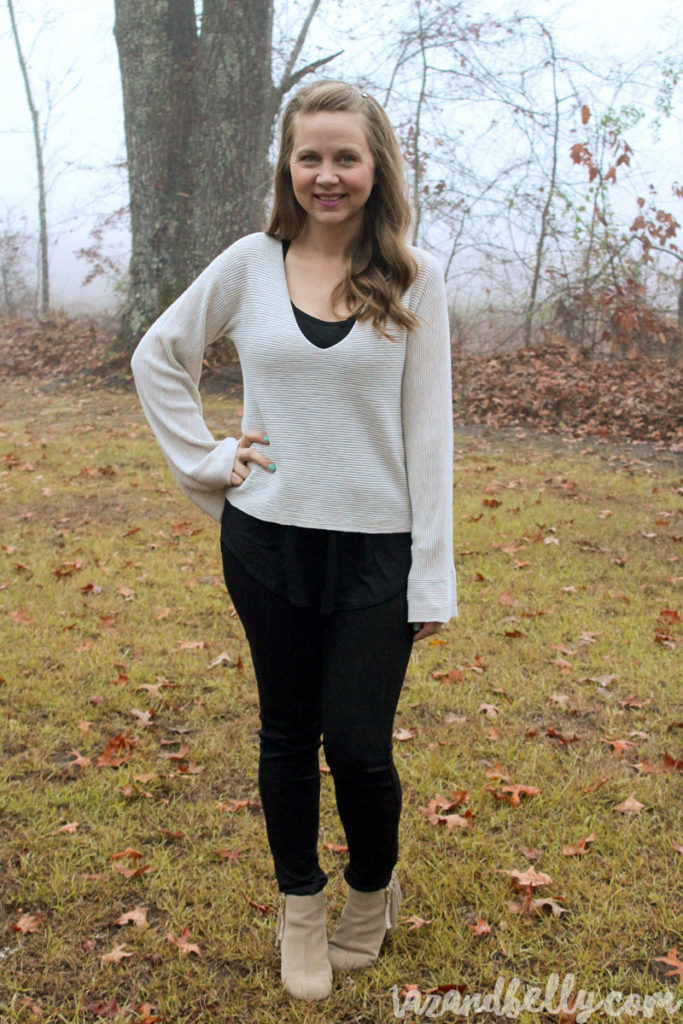 Another Free People favorite — this bell sleeved sweater was a splurge in November, but I have no regrets. It's a pretty lightweight knit, so I think I can carry it pretty far into the spring, too. I love it best with dark or black denim and booties.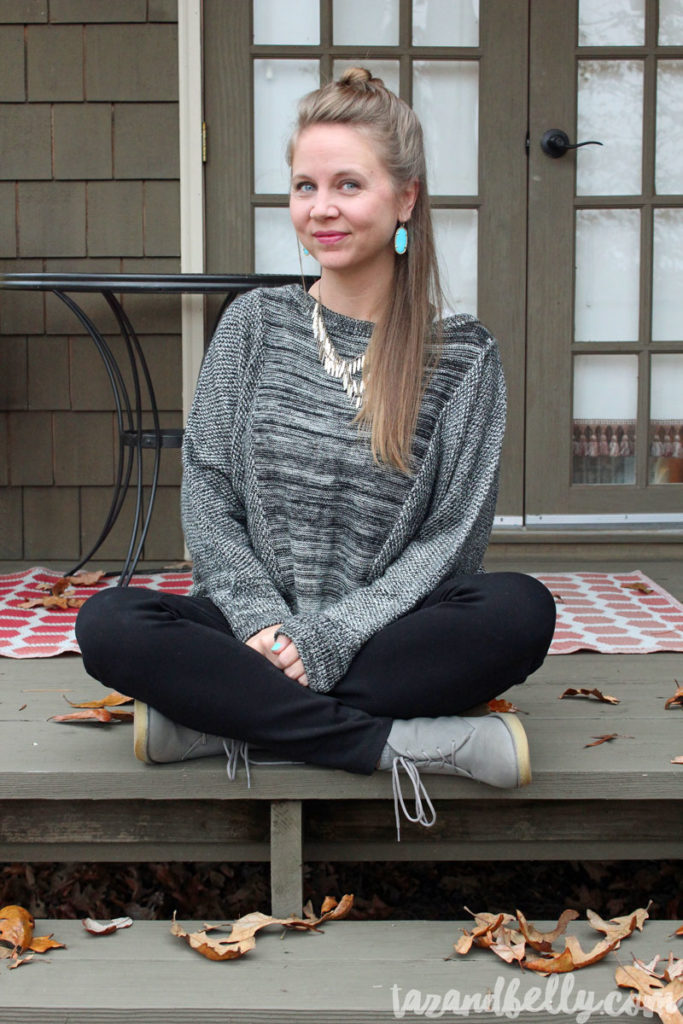 This sweater is an oldie — my first purchase when our Nordstrom Rack opened several years ago. I got an extra small and it's perfectly slouchy. I can get away with it on Fridays, paired with trousers and heels, but it's just as great with leggings and sneakers for a lazy weekend look.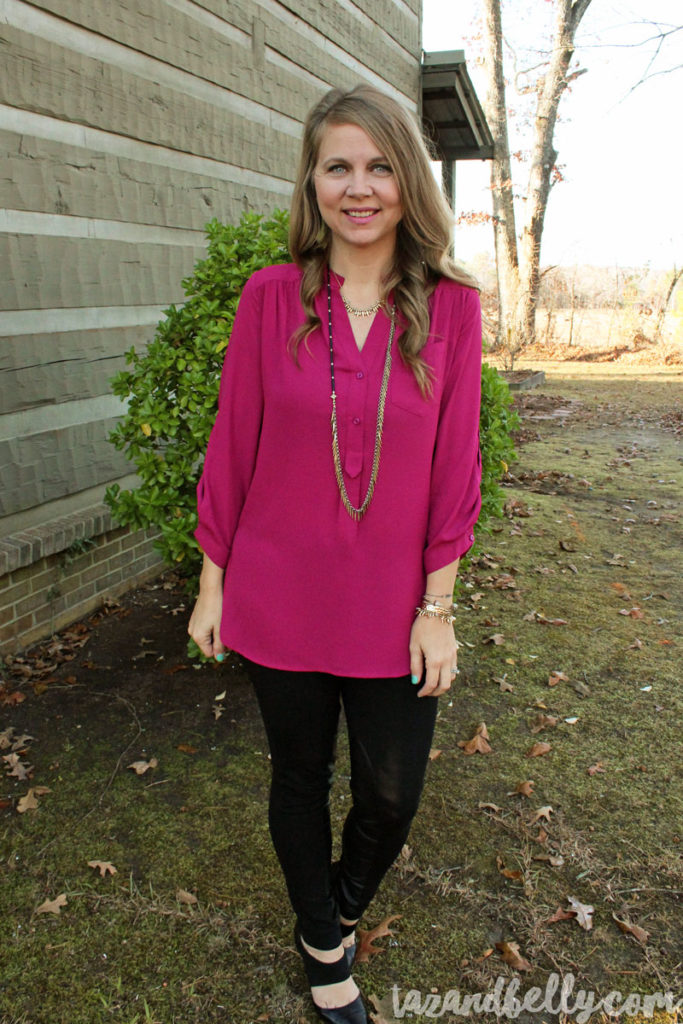 Remember this Stitch Fix top (similar)? I am still loving the color and it was great for holiday parties last month. For my office party, I paired it with these ponte pants with leather details (similar) and a fun pair of neoprene heels. I love how this looks with my fur vest, too, but it was a little warm that day!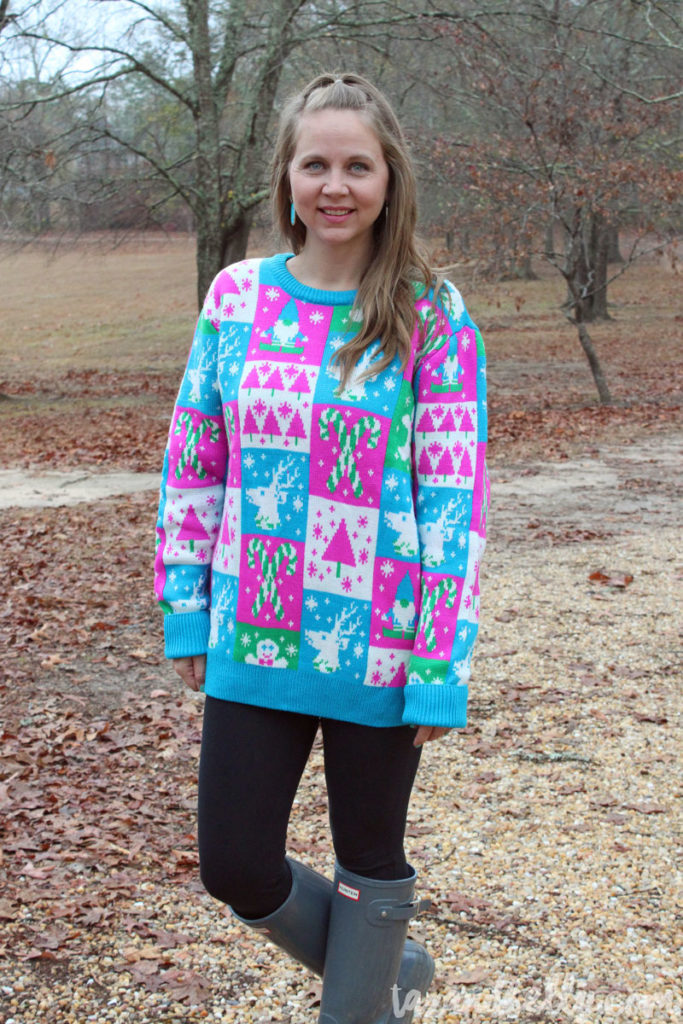 I couldn't resist sharing this photo, because: How adorably ridiculous do I look? For Josh's extended family Christmas celebration, we had an ugly Christmas sweater competition and I borrowed this beauty from my sister. The bright colors and slouchy fit felt perfectly eighties and it was so comfy!! I just wore it with leggings and my Hunter boots since it rained most of the day. I might not have won the contest, but I definitely looked tacky enough.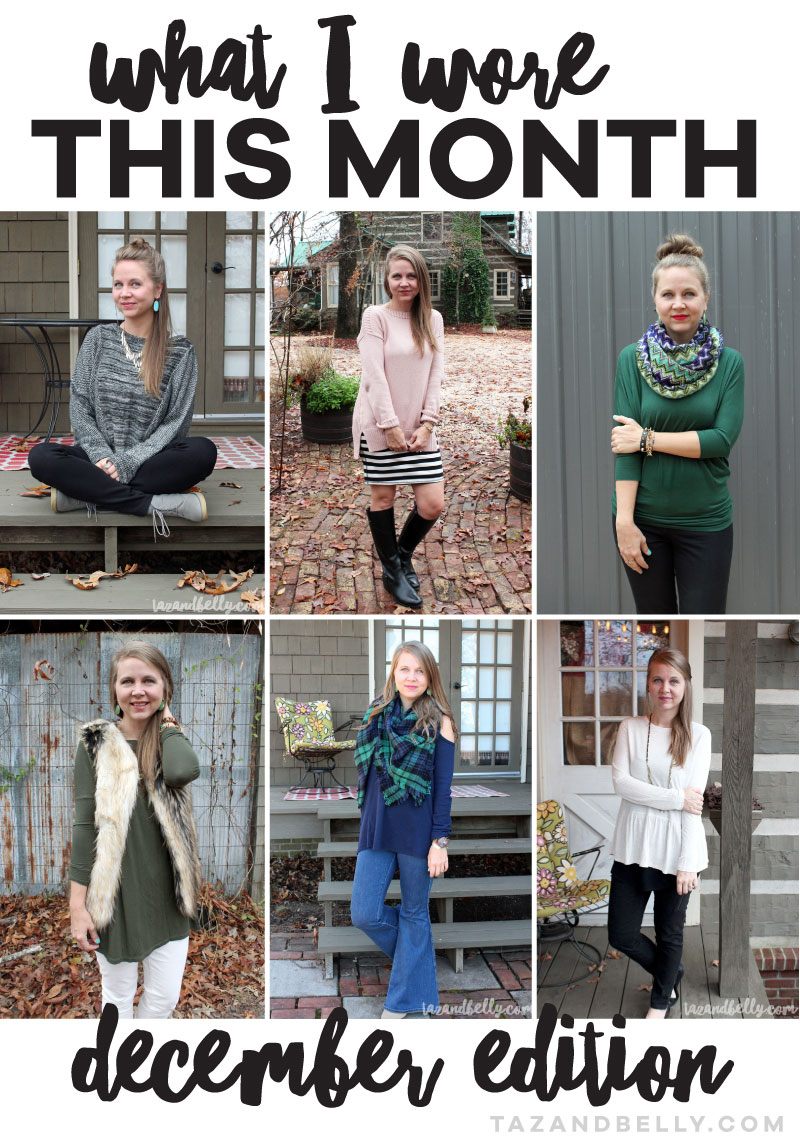 Thanks for joining us this month! I'll be back the first Wednesday of next month to share everything I'm wearing in January and I'm looking forward to seeing how all of my clothes look against my new hair. Is that weird? I've only gotten dressed in real close twice since then, so I'm eager to see what colors look best with my new look. I'm probably share a style post or two between now and then, but we will only be linking up the first Wednesday of the month. Be sure to visit Jennifer's blog today, too, and add as many recent style-related posts as you'd like. Happy linking!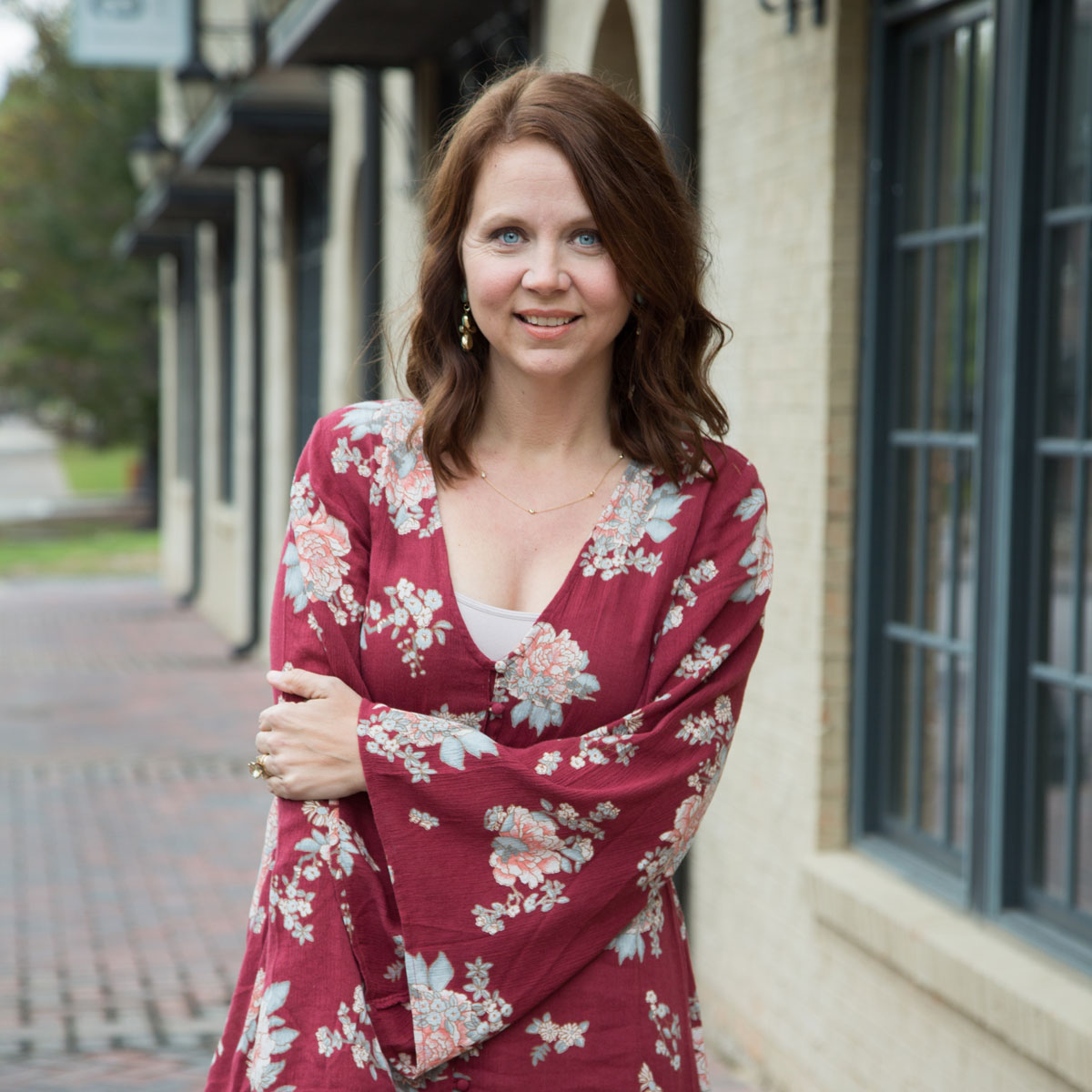 Kristin is married to her high-school sweetheart and the mother to two daughters. Professional by day and creative by night, she is a family lifestyle blogger who writes about faith, family, and fitting it all into a busy schedule. At Taz + Belly, you'll find healthy recipes, children's party ideas, tutorials, DIY projects, and more.
Click Here to Read More About Kristin