Disclosure: Affiliate links appear in this post. Any purchases made using these links will earn Taz + Belly a small commission. You can read more about our affiliate relationships here.
---
I am honestly so surprised at how quickly this round of Whole30 is flying by. We are already two weeks in! I can't decide if it's the actual Whole30 or if it's the fresh start of a new year that makes me so excited to rock the next fourteen days. I am loving these weekly check-in posts because it keeps me totally accountable to you and it helps to better plan the upcoming week. We tried several great recipes this week and even tweaked a few of our own. Get ready for the best meatloaf of your life!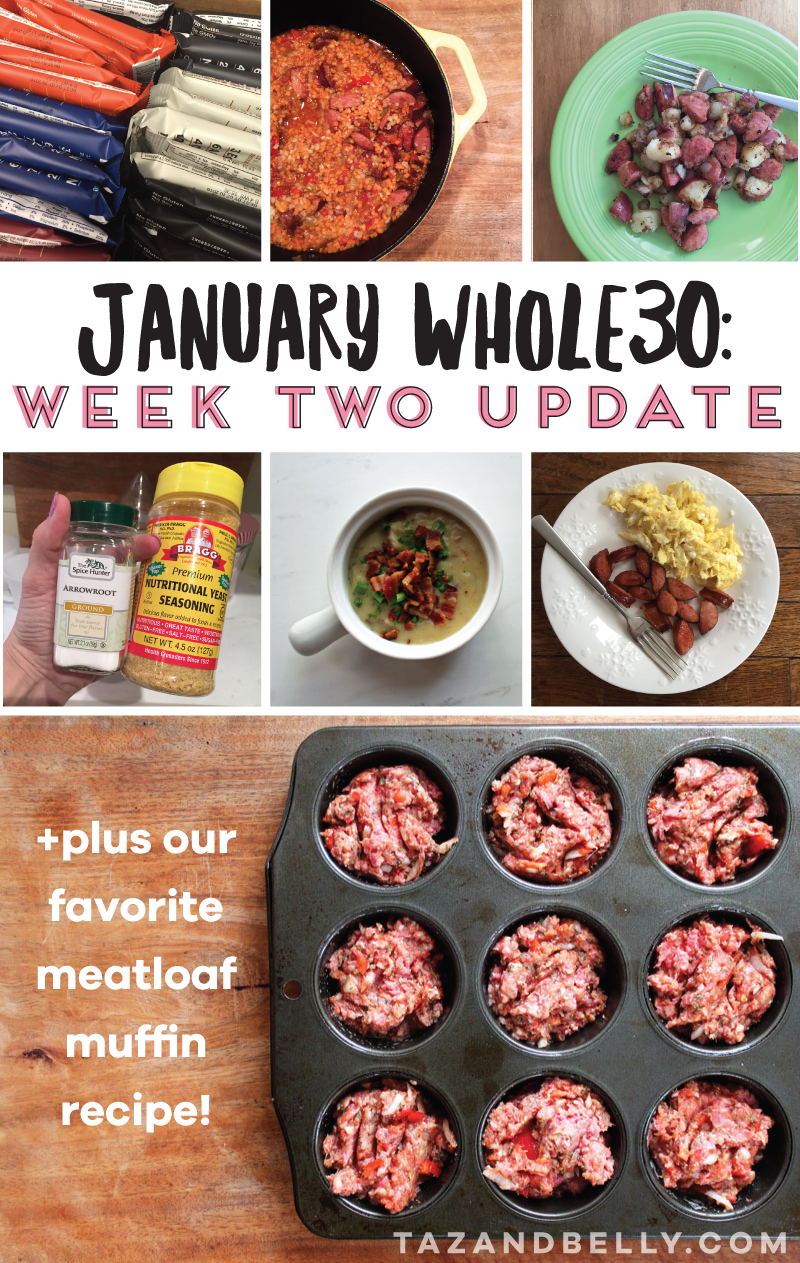 Confession: Schedule wise, this week was hard. I had several meetings at work, Sophie had a day of doctor's appointments, and many of my meal plans fell through. I relied on a few easy take-out options and my mom cooked most of the other nights (three cheers for house sharing during Whole30!).
Jennifer and I also got a little criticism over on our Instagram page. We've had nothing but positive vibes and great comments for thirteen months, so we were both a little surprised to get some pushback. It's hard to share meals and encouragement, yet still remind viewers to check their ingredients and do research on their own, too. We learned that people will take you at your word and to be very careful about how we present things. We shared an official stance on eating out during Whole30 (it's weird that we have to have an official stance?!) on our account Friday night, but I thought you might benefit from reading it here.
We live in rural Alabama. There just aren't a ton of compliant options around us, so we do our very best to make the most educated decisions based on what we have access to. In the end, we're choosing grilled meats and roasted veggies and fresh fruits or salads without dressings and eating out isn't an everyday occurrence.

The Whole30 official dining out guide states: "Don't sweat the small stuff if you did your best to make smart choices"  We recommend reading that article in its entirety.

You see us post often about Zoe's Kitchen. I've been ordering chicken kabobs without the seasoning blend, but I found out through a phone call with Zoe's today that the marinade will still have a minimal amount of sugar (we'll be sure to update that info on our past photos for you). Do with that what you will and know that you can order the salmon and shrimp plain for a safe choice.

We would never, ever want to mislead you and always recommend making your own informed choices. In a world of Big Macs, we're applauding you (and ourselves) for taking the time to choose the restaurant with the healthiest option available.

All of that to say — we greatly appreciate all comments and constructive criticism, but we're bound to make mistakes.  We hope you understand our intentions are the best and we learn something new on every round of W30 we complete.
Food: Just like every week, you can catch up on our meal plan for last week in this post. I never got around to making butternut squash soup, even though I bought all of the ingredients, but I have every intention of getting that done this week. I completely forgot about the National Championship game when I planned our meals last week, so Monday night was a bust. I grabbed a gluten free pizza for the girls, Josh ate tailgating food at the party and I picked up kabobs and roasted veggies from Zoe's (see that statement above). Last night, we took the girls ice skating, so we didn't do any cooking at home. They all ate at Chick-fil-a while we were out and I stuffed myself with leftovers after we got back home. For the most part, we ate all of the dinners I had planned and ended up with a few extra groceries in our fridge at the end of the week.
Feelings: I feel great. Like, crazy great. I have been so surprised at how well the second week went, because it is usually the hardest part of Whole30 for me. I usually have severe muscle aches around days 8-10 and have a really hard time sleeping. I have noticed some soreness in the mornings when I wake up, but otherwise I am at my best. I remember being in the thick of the holidays, enjoying all the yummy foods, and wondering how in the world I would ever rein it back in. Just thinking about giving it all up made me sick to my stomach. Instead, after some serious planning and a few weeks under my belt, I'm back to thinking why didn't I do this sooner. As much as I love holiday food, I much prefer having a set of rules to follow and knowing that the food I'm eating is fueling my body and that I'm capable of hard(ish) things.
Meal Plan: 
Sunday: Since we didn't get to these faux BLTs yesterday, I'm thinking about making them for dinner tonight. We like to grill a big batch of meat on Sunday afternoons anyway, so we'll use a few of the chicken breasts for dinner. I'll likely roast some potatoes to go alongside them. You know… a chicken sandwich and fries!
Monday: An easy stir-fry is one of Ella's favorite meals and Sophie will almost always eat the meat, at least (win win). We usually grill chicken and then cook peppers, onions and broccoli with some of our favorite seasoning.
Tuesday: Slow Cooker meals are our go-to every Tuesday night and this week we're having a pot roast. I usually saute onions, red potatoes, carrots and parsnips, then add some herbs and compliant bone broth. It's a huge hit and we can use the leftover meat for salads and over potatoes for breakfast later in the week.
Wednesday: Another late night for me and Ella, so bunless burgers and potato wedges will be an easy meal to cook! Sophie doesn't eat beef, so we usually cook a gluten free pizza for her on nights we aren't eating pork or chicken.
Thursday: Maybe I'll brown some meat on Wednesday while the burgers are cooking and we'll have an easy taco salad for Thursday. I usually serve it over a bed of lettuce with guacamole and homemade pico de gallo. For those non-Whole30ers in my house, they can have plantains chips or these paleo tortillas (DELICIOUS and worth every penny, just be sure to crisp them up in a pan first, they aren't cooked!).
Friday: We made Cassy Joy's Creole Jambalaya from the Fed & Fit cookbook last week and it was really good. We added riced sweet potatoes and adjusted the heat a little, but most everyone in our house was a big fan. I still prefer our best friend's Louisiana jambalaya, so I got him to text me an ingredient list this week. I'm playing around with proportions and planning to work on a compliant version of my own for the weekend. If it turns out as good as I'm hoping, I'll have another delicious recipe for you next weekend.
Saturday: I really like cooking breakfast for dinner on the weekends, so I'm thinking we'll have Jennifer's Fiesta Breakfast Casserole. I also want to try this recipe and since I found a great source for compliant breakfast sausage this week, we'll probably have one for dinner on Saturday and the other for breakfast the next day.
What are you eating this week?
---
Now who wants a really delicious recipe to add to this week's menu?! These delicious mini meatloaves started out as stuffed peppers and have slowly evolved as our tastes (and eating habits) changed. They are a big hit with everyone at our house (even the little people) and we love having individual servings to freeze for later. I know that some people get hung up on needing a topping for their meatloaf, so feel free to add some tomato paste and garlic on top, but we prefer our meatloaf muffins topless. How's that for adorable?!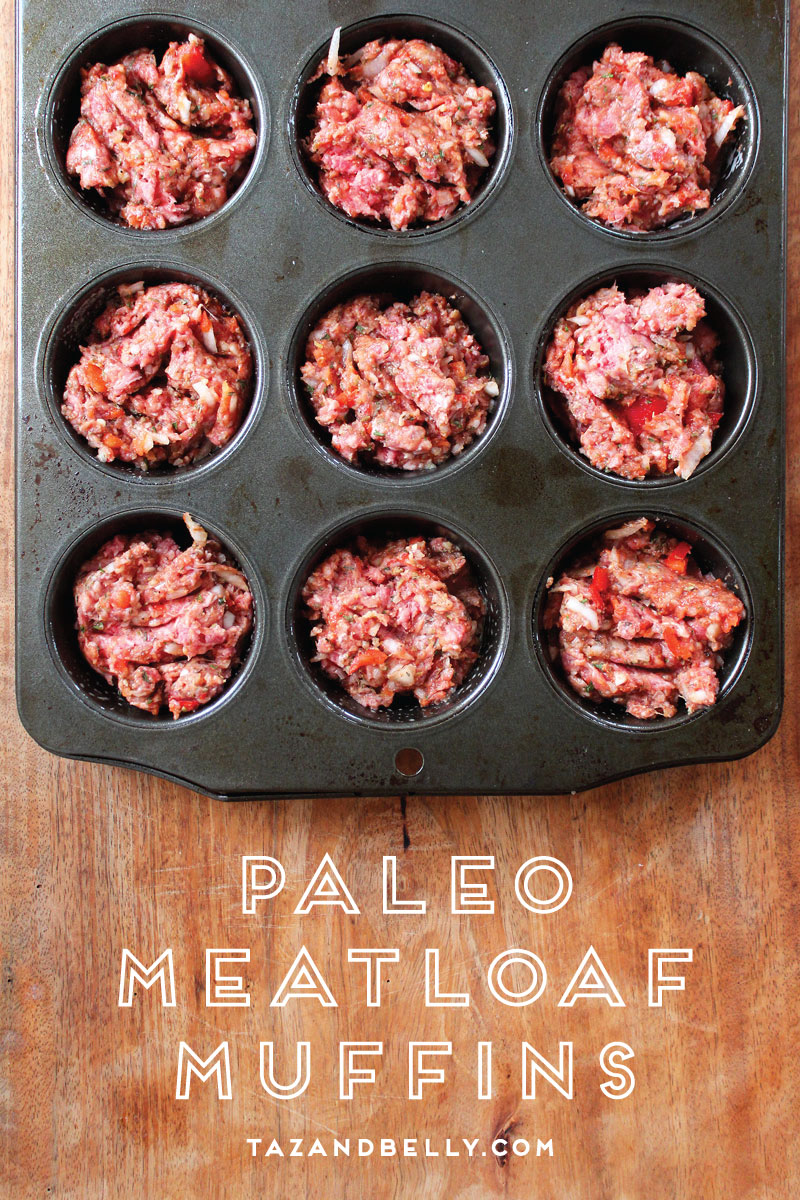 Ingredients:
1.5 pounds, grassfed ground beef
1 medium white onion, diced
1/2 red bell pepper, diced
1 small can tomato paste
3 TB dijon mustard
2 eggs
3 cloves of garlic, minced
1 tsp salt
1/2 tsp pepper
1tsp onion powder
1/2 tsp chili pepper flakes
2 TB dried oregano
1 tsp dried thyme
2 TB dried parsley
1 tsp ground coriander
dash of nutmeg
Instructions:
Mix all ingredients in a large bowl to combine. Divide evenly into lightly greased muffin tin. Bake on 375* for 35 minutes or until fully cooked. Please note, ovens will vary. Adjust time as necessary.
---
Be sure to check out the other bloggers joining me this week to see their favorite Whole30 recipes, hacks, and shopping lists. We're not all posting at the same time, so I'll continue updating links throughout the day!
Jennifer | Life in the Greenhouse
Heather | My Life Well Loved
Lindsey | Life Lutzurious
Ashley & Emily | Two Peas in a Prada
Claire | Casual Claire
Lauren | Lauren McBride Blog
Lauren | A Lo Profile
Jamie | Makeup, Life and Love
Tessa | Tessa Lindsay Garcia
Jaime | Sunflowers and Stilettos
Anna | Fleurdille
Kendra | Citizens of Beauty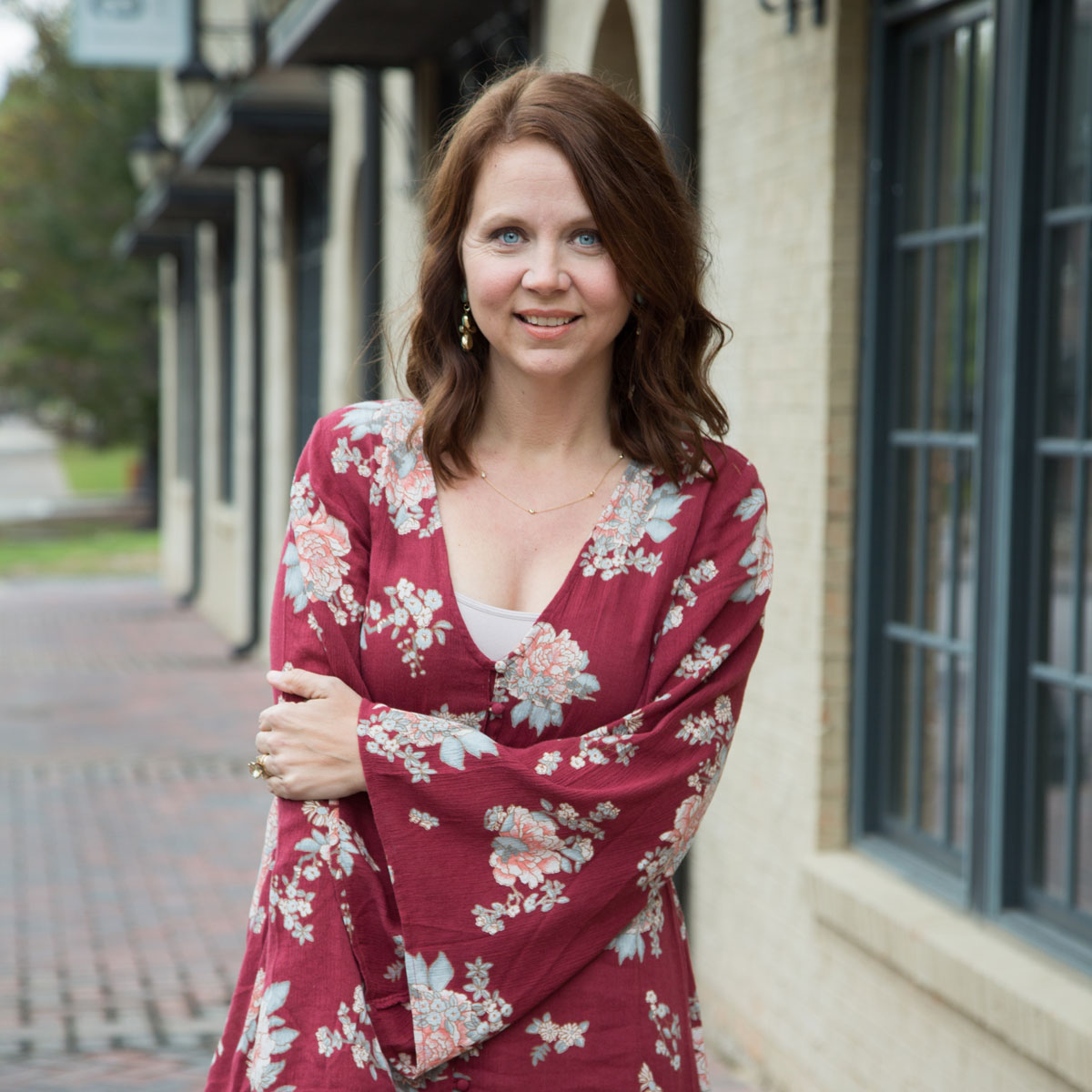 Kristin is married to her high-school sweetheart and the mother to two daughters. Professional by day and creative by night, she is a family lifestyle blogger who writes about faith, family, and fitting it all into a busy schedule. At Taz + Belly, you'll find healthy recipes, children's party ideas, tutorials, DIY projects, and more.
Click Here to Read More About Kristin