Disclosure: Affiliate links appear in this post. Any purchases made using these links will earn Taz + Belly a small commission. You can read more about our affiliate relationships here.
---
We survived week one of Whole30! I feel like we should have confetti or something, since we can't celebrate with sprinkle covered donuts. Right? The first week is always the hardest since our body spends most of that time detoxing from all of the junk we ate the week before. I'm excited to share a check-in post each week and I'm planning to talk about what worked and what didn't, how closely I stuck with my meal plan for the previous week, and at least a rough meal plan for the upcoming week. Today, I'm throwing in a few of our favorite products, because if it's your first round of Whole30 — you need to know what you can live without and what you can't.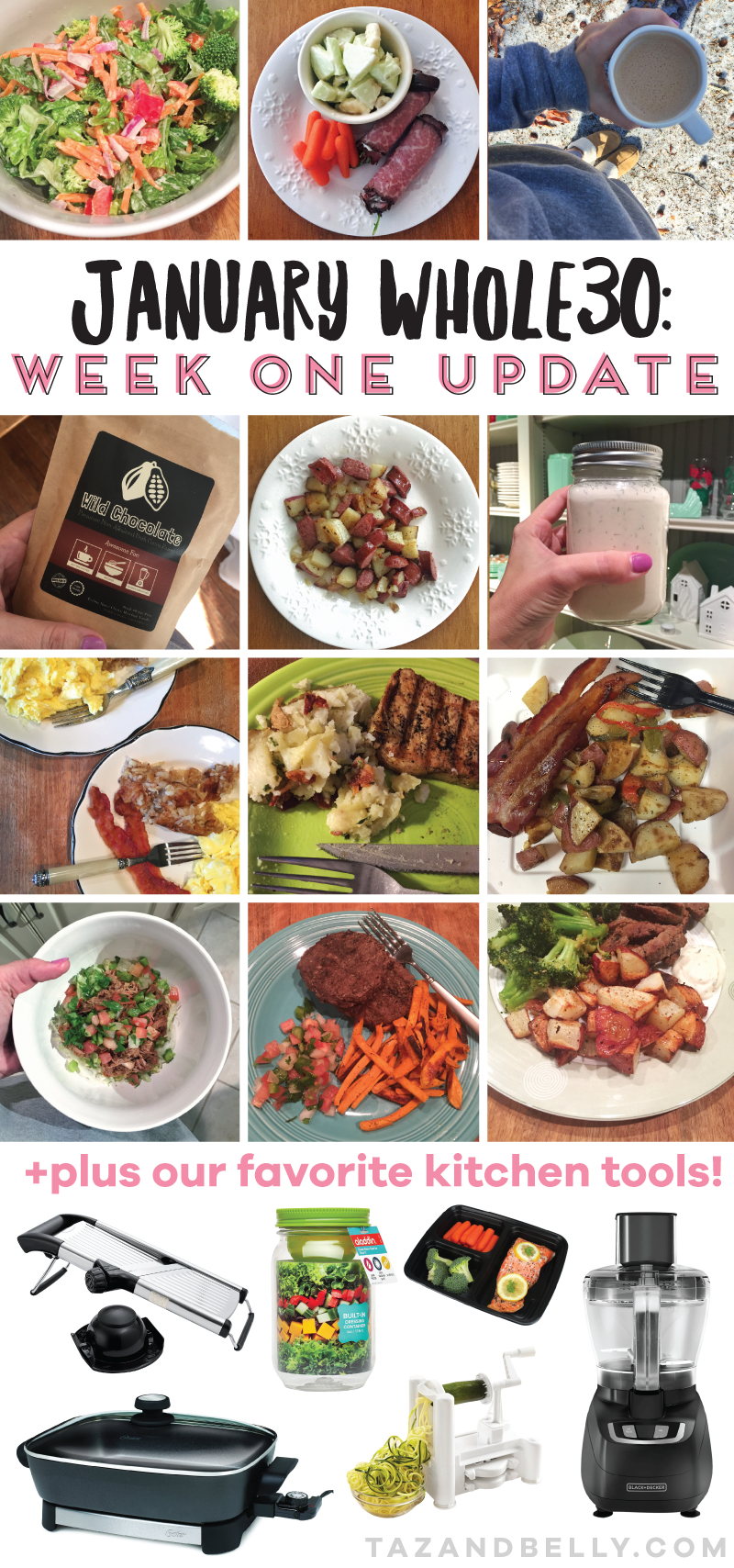 Confession: I didn't take before photos or weigh myself this week. I seriously considered both, but I thought it might reinforce my goals if I avoided those sorts of things. I know in my head that this isn't about weight loss for me, but when I mark before and afters, I tend to focus on that more than other achievements. My goal here is to feel better, sleep better, clear up my skin, and to reset a few nasty habits I picked up over the holidays. I'll be measuring my success by how well those things improve each week.
Food: You can catch up on last week's meal plan here. I stuck pretty closely to our plan and everything was delicious. I skipped the sauce on our steak Monday night. I was craving something dippy, so I mixed grated horseradish with a little mayo and fresh dill and it was amazing. I liked it so much, that I used it on my burger and sweet potato fries the next night, too. I never picked up any Tessemae's dressing, so we made some dump ranch for our salads instead. I used this recipe and used Primal Kitchen's compliant mayo as a base. I was surprised at how much we all loved it! Other than that, I stuck with our plan perfectly.
Feelings: Can we talk about how hard that first few days is? I woke up with a splitting headache on Tuesday and it took several days to get it under control. Otherwise, this was the easiest transition I've ever had. It definitely isn't because I had been eating well before (hello, holidays), so my only guess is that it gets easier every time. I have slept so well this week and I can already tell a huge difference in my skin. It is so nice not to be researching foods and trying new things every day — it's easier on my psyche and my bank account. I know what I like, I know what's compliant, and I don't have to think about food nearly as much as I did my first round.
Meal Plan: We're adding a few new recipes to our meal plan this week, but also sticking with several tried and true favorites. For lunch, homemade chicken salad and these deli roll ups are on heavy repeat. Accounting for leftovers, I usually only have to plan a lunch meal a few times a week. Josh is finally back home, so we'll likely cook bigger breakfasts. I'm planning on bacon, eggs, and hashbrowns for most of the week. Now, let's talk dinner.
Sunday: I've never had Butternut Squash Soup, but I've been looking forward to trying it since Jennifer shared her recipe back in the fall. I wish we could have some goat cheese on top, but I'm sure it will be just as delicious without!
Monday: Do you like meatloaf? Our recipe started out as stuffed peppers, but they always take so long to cook. Eventually, we started dicing the peppers to include in the mixture and cooking it in muffin tins or mini loaf pans. Smashed red potatoes and roasted veggies will be the perfect sidekick.
Tuesday: Almost every week we use the slow cooker on Tuesdays. Ella dances until 8:15 and we all eat in shifts, so that is the easiest way to serve everyone a hot meal. Her favorite post-dance meal is slow cooker chicken tacos, so those of us on Whole30 will modify it slightly. We usually put three to four boneless skinless chicken breasts, a few tablespoons of homemade taco seasoning, and a can of diced tomatoes (check for sugar!) in the slow cooker for 4-6 hours. We'll serve it over lettuce, with pico de gallo and fresh guacamole.
Wednesday: Another late night for Ella means leftovers or takeout. Sometimes I pick up a family meal from Zoe's or Taziki's, but if we have enough leftovers I'll likely have another bowl of soup!
Thursday: We were in Louisiana several months ago for a football game and got our fill of homemade jambalaya. I had already thought about attempting a cleaner version and then Jennifer cooked one from the Fed & Fit cookbook last week. I'm thinking about something similar to this, but with cauliflower rice and compliant kielbasa instead. How delicious does that sound?!
Friday: Breakfast for dinner is always a favorite and perfect for a lazy night at home. The girls are always game for gluten free pancakes and I can make all sorts of compliant options for the rest of us.
Saturday: We don't currently have any weekend plans, so I'm not sure what we'll plan to eat for Saturday. We might save it for a restaurant visit or leftovers. If we do cook, it will be something simple, like these Bunless Chicken BLTs.
What are you eating this week?
Kitchen Favorites: I know that everyone's budgets and must-haves are different, but I thought I might share a few of our favorites each week. We've just replaced a few kitchen gadgets and there a few other products that we order from Amazon regularly. Anything to avoid Walmart!
---
Be sure to check out the other bloggers joining me this week to see their favorite Whole30 recipes, hacks, and shopping lists. We're not all posting at the same time, so I'll continue updating links throughout the day!
Jennifer | Life in the Greenhouse
Heather | My Life Well Loved
Lindsey | Life Lutzurious
Ashley & Emily | Two Peas in a Prada
Claire | Casual Claire
Lauren | Lauren McBride Blog
Lauren | A Lo Profile
Jamie | Makeup, Life and Love
Tessa | Tessa Lindsay Garcia
Jaime | Sunflowers and Stilettos
Anna | Fleurdille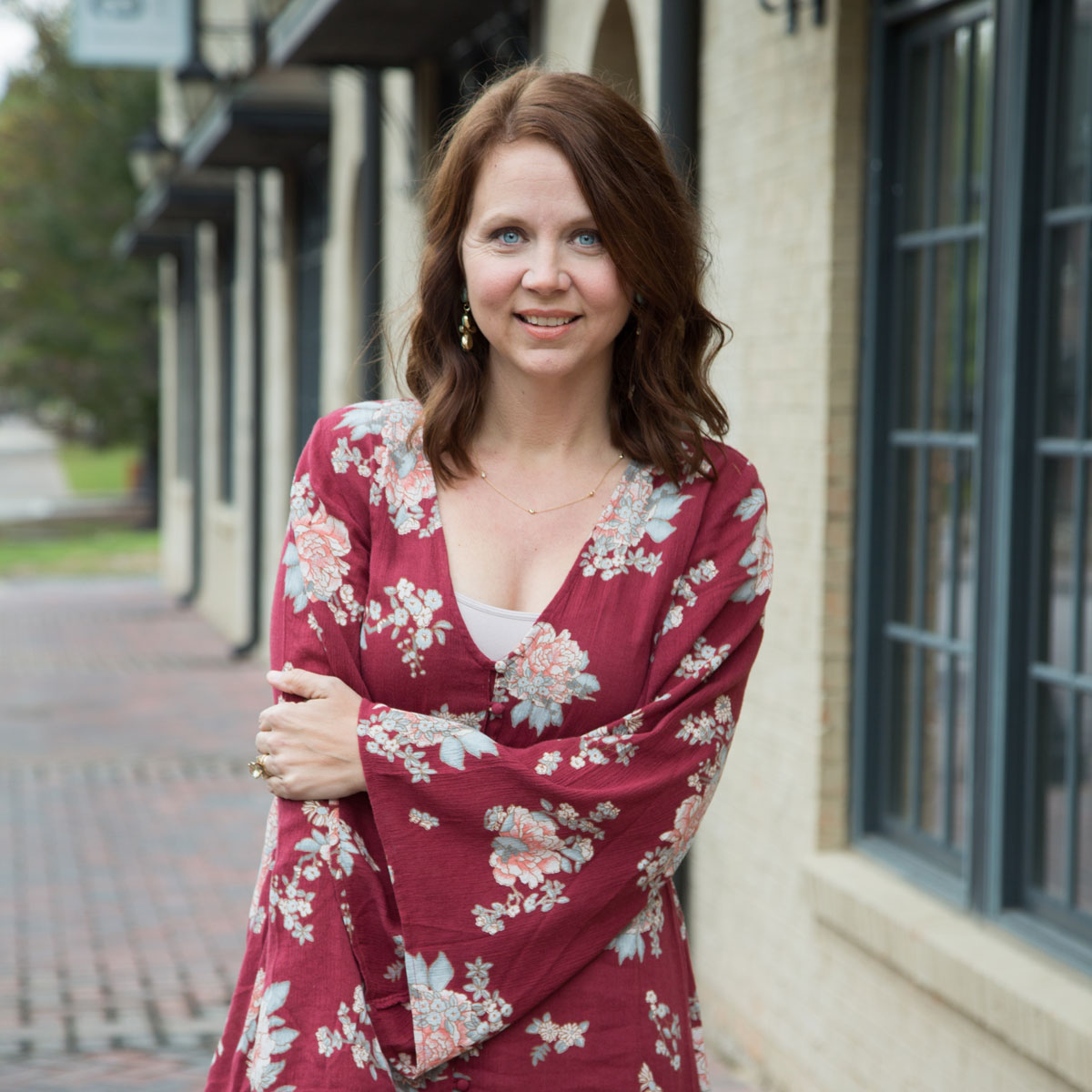 Kristin is married to her high-school sweetheart and the mother to two daughters. Professional by day and creative by night, she is a family lifestyle blogger who writes about faith, family, and fitting it all into a busy schedule. At Taz + Belly, you'll find healthy recipes, children's party ideas, tutorials, DIY projects, and more.
Click Here to Read More About Kristin