Disclosure: Affiliate links appear in this post. Any purchases made using these links will earn Taz + Belly a small commission. You can read more about our affiliate relationships here.
---
YOU GUYS. We have made it three whole weeks into our January Whole30 and are headed into the home stretch. I've seen several other bloggers and participants saying they are so over Whole30 and ready to have their entire pantry available to them, but these are the days I find easiest. It helps that I am feeling fantastic and I'm just not ready to let that feeling go. Let's talk about how Week 3 went.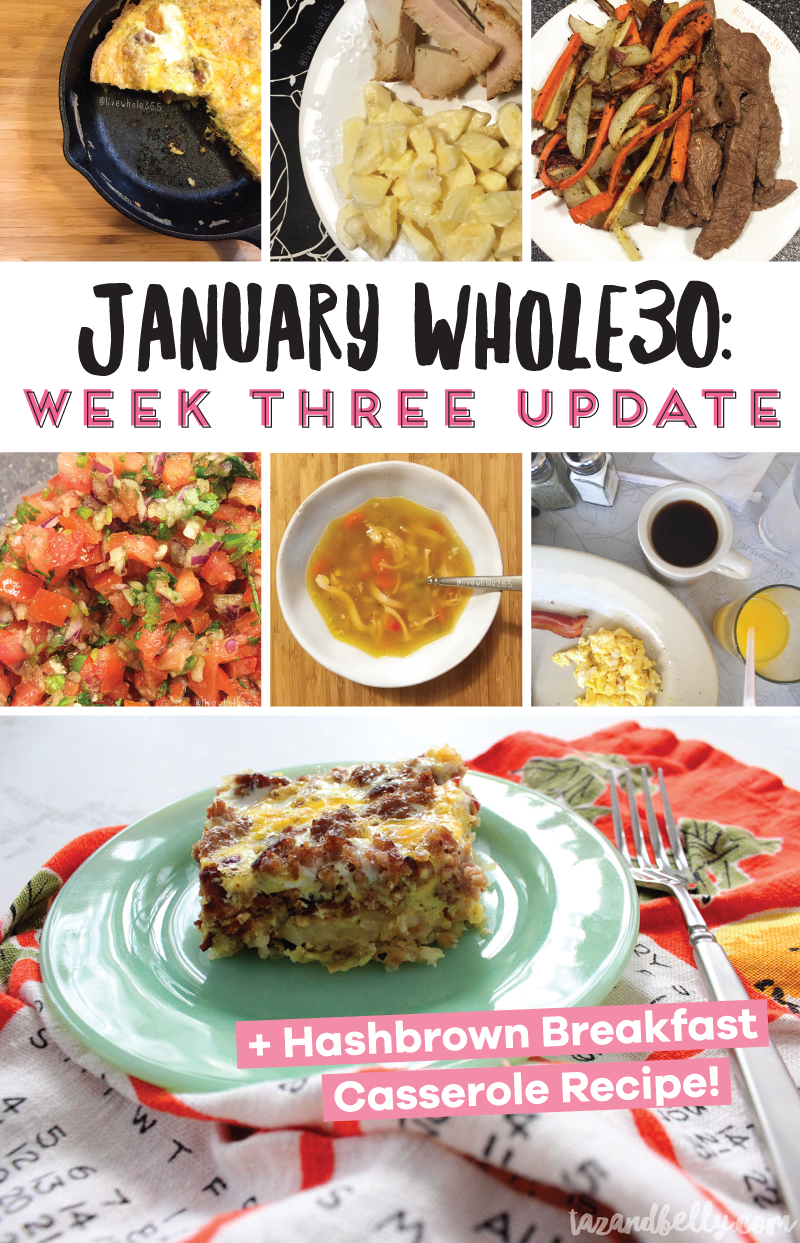 Confession: I need to be honest with you here — I have really been phoning it in when it comes to food. I stuck with my meal plan for last week, but I barely shared any meals on social media, I took hardly any photographs and I picked up a ton of take-out options for lunch. The whole30 part of my week wasn't hard, but Ella had a stomach virus, I had a ton of work to catch up on, and just felt a little overwhelmed with life. I'm hoping to be much more involved with our Facebook group this week and to share meals and tips a little more frequently on social media. Specifically — I'm getting my ish together this week.
Food: Last week's meal plan was pretty perfect. We made a few on the fly switcheroos, but everything we ate was delicious. We ended up making our breakfast casserole on Friday night and declared that breakfast for dinner on Friday nights needs to be a thing. We also never got around to making the jambalaya, but the ingredients are sitting on my counter right now and it's going down for lunch today. Pinky promise.
Feelings: This is the biggest non scale victory of the entire month — I feel so great. I am falling asleep as soon as my head hits the pillow and feel so well rested when I wake up each day. I even took a two hour nap yesterday afternoon and IT. WAS. AMAZING. Also? My skin continues to look better and better every week. The other improvement is that I think about food so much less frequently. I know what I can eat and I function so much better with limited options. I haven't missed sweets or soft drinks and there was only a single, fleeting moment when I wanted a chocolate milkshake this week. The fact of the matter is, I know dairy makes me feel terrible and when I seriously consider it, I know the pros don't come anywhere close to outweighing the cons.
Meal Plan: Something I have learned this month, is that with so many of us living together, it's hard to pick a meal for each day and stick with it. We seem to do better when we choose 4-5 meals for the week and just make them on the night that makes the most sense schedule-wise and on the day that particular meal sounds delicious. It also helps me feel a little less guilty when we mix things up, last minute. Here is what is on our radar for the week:
I am finally making Jennifer's butternut squash soup this week (even though I've now said that three weeks in a row). My mom and I decided it would be a perfect lunch item and we could eat it for dinner one night if the guys wanted something that isn't Whole30 approved.
The meatloaf muffins were a huge hit in week two and everyone has requested a do over.
I haven't shared our steak and rosemary veggie recipe on the blog yet, so we're throwing that into this week's rotation and I'll share all the details of that meal for you next Sunday.
The temperatures are supposed to drop again towards the end of the week, so we're planning to make this beef stew and maybe other pot of potato soup. Basically, we're eating all the soups this week.
The rest of the week, we'll be eating simple meals filled with grilled meats and roasted veggies. Easy peasy.
---
When I told you I would have a recipe to share again this week, I fully expected it to be a jambalaya recipe. That one is forthcoming, but we ended up making a really easy breakfast casserole on Friday night and I couldn't wait to share it. It was perfect for dinner with a potato and onion hash, but we've all eaten it for lunch and breakfast since then and it's still going strong!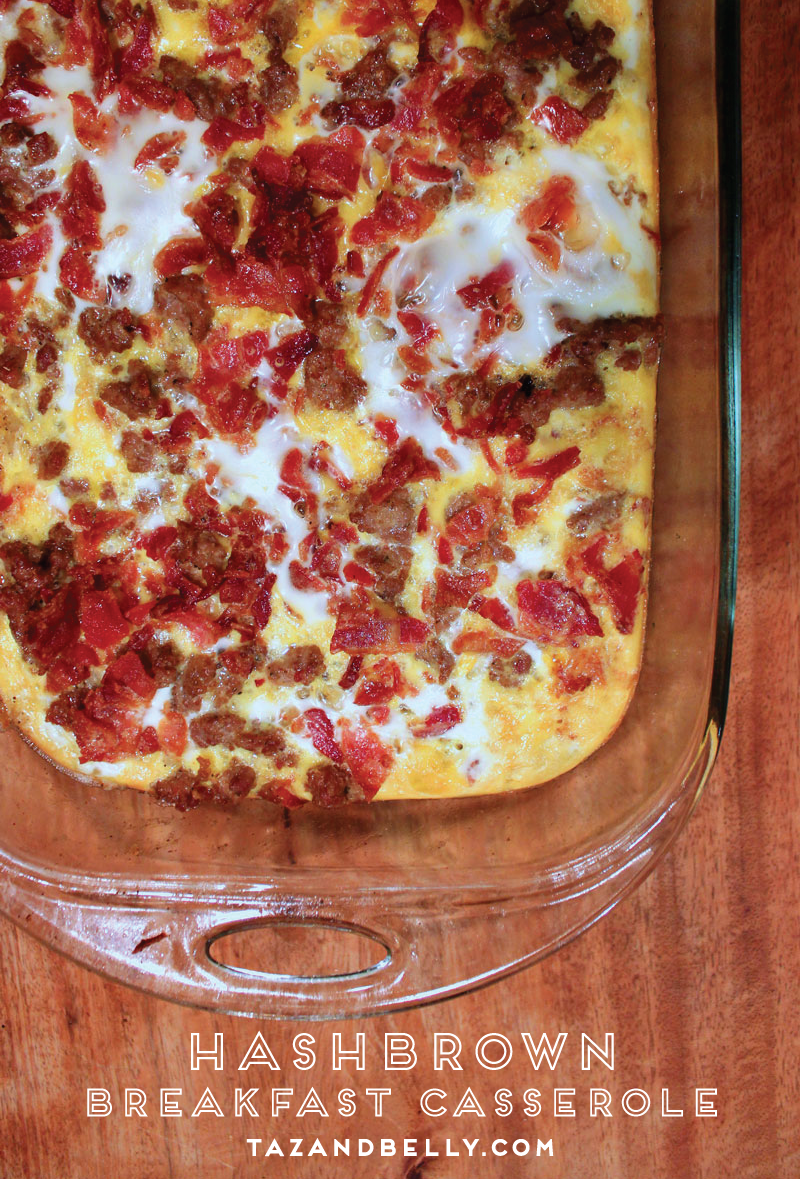 Ingredients:
1 lb compliant bacon, cooked until crispy and chopped into bite-sized pieces
1 lb compliant breakfast sausage, fully cooked and broken into small pieces
half bag of compliant hashbrown cut potatoes (we use the Sprouts store brand!)
1 dozen eggs, beaten
1 TB avocado oil
1 clove garlic, minced
salt + pepper to taste
Instructions:
Preheat oven to 350*
Heat oil over high heat in cast iron skillet
Add grated potatoes + garlic and press into skillet, allow to brown on bottom
Continue stirring and flipping hash browns until cooked to desired crispness
Grease 13×9 casserole dish
Layer cooked hash browns into casserole dish, forming a crust; generously season with salt + pepper
Add sausage + bacon to casserole dish
Cover completely with eggs
Bake 30 minutes or until eggs are fully set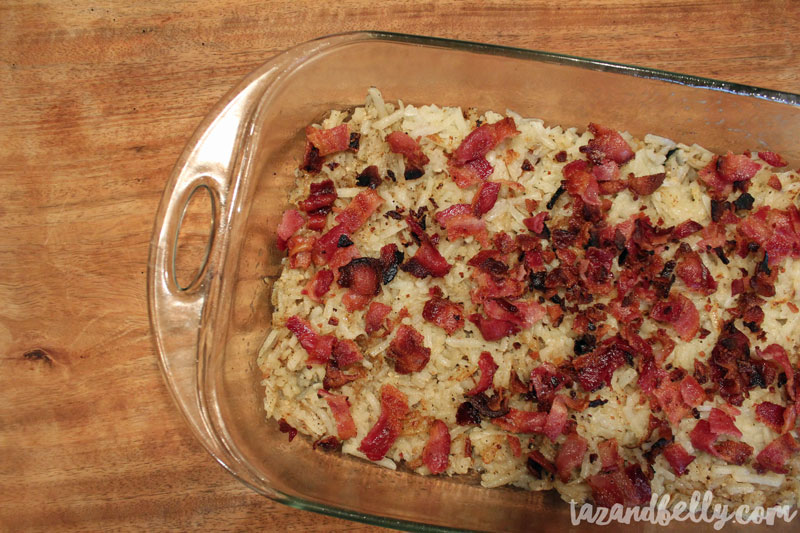 Frying the potatoes in the skillet for a bit makes the crispy and crunchy and more crust-like. I pressed them into the bottom of my dish before layering the bacon and breakfast sausage.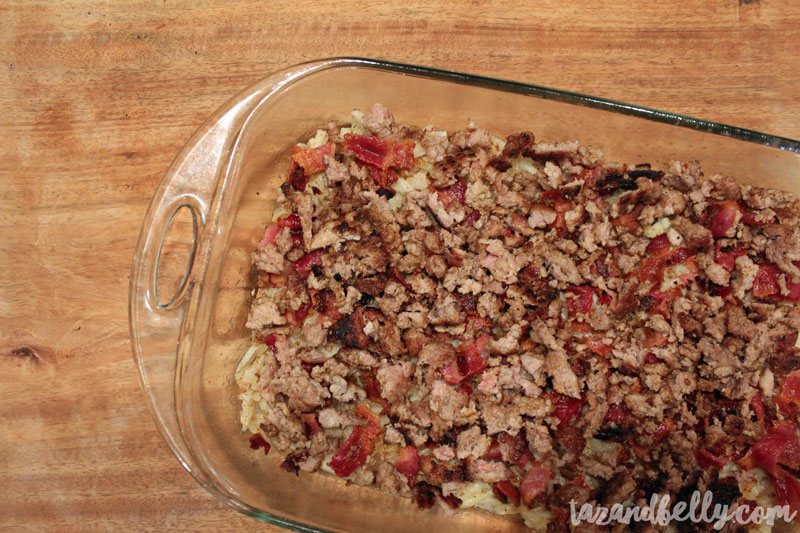 I thought I could get away with ten eggs, but a solid dozen seemed to work best. You can see here that I didn't completely cover the meat when adding my eggs. The eggs fluffed up a bit when cooking and I loved how pretty it looked with the breakfast meats poking out. Is that weird?!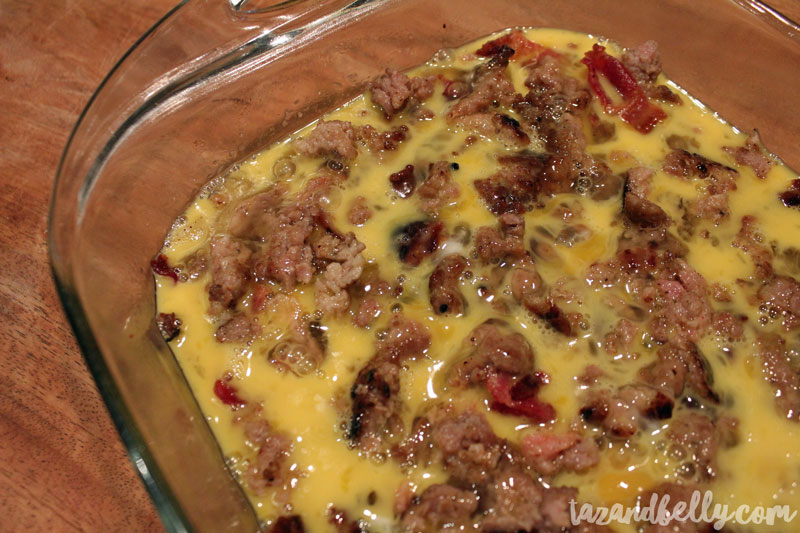 Holy moly, this casserole is delicious! We might have made a second one on Monday morning…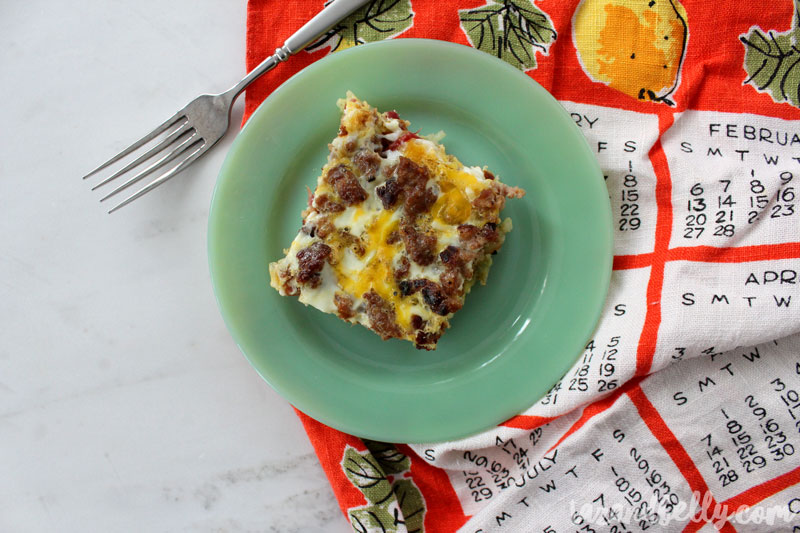 ---
Be sure to check out the other bloggers joining me this week to see their favorite Whole30 recipes, hacks, and shopping lists. We're not all posting at the same time, so I'll continue updating links throughout the day!
Jennifer | Life in the Greenhouse
Heather | My Life Well Loved
Lindsey | Life Lutzurious
Ashley & Emily | Two Peas in a Prada
Claire | Casual Claire
Lauren | Lauren McBride Blog
Lauren | A Lo Profile
Jamie | Makeup, Life and Love
Tessa | Tessa Lindsay Garcia
Jaime | Sunflowers and Stilettos
Anna | Fleurdille
Kendra | Citizens of Beauty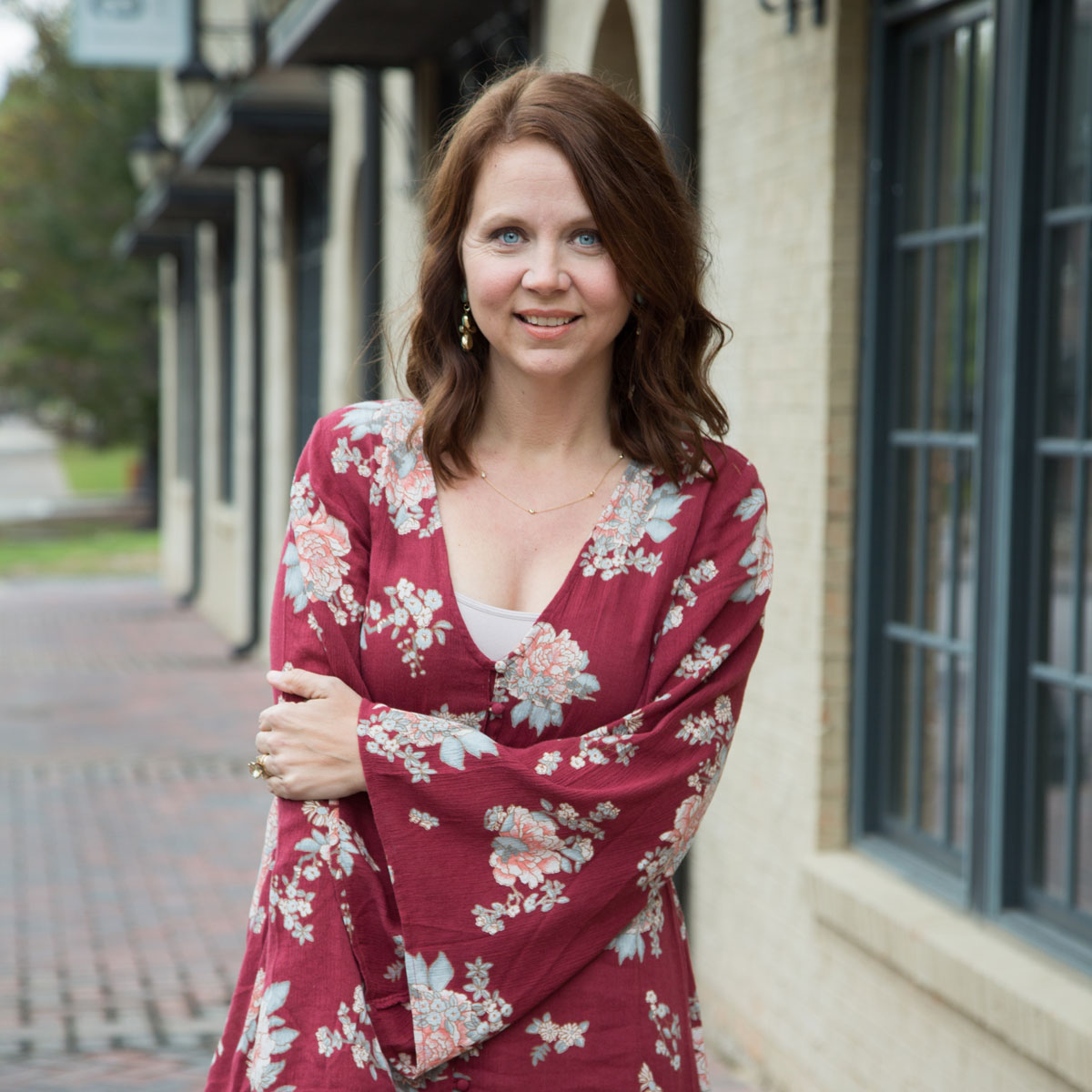 Kristin is married to her high-school sweetheart and the mother to two daughters. Professional by day and creative by night, she is a family lifestyle blogger who writes about faith, family, and fitting it all into a busy schedule. At Taz + Belly, you'll find healthy recipes, children's party ideas, tutorials, DIY projects, and more.
Click Here to Read More About Kristin