I have totally dropped the ball on blogging this week, but you should have known I would show up for Wednesday! I've been back and forth on what to share all week and it really came down to which images got edited first. that just means that next week's post will be a super fun one, too. Now let's get right to May's Stitch Fix Review.
Warning: Affiliate links appear in the following post. If you sign up to receive a box from Stitch Fix, I'll receive a credit to my account when your first box ships. Don't worry! After you create an account, you'll get a referral link to share with all of your friends and earn $25 for every person you refer when they schedule their first fix. Sharing the love means that we all get free (or discounted) clothes. Who doesn't love that?!

I didn't really have anything in mind when I scheduled my box for May. We were originally supposed to be traveling this week, but after our trip last month we decided to lay low. We don't have any big plans or events and I had actually promised myself I wouldn't keep anything this month. I don't currently have any referral credits (help a girl out!) and I just didn't feel like spending any money on clothes when I didn't need anything. I did mention to my stylist that I'd like to try an off-the-shoulder style and that I was really loving the Collective Concepts brand. I've kept both pieces of CC she's sent so far and a friend at work got a great blouse by them last month!
NINE WEST MAZZOTA CUT-OUT FLATS
I'm just going to go ahead and tell you I was bummed when I saw that these were in my box. I'm sneaky and use the app to preview the items once they ship and I wasn't impressed with these at all. They seemed patent and uncomfortable (as if I could tell from the photo) and I wasn't sure about the color. Well, color me wrong because they were ADORABLE in person. They are more red than orange, made of soft leather and not shiny at all. I loved the cutouts because they look super cute with a fun summer pedicure and I'm not kidding when I tell you they matched almost everything in my closet. I was super sad to send them back, but I just didn't have $80 to spend on flats. If I had any extra money, these would be on my toes right now. You can find them at Zappos in three different colors. How pretty are those gold ones (that are already on my wish list)?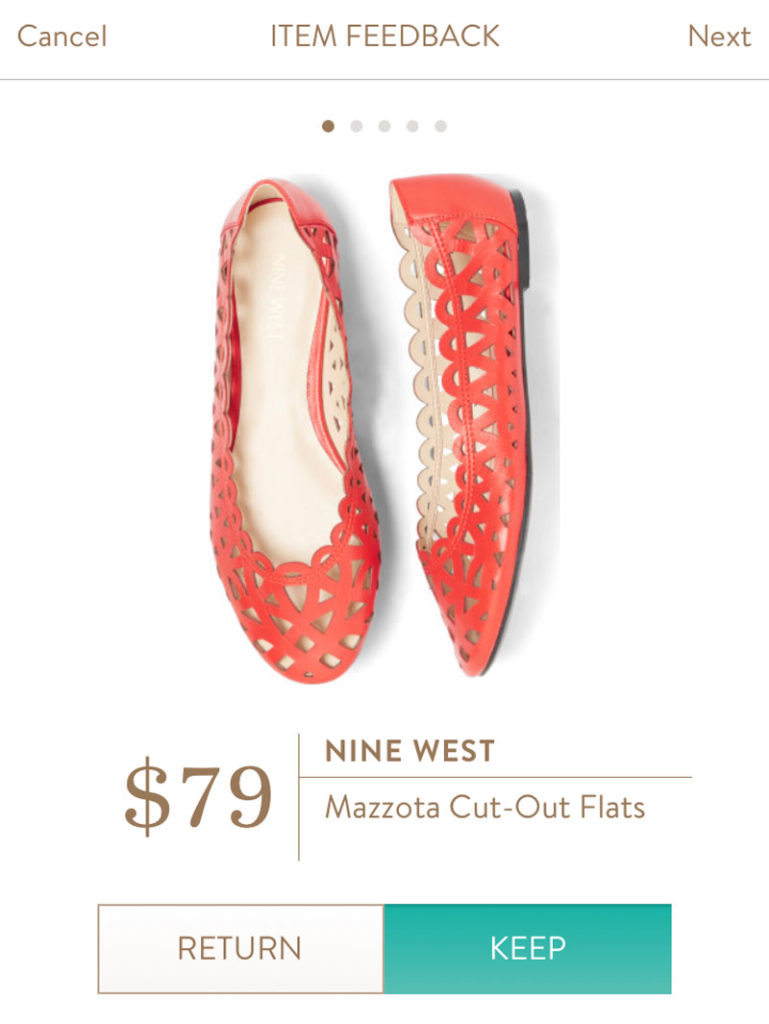 MARKET & SPRUCE SAM HI-LO SHORT SLEEVE TEE
A cotton tee has to be really special for me to consider spending $44 on it, ok? This grey one was super soft and I loved how flattering it was, but I felt sure I could find a less expensive version locally (like this one at Nordstrom Rack). I kept a top from this brand way back in January and the fabric was amazing, so I'm glad that Jenn sent something else similar for me to try. Again, if I had an unlimited clothing budget, this one would be hanging in my closet, but I was trying to be (a tiny bit) responsible this month.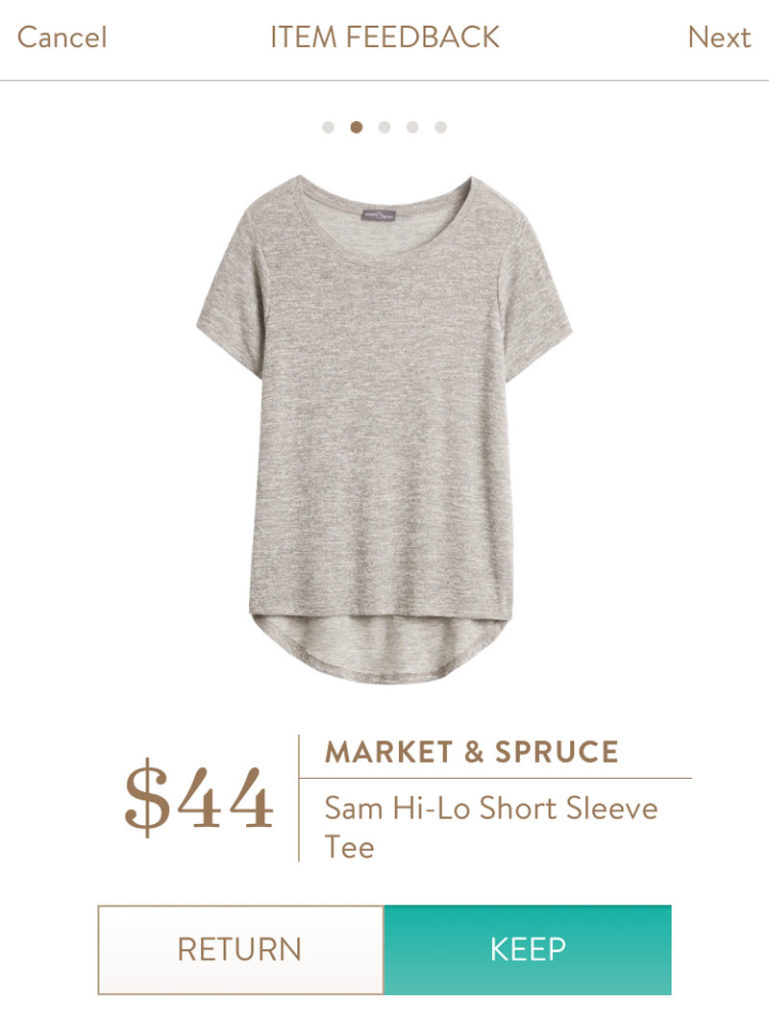 RENEE C GALINDA PRINTED MAXI SKIRT
You guys, this skirt had me at hello. It is a heavier weight knit and is quite possibly the most comfortable thing I own. It is perfectly flattering, with a ruched waistband that nips you in right where you need it. I love that it is slightly high-waisted, but I've found I can wear it higher or lower on my hips to accommodate whatever shoes I'm pairing it with. I was going to be depressed for days about sending this one back, so the hubs swooped in and rescued me with a little Mother's Day cash action. I am not sorry to say that I've already worn this FOUR times in the last ten days. Don't judge me. I can't find this brand anywhere online, but I did find this fun boho looking skirt that would be perfect for summer!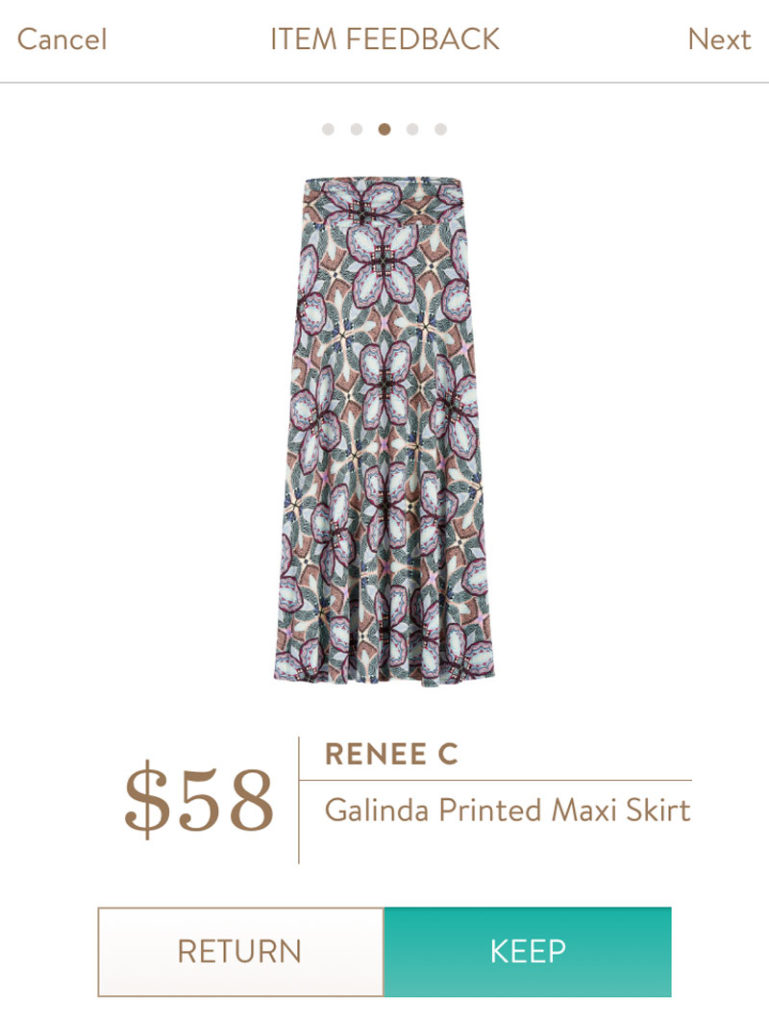 DANIEL RAINN ANGELYNE BUTTON BACK TOP
This blouse is pretty special and if the the neckline had been a little more modest, I would have kept this, too. There is a LOT going on here, but it all works together so well and the detailing was beautiful. The shoulder panels are fine mesh, the neckline had gorgeous inset lace, the patterns are beautiful and I loved the button down back. You guys know how much I love a good shell, so I was really sad when this one didn't work. The lace inset cut down too far for me and I didn't love how it looked with a camisole underneath. Since I wear dress clothes to work every day, my casual wear tends to be very casual. I just couldn't figure out where to fit this piece in. I couldn't find this exact top anywhere else, but I did find several other options from this same designer. Given the attention to detail on this particular blouse, I'm betting these others are just as perfect: cap sleeved blouse | crochet trim floral blouse | keyhole tank | border print swing top | split neck pleated blouse.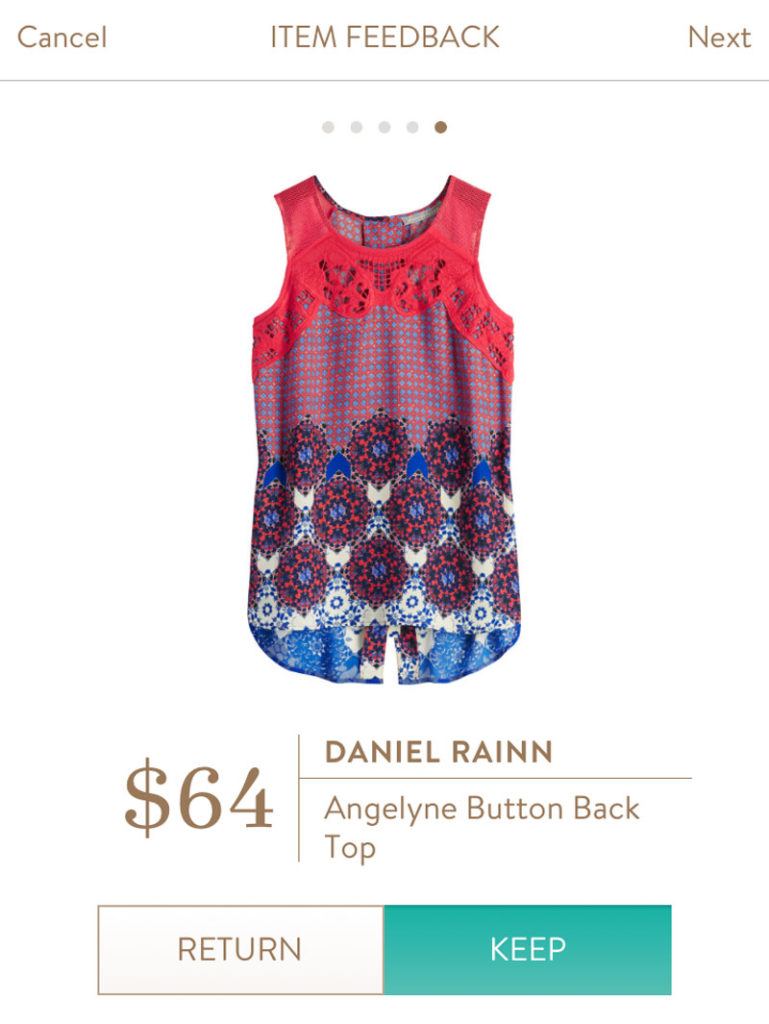 COLLECTIVE CONCEPTS ATALYA COLD SHOULDER TOP
One of the reason I requested this brand was the quality. Both pieces I have (and the piece my friend received) are fully lined, well made and comfortable to wear. I love their patterns and colors and I just knew I would love another piece to add to my wardrobe. Since I also requested an off-the-shoulder top, this was the perfect top for me to try. I'm not sure why this didn't fit me well, but the straps and sleeves both hit me in a weird place. The colors were beautiful and if the cut had been slightly different, I would have loved pairing this with white jeans for spring and summer. This is a super cute long-sleeved version by CC and I did manage to find several other short sleeved options from other brands: embroidered top | tee shirt version | free people | peasant blouse.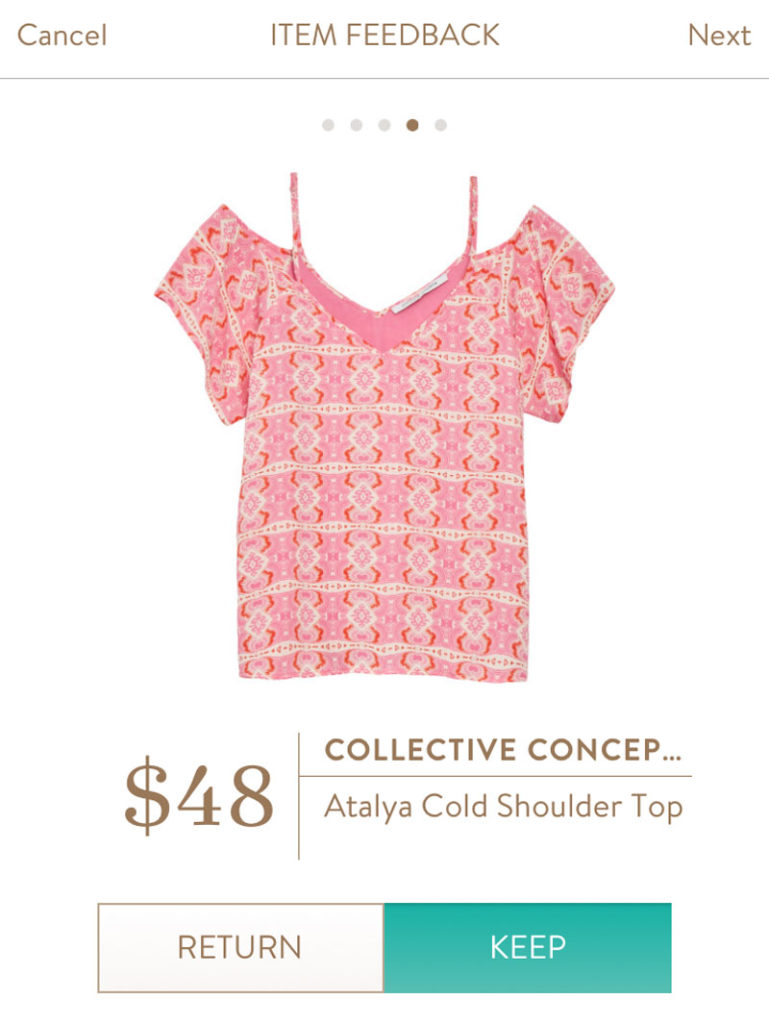 I really hated to send so much back because I loved something about every piece. It was clear that I needed to use restraint, though, because they sent me a message to see why I didn't keep it all! I was in the habit of keeping multiple pieces, but my wardrobe is pretty full for this season and I really need to focus on mixing and matching the pieces I already have. I'm requesting inexpensive, comfortable pieces for next month since we'll spend most of June at the beach. I'll try to squeeze in a review right before we hit the road.
Since I love the skirt so much and have already worn it several times, I thought I'd share a few images of my favorite ways to switch it up. I can't believe how pairing it with different tops makes such a difference in how it looks!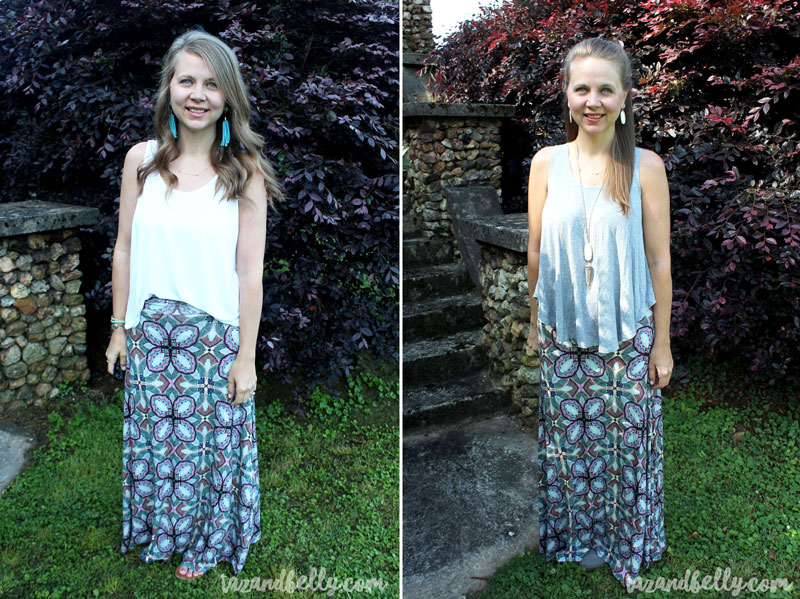 On the left is Mother's Day. I paired the skirt with a sheer tank, flat leather sandals and fun jewelry. It was comfortable, casual and perfect for church! On the right was for date night. This is also a cotton tank, but it has an asymmetrical hem line and it hangs so perfectly. I paid $6 at TJMaxx for this top and I wish they had it in a million other colors. It has just enough stretch and hangs so pretty! I wore the skirt lower on my waist so that it was plenty long enough even with ankle boots.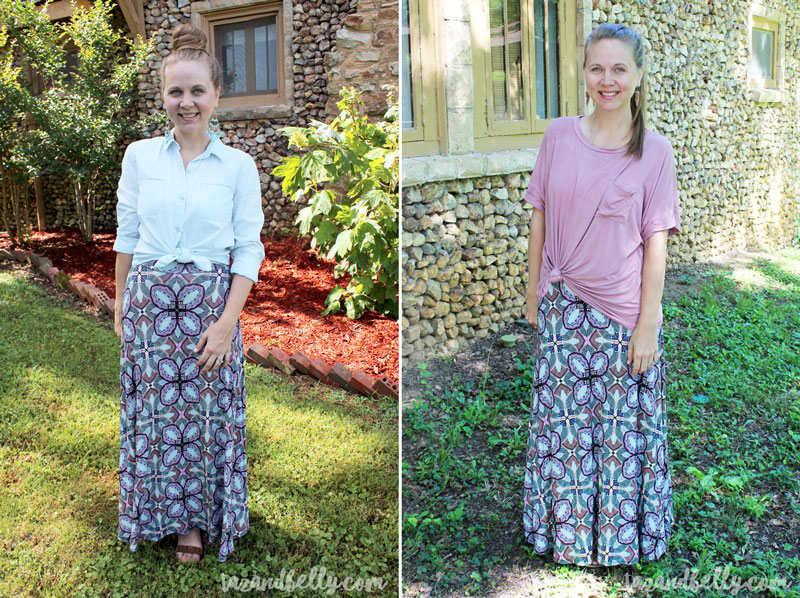 On the left, I paired the skirt with my favorite denim button down of all time. It is so soft and almost white from washing and wearing it so often. Since the skirt has a really wide waistband, I pulled it up pretty high, allowing me to tie the shirt at the waist without any skin showing. I wore my suede moccasin wedges, big earrings and an even bigger bun. On the right was the second Sunday in a row I wore this skirt to church. Josh was traveling and our church is huge so I wasn't planning on anyone noticing the repeat, but of course, Ella pointed out that I had worn it twice in a row! Whomp whomp. This oversized tee shirt is one of my favorites, but since it and the skirt are both flowy, I knotted it up so that I didn't look too frumpy.
CLICK BELOW TO PIN THIS POST!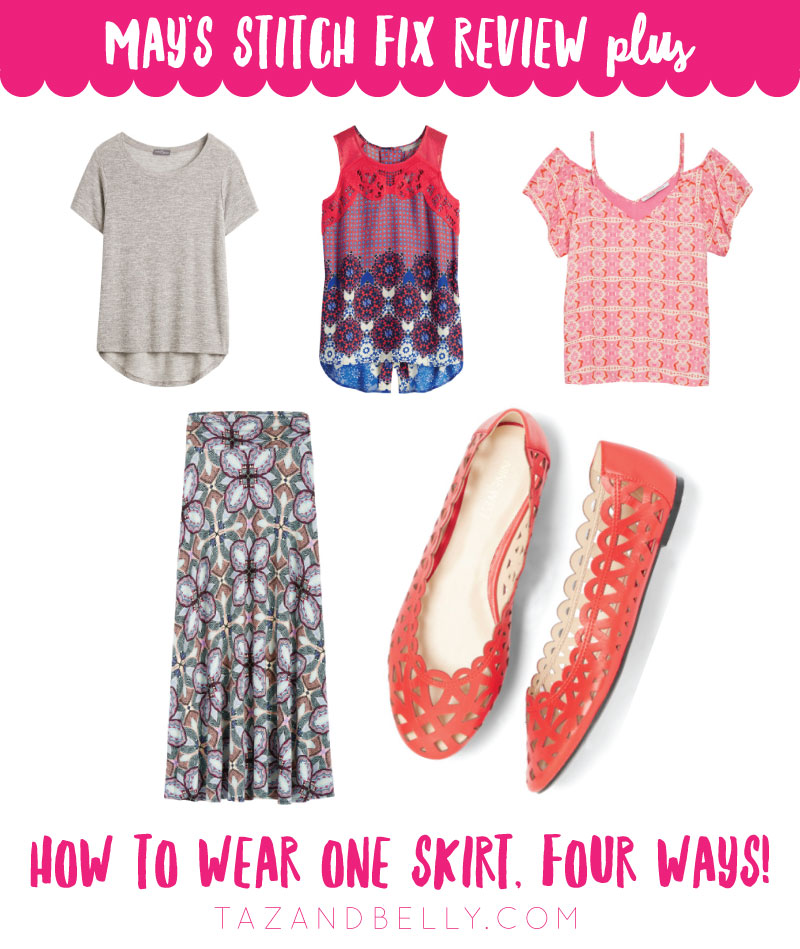 I have a few other tops that I know this will work perfectly with (hello sleeveless denim and summer sweaters) and I can't wait to try them out. As I accumulate daily outfit photos, I'll probably do other posts like this showing different ways I wear the same pieces in my wardrobe. Don't forget, you can always comment below if there is a particular kind of post you want to see here on Wednesdays, and be sure to visit Jennifer and read all about her favorite beauty products!
P.S. I'm linking up with Maria from Crazy Together!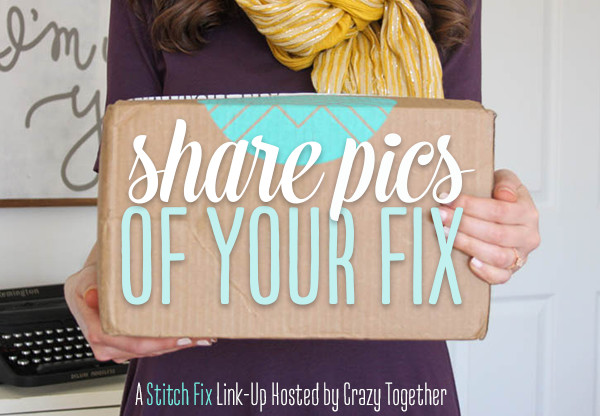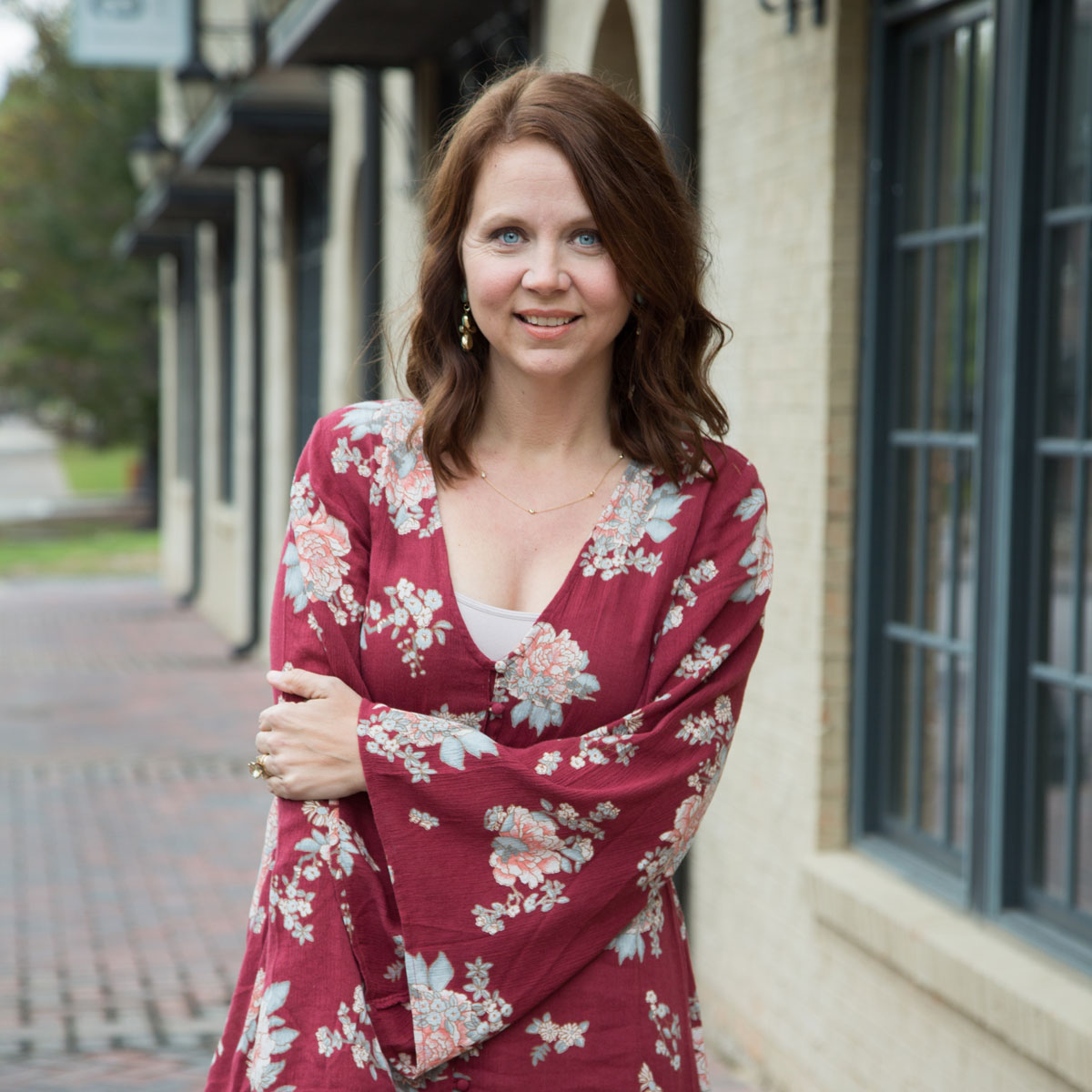 Kristin is married to her high-school sweetheart and the mother to two daughters. Professional by day and creative by night, she is a family lifestyle blogger who writes about faith, family, and fitting it all into a busy schedule. At Taz + Belly, you'll find healthy recipes, children's party ideas, tutorials, DIY projects, and more.
Click Here to Read More About Kristin