If you're here from Kelly's Korner, I'm sharing my favorite recipe for paleo-friendly mocha lattes for SUYL at the bottom of today's post! I'm ten weeks into a year of eating ninety percent paleo and sharing some of my most frequently asked questions. Warning: Affiliate links appear in today's post. Although shopping the embedded links won't cost you any additional dollars, it might contribute to an afternoon Starbucks run for me. Your support of my caffeine habit is always appreciated!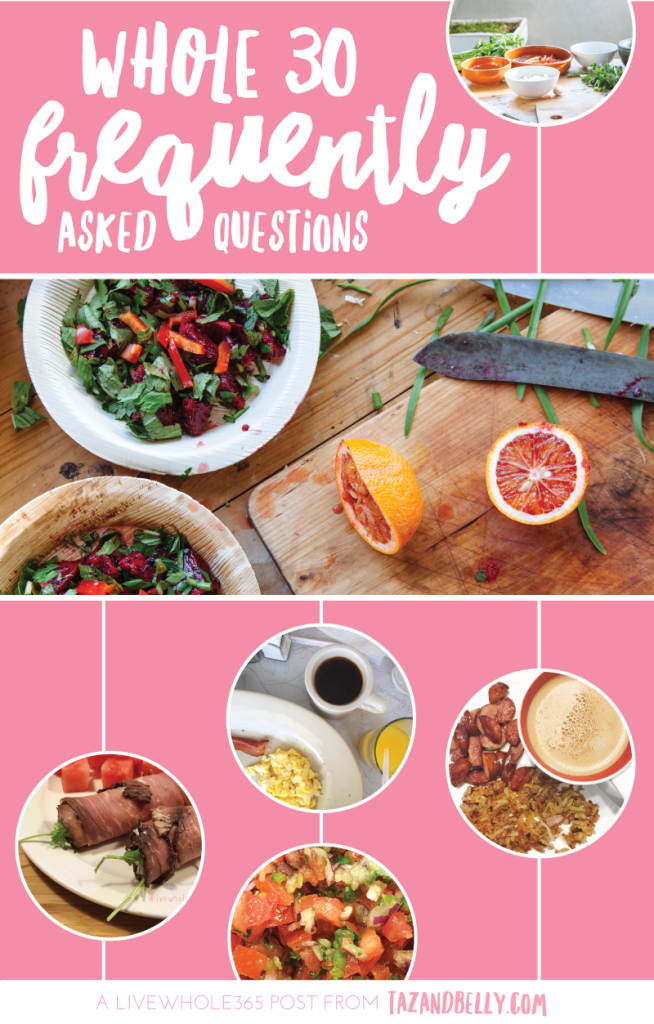 After almost eleven weeks of pretty clean eating, I've accumulated quite a list of questions from friends, family and random commenters on Instagram. I've pretty much heard them all at this point and thought you might be interested in some of the answers I've been handing out. I'm going to try and be super responsive, so if there are any questions that I don't cover or if you have any follow up after reading through today's post, sound off in the comments and I'll do my best to update you throughout the week!
Are you exercising regularly? I wish I could answer this question with a YES, but so far exercise has been pretty non-existent. I wish I had a really good reason for that, but between early sunsets during the winter months and a crazy schedule due to dance competitions, the short answer is: I just haven't had time. I had really good intentions of rocking March, so I've been working hard to get myself back on track this week. My goal is to do T25 4-5 mornings a week before the girls wake up and to run 2-3 afternoons a week, now that it's still daylight most days when I get home. Even though I've made great progress in the last three months, I know that I would be infinitely happier if I was moving on a regular basis.
Have you continued to lose weight since the first 30 days? The answer to this question surprised me a little bit. In January (when I was strictly Whole30), I lost just under 11 pounds total. I was thrilled with my progress and expected to see the number on the scale to continue moving south during February, but that didn't happen. I had three cheat days during late January and February and even though I ate pretty well the rest of the month, I noticed that I was trading green veggies for potatoes (since I could) and snacking more frequently than I'd like to admit. Even when you eat all the right things, you can eat them at the wrong times or eat too few of certain categories of food and have it greatly impact your results. When March rolled around, I started paying close attention to what I was eating and how much water I was drinking. Even after three cheat days in Chattanooga this past weekend, I'm down another (almost) two pounds and finally feel like I'm making progress again. No, I don't expect to lose 11 pounds every month, nor am I really doing this solely for weight loss. I do, however, want to to see how my body responds to different things and seeing the scales move helps me to gauge what I'm doing right and what I'm doing wrong.
Are there any vitamins you take now that you're doing Whole30? I haven't started taking any vitamins yet, but this is something that Josh and I have been talking about over the last week. Even when you're eating great it's almost impossible to get as many servings as you need of everything and on the flip side, I've heard plenty of times that over-the-counter vitamins tend to be useless. We're doing some research now on what vitamins to take and why, so I'll definitely report back once we are on a regular regimen.
What is the difference between Paleo and Whole30? I was going to answer this for you, but Stupid Easy Paleo's explanation is about the best thing I've read on the topic. The short version is, Whole30 is considered "squeaky clean paleo" and a great place to start. It helps you better understand your relationships with food and what foods cause what problems to your body. Starting a long-term paleo journey by spending thirty days eliminating foods and then slowly adding them back is a great way to identify problem areas and trigger foods (this is why we did Whole30 in January). After you are armed with more information, you can safely and appropriately proceed with a paleo approach to the rest of your life (see February forward). One isn't necessarily better than the other, but they do work well together to establish better relationships with food.
Do you find yourself saying "I can't eat that!?" all the time? [Also known as: Are you cranky when you have to say no?] Believe it or not, this one has been MUCH easier than I anticipated. Jennifer and I actually sat down and compared notes on this very topic last week and I was surprised to see how similar our thoughts were, even though our "trigger foods" were so different. For me, real food (I mean dinner food at an actual restaurant or the equivalent I would prepare at home) isn't the problem. I have no problems ordering a steak or grilled chicken with veggies at a restaurant and drinking water with my meal. Last year, I would have ordered pasta almost every time we ate out, devoured the bread basket before our meal arrived and indulged in copious amounts of sweet tea. These days, I'm enjoying a glass of lemon water with my salad and looking for something that won't leave me with stomach pains and regrets after the meal is over.
The times I find myself cranky about food I'm missing out on is almost always with regards to quick foods and instant gratification. On the days Josh and I cook breakfast after the kids are at school, I leave for work satisfied and never think about food until late in the day. When I skip out of the house with only a water bottle or a cup of coffee, I side-eye the fast food signs and long for a drive-through breakfast. If I work late and miss dinner, I contemplate Zaxby's or pizza. If I wander by Panera Bread or the donut stand, I actually say to myself "You're an adult. You can eat whatever you want."
My problem isn't actually with the food I'm eating, it's with the ability to choose wisely. When I indulge in something I'm not supposed to have, there is some immediate reward and sometimes it even tastes delicious, but that fleeting moment is almost always followed by regret. The sense of failure isn't ever worth the few bites of indulgence that I've allowed myself. I've learned that I should save my "cheat meals" for times when I need to be able to eat something quick or pick up takeout or when I forget to pack my lunch. I don't actually need to plan cheat meals, because planning prevents me from needing them altogether. I'm not anticipating a change in methodology for this year, but I am definitely learning how I'll be using those "cheat meals" moving forward and it isn't for things like Easter Sunday lunch or a date night.
Do your kids and husband eat this way, too? This one doesn't really get a straight answer, but I hope it's helpful anyway. When we set out to eat whole for the year, Josh pretty much declared that he wasn't participating. He said he would eat what I cooked with some modifications, but that he didn't want me to get mad at him if he decided to grab takeout or drink a Dr. Pepper on a random Tuesday night. If you're asking if he's as strict about food as I am, then the answer is no. He ate fast food several times while I was out of town last weekend and he doesn't ever feel guilty about anything he eats. Overall, he was a better eater than I was going into this year, so I think it's been easier on him as a whole. He drinks a protein shake every morning (even on days when I make us breakfast) before working out and even though that isn't Whole30 compliant, he is very conscientious about everything else he's eating. He'll eat leftovers for lunch or have an omelet and veggies and he always eats whatever I cook for dinner. He doesn't cook as frequently as he used to (he isn't the least bit interested in following recipes or checking ingredients), so I let him clean up the kitchen and I never complain about preparing meals. Essentially, as long as I buy healthy foods and keep the kitchen fully stocked, he'll eat whatever I purchase. And even if he hates a recipe or thinks that dinner is terrible, he'll just finish his plate and request that we not cook that again next week!
When it comes to the kids, things are a little different. I find myself torn between two schools of thought. On the one hand, they are just kids and I hate to severely limit what they are allowed to eat given their crazy fast metabolisms and the fact that "all the other kids are eating it." On the other hand, I know that if I were to eliminate all processed foods from their diet right now, in a few years they wouldn't even remember eating spaghettios. Then again, maybe strictly limiting their foods would cause them to rebel and gorge on things when they were out of my sight (I fully intend to have a very in depth discussion with my pediatrician about all of these things this year). So, I'm torn. For the most part, I let them be kids for breakfast and dinner. My girls prefer a hot breakfast and neither of them eat eggs. For now, we have frozen pancakes or waffles every day (#parentingfail). I have a great grain-free cookbook with a freezer waffle recipe that I plan to try out over spring break and if I can convince my children that they are delicious, we'll be making that switch very soon. At the least, I plan to try making waffles from scratch and freezing them instead of buying the disgusting processed ones that embarrass me every time I put them in my cart. For lunch, Ella eats in the lunchroom almost every day. I actually think she's more willing to try veggies that her friends are eating, than she would be at home. On the days she carries a lunch, she always wants a peanut butter sandwich, so I send yogurt and fruit alongside it to give her something healthy. Sophie alternates between a half PB&J and sliced turkey, pepperoni or salami with cheese. I send her yogurt, a banana and one item from the pantry (usually pretzels or gold fish crackers) every day. We are working on fruits with her right now, so I almost always send a single sliced strawberry and a few apple wedges in her lunchbox, too. She doesn't always eat them all, but she's always proud of herself for trying them. Ideally, I like for the girls to try something we're cooking every night. They both like stir fry and grilled meat, so I let them supplement their plate with other things they like. We call these "variety plates" and the rule is that you have one thing we cooked for dinner, they can only have one thing from the pantry and everything else has to be from the fridge (yogurt, cheese, fruit, sliced meat, etc.). My biggest problem with dinner is that Sophie doesn't eat any red meat. On nights we're serving pork or chicken, the variety plate concept works well. When I serve ground beef or steak, she almost always reverts to "kid food" and I let her indulge in pasta or soup. I know that this is our biggest problem area, so we are constantly talking about food and good choices and substitutions and I am just hoping that with good examples and encouragement, we will continue to make leaps and bounds with the girls this year!
When you've cheated, did you get sick? The answer to this one varies, but for the most part — YES. My first cheat meal was for Josh's birthday and my mom cooked a huge breakfast. We had biscuits and gravy, hashbrown casserole, sweet tea and I even ate a homemade cinnamon roll for dessert. I am not proud. I think the thought of eating all of those foods after 3o days of deprivation sounded better to me than the actual food itself. All of the grains, cheese and salt made me feel terrible afterwards (even during the meal, if I'm being honest) and it took a few days to feel in control again. For Valentine's Day, I cheated the entire day with no repercussions. I had Starbucks that morning, Zaxby's for lunch, pasta for dinner and chocolate chip cookies. I'm not sure if I just metabolized it all really quickly since it was preceded by a six mile run, but I didn't experience any adverse effects and I was able to get right back on track the next day. This past weekend was a cheat weekend for me since we were traveling. Ella wanted to eat at Panera Bread for lunch, so I ordered a half-panini, pasta and sweet tea. I have to tell you that I didn't finish any of it. The sandwich was okay, but the pasta made me feel gross immediately and the sweet tea was like drinking sugar. I poured it out and chugged a bottle of water to get the taste out of my mouth. I think it varies sometimes and I've noticed that if I only slightly modify my meal (eat grilled chicken tacos instead of a taco salad, only adding a tortilla or two) instead of eating something completely out of character, then my body seems to respond differently. I've also noticed that I respond differently to different versions of the same food. Goat cheese doesn't seem to bother me, nor does a little freshly grated cheese on a salad. Cheese dip at a mexican restaurant or heavily processed cheese in a casserole? No dice. I'm trying to take good notes and pay attention to my body and I'm hoping the longer we are at this, the more easily I'll identify foods that don't work for me.
Do you think it's possible to do this as a vegetarian? I'm not quite sure how to answer this one since I eat a very meat-heavy menu. I definitely eat far more vegetables now than I used to, but I'm still not sure my diet is varied enough to support a no-meat policy. I will tell you that I have a friend with a protein disorder who has to monitor the amount she intakes and sticking to a strictly Whole30 plan would be very difficult for her. She needs the benefit of quinoa or the rice/bean combo to make a complete protein. She has been very successful on a modified paleo plan in the past, so I would think eating paleo with occasional whole grains (but not bread or baked goods) would give you similar results.
How do you navigate dinner with friends [or attending a dinner party] without seeming high-maintenance? This is one of those areas that hasn't been as difficult as I had imagined. Jennifer and I can always eat the same kinds of foods if we're together, so that's easy. Otherwise, I try to choose the healthiest thing on the menu and limit how much I talk about my food issues. A couple of times, a friend has asked me to choose the restaurant, which makes things infinitely better. I usually lean towards Taziki's, Zoe's Kitchen or Chipotle since I can easily eat something there without much modification. I'm well aware that most restaurants aren't completely compliant, but I'm not making a big deal about what oils they use or a stray crumble of feta cheese. I think as long as we're making the best choice available, that we're doing pretty great for ourselves. Just this past weekend, I wanted to eat something healthy for dinner after that Panera Bread debacle, so I ordered a chicken breast with bruschetta and grilled broccoli. I didn't eat an appetizer and had one glass of white wine. It wasn't completely compliant, but it was delicious, nobody noticed what I was eating and I didn't feel guilty (or sick to my stomach) after.
How do you eat out at restaurants and still make good choices? I think for the most part, I answered this question above, but I think making the best choice you can at any given moment is the way to go. I love Chipotle, but their grilled veggies and chicken aren't technically compliant (soybean oil). I just go ahead and get a salad with chicken, veggies, salsa and no dressing and go on about my merry way. One day when I was really craving something crunchy, I persuaded them to sell me a kids sized bag of tortilla chips and only used a handful. Yes, I know that's not within the boundaries of Whole30. Sometimes you have to err on the side of practicality, not perfection. The best advice I can give you is to order a water or unsweetened tea, have a salad with balsamic or some sort of vinaigrette, avoid appetizers altogether (along with bread, cheese and extra sauces) and stick with a protein/veggie combo for dinner. Most restaurants offer tons of options that might not be completely compliant, but they are certainly healthier than what you used to eat!
What is your "go-to" drink? Are you drinking water all the time? I am strictly drinking water these days. I need you to know that I used to hate water. LOATHE. I couldn't stomach it and I struggled to get a single glass down in an entire day. I'm not kidding. I was raised on sweet tea and by the time I got to college, I was drinking a canned soda for every hour I was in class. It wasn't pretty and it has taken fifteen years to kick the habit. I need you to know that sweet tea and Dr. Pepper still taste delicious (I had one of each over the weekend), but they are way sweeter than I'd like and I never feel good after. I have a contigo water bottle (affiliate link) that I literally carry around everywhere I go. I fill it up with ice water before I leave home in the mornings, refill it constantly during the day, and make sure it's full before I leave the office in the afternoons. I can always tell if I'm not drinking enough because after one sip, I can't get enough. I make it like a game sometimes and just chug and chug until it's empty and I can refill it. I holds 24 ounces and my goal is to drink between four and six bottles a day, depending on my activity level. Just in case you're curious, here are some other thoughts on drinks and substitutions:
If you aren't a fan of water, try adding fruit. I bought an infuser bottle (affiliate link) and love adding lemon, lime, cucumber and strawberries (not all at the same time!) to my water. You can try different combinations and even add herbs (think mint) for some variation.
Juice is only okay in very limited quantities. Fruit juices are full of natural sugar and when you eat the fruit, that sugar is mitigated by the fiber. When you drink the juice only, you are loading up on unnecessary calories and extra sugars. The only time I use fruit juice is when I make a smoothie and I'm getting fiber from the whole fruits I'm using, as well as the added benefit of greens. Occasionally, if we go out for brunch on a Sunday morning, I'll get one small glass of fresh squeezed orange juice (because, delicious), but as a general rule I steer clear.
Tea and Coffee are both fine if you can forego sugar. I have friends who drink unsweetened tea and think it's delicious. If you need an added sweetener, try coconut sugar. No, it isn't Whole30 compliant, but it IS paleo-friendly and has a lower-glycemic index so it doesn't cause a sugar high and subsequent let down. I would recommend only using it in moderation. The goal here isn't to replace all of our bad stuff with only slightly healthier bad stuff. Cool?
How do you make your breakfast potatoes and hashbrowns? Potatoes are my love language, but I prefer having them for breakfast than eating a plate full right before I head for bed. I'm sharing my two favorite recipes for you below!
Hashbrowns: You can buy store-brand frozen hashbrowns at Sprouts that have no ingredients other than potatoes. It seems that every other version of their potatoes contains something non-compliant except these! I chop up half of white onion and mix it in with the potatoes, then season with salt, pepper and garlic. Heat a tablespoon (or two, depending on the number of servings) of olive oil in a cast iron skillet and continue tossing potatoes in the oil until brown and crispy.
Breakfast Potatoes: This is my absolute favorite way to cook potatoes and hasn't yet met any opposition, even from the littles! Cut up 4-6 small red potatoes and leave the skins intact. Dice tri-color peppers and onions to taste (I use the pre-diced ones from Publix if I'm in a hurry!). Toss potatoes, peppers and onions in a little bit of olive oil (spray would work, too) and microwave for 10 minutes, stirring every 2 minutes, until fork tender. Heat a tablespoon of olive oil in a cast iron skillet over medium heat. Season potato mixture with salt, pepper and adobo seasoning and cook until brown and crispy.
Where do you buy plantain chips or do you make them yourself? I'm sure I could figure out how to make them myself, but the ones I've found at Sprouts seem pretty harmless, so I just go with that. They have a plain version (just plantains and oil) and a picante version (slightly spicy and mexican in nature). We prefer the plain ones as a base for taco salad or as a chopped salad topper, but love the picante ones as a snack or with a faux sandwich!
Wait, what is in your coffee? Creamer?! I think I've share this on Instagram before, but I don't think I've ever actually given you my coffee "recipe." It took quite a while to perfect, but I finally have my morning routine down to a science. If you're craving a Caffe Mocha from Starbucks, this is a pretty decent substitute. Just be warned that it isn't nearly as sweet, but that shouldn't be an issue after a few weeks of elimination.
Ingredients: enough ground coffee to make 2 cups, 1 tablespoon of chocolate powder, 1 tablespoon of coconut sugar and 1 tablespoon of coconut cream. Directions: Put a tablespoon of chocolate powder in with your ground coffee and brew two cups. This infuses the coffee with the chocolate flavor, but you don't have to worry about it separating while you're trying to enjoy your latte! Mix the coffee and all other ingredients and blend until smooth. I use an individual serving blender and can drink it straight from the blender bottle if I'm in a hurry for work! Need some suggestions for ingredients? We love Trader Joe's coconut cream the best. Shake it really well to mix, then store it in a plastic container in your refrigerator for 7-10 days. Sprouts carries a store-brand of coconut cream, too, and it's my second choice when TJ's is out. It is a little oiler, but still has a great flavor! We love Death Wish Coffee (affiliate link), Wild Foods chocolate powder (affiliate link) and Big Tree coconut sugar (affiliate link). Big Tree also makes Drinking Chocolate (affiliate link), which already has coconut sugar mixed in. You'll thank me in the morning!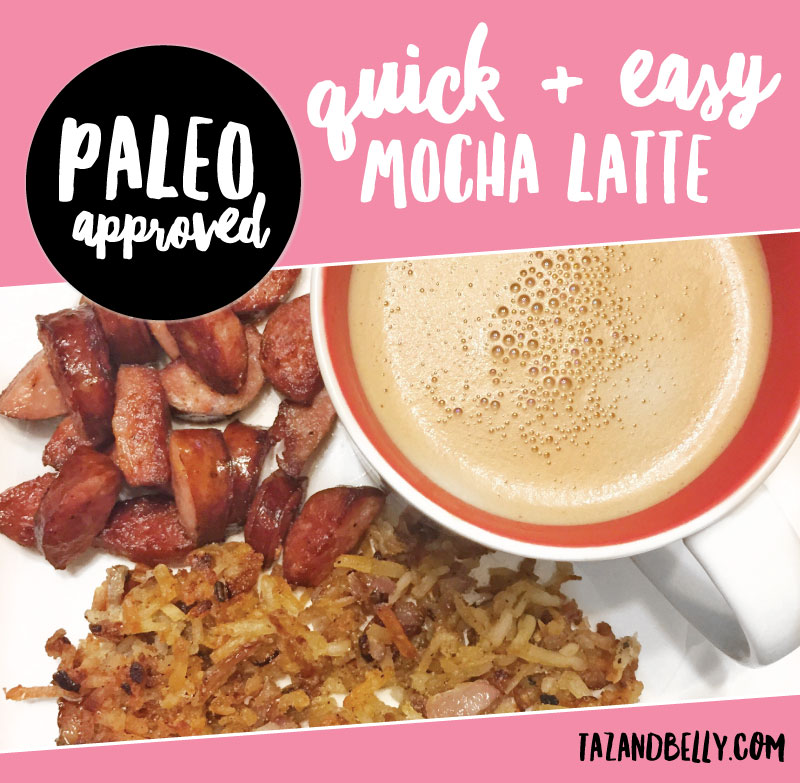 Did I miss anything? Do you still have burning questions? Do tell.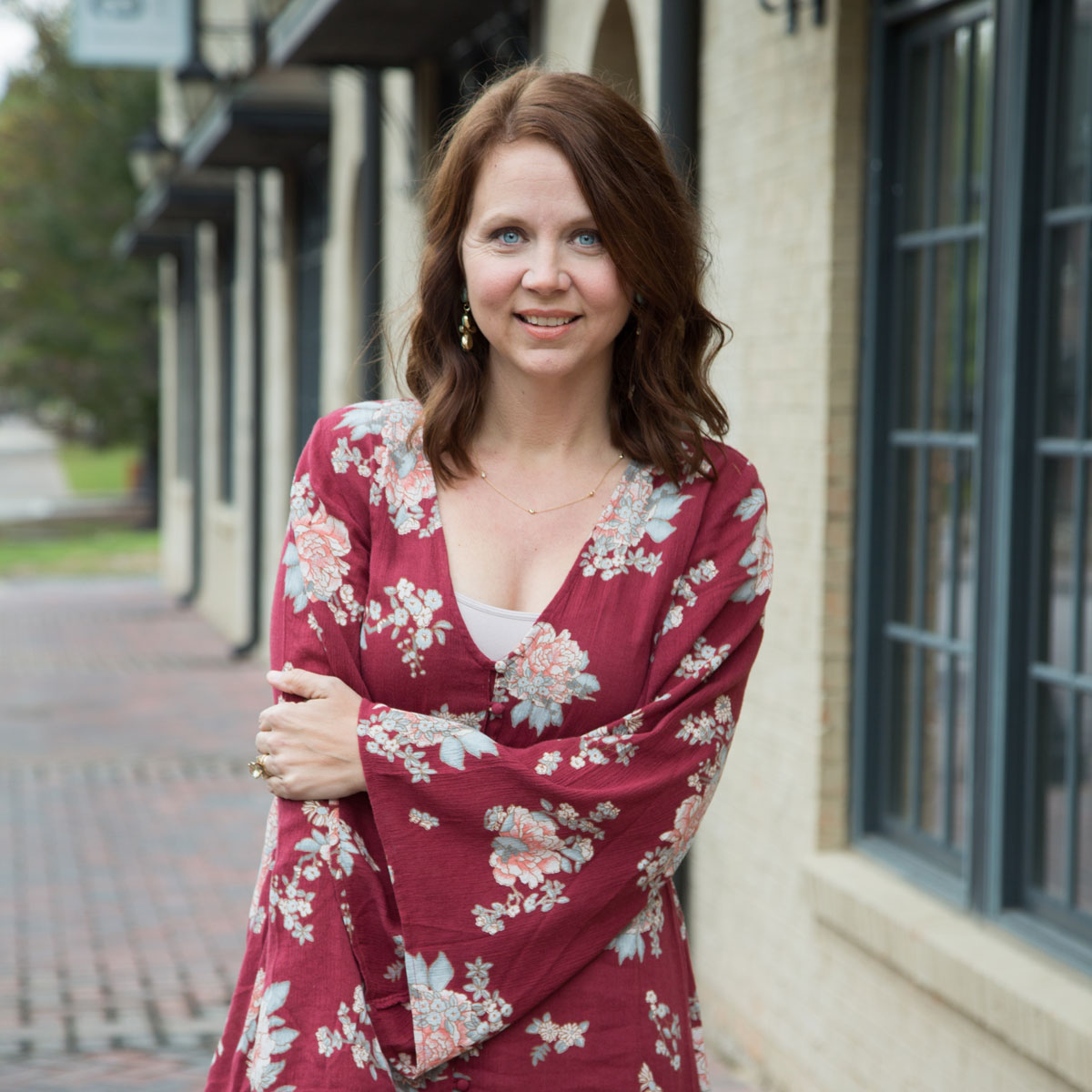 Kristin is married to her high-school sweetheart and the mother to two daughters. Professional by day and creative by night, she is a family lifestyle blogger who writes about faith, family, and fitting it all into a busy schedule. At Taz + Belly, you'll find healthy recipes, children's party ideas, tutorials, DIY projects, and more.
Click Here to Read More About Kristin