Updated: January 29, 2017
I feel like I should make a public service announcement so that you'll understand the magnitude of this post. This Whole30 Beef Stew is the stuff that dreams are made of!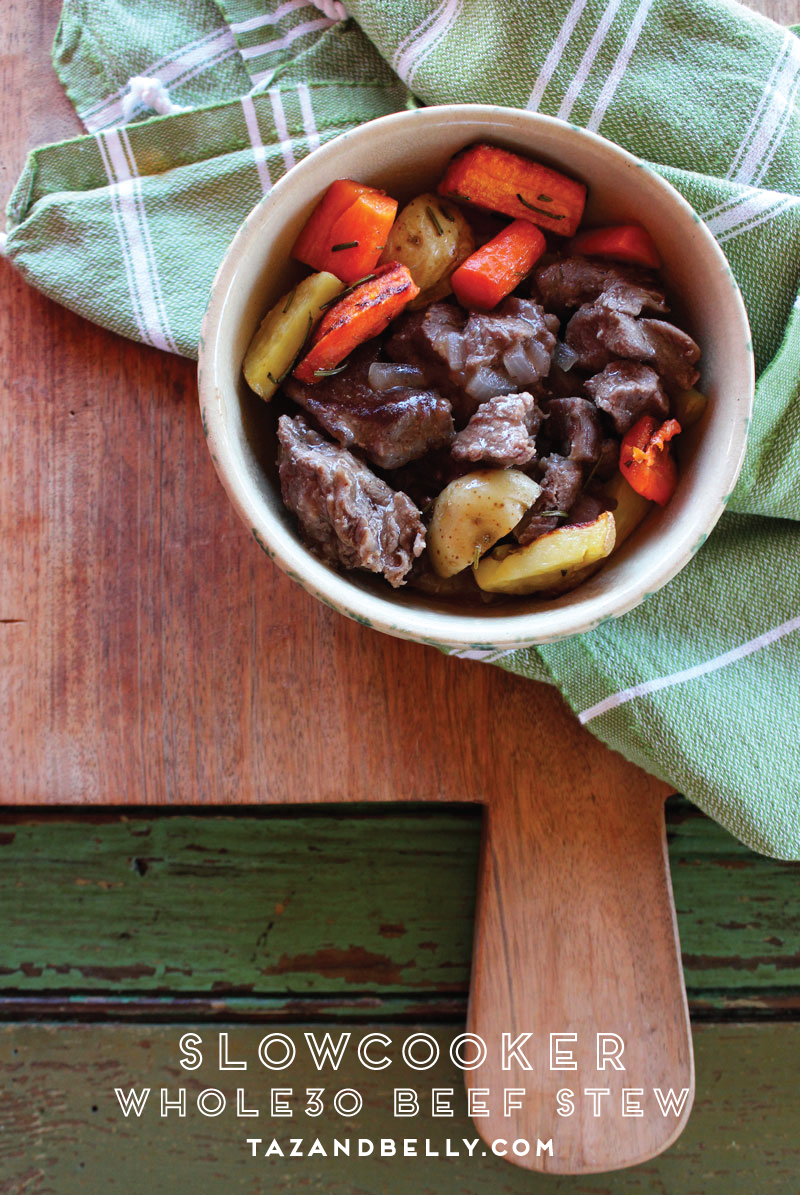 I pinned this stew recipe late last year, but never got around to making it. I was really in the mood for something warm and hearty over the weekend and after scouring Pinterest, I realized I had almost all of the ingredients to make it in my pantry. I need to confess that veggies cooked in the slow cooker or incorporated into soups and stews are not my very favorite. I prefer crispy or crunchy veggies, not soggy ones, so I'm always trying to figure out how best to modify recipes with that in mind. This takes an extra step, but I assure you, it was all worth it in the end!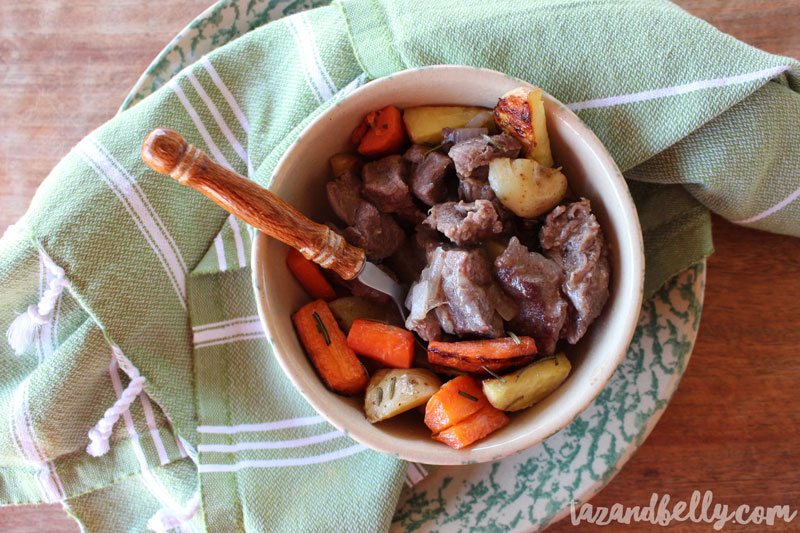 Ingredients:
2 pounds of stew meat or beef tips
1 pound carrots, cut into coins
4-5 large large red potatoes, cubed
1 large white onion, diced
1 TB balsamic vinegar
2 tsp dijon mustard
3 cups compliant beef broth
2-3 stems fresh rosemary
salt & pepper to taste
olive oil
2 TB arrowroot powder
Instructions:
Heat a drizzle of olive oil in large sauce pan and brown beef. When browned, transfer to slow cooker.
Add diced onion to the same pan. Stir well to scrape up any browned bits left from beef.
Add balsamic, dijon, and broth to the pan and stir until combined. Pour mixture into slow cooker over beef.
Cook stew in slow cooker on HIGH for 3-4 hours, or on LOW for 6-8 hours.
An hour prior to serving, cut up potatoes, carrots, and roughly chop rosemary. Toss with a drizzle of olive oil and roast in the oven on 375* for 45 minutes.
In a small bowl, whisk together arrowroot powder and 2TB water. Pour into slow cooker and stir to combine.
Stew should begin to thicken immediately.
Place a serving of vegetables in a bowl, spoon beef stew mixture on top, and enjoy!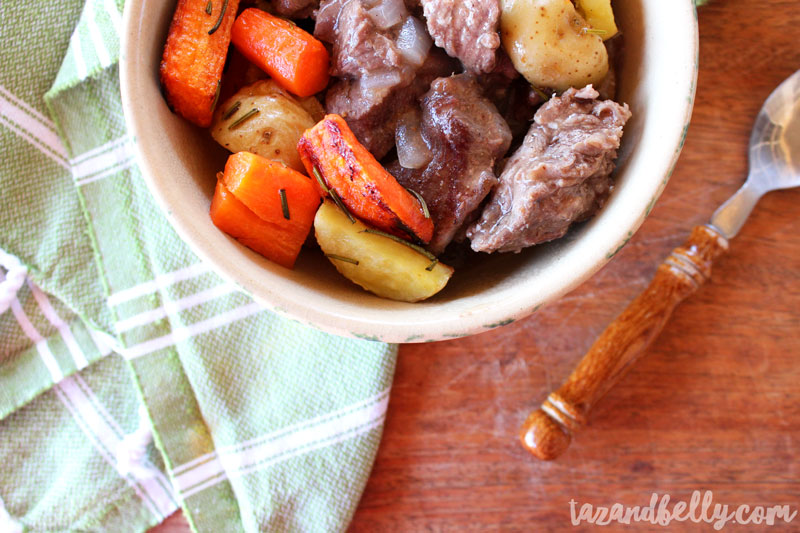 You. Guys. There is something about serving the stew over roasted veggies that makes this so much better than any other beef stew I've ever tried. The potatoes and carrots are perfectly cooked and a great addition to your favorite soup or stew. This recipe yields extra liquid, so once you've eaten all the beef and veggies, reserve the "gravy" for later. I'll share another favorite on Instagram tomorrow using the leftovers.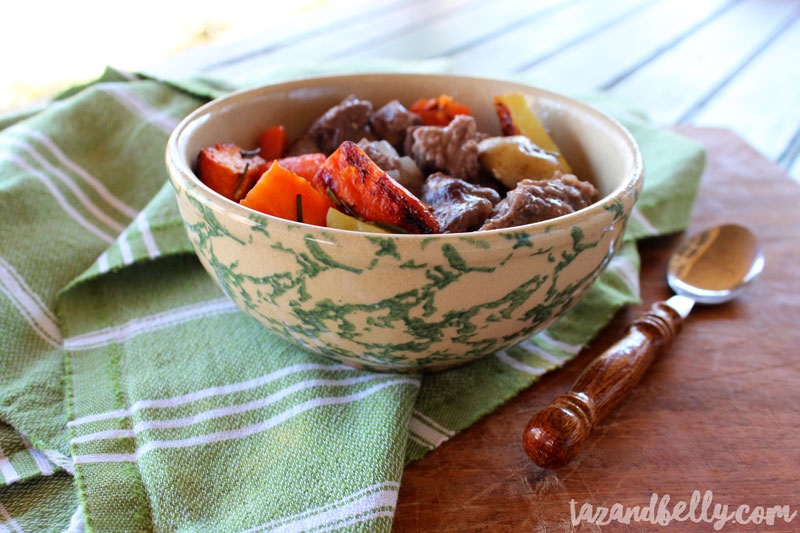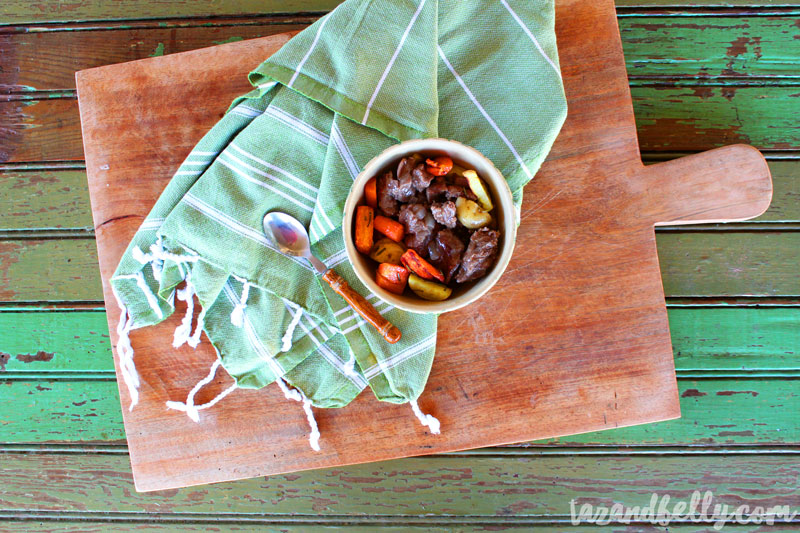 Recipe adapted from One Lovely Life.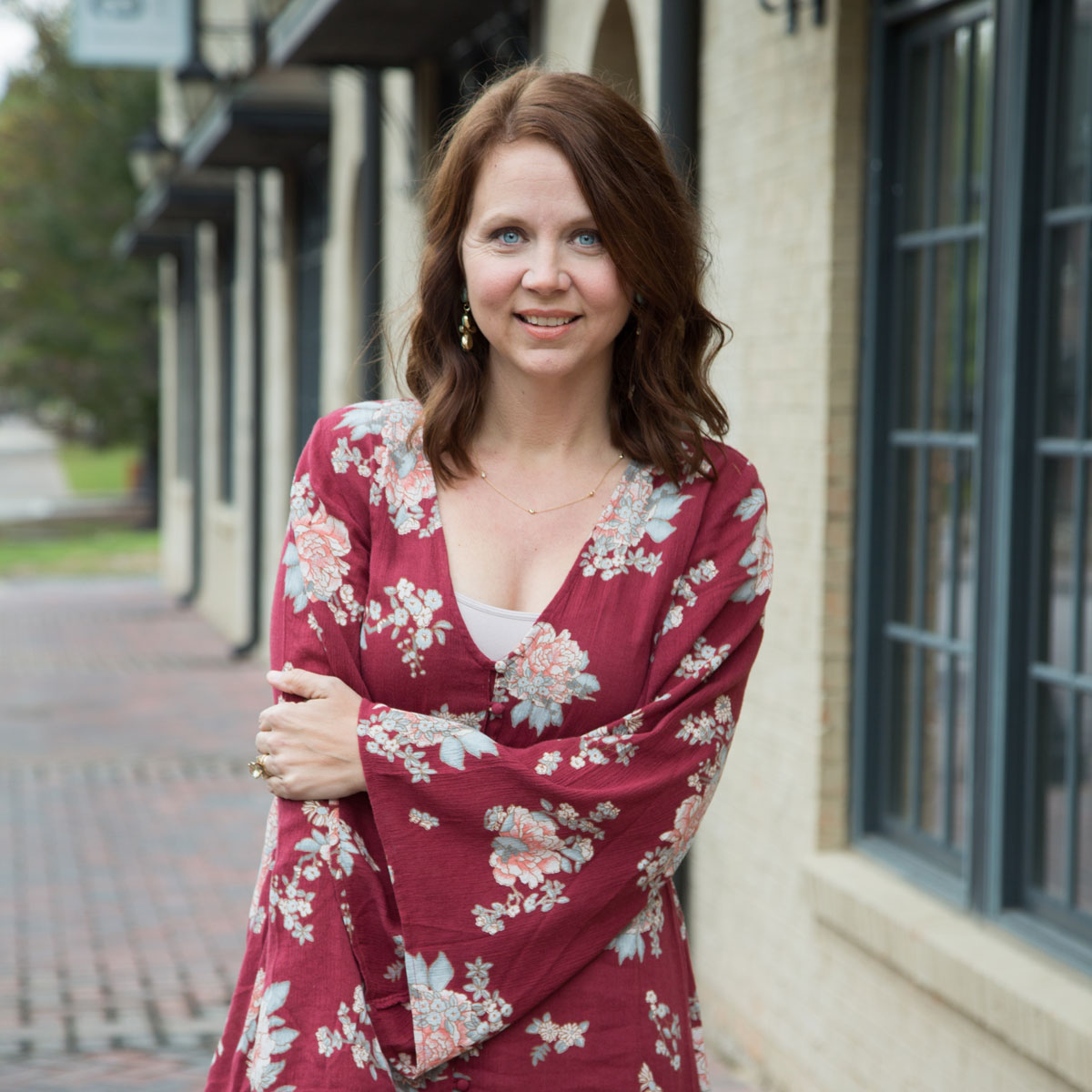 Kristin is married to her high-school sweetheart and the mother to two daughters. Professional by day and creative by night, she is a family lifestyle blogger who writes about faith, family, and fitting it all into a busy schedule. At Taz + Belly, you'll find healthy recipes, children's party ideas, tutorials, DIY projects, and more.
Click Here to Read More About Kristin