Warning: Affiliate links appear in the following post. If you sign up to receive a box from Stitch Fix, I'll receive a credit to my account when your first box ships. Don't worry! After you create an account, you'll get a referral link to share with all of your friends and earn $25 for every person you refer when they schedule their first fix. Sharing the love means that we all get free (or discounted) clothes. Who doesn't love that?!
Surely you've heard of Stitch Fix
? If you haven't you are in for a treat. I signed up several months ago and then with the holidays and Disney World (which I realize I STILL NEED TO BLOG ABOUT) I just never made it back around. Essentially you fill out a style survey and answer a million and one questions about what kinds of clothes you wear, whether you wear more casual clothes or business attire, you plug in your weight, height and size information and talk about your budget for certain categories of clothes. There are also style maps of outfit ideas (see below) and you can say how well you like the items in the category – you like all of the clothes, most, some, none, etc.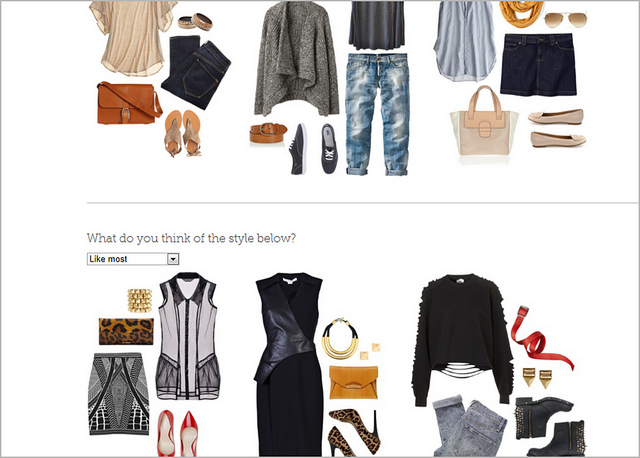 Once you've answered every question known to man about your style or the style you hope to achieve, you schedule your "fix". You can opt for a monthly subscription or manually select when you want to receive a package, which is what I did. A personal stylist will select five items based on your answers to the style survey and send a box of clothes and accessories just for you. They charge you $20 when the box ships and it covers shipping both ways and a styling fee. If you keep any of the clothes in the box the $20 goes towards your total purchase and they bill you the difference. If you send it all back, then you forfeit the styling fee and if you keep everything in the box you get a 25% discount on the total price. You have three business days to make your decision and then send everything back that you don't want in the postage paid package included in your box.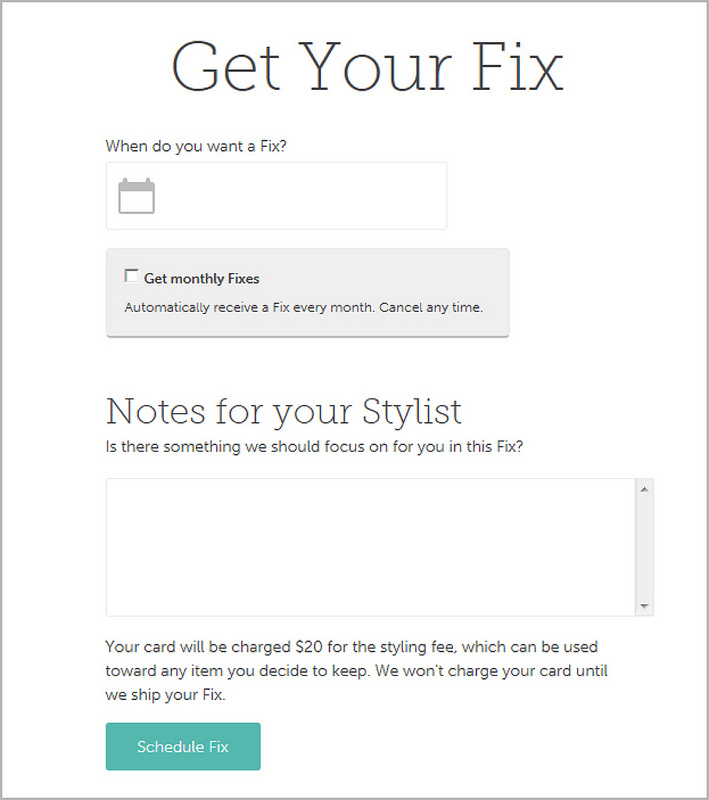 My box finally arrived on Monday morning and I was so excited to dig in! You get a sweet note from your stylist about why they picked certain things along with a description of each item and the price. I would recommend setting your budget a little lower than you are willing to spend because most of my items were pricier than I normally would purchase. I decided when I scheduled the fix that I would be willing to buy one or two nicer items this month instead of the boatload of cheapies I usually purchase. It worked out well in the end, but I think I'll downsize my budget a little before scheduling fix number two.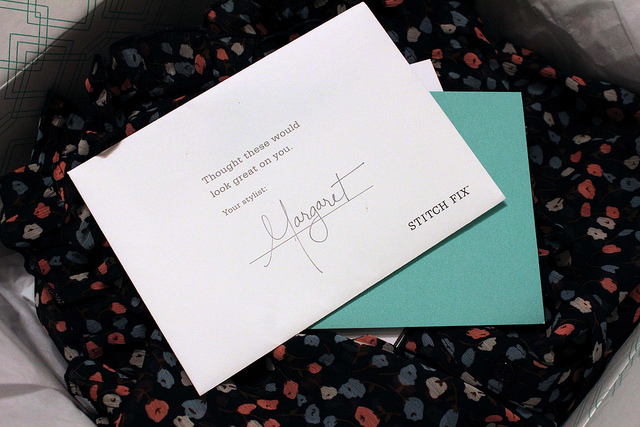 The other thing I loved about the package is that each item has a tag that describes the item and shows a few ways to style it. The beauty of SF is that you can try the items on with things from your own closet, shoes and accessories to see how you would really wear it. The cards give some great ideas on what to pair certain things with! One special request I made for this fix was something to wear to a wedding that would look great with brown cowboy boots and I was hoping for something lacy. The note I received from Margaret said this about my fix.
"Hi! I packed you two dresses today because I am so jealous you are going to a fun, country wedding. I've been to one or two(three) in my day and they are so much fun. I realize that the lace dress is black, but I still think it's ok for you to wear if your boots are brown. I don't like to shy away from black/brown combinations even though it's sometimes been called a "no-no". I disagree! I packed you another dress that you might think works better, just in case. xo Margaret"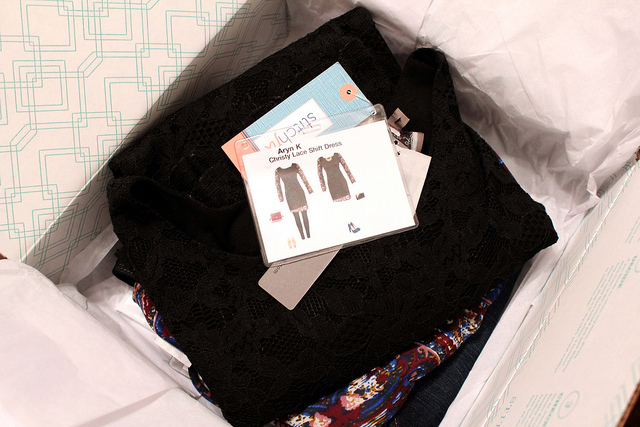 First up were the Ritta pull-on boot cut jeans by Sold. They were sized small/medium/large and since I fall in between sometimes they didn't fit perfectly. I did like that they pull on, but still look like they zip and button. There wasn't anything special about them, though, and I'm probably never going to spend $128 on jeans. I'll stick with my Gap Always Skinny and so I sent these back.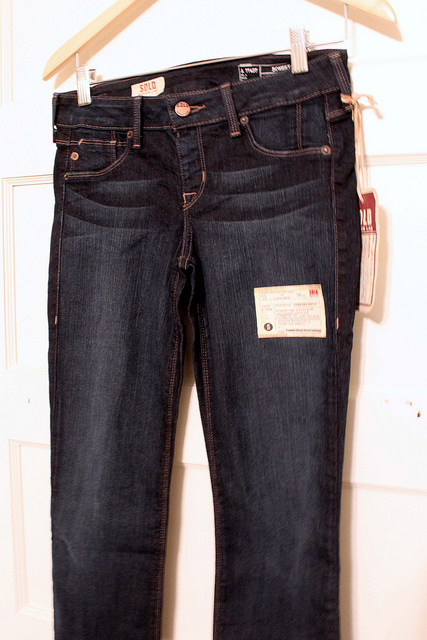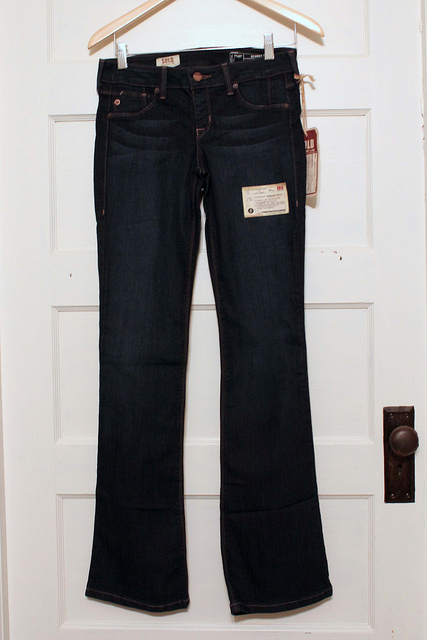 Next up were the Harriet floral smocked-waist top from Tulle and the Eagle drawstring waist pocket dress from Eight Sixty. The top was more reasonably priced, but the dress was a little on the high side for something so simple. I definitely had some decisions to make.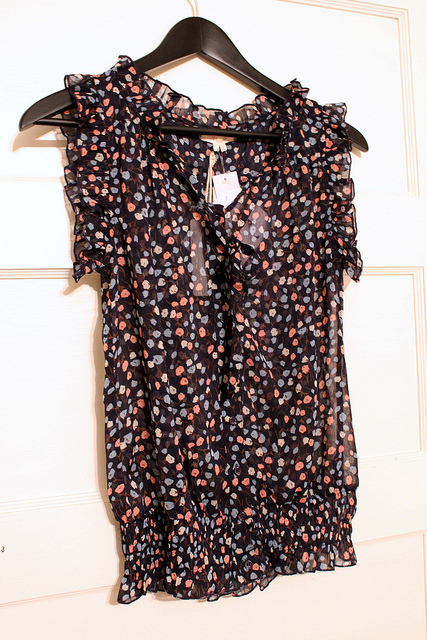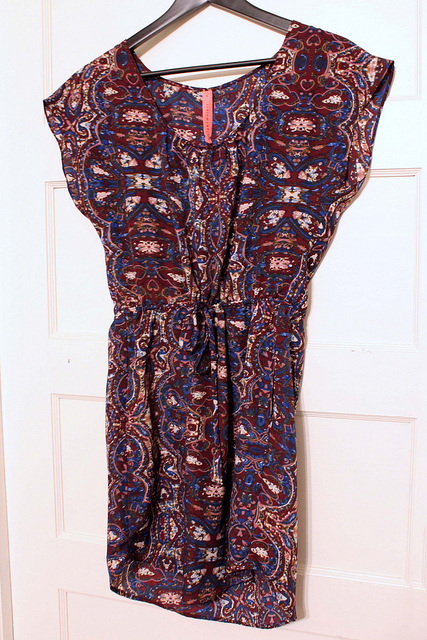 At first glance, the last two items were definitely my favorites. The Christy lace shift dress by Aryn K. and a beautiful pair of gold spear earrings from Betty Carre. Even though I had just bought a short-sleeved, black, lace dress a few weeks ago ($16 from Ross), I pretty much fell in love with this dress the minute I pulled it out of the box!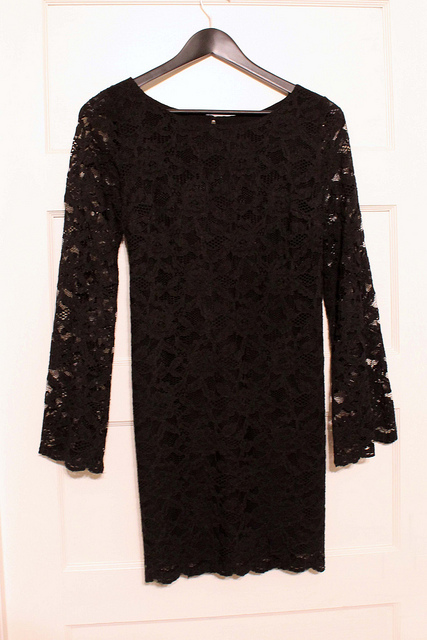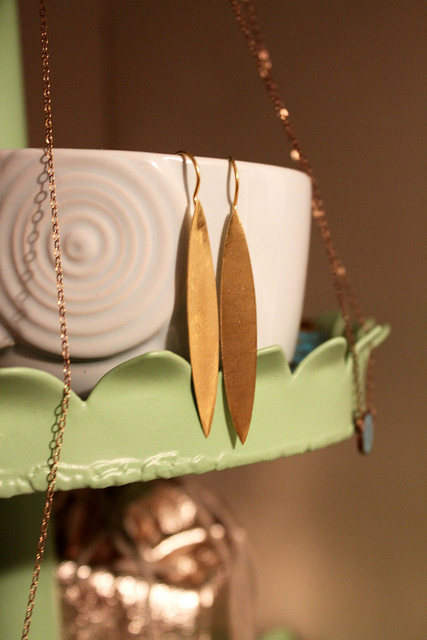 The best way to make decisions was to try the items on with other things from my wardrobe. Forgive the awkward faces and weird photos, but I was using a tripod and had two little helpers so this photo-shoot wasn't exactly easy. K volunteered to take them for me, but there was a monsoon outside and I just didn't feel like packing up my closet to make the trip. The sheer top from Tulle looked great with jeans, but I really liked it with my hot pink Gap shorts from last summer. I tried it on with wedges and was super happy about the look. Ella even asked me to save that outfit for when she grew up and this was Josh's favorite piece from the box. Definitely a keeper. The Eagle dress was really cute on, super comfy and looked great with my cowboy boots or sandals. I'm not crazy about a drawstring waist, though, and at $88 I just couldn't justify the purchase. Even though Josh seemed to really like this one, too. It also wasn't quite as dressy as I wanted for the wedding.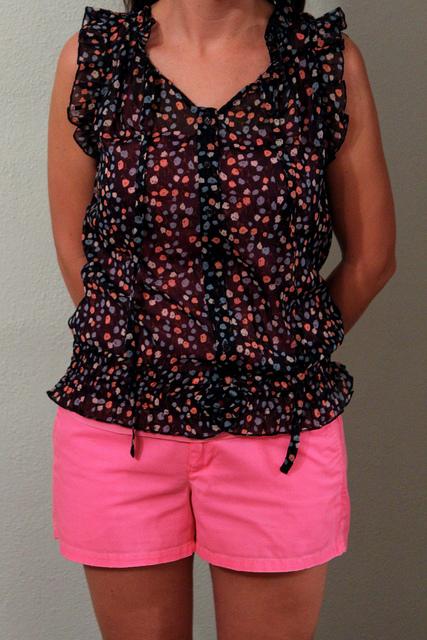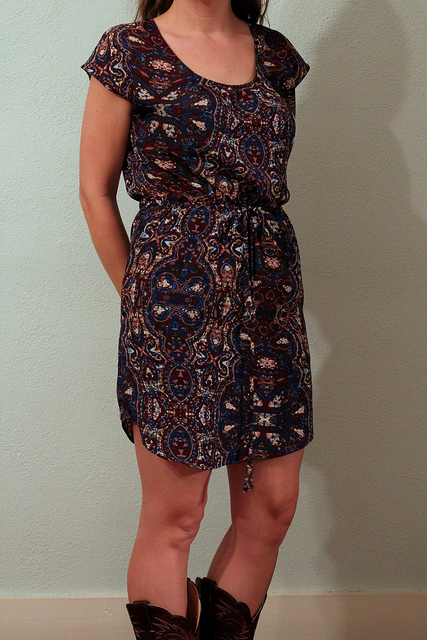 THIS was my favorite piece. It pulls over the head and has a button closure at the back of the neck. I love that the sleeves are sheer and the cut-out lace edge at the hem is my favorite. I looks a little loose in these photos, but it fits really snug and is really comfortable. I debated on whether or not I really needed two black lace dresses, but this one is much nicer that the in-expensive one I bought earlier this month and since it has sleeves I think it would work better for fall and winter. I do like it with the boots – the black/brown combo doesn't bother me at all – and it looks great with pumps and with a tights/booties combination. I think it will be really versatile and who doesn't need a great black dress? It was $68 and while that might be more than I normally spend on everyday dresses, my brother-in-law is getting married next month and I wanted to splurge on something fancy!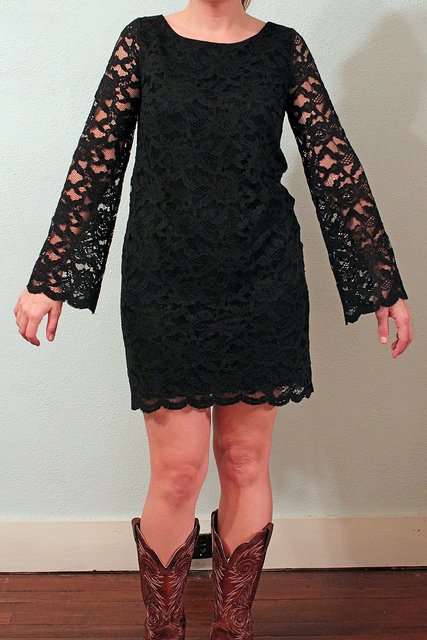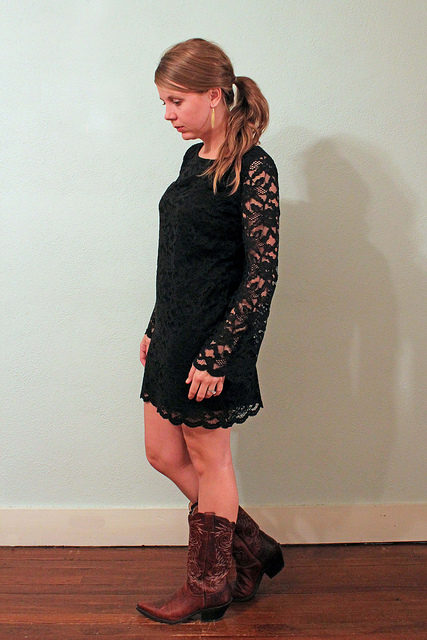 I ended up keeping the lace dress, the sheer top and the earrings (which I've worn every single day this week). That pretty much exhausted my clothing budget for the month, but I'm happy that I added a few quality pieces instead of a bunch of junk that will wind up in a yard sale by summer. I won't do this every month, but especially for special occasions I think this will be such a fun treat!
When you send the items back, you fill out a post-fix survey on what worked and what didn't and why. I've read that each box gets better because as you continue to explain why you did and didn't like certain items, your stylist gets better at picking out clothes for you. I will definitely do it again and although I've had some friends who didn't love their first fix, I would definitely recommend trying it. When you refer friends, you get a little "store credit" for their first fix, which only means more cute clothes for you! Wanna try it out? Follow this
link to get started. Pretty please?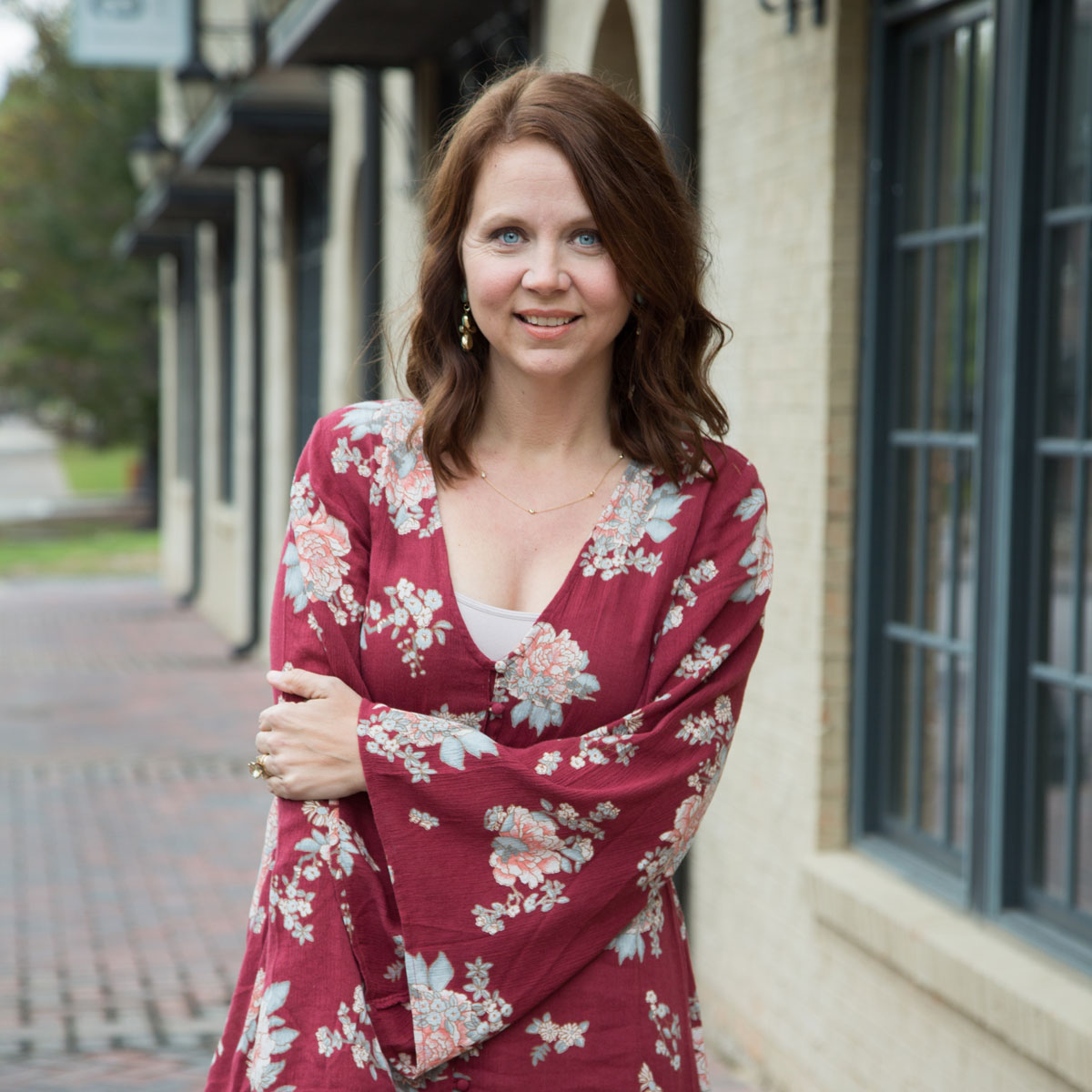 Kristin is married to her high-school sweetheart and the mother to two daughters. Professional by day and creative by night, she is a family lifestyle blogger who writes about faith, family, and fitting it all into a busy schedule. At Taz + Belly, you'll find healthy recipes, children's party ideas, tutorials, DIY projects, and more.
Click Here to Read More About Kristin