I have been reviewing a spreadsheet at work. It has so many rows that after four days of constant glaring, I'm a little over half way there. There are colored highlighters and rulers on my desk and it looks like an elementary school project has taken over.
I only lost 0.4 pounds and I'm frustrated. I realize that a little loss is better than no loss, but I'm tired of seeing ounces on the scale. I'm 4.4 pounds and one pants size from my goal. I vow to be there by summer!
We had to take Sophie to the ER. She dropped something on her foot Monday night and we were worried it might be broken. Thank you, Lord, for soft baby bones because it turned out to be a soft tissue injury. After four hours that we'll never get back, a baby-talking x-ray technician and a Tasmanian devil, we got home after midnight. She's walking on it fine and we're back to normal.
I've run every day since Monday. The first three days I did 2.5 mile treadmill runs on my lunch break and 3.5-4.5 mile runs at the track when I got home. Today I got 2.5 on the treadmill at work, but it was raining when I got home. I'm excited that I'm up to 20-25 miles a week and I'm pressing on. My pace isn't that great (10.5 minute miles), but I know it will come.
Is spring break for everyone but me. I'm enjoying the easy commute to work and home everyday, but I'm tired of seeing Facebook posts of all the fun things everyone is doing. I'm working, doing housework and surviving the pollen infestation. I need a vacation!
I realized that I've done nothing to prepare for Sophie's birthday party other than curate a pinboard. I have got to get moving on this! Her party is in 5 shorts weeks. Yeah, I should probably think about Easter, too.
I have folded approximately 12 loads of laundry. Josh was laughing at me earlier because of the number of trips it took me to put everything away.
Sophie started talking really well. The few words that were hard to understand are finally clear. She looks like a big girl now and it's beyond bittersweet.
I picked up fabric for the girls' Easter dresses and my momma worked her magic. I cannot wait to see how pretty they'll look all dolled up. Now for bows and shoes!
I cleaned out the refrigerator. I did the pantry a few weekends ago, but the fridge was really getting on my nerves. There were some surprises in there, lots of expired goods and it needed a good scrub. Wanna see?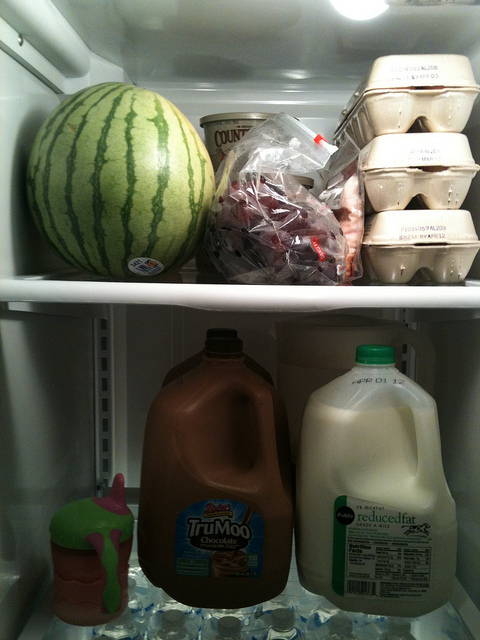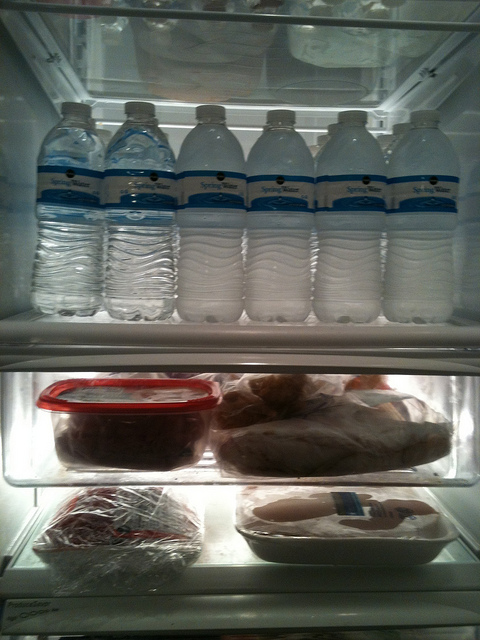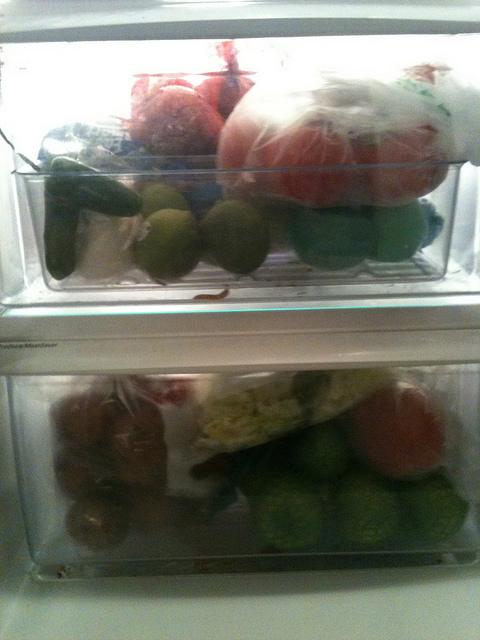 On the top shelf is country crock spread (the only "butter" I like), fresh watermelon and grapes and three dozen brown eggs. Josh & I are on an omelet kick, so I have to stay fully stocked!
The next two shelves house drinks – barely sweet tea, low-fat chocolate milk, 2% white milk, Sophie's sippy and plenty of water. There is NO Dr. Pepper in here these days. It's been almost six weeks and I am still alive. I think it's safe to say that I can live without it.
In the first drawer is pre-packaged ham (for the omelets), fresh sliced oven roasted turkey breast (because my family is sandwich meat snobby) and an assortment of cheeses — pepper jack & colby from the cheese house, a two pound bag of shredded mexican blend and colby jack slices for sammies. Then there is ground beef (we had spaghetti tonight) and a huge pack of chicken. That'll get boiled in the crock pot tomorrow for enchiladas and a weekend's worth of chicken salad. Second drawer are veggies — red onions, jalapenos, limes, lime/lemon juice, vine ripened tomatoes, tri-color bell peppers, carrots and celery. Last up is the crisper drawer with baby red potatoes, lettuce, granny smith apples and a few fujis.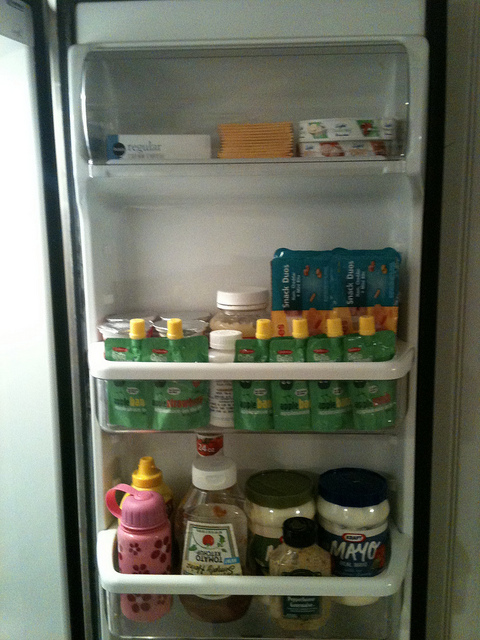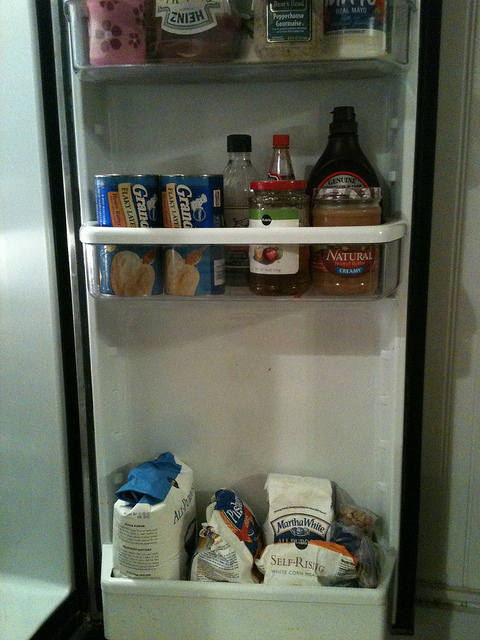 The door isn't nearly as entertaining — top shelf is cream cheese, sliced cheese and cheese wedges for snacks. Then there is the kid shelf with antibiotics (E has an ear infection), plenty of yogurt, applesauce, squeezies and lunchables for Soph. Condiments are next, including mustard (which none of us eat), two containers of ketchup, dijion mustard-aise (SO FLIPPING GOOD – it's Boar's Head, if that helps), mayo and mayo with olive oil. The pink water bottle holds good ranch dressing. Under that are canned biscuits (for pigs-in-a-blanket and breakfast for dinner), dale's steak marinade, peanut butter & jelly, chocolate syrup and hot sauce. The last shelf has all purpose/self rising/bread flour, corn meal, walnuts and peanut butter baking chips.
Wow. Am I the only one completely fascinated by what other people keep in their fridge? I would show you my freezer, but it's boring. Tons of frozen pizzas, steam packs of veggies, frozen meat and waffles. Nothing exciting at all. Maybe I'll do a pantry post another day and tell you what I'm eating these days.
That's pretty much what's going on around here. I'm looking forward to a date night with my hubby tomorrow night. It involves red skinnies and a leopard print top, a quick dinner somewhere, GNC and the Hunger Games. Doesn't that sound fun? The best part is the girls are spending the night with SD's parents, so we'll be sleeping late on Saturday!!!! I'm trying to convince him to run with me Saturday morning while we have no children and then going to breakfast. Doesn't that sound fun?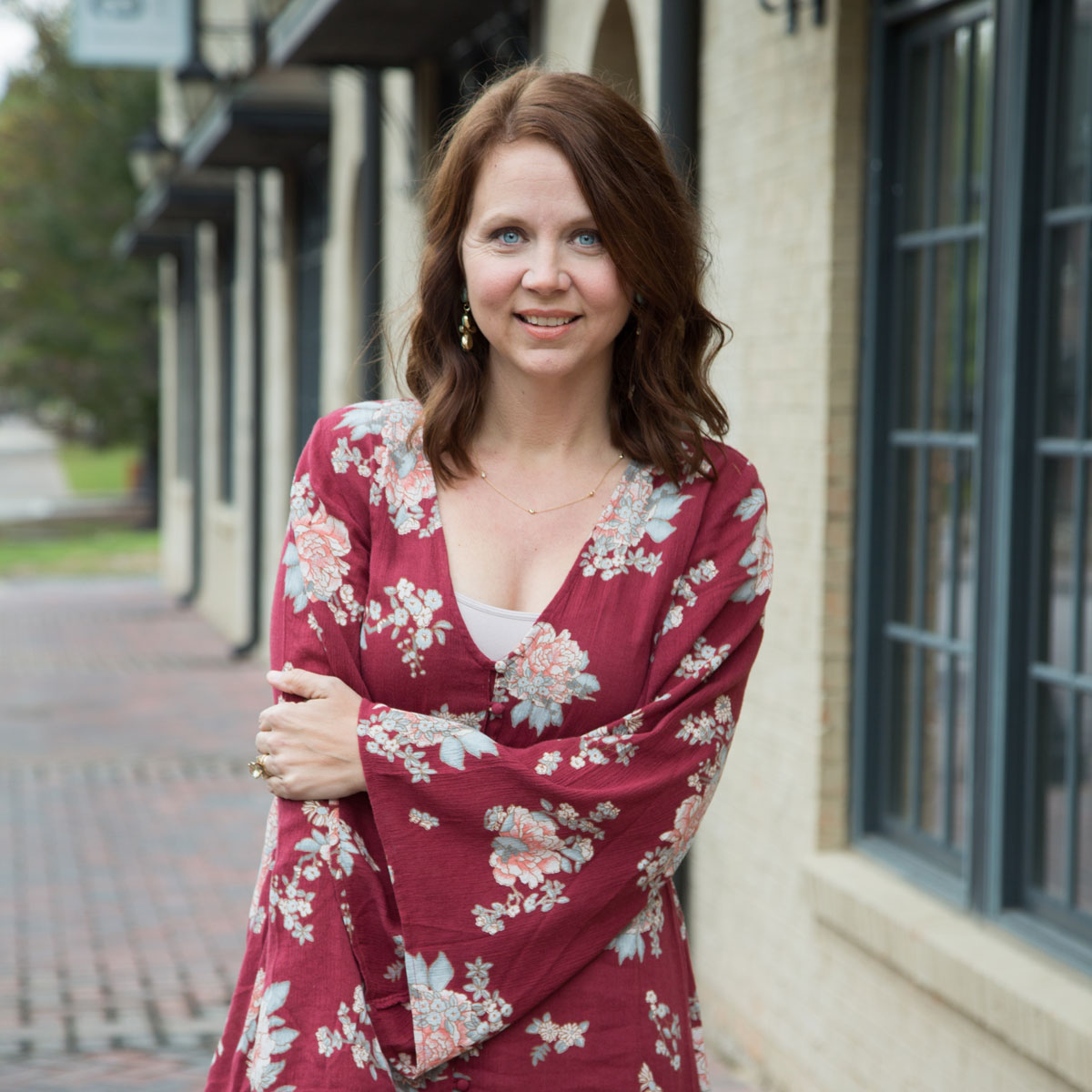 Kristin is married to her high-school sweetheart and the mother to two daughters. Professional by day and creative by night, she is a family lifestyle blogger who writes about faith, family, and fitting it all into a busy schedule. At Taz + Belly, you'll find healthy recipes, children's party ideas, tutorials, DIY projects, and more.
Click Here to Read More About Kristin